Get inspired to get creative with these quick and easy Christmas crafts project ideas.
What is it about the holiday season that brings out the desire to "make stuff"? Baking and crafting are at their peak during this time of year!
If you're looking for some quick and easy Christmas crafts ideas to do on your own, with kids, or during a festive craft night with friends, here are some of my favorites.
Skill level varies a bit on each of these crafts, but they're each something you can make with supplies you probably already have around the house. So, if you have an unexpected snow day, and need something to do, here are some ideas.
Quick and Easy Christmas Crafts to Make Right Now!
Scandinavian Felt Christmas Trees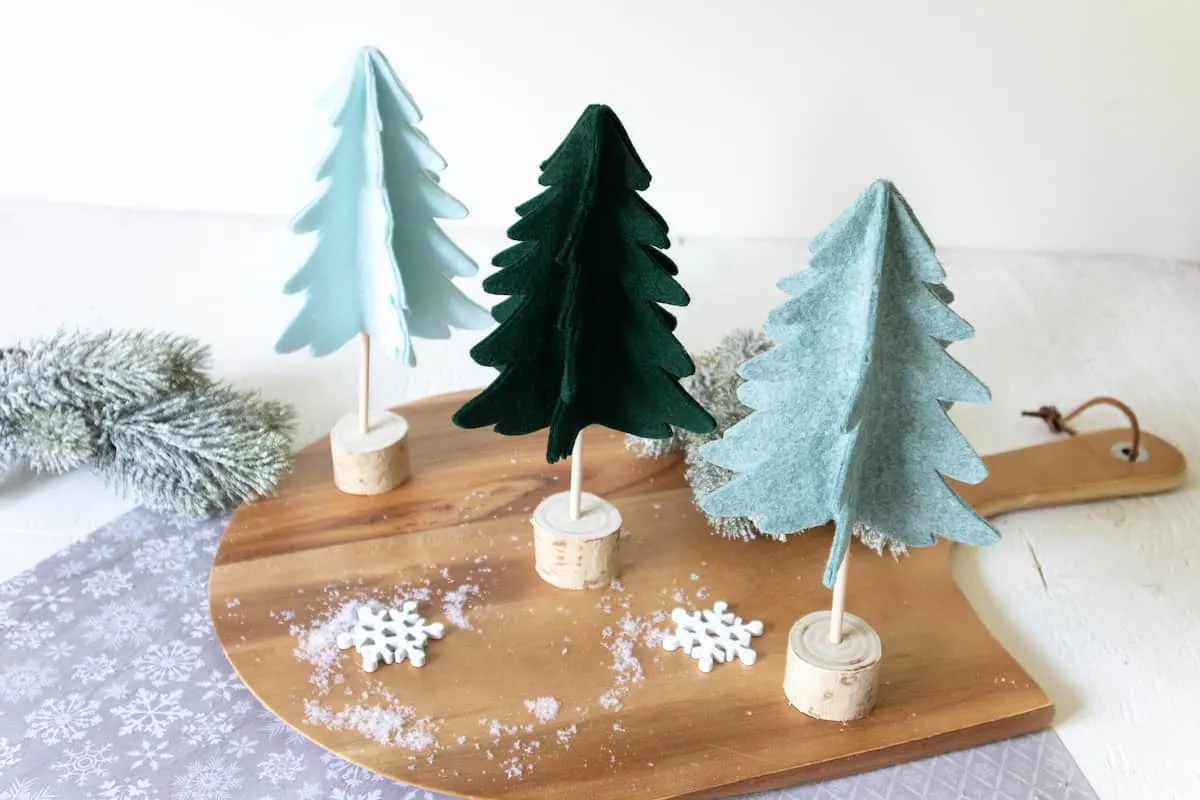 Make these simple and minimalist felt Christmas trees. You can cut out the template by hand and hot glue together easily.
---
Gnome Wine Bottle Cover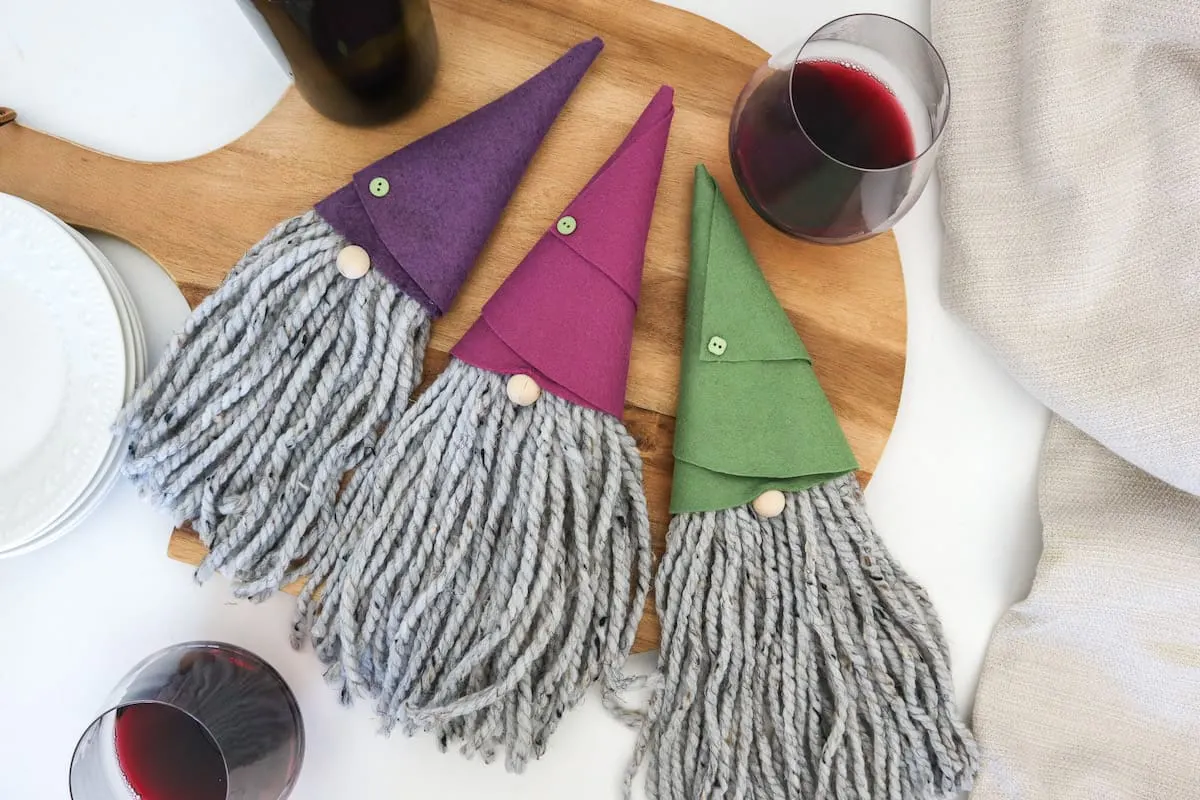 This no-sew felt craft is super easy to make! You just need to glue it all together for the most adorable gnome wine bottle topper!
---
Grinch Gnome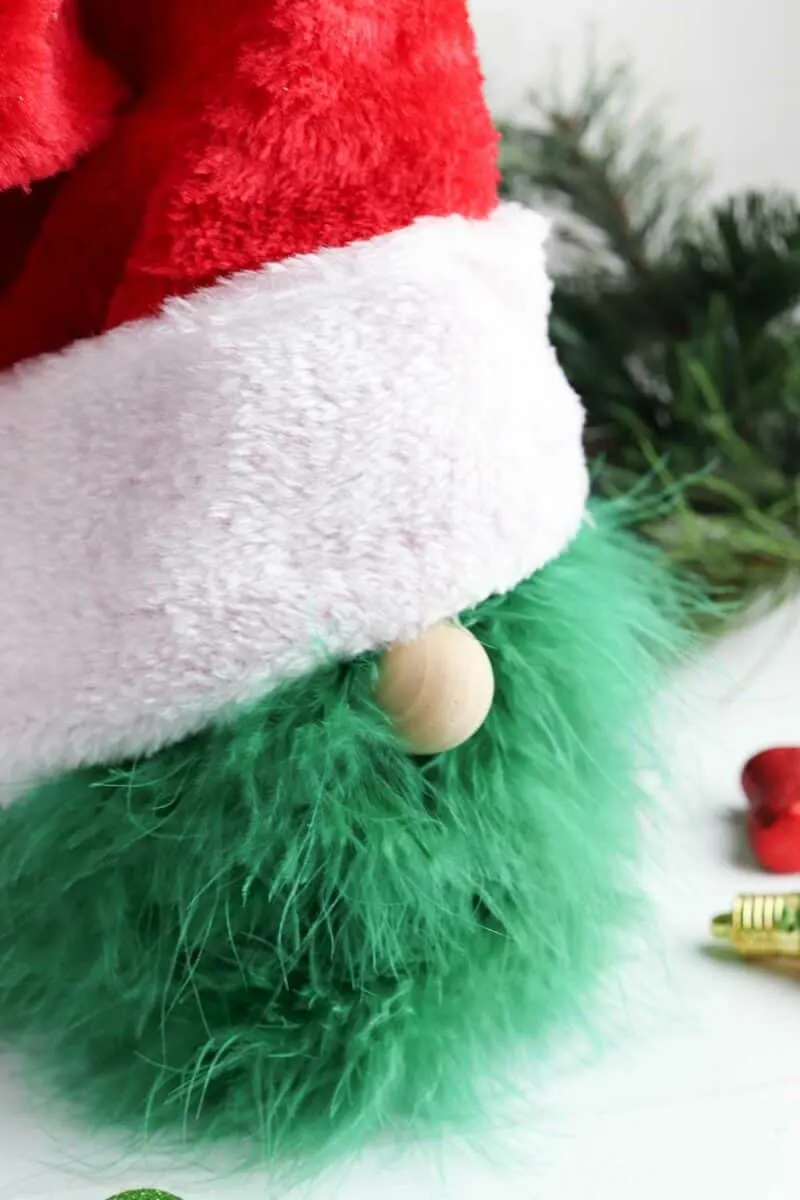 For anyone who loves Dr. Seuss' Christmas classic, this Grinch gnome is for them! Just three simple steps and gluing items together. That's all it takes!
---
Jingle Bell Bracelet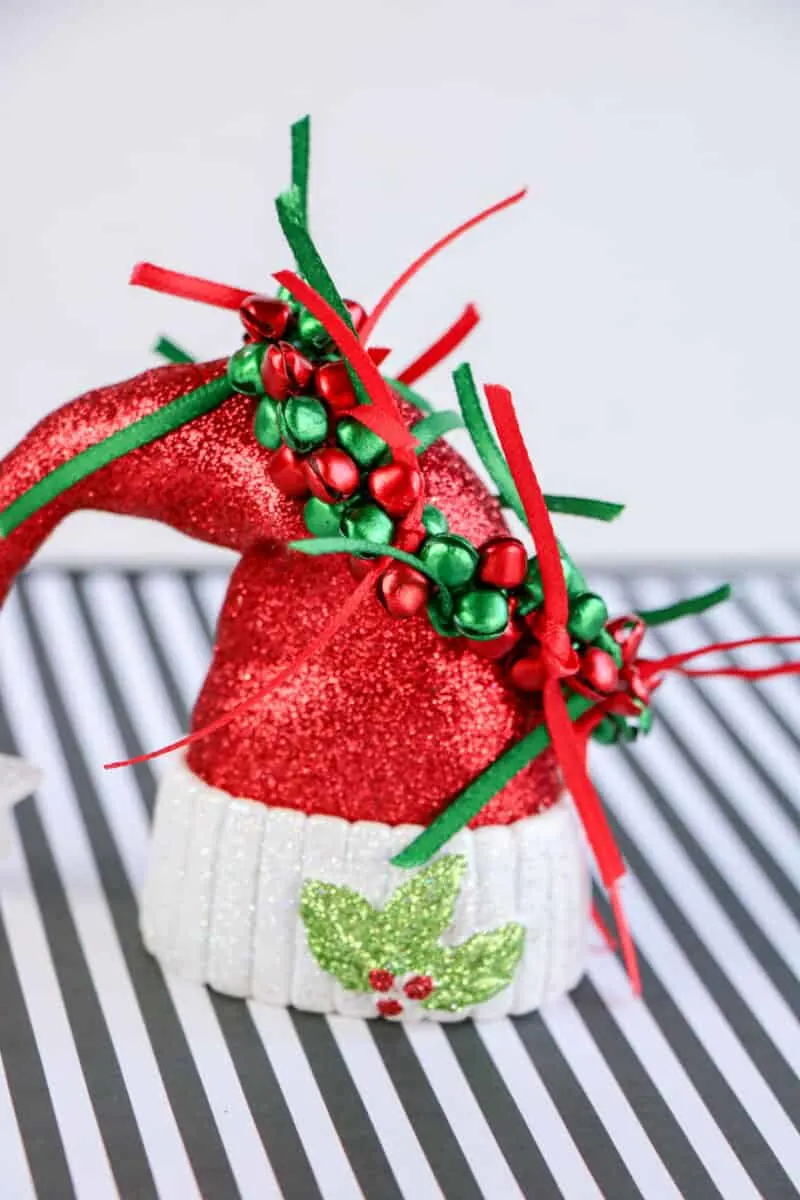 This festive jingle bells bracelet is fun for both kids and adults to wear during the holidays! The stretchy bracelet can be customized for size and colors. It's a perfect gift for older kids to help make!
---
Christmas Popcorn Jars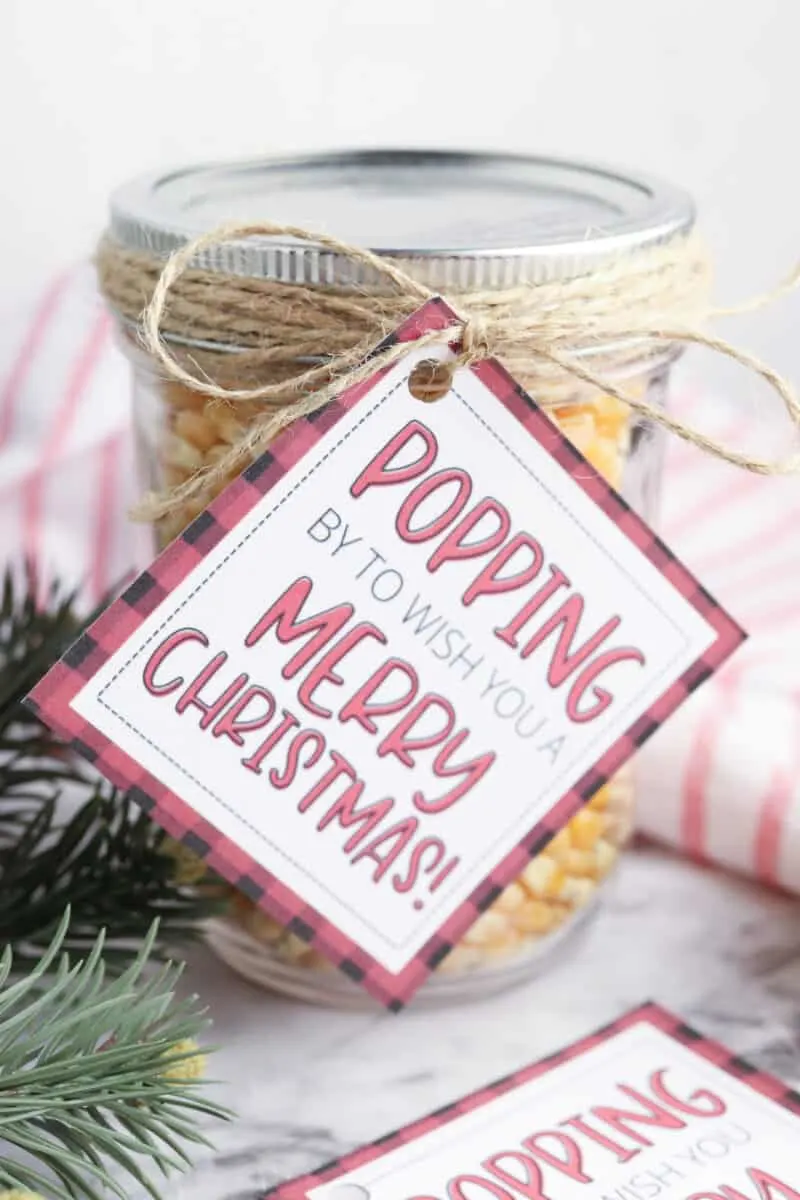 If you love giving gifts in a jar, these these Christmas Popcorn Jars are perfect! They are quick and easy to make. Plus, popcorn is a healthier food to give than cookies or candies. So they will appreciate it after the holidays!
Download our free printable popcorn gift tags to make this inexpensive yet thoughtful gift.
---
Santa Napkin Rings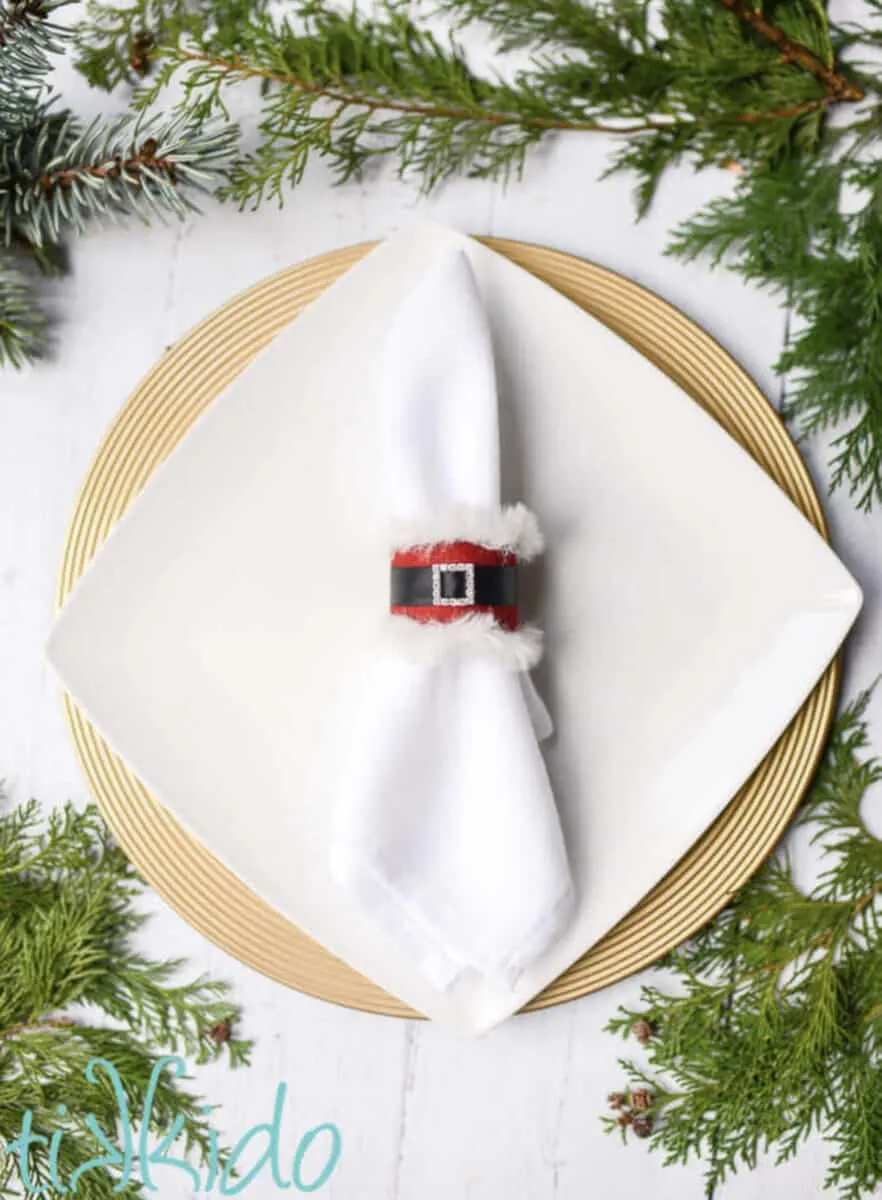 Use toilet paper tubes to make these adorable Santa napkin rings! A perfect last minute craft for your holiday party or to give as a hostess gift!
---
Christmas Wreath Drink Stirrers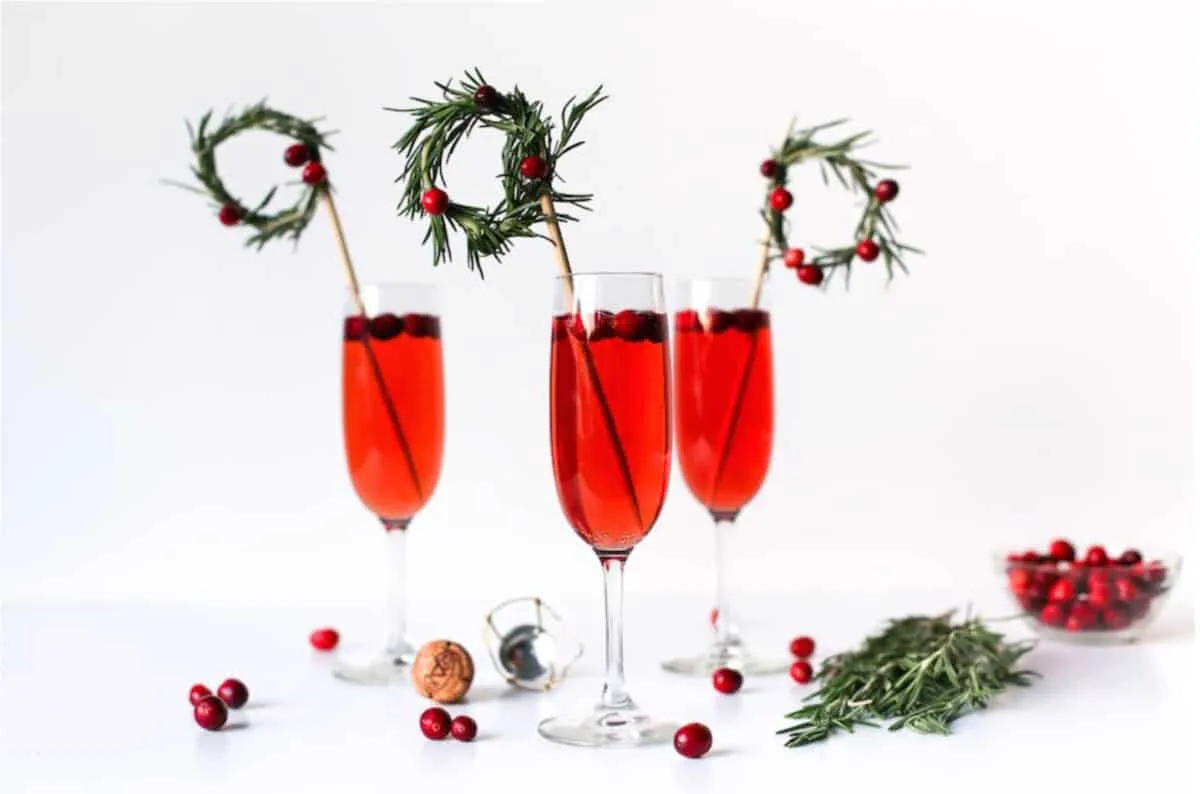 What a great idea for a hostess gift! Or to add some magic to your Christmas party. Use natural sprigs of rosemary and some cranberries to make these Christmas wreath drink stirrers that smell so good!
---
Flannel Wrapped Christmas Trees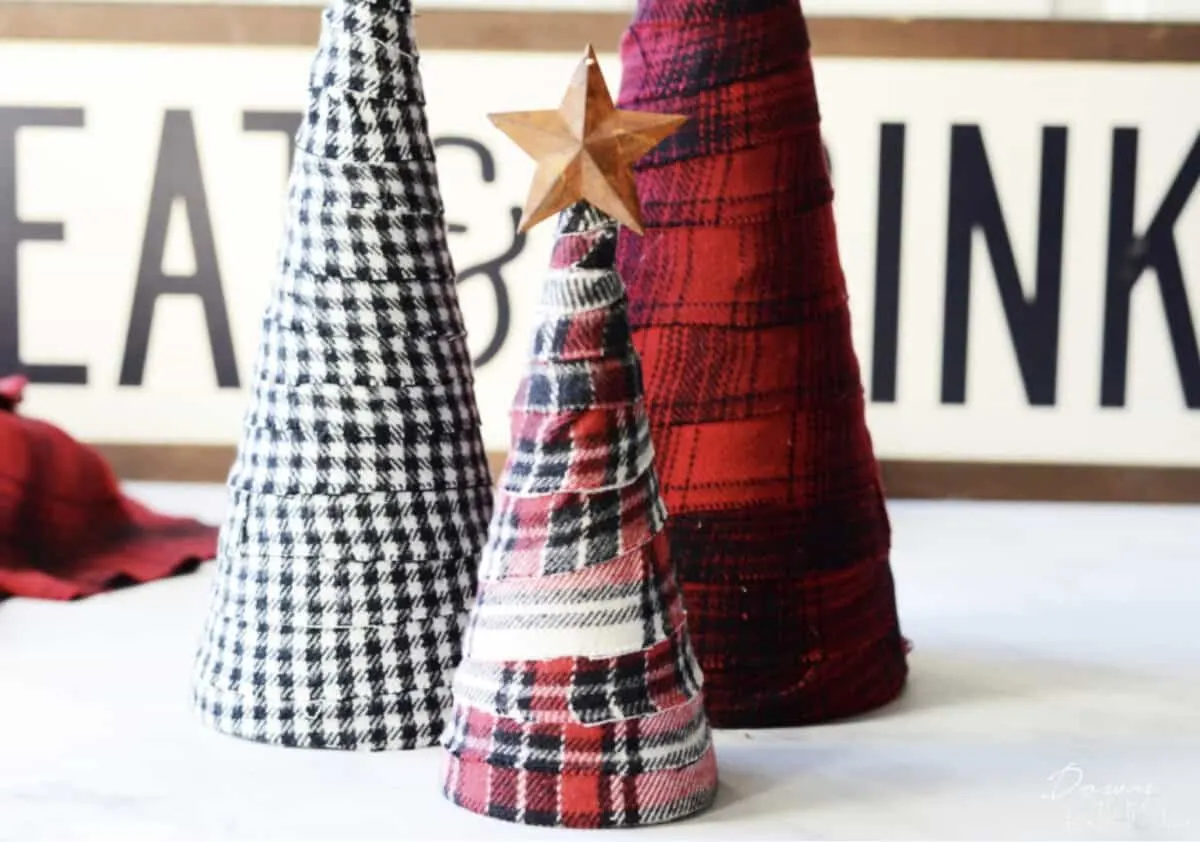 These flannel wrapped trees could be made with old shirts or leftover fabric scraps. I love their simplicity. They would look great in a mountain cabin or on your fireplace mantle!
---
Snowman Christmas Crackers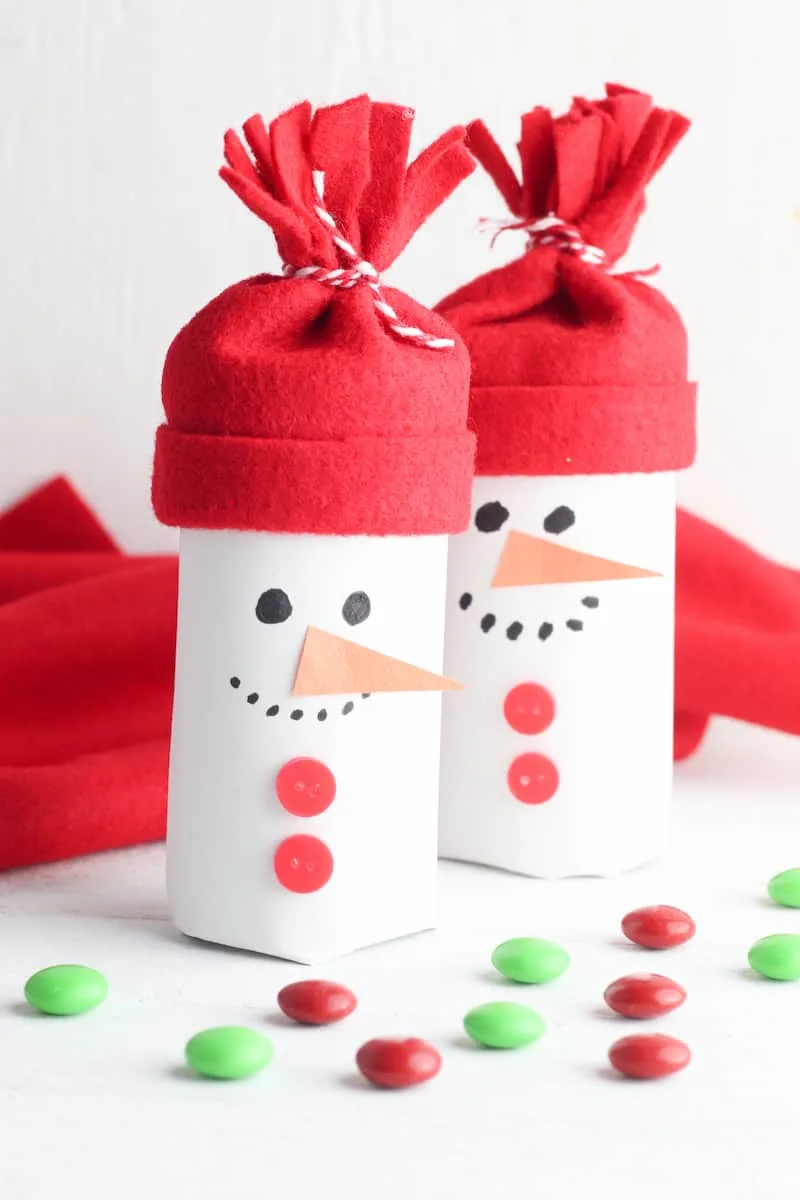 Store-bought Christmas crackers can be really expensive! Try making your own instead. With nothing more than a few empty toilet paper tubes, and some dollar store treats, you can make these adorable DIY Christmas crackers.
---
Christmas Reed Diffusers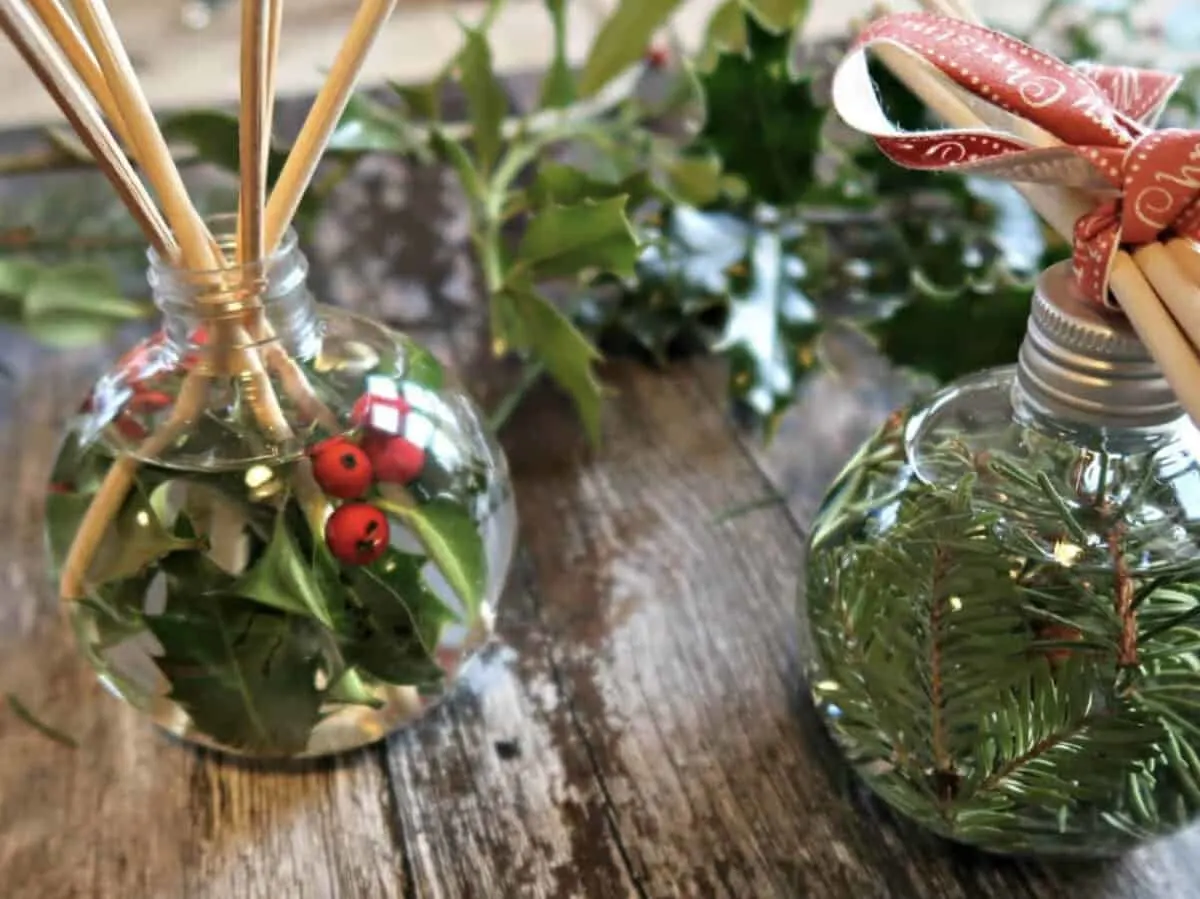 A great last minute gift to make for friends and family, these Christmas Reed diffusers are cute and will fill their house with fragrance!
---
Rag Wreath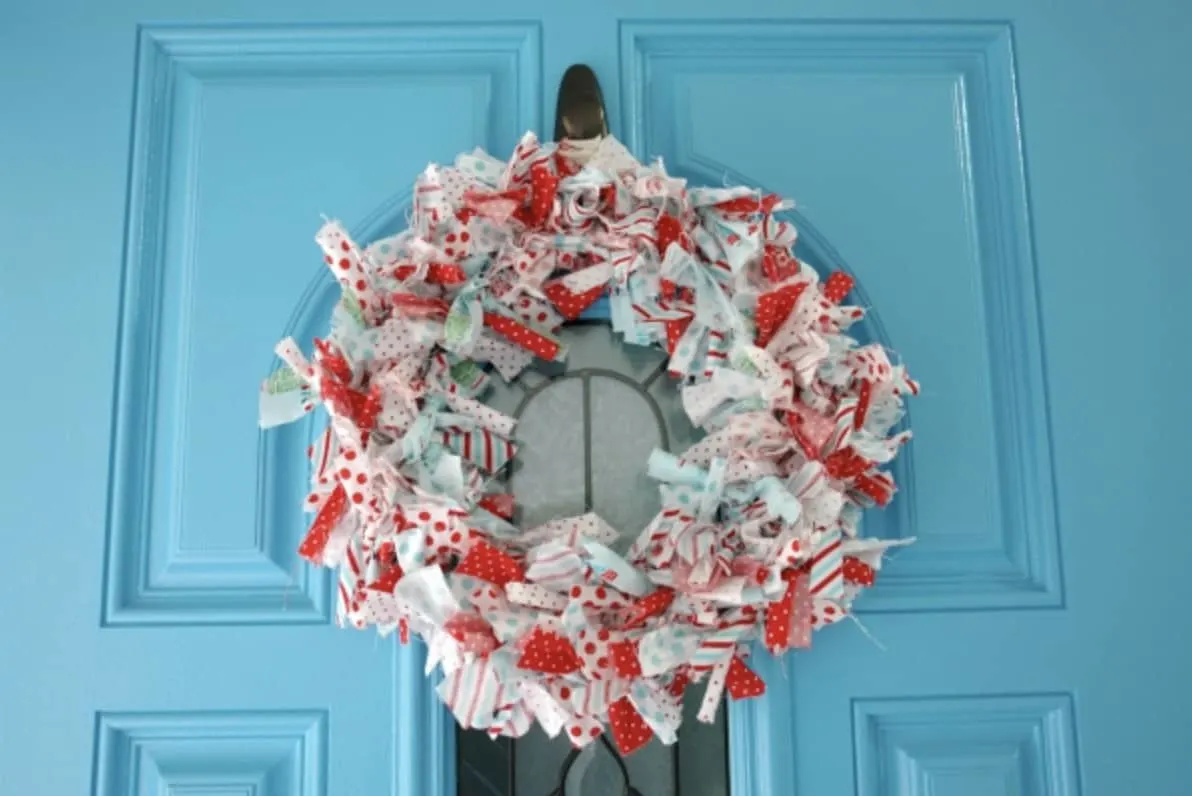 A wreath form (you can get one at a dollar store) plus fabric scraps or fat quarters are all it takes to make a holiday statement for the front door. This rag wreath is the perfect last minute addition to your holiday decor. Or makes a great gift! (Hint: You can make it in any fabric colors, so make a wreath that is in their favorite colors to hang in their house!)
---
Dollar Store Christmas Wreath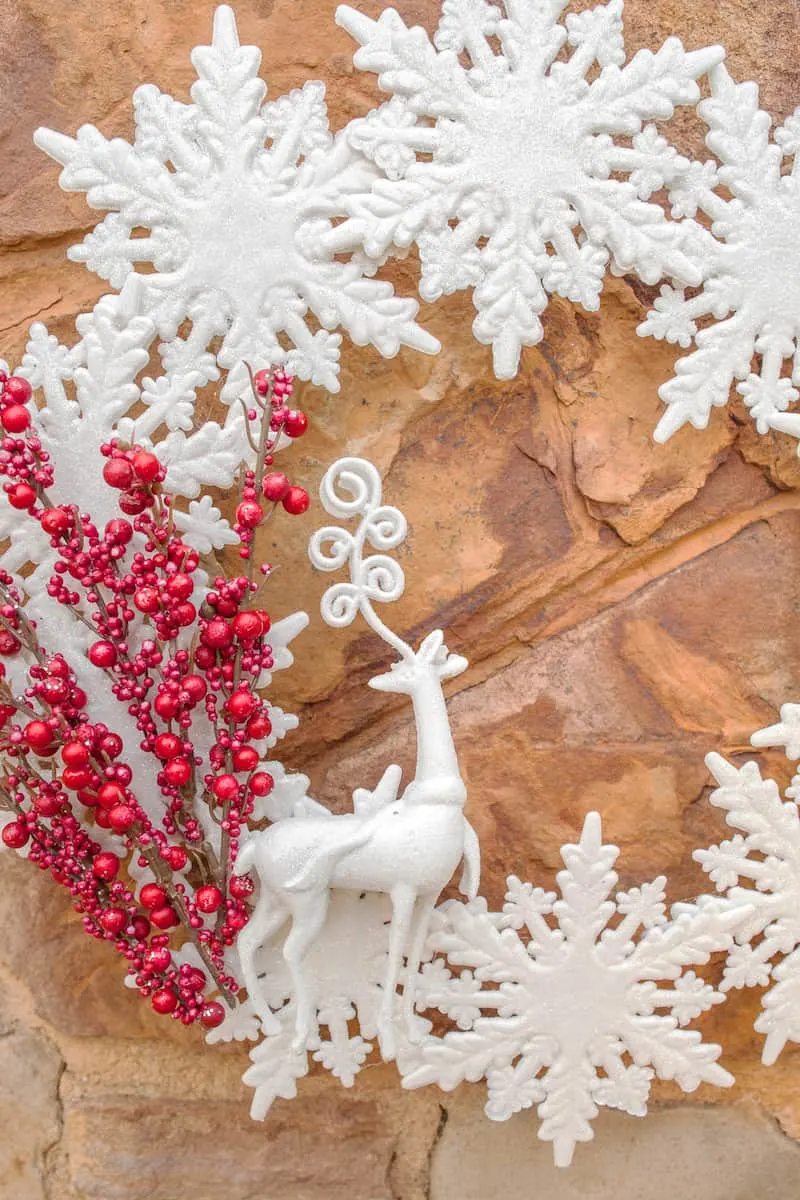 Get a few ornaments from The Dollar Tree and make this elegant snowflake wreath. Perfect as a hostess gift or neighbor gift!
---
Wood Slice Ornaments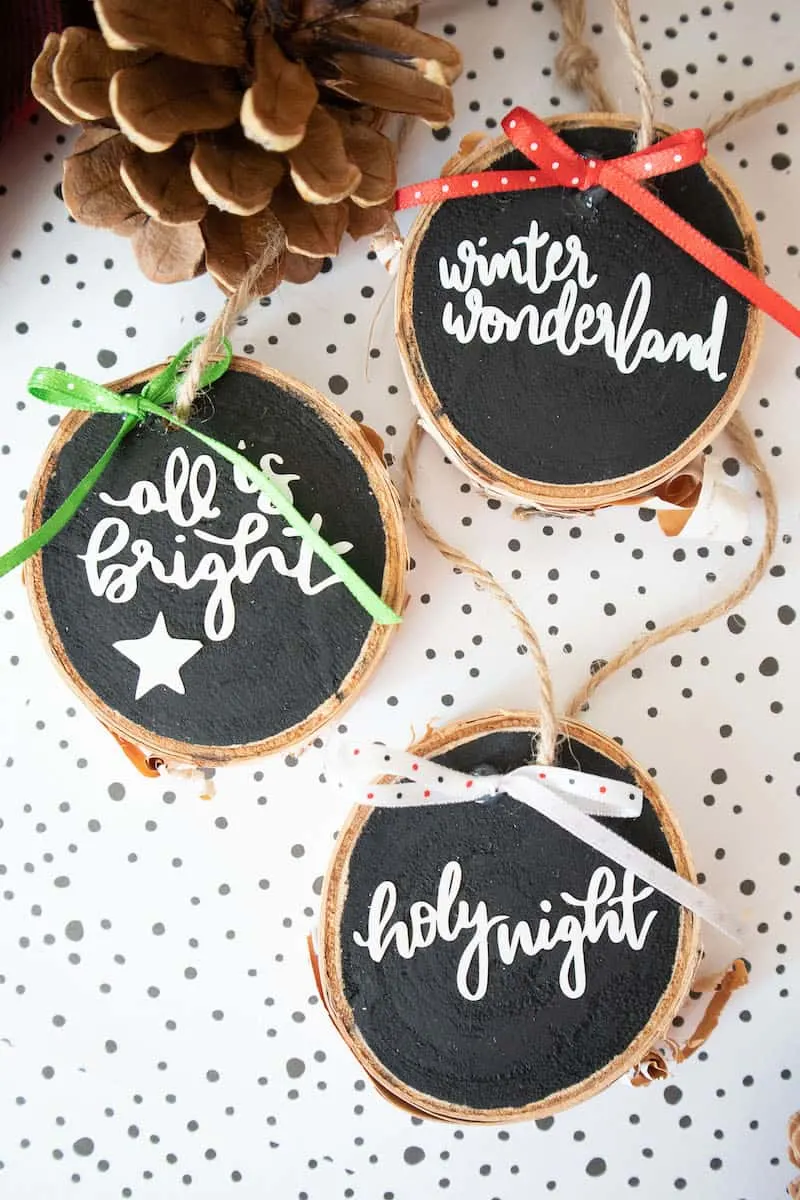 Using a Cricut machine makes these cute wood slice ornaments so much quicker to make! Apply the vinyl transfer and it looks like you've painted the design on yourself.
---
Reversible Wooden Snowman Blocks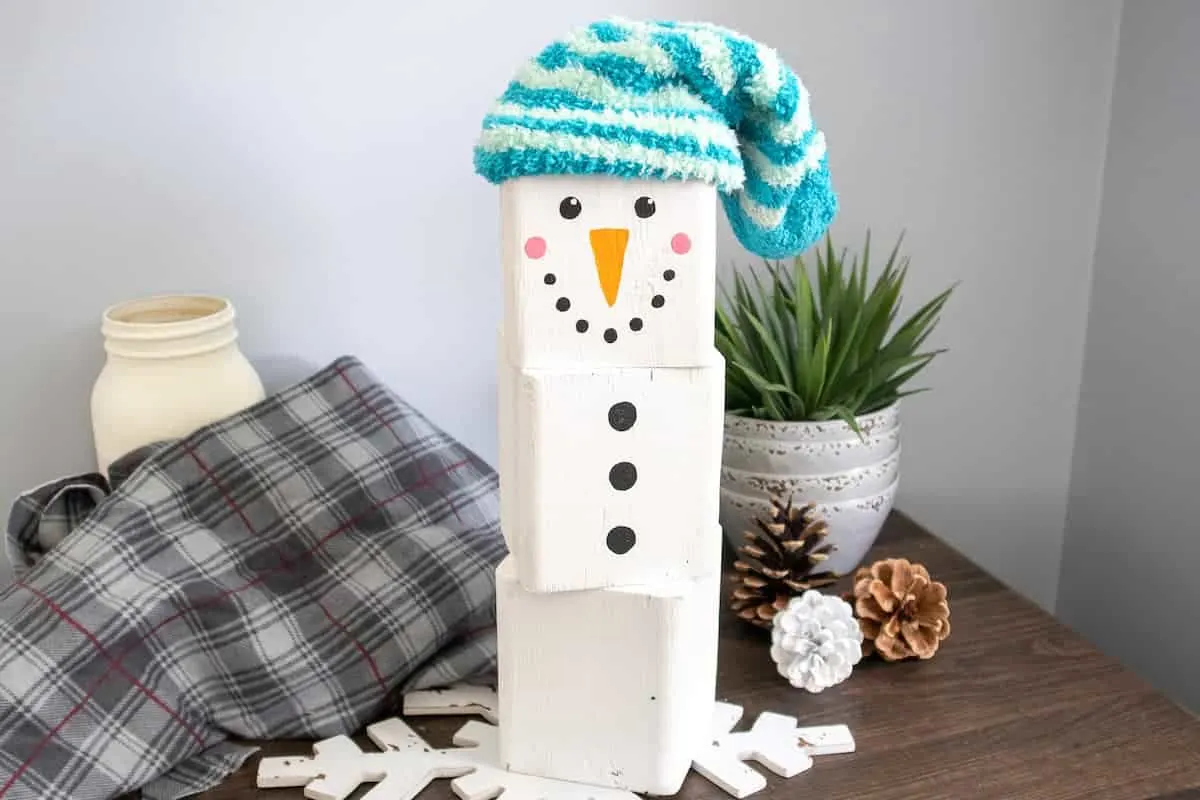 These wood snowman blocks can be used as winter decorations, which means they can keep them out well after Christmas! You just need 4X4 wood blocks and paint for a homemade snowman.
---
Farmhouse Floral Arrangement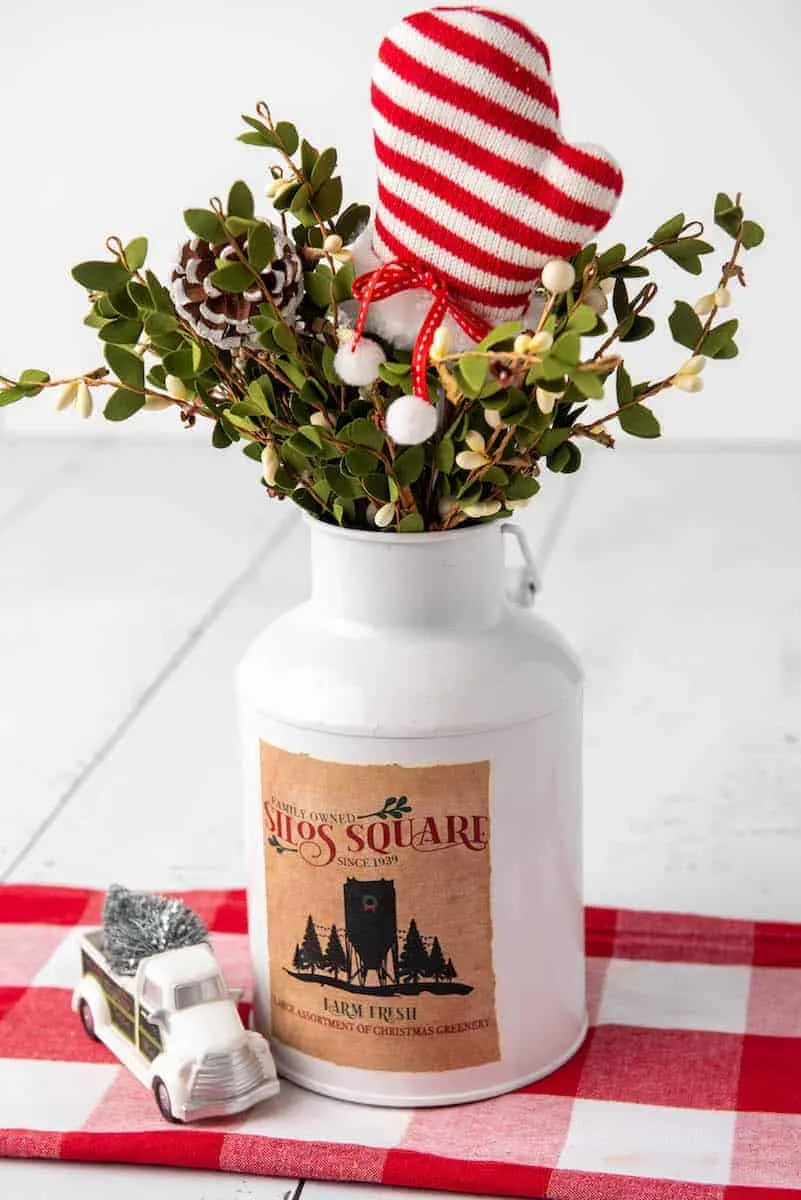 This Christmas floral arrangement is a perfect gift for a teacher, neighbor or Christmas gift exchange party.
Get the free printable for the farmhouse vintage label. You can use fresh flowers and greenery instead of artificial if you'd like.
---
Gift Tags from Old Cards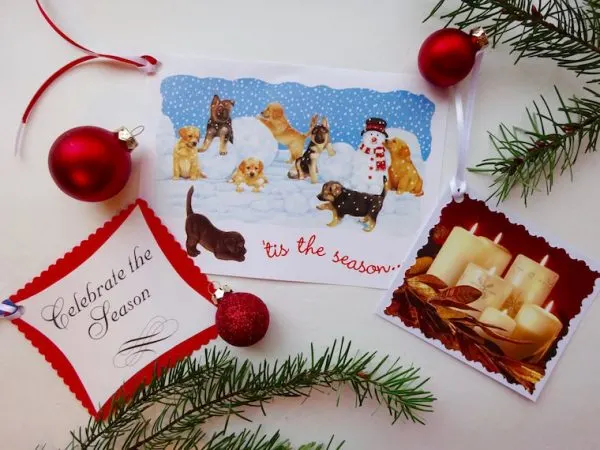 If you hate throwing away all those pretty Christmas cards as much as I do, then this is the perfect project for you. Turn Christmas cards into pretty gift tags!
As you're wrapping all of your creative Christmas gifts this year, you'll have the perfect gift topper ready for each one.
---
Stick Reindeer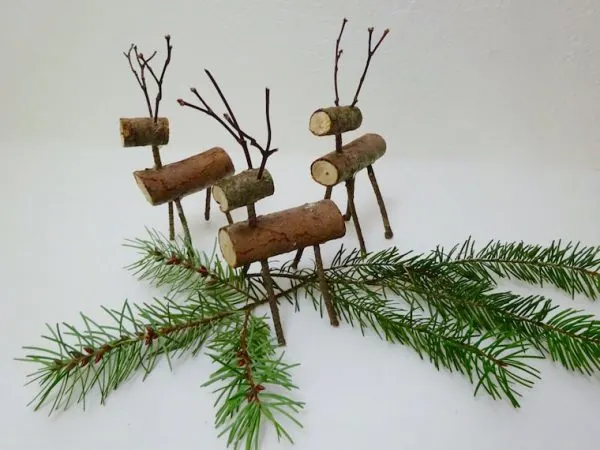 Clip a few branches from the yard to make these adorable stick reindeer. They're fun to make, and it is amazing how each one has its own unique character.
Make a herd to decorate your mantle, or give them as inexpensive (free, really) gifts.
---
Snowman Bracelet
This pretty snowman bracelet can be worn all winter long, which makes it a great gift when giving on Christmas Day. For anyone who loves snowmen, this is a perfect handmade jewelry gift!
---
Christmas Garland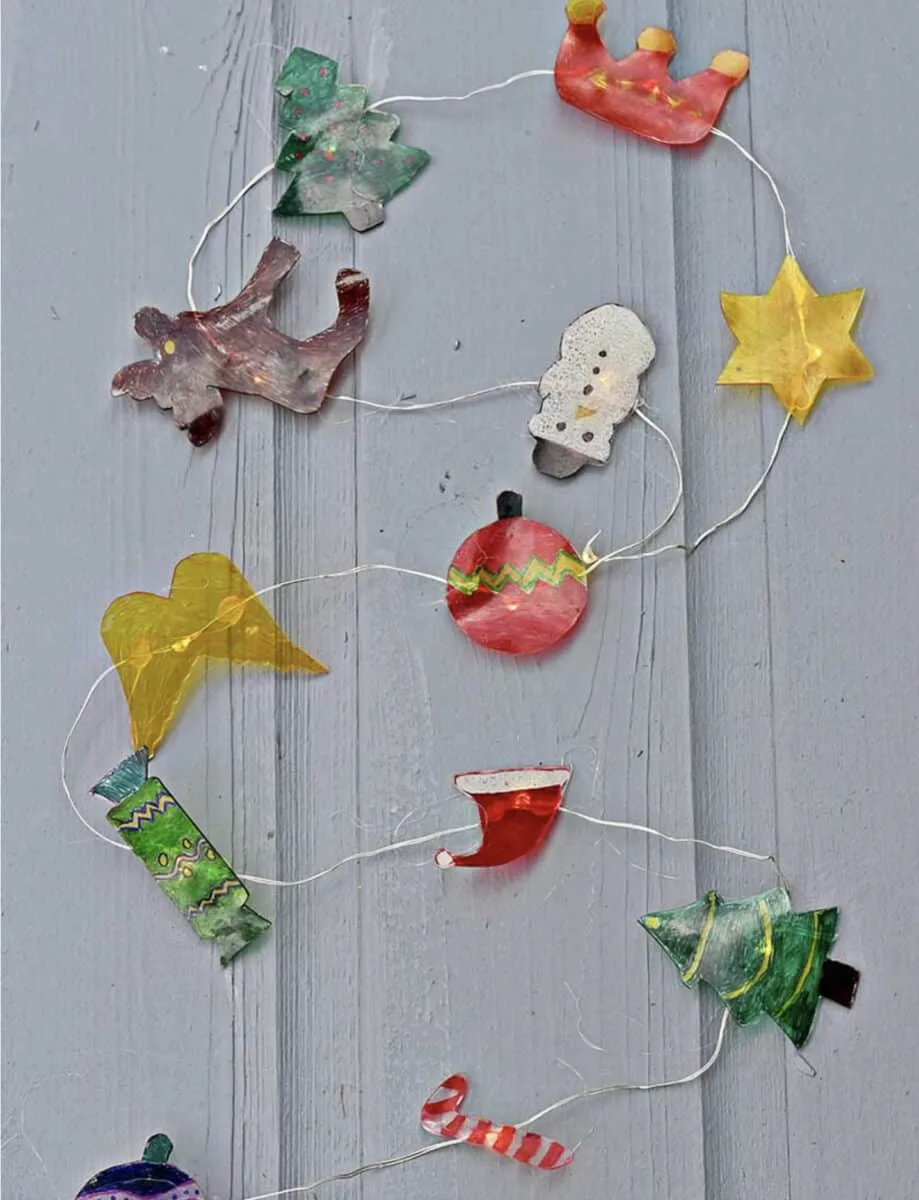 Kids can make this fun Christmas garland using cookie cutters and shrink plastic. Perfect for decorating the mantle or adding to a Christmas tree!
---
Waterless Snow Globe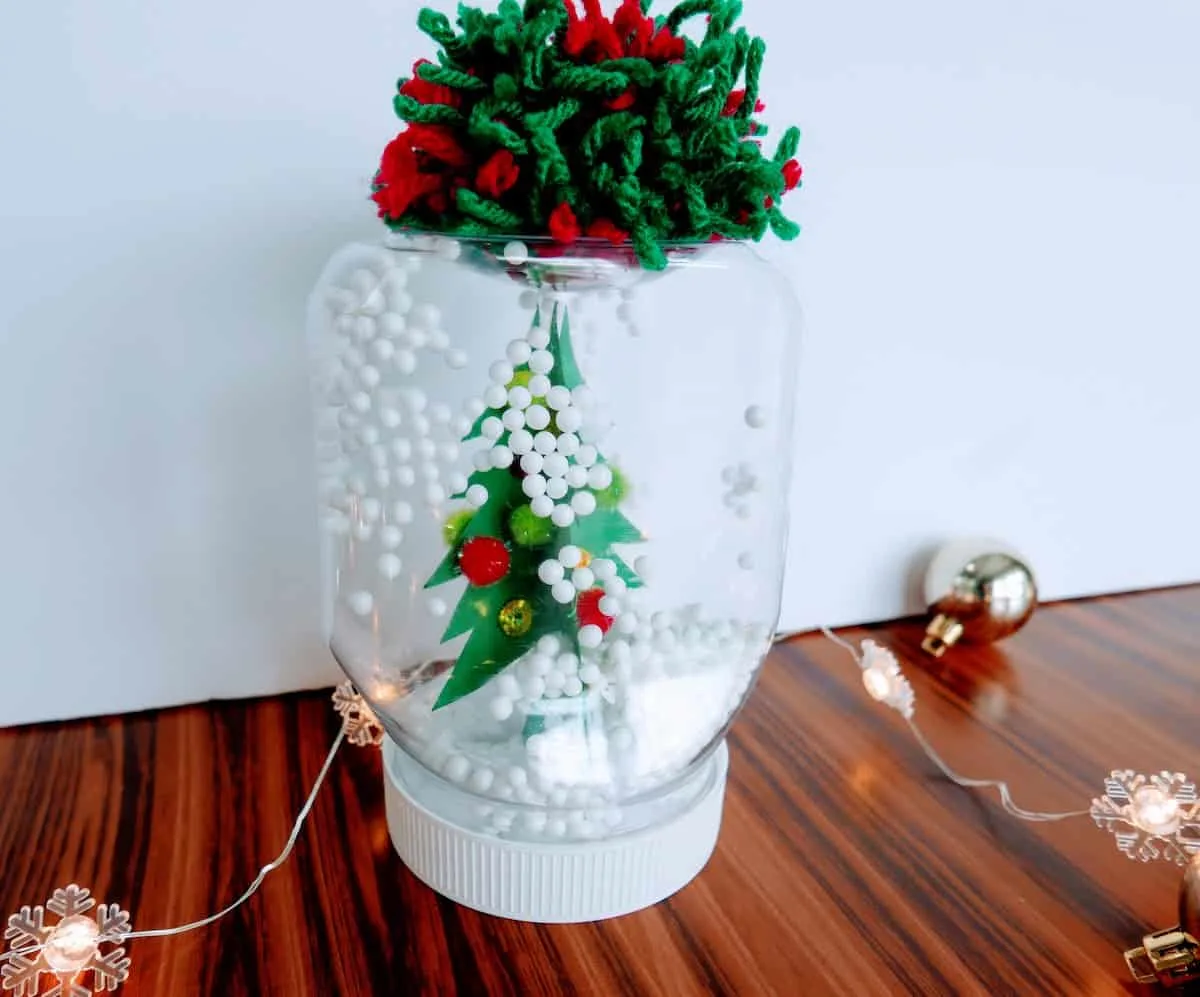 Got empty jars at home? Then you can make this easy snow globe without water. It's fun for both kids and adults to make.
---
Lightbulb Christmas Banner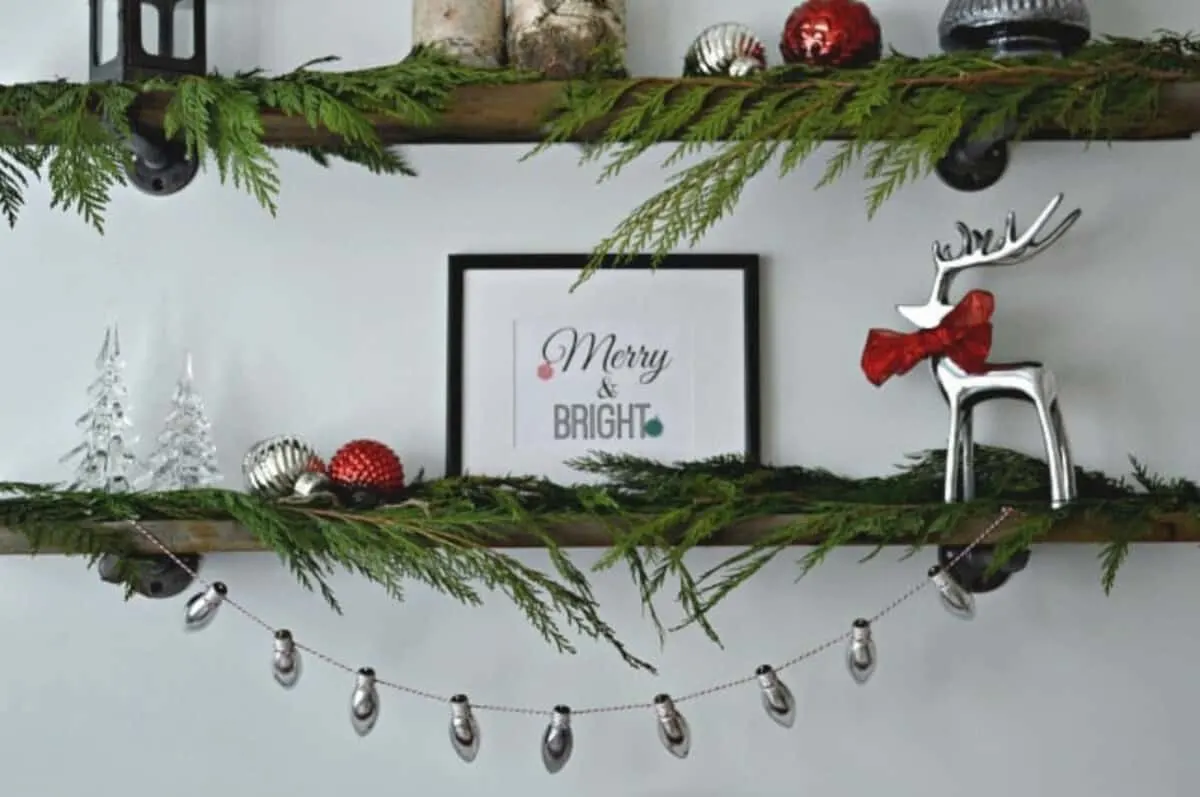 This Christmas banner with lightbulbs is super easy to make, and a great addition to your mantle or shelves this year!
---
Rudolph Wood Slice Ornament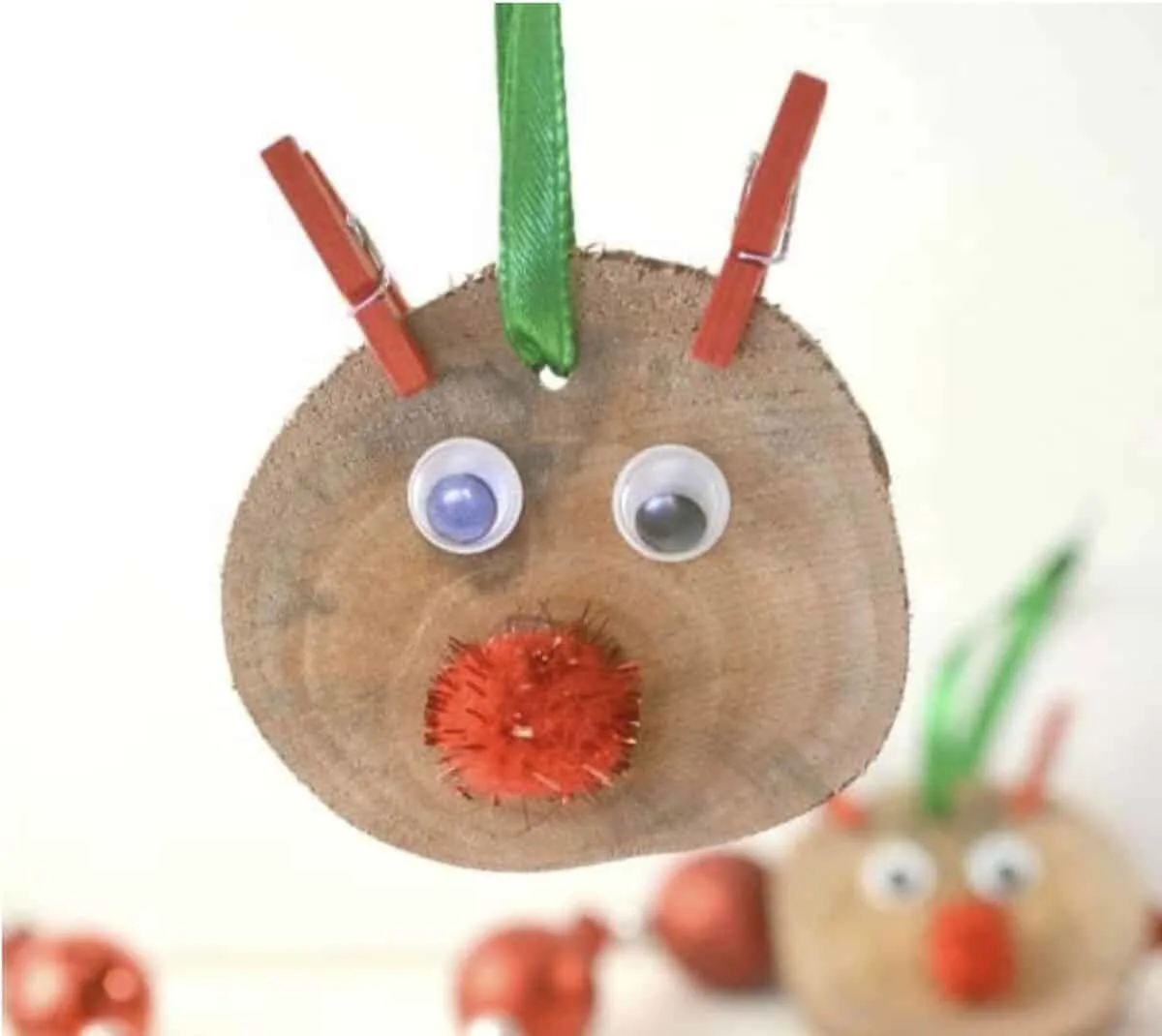 A cute Christmas craft so easy that kids can make it. Family and friends will love hanging these Rudolph Ornaments on their tree. Makes cute gift toppers, too!
---
Stick Stars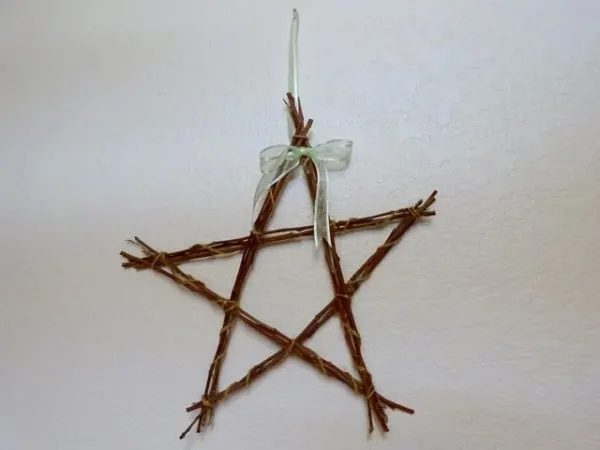 While you've got the clippers out for making reindeer, clip a few straight branches to make a rustic stick star.
Once you make the basic star, you can decorate it with greenery, a string of lights, ribbons, ornaments, or anything else you can think of to make something completely unique.
---
Burlap Ribbon Christmas Tree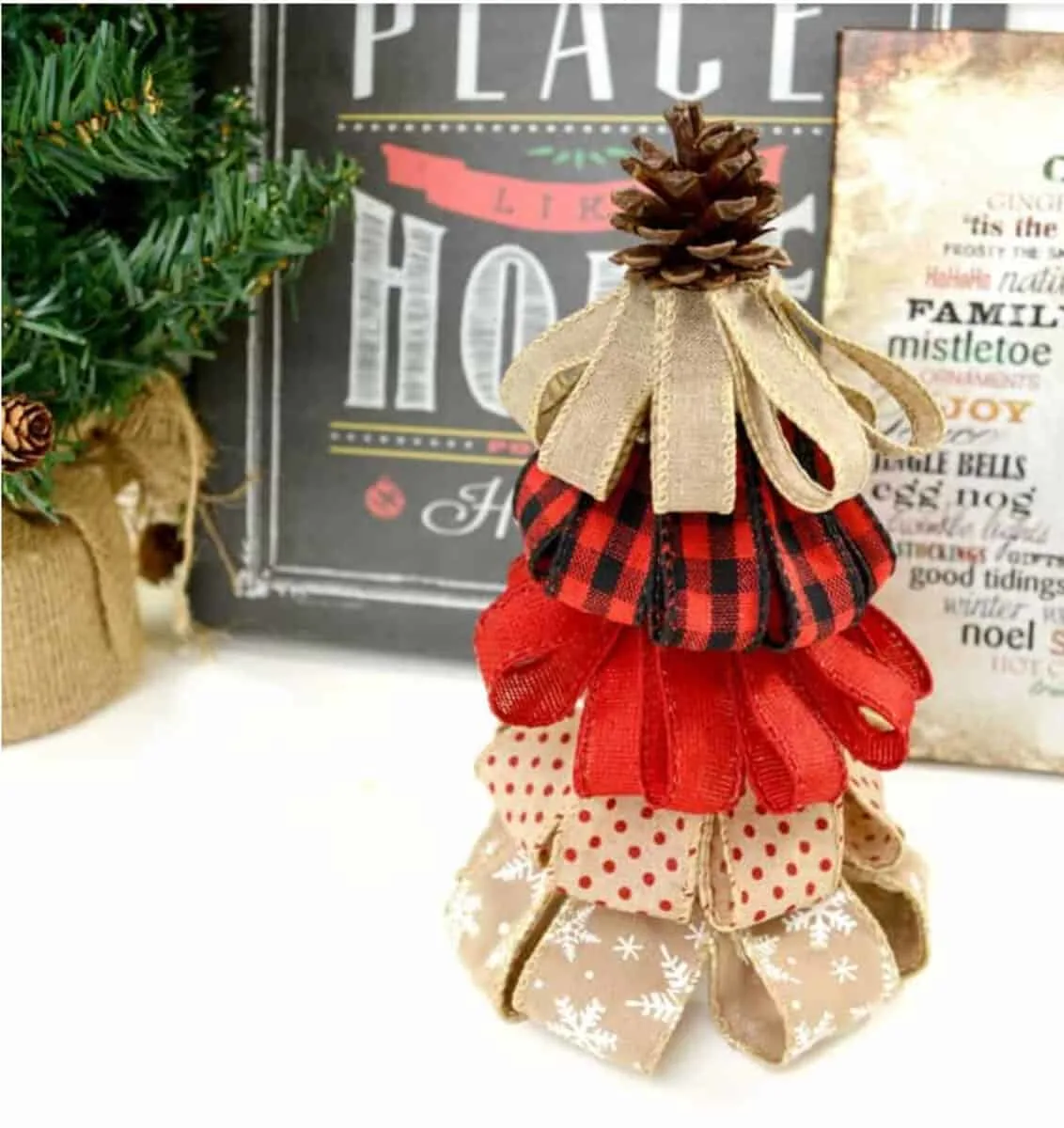 Use crafting scraps or dollar store supplies to easily make these festive little burlap ribbon trees perfect for gift giving.
---
Folded Paper Stars or Snowflakes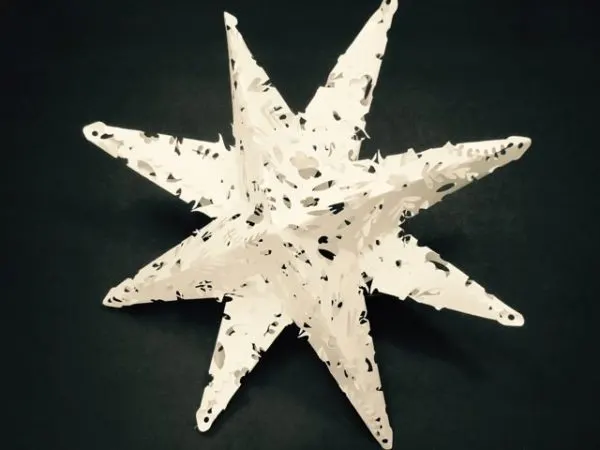 And, while you're making stick stars, why not stick with a theme? Learn how to make folded paper stars two different ways. Great for decorating the tree, making a garland, or hanging in the window.
I made several out of die-cut paper to create a snowflake look. (Though I have to tell you, these were really hard to fold. If you want to try this, practice several times with plain paper first, or you might just start to hate me.)
---
Ugly Christmas Sweater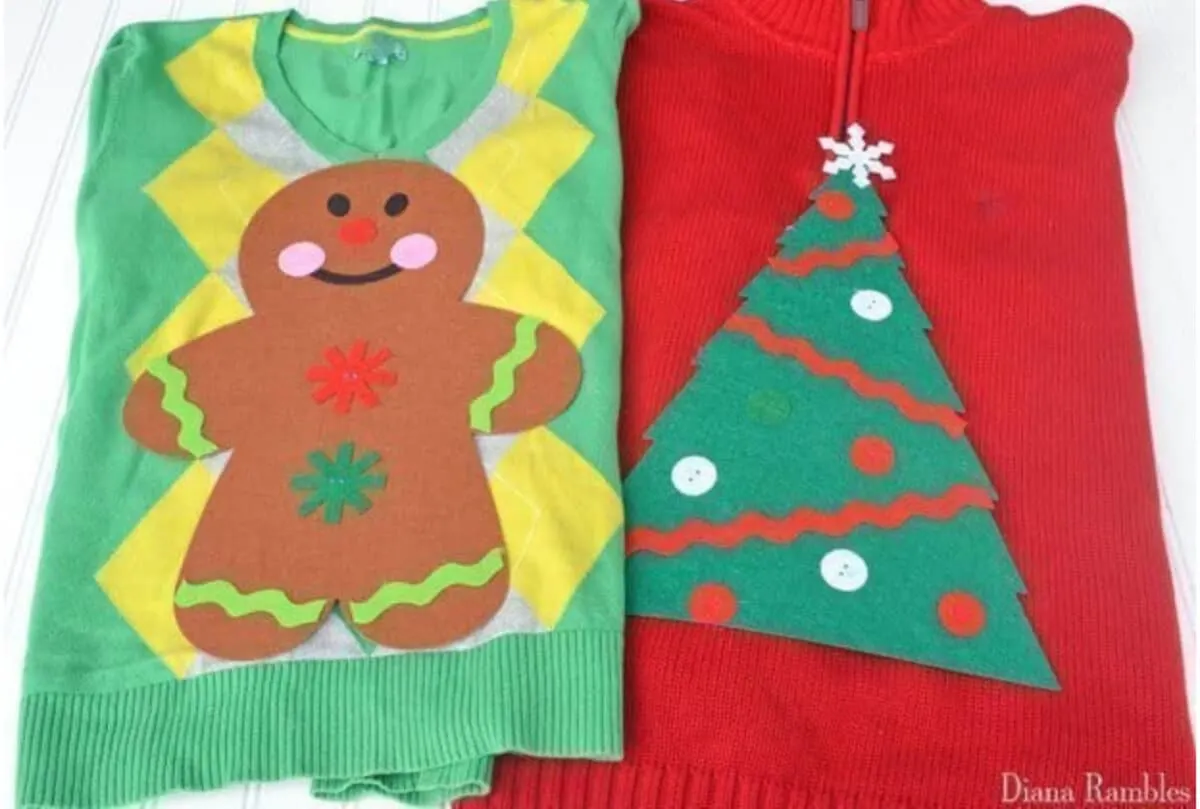 Who doesn't need an ugly Christmas sweater for the holidays? Make them a fun and festive sweater to wear for a party or funny holiday photos. You'll be surprised at how easy and inexpensive this DIY is!
---
Buffalo Plaid Hand Warmers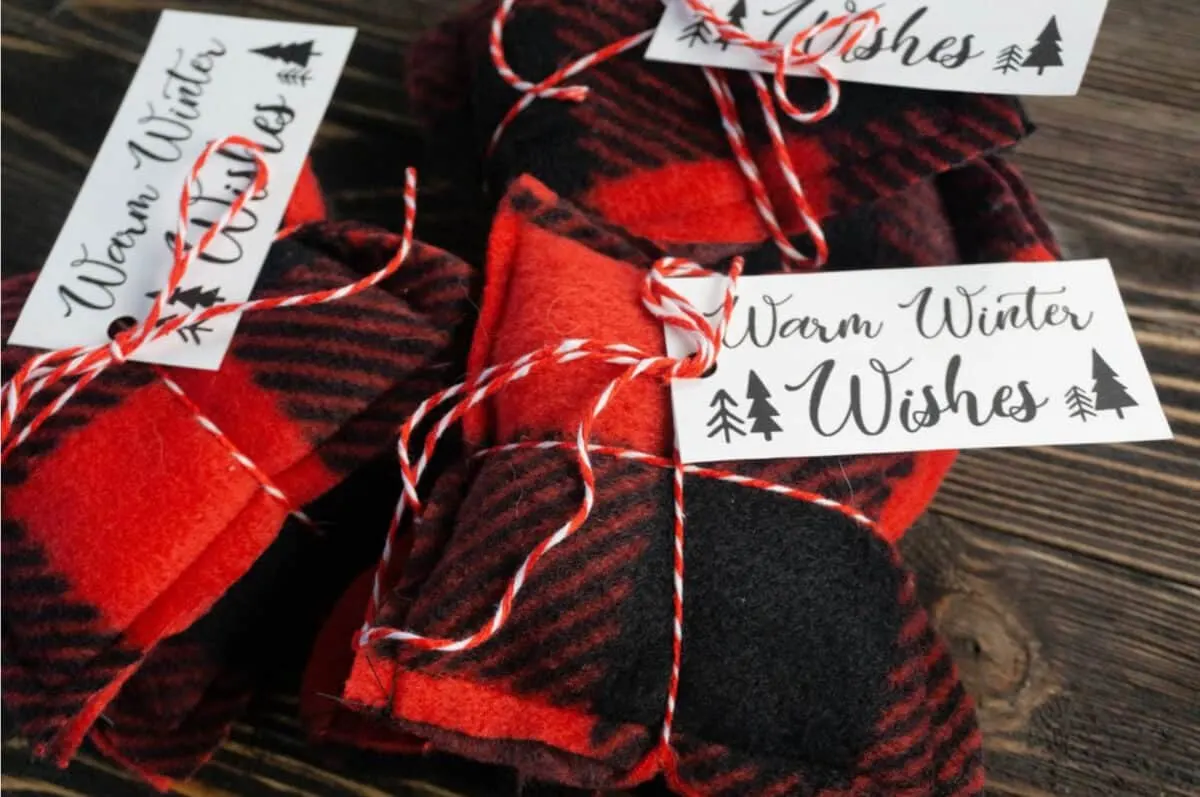 A great gift for the winter time. Make these reusable hand warmers using fabric and rice!
---
DIY Milk and Cookies for Santa Plate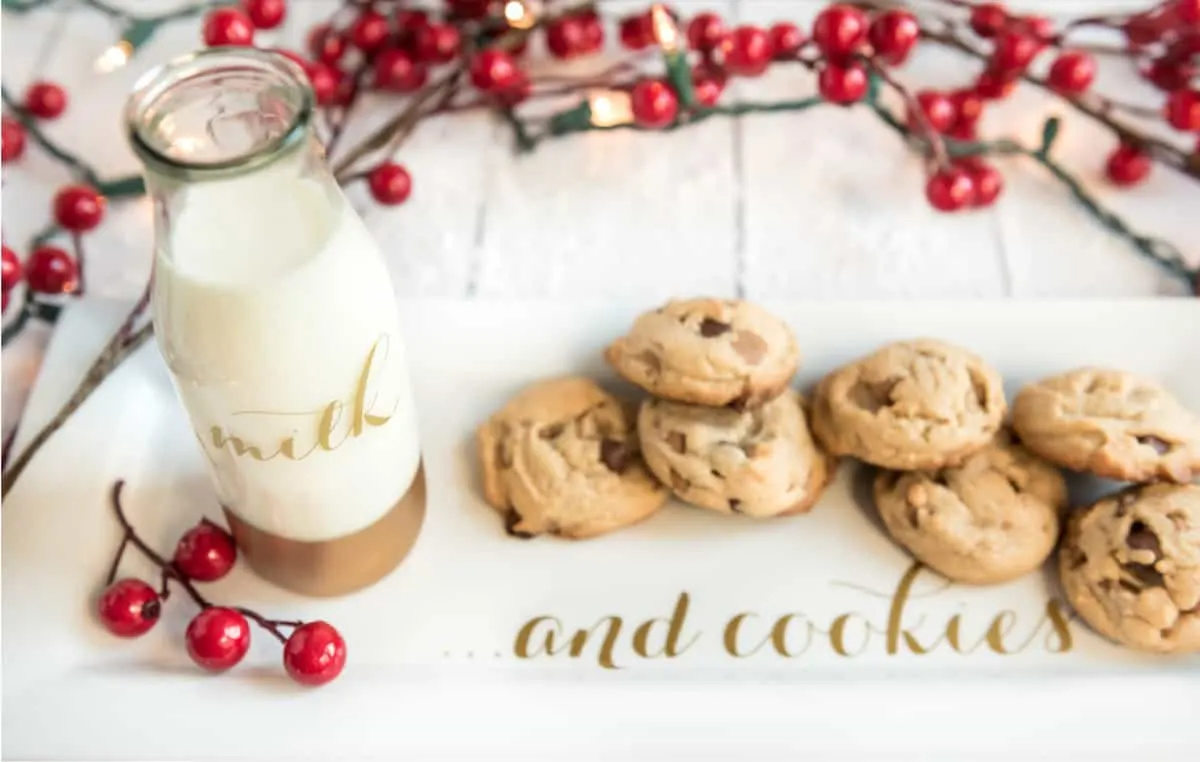 A perfect gift for a family! Using a Cricut maker, make this stunning milk and cookies plate set that Santa will love!
---