These Christmas crackers made from toilet paper rolls are so easy to make and super cheap!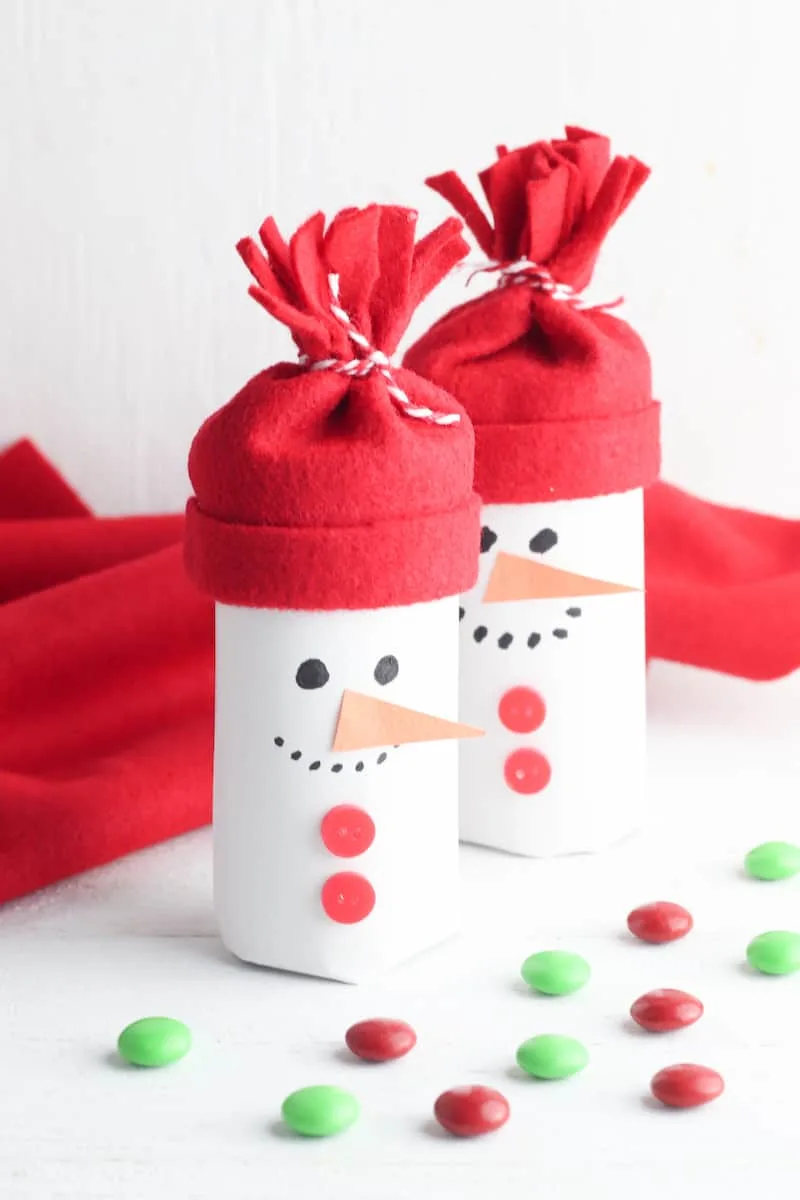 Looking for something fun for Christmas dinner or to put in stockings? Then you'll love these DIY Christmas crackers!
Sure, you can buy Christmas crackers in the stores, such as T.J. Maxx or on Amazon. But the cost can be higher than what you want to spend. And you never know what exactly the gifts will be inside or what quality they'll be.
When you learn how to make Christmas crackers yourself, you can customize the gifts inside so that everyone gets something fun. Here's some great ways to use Christmas crackers:
Add to each person's place setting for a holiday meal
Put inside Christmas stockings
Have a basket of them as party favors
Great craft project for kids
Stick one inside the mailbox for your mail carrier
These crackers don't make the popping sound that is often found with other Christmas crackers. However, they are cuter and you can customize them to your liking, which is way better in my opinion!
Be sure to see our other toilet paper roll crafts, such as these DIY Confetti Poppers and a fun punch-hole toilet paper tube advent calendar.
How to Make Christmas Crackers Out of Toilet Rolls
Materials
Empty toilet paper tube (buy this 30-pack of cardboard tubes for super cheap so you don't have to remove toilet paper from the roll!)
White construction paper
Orange construction paper
Red felt
Black marker
Scissors
Hot glue gun
Candy / treats for filling (see below for ideas for adults and kids)
***Helpful Hint: You can skip the step about rolling the paper if you buy white toilet paper tubes! Just add some paper to the bottom to keep the gifts inside.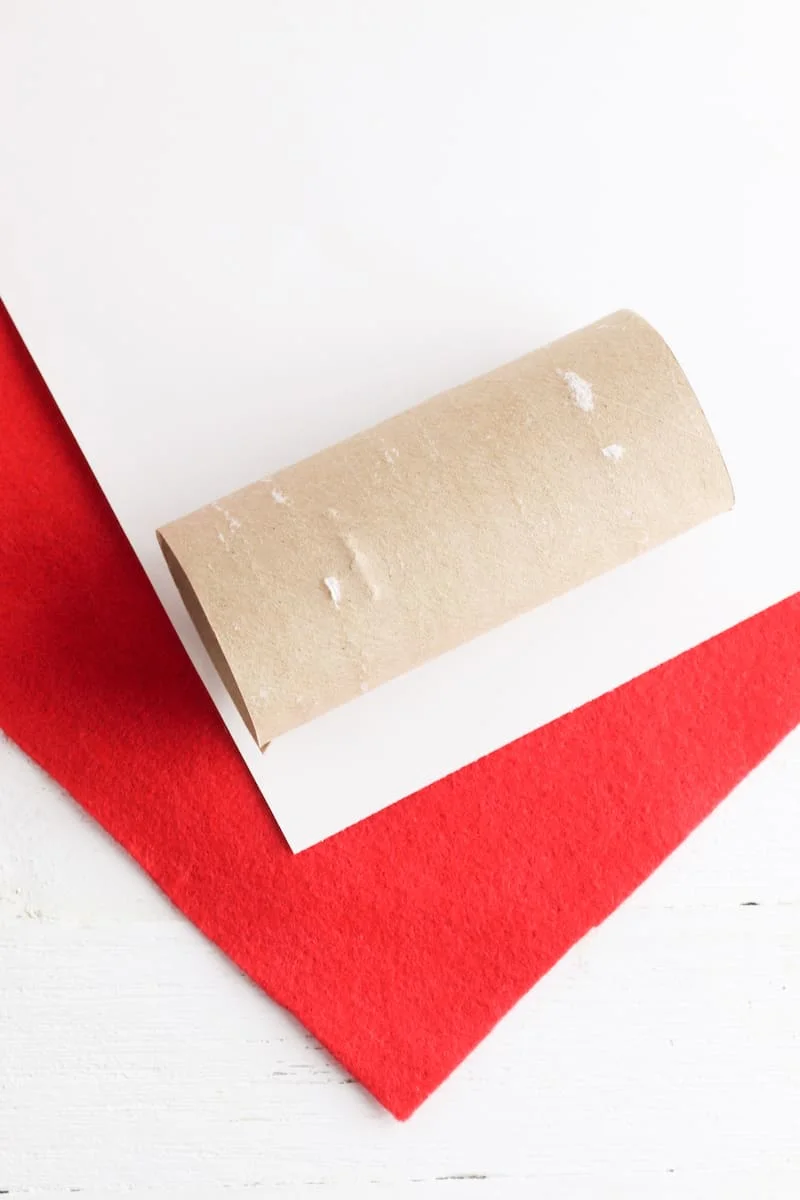 Directions
Cut a piece of white construction paper to fit around the toilet paper tube, leaving around one inch of extra paper hanging over the end of the tube. Roll the paper over the tube until it is completely covered, securing the edge of the paper with glue or tape.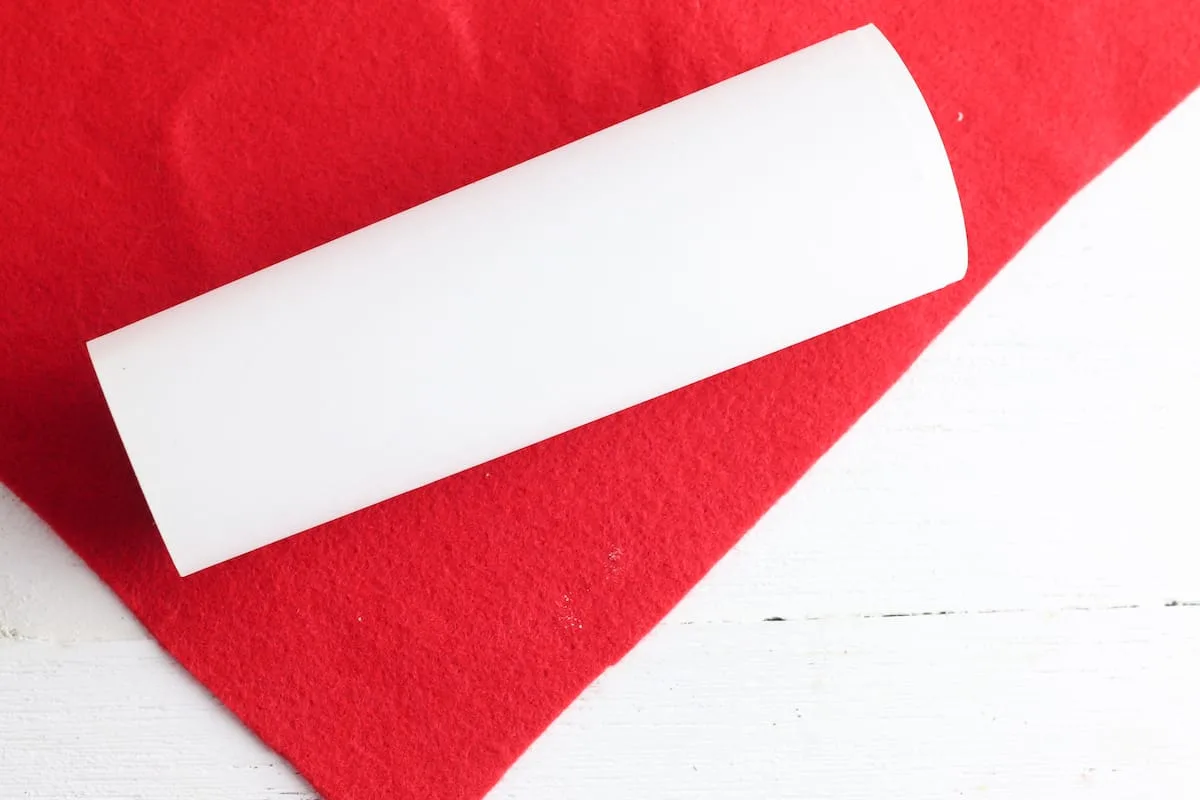 Turn the tube upside down and fold over the extra inch of paper to cover the bottom of the tube. You can just push in then excess paper into the tub. Secure the loose folds with glue or tape if you'd like.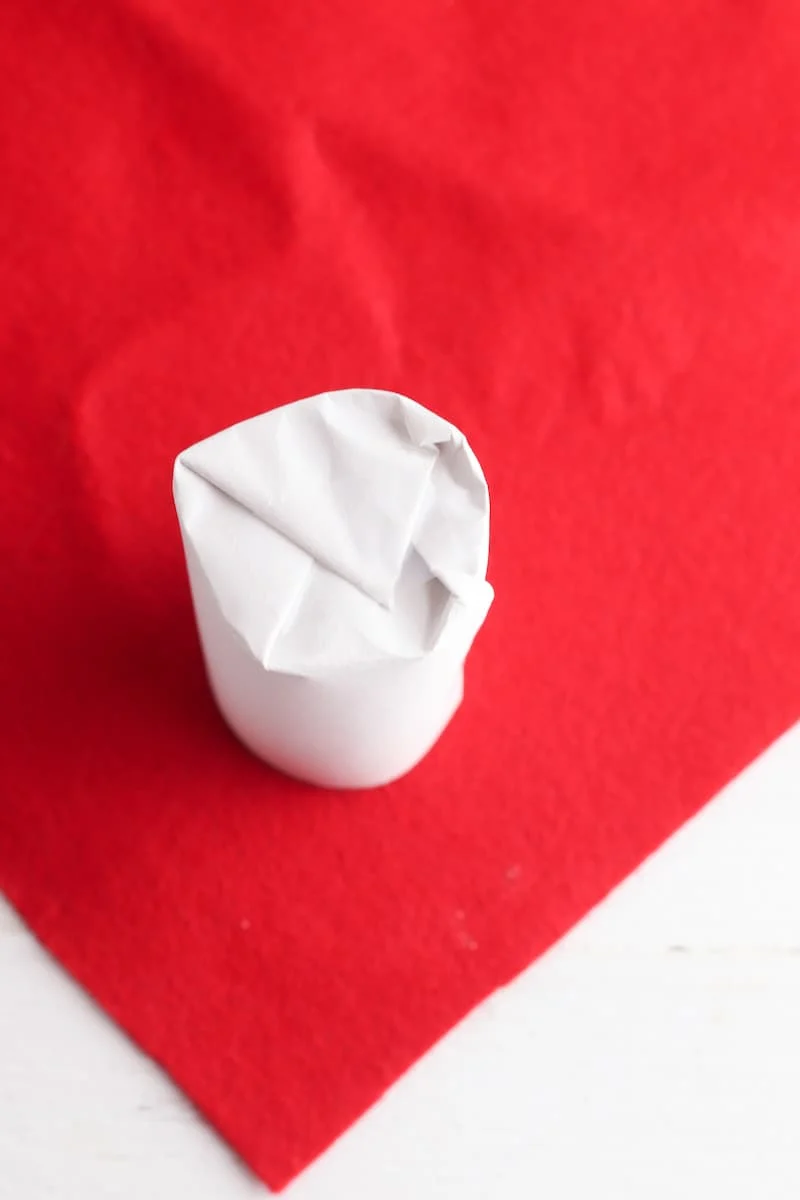 Fill the tube with candy and small toys.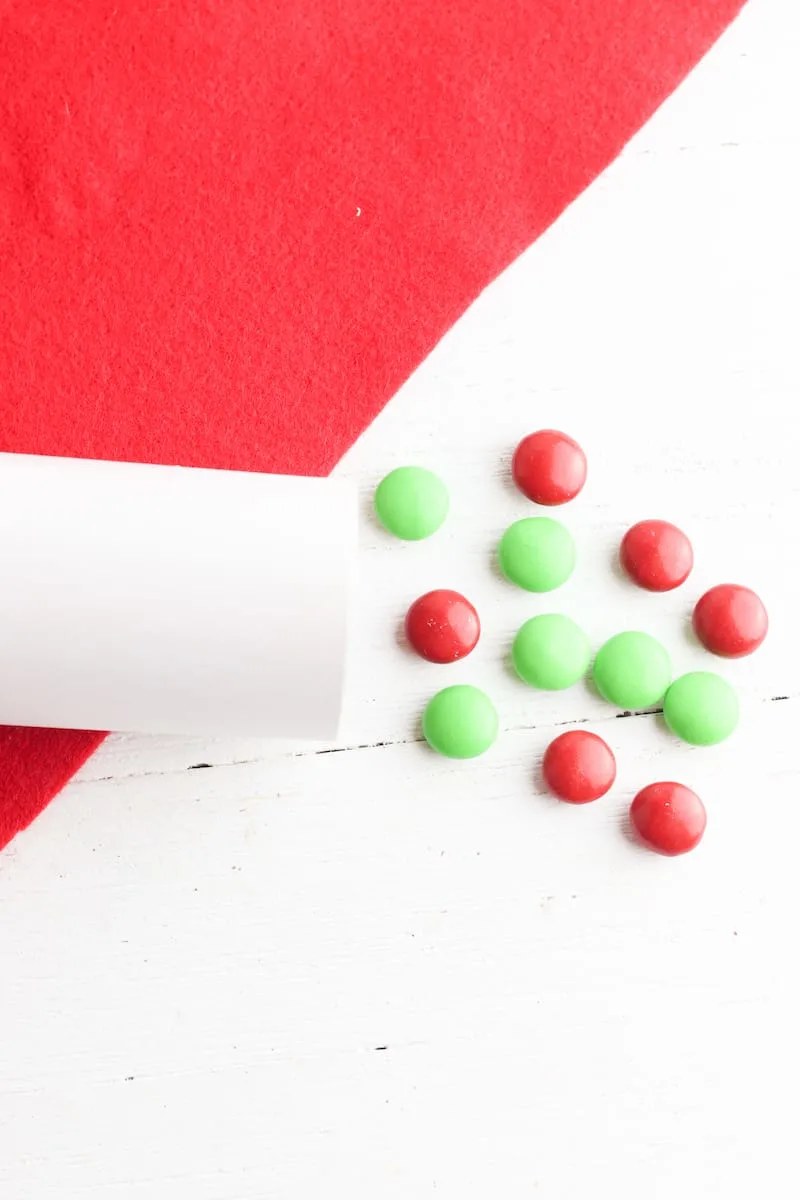 Cut a piece of red felt wide enough to wrap around the top of the tube and around four inches tall. Fold the end of the red felt up and glue it in place to create a brim.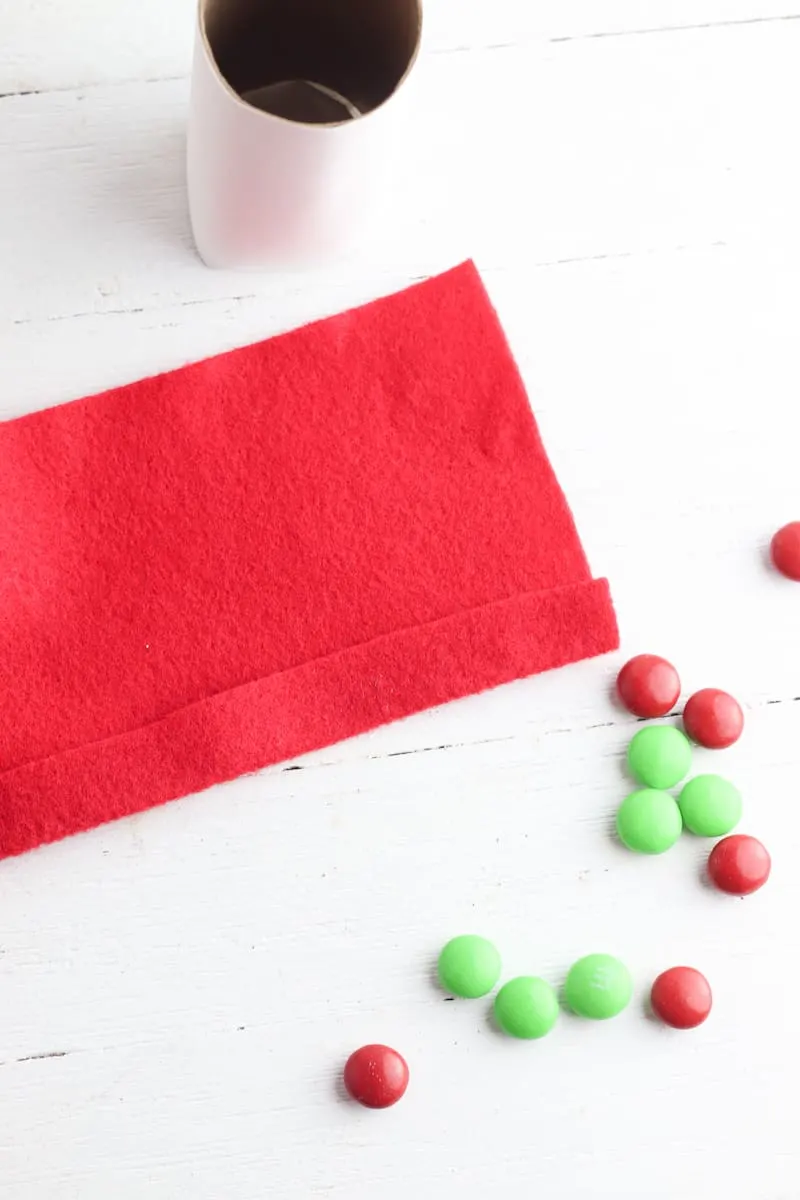 Glue the red felt around the top of the tube as a hat. Be sure to keep both seams – for the hat and the snowman part – in the back.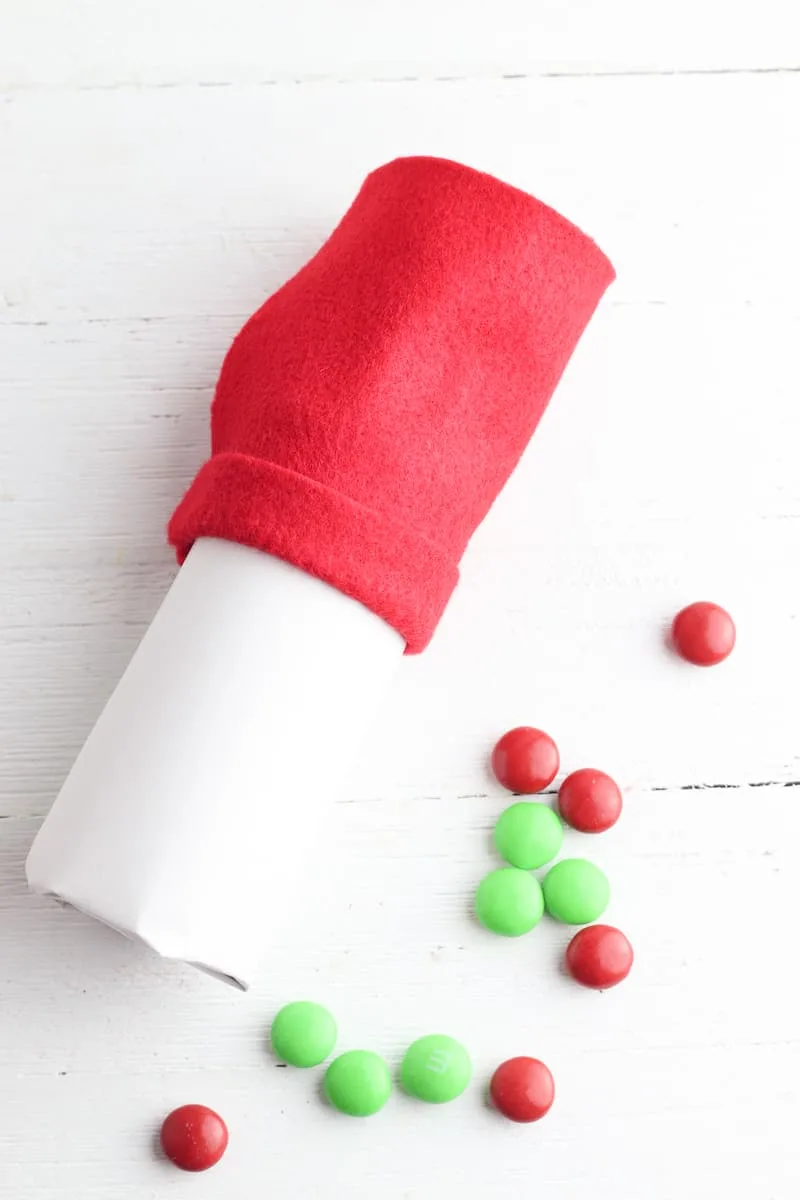 Use the twine to bunch the top of the felt hat together, then fray the top of the hat using your scissors.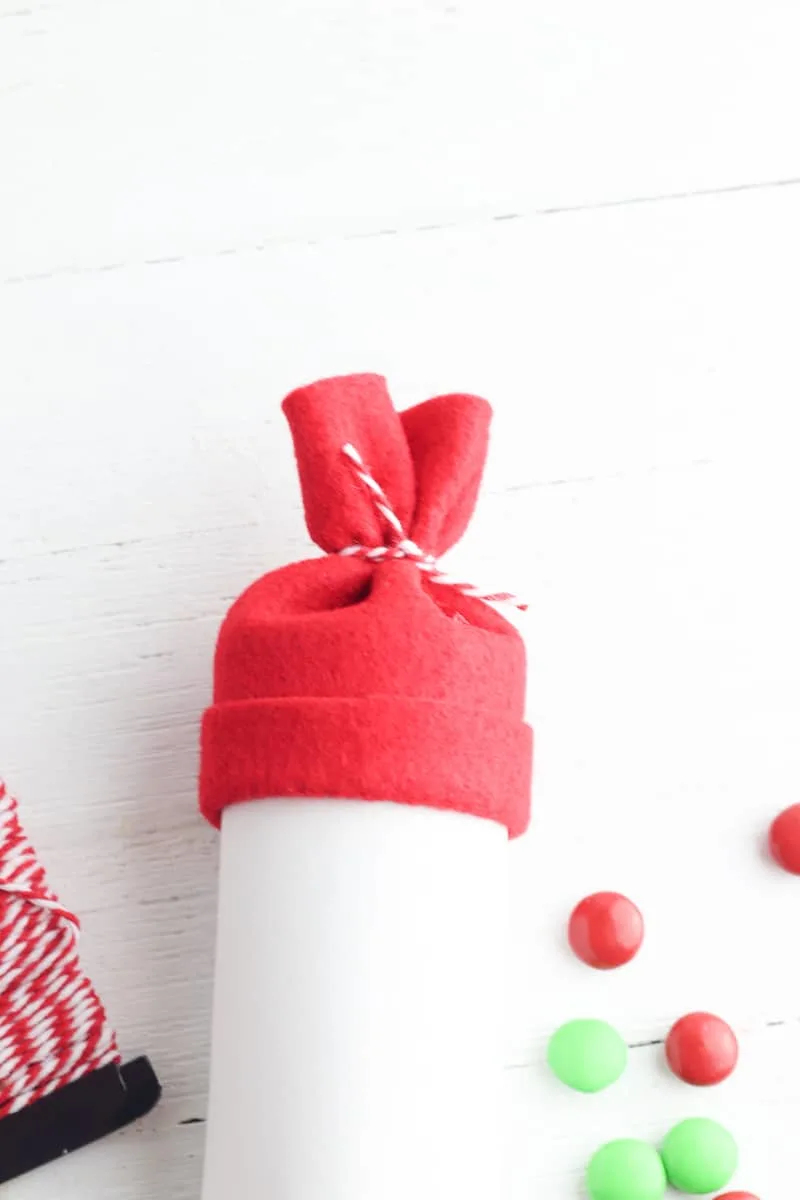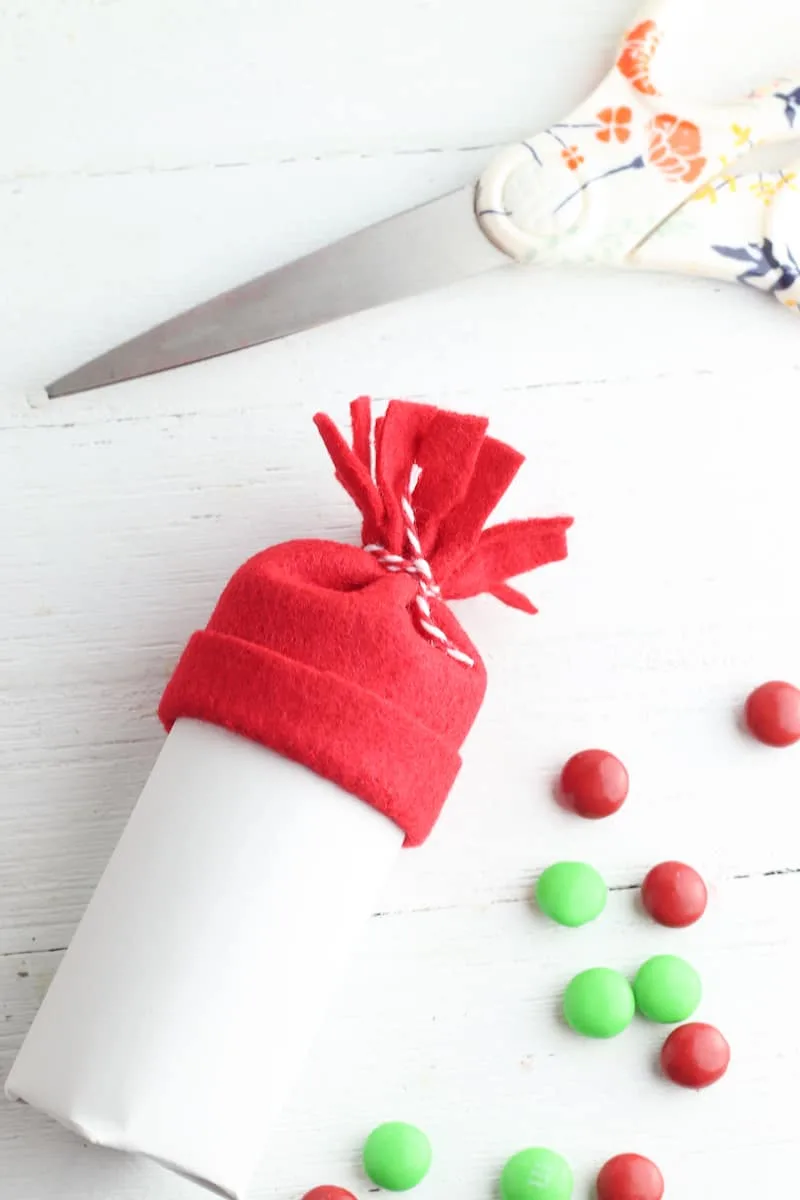 Draw a face on the front of the snowman cracker with the black marker.
Cut a triangle out of the orange construction paper and glue it between the eyes and mouth as the snowman's nose.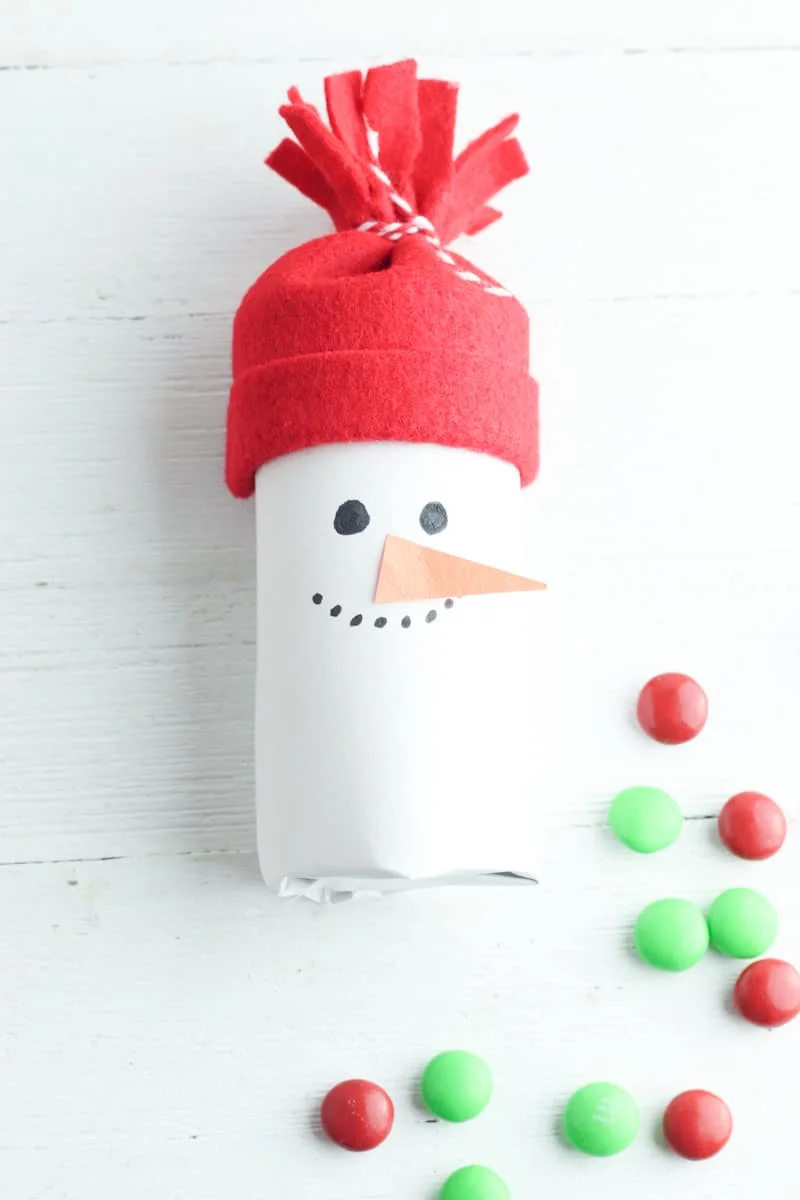 Glue two red buttons along the bottom center of the snowman.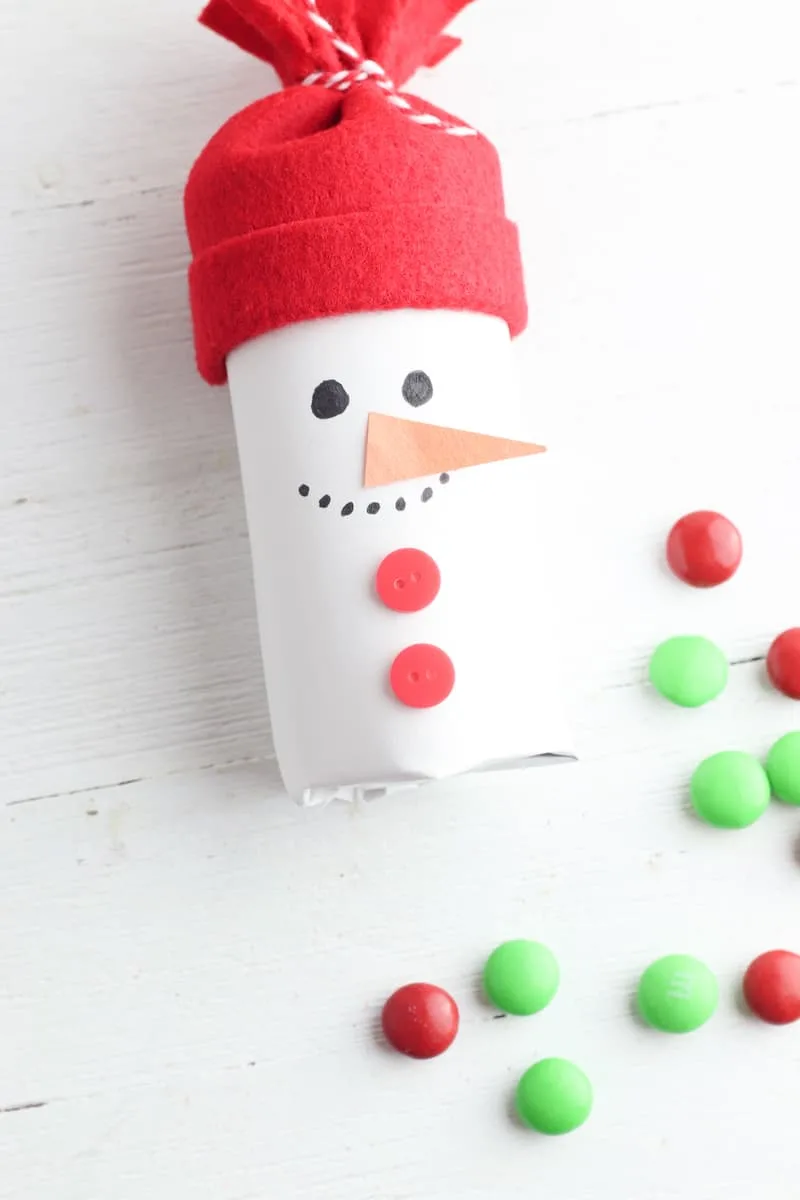 ***Optional step: These pictures below are from Christmas crackers made years ago in a slightly different way with tissue paper. For those, we added wooden twigs as arms. If you're interested in doing that, see instructions below.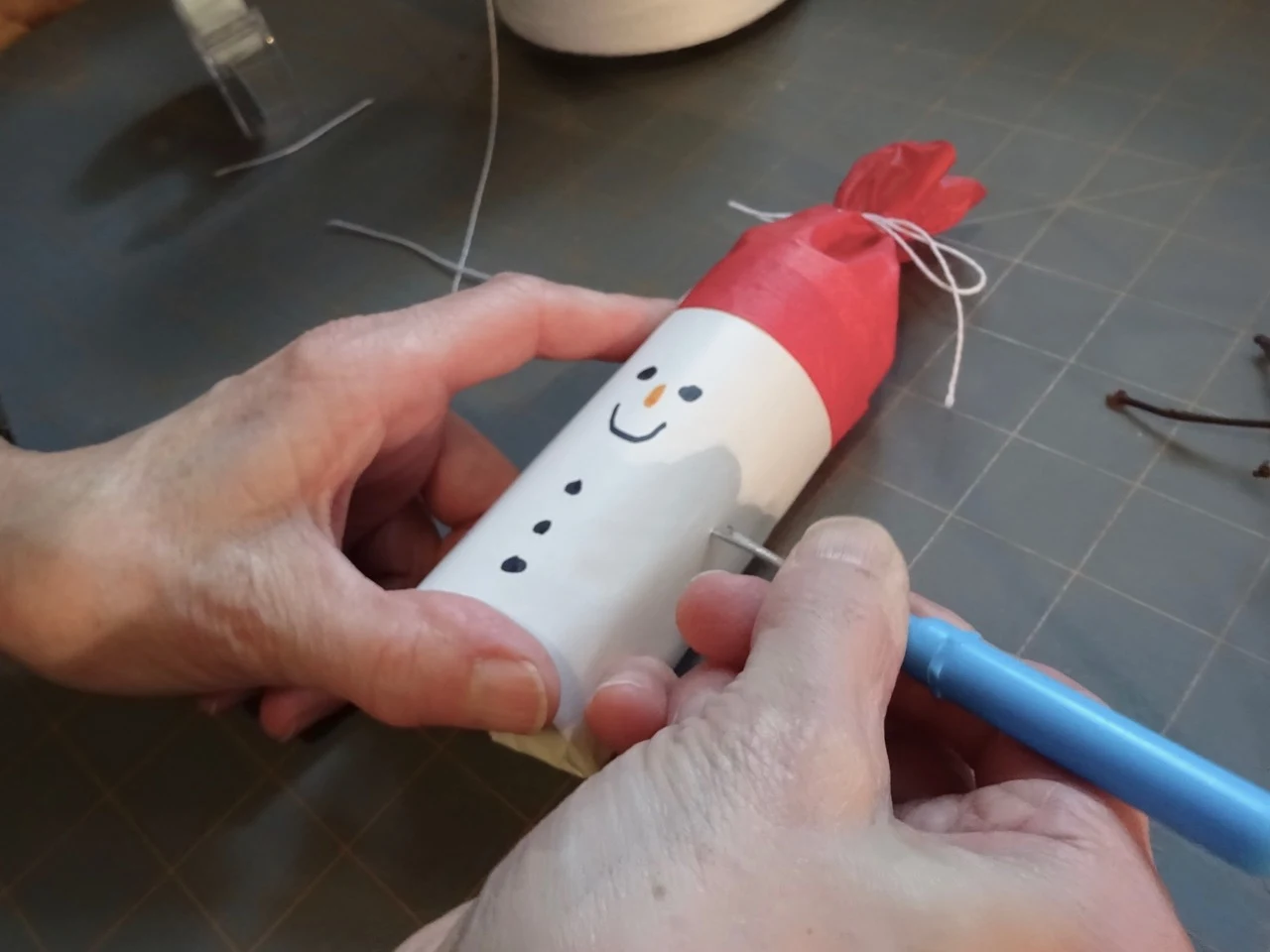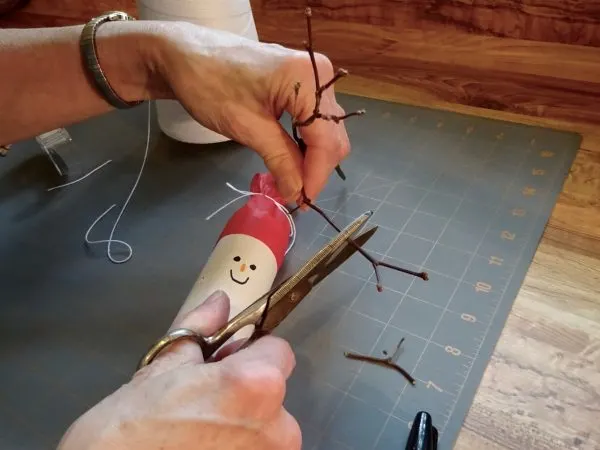 Poke a small hole in each side of the tube. (Be gentle, so you don't squash it.)
We used a seam ripper to make the hole, but you could use a sharp nail, or the tip of a small pair of scissors.
Cut pieces from a small stick. Insert a stick into each hole to create the arms.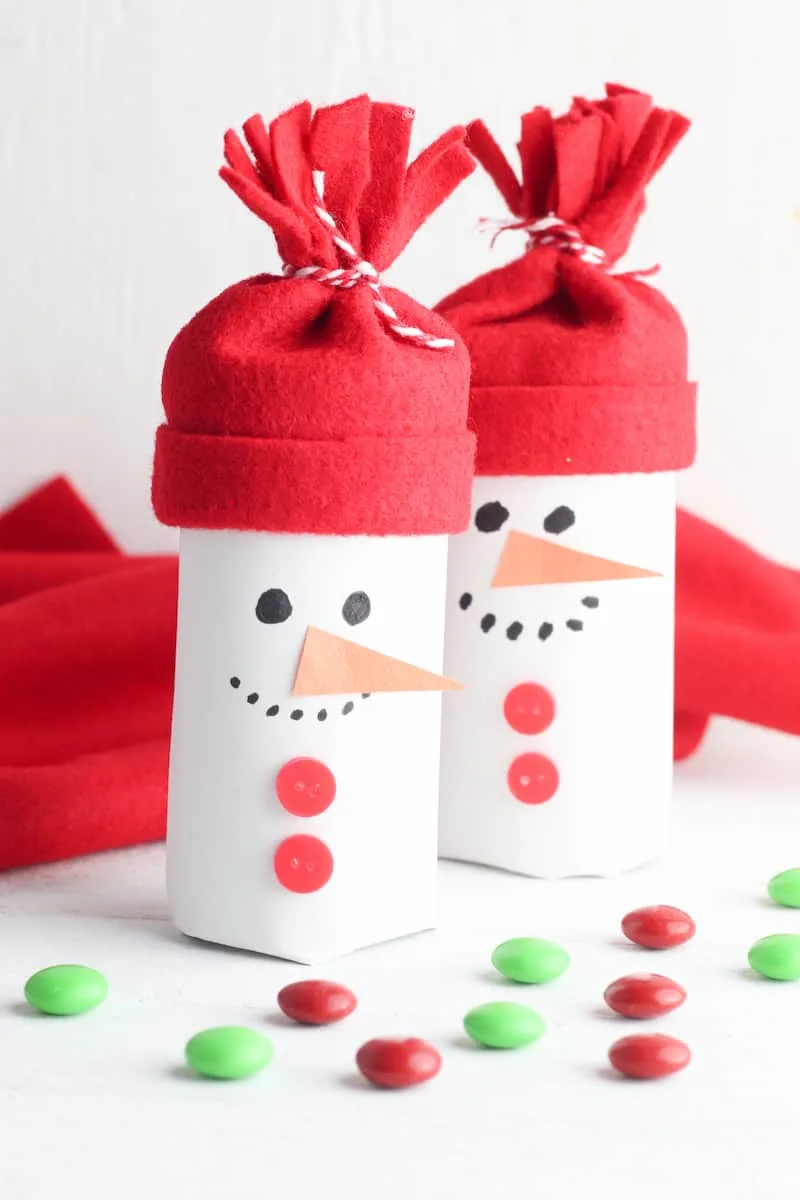 ---
What to Put Inside Christmas Crackers
There are a variety of items to put inside Christmas crackers. Choose gifts that are appropriate for either adults, kids, or both. Here are some ideas:
Kids Christmas Crackers Gifts
Adult Christmas Crackers Gifts
Chocolate
Mini alcohol bottles (such as Baileys)
Trivia Questions
Cash
Bad jokes
Inspirational quotes
---
What Are Christmas Crackers
The Christmas crackers tradition started in the United Kingdom from a candy maker called Tom Smith. He wanted to sell sweets, along with a small riddle or saying tucked in. But they weren't selling just wrapped up like candy, according to WhyChristmas.com.
The history behind Christmas crackers really starts in 1861, when Smith first started selling "Bangs of Expectation," his sweets and a riddle packaged in a tube that had a cracking sound when it was opened.
Soon after, they became quite popular. Christmas crackers are made with a variety of themes and different price points. Most crackers do have a sort of snap or cracking sound when opened.
---
Check out our big list of quick and easy Christmas crafts for even more ideas!
Upcycle a jar into a waterless snow globe with this easy tutorial.
You might like this DIY wood block snowman craft, too. It's reversible and can be used all holiday season!
This dollar store Christmas wreath is elegant and inexpensive!