Make simple and beautiful Scandinavian-inspired felt Christmas Trees with this pattern suitable for both cutting with scissors or using a Cricut machine.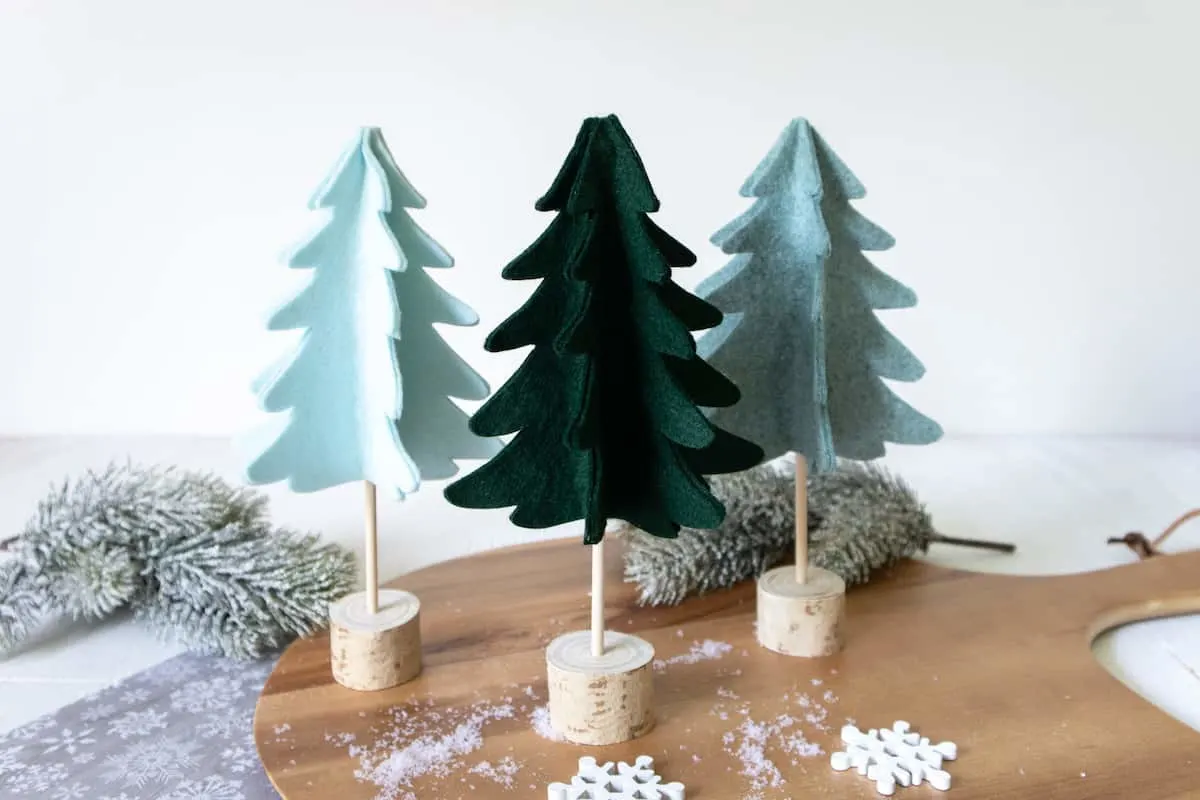 A few years ago, I walked into World Market and fell in love with their Christmas decorations. The theme that year was Scandinavian Christmas and I didn't know how much I loved the simplicity of those decorations until I saw them.
Something about using felt to make heirloom Christmas decor really spoke to me and got to my heart, so to speak.
You know what I didn't love? The prices on those simple, heartfelt, handmade-looking decorations!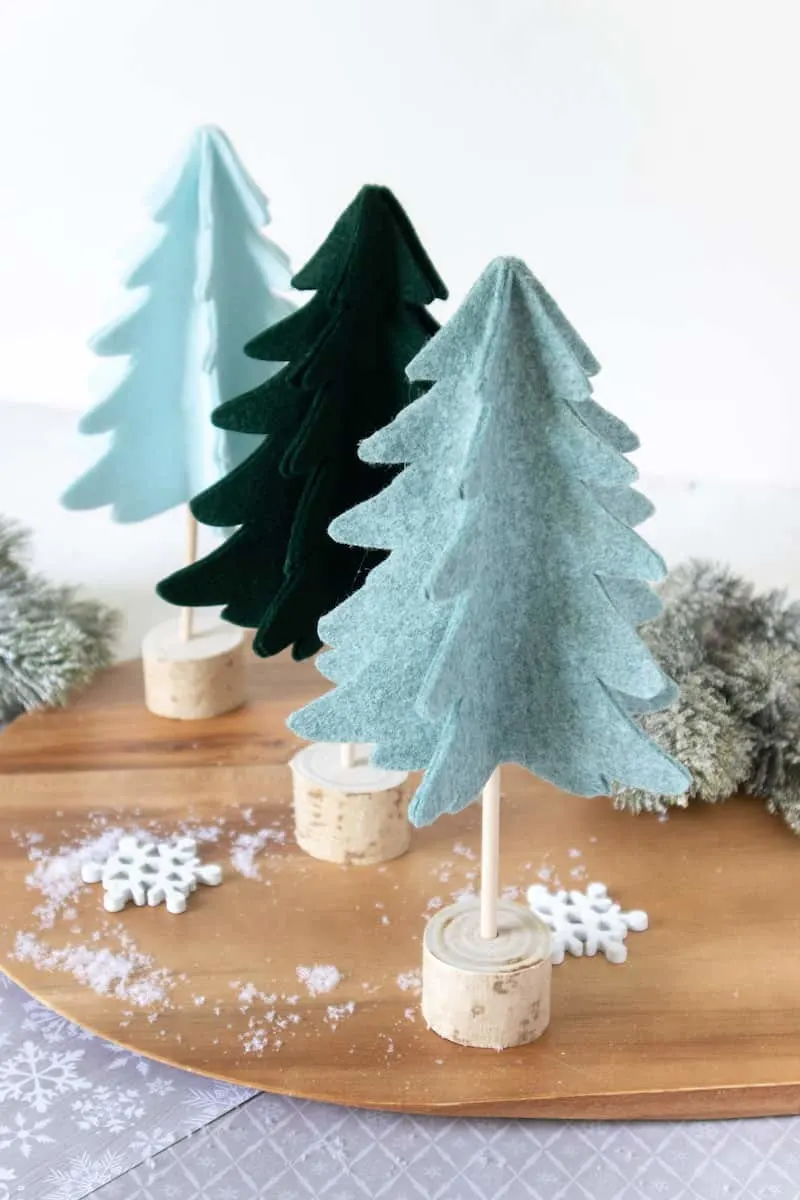 So, I'm thrilled to be able to bring you an easy Scandinavian Christmas tree pattern that is easy to make. And inexpensive to do.
I've made even more Scandinavian Christmas decorations since making these cute trees. Check out my homemade cinnamon applesauce ornaments and these easy wood and clay Scandinavian ornaments.
Felt isn't expensive. Which makes this DIY craft a great idea for decorating your own mantel or giving as gifts!
I used pastel and cool colored felts for a traditional Scandinavian design. Similar to the 3D Felt Pumpkins I made before.
I also use winter-appropriate felt pastels for my DIY gnome wine bottle topper and cute gnome ornaments.
However, you can use whatever color of felt (or patterned felt) that you would like. Consider using all whites and creams for a winter wonderland. Use traditional greens and reds.
Or, use something unusual, like pinks and purples, for a winter holiday scene perfect for tweens and teens to decorate their rooms.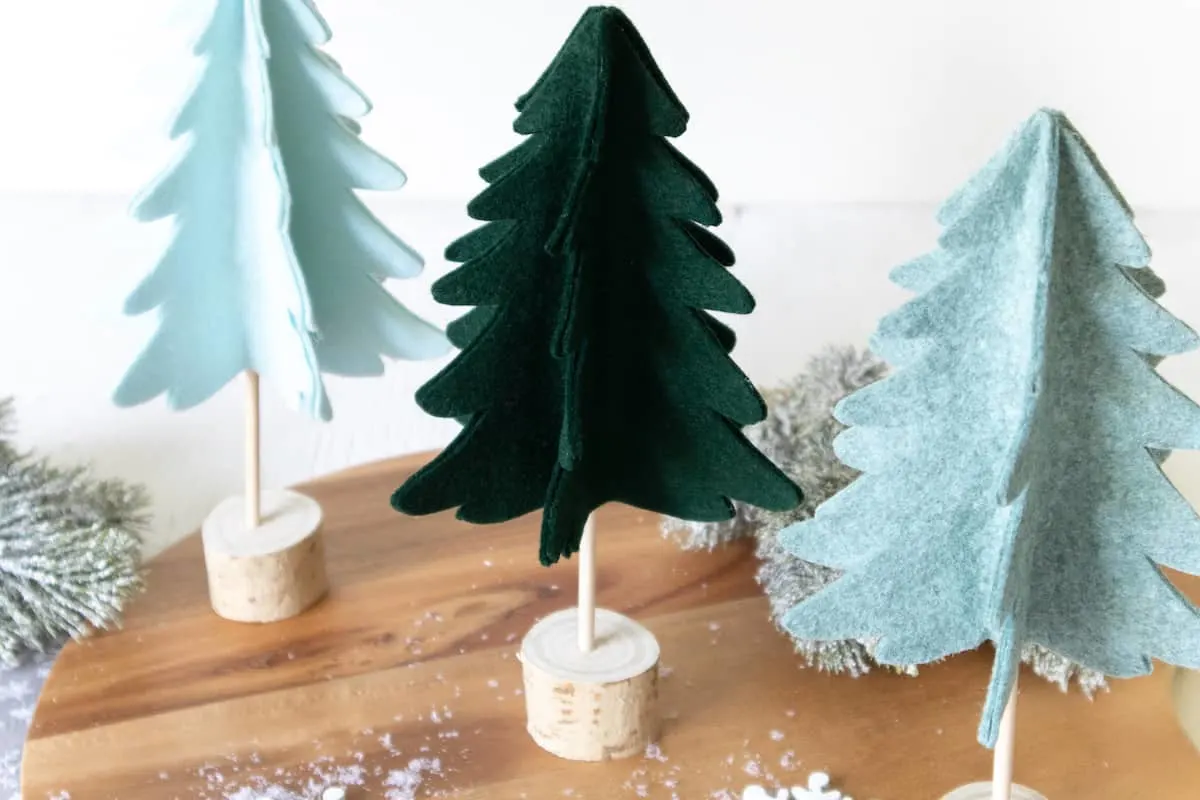 How to Make Felt Christmas Trees
Materials
Christmas Tree pattern (either PDF or Christmas Tree SVG file)
Felt fabric in 3 coordinating colors (I used sheets in Icicle, Rainstorm, and Evergreen from BenzieDesign)
Fabric scissors
Hot glue gun and clear craft glue
Wooden dowel, 8" long
Wood stump (1" diameter x 1.25" high)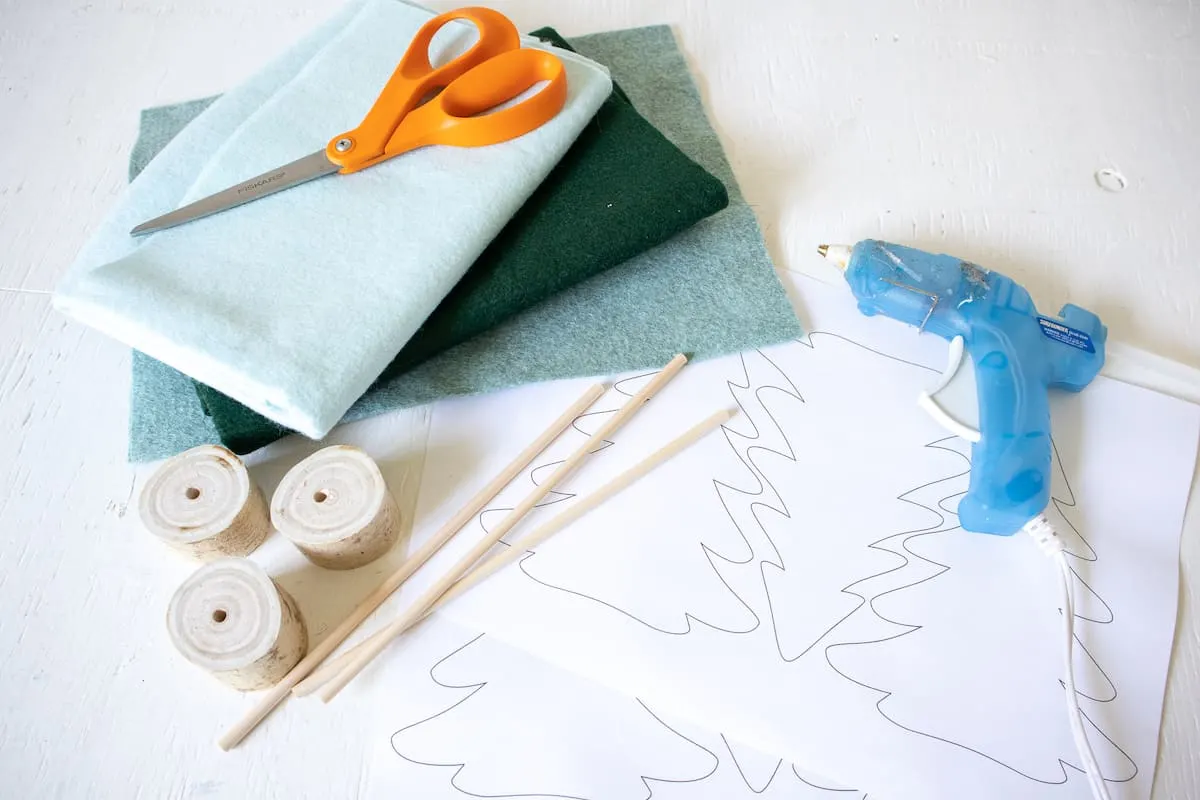 Instructions
Drill a hole in the center of the stump the same size as the wooden dowel.
These instructions allow you to either cut the felt patterns out with scissors, or use a Cricut machine. Both instructions are below, although you just need to choose one method.
Cutting Felt Out by Hand
Print Christmas tree pattern on an 8.5 x 11 inch sheet of paper.
Cut around each of the pattern pieces.
Cutting out one tree at a time, place the pattern on top of the felt sheet in desired color. Using a pair of fabric scissors, cut out the tree shape along the solid line.
Tip: If you find the pattern slipping on the felt, use pins to keep it in place.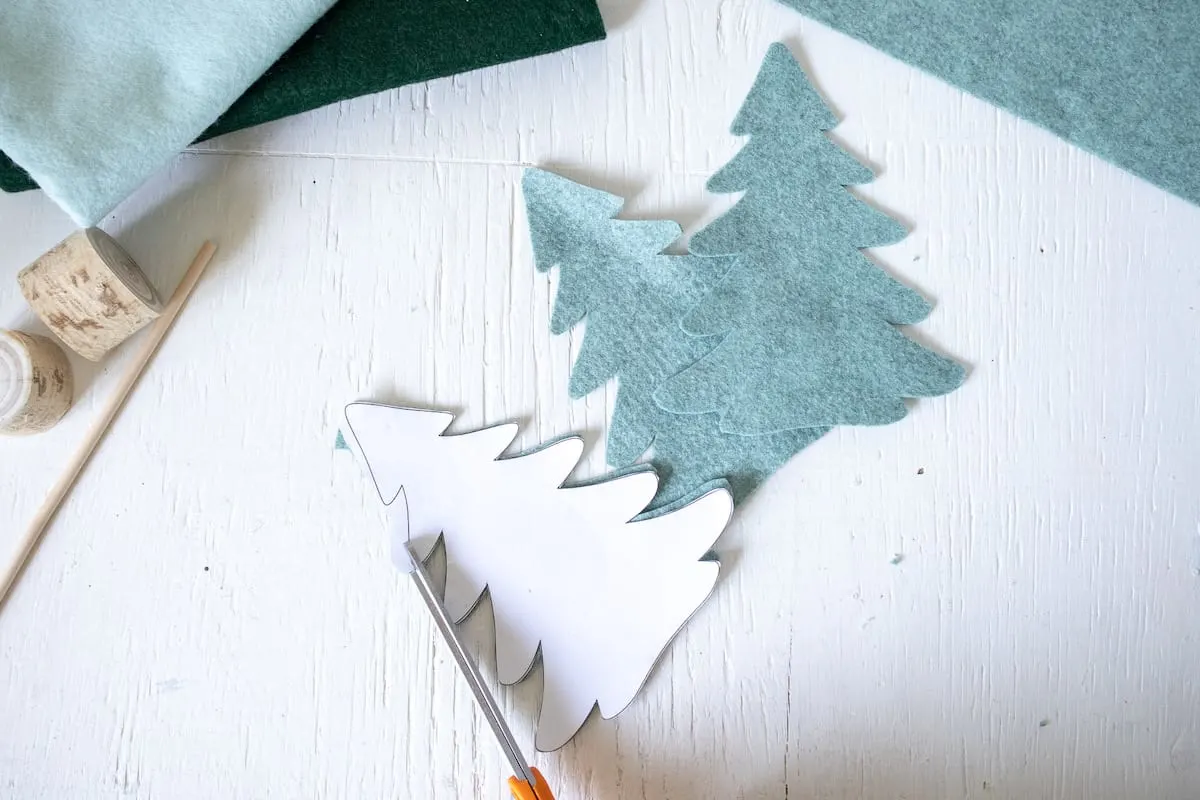 Cut 6 pieces of each tree.
Repeat for any remaining trees you would like to make.
Using Cricut to Cut the Felt
Open a blank canvas in Cricut Design Space.
Upload the Christmas Tree SVG File into Design Space.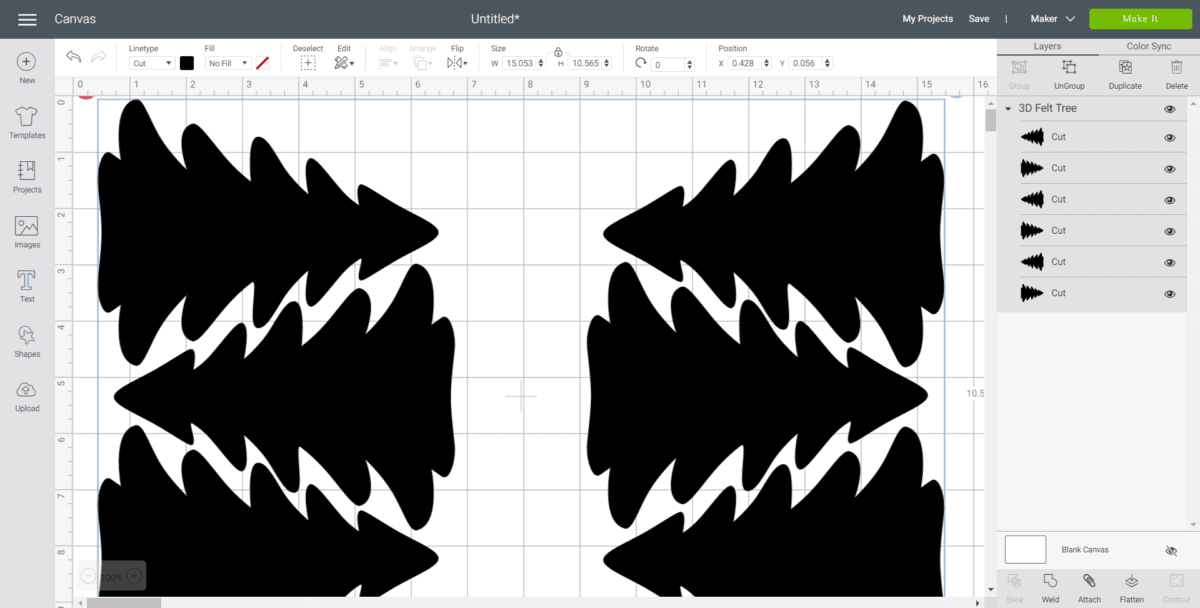 Select "Make It" in Design Space.
Set material type to Felt.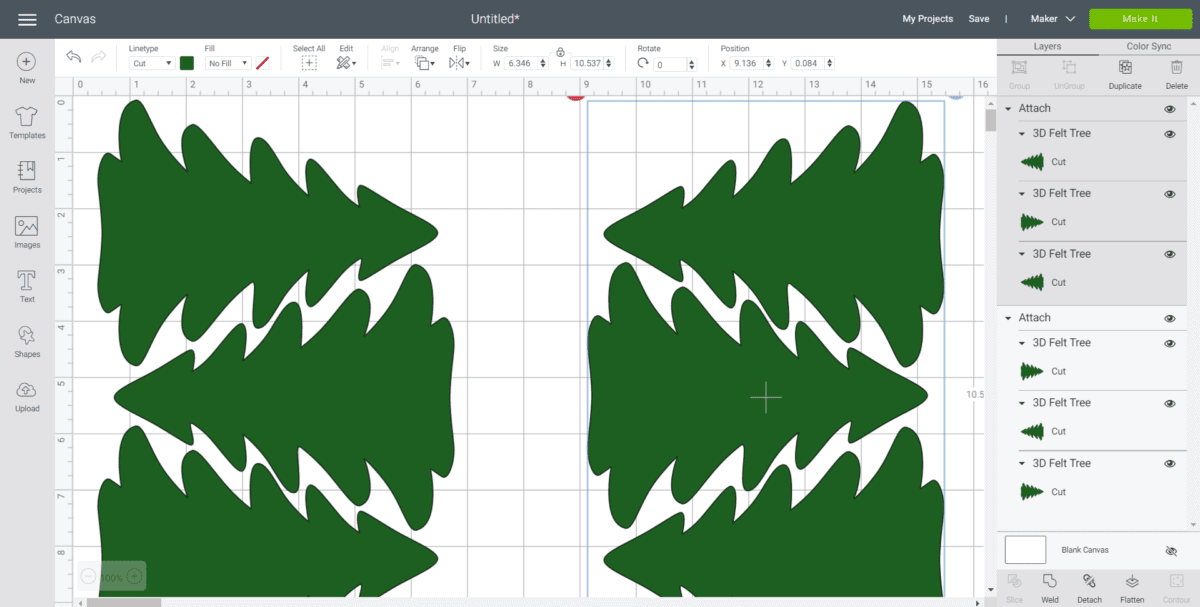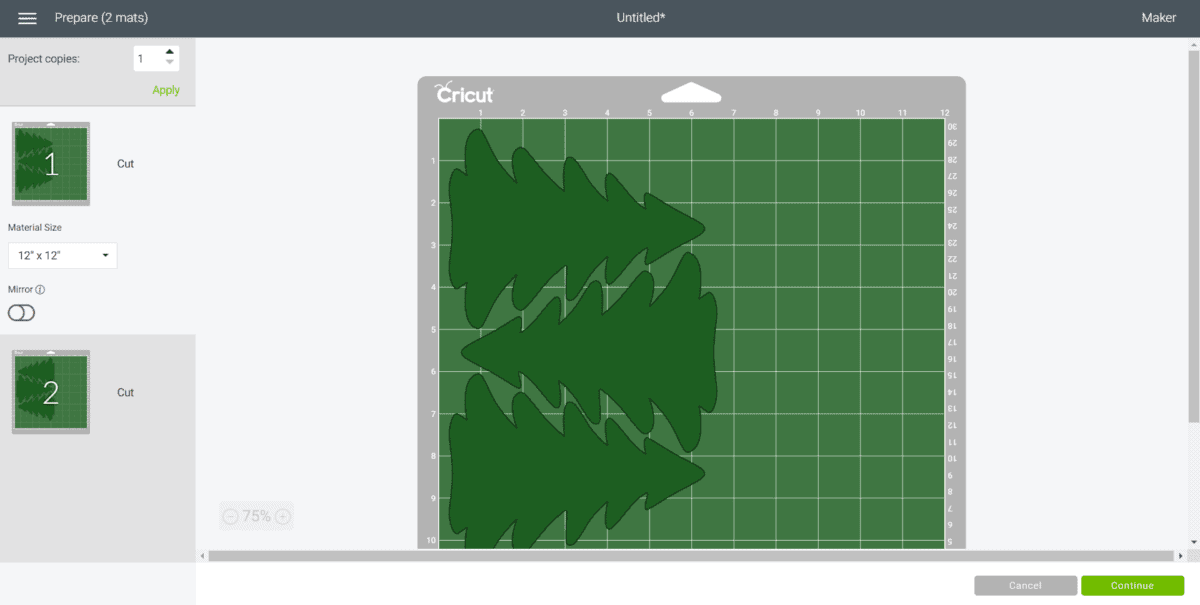 Follow prompts for loading the mat into the Cricut cutting machine and cutting the felt. When prompted, unload the mat from the cutting machine.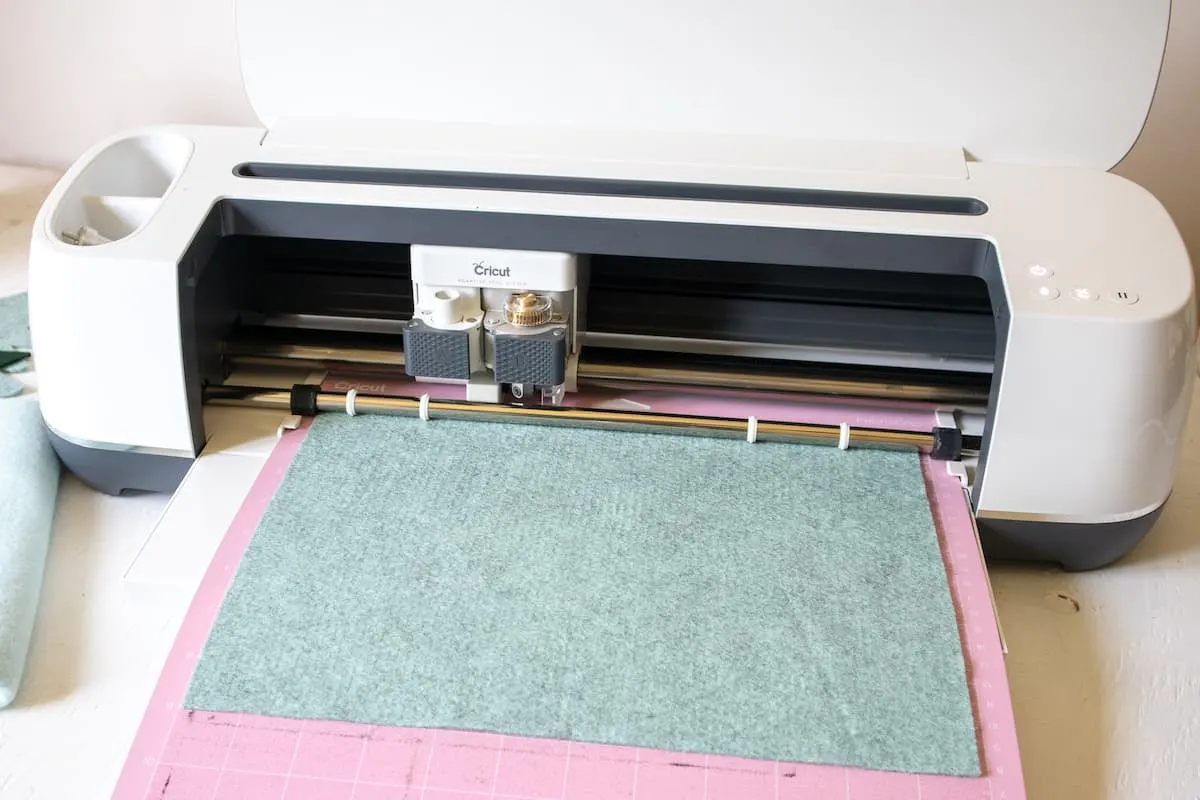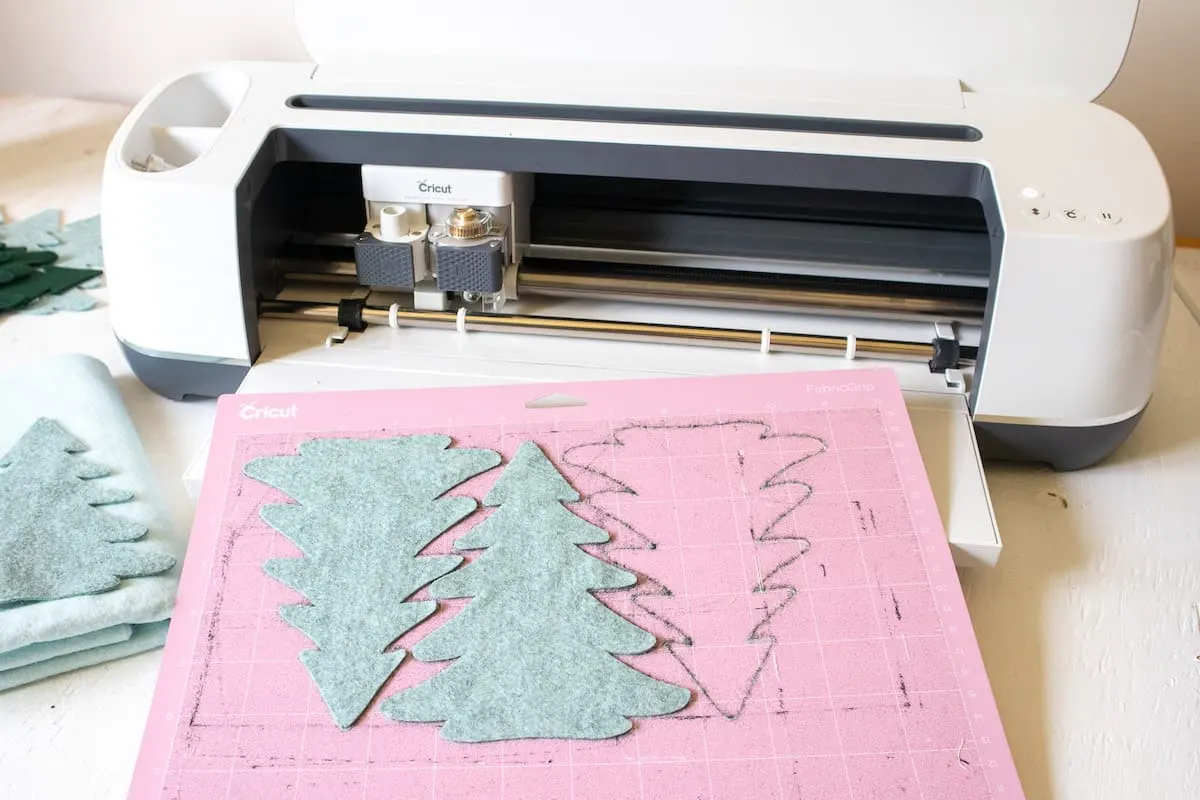 Continue cutting 6 pieces for each tree.
Cut additional pieces for additional trees you would like to make.
Assembling the 3D Christmas Trees
On one side of a tree piece, apply a bead of glue along the outer edge.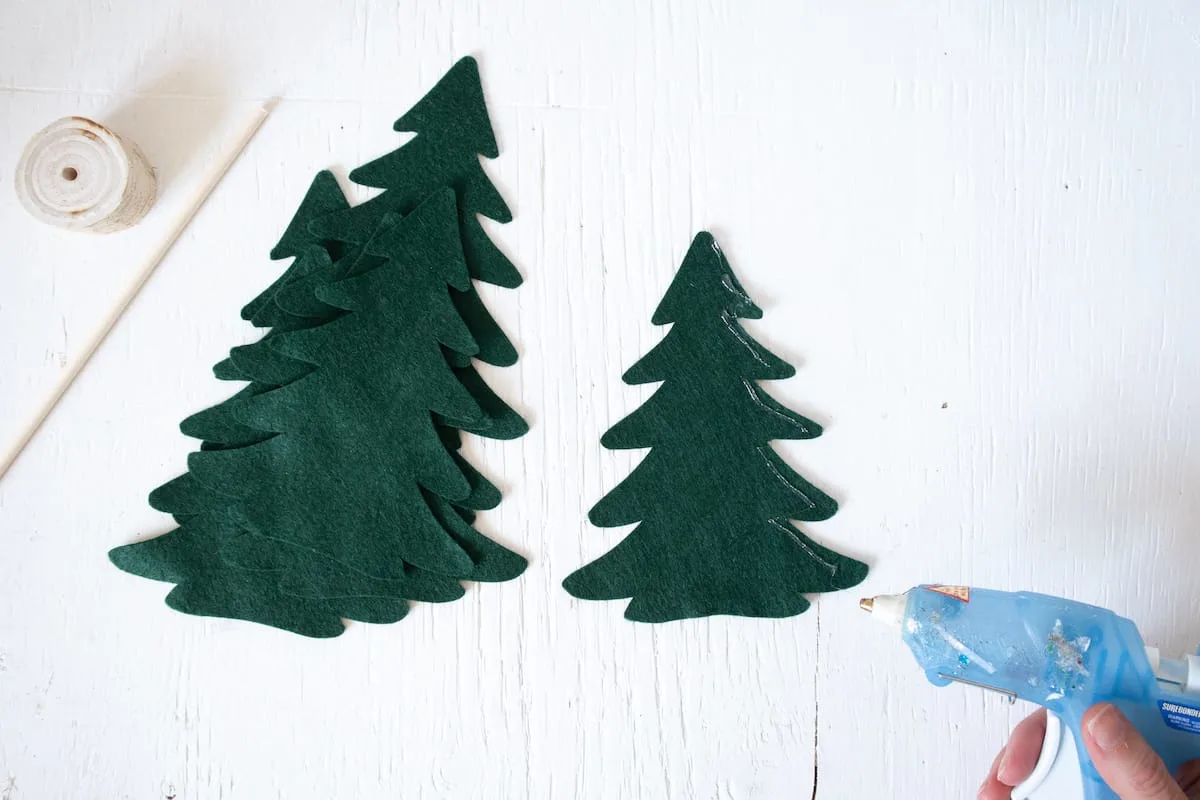 Place another tree piece on top pressing the glued edges together. Lift and fold back the unglued side and apply another bead of glue along the outer edge.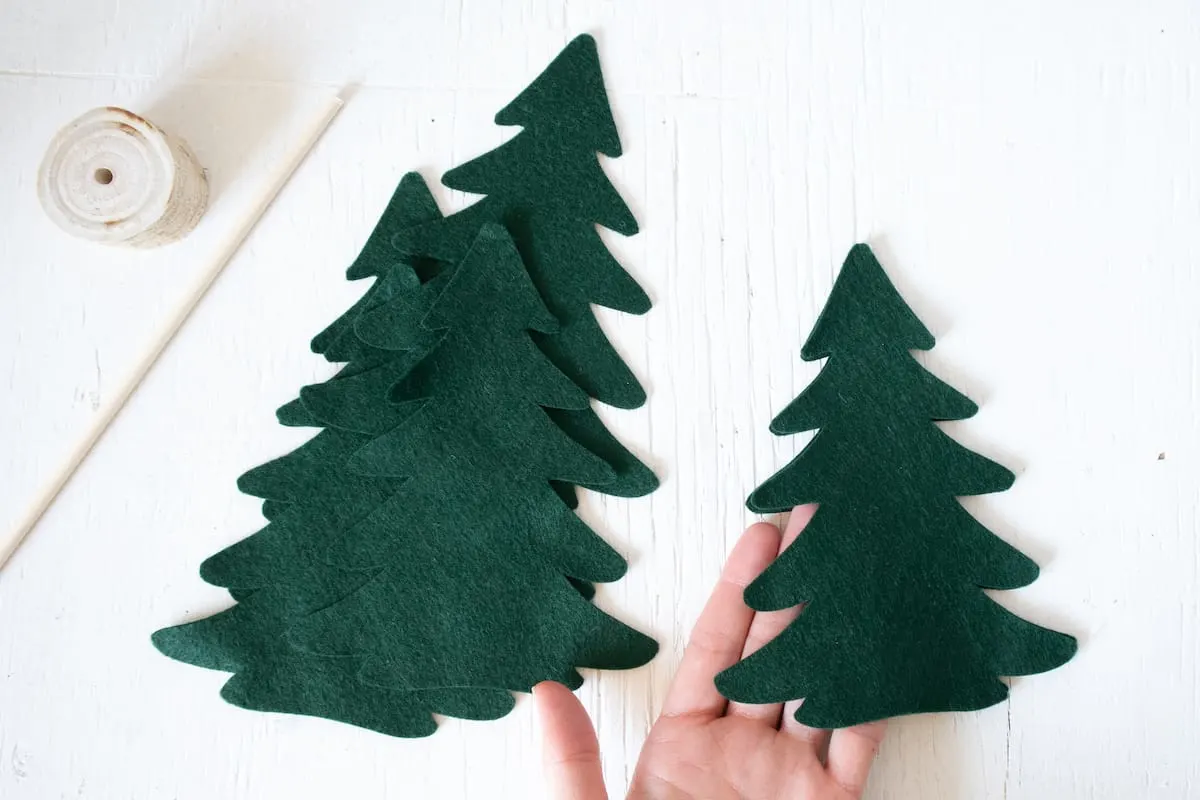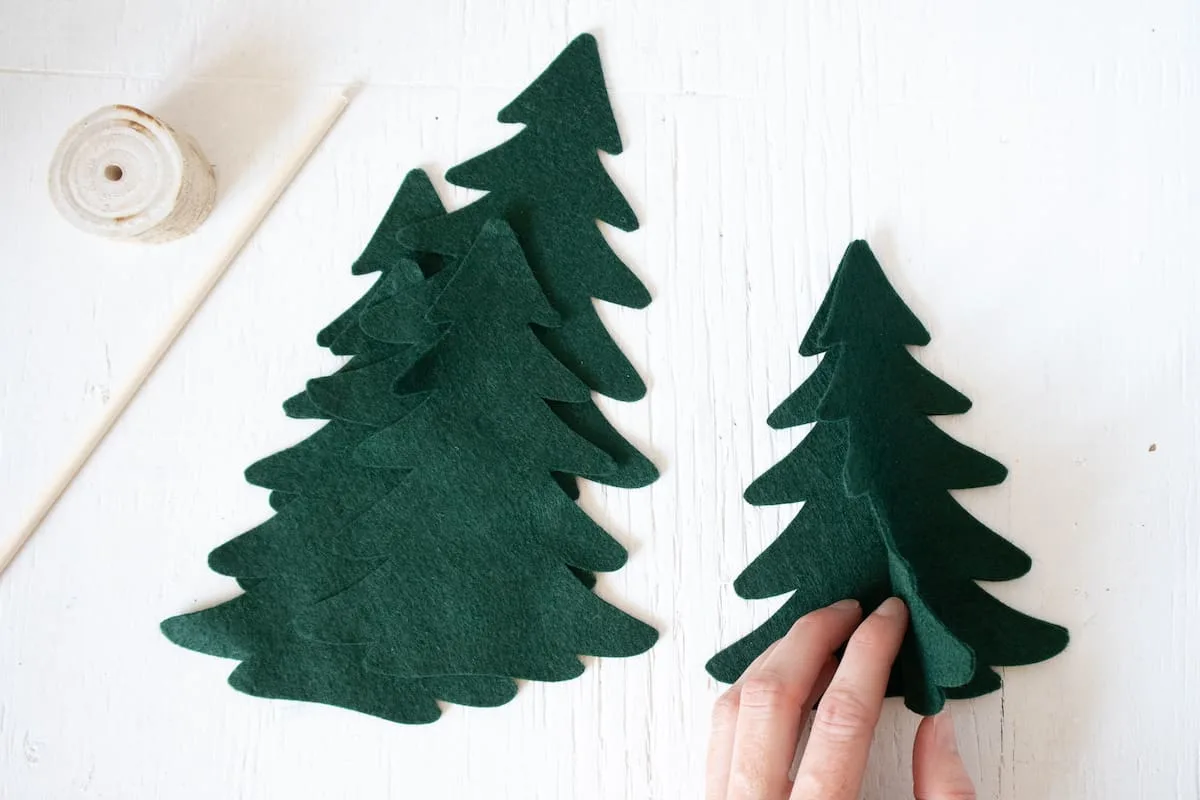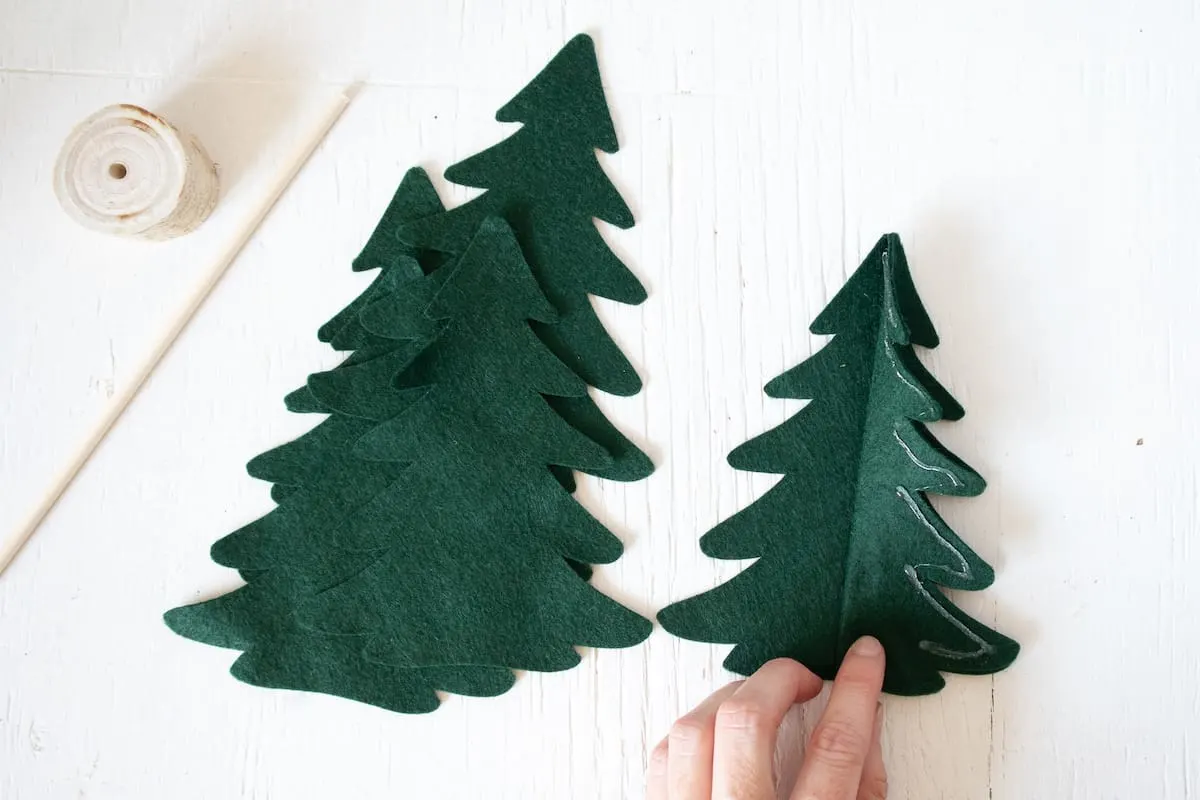 Press another tree piece down on top to glue the edges together.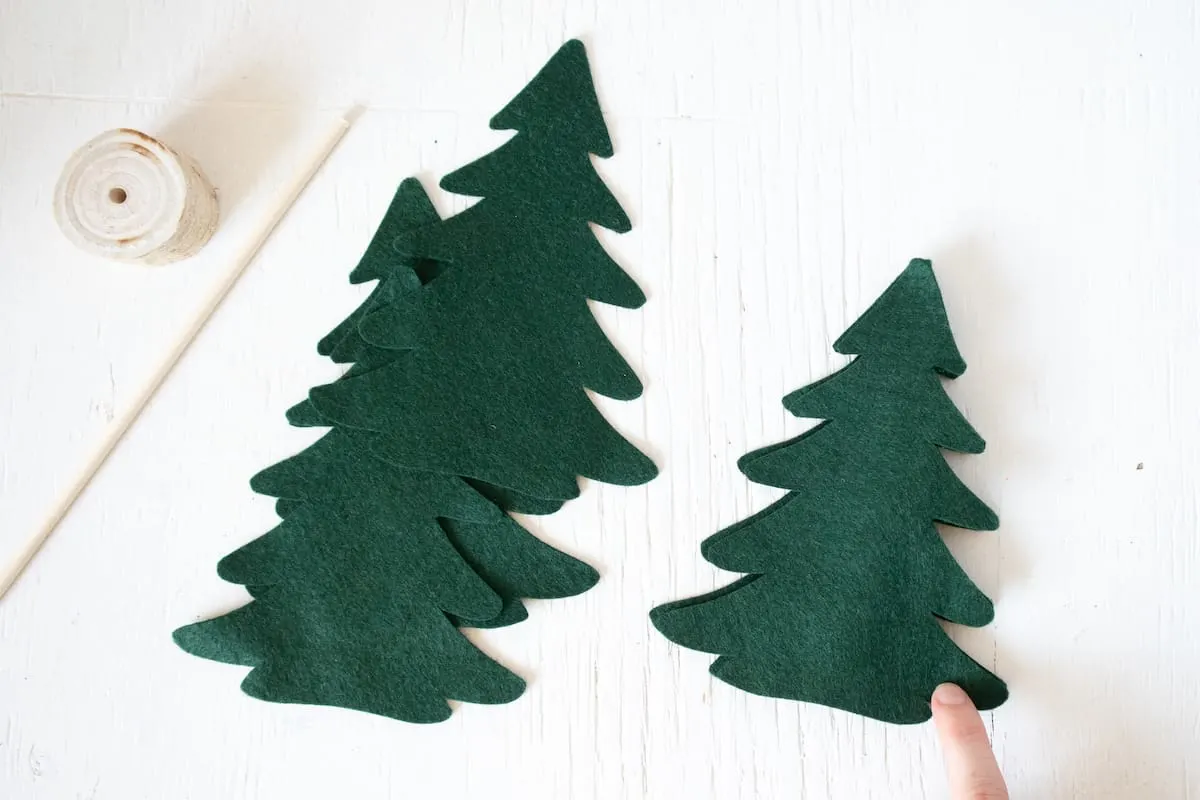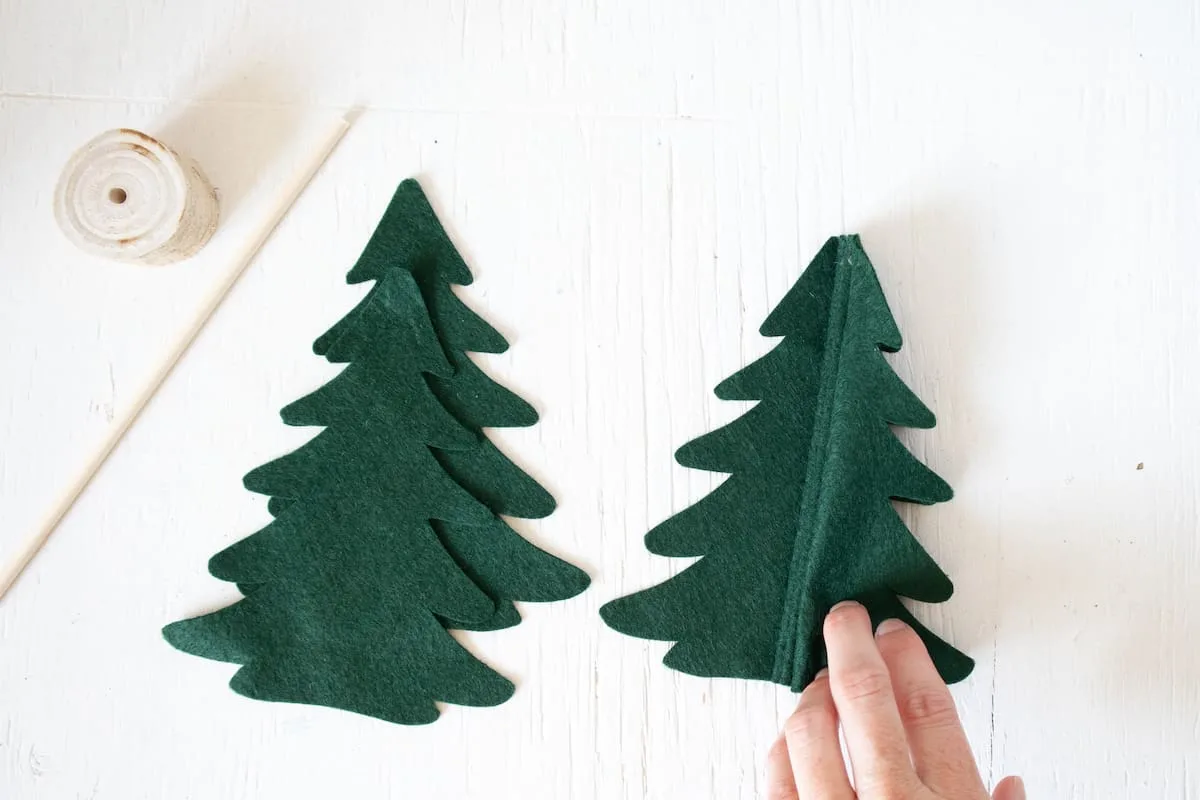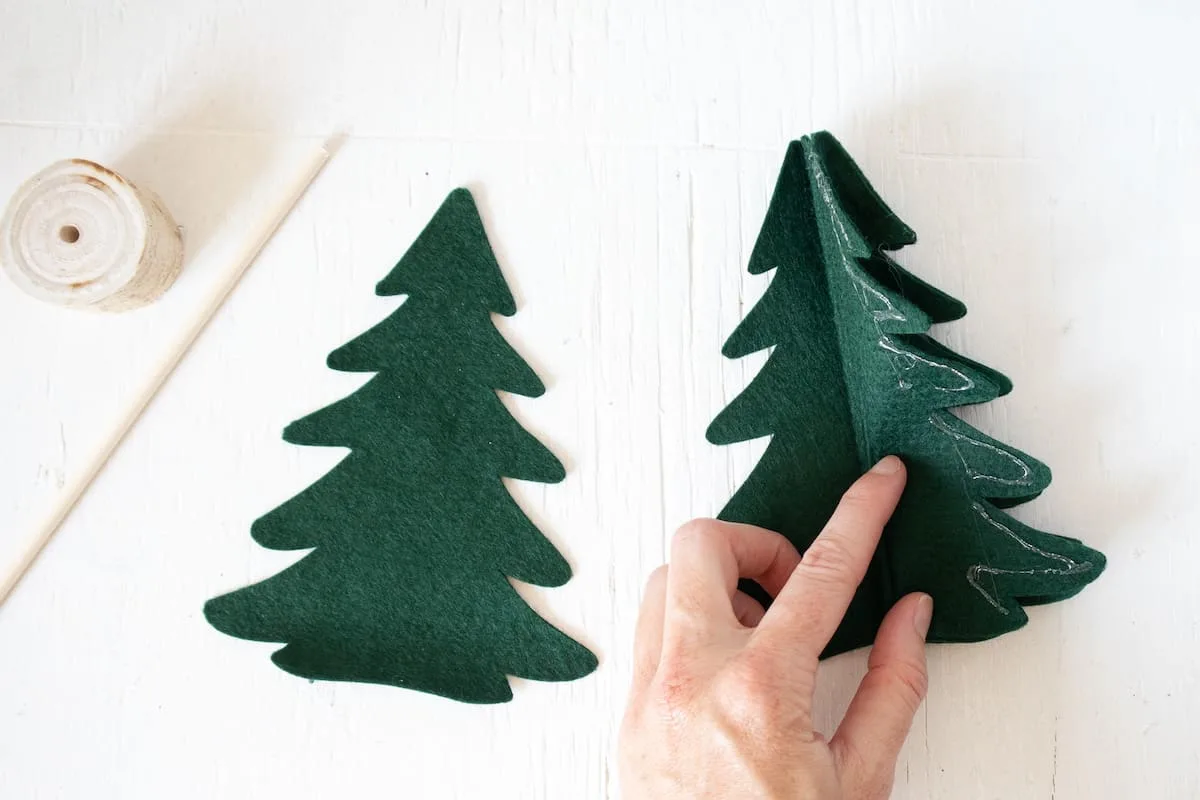 In order to have room in the center for the dowel, avoid gluing the very center of the tree.
Repeat with the other tree pieces. Fold each tree piece outwards and glue the inner edge together with the inner edge of the tree piece next to it.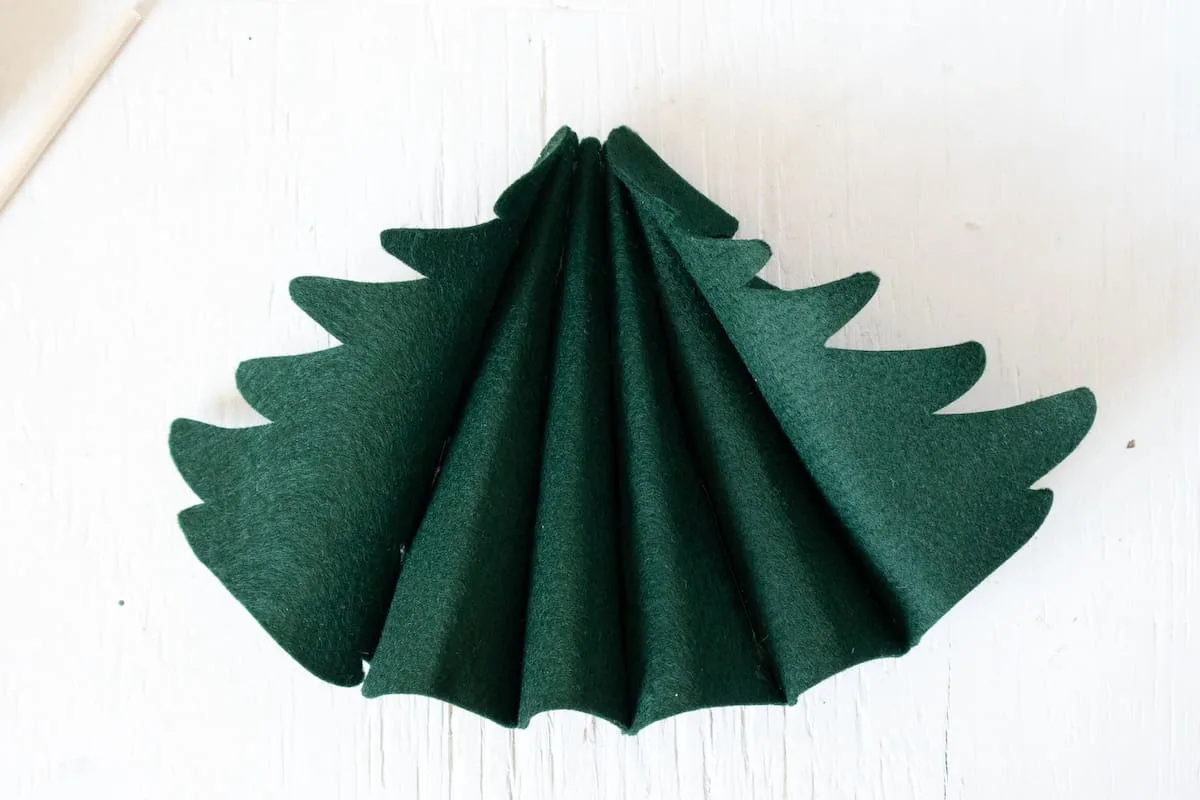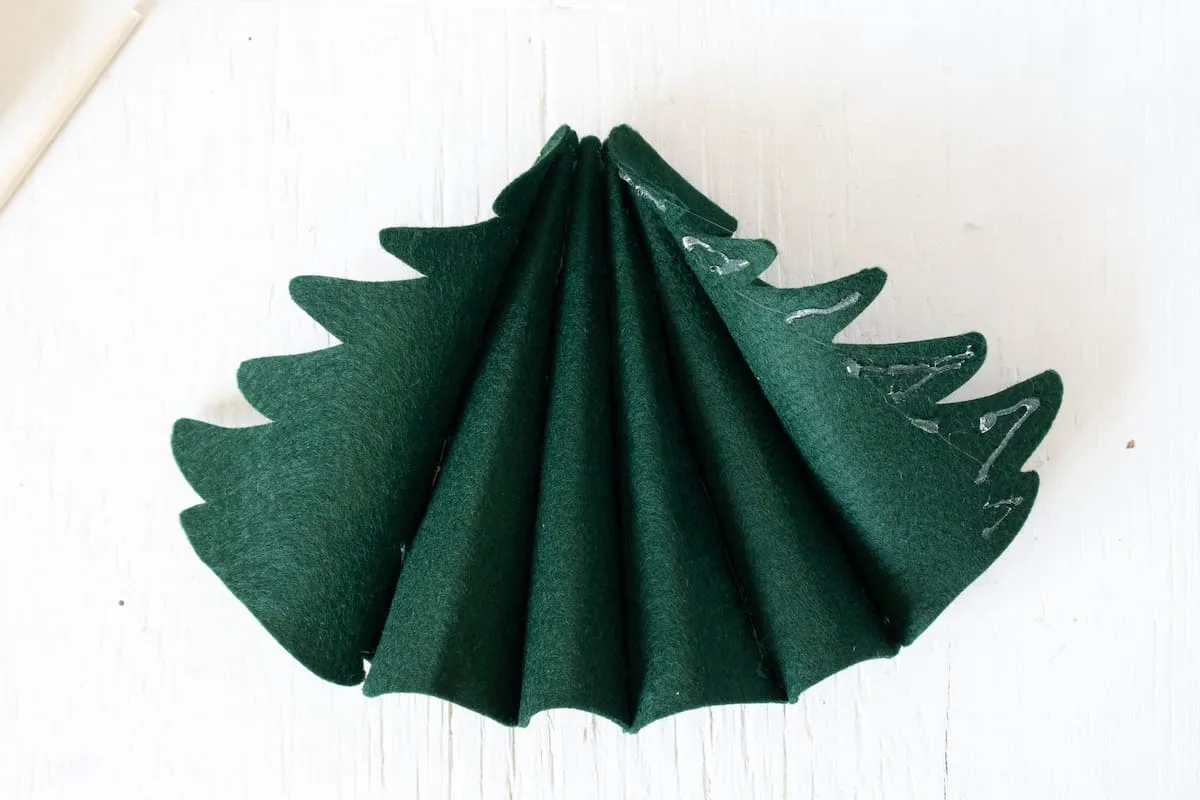 Continue until all 6 pieces are glued together.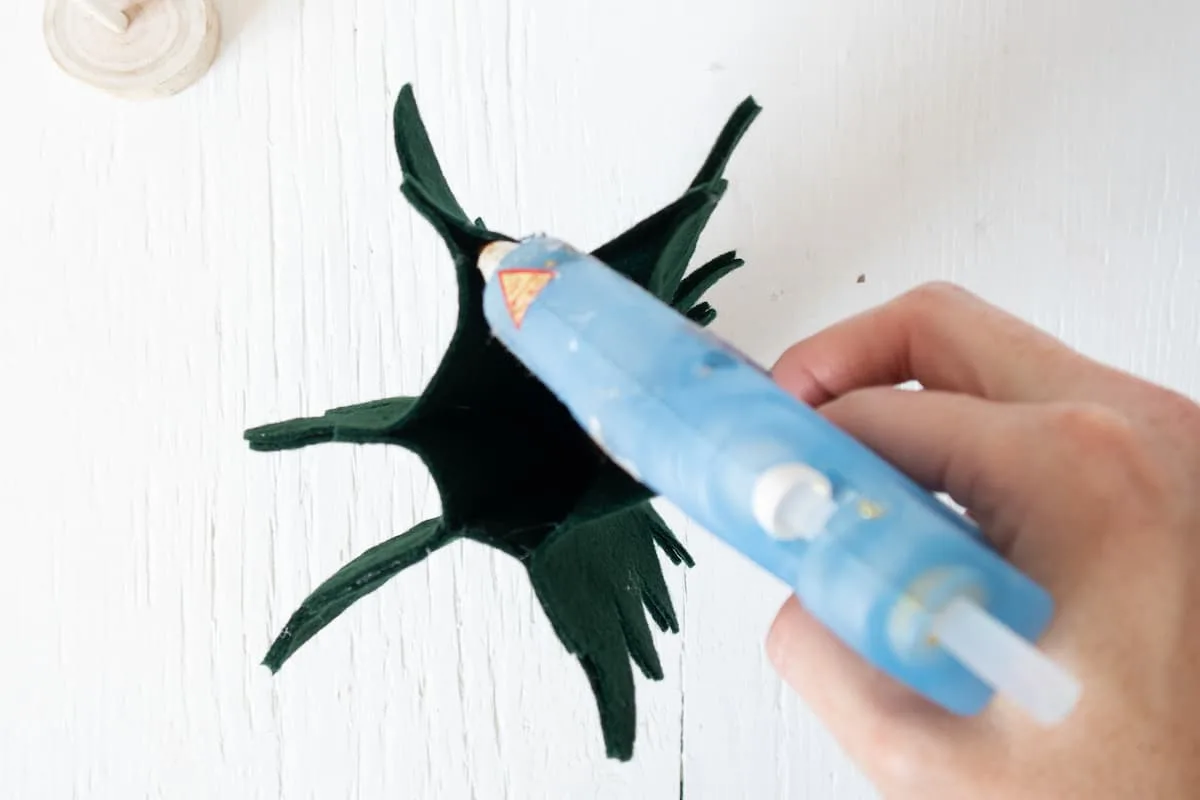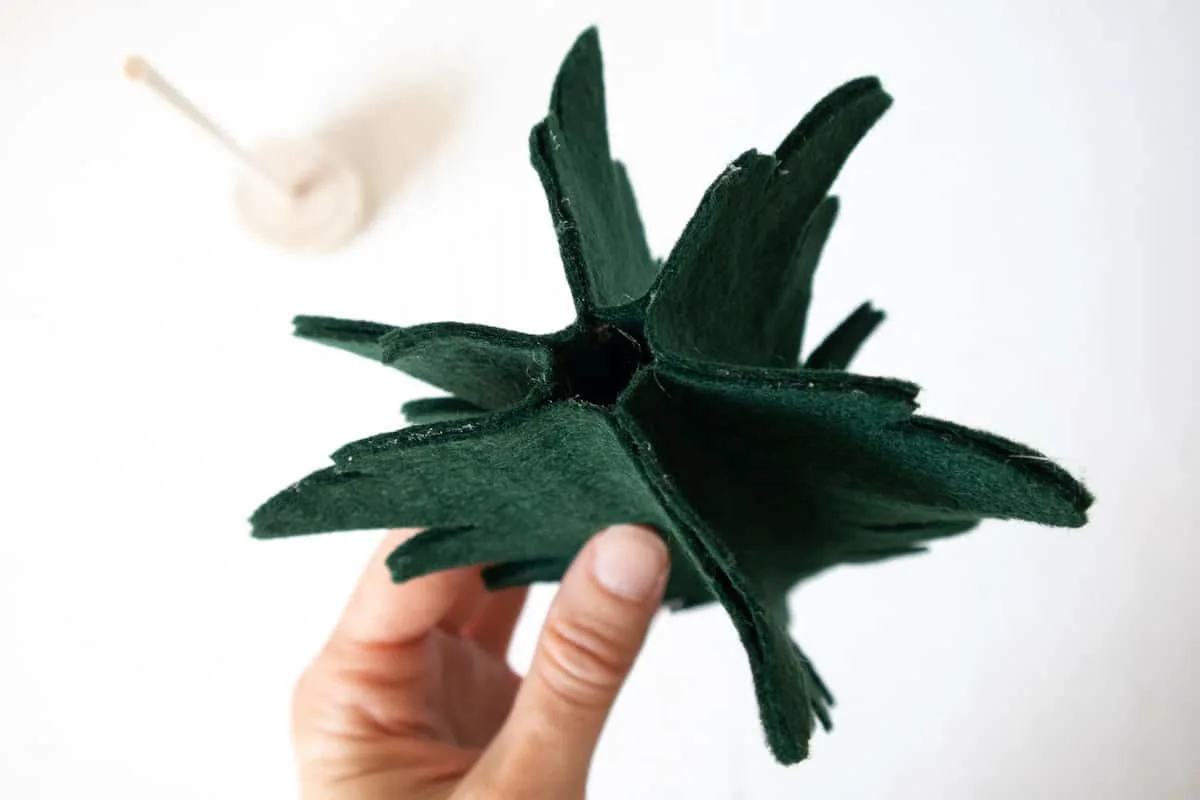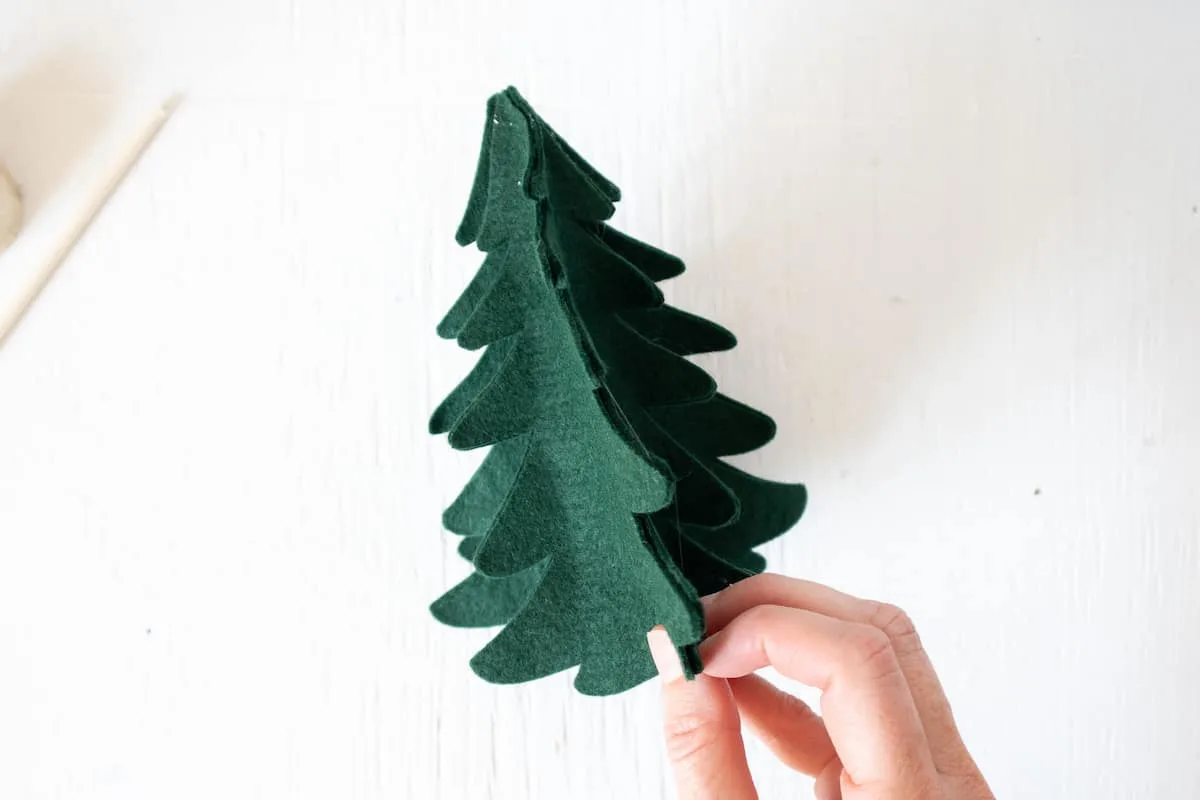 Insert the dowel into the wooden stump.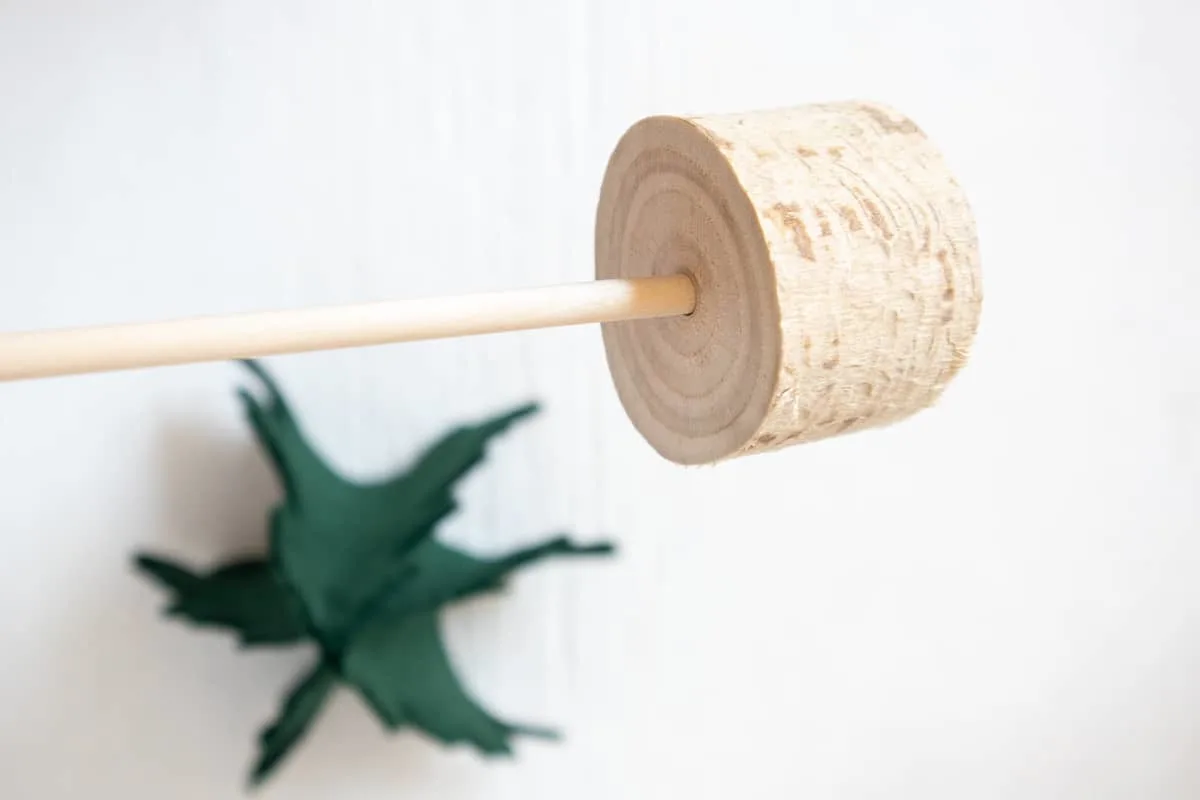 Insert the top end of the dowel into the center opening and push it all the way up to the top. If the opening is too big, glue it some more to make it smaller.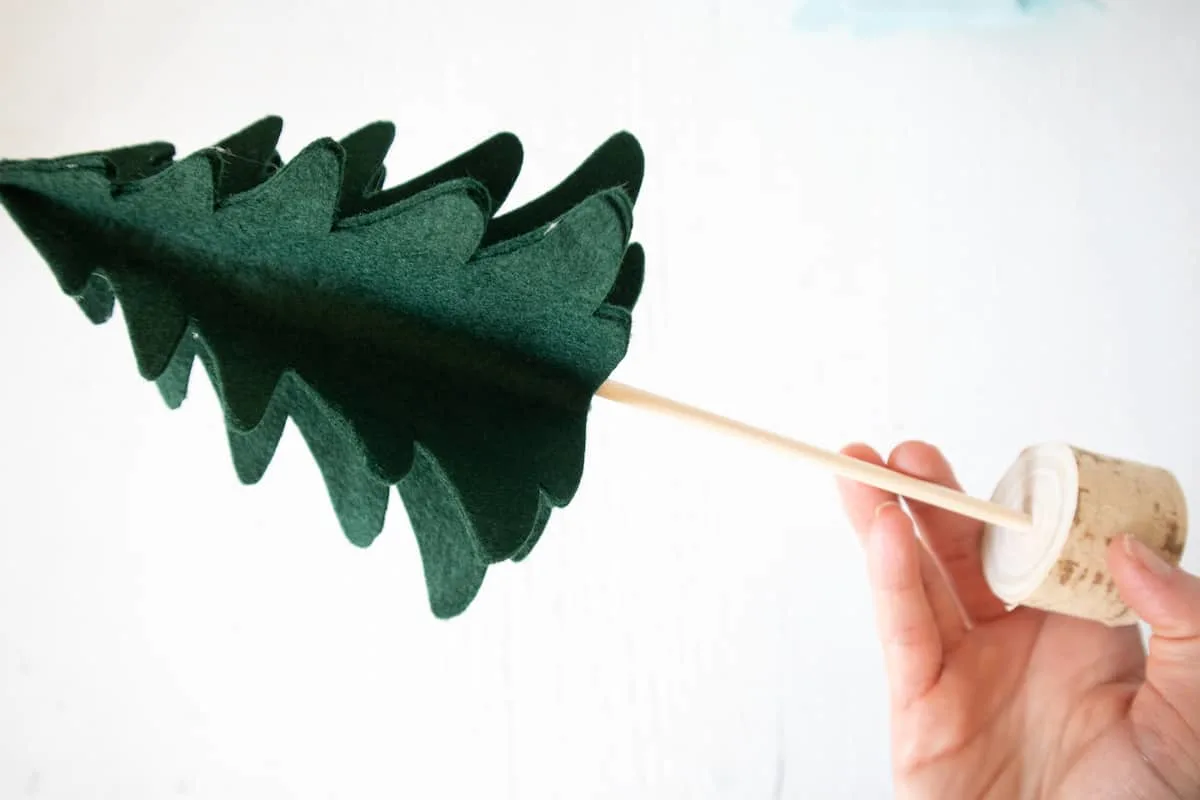 Repeat to make more Scandinavian felt trees.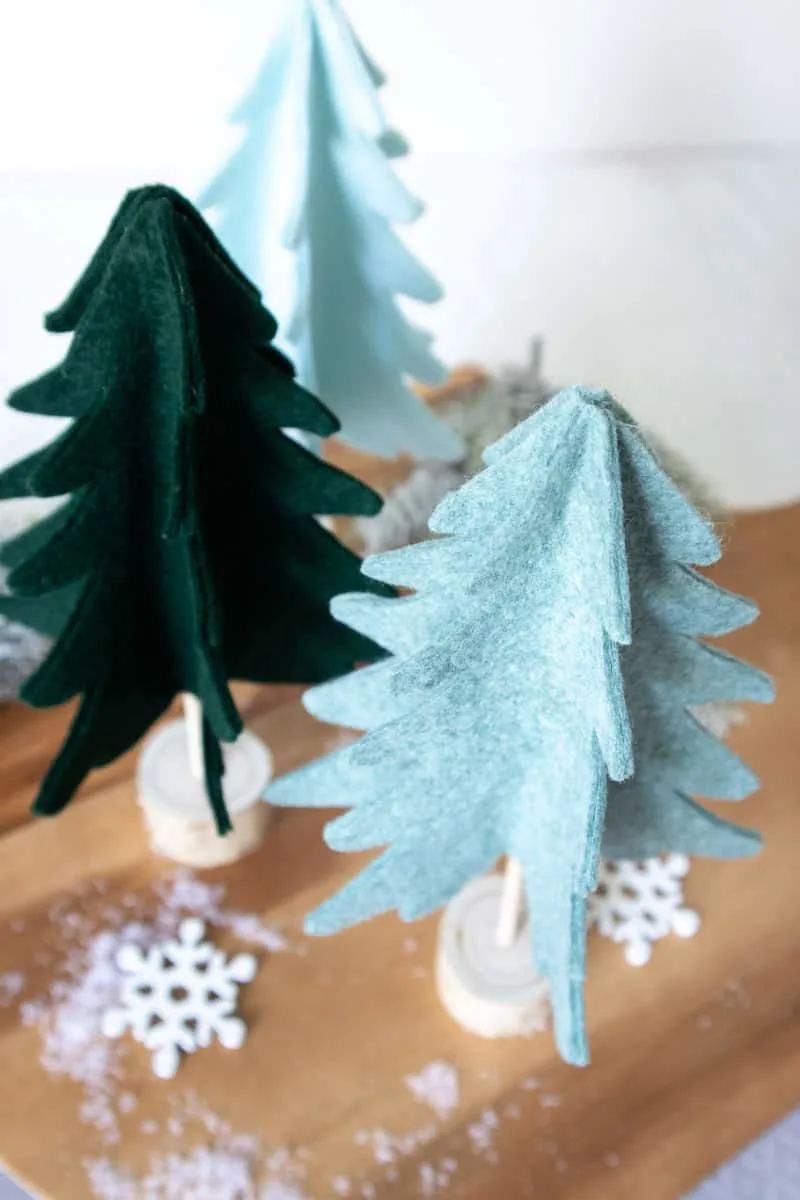 More Simple Christmas Crafts
If you loved this craft, be sure to check out my other DIY projects!
Make wooden reindeer that are so cute (and free)!
Using a piece of 4X4 wood, make these reversible snowman blocks.
These snowman Christmas crackers keep an old tradition alive – and are easy to make!
This Minimalist Christmas wreath uses felt and wire for a simple look that will be a perfect wreath on your door.
Wood slice ornaments with vinyl are so easy to make, because you don't have to paint the design yourself! Check out the two different designs.