How to make an elegant dollar store Christmas wreath using inexpensive ornaments.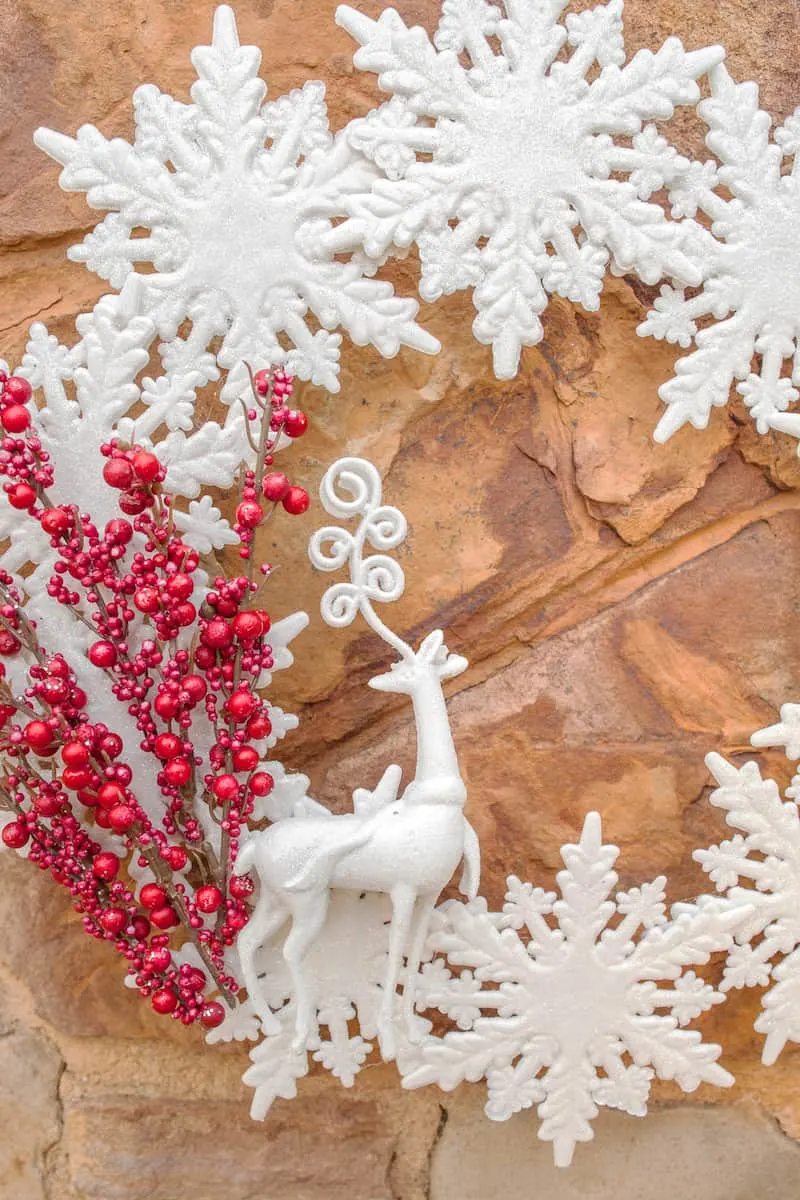 I think we all love the challenge of taking dollar store items and turning them into expensive looking home decor right? Which is why I love this Christmas wreath made with 7 things I bought at The Dollar Tree.
I personally love using wreaths in my home. And my front door needs a very thin wreath because of the glass door that closes in front of it. Which makes this holiday wreath perfect!
(Although this picture was taken against a rock wall, so don't get confused! LOL)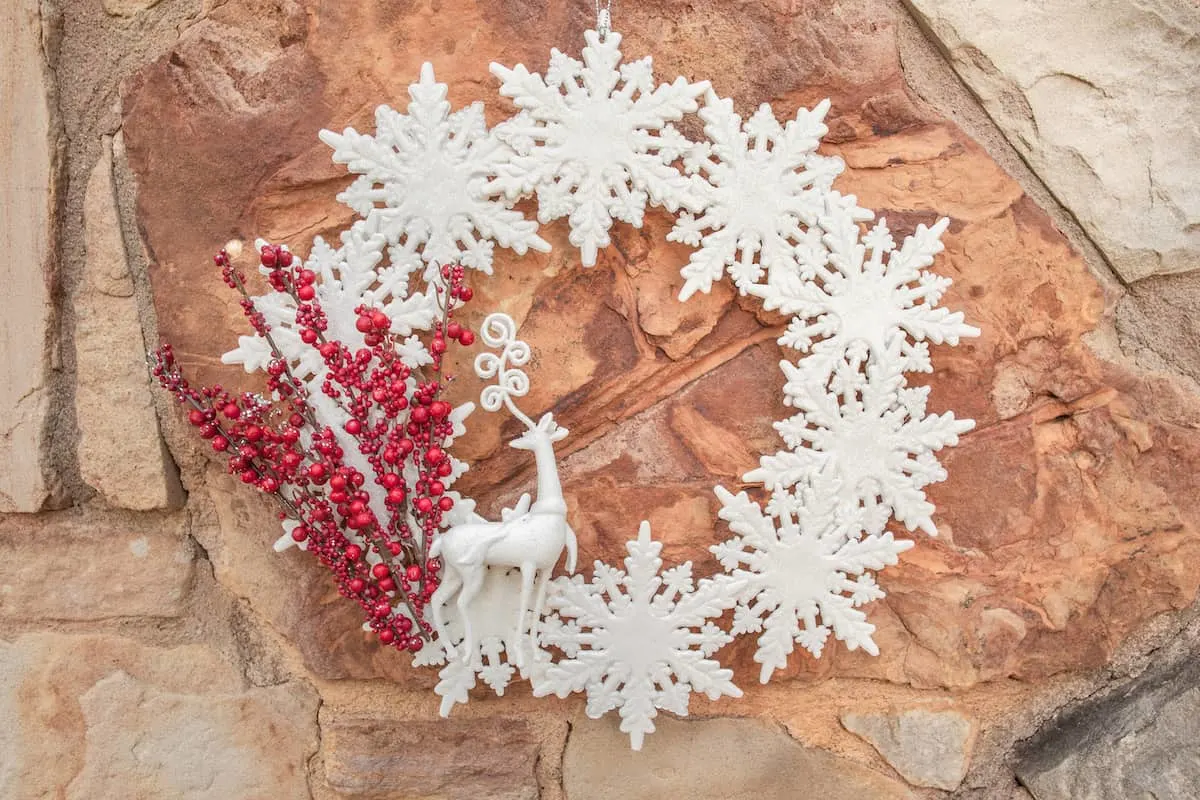 This craft is perfect whether you are wanting to decorate your own front door or want to give a stunning gift that doesn't cost a lot of money!
The snowflake wreath cost just $7 of materials from The Dollar Tree. Plus, you'll have one deer ornament leftover for another project.
You might also like my winter cotton ball wreath and my Peace wreath, both from the Dollar Tree, too.
In a hurry? Pin this craft to your Christmas boards on Pinterest. Or print out the How-To Card right now.
Yield: 13-inch Wreath
Elegant Dollar Store Christmas Wreath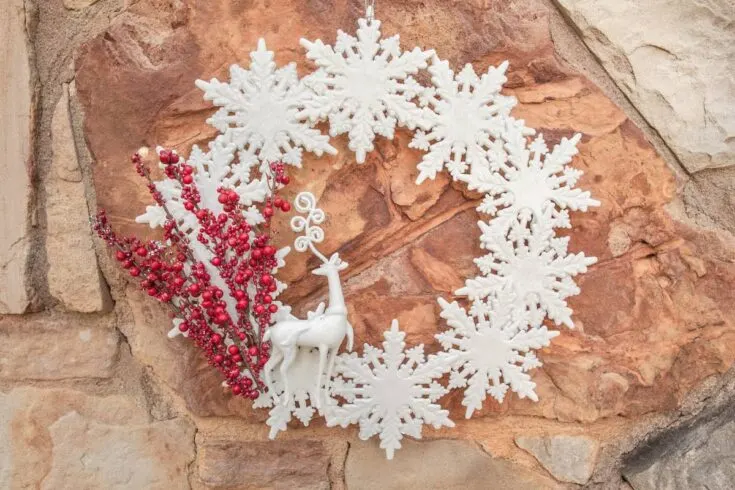 This Christmas wreath sparkles on your front door with glittery snowflakes and an elegant deer nestled among winter berries.
Materials
10 White Glitter Snowflake Ornaments
1 White Glitter Reindeer Ornament
1 Glitter Iced Berry Branch Pick
Hot Glue Gun and Glue
Wire Cutters or Shears
Instructions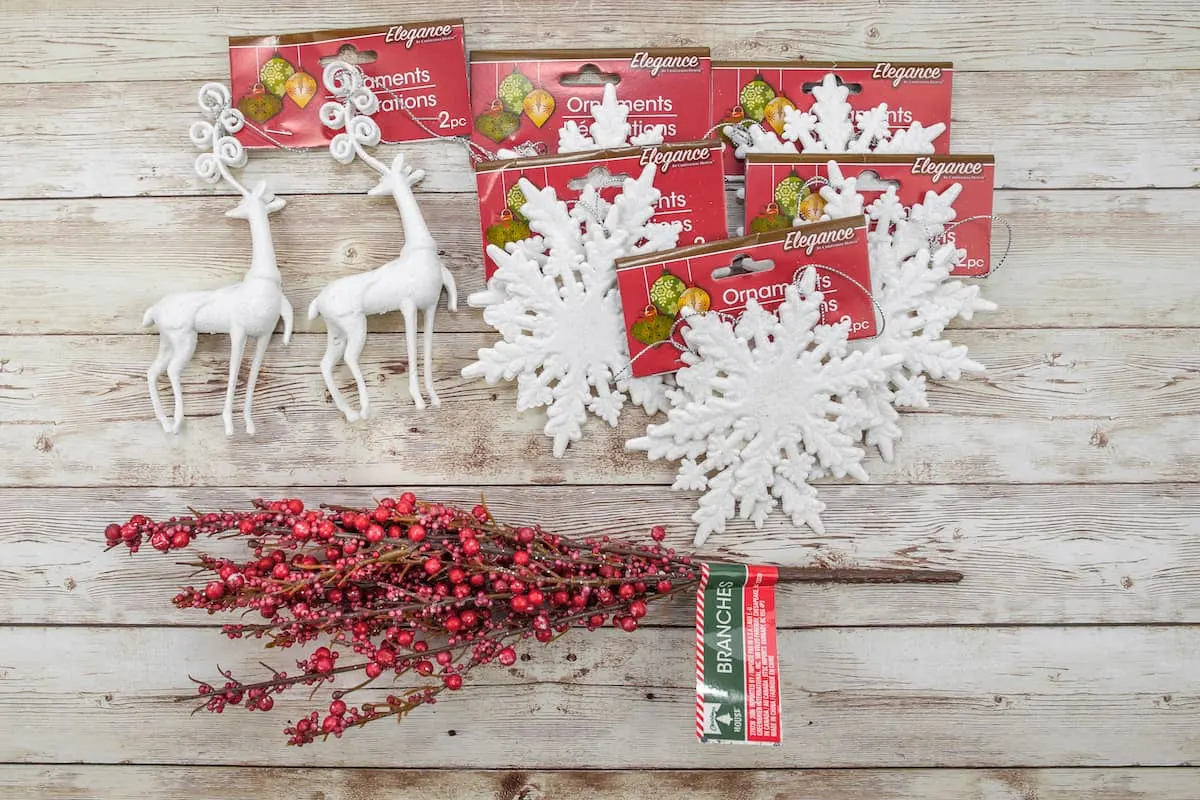 Remove string hangers from the Reindeer Ornament and 9 of the 10 Snowflake Ornaments.
Arrange Snowflake Ornaments in a circle. At the top of the circle, place the one Snowflake Ornament with the hanger.
Move the ornaments closer together and begin overlapping each ornament. They should overlap approximately 1/2 inch and 2- 3 snowflake "points" should be overlapped.
Start with the top Snowflake Ornament and hot glue the overlapping areas to the two snowflakes next to it. Each time you lift up an ornament to glue, the other ornaments will slightly shift. To make sure you keep the circle formation, adjust the ornaments back into place between each gluing. This ensures you'll glue the right overlapping areas. Once all snowflakes are glued together, let sit for a few minutes to make sure the glue has dried.
Gently flip over the snowflake wreath making sure to keep it as flat as possible. It is easiest to slide the snowflake wreath off the edge of the table to pick up. This keeps it from bending. If one of the snowflakes separates, simply arrange it back into the overlapped position while upside down and re-glue.
Now tack down all overlapping areas with a glob of hot glue to make the bond stronger between each ornament. Let dry completely.
Flip the wreath over soo that right side is up.
Snip off 3 - 4 sprigs from the Berry Pick and arrange them on the snowflake wreath along with the Reindeer Ornament to decide the best placement. I arranged the berry sprigs so that each one would end just above or to the side of the Reindeer Ornament.
Hot glue the berry sprigs to the wreath first.
Glue the Reindeer Ornament to the wreath.
Notes
This wreath is best hung indoors or on a protected porch, rather than out in the elements.
You can consider using a super glue or other type of glue that sticks to plastic rather than hot glue.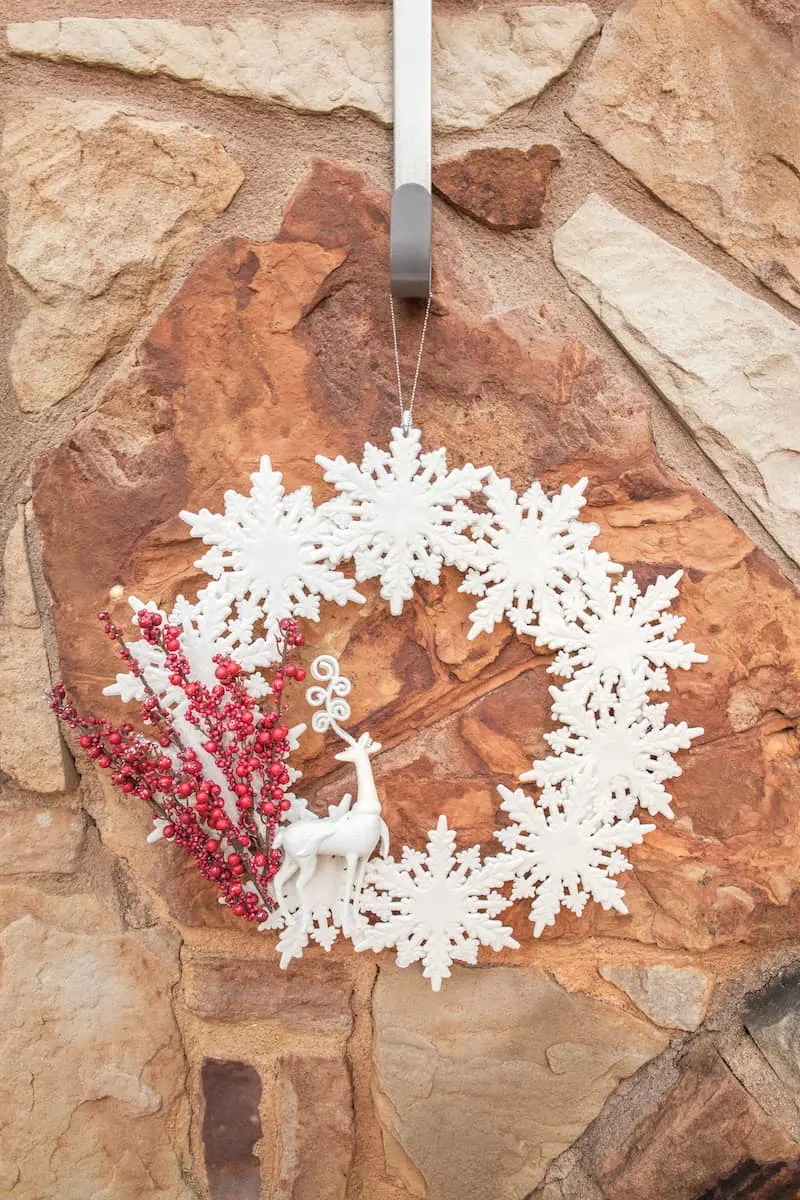 Want more Holiday craft ideas? Check out this great list of Quick and Easy Christmas Crafts.
Dollar store crafts are so fun to make, so check out my Decorative Wooden Spoons made with inexpensive materials.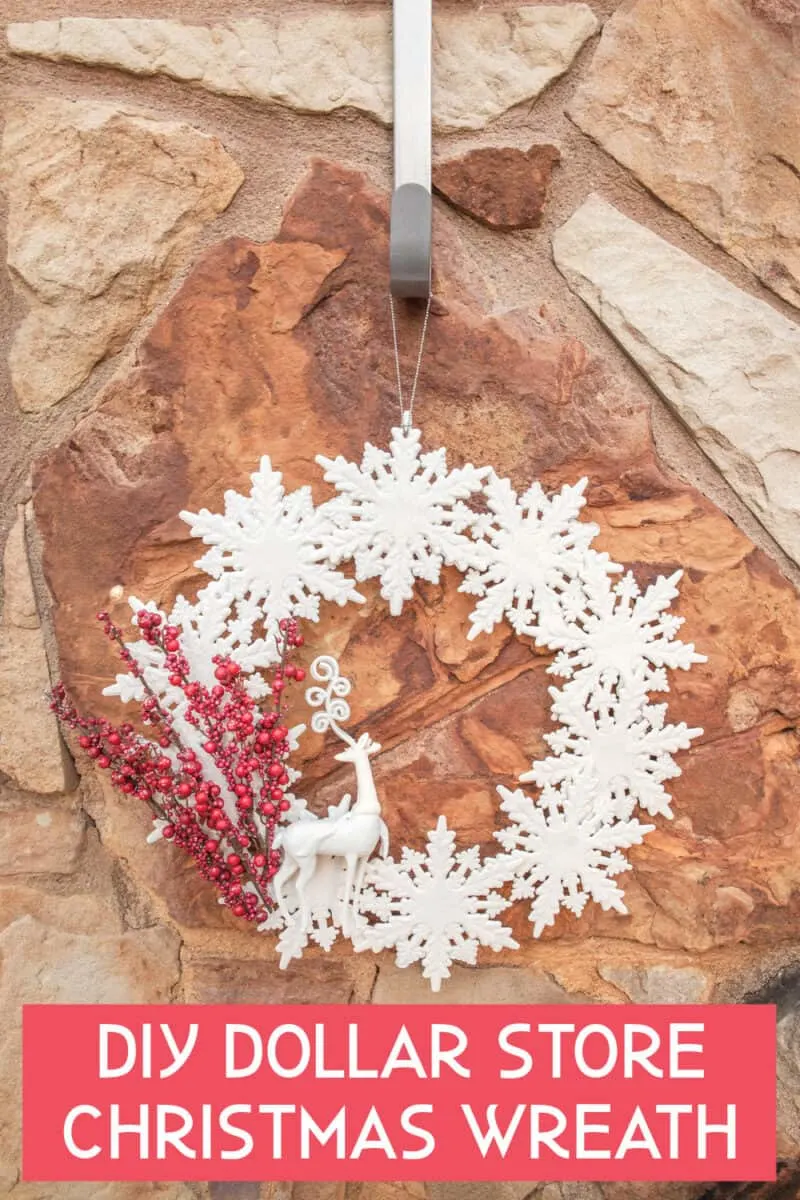 Looking for great wreath ideas year round? Use flowers from your own garden for this easy dried flower wreath. Or turn a pool noodle into a cute farmhouse wreath!