Want to spread some luck this St. Patrick's Day to friends, neighbors and co-workers? Then the You've Been Shamrocked Gift Exchange is exactly what you are looking for!
Surprising co-workers and friends with a small token of friendship to say that you are glad they are in your life is the perfect way to spread love for St. Patrick's Day.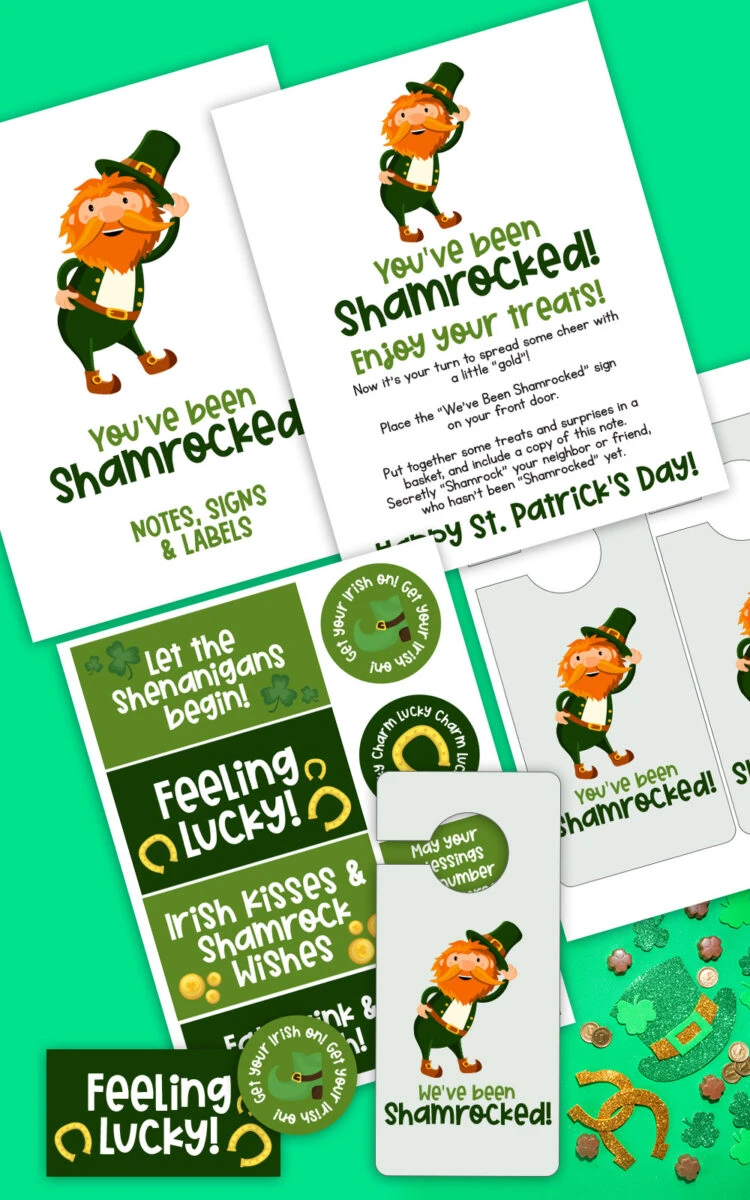 What is the You've Been Shamrocked Game?
You've Been Shamrocked is a gift exchange game that spreads happiness to people when they least expect it.
The idea is so surprise someone with small gifts for no reason, just to make them smile!
You've Been Gobbled, You've Been Booed, Secret Cupid and You've Been Mugged (a secret Santa desktop game) are similar types of gifting games.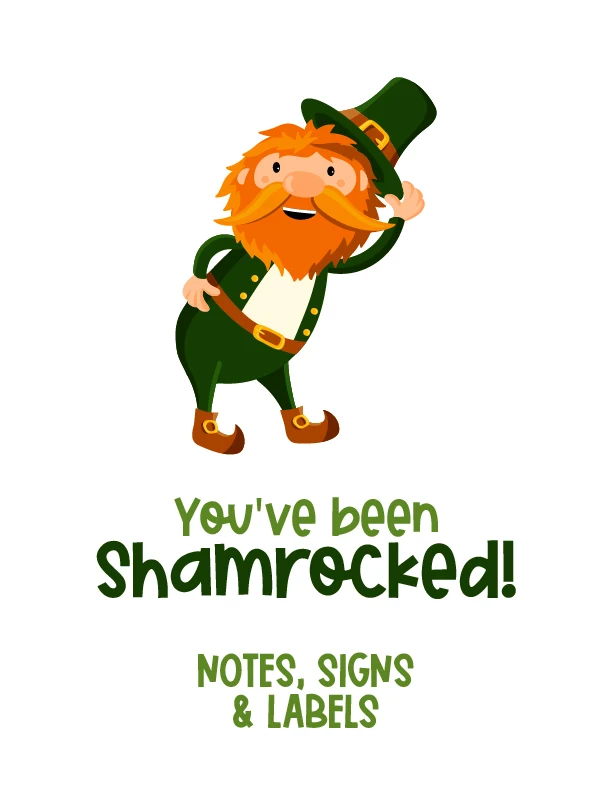 You don't need to spend a lot of money to brighten someone's day. Especially when you can use our free printables to pair with your small gifts!
You've Been Shamrocked is a popular staff morale booster with teachers to surprise other teachers with small gifts on their desk.
The joy-filled St. Patrick's Day game is also popular among neighbors and friends and co-workers in other professions.
You've Been Shamrocked Gift Ideas
There are so many gift inexpensive gift ideas that you can use with this secret gift exchange, including:
Nailpolish (especially a fun shade of green!)
Green scarf
Small potted shamrock plant
Mini Felt Shamrock (get the free pattern and simple instructions)
Nail file
Lipstick
Lip balm
Mascara
Scented candles (Here's how to make a hand-poured candle yourself)
Hard candies
Any type of chocolate!
Mints
Cookies
Gum
Snack bars
Beef sticks
K-Cups of coffee or tea
Single-serve drink mixes
Hot cocoa pack
Tea bags (here's how to sew a reusable tea bag)
Tea ball
Coffee mug or tea mug
Airplane-size liquor bottles (especially Irish whiskey!)
Gift cards
Pens
Pencils
Highlighters
Bookmark
Most of these things can be bought at the dollar store, which makes them really inexpensive to give.
Be sure to include one of our fun "You've Been Shamrocked" door hanger signs so that they know what is happening!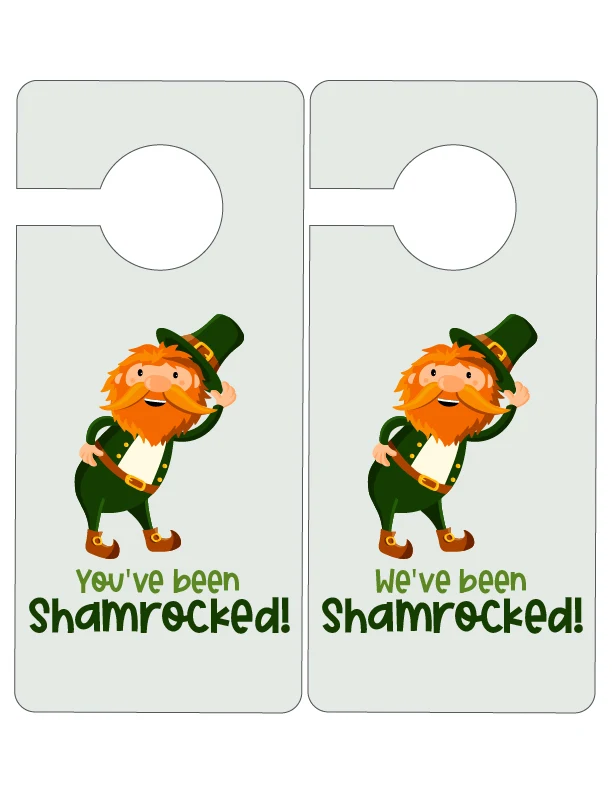 How to Give Your Gifts
There are so many fun ways to sneak a little gift to your friends and co-workers. Use one of these ideas for gift giving:
Put in a mug, especially a green mug or one with clovers or holiday decorations
Use a green or gold gift bag
Green or white mini storage baskets are perfect to gift, and they can be used afterwards!
You've Been Shamrocked Gift Exchange Printables and Instructions
It is hard to surprise someone with St. Patrick's Day treats if they don't understand the game!
While you can definitely surprise someone with unexpected gifts, it is also fun to keep the game going for others, too. That is why you want to add a copy of our easy game instructions and printable tags.
Our free You've Been Shamrocked printables are perfect to attach to gifts. In fact, the labels and DIY stickers can be used for any St. Patricks Day gifts or parties.
The printables include:
You've Been Shamrocked instructions sheet
You've Been Shamrocked Door Hanger
We've Been Shamrocked Door Hanger
7 St. Patricks Day Gift Tags and Stickers
Use white sticker paper to make the free printable stickers with an adhesive backing.
---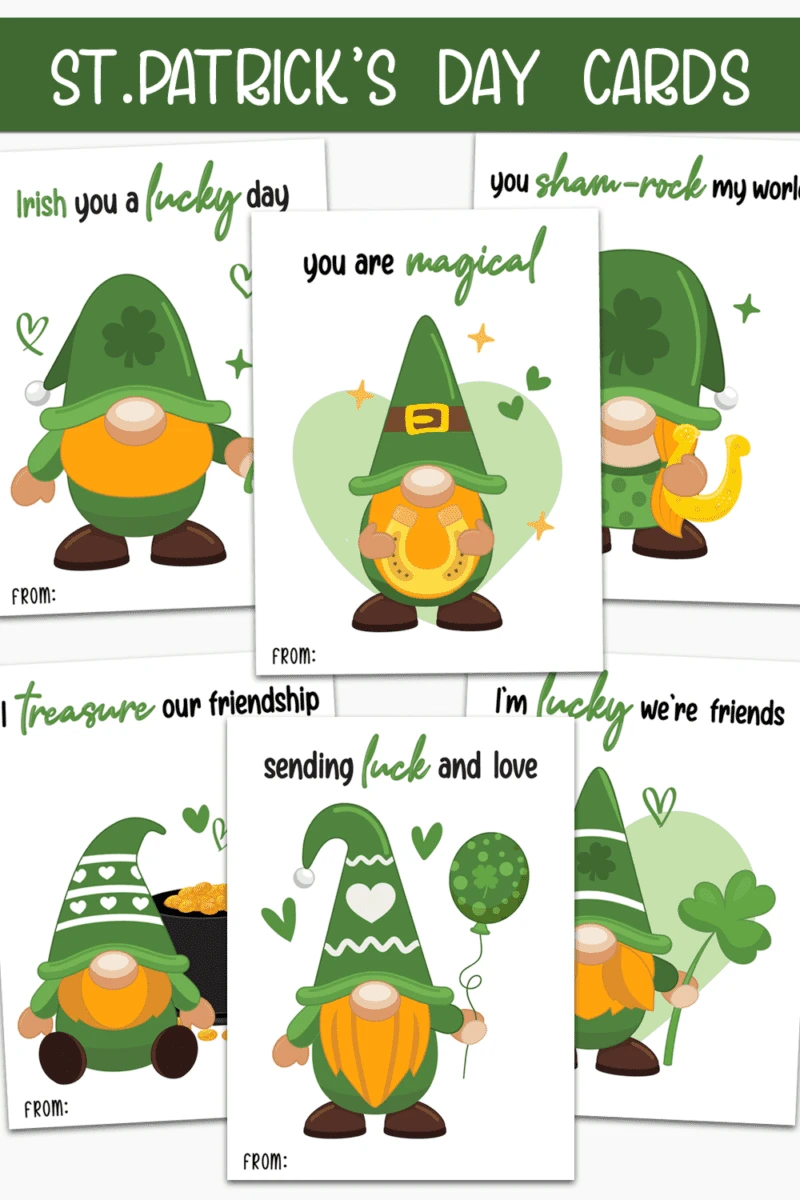 St. Patrick's Day Gnome Cards
Spread some cheer with these adorable St. Patty's Day cards with gnomes!
This instant download PDF file allows you to print these Luck of the Irish cards instantly!
Get the St. Paddy's Day gnome cards now!
---
Love St. Patricks Day DIY crafts? We have even more holiday ideas you might also enjoy: