Are you thankful for your friends, family and neighbors? Then share your joy this Thanksgiving with this You've Been Gobbled gift exchange! Here's everything you need to successfully surprise someone, including free You've Been Gobbled printables and gift ideas.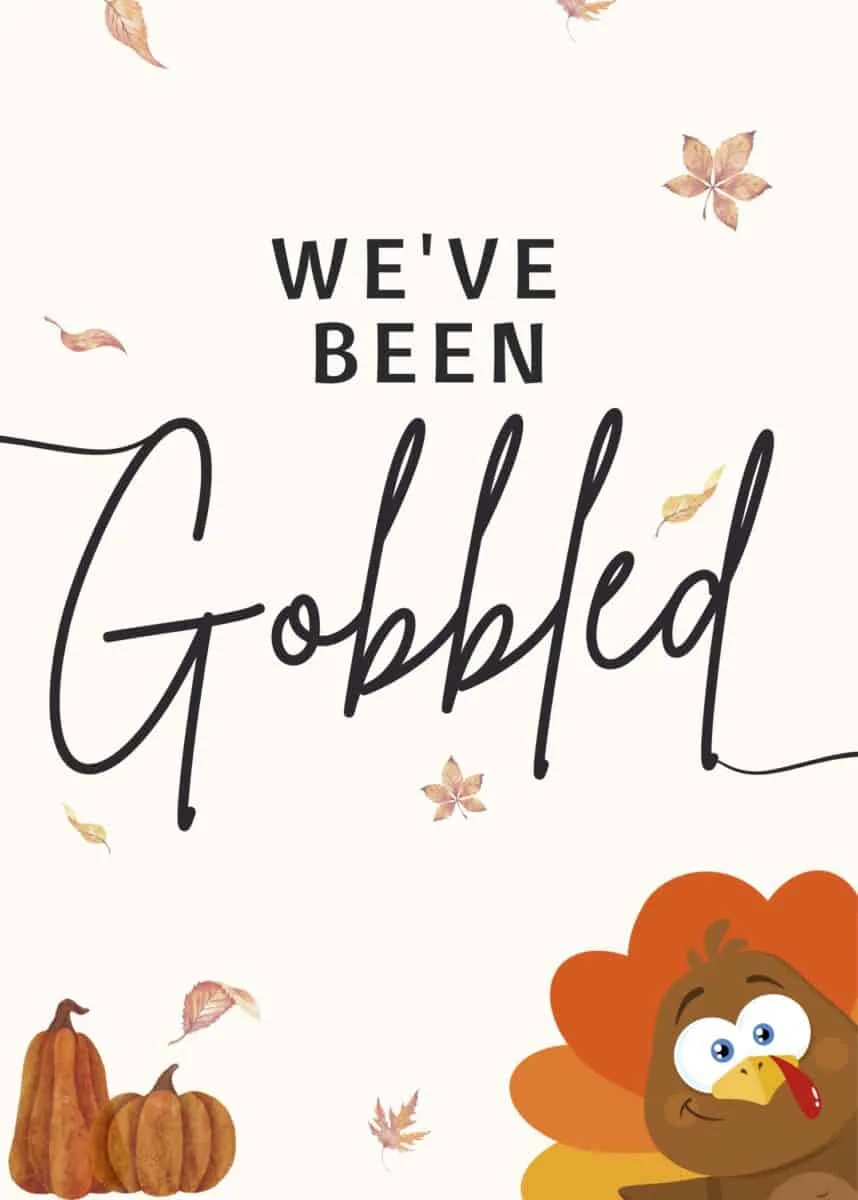 What is You've Been Gobbled?
You've Been Gobbled is a new tradition of surprising neighbors, friends, co-workers or teachers with small gifts leading up to Thanksgiving. When someone receives an I've Been Gobbled treat and sign, they are encouraged to pay it forward and "Gobble" someone else.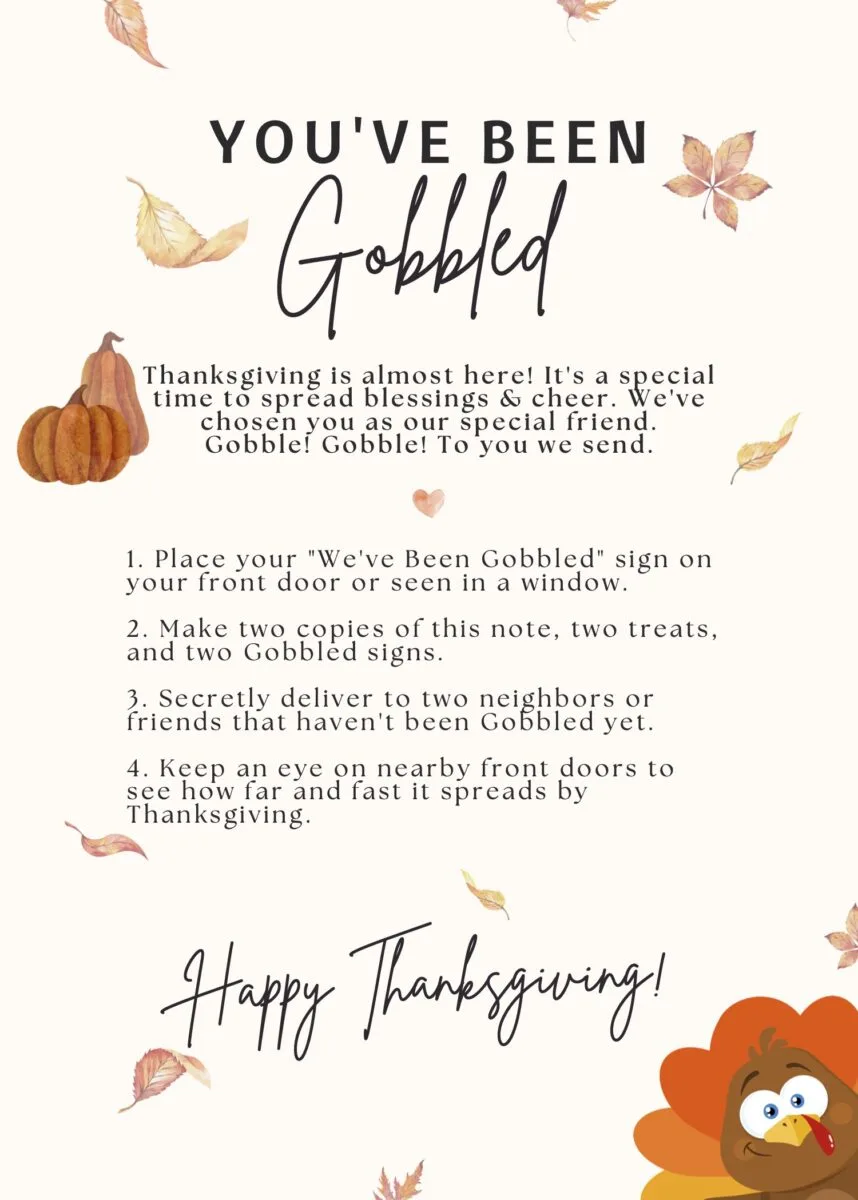 You've Been Gobbled Free Printables
It's hard to surprise someone with this tradition without a You've Been Gobbled tag and sign to go with your gifts! Otherwise they won't understand what is going on. Or that they are encouraged to surprise someone else!
These free You've Been Gobbled printables are perfect for using with your gift giving. The PDF files are easy to print at home.
The You've Been Gobbled kit includes:
We've Been Gobbled sign
You've Been Gobbled Poem and instructions
You've Been Gobbled door hanger signs
You've Been Gobbled gift tags
When you surprise someone else, be sure to print out a copy of the sign to include in the gift basket.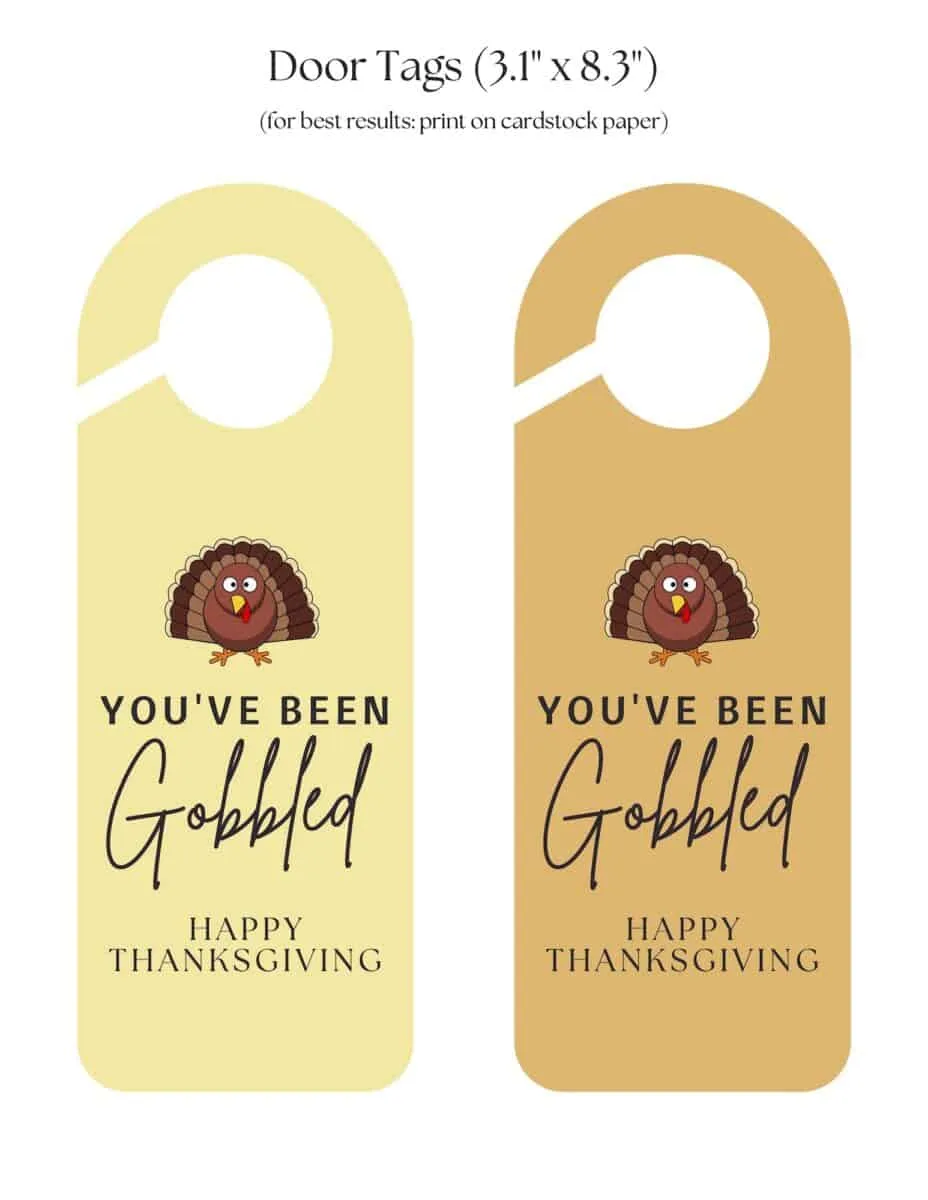 You've Been Gobbled Rules
When you are having fun with the You've Been Gobbled gift exchange, surprising them is the key to success! You don't want them to see you leaving the gifts.
In neighborhoods, it is fun to ring the doorbell and run, hoping that they don't see you!
At work, leave a Thanksgiving gift in their office or work station early in the morning before they get to work, or when they have left for lunch. You could also leave the gifts on their desk at the end of the work day for them to find the next morning.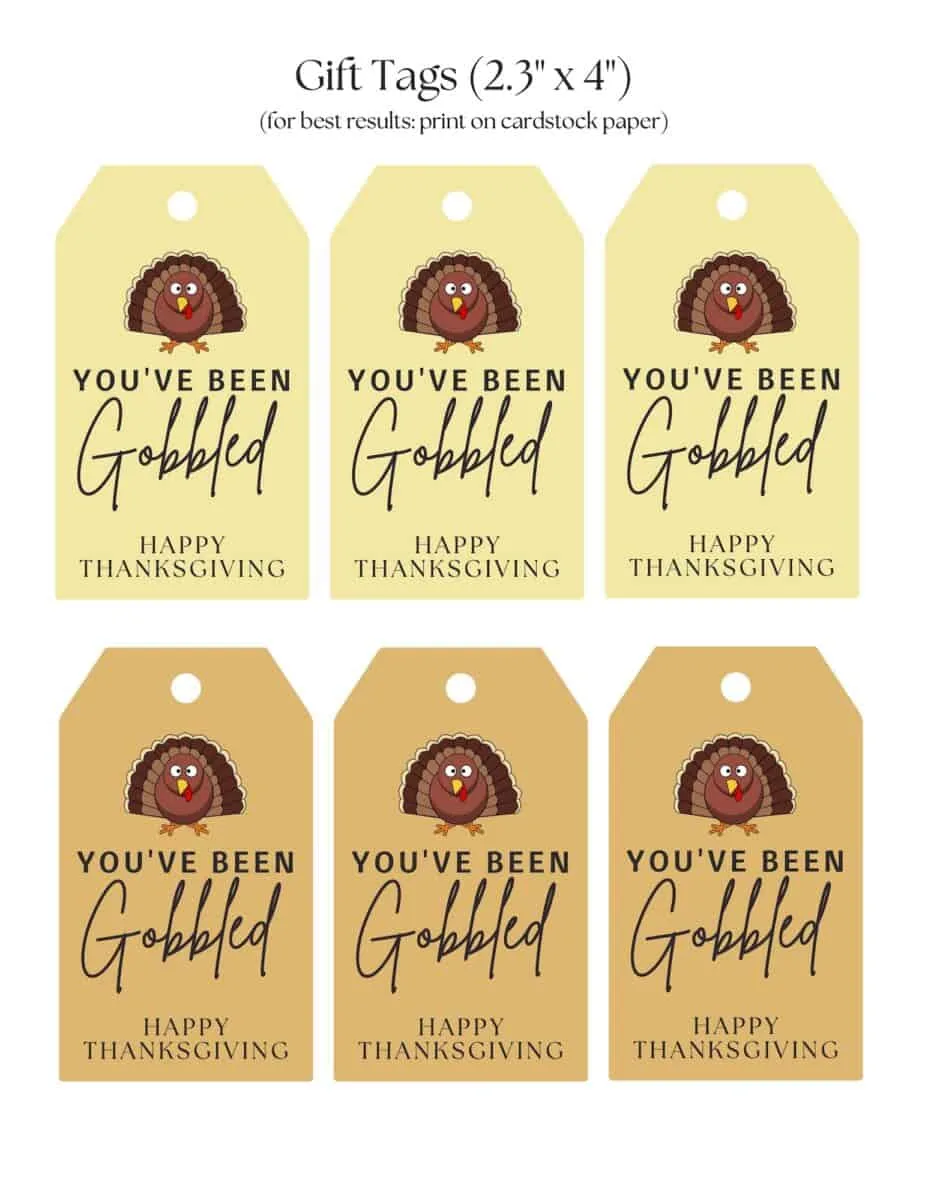 Give as few or as many gifts as you'd like. Some fun packaging ideas for giving items are:
Wicker gourd basket
Any Thanksgiving plastic bucket or tub (the Dollar Tree and Dollar General are great places to find these)
Arrange items on a large Turkey platter (plastic ones can be found in dollar stores)
Gift bags
Basket
Wrapped in cellophane and tied with a bow
You've Been Gobbled Gift Ideas
No one wants a bunch of useless items dumped on their door, even in the spirit of kindness! So be thoughtful with what you buy and spend money on.
These gift ideas are perfect for neighbors, friends, and family. Especially if they are entertaining for Thanksgiving or have a large meal on the day.
Along with the You've Been Gobbled sign, why not make a Turkey pop-up card to put with your gifts, too? Just print our free template and glue together!
You might also want to check out my list of the Best Gag Gifts. There are some really cute ideas that might work great for the family!
You've Been Gobbled Ideas for Adults
These gift ideas are perfect for adult friends who are surprising each other. These are also appropriate ideas for giving to neighbors who don't have kids at home. Any of these ideas can also be used at work or for teachers, as well.
Spices, such as pumpkin spice, apple pie spice, or ginger
Cans of pumpkin puree
Pie pumpkin (be sure it's the kind to cook, not just decorate)
Packs of pumpkin seeds
Wine
Beer, especially a pumpkin ale
Thanksgiving hand towels
Canning Lid Turkey decoration
Falll-scented candles
Mulling spices for apple cider
Fall-scented soaps, especially hand soap, like this orange-clove scent
Puzzles (especially those with a fall theme)
Small gift card to a nearby coffee shop, grocery store, Amazon, etc.
Seed packets (especially for winter crops or for growing pumpkins next year)
Be sure to Pin This idea to save for later!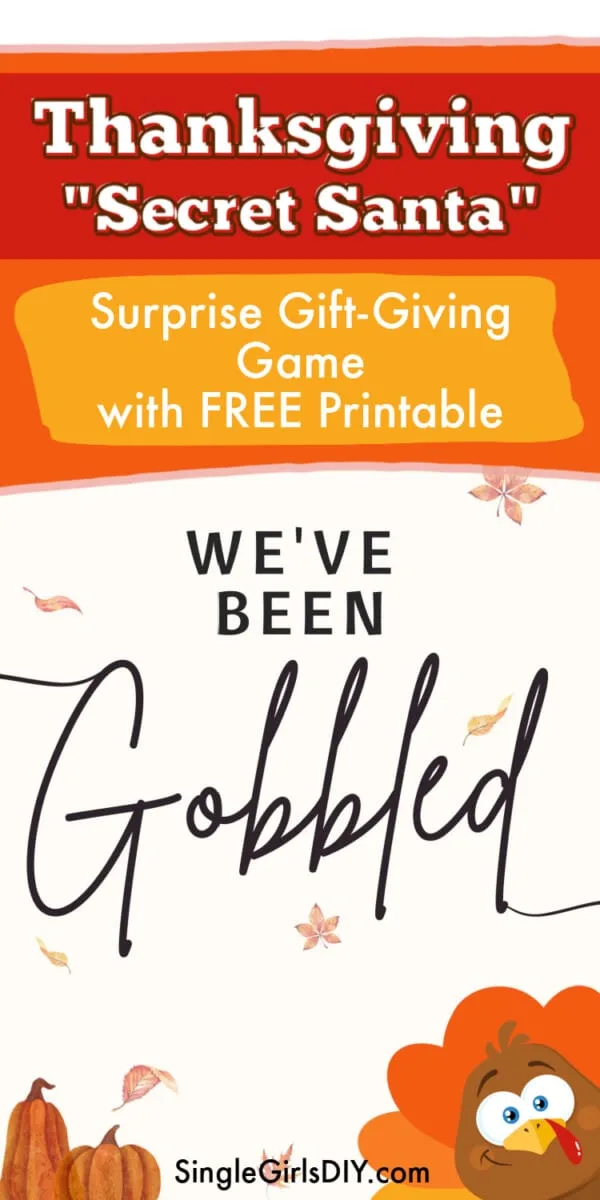 If you like our fun You've Been Gobbled printables and gift ideas, be sure to check out our other gift giving games with free downloads: