If you want to spread joy this holiday season, consider Booing your friends, neighbors and co-workers for Halloween! Here's everything you need to successfully Boo someone, including free You've Been Booed printables and gift ideas.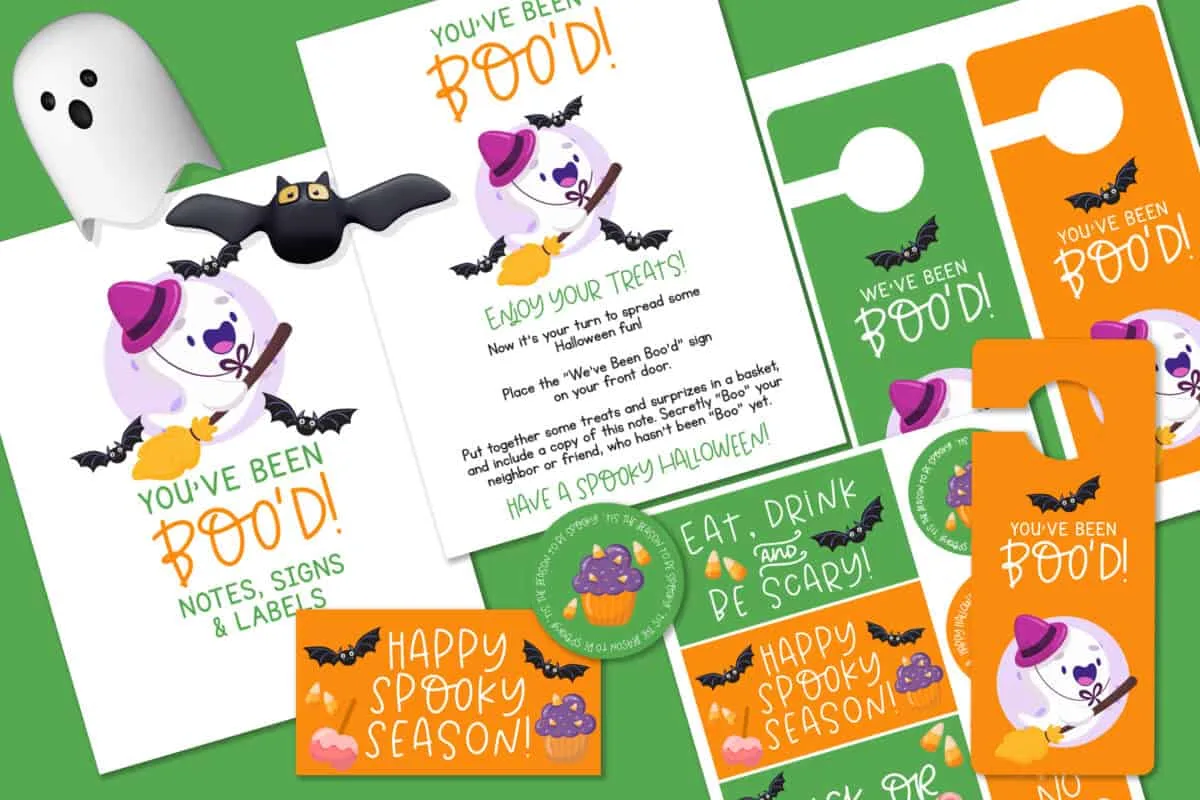 What is You've Been Booed?
You've Been Booed is a new tradition of surprising neighbors, friends, co-workers or teachers with small gifts leading up to Halloween. When someone receives an I've Been Booed treat and sign, they are encouraged to pay it forward and Boo someone else.
Free You've Been Booed Printables
It's hard to Boo someone without an I've Been Booed tag and sign to go with your gifts! Otherwise they won't understand what is going on or that they are encouraged to surprise someone else!
These free You've Been Booed printables are perfect for using with your gift giving. The PDF files are easy to print at home.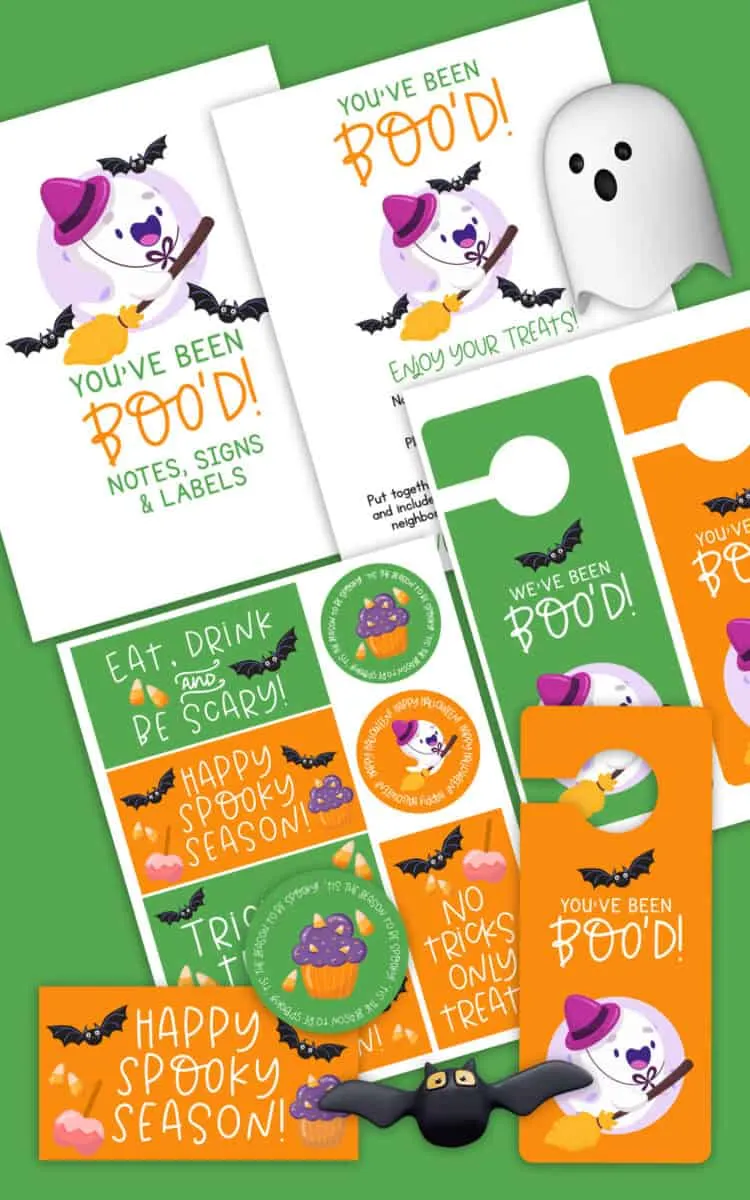 The You've Been Booed kit includes:
You've Been Booed sign and instructions
We've Been Booed and You've Been Booed door hanger signs
Halloween gift tags
Printable Halloween stickers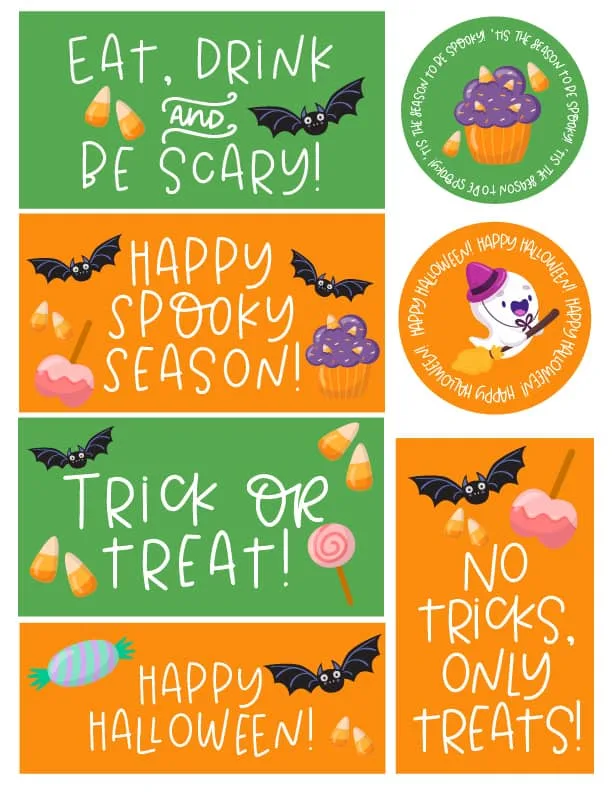 The stickers and tags can easily be printed out on white sticker paper. Or just print on white paper and use tape to attach.
When you Boo someone else, be sure to print out a copy of the sign, as well as the door hangers, to include in the gift basket. If you would like, you can cut out the I've Been Booed door hanger and place it on their door handle, leaving the We've Been Booed sign inside the basket for them to use afterwards.
Related Posts:
How to Boo Someone
When you are Booing someone, surprising them is the key to success! You don't want them to see you leaving the gifts.
In neighborhoods, it is fun to ring the doorbell and run, hoping that they don't see you!
At work, leave a Booed gift in their office or work station early in the morning before they get to work, or when they have left for lunch. You could also leave the gifts on their desk at the end of the work day for them to find the next morning.
Give as few or as many gifts as you'd like. Some fun ideas for giving items are:
Plastic Halloween Jack O'Lantern candy bucket
Any Halloween candy bucket or tub (the Dollar Tree and Dollar General are great places to find these)
Gift bags
Basket
Wrapped in cellophane and tied with a bow
You've Been Booed Gift Ideas
No one wants a bunch of crap dumped on their door, even in the spirit of kindness! So be thoughtful with what you buy and spend money on.
These gift ideas are perfect for neighbors, friends, and family. Especially if they have kids who are excited about Halloween.
Halloween Candy
Glowsticks
Stickers
Halloween small toys (visit the Dollar Tree, Dollar General or Target Dollar Spot for some fun items)
Handmade Halloween plushies, such as our cute Frankenstein plush
Halloween decorations (this fun bouncy bat would be perfect to make!)
Flashlights
Microwave popcorn
Halloween movie DVDs
Coloring books
Pumpkin carving kit
S'mores kit
You might also want to check out my list of the Best Gag Gifts. There are some really cute ideas that might work great for the family!
You've Been Booed Ideas for Adults
These gift ideas are perfect for adult friends who are Booing each other. These are also appropriate ideas for Booing neighbors who don't have kids at home. Any of these ideas can also be used at work or for teachers, as well.
Spa day products
Boo-ze
Wine
Beer
Halloween hand towels
Handmade Halloween decor, such as these easy no-sew pumpkins
Scary Halloween decorations
Falll-scented candles
Mulling spices for apple cider
Succulent plant
Puzzles (especially those with a fall theme)
Word search puzzles
You've Been Booed Ideas for Work
You've Been Booed ideas for the workplace are different than family gift ideas. Gifts shouldn't be as expensive or as personal as you would give to a friend or neighbor. Unless, of course, you are gifting items to a personal friend at work.
Here are some great ideas for thoughtful presents that your co-workers will like:
Coffee mug
Insulated cup
Insulated water bottle
Halloween candy
Nail polish in fun holiday colors (think orange, blank or glow-in-the-dark)
Shelf-stable snacks or meals to keep in the office
Small gift card to a nearby coffee shop, grocery store, Amazon, etc.
Note pads
Mousepad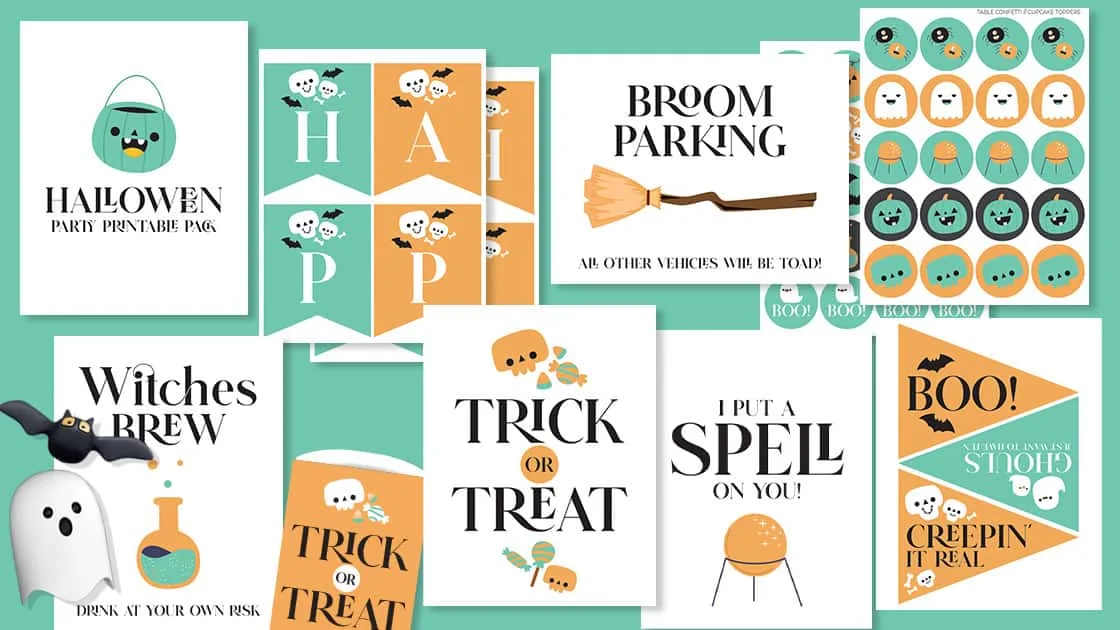 Hurry! Get Your Halloween Printables Pack Now!
This fun Halloween printables pack has banners, signs, treat bags and cupcake toppers. Don't miss out!
You've Been Booed Ideas for Teachers
It is fun to Boo teachers, because there is so much that they need or deserve in their classrooms and their personal lives. All of the ideas above for work will also apply to teachers, as well. However, there are some educational related items that also make great teacher gifts:
Halloween decorations for the classroom
Classroom supplies such as markers, pencils, paper
Hand sanitizer
Protein snack bars for their desk
Stickers
Planner
Pen or Marker for grading
Ink Gel pens in a variety of colors
Boo-Boo kit with first aid supplies, such as band aids, hand sanitizer, etc.
If you like our fun You've been Booed printables and gift ideas, be sure to check out our You've Been Gobbled printables for Thanksgiving. As well as our other easy Halloween crafts.