Thanksgiving is a time for gratitude, but sometimes it can be hard to share what we are grateful for unprompted. That is why this Thanksgiving dice game is so much fun to share during a holiday meal or family get-together.
Our free printable grateful dice game gives prompts for each person to share a happy memory or feeling.
There is no need to feel embarrassed or struggle with a topic to talk about because a roll of the dice will prompt each person to share something to be thankful for!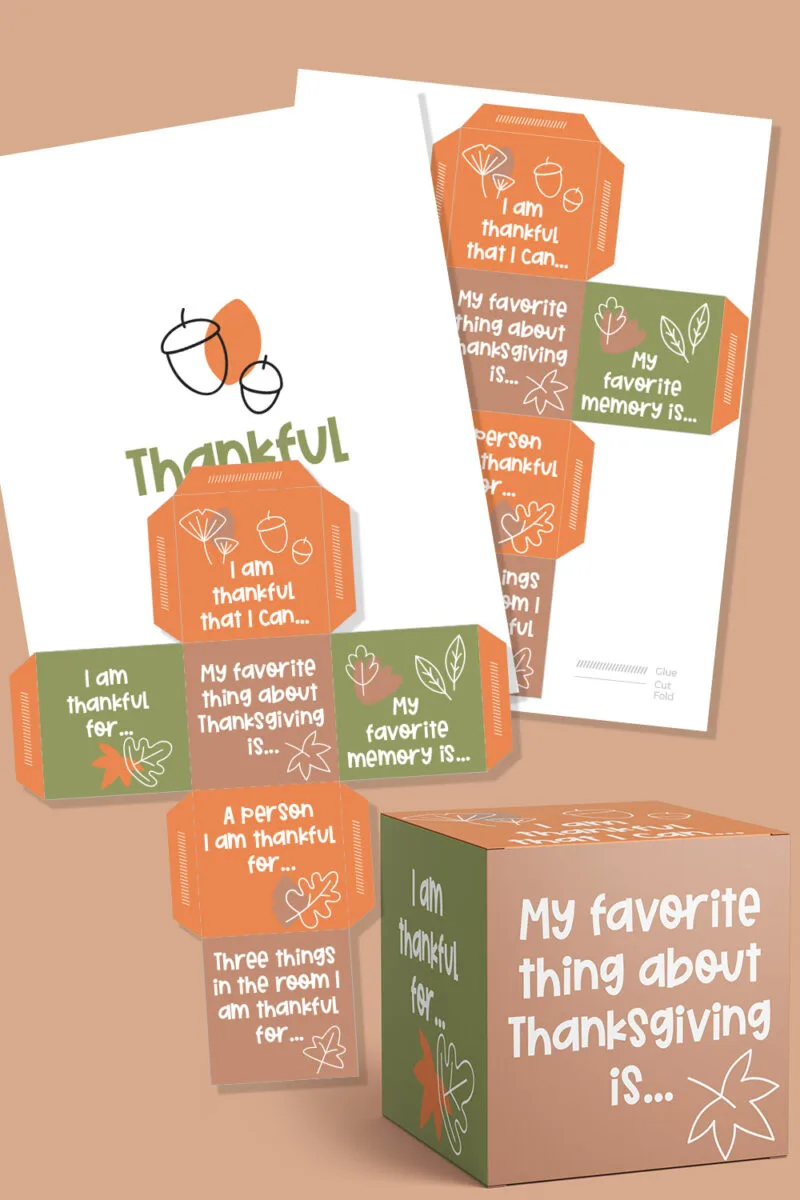 Be sure to download my free Thanksgiving Bingo cards, too!
How to Make Thanksgiving Dice
Download my free template for the Gratitude dice.
Print out on paper. I suggest using a heavy weight paper, such as cardstock, so that the dice works better.
Carefully cut out the template around the edges.
Fold on the dotted lines as indicated on the dice template.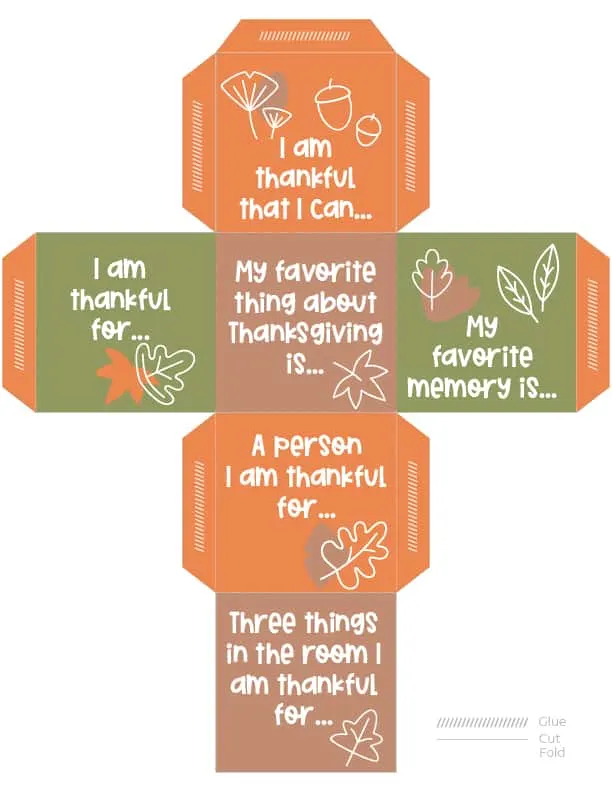 Gently scoring the lines with your fingernail or sliding a credit card across the line will help to prevent crooked folds as you assemble the dice game. You want to add a slight crease or gentle fold before bending the template to create the cube.
Now, fold the dice template on the lines indicated.
Use glue or double-sided tape to attach the side tabs to the other sides of the thankful dice.
If using glue, make sure to hold the tabs together and that the tabs are dried before continuing to assemble the dice.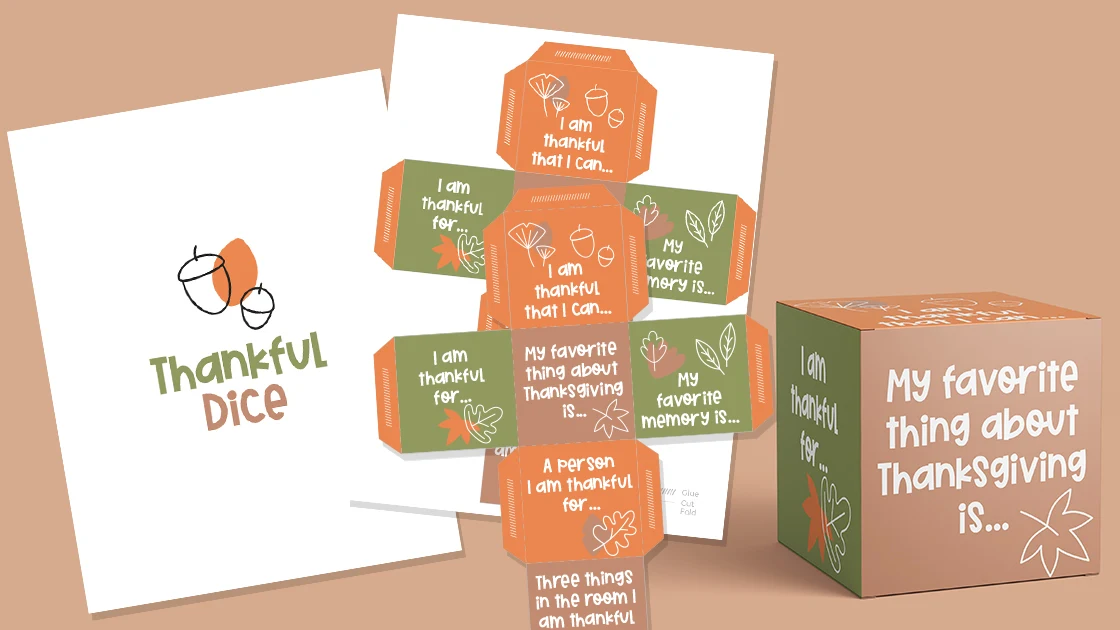 How to Play the Thankful Dice Game
To play the Thankful Dice Game, have each person roll the dice. A prompt will appear on the top of the dice.
The person now needs to share a memory of something that they are grateful for, using the prompt as an idea.
This game is great to play while fixing Thanksgiving dinner or sitting at the table during your meal.
If you are hosting Thanksgiving, be sure to see my pretty Thanksgiving Party Printables pack with a banner, signs, treat bag and gift tags!
A grateful dice game is also fun for teachers to use in their classroom, at church gatherings, or when gathering with friends.
---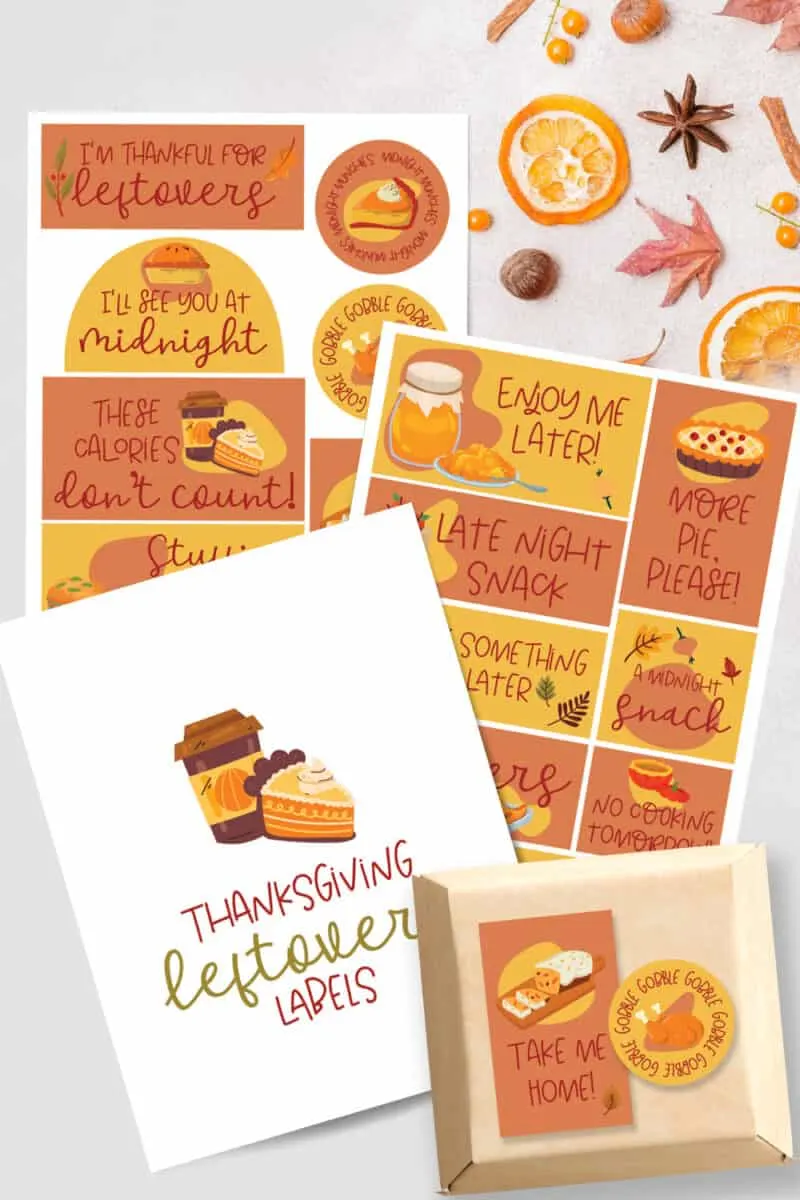 Thanksgiving Leftovers Printable Labels
Thanksgiving dinner always has a lot of leftovers – and don't you like sending your guests home with yummy goodies?
These fun leftovers labels are perfect to add to bags, trays and containers after the big meal!
Visit the Single Girls DIY library to download your 15 labels right now!
---
If you like this free printable Thanksgiving dice game, be sure to see more of my Thanksgiving craft ideas and printables, including: