This toilet paper tube advent calendar repurposes what would otherwise go in the recycling bin and makes a cute countdown to Christmas! This easy Christmas craft is almost entirely free to make!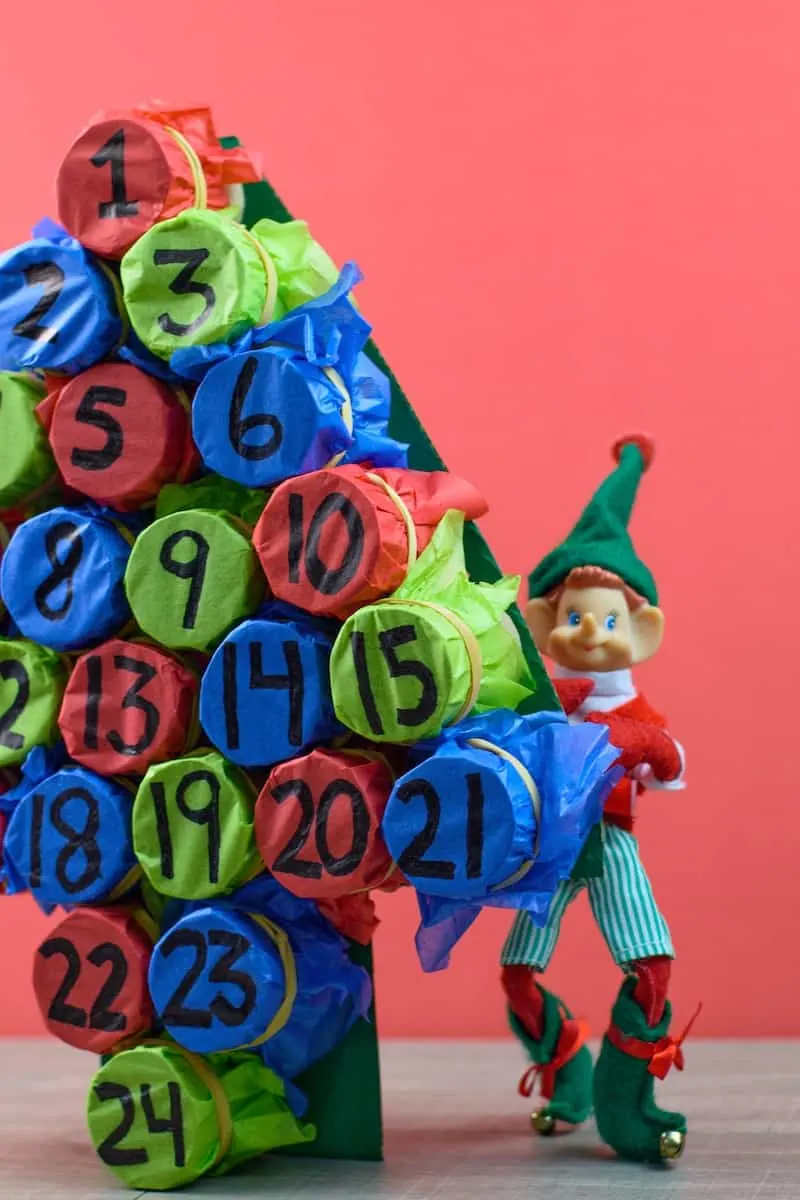 Have you ever wondered how to use those leftover tubes from toilet tissue? Here's a festive way to upcycle them into something fun!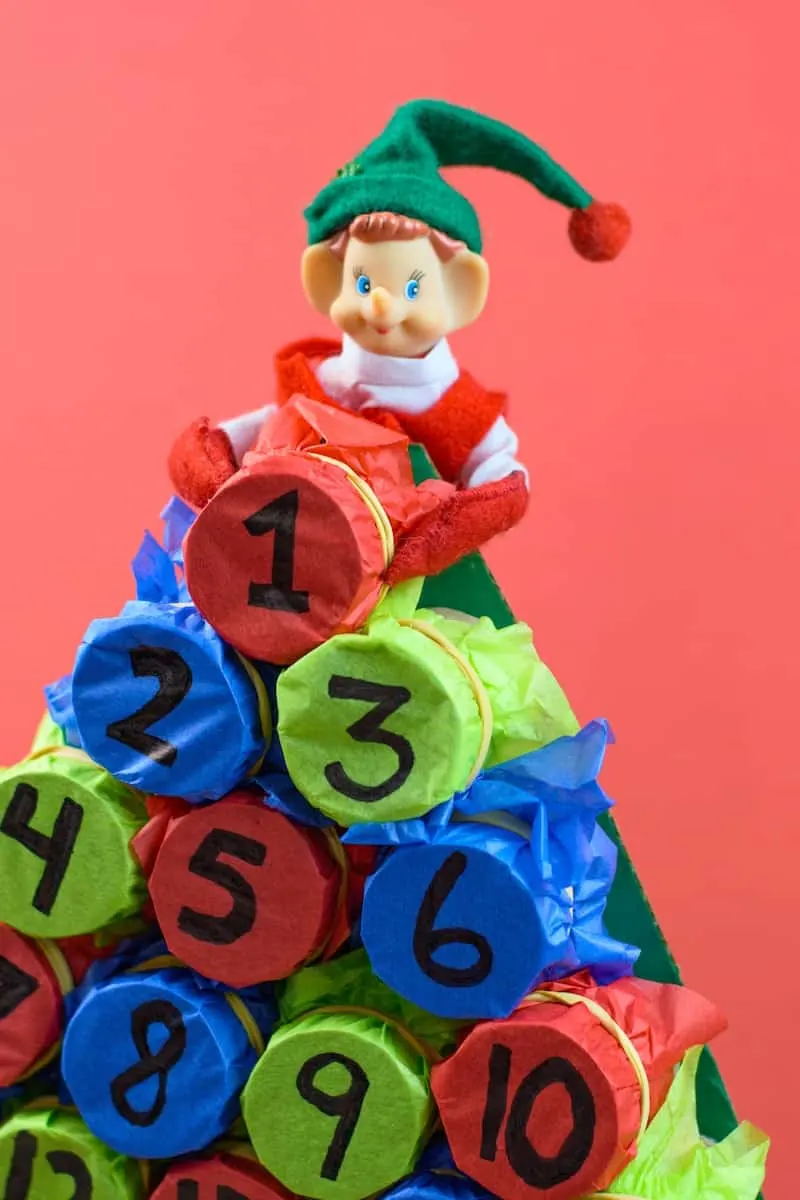 What I love about this craft is that it is just about free to make. The tube and cardboard can be sourced with stuff at home.
You might also want to check out our toilet paper tube Christmas Crackers and DIY Confetti Poppers.
And the tissue paper might already be in your gift wrap supplies. Or, buy some at the dollar store.
P.S. If you're looking for more thrifty Christmas crafts, check out some of my other projects: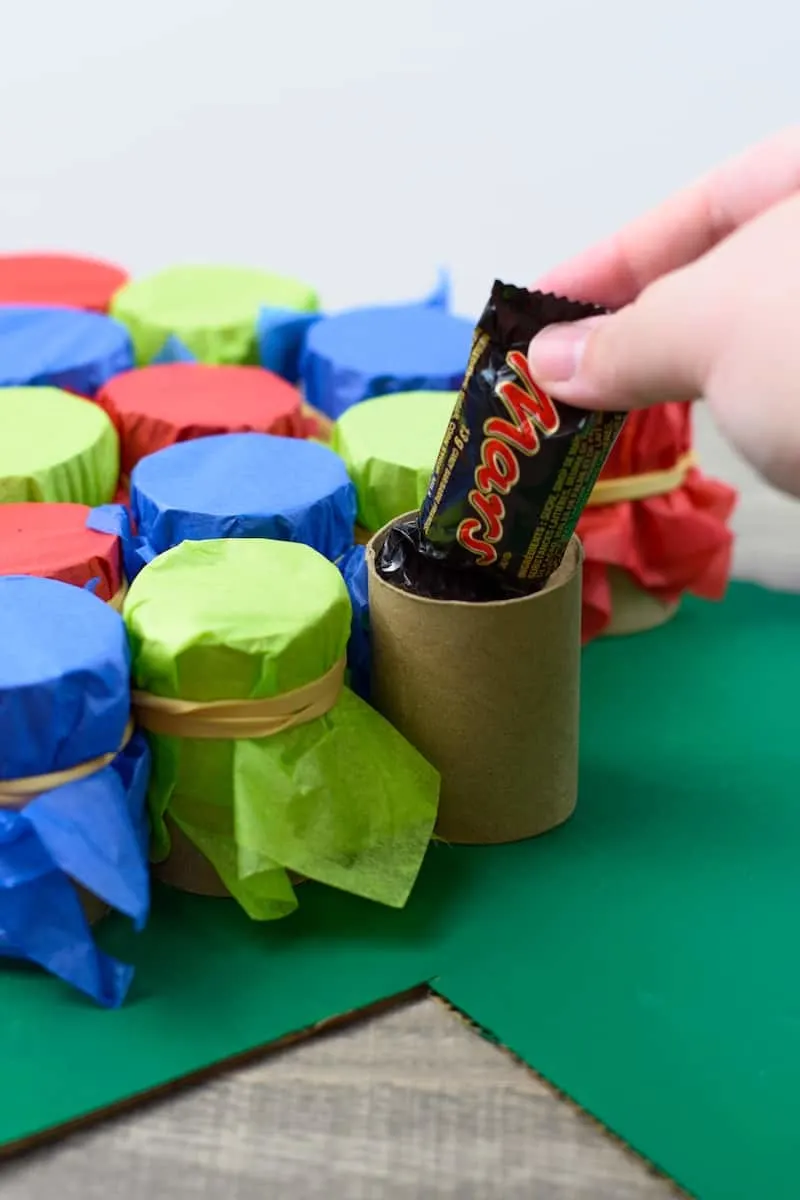 What to Put in an Advent Calendar?
This advent calendar is larger than most. So you have many options of different things to fill it with. Here's some examples: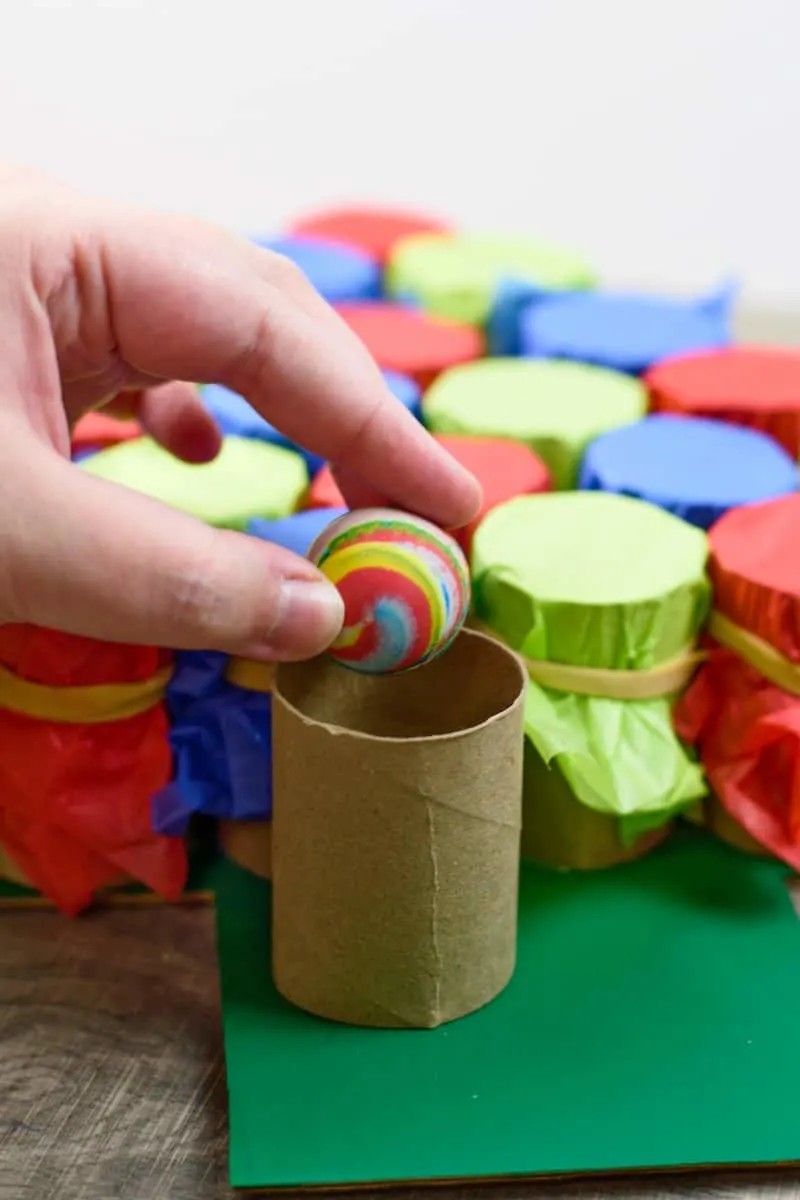 Helpful Tips and Tricks
Paint the cardboard whatever color you choose. You can use any color of tissue paper, too. An all white advent calendar would be gorgeous and simple. Or make it all pink for a little girl.
This advent calendar could get heavy if you use a lot of gifts such as candy. Be sure to prop it up so it doesn't fall over.
If you wanted to hang it (and you were only using paper gifts inside each tube), you could add a hanger to the top of the cardboard. Just punch out a hole and add some string to hang.
To get the gift, just punch through the tissue paper and pull out the surprise.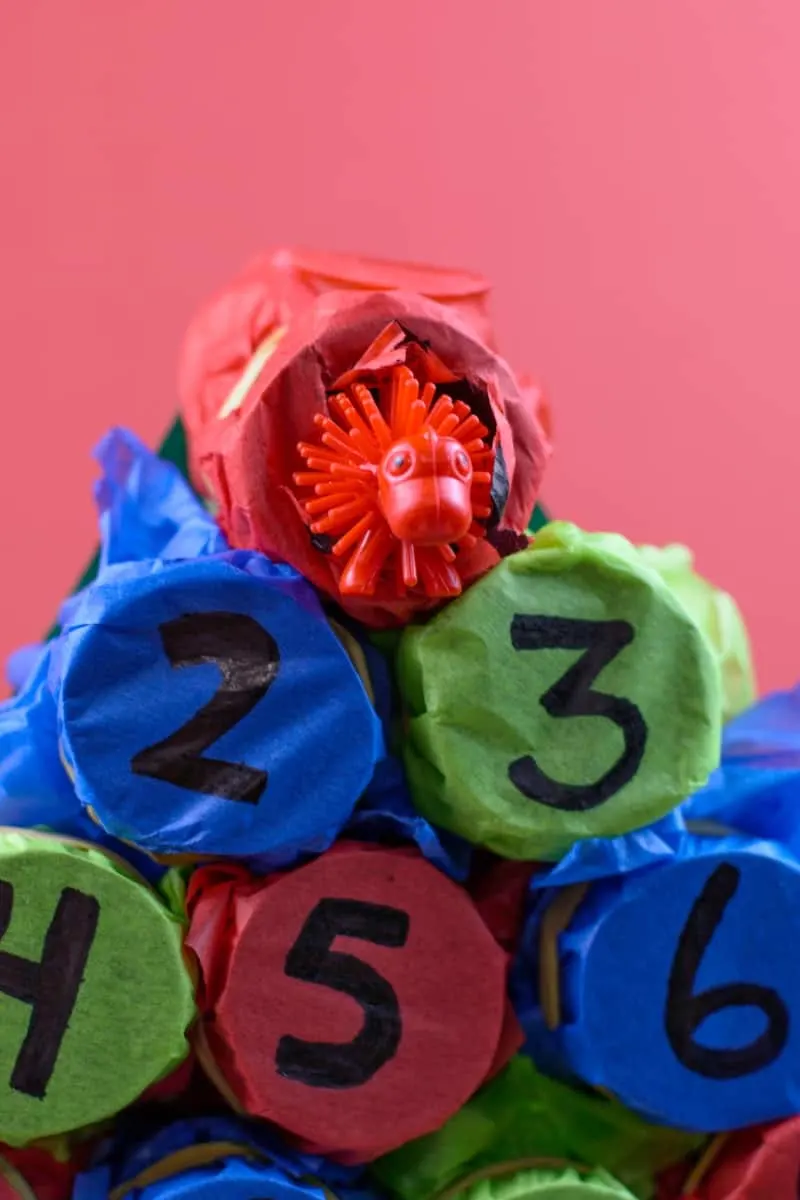 Looking for great Elf on the Shelf ideas? Check out these funny accessories that you can print right now!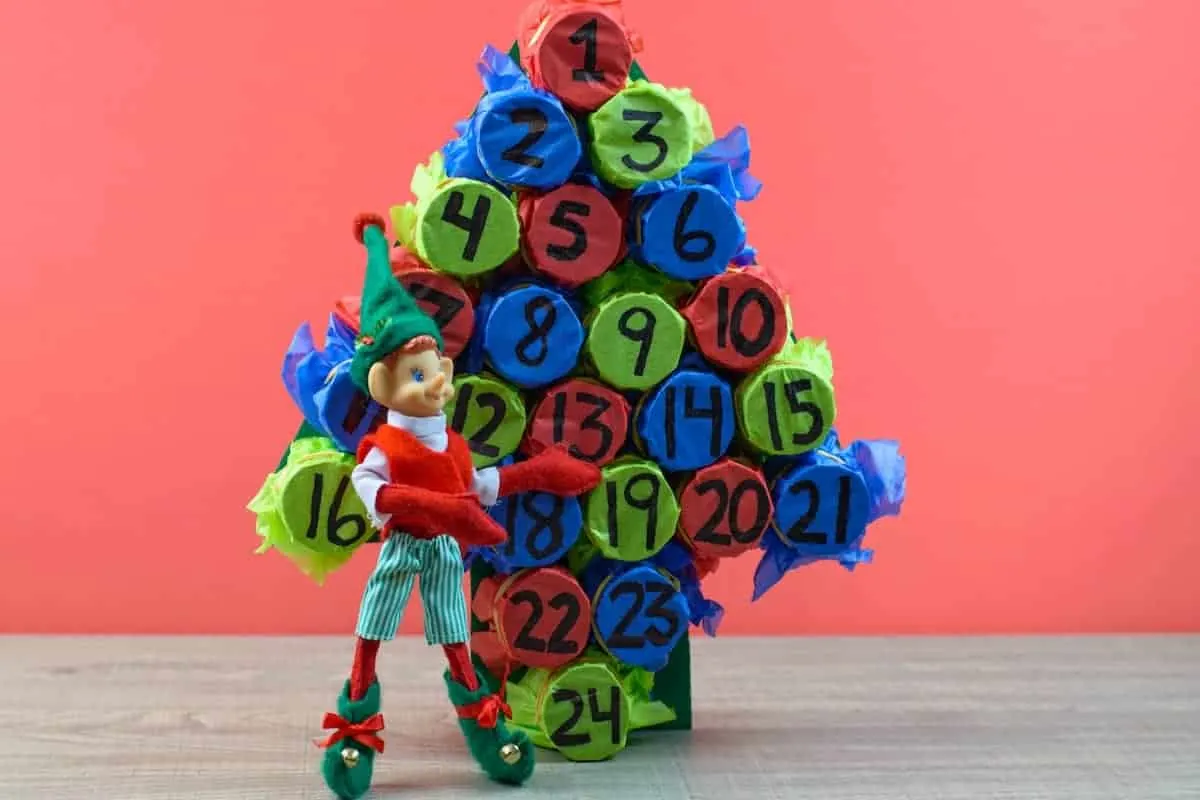 *The instructions below can be printed out. However, they will not include photos (to save your printer from using too much ink!). Be sure to Pin this DIY project or bookmark the link if you want to refer to the photos later.
How to Make a Toilet Paper Tube Advent Calendar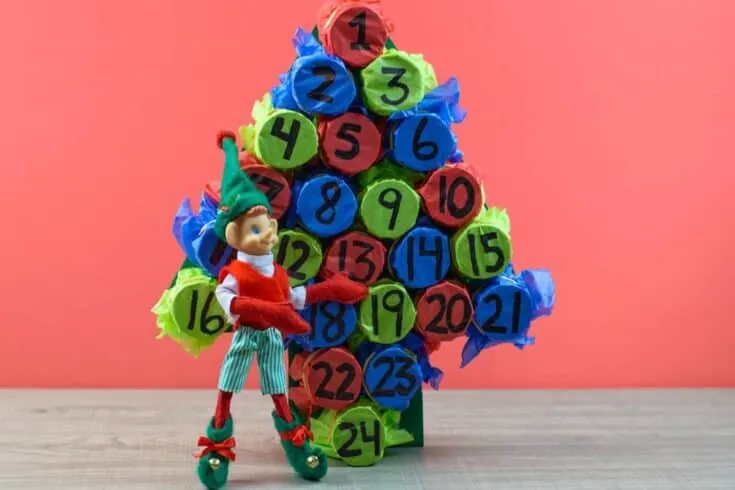 Upcycle toilet paper rolls into a cute Christmas advent calendar that is inexpensive to make.
Materials
Sturdy cardboard piece (size 12"X15")
Black marker (Sharpie)
Scissors
12 empty toilet paper rolls
Dark Green paint
Paint brush or sponge
Glue gun and glue sticks
24 rubber bands
Tissue paper
24 small gifts
Instructions
Cut the toilet paper rolls in half.
Place your cut rolls on the cardboard in the shape of a tree. Start with one roll at the very top, two underneath, three below that and so on. You will have 6 rows in total.
Finish your tree shape by making the trunk. Add a row of two paper rolls and end with one paper roll on the very last row.
Cut off excess cardboard to make a tree shape. Using a marker, draw a Christmas tree shape around the toilet paper tube rolls. Remove the rolls, then cut away the excess on the lines you drew.
Paint your tree shaped cardboard with a paint brush and let dry.
While your tree is drying, cut out (48) 4"X4" squares of tissue paper. For our project we chose different colors, but you can choose just one color. If you choose different colors, make sure you cut out two squares for each tube, for a grand total of 48 squares.
Once your tree is dry, glue the first paper roll to the very top of your tree.
Insert your gift into the paper roll then cover with 2 pieces of tissue paper and secure with a rubber band.
Repeat this process and recreate the Christmas tree shape again, increasing each row by one paper roll as you did in Steps 2 and 3.
With a marker, gently number each paper roll (don't press down too hard) with a number from 1 to 24.
Notes
If you would like to see the step-by-step photo tutorial, visit https://singlegirlsdiy.com/toilet-paper-tube-advent-calendar
Related Post: How to Make a Toilet Paper Tube Trophy
Want to make a reusable Christmas Countdown? Get our free Days Until Christmas SVG file to make a mini chalkboard that can be used every year.