If you're looking for a cheap but thoughtful Christmas gift, you can't go wrong with this tea bag Christmas tree!
When you just don't have enough money to give gifts, but you want to anyway, this Christmas tea tree is an excellent thrifty gift idea.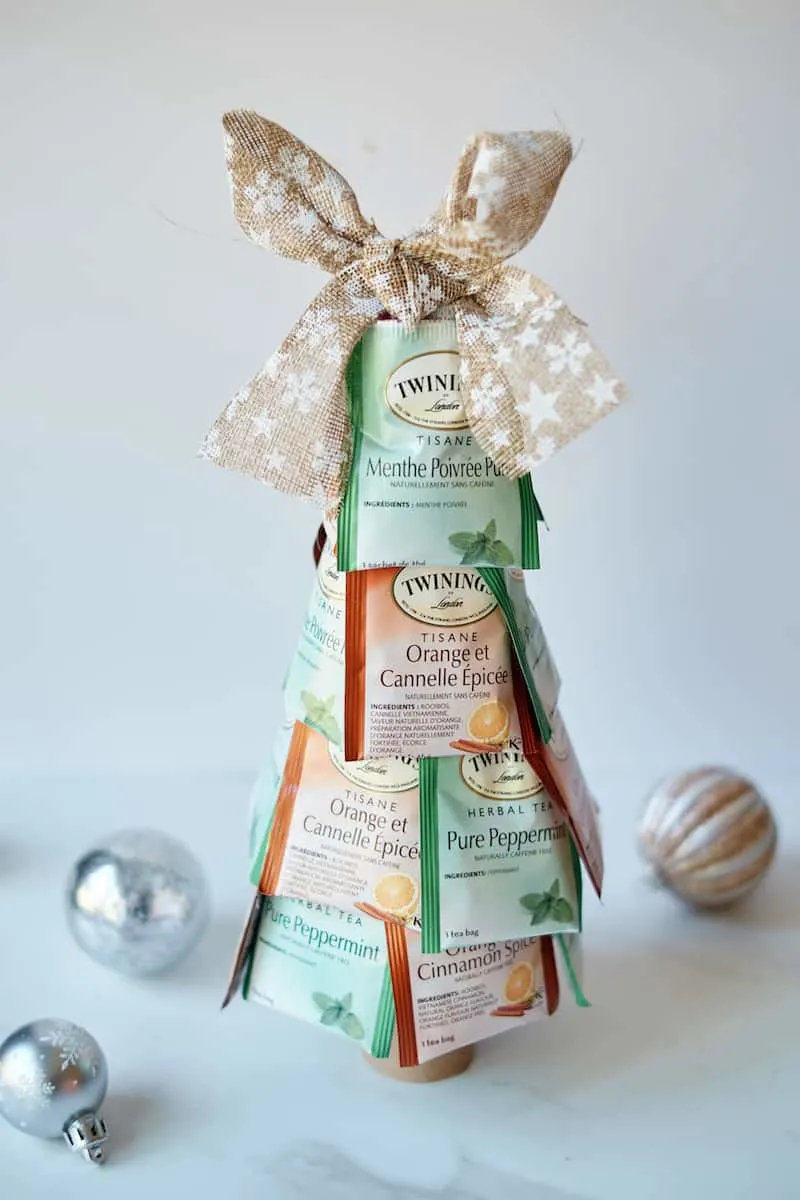 Tea bags can be bought at the grocery store. And if you get them on sale, they're super cheap. I've found sampler boxes for less than $2 on sale. You can also buy them at the dollar store, too.
Pair this unusual Christmas tree with a mug or tea cup to make a perfect gift for a friend! You can buy nice mugs at a dollar store. Or go to a thrift store! I've found great ones for just .25 cents!
A great gift idea is to put this Christmas tea tree in the mug itself! Especially if it's a wide mug. Then wrap it up with cellophane or plastic wrap for an elegant, yet inexpensive, gift.
Estimated cost of this gift is $4 (you can save money with the tips below):
Want to keep this idea? Be sure to Pin it to your craft or DIY board on Pinterest.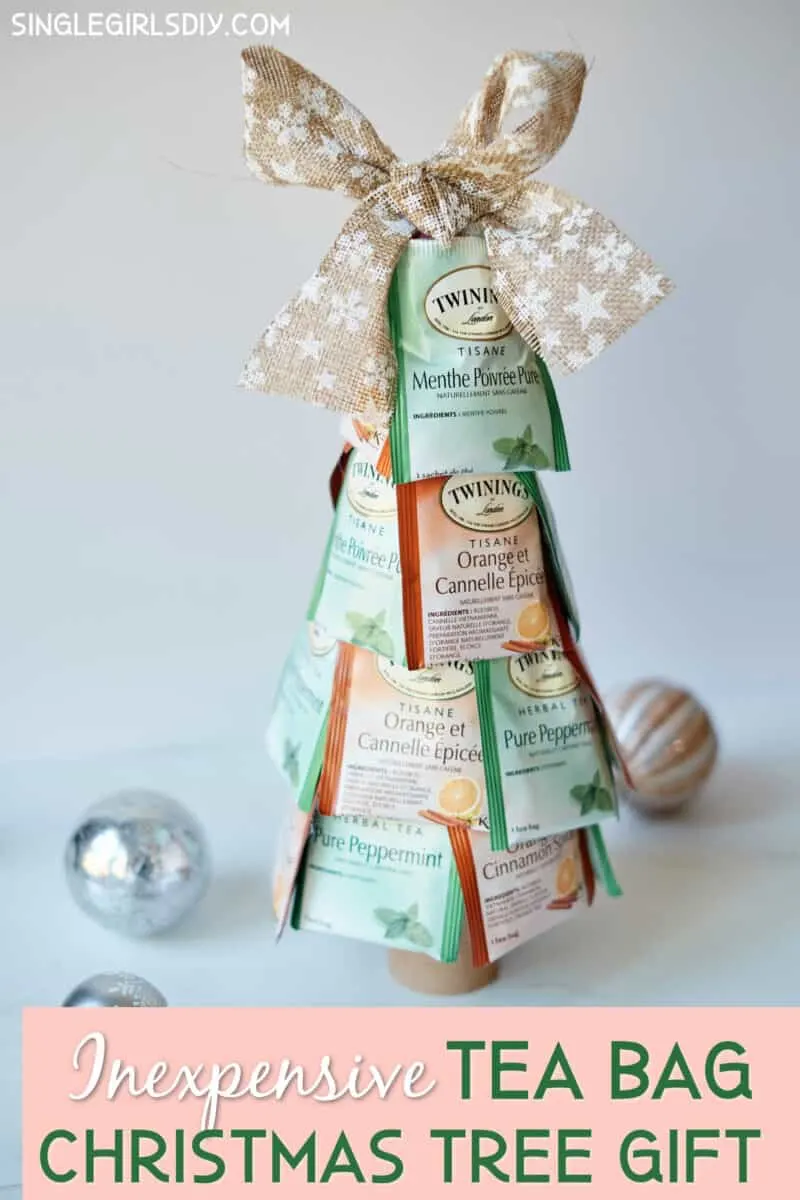 Helpful Tips
Styrofoam cones can be found at a dollar store. However, you can also roll very thick paper into a cone as a cost-saving alternative.
Adding a bow to the top is optional. You can find thick ribbon at a dollar store to make several bows. Or reuse a gift bow you have.
Instead of hot glue, you could use sewing pins or thumbtacks to attach the tea bags.
Yield: 1 tree
Tea Bag Christmas Tree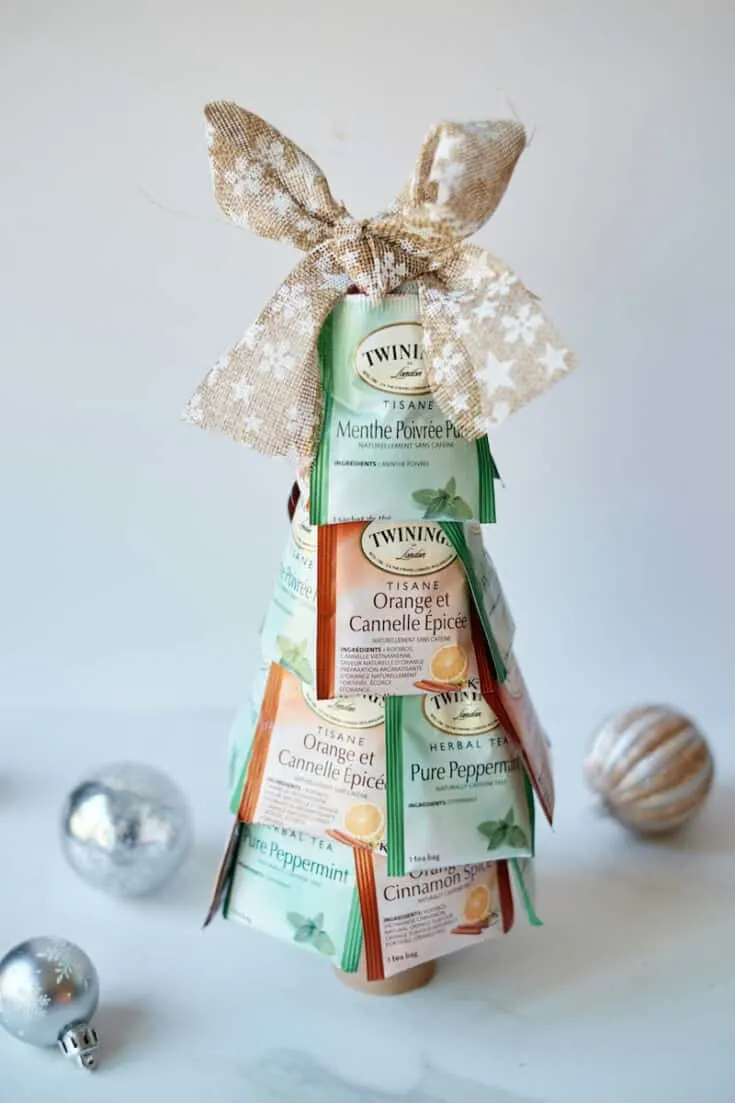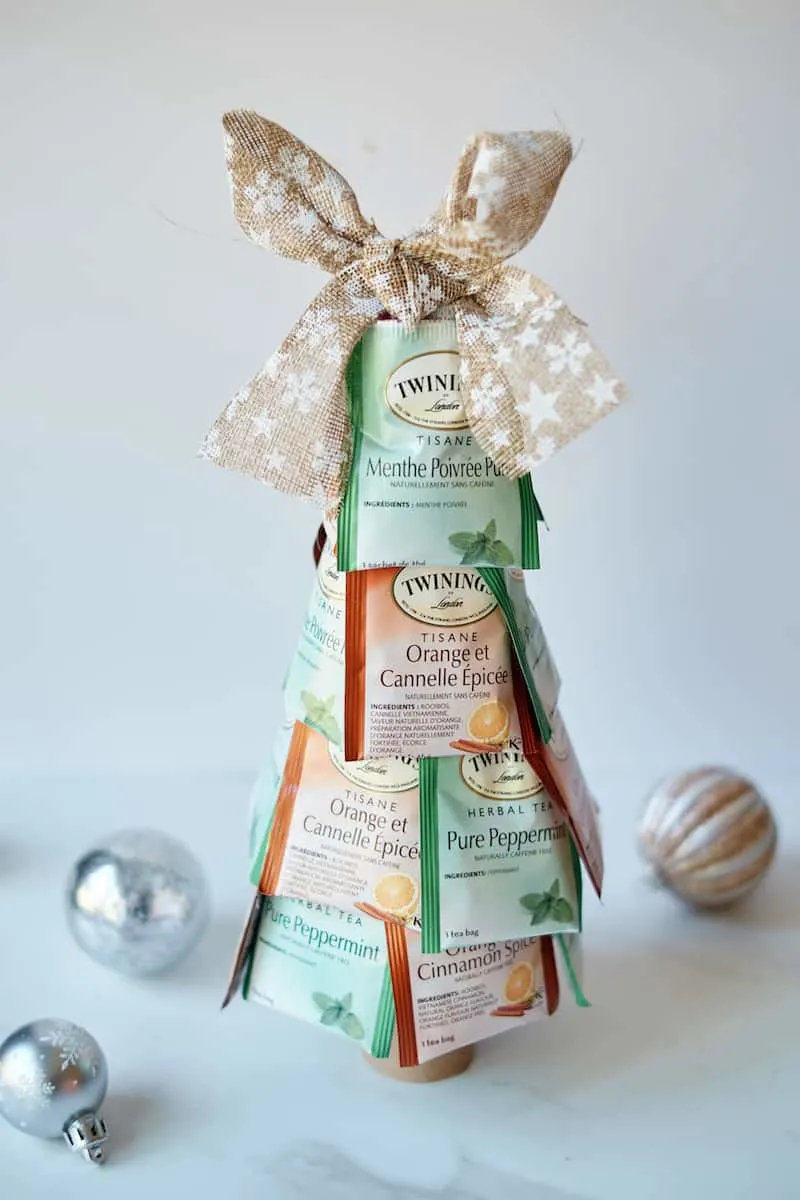 An inexpensive but thoughtful gift. Make a Christmas tea tree for your friends, neighbors or anyone who enjoys relaxing with a cup of tea!
Materials
1 Styrofoam cone (7 inches)
2 packages of tea bags (approx. 10-12 of each)
Bow (optional)
Toilet paper tube (optional)
Instructions
Remove tea bags from the boxes.
Layer the tea bags on the cone alternating the tea types or colors of packaging.
Glue each bag to the cone and move up the layers until the whole cone is filled.
If you would like, cut an empty toilet paper tube to be a stump. Glue it to the bottom of the styrofoam cone or gently push it into the bottom of the cone to stay.
Attach a bow to the top with glue.
Want more inexpensive gift ideas? Check these out: