After cutting off old hosta flower stems (also known as scapes), use them to make tropical placemats and coasters that are biodegradable and zero-waste!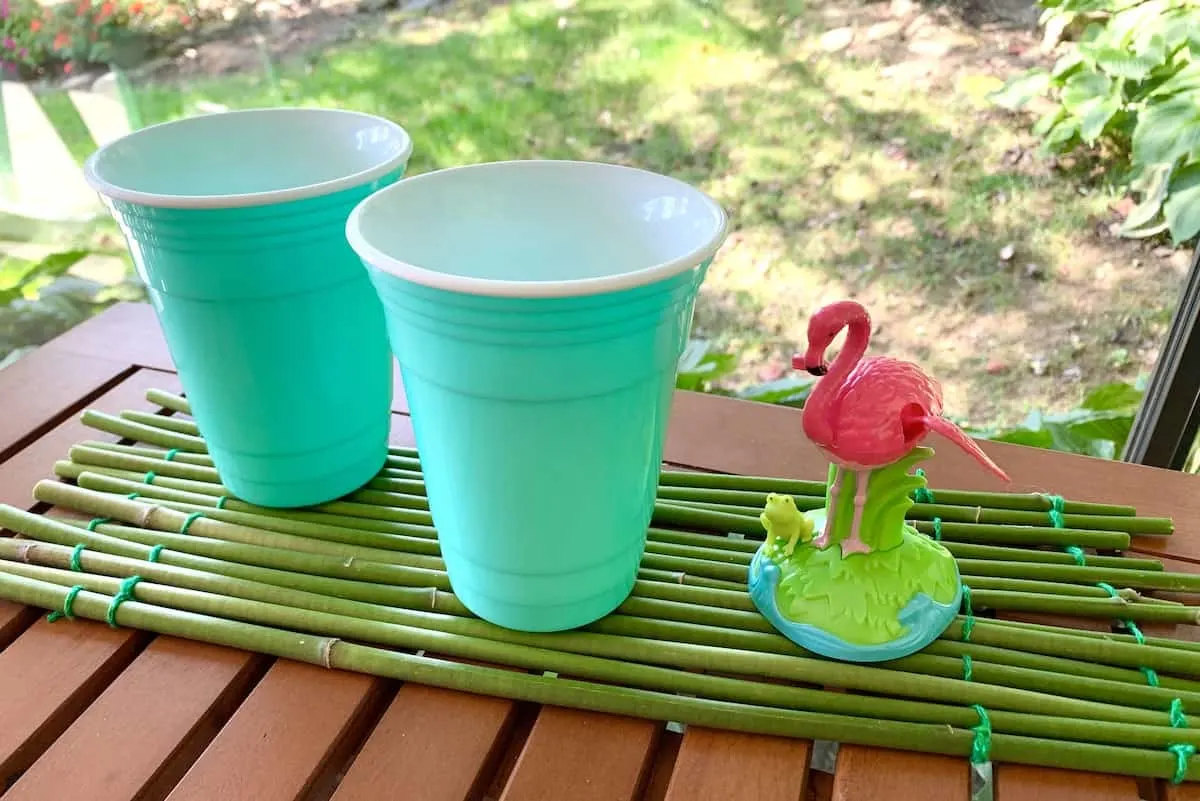 When we moved into our new house, we were overwhelmed with the amount of hosta plants that popped up across our property in the Spring. Not knowing much about hostas, I thought they were just big, pretty green plants. But I was really surprised when they sent up big shoots of purple flowers!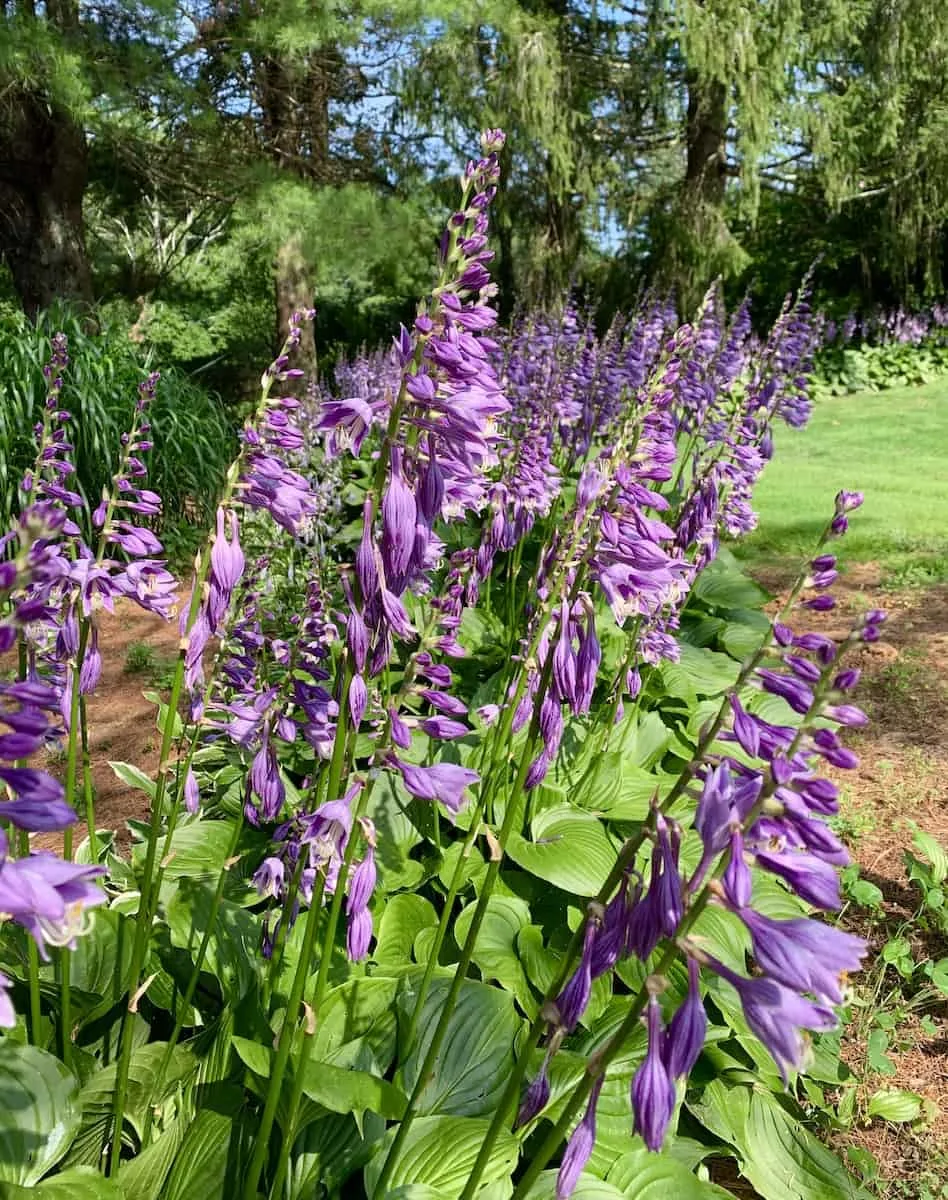 Looking out of our windows, it reminded me of lavender fields. The masses of purple flowers were beautiful in the breeze.
But then the flowers faded. And all I had left were green stalks with dried seed heads sticking up. When I started cutting them off, I realized how sturdy the hosta flower stems (also known as flower scapes) were.
After I cut a huge pile and left it in the yard for a couple weeks, the stems were still just as strong and sturdy as when I had cut them off. They reminded me of bamboo stalks.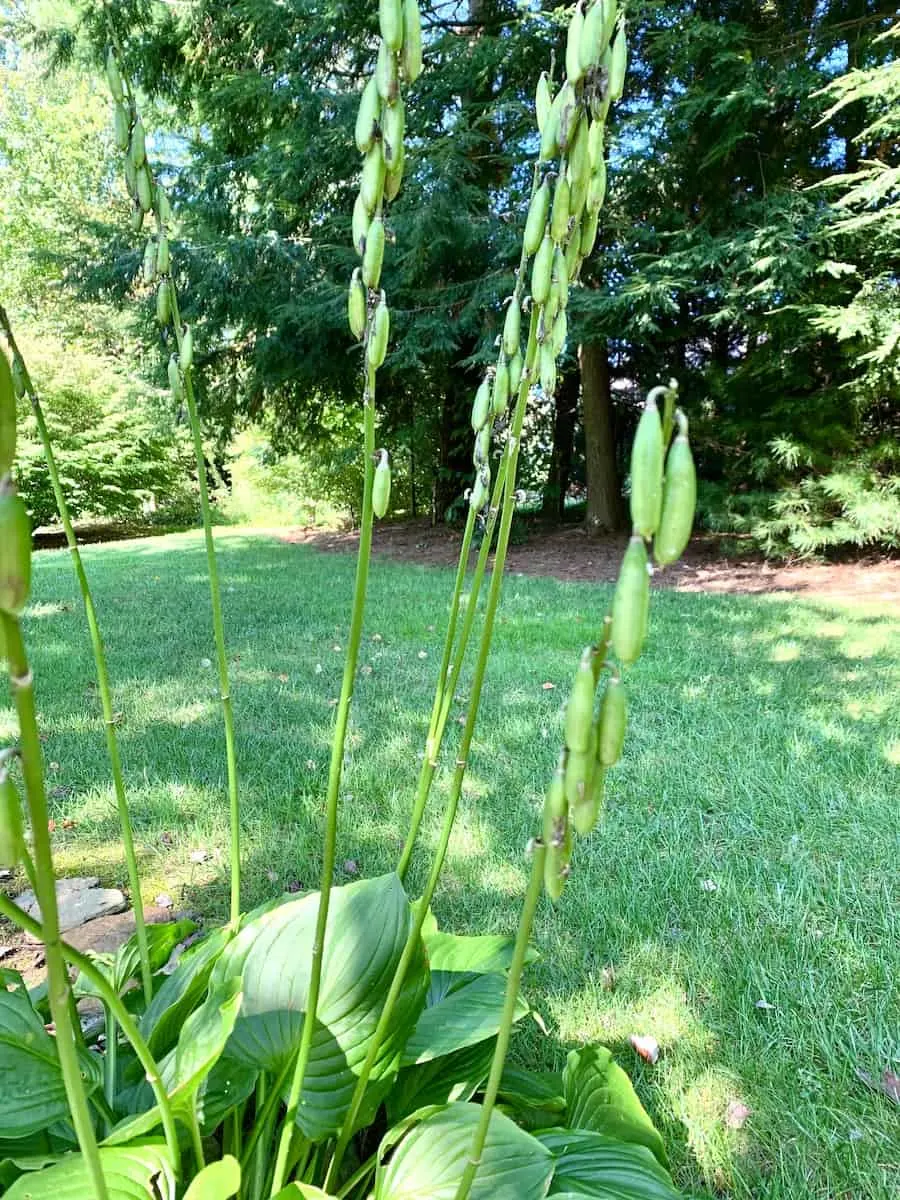 When my nephew and I started playing "light sabers" with the cut flower scapes – and my knuckles were bruised from being hit by them – I knew I had to find a way to repurpose the hosta stems because they were so strong.
My first thought was to make a tropical placemat and coasters from the bamboo-like stems. I'm really pleased with the results!
And they are totally free! I love when you can reuse items from nature for home decor, just like my DIY stick frame and these rustic twig stars.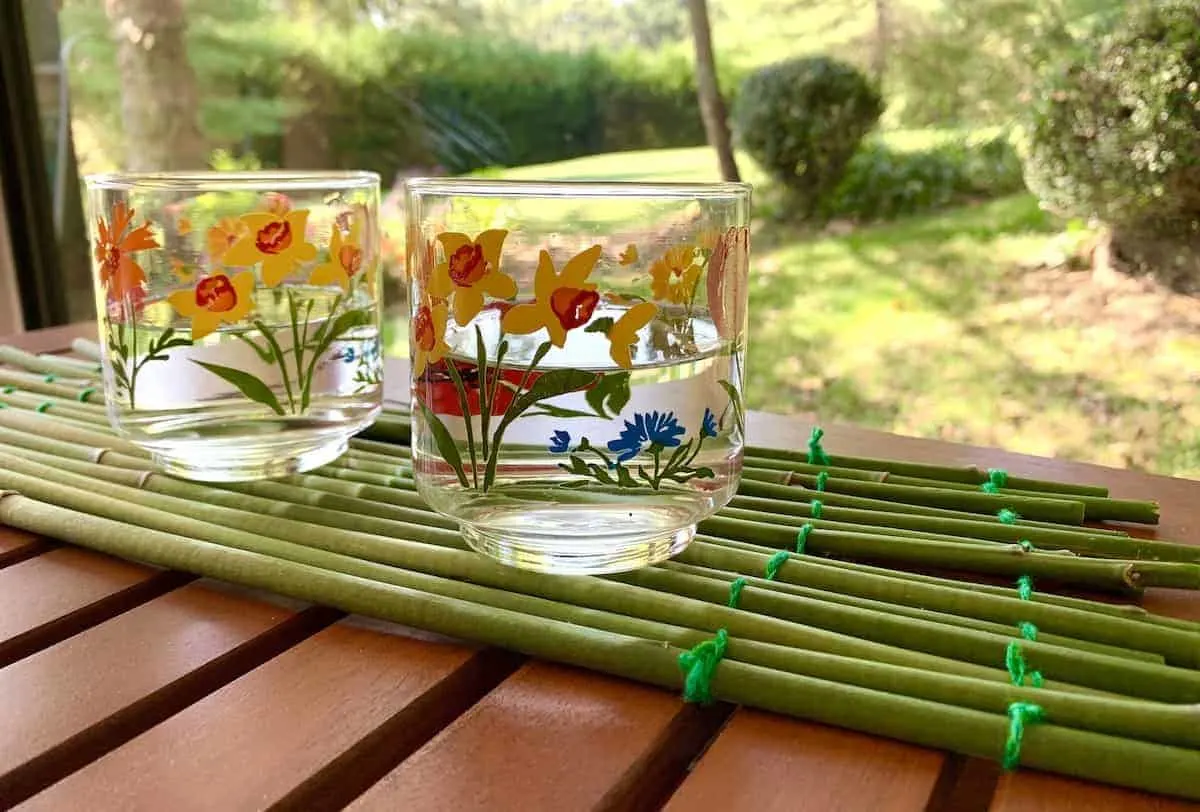 If you're looking for more summertime crafts, check out these DIY Suncatchers with glass beads. And our upcycled tin can wind chimes.
How to Make a Placemat / Coasters from Hosta Flower Stems
Supplies
Hosta flower stems
Pruners
Yarn or twine
Scissors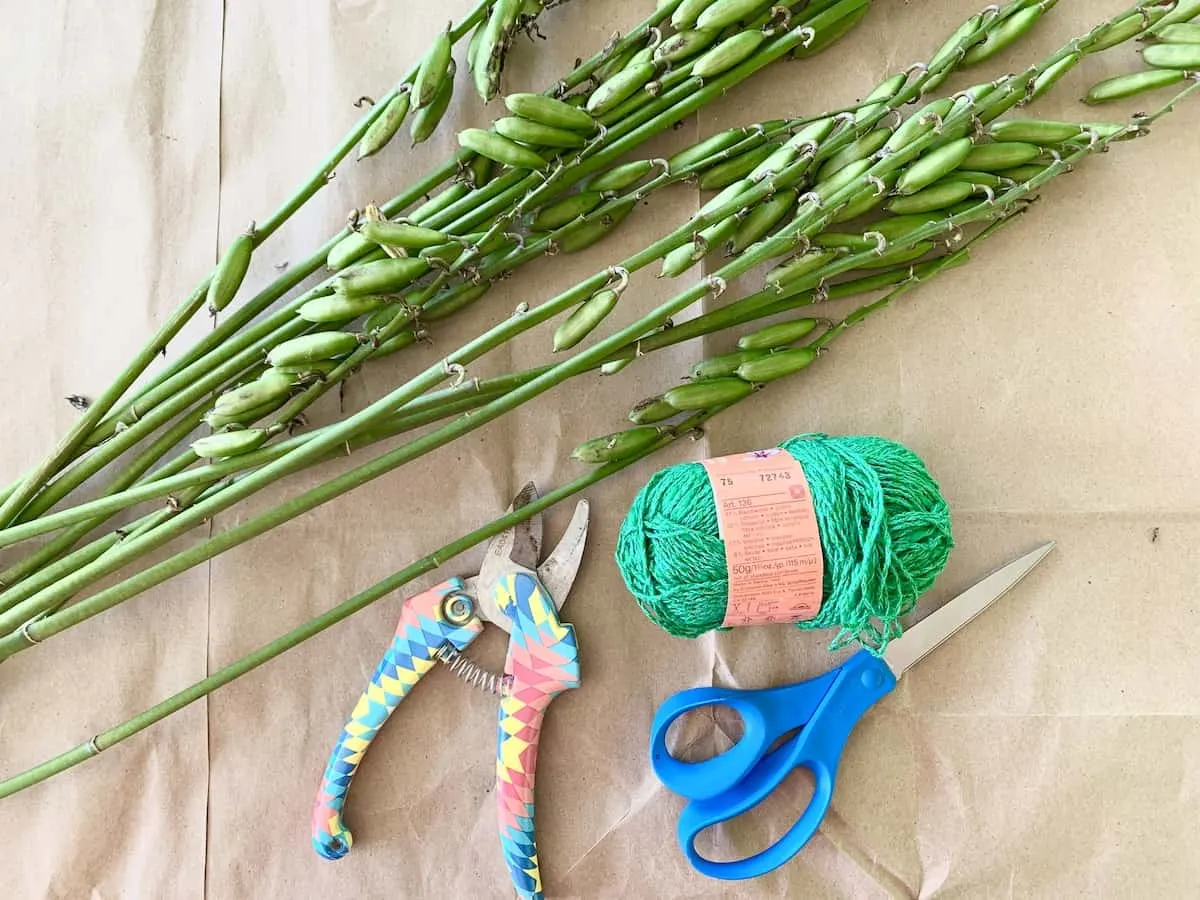 Instructions
When cutting the hosta flower stems, cut as close to the plant crown as possible. It's better for the plant and it gives you a longer stem to work with.
Cut off the seed pods. These can be composted or put with yard waste.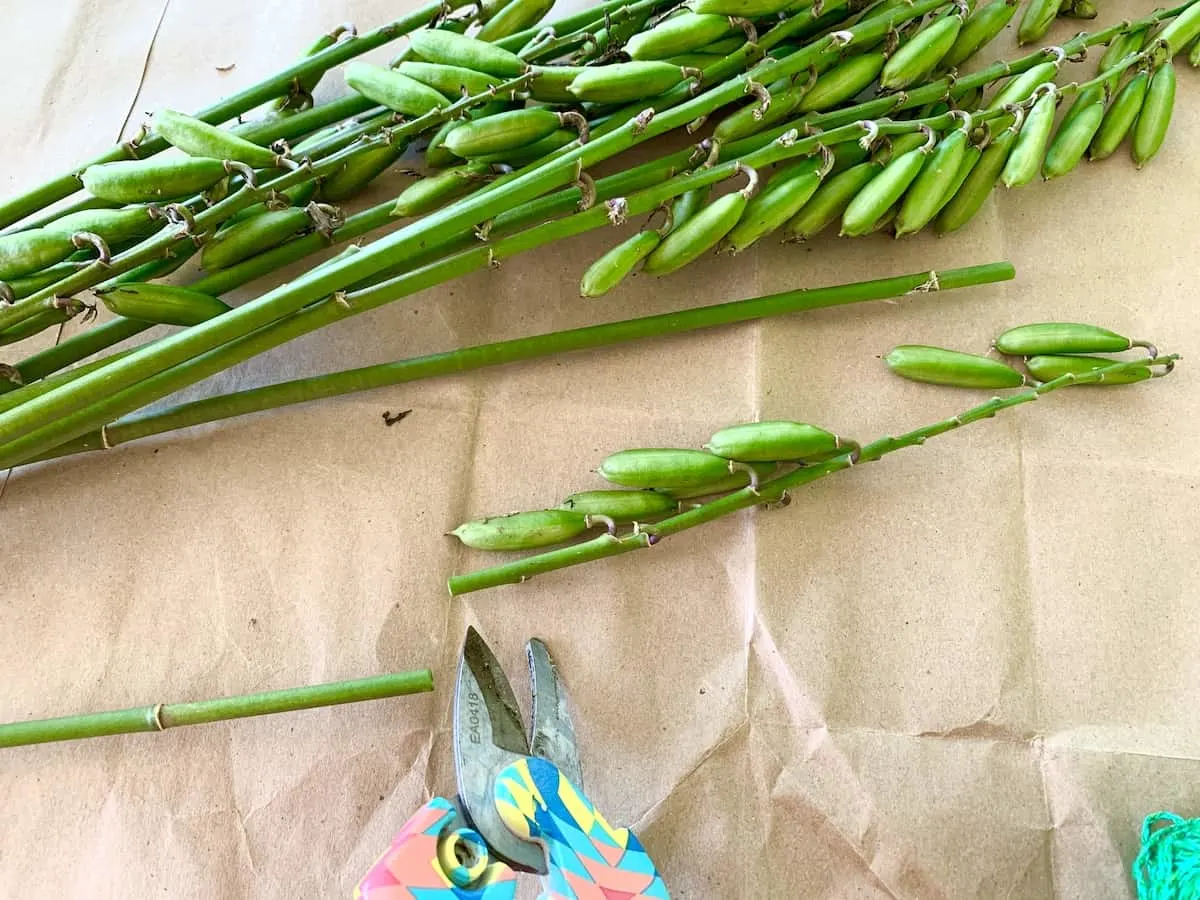 Determine the size of the placemat, table runner or coasters you are making. Unless making small coasters, the size of your table runner will be influenced by the smallest size flower scape that you have. Because you can't make it longer than that!
Once you have determined the size, cut off all flower stalks to be the same length. Be sure to trim ends on both sides to be flat cuts. (You might have cut at an angle while trimming the plant, and you want to straighten out that cut edge.)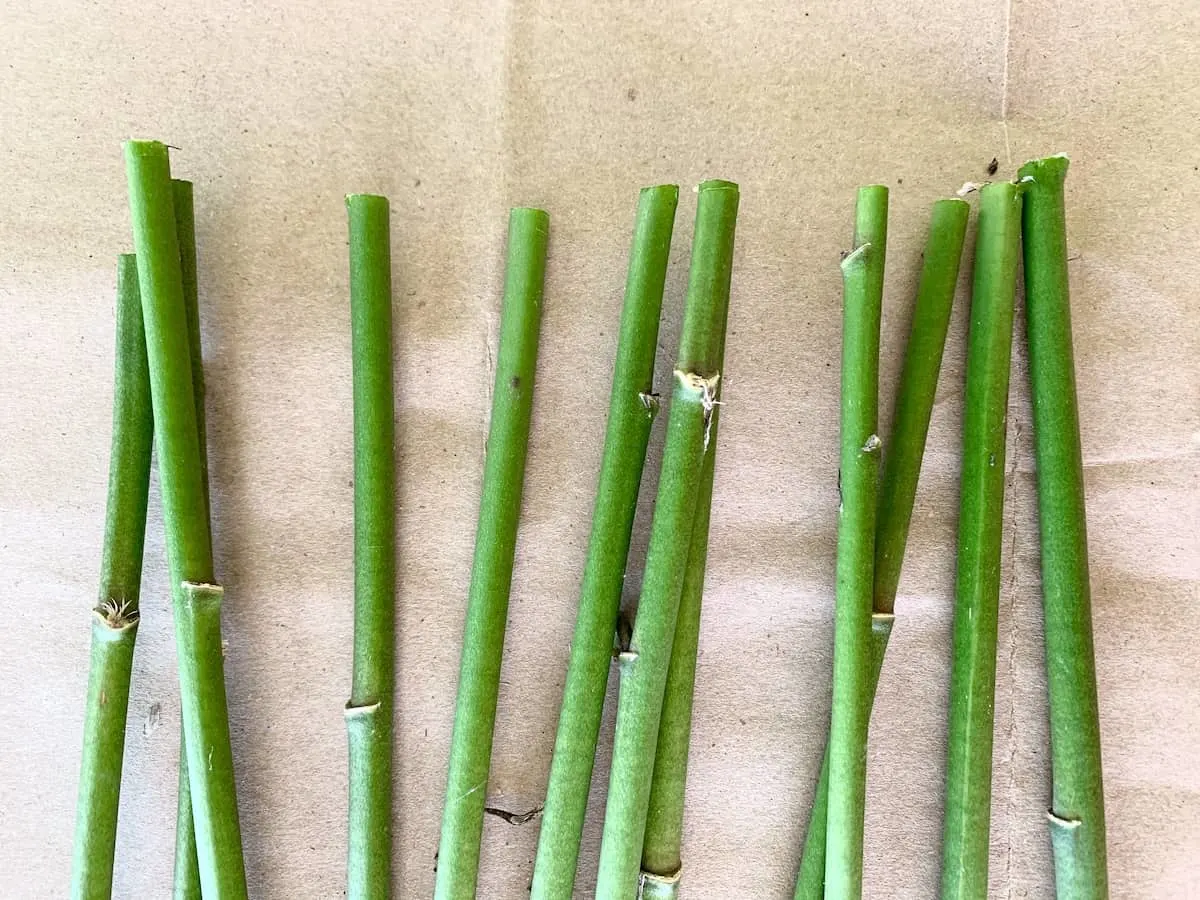 Line up the flower stems as you would like them to lay. Pay attention to any slightly curved stems that might need to be on the outer part of the placemat.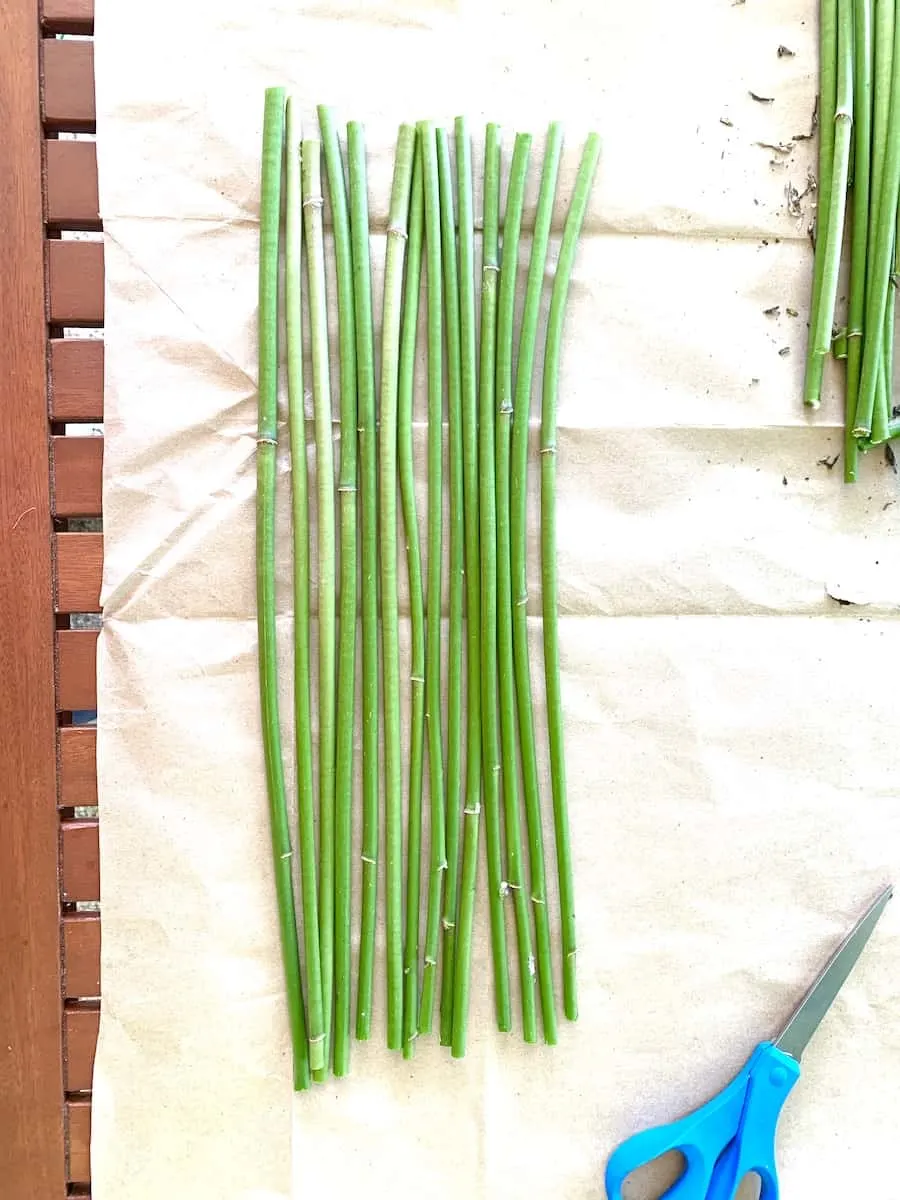 Tie a knot around the stem on the outside.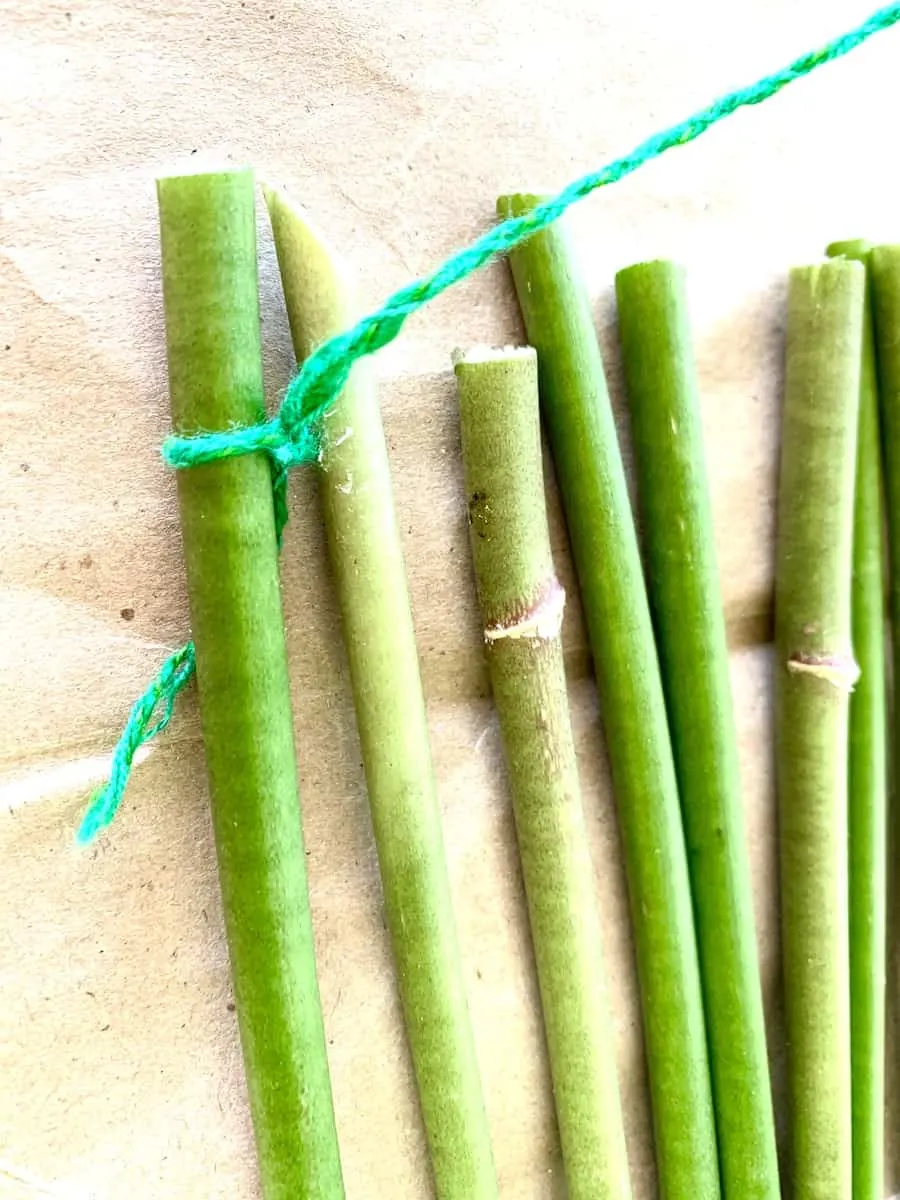 Start weaving the yarn or twine using a basket weave technique around all flower scapes. With your first piece of yarn, go over one stem, then under the next flower stem, then over the next stem, and so on. When you get to the last stem, tie a knot and cut off the excess.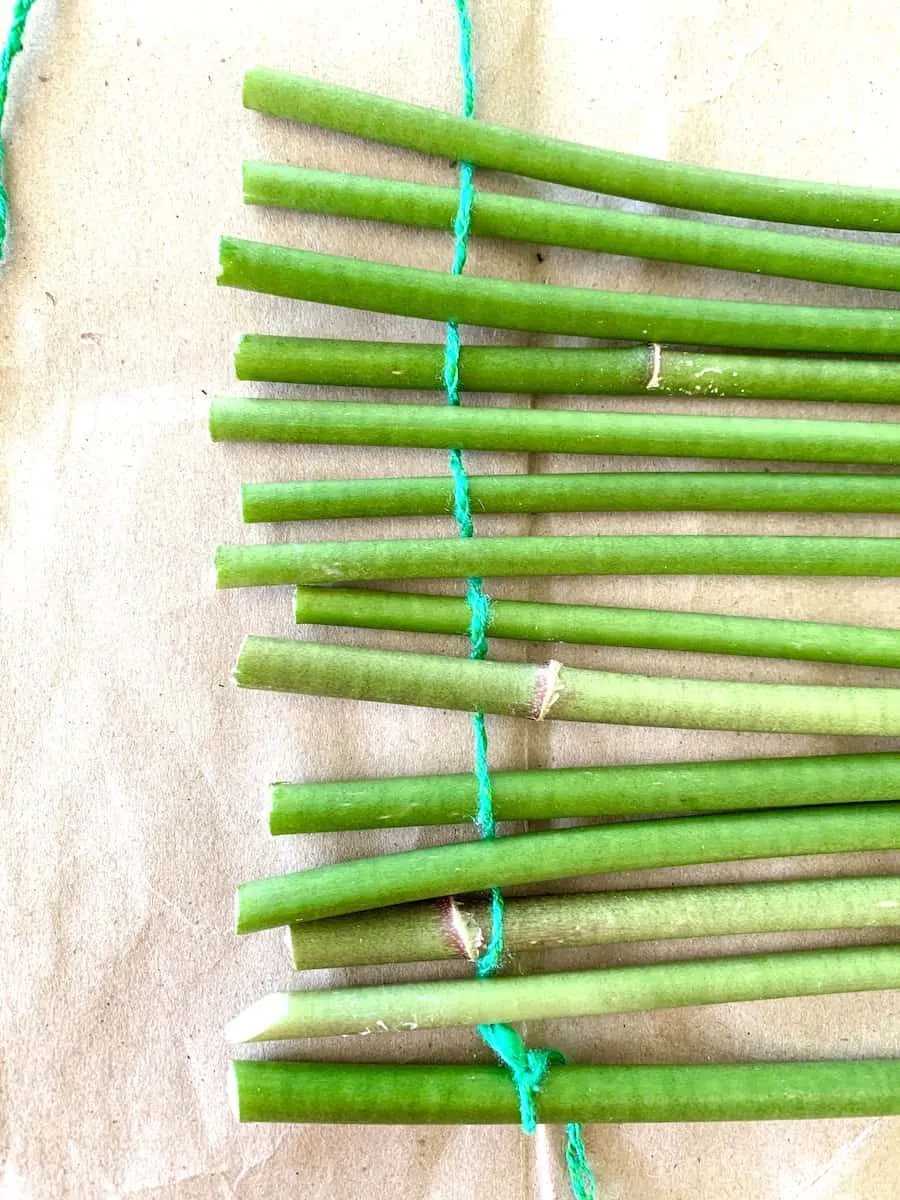 For your next piece of yarn, tie another knot on the outer stem in a different location. Now, use the opposite method. Start weaving under the first stem, then over the next stem, then under the next stem, and so on.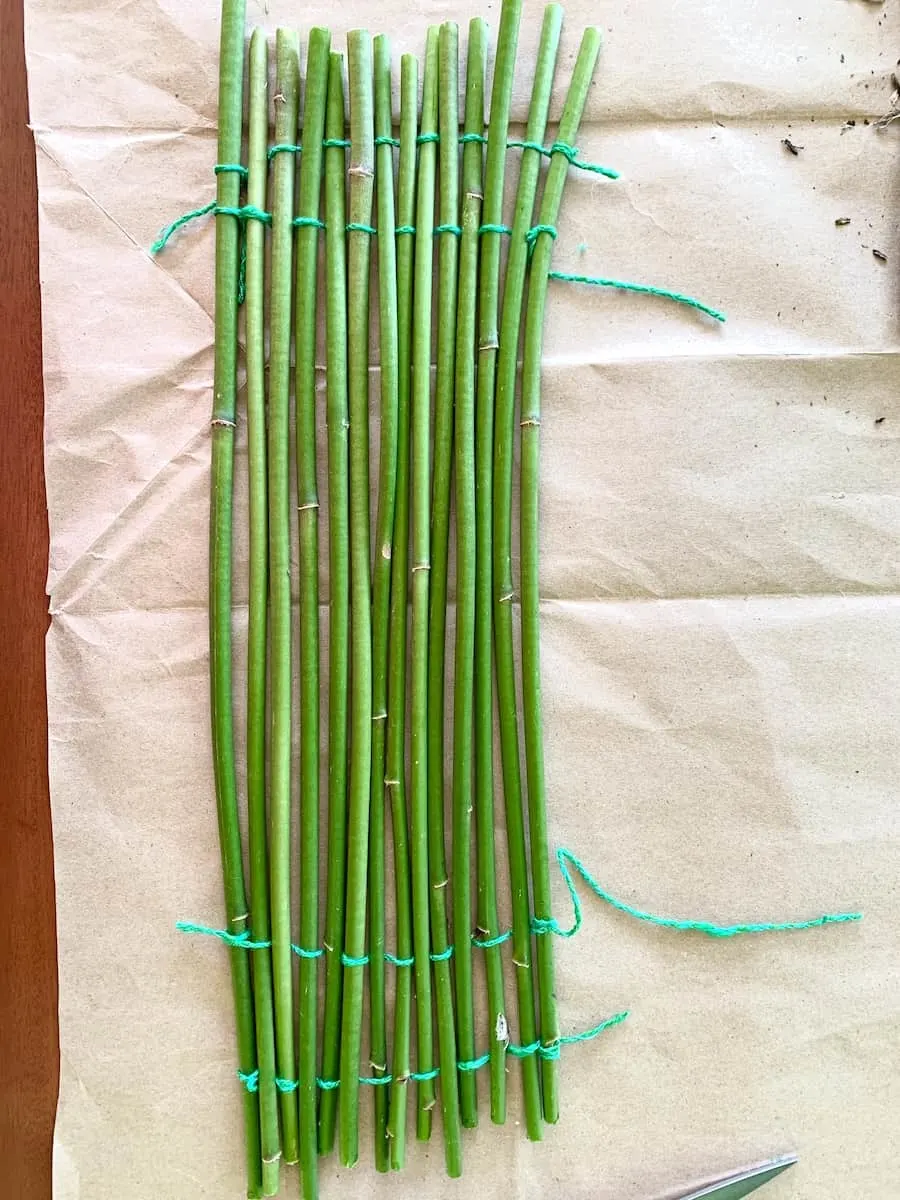 Make as many weaves with yarn as you would like. You can weave the entire placemat for more stability. But at minimum, there should be two at each edge to keep the stems together.
This craft is totally zero waste! You can use the yarn scraps to put in a place where birds can use them for building nests. If you use twine or other natural material, it will decompose if put in a compost pile. The flower scapes will naturally decompose, too!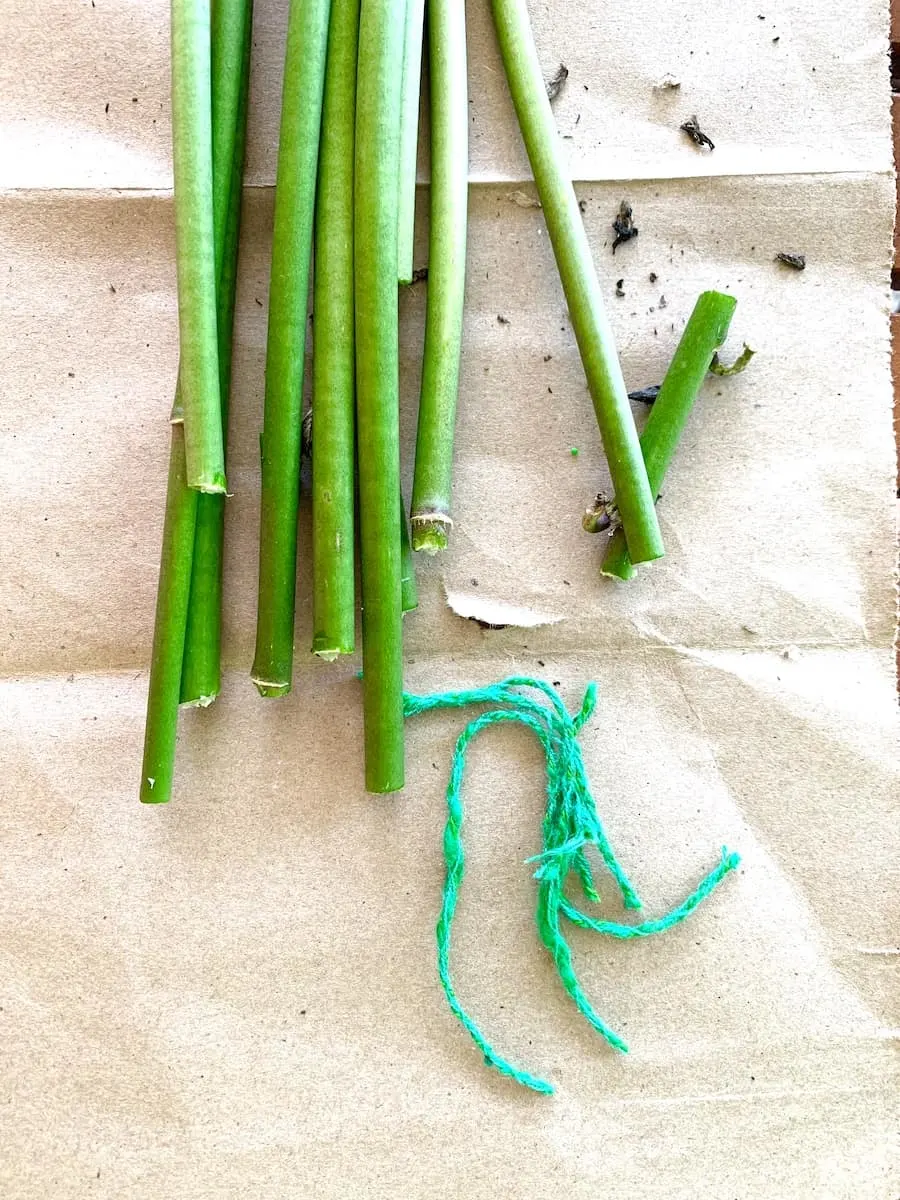 Related Posts: How to Harvest Nasturtium Seeds and How to Harvest Cosmos Seeds
Helpful Tips for Making Hosta Flower Stem Crafts
Your stalks might be slightly curved. If so, choose the straightest part of the flower scape to work with. You can cut from both the top and bottom to just use the straight part in between if needed.
Use varying colors of yarn for rainbow effect and to make your placemat or coaster colorful.
According to the American Hosta Society, there is no benefit in keeping old flower scapes on the plants. So feel free to make this craft as soon as the flowers fade from the stems.
After cutting the stems off the plant, this is a great craft for kids!
More DIY Tropical Crafts
Planning on hosting a tropical luau party? Or just look the look of the Caribbean islands? Then you'll want to see my other tropical-inspired DIYs, too!