Miss going out to movies in movie theaters? Wondering how difficult it would be to create a DIY home theater room? With the cost of movie tickets increasing, plus theaters closed for business, you might be thinking about converting some of your space at home into a movie room.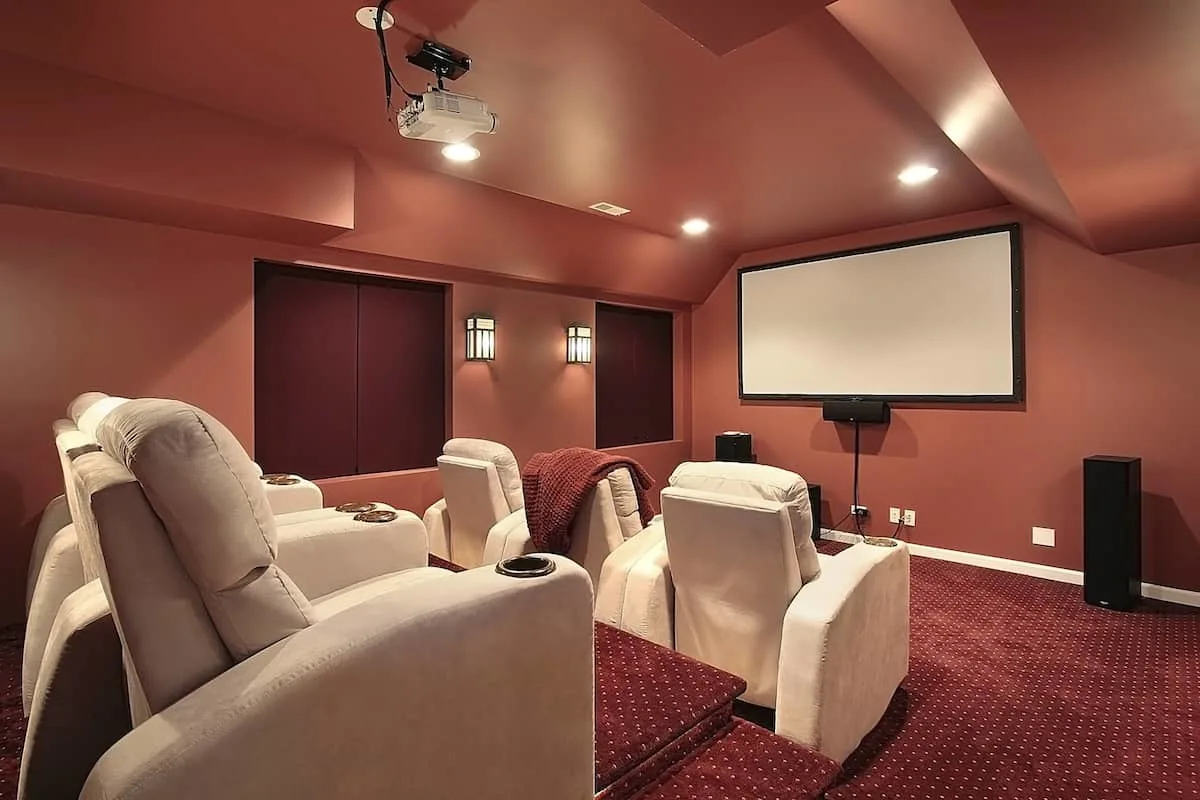 While building a home theater sounds like a big and expensive project – it doesn't have to be! In fact, if you are thinking about listing your home for sale, it can be a really great addition for the value of your home.
Of course, it's a great addition even if you have no plans on moving! Because more and more people enjoy a "Netflix and Chill" kinda night these days rather than paying for movie tickets and overpriced concessions in movie theaters.
P.S. Check out MovieNightsatHome.com for some great ways to enjoy spending time in your personal theater!
How to Build a Budget Friendly DIY Home Theater Room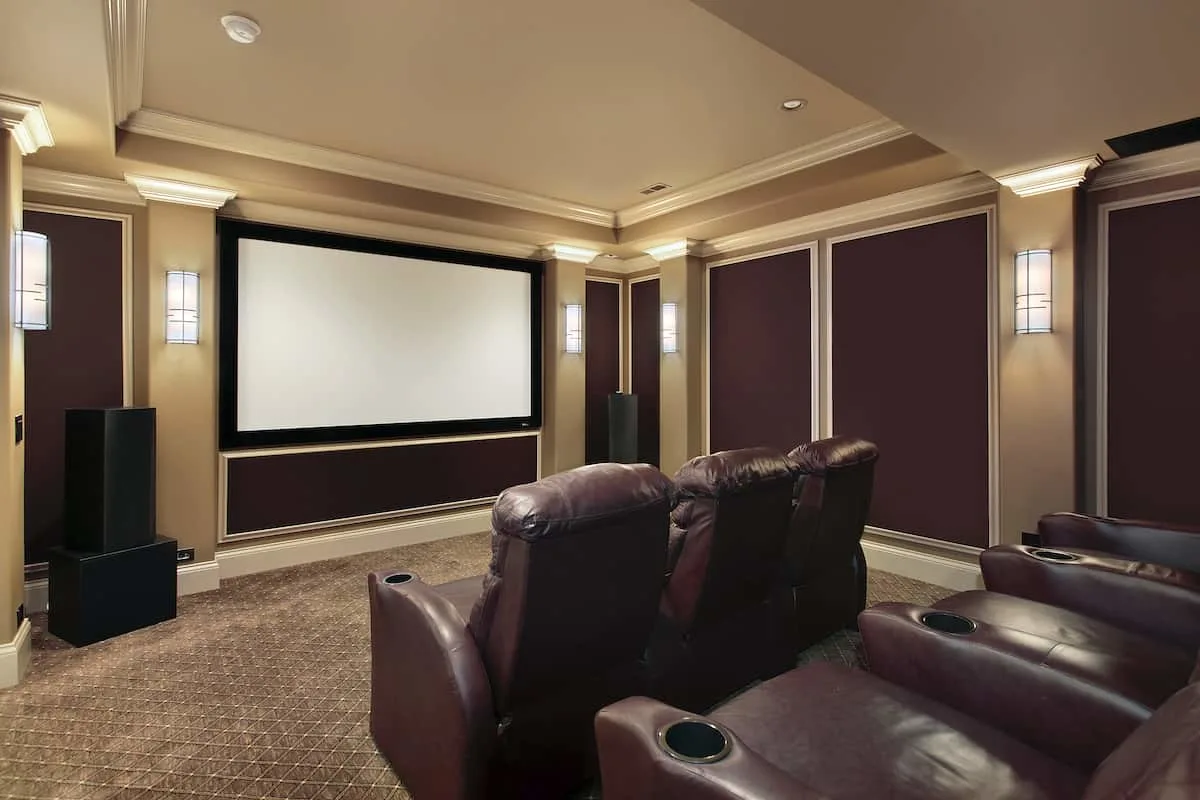 Invest in a Quality TV or Projector
Since the heart of any home movie theater is the screen you'll be watching your movies on, it's important to invest the bulk of your budget to a good TV or projector. Do your research to find the TV with the features that are important to you. When thinking about the television or projector you'll use in your home theater consider:
The screen size. When it comes to setting up a home theater, bigger is better. Most home theater televisions start at around 55 inches and go up from there based on the amount of space you have available in your theater.
High definition. Another important factor to think about when purchasing a television or projector for your home theater is high definition viewing. For the best viewing experience, look for a television that supports both 4K and HDR video.
Additional costs. If you decide to go with a projector instead of a TV, think about other costs that may be associated with your purchase. In addition to the need to purchase a screen, you'll also need to make other additions to your home theater, like black out curtains and a device to play your movies on.
Here's How to Reduce the Number of Speakers You'll Need
Another important aspect to consider when setting up a home theater is your speakers. To get the full theater effect, surround sound speakers with a subwoofer is your best option. But it doesn't have to be the only option.
Start by determining the number of speakers you'll need in your room based on the size of the space. Then, think about ways you can strategically place the speakers in the room to reduce your investment. Placing speakers near your home theater's seats is a simple way to cut back on the number of speakers you'll need in your home theater, for example.
Another budget-friendly option for your home theater is a sound bar. While you may not get the full surround sound experience with the use of a sound bar, it does make your movies sound better than traditional television speakers.
I admit, I tried using just the TV speaker with a couple large screens we have. As soon as I added a sound bar, the sound quality was so amazing!
If you're really interested in the best audio system that you can make in your home theater, check out this video of how to build acoustic panels:
Streaming Movies vs. Blue Ray
While having a Blue Ray player to play your favorite movies is a great way to enjoy your films in high definition, playing Blue Rays isn't the only way to watch movies.
It's also a good idea to think about how you'll view movies from your favorite streaming services. There are a couple of different ways to factor streaming into your home theater:
Smart TV: A smart TV is an easy way to ensure you have access to streaming services in your home theater. Purchasing a smart TV also reduced the number of additional accessories you'll need in your theater room.
Streaming Devices: You can also add a streaming device, like a Fire TV Stick or Roku, to your television to access all your streaming services.
Invest in a Universal Remote
Make things easy on yourself by purchasing a universal remote that is compatible with all your home theater devices. This will take away the need for individual remote controls for each device.
When picking the best universal remote control, make sure to think about all the devices you'll need to control, including the television, sound system, Blue Ray player, streaming device, and the cable or satellite box.
Write down the make and model of each device, then take a look at the remote's specs to ensure that all your devices can be controlled with that one remote.
Be Sure to Get Comfortable
Although the tech behind your home theater is important, you also want to think about your seating and accessories when planning your home theater.
Theater Seating
Theater seating is a great choice if you have room in your budget, but a comfortable couch or sectional is also a great choice.
You could also consider adding comfortable recliners to the room to give everyone a place to sit.
Here's a unique tip: Look into RV recliners as affordable seating options. When we were RVing across America, the recliners in our trailer were insanely comfortable! We didn't know they could be that comfy. You can buy RV recliners on Amazon, and they are super affordable! This recliner comes in three colors, and if it's less than $150, it's a great steal!

They are just a little bit more narrow than a traditional home recliner, so they make great theater seats on a budget. And you might be able to fit more in your room!
How to Build Home Theater Furniture Risers
One of the classic looks of a home theater is having the back row of seats higher than the front row. That's what makes it feel like a home theater, not just a den!
I've never built furniture risers for a home theater, so I'm going to share a couple different videos of people who have. They give you great tips on how to build your own.
Alternatively, you can just buy furniture risers if they work with your seating. There are some heavy duty furniture risers that will hold a lot of weight from recliner chairs.
Comfy Accessories – Movie Themed!
On top of seating, it's also a good idea to think about other amenities that can add to the comfort of your home theater. Add blankets to be cozy and snuggle up while watching a movie. These movie-themed blankets are perfect for adding to each chair!
Extra pillows will also increase the comfort of sitting and watching a movie for a couple hours. Customize your home theater with this 3-pack of movie pillow covers that will look awesome in your home theater!
Side tables will make it easy for your guests to enjoy their favorite drinks and snacks as they watch.
Custom Lighting
Think about ways you can transform the light in your room to improve your movie viewing experience.
Blackout curtains can help darken the room to make movie viewing more enjoyable. There are specific home theater blackout curtains that you can buy, but the price is way more expensive than normal curtains.
I recommend buying multiple panels of traditional blackout curtains in a color and style that you like.
But if you are converting a room with windows into a home theater, be sure you get wrap around curtain rods!
Most traditional curtain rods still let light come in through the gaps on the sides. Which won't work if you're watching movies during the day. Curved curtain rods eliminate that gap, shutting out more light for better movie viewing.
P.S. This is the wrap around curtain rod I bought for my bedroom. I wanted to be able to use sheers and a curtain panel. It works great for blocking out the light during the day!!!
Gentle ambient indirect lighting within the room can make it easier for your guests to safely move around the room. Consider some floor level lighting strips. These come in a variety of colors and some are motion activated. They can be installed next to your seating, just like an aisle in the movie theaters.
A lamp with a dimmer switch set to low will also work.