Wondering how to make wax fire starters? These easy DIY firestarter candles are simple to make with beeswax and fresh ingredients for a cozy scent.
It's a perfect way to repurpose some items around the house, including egg cartons, leftover herbs or spices, and even wax that isn't being used.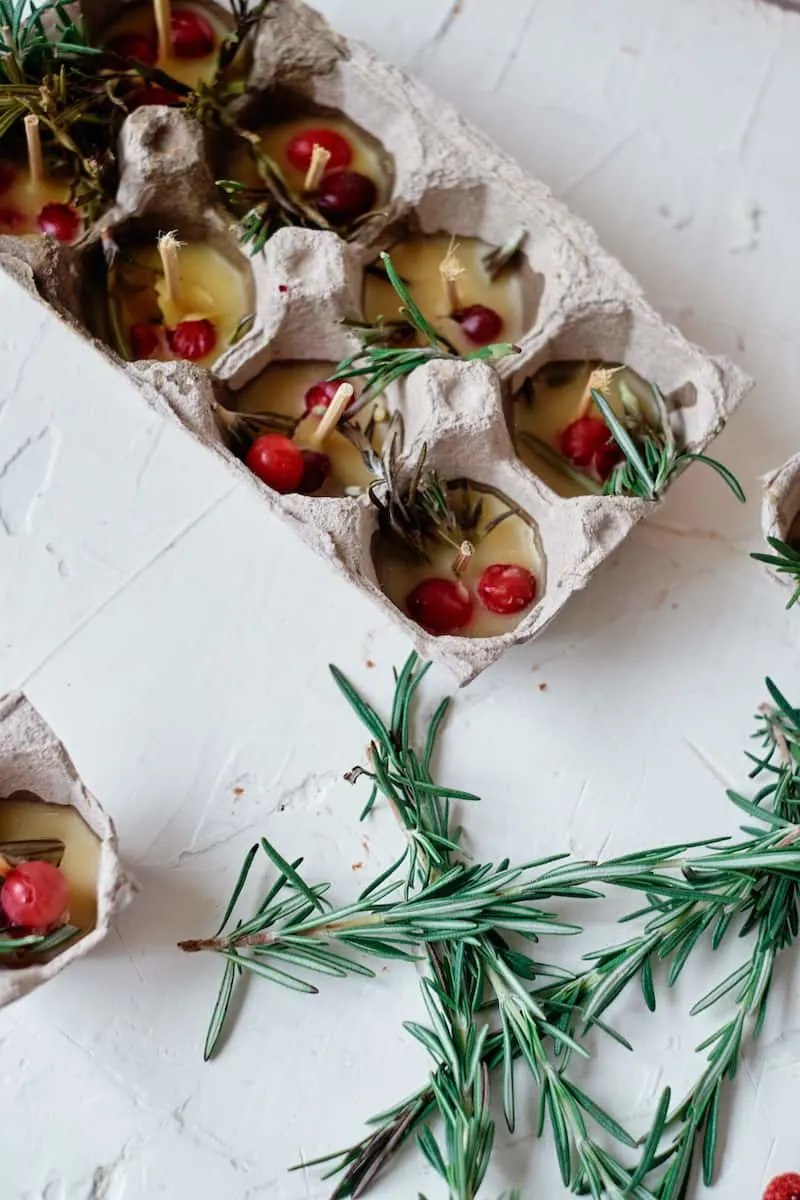 You might also like my wax dipped pinecone fire starters, too!
Or try making these easy homemade hand poured candles.
Leftover wax can be used to make these cute Beeswax Christmas Ornaments.
I'll use these in my fire pit outside, part of my backyard makeover. But I wouldn't use them in my indoor fireplace because I wouldn't want to mess up my updated fireplace hearth. And they are not safe to use indoors.
Important Note: These beeswax firestarters are meant to be used in an outdoor fire pit. Do NOT use them in a gas fireplace or a wood stove.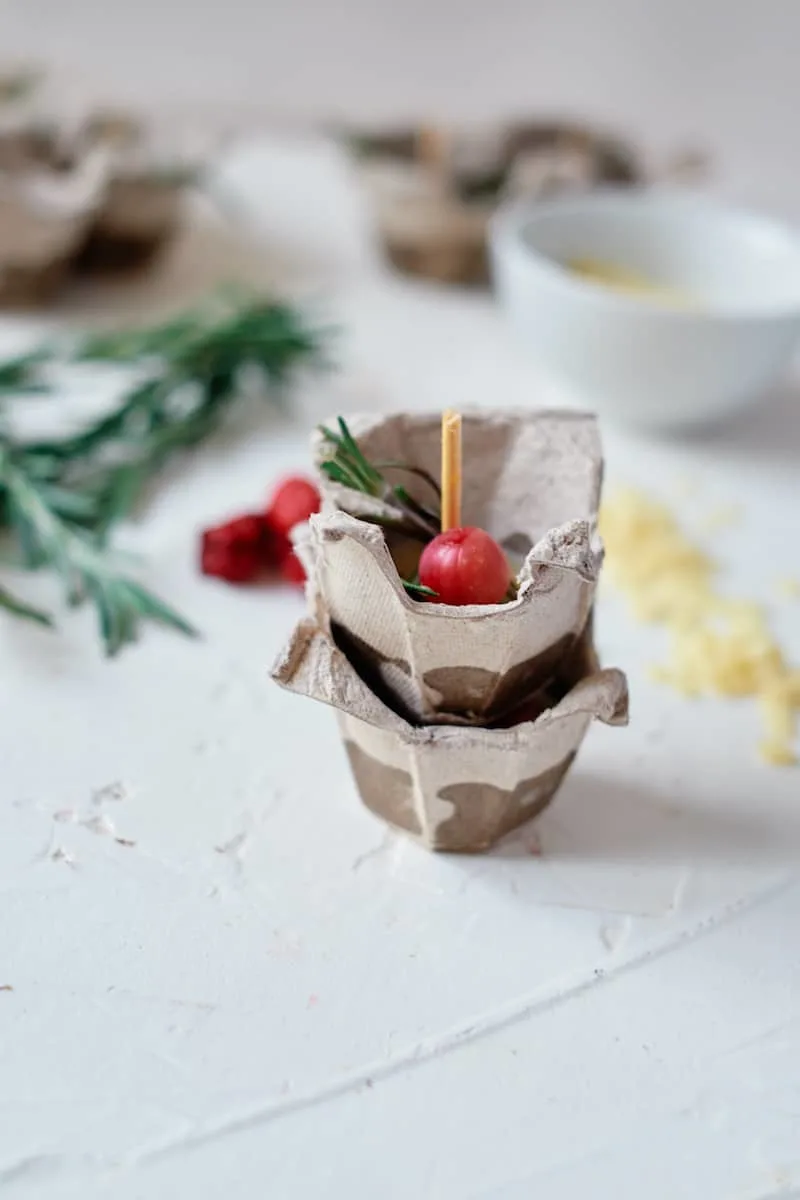 What Are Firestarter Candles?
These handmade egg carton fire starters resemble a poured candle. Each egg cup has beeswax that works like a regular candle. When lighted with the wick, it starts burning. The slow flame then ignites the larger pieces of kindling and wood in a fire pit to get the fire going faster.
How to Make Scented Firestarters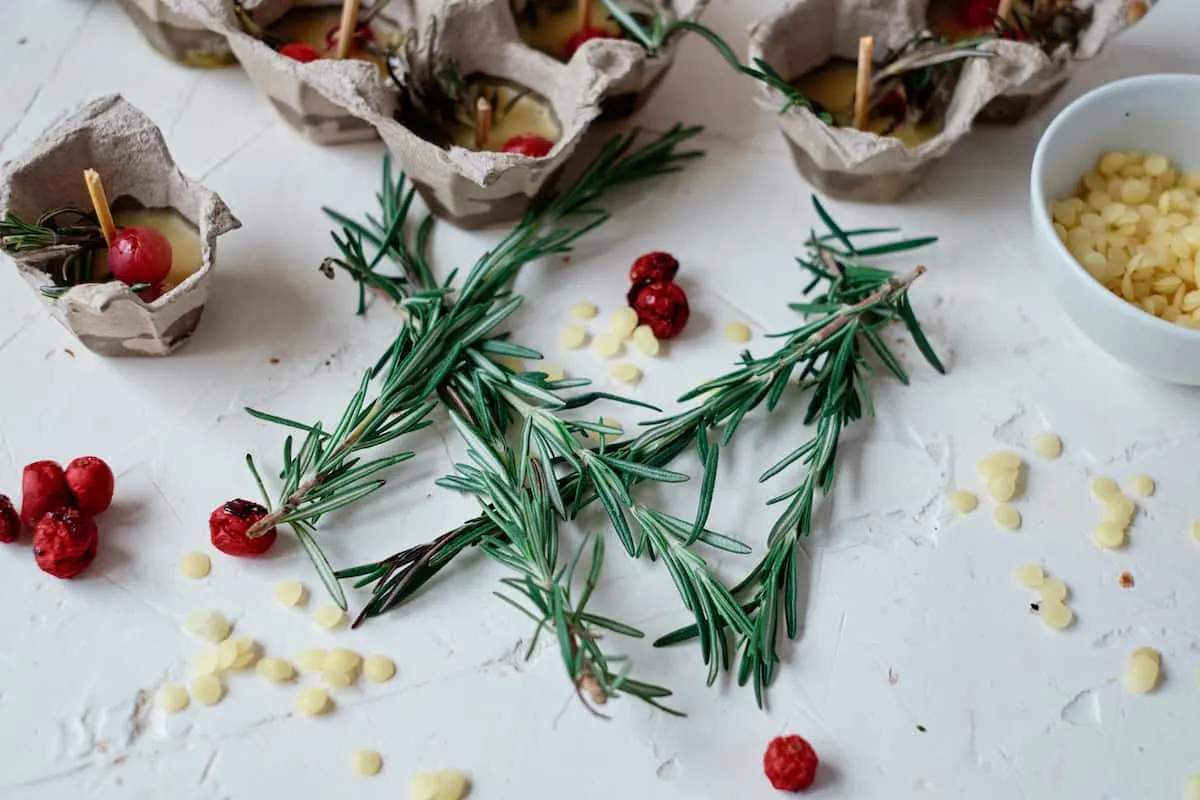 The scents in these candles come from natural ingredients. There are a variety of ingredients that can be used, including:
Beeswax gives off a slight honey scent when melting.
Rosemary is a very fragrant herb. When it is burned, it releases a pleasant aroma.
Essential oils are often used in scented candles. Just a little bit of the essence releases a strong scent. (I used a spicy orange and cinnamon combo.)
Cranberries can offer a light fragrance. They're pretty to look at in the candle, but not the strongest aroma.
Cinnamon sticks (not pictured) can also be used to release a spicy fragrance while burning.
FAQs
Can soy wax or another type of wax be substituted for beeswax?
Yes! You can use any type of wax that would otherwise be appropriate to make candles, including soy wax or palm wax.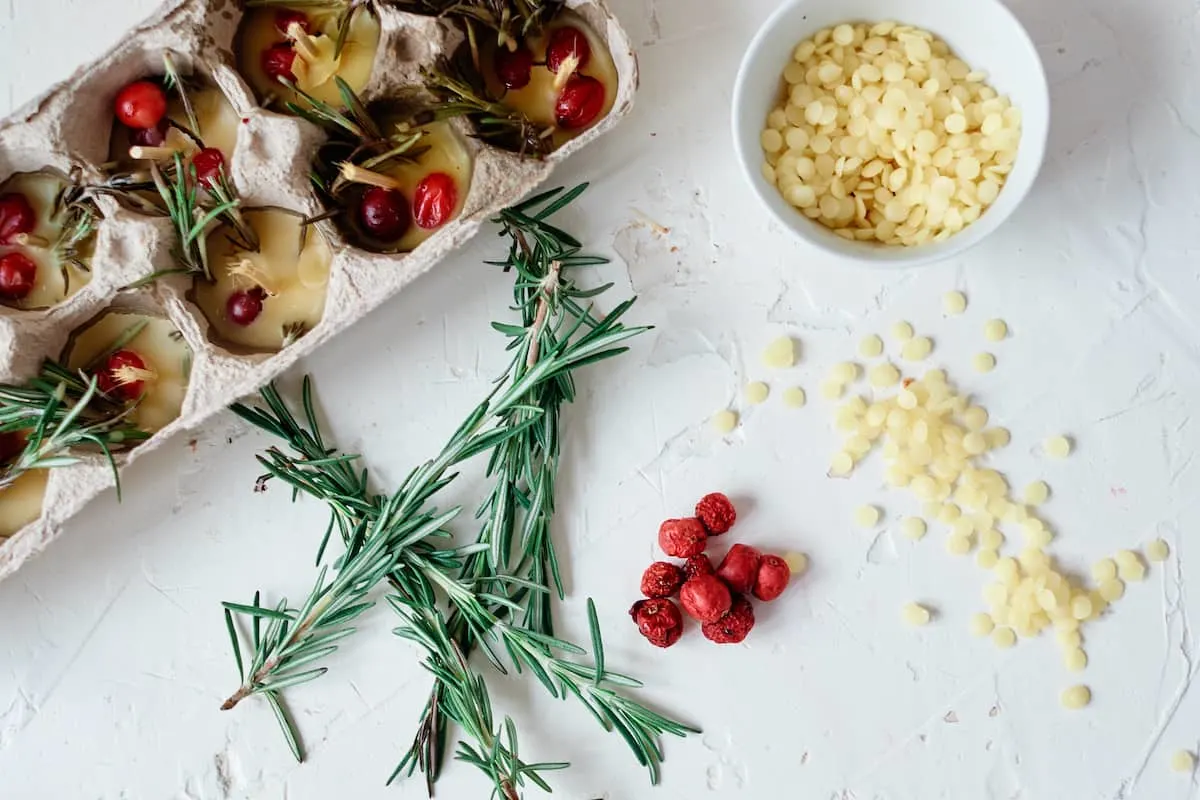 Can I use old candles to make new firestarter candles?
It is possible to use old candle wax to make these scented candles to start a fire. Melt the little bits and pieces of old candles together, such as old tea lights, just as you would the beeswax. However, be sure that any wick or metal tab pieces are removed from the original candle.
Related Post: DIY Felt Candle Christmas Ornament
Does the wick need to be a wooden skewer?
No, you can use any suitable wick for a candle, such as a cotton wick. Cut off the metal tab and do not use.
Would I be able to substitute muffin liners instead of an egg carton?
Making these candles in a muffin tin is very popular idea. The process is still the same, although there will be more wax used in a muffin tin candle than an egg carton candle. Use a paper muffin liner set inside a muffin tin, and then pour the wax into the liner.
Do not use a metallic muffin liner.
Can I add other ingredients to these candles?
You can, as long as it is safe to burn. Many people like to add additional ingredients popular with making fire starters, such as:
Pine needles
Cloves
Dried orange peel
Lint
Shredded newspaper
Wood shavings
Sawdust
Twigs
How long will these last?
When using fresh ingredients, such as cranberries or rosemary, keep in mind that those ingredients can start to decompose or rot in a few days. It's best to use these quickly after making them.
Otherwise, choose ingredients such as cinnamon sticks, pinecones and cloves that will not start to go bad. Those will last much longer.
How do I store these?
You will want to store these carefully as with any candle because they are flammable. Do not store by an open flame or heat source. Keep away from children and pets.
DISCLAIMER: These DIY firestarters are intended to be used outside with fire, which is inherently dangerous. These are NOT to be used indoors in a fireplace or wood stove. It is assumed when you are using these fire starters that you 1) know how to start a fire 2) are doing so safely 3) are watching your fire. NEVER leave a fire unattended. Use these at your own risk. Be safe.
Yield: 12 Firestarter Candles
DIY Firestarter Candle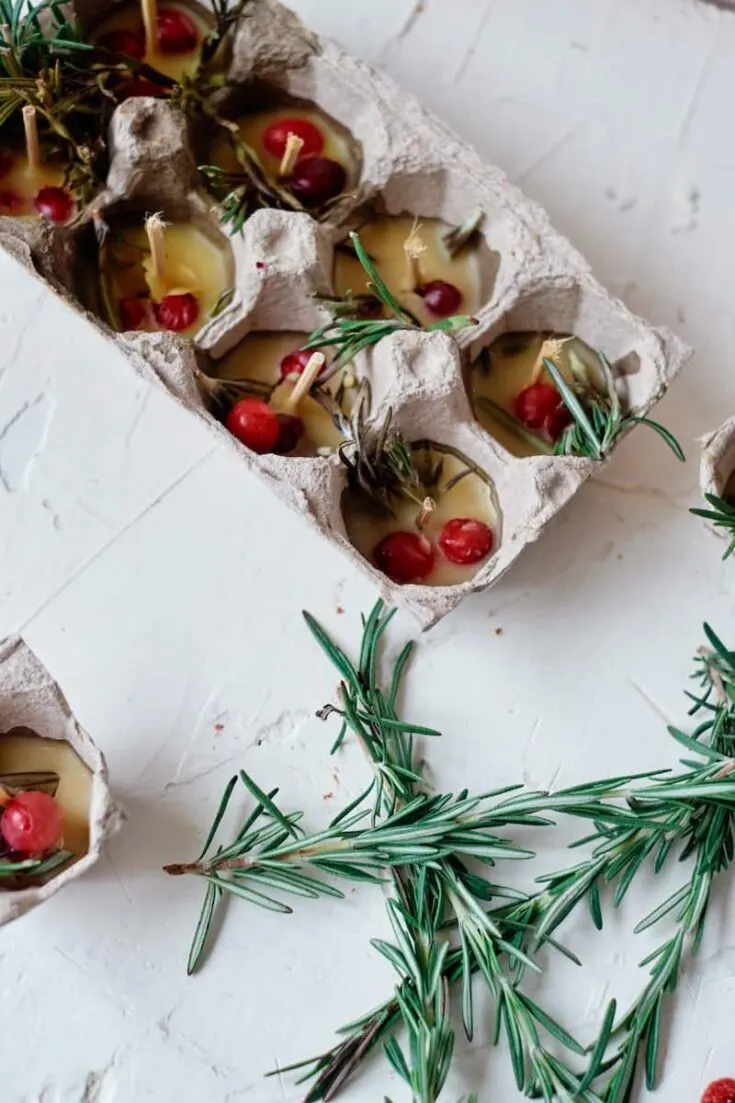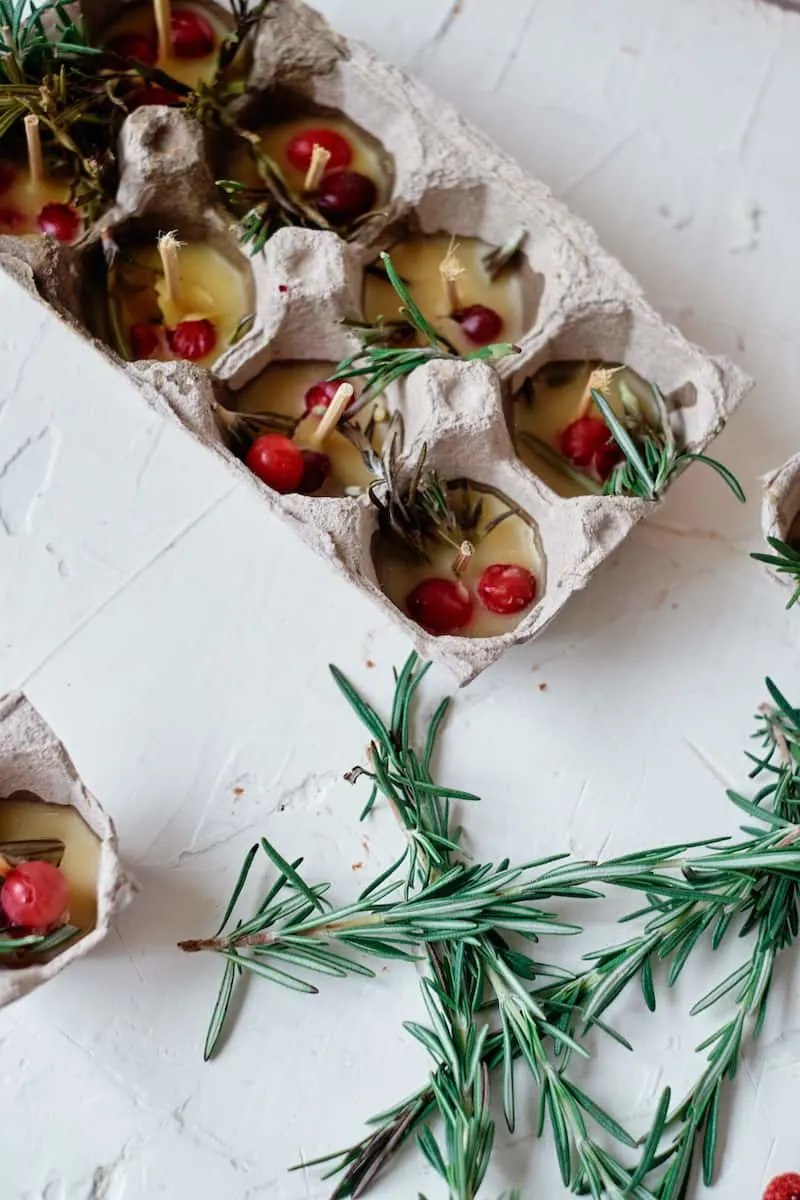 These scented firestarters made with beeswax and natural ingredients are both beautiful and functional. Use them in an outdoor firepit for a fragrant way to start a fire. Makes a great gift, too.
Total Time
4 hours
20 minutes
Materials
1 ½ cups of beeswax flakes (or grate your own if you want)
4-5 Rosemary sprigs
½ cup of fresh cranberries
Essential oil (I used orange and cinnamon blend)
Wooden skewers (I used 3 long ones)
Cardboard egg carton (not foam)
Instructions
Melt your beeswax in a pot until just melted.
Cut rosemary sprigs in smaller pieces and place a couple sprigs in each spot in the egg carton. Add cranberries, as well.
Once the beeswax is melted, add in a drop or two of your essential oil. Stir together.
Pour wax about 3/4 way full into each egg carton cup.
Break the wooden skewers into 1 1/2 inch segments and place into the beeswax. This will work as the wick.
Let set until hardened (could take up to 4 hours).
Cut between the egg carton cups to create 12 individual fire starter candles.
When ready to use, light the wick of one candle and toss into the fire. DO NOT use these in wood stoves or gas stoves. These are meant to be used in well ventilated fires outdoors.

Notes
I use a pot dedicated to crafting, rather than melting wax in my cooking pots.
You don't need too much essential oils for a strong fragrance. Just a few drops is sufficient.
Do NOT use foam or plastic egg cartons! The plastic will melt into a mess. Only use cardboard or pressed paper egg cartons.
You can use a double boiler when melting the beeswax.
Love camping? Then you'll want to see my DIY National Parks Posters Pillows and my Popcorn Tin Storage Ottoman for Camping.
If you like upcycling and repurposing items, then you'll love these related posts: