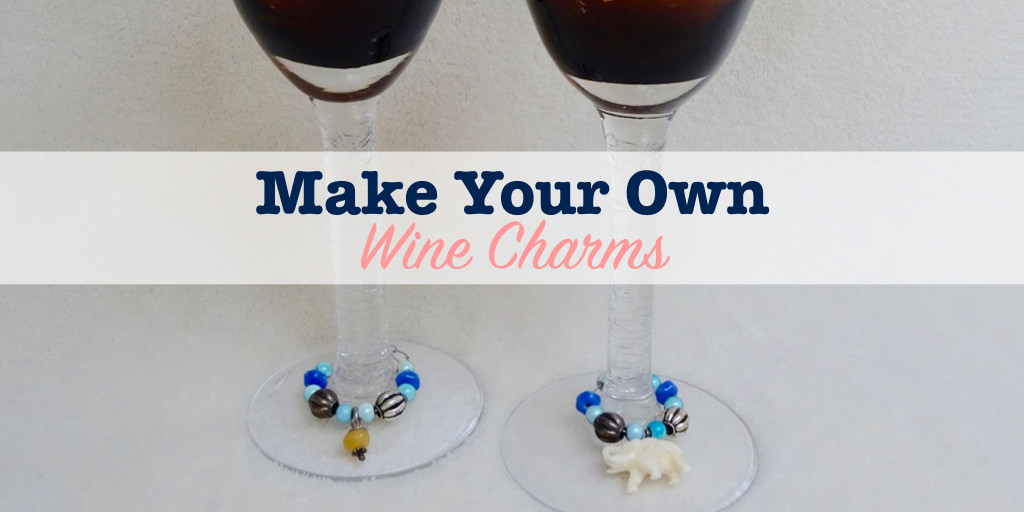 Be the hostess with the most-ess by having custom wine charms at your parties!
You can make these fun DIY charms yourself.  For even more party fun, set up a crafting station where your guests can create their own.  They'll have a blast, and also be able to keep track of their wine glasses.
These also make great hostess gifts.  Take a few with you if you're going out to a party.
Make Your Own Wine Charms
TOOLS & SUPPLIES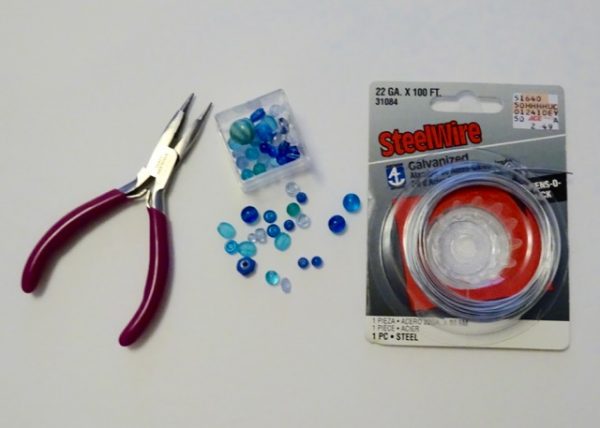 Wire:  Try something like picture hanging wire.  Get something that isn't too thick and hard to work with.
Beads: The beads used in these examples are glass, but all types work.
Charms:  Not required.  These add fun character, but you can just string beads in unique patterns, too.
Pliers / Cutters:  Pick up a combo pair at your local craft store.
Get creative about using materials you already have around the house, or pick up something special at a local craft store.  Now you're ready to make your own wine charms in five easy steps.
1.  Cut the wire to length
Cut a piece of wire long enough to wrap around the stem of your glass.  Add length to allow for the width of the beads, and for loops on each end.
Cut a test piece and just make one to start.  Adjust your length as needed, and then you can cut a bunch of wire pieces at once to make the process go faster
2.  Make a loop in one end
Using the pliers, make a loop in one end of the wire.  Do this before you add the beads, so they don't slip off the end.
You will use this end to hook the charm to the glass when it is finished.
3.  Add beads and charms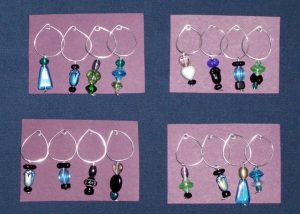 String your beads and a charm onto the wire.  Remember to make each design unique.
You can either buy special charms to add to your designs, or you can make your own with beads, as in the photo.
4.  Create the hook
Once you've added all the beads, curl the other end of wire into a hook with the pliers.  You're almost done.
5.  Finish your charm
Curve the wire into a circle, hooking the two ends together.  And you're finished!
Now you just need a glass to put it on.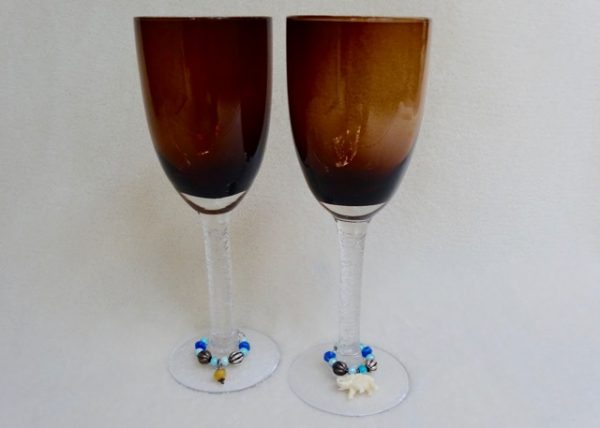 Enjoy!
You now have a completed wine charm, ready to put on your glasses for a party.  Party guests will love picking out a unique charm to help them identify their glass throughout the night.  Or let them make their own, for even more fun!
Make these for yourself, and for your friends.  They make great gifts.
If you do make your own charms, we'd love to see a photo!  Please share on Pinterest!
SaveSave