Want crafting buddies, but scared to have guests over? Fear no more! Steal these awesome party ideas and craft projects to host the best girlfriends wine and craft night ever!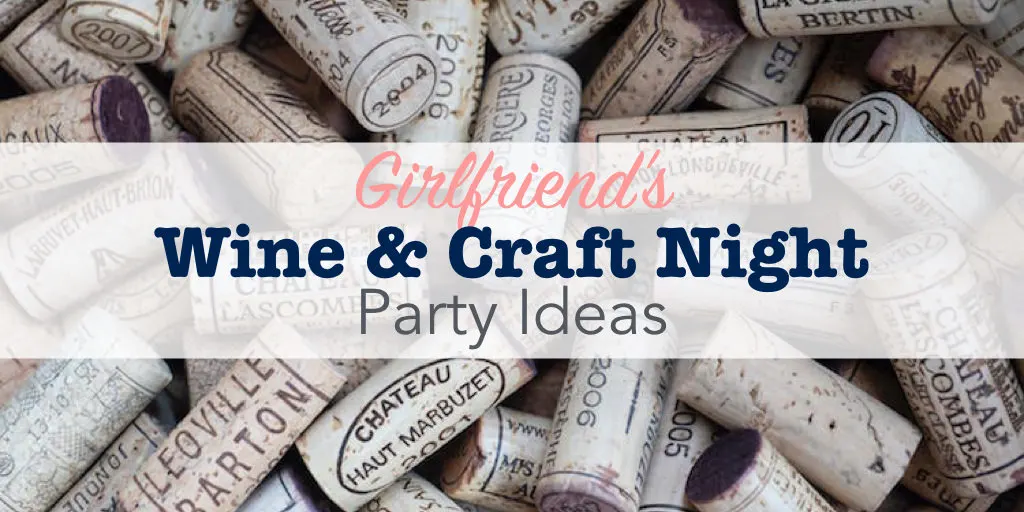 Can I be honest?
I find hosting parties to be very intimidating. I worry if all the guests will get along, especially if I invite people who don't all know each other.
I really worry about having enough food, and food choices that people will like. Some people love food. Food stresses me out.
And most of all, I worry about everybody having a good time.
If you're like me, and want to have friends over, but are maybe a little nervous, try these tips to host a very fun, inspiring, and successful wine and craft night for a few good friends.
Girlfriends Wine and Craft Night Party Ideas!
TIPS FOR HOSTING A WINE AND CRAFT PARTY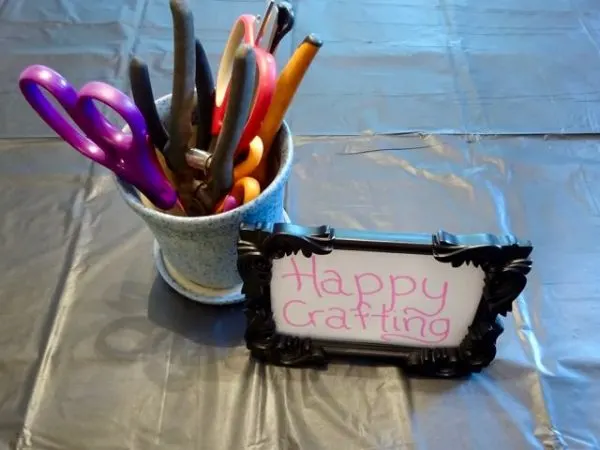 Plan a few crafts for people to do, but give the option to do whatever they want
Gather supplies and tools for each craft in advance
Ask your guests to bring any special tools, such as a glue gun, if needed
Get snacky foods rather than serving a hot meal, so guests can get food whenever it's convenient while they're crafting
Have a glass of wine before your guests arrive, to get in the party spirit!
All right! Let's get crafting. Here are some of my favorite tips for a successful craft night with friends.
Make Room to Craft
You're going to need enough space for each guest to work on their crafts. Your dining table will likely be the best spot.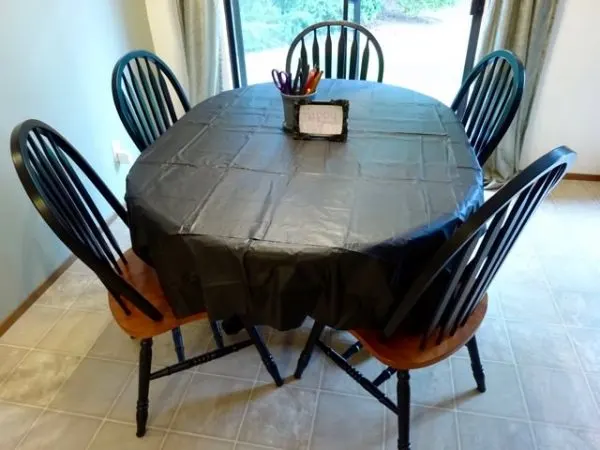 Make sure your table is cleared off, and pick up a plastic table cloth at the dollar store to help protect the surface from damage during serious crafting!
Gather Craft Supplies
If your friends are all very crafty, they may want to bring their own projects to work on. But if your friends just want to come and do a fun project, you should have some options for them.
You may want to have a theme for your party, to help you pick a few craft ideas. For example, I had a "star themed" party, where each craft was to make a different type of star. (See the end of this post for some more ideas.)
Once you've picked a few projects, get the supplies and tools together near your work table.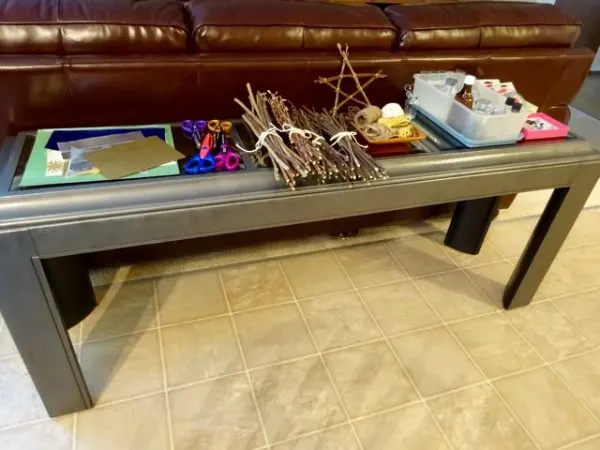 (P.S. Recognize this console table? It's the one I showed in this thrifty makeover!)
Feed Your Craft Night Guests
Foods that people can take in small portions, and eat without utensils are always a good choice. This allows your guests to take a snack break, or eat while they're crafting.
Since coming up with food ideas is always the hardest part for me, I thought I'd write some down for you (guests will likely also bring something to share):
Veggie tray
Fruit tray
Hummus plate
Chips and dip
Cheese and bread (or crackers)
Small desserts or cookies (I bought the pre-made tube of dough. Make life easy.)
Break Out the Wine! (And non-alcoholic beverages)
Have a couple wine options on hand. Depending on how many people you expect, a bottle of red and one of white wine should get you started. Again, guests will likely bring something to share.
Crack open a bottle before your guests arrive, and you'll be sure to have a great party!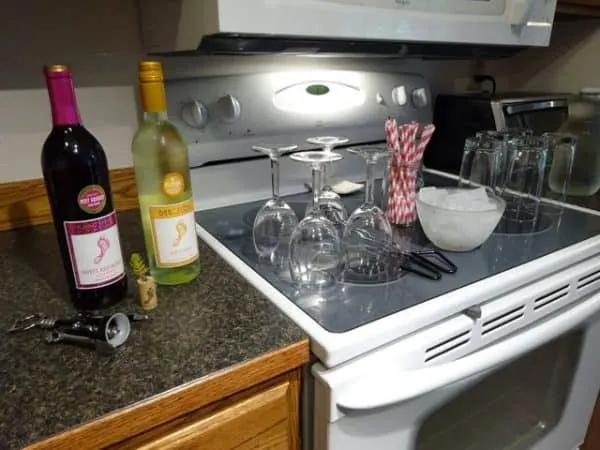 Be sure to also have water, and a non-alcoholic beverage option. Ice cubes are a nice touch, but probably not necessary. Like with the cookies, keep life simple.
Why not have a wine tasting before starting to craft? It's a great way to get friends talking and get to know each other better.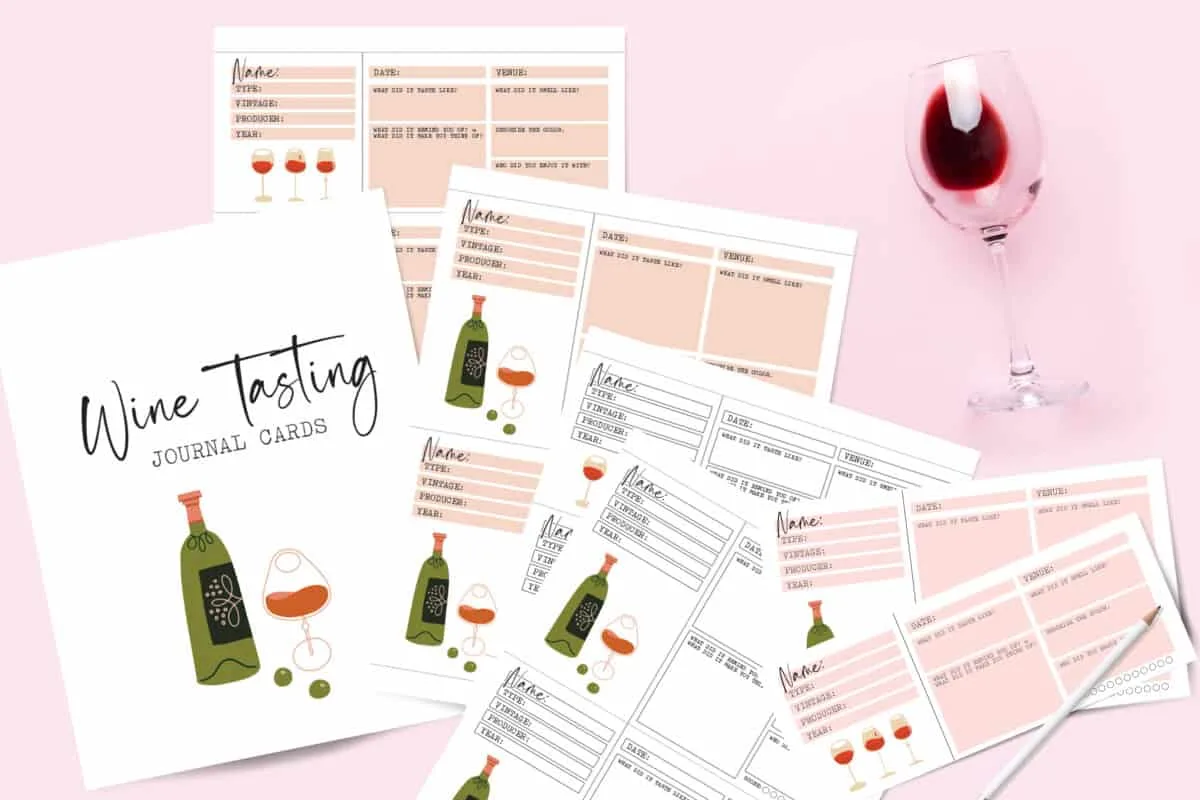 These wine tasting note cards are perfect to put on the table for your at-home wine tasting. Everyone can remember what their favorite vino was from the night!
Get ready, get set, CRAFT!
Right! You're ready to host the best wine and craft night party ever!
Give people a some craft instructions to get them started, and they'll take it from there. I have a blast seeing how creative people get.
For example, I showed my friends how to make a simple rustic star out of twigs. And they each made something completely unique. It was inspiring!
MORE CRAFT NIGHT IDEAS
For more fun craft night party ideas, be sure to check out some of our other popular crafts: