The anticipation of opening presents on Christmas morning can be just too much excitement for kids and some adults on the night before Christmas. That's why the tradition of a Christmas Eve box was started, and continues to be popular today!
When we were little, our parents allowed us to pick one present to open underneath the Christmas tree on Christmas Eve. Even though it was only one present, it still helped to calm us down enough to get to sleep before Christmas morning.
Christmas Eve boxes are fun ways to give kids – and adults – something fun to open on the night before Christmas! It sets up anticipation for the next day and makes the magic last just a little bit longer!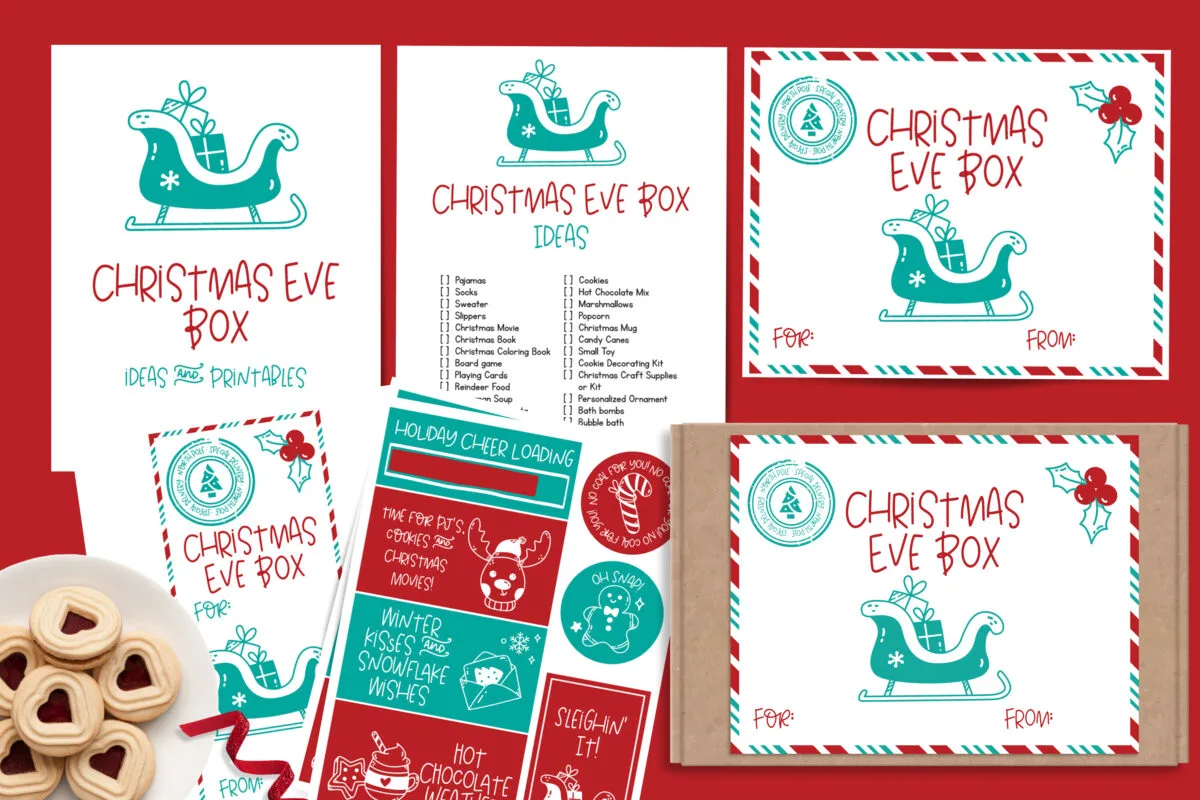 Plus, there are some gifts that you want to give that will be outdated by Christmas night.
Items such as Christmas crafts, matching pajamas and a Christmas book to read seem to be less enjoyable when opening them on the holiday, rather than before Christmas morning.
I've got a bundle of free printable labels, gift tags and ideas for a Christmas Eve Box that you'll definitely want to get!
These are just one of the 9 Free Printable Gift Tag Designs I have available for you this holiday!
What are Christmas Eve boxes?
Christmas Eve boxes are small gifts to open the night before the big holiday! Boxes are usually filled with stocking-stuffer types of gifts or items to use on Christmas Day, such as matching pajamas or Christmas books.
It is believed that Christmas Eve boxes originated from the German tradition of opening presents on December 24.
Christmas Eve Box Fillers – What do you put inside a Christmas Eve box?
Small presents and holiday-themed items are the best Christmas Eve box fillers. You don't want to give the bigger presents in this box, because you have to manage expectations for Christmas morning gifts!
Here are some great Christmas Eve box filler ideas:
***I've got a free printable Christmas Eve Box bundle of labels, tags and a list of gift ideas to make it easier for you to keep track of gifts to give!***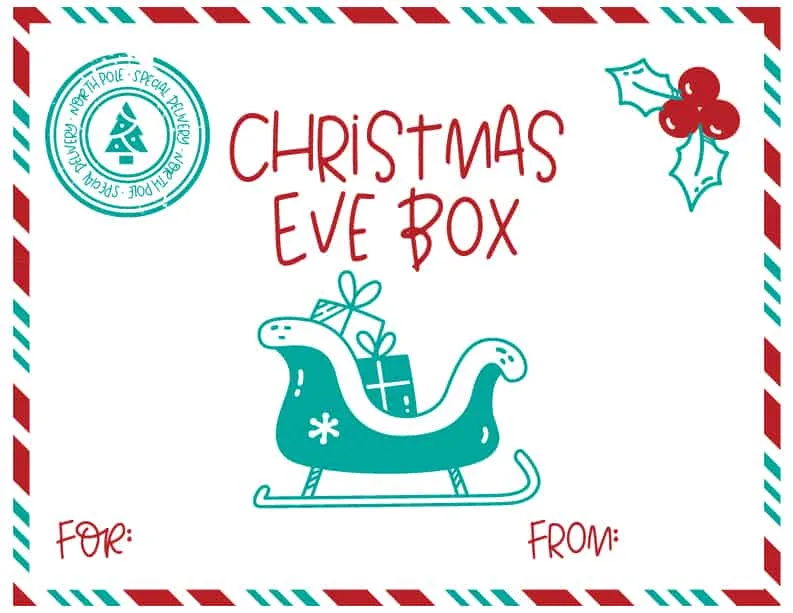 How to Make a Christmas Eve Box
Fancy Christmas Eve boxes that you can buy are usually in a wooden box or crate and are usually personalized with a child's name.
You can make your own box using:
A decorative storage box
Amazon box
Wooden craft box
Decorated cigar box
Wooden crate
However, you do not have to use an actual box to enjoy the tradition. Our free Christmas Eve Box printable labels help you to decorate any container that you want to use!
These are some other ideas for giving gifts on Christmas Eve: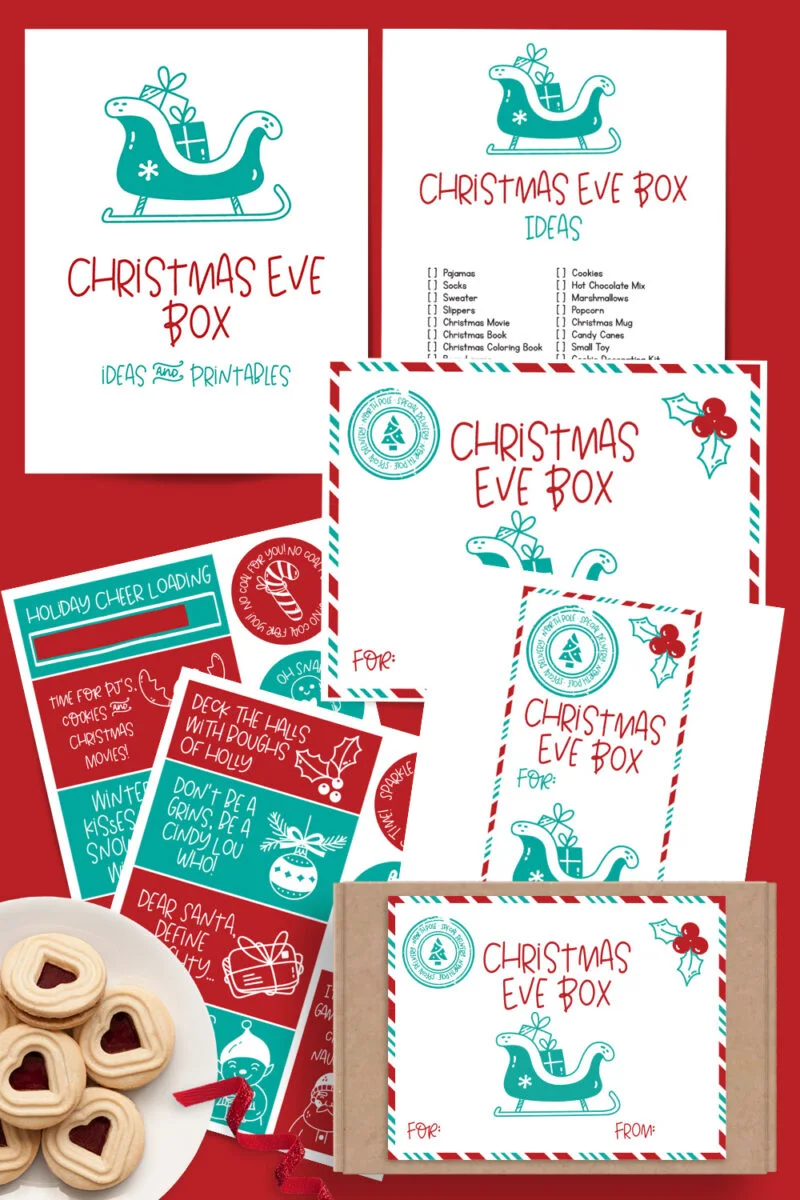 ---
Christmas Party Printables!
Love Christmas printables? Me, too!
Be sure to see this huge pack of Christmas party decorations, banners, gift tags, and more!
Visit the Single Girls DIY library for more details!
---
If you like the Christmas Eve box tradition, be sure to Pin this article and gift ideas list to remember for later. And make sure to download our free labels, tags and fillers list, too!
We have even more free Christmas printables that you might also enjoy: