This peaceful winter scene wreath is made with Dollar Tree supplies. We spent $5 on supplies from the dollar store and used an embroidery hoop from the thrift store to make this Christmas church wreath that is gorgeous on a front door.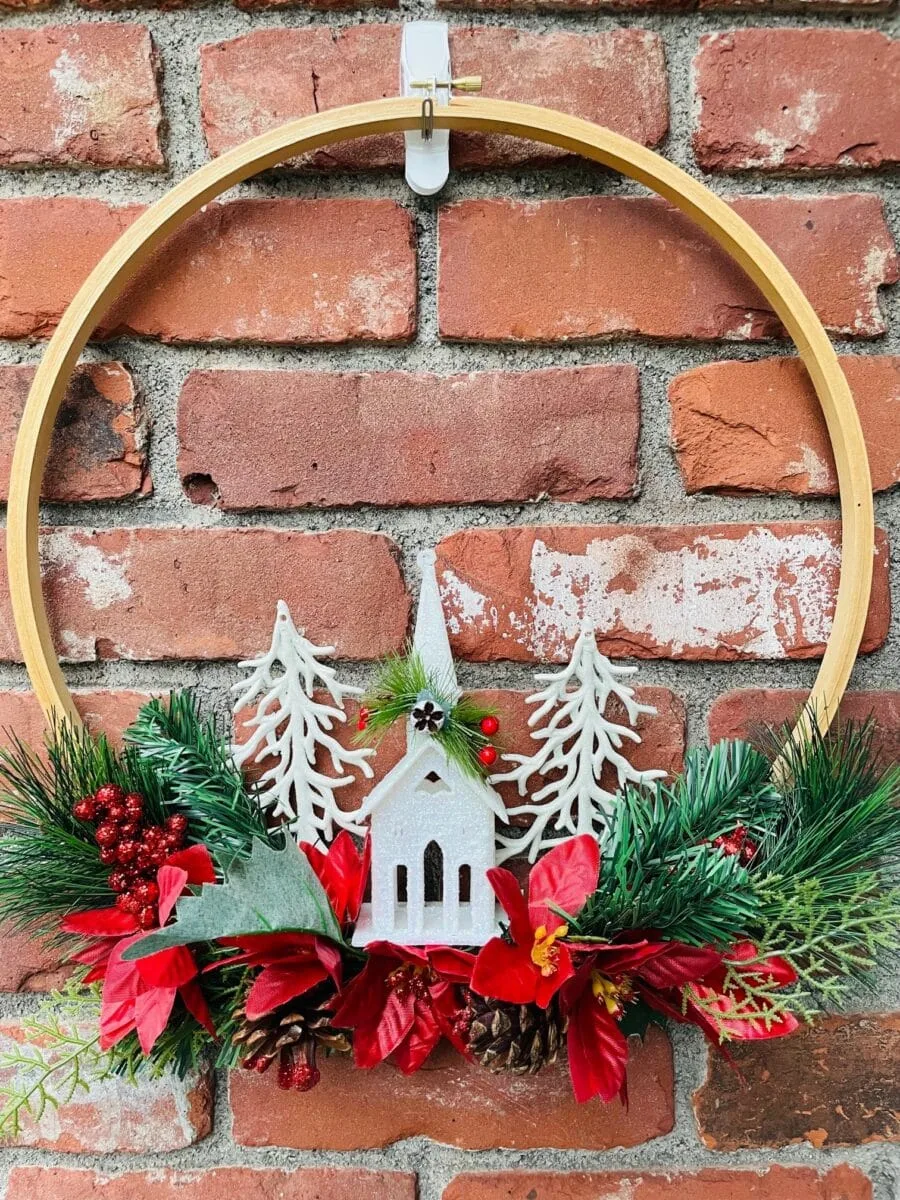 This winter embroidery hoop wreath is just one of the many DIY wreath tutorials we have! Be sure to see more of our holiday wreath ideas, such as: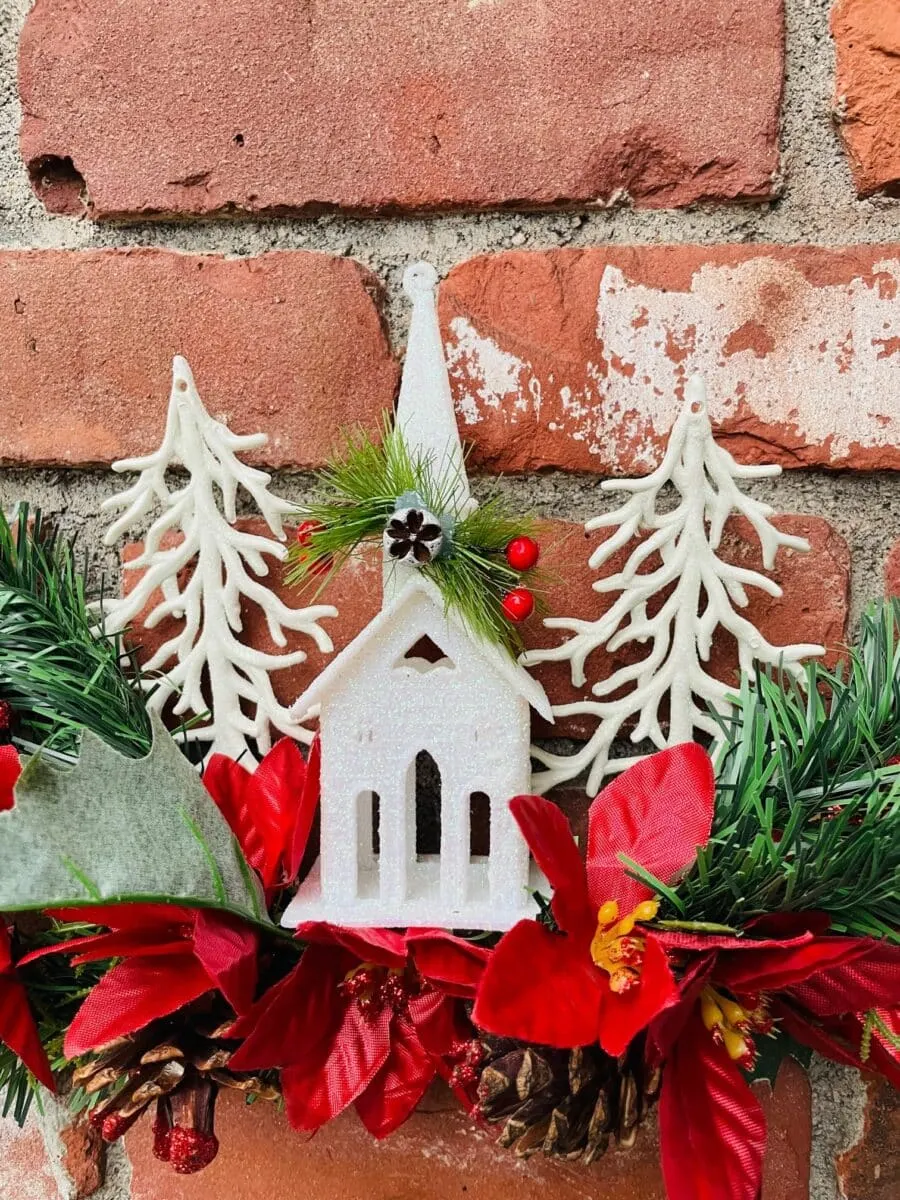 I usually can find embroidery hoops at my thrift store. However, you can buy hoops new on Amazon, Walmart or in craft stores.
Winter Holiday Scene Embroidery Hoop Wreath
All supplies, other than the embroidery hoop, were purchased at the Dollar Tree.
Supplies
Large Embroidery Hoop
White Tree Ornaments (I got mine at the Dollar Tree)
Hot Glue Gun
Zip Ties (I used 4)
White Church Ornament (I got mine at the Dollar Tree)
2 Dollar Tree Floral Picks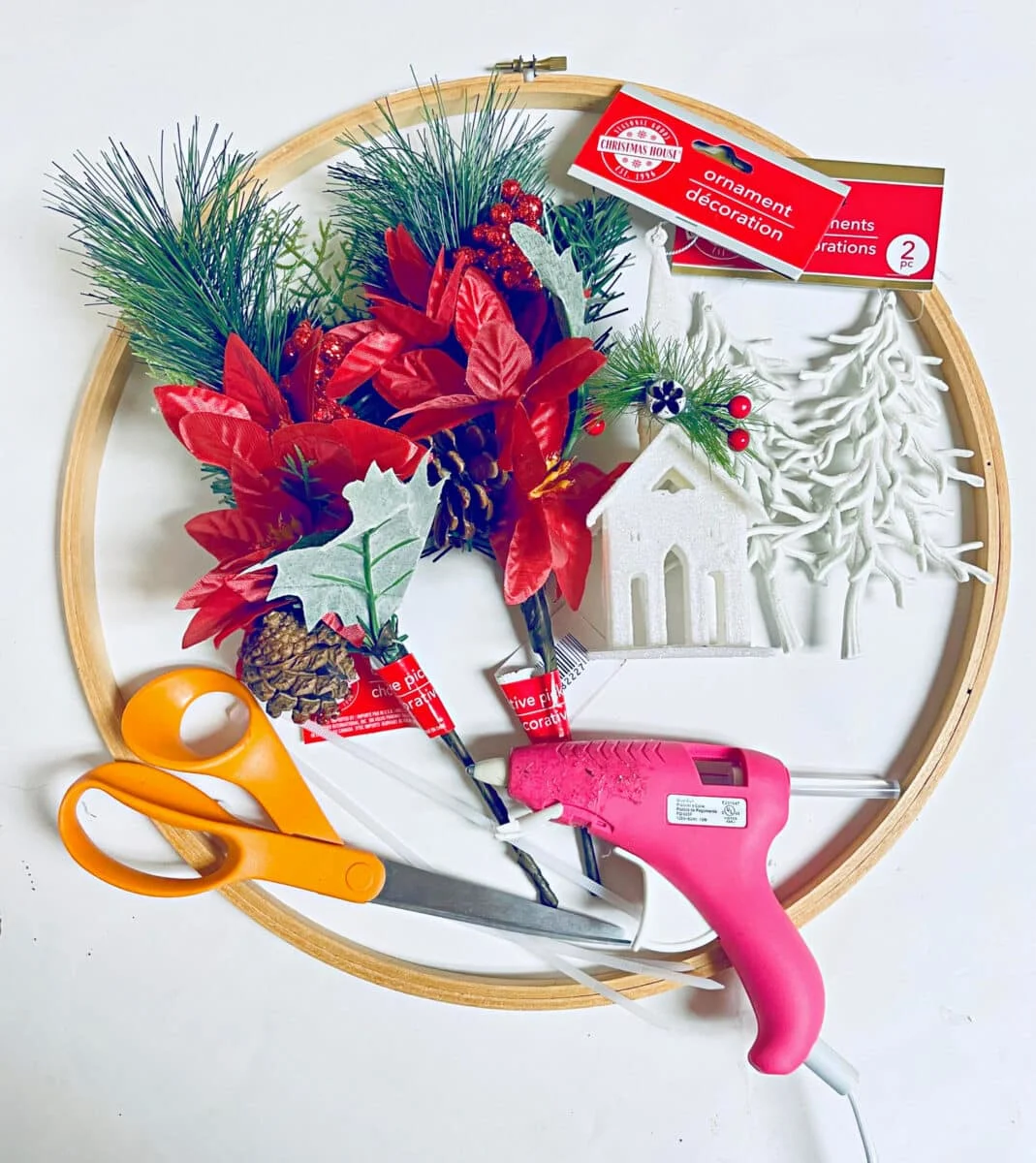 Instructions
Step 1
Lay the two floral picks along the bottom of your hoop form. You will want to join the floral stems together at the base of the flowers so that you don't see too much of the wire pick. The floral picks will be laid in opposite directions.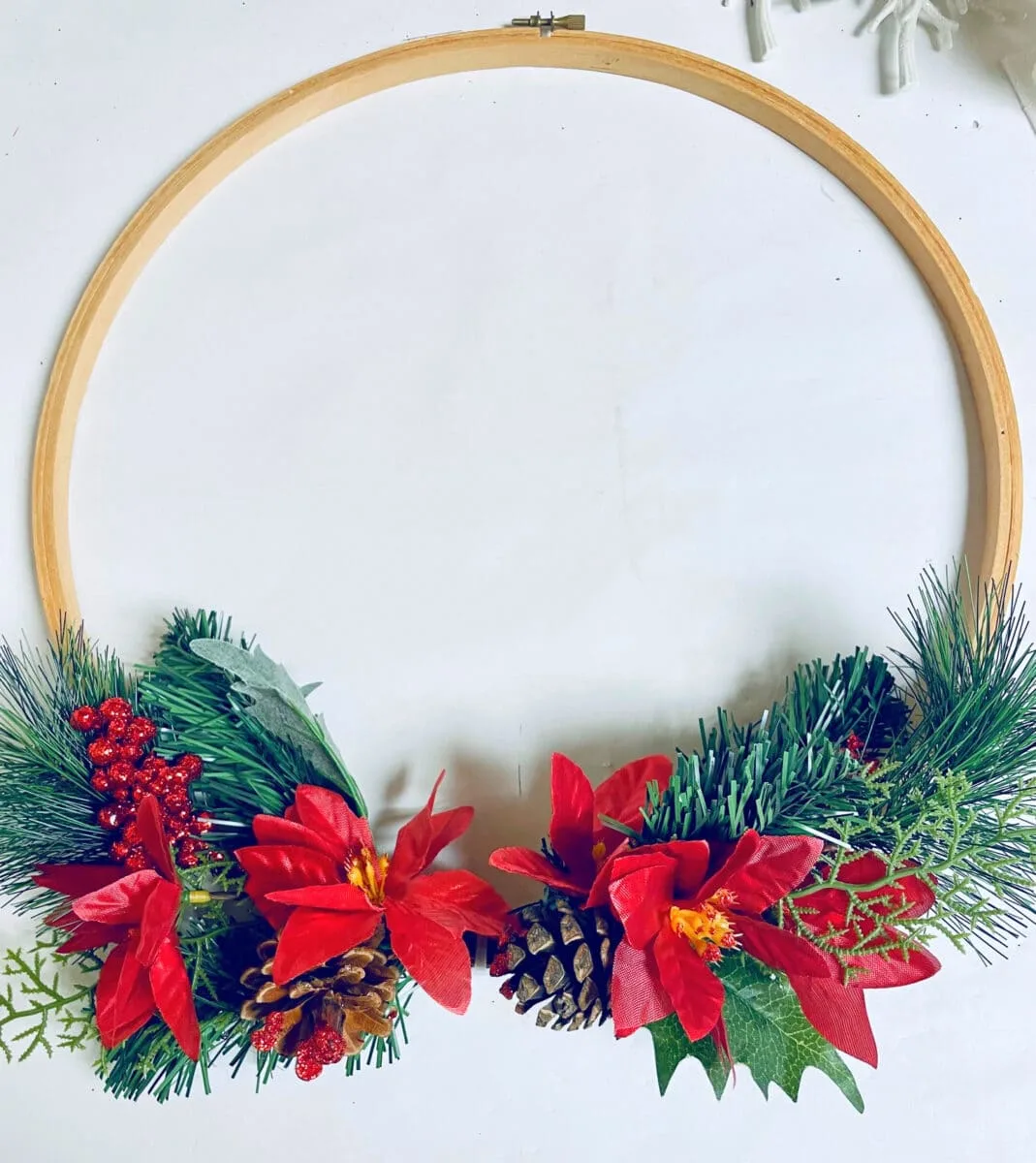 Step 2
Bend the floral picks so that the greenery and flowers curve up the loop on either side. Then attach the floral picks to the hoop with zip ties.
Try to attach the zip ties over the wires, tucking the zip ties underneath the greenery so that they are not seen.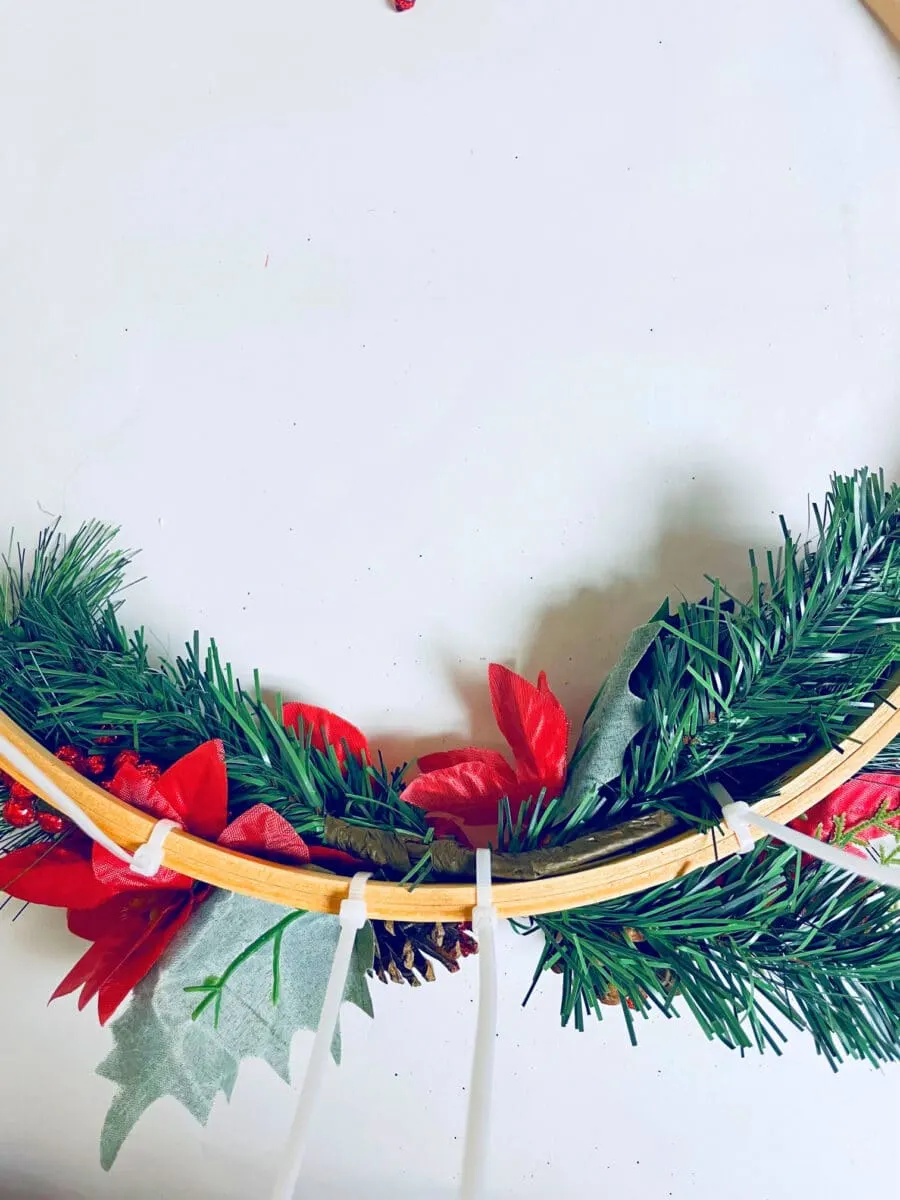 Once attached, trim the excess off of the zip ties in the back.
Step 3
In the middle of the hoop on the bottom of the wreath form where the floral picks are overlapping, you are going to glue the church ornament to the wreath.
I did use a lot of hot glue to get the ornament to attach. Add the glue not only to the wreath form but also to the greenery and flowers that the ornament will be sitting on top of.
Step 4
Remove the ornament hangers from the two tree ornaments. Then glue the ornaments to the wreath form from the back of the wreath.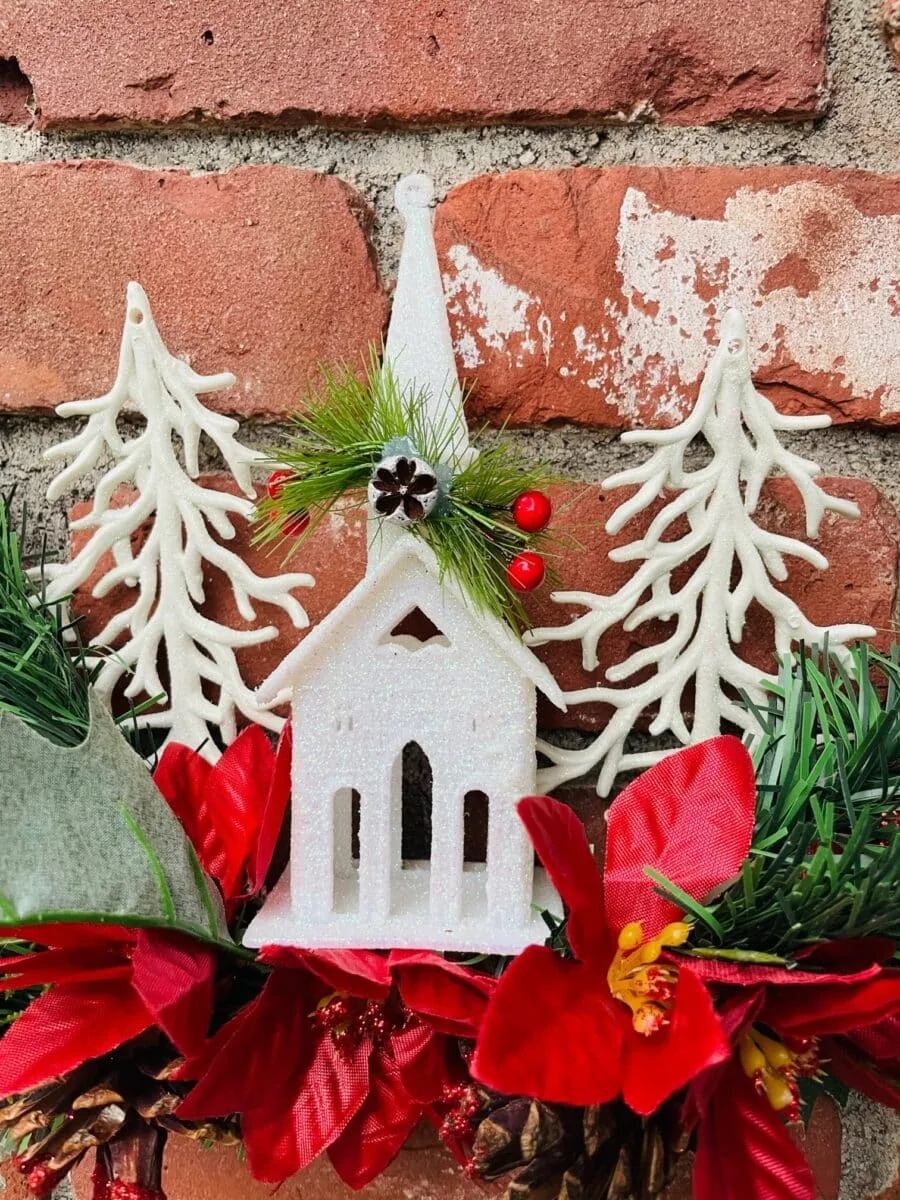 Like this Christmas wreath? Be sure to Pin This craft to save for later!