This is such a fun Valentines Day DIY for teens and adults. I love how you can repurpose a dollar store Tumbling Tower block game into fun matching keychains with a wood burning tool.
It's perfect for friends, family and those you love!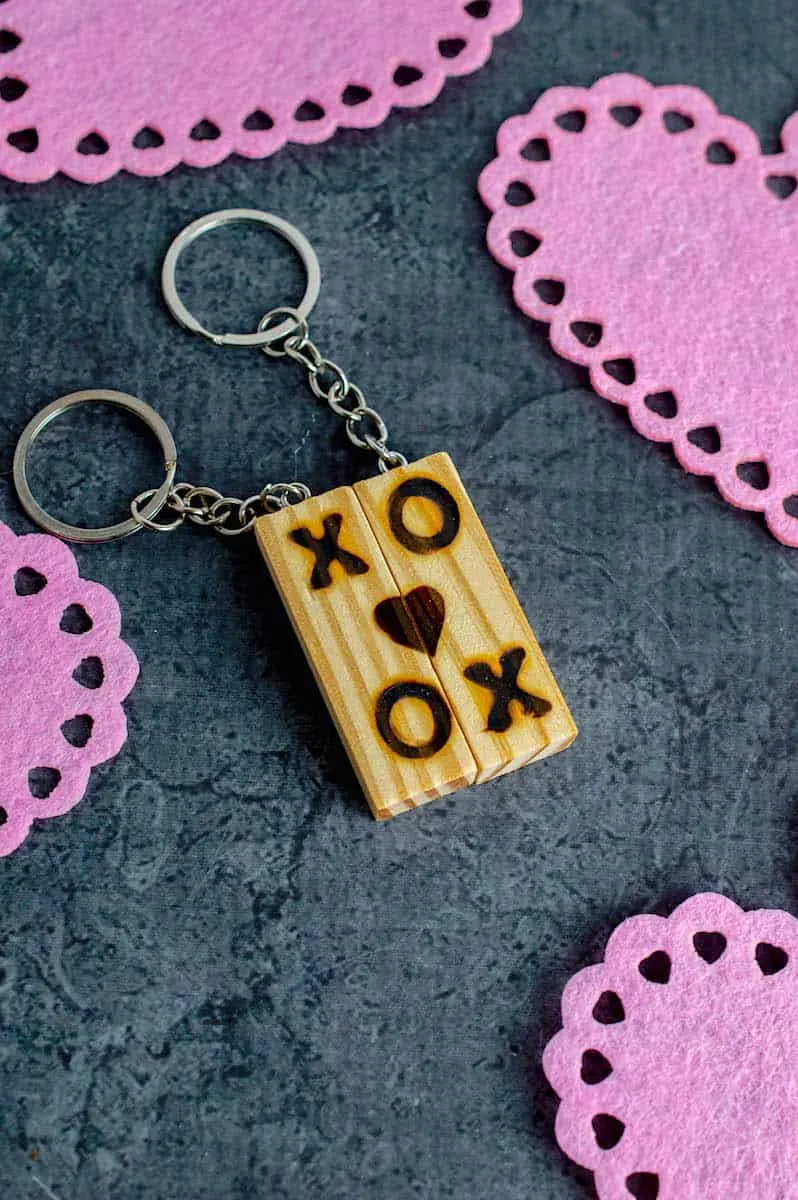 Surprisingly, the wood comes from The Dollar Tree version of a Jenga game. It's called Tumbling Tower Game in the dollar store. (I also used the pieces to make this cute farmhouse candle holder and these snowman hat ornaments.)
Don't be worried about using a wood burning tool. Once you realize that it's easy, you will want to be customizing more items with it!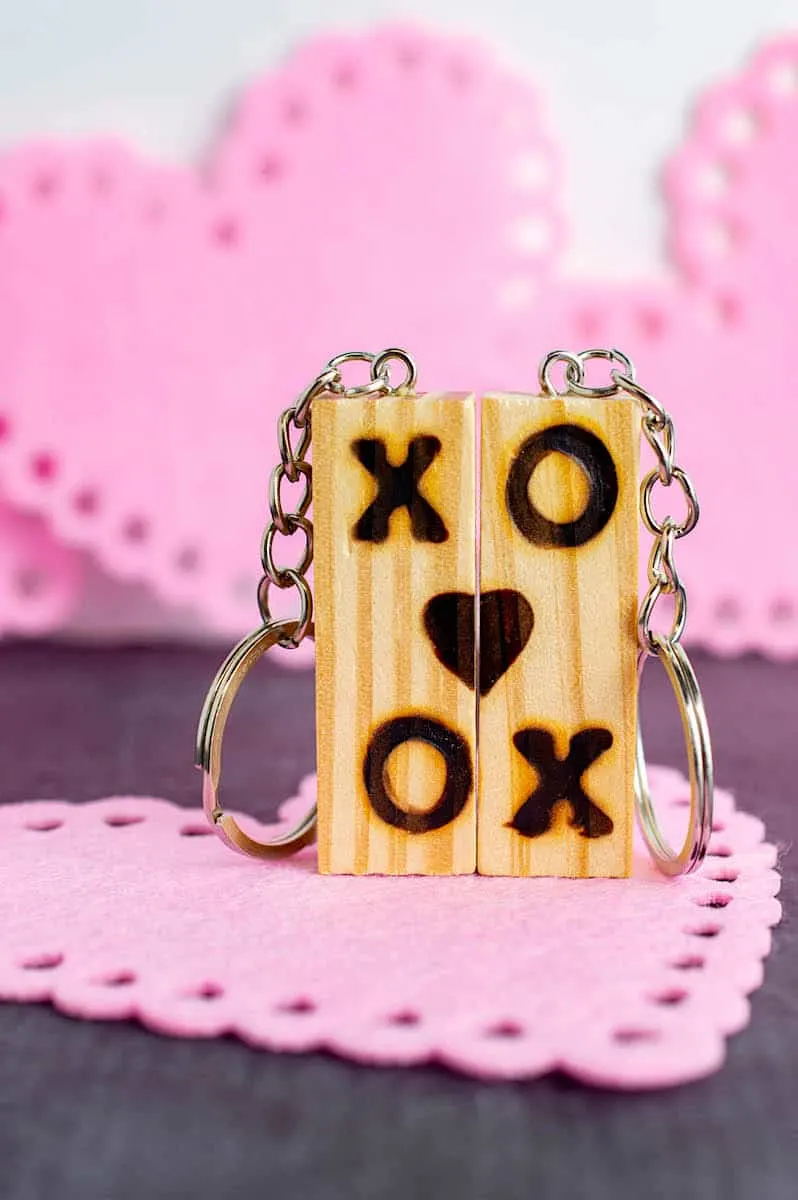 Tips for Using a Wood Burning Tool
Use a piece of scrap wood to try out before pressing into the pieces for your keychains (you could use another game piece for this). It's necessary to determine how long you want to keep the tool pressed onto the wood for lighter or darker burn marks.
Use proper ventilation and be very careful.
Don't let kids make this craft.
ALWAYS allow a wood burning tool to cool completely before changing stamps.
Using pliers is smart to remove the stamps just in case they are hot. But it's wise to use protective gloves just in case, too.
When you remove the stamps, place them on something that won't melt or burn just in case they are still hot.
Always use the safety stand when you aren't using the tool.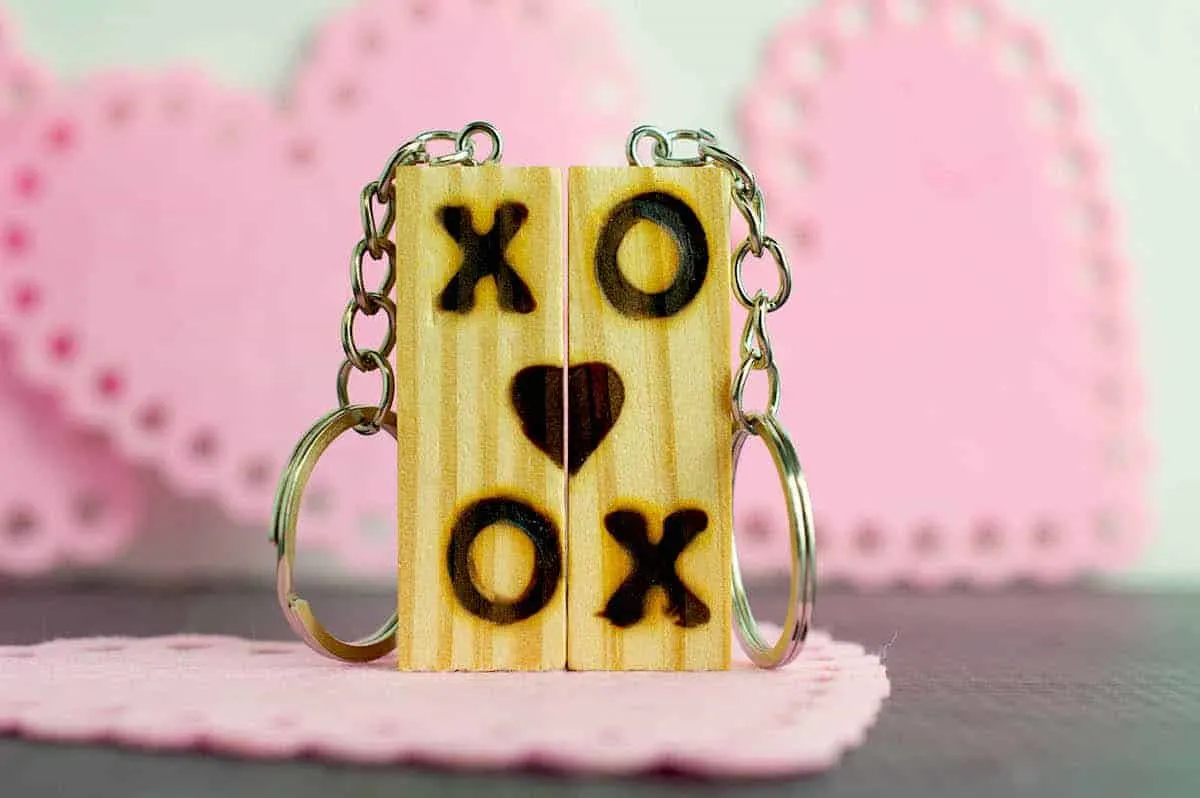 How to Make Matching Keychains from Wood Game Pieces
Supplies
(2) Tumbling Towers Game wooden pieces
Wood Burning Hot Stamps – letters 'X' and 'O' (I used this Hot Stamps pack)
Wood Burning Hot Stamps – heart symbol from this Hot Stamps pack
Wood Glue (While optional, it's super inexpensive and adds a layer of strength)
2 Key Rings (this key rings pack comes in many shapes, including a circle, as shown, and a heart one, which I think would look even better!)
Metal Craft Pliers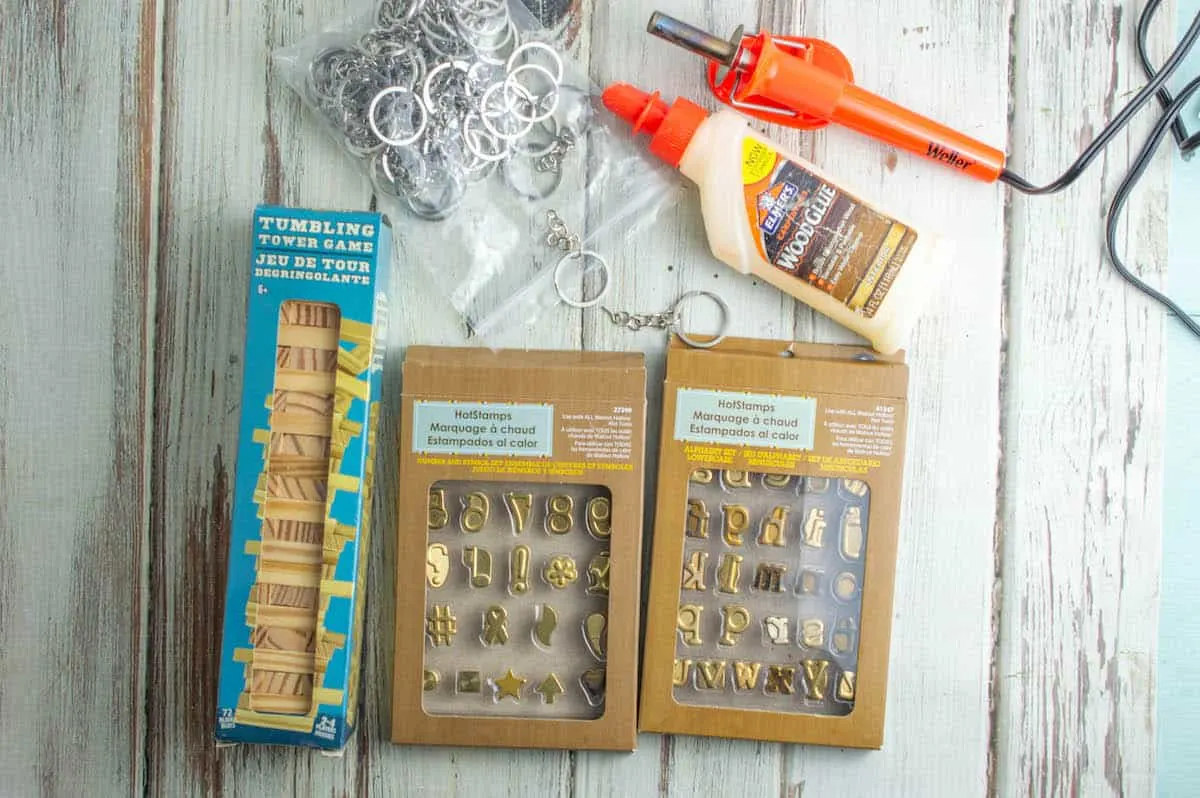 Instructions
Step 1
While unplugged, screw the letter "x" onto your wood burning tool.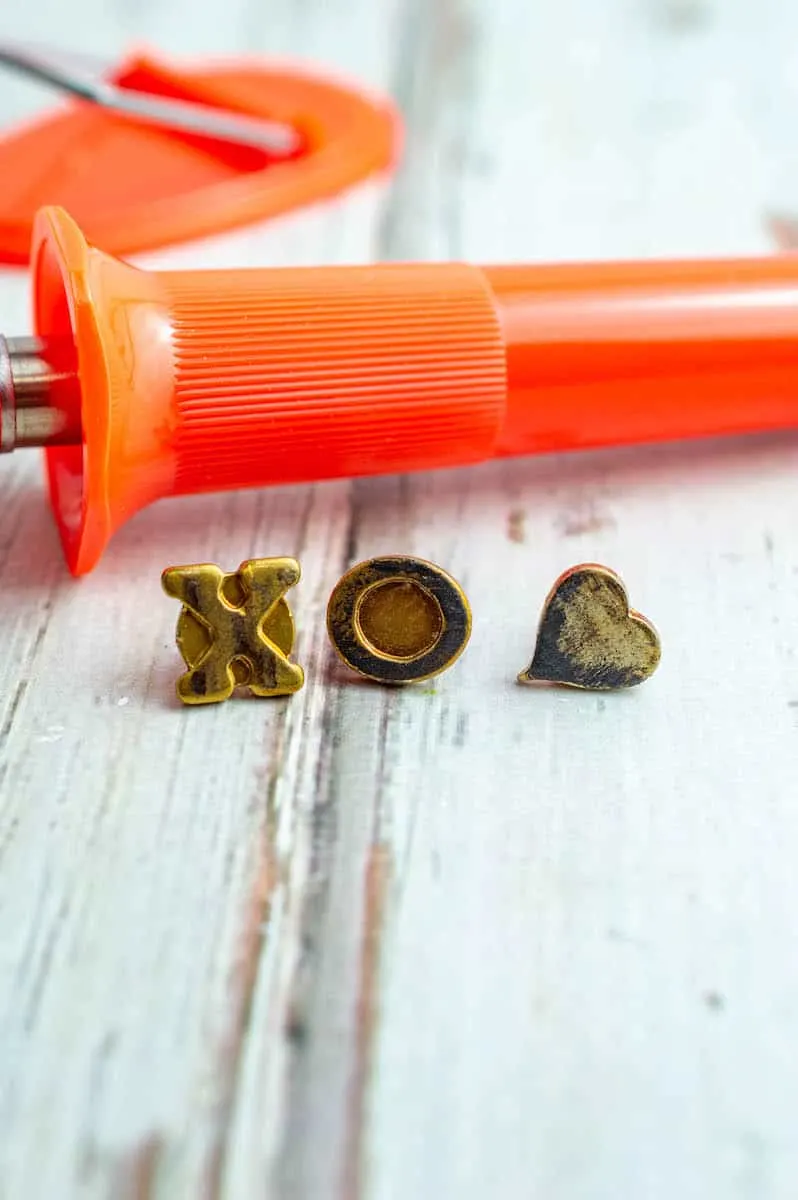 Step 2
Plug in the wood burning tool. Allow it to heat up according to the directions (probably about 5 minutes, but your system might be different.
Step 3
Place two wooden game pieces side by side. Press the "x" into the top of the left game piece, then repeat on the bottom of the right game piece.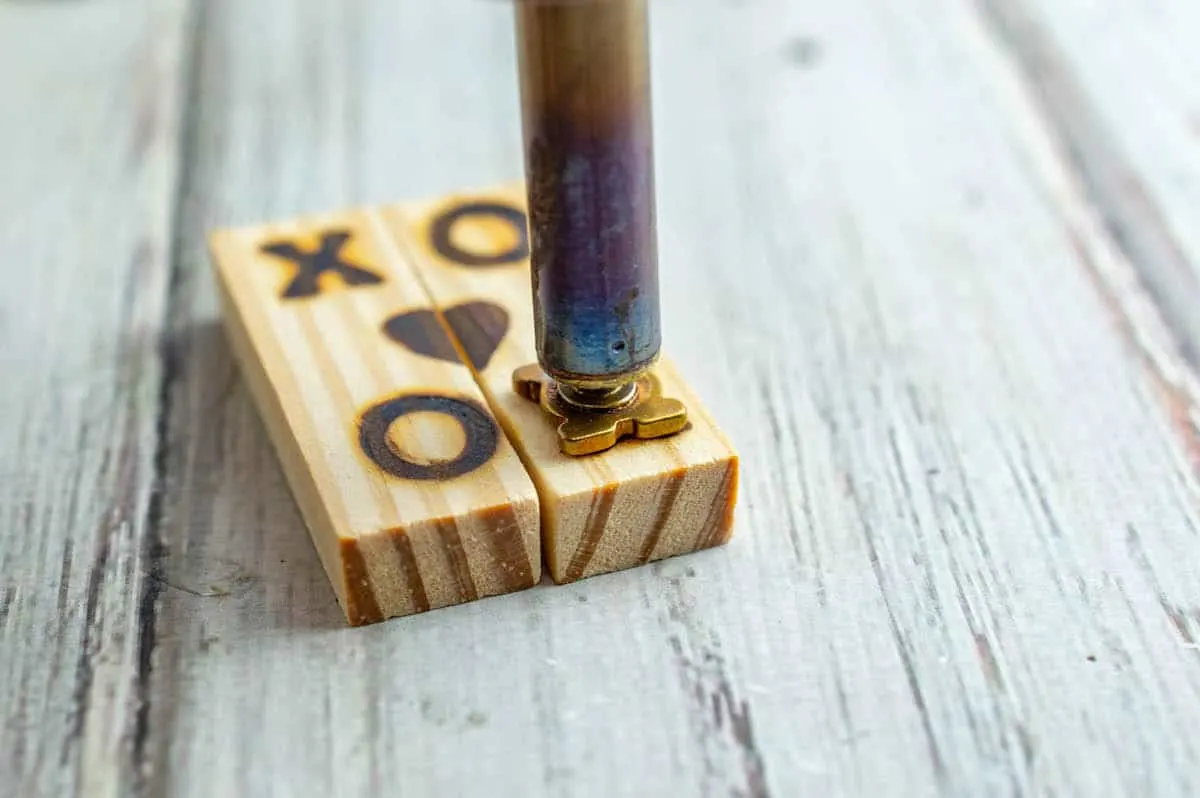 Step 4
Unplug the tool and allow it to cool completely.
Step 5
Remove the "x" stamp with the pliers. Then screw in the "o" stamp. Plug in the tool and let it heat up again.
Step 6
Press the "o" into the bottom of the left game piece, then repeat on the top of the right game piece.
Step 7
Unplug the tool and allow it to cool completely.
Step 8
Remove the "o" using pliers, and then screw in a heart symbol. Plug in again and allow it to heat up.
Step 9
With the pieces evenly lined up next to each other, press the heart symbol onto the middle of both pieces as evenly as you can. You want one half of the heart on one block, and the other half of the heart on the other. Unplug the tool and let it cool completely.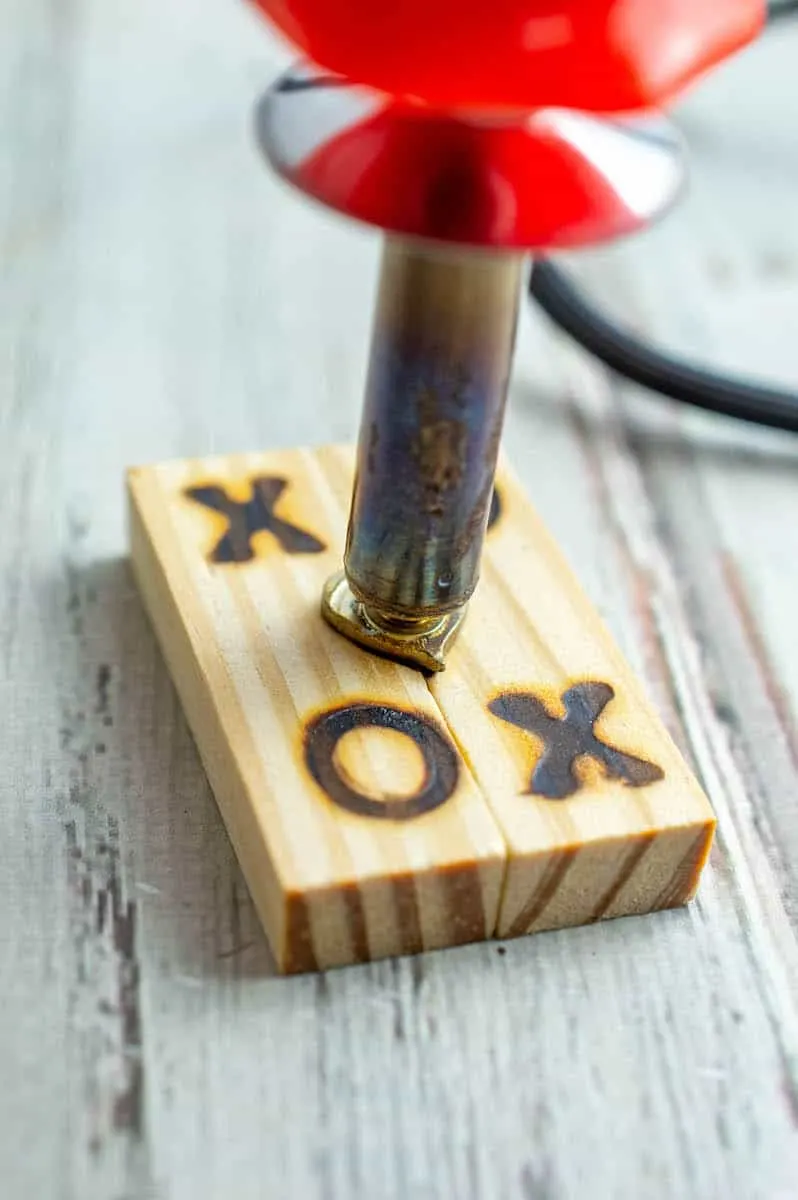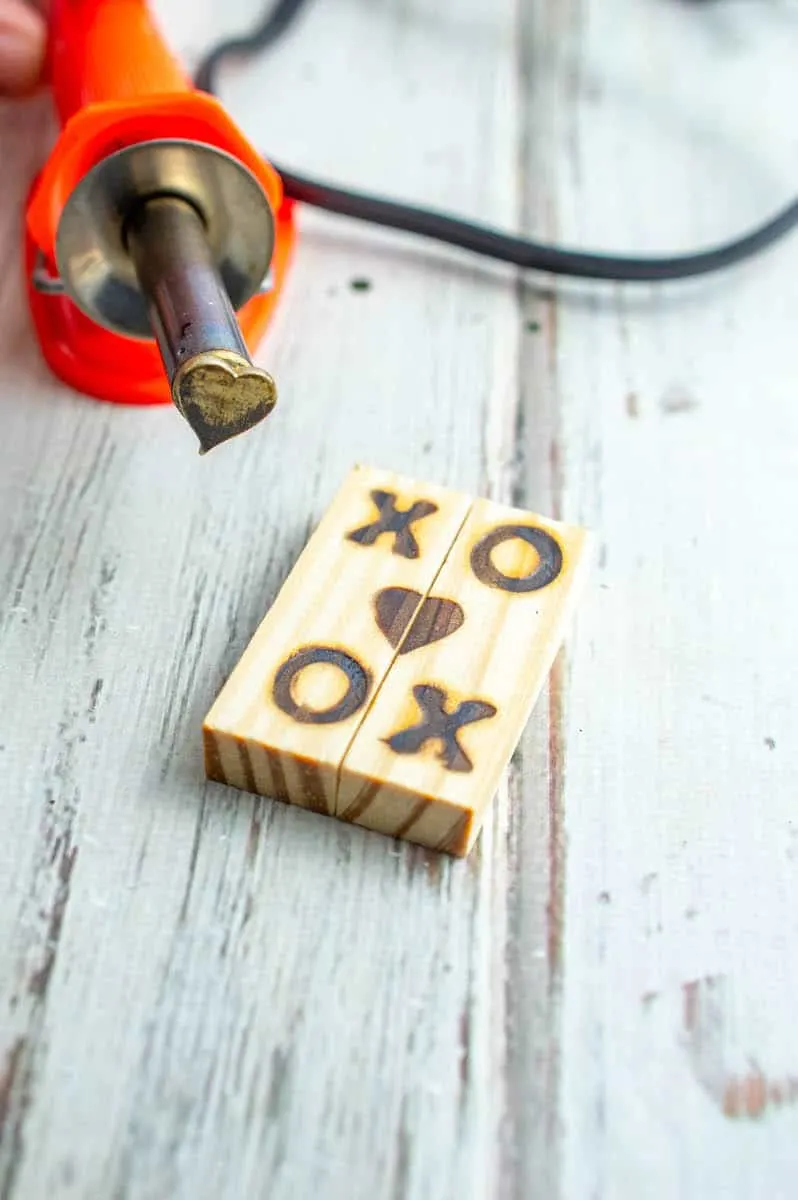 Step 10
Pour a little bit of glue onto a scrap of paper or wood. Dab the keychain screw end into the glue.
Press the keychain screw end firmly into the top center of the keychain, turning clockwise until the entire screw is in the wood block.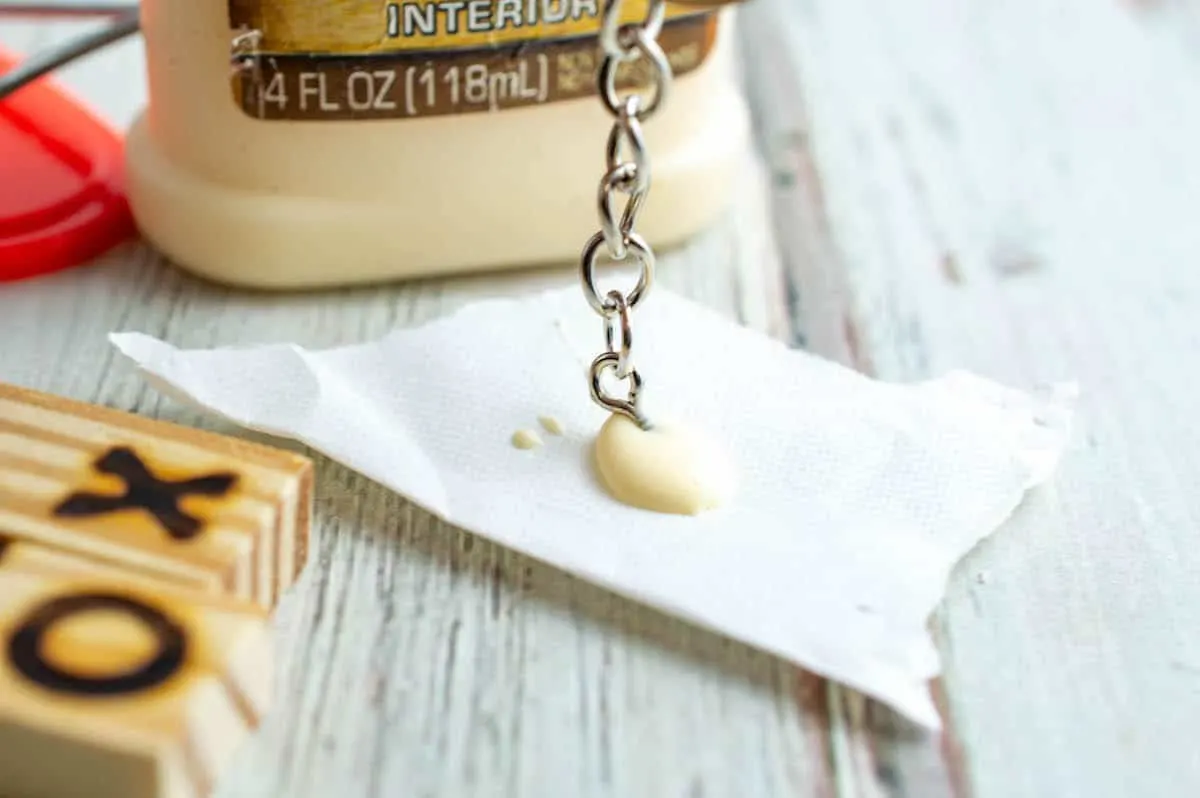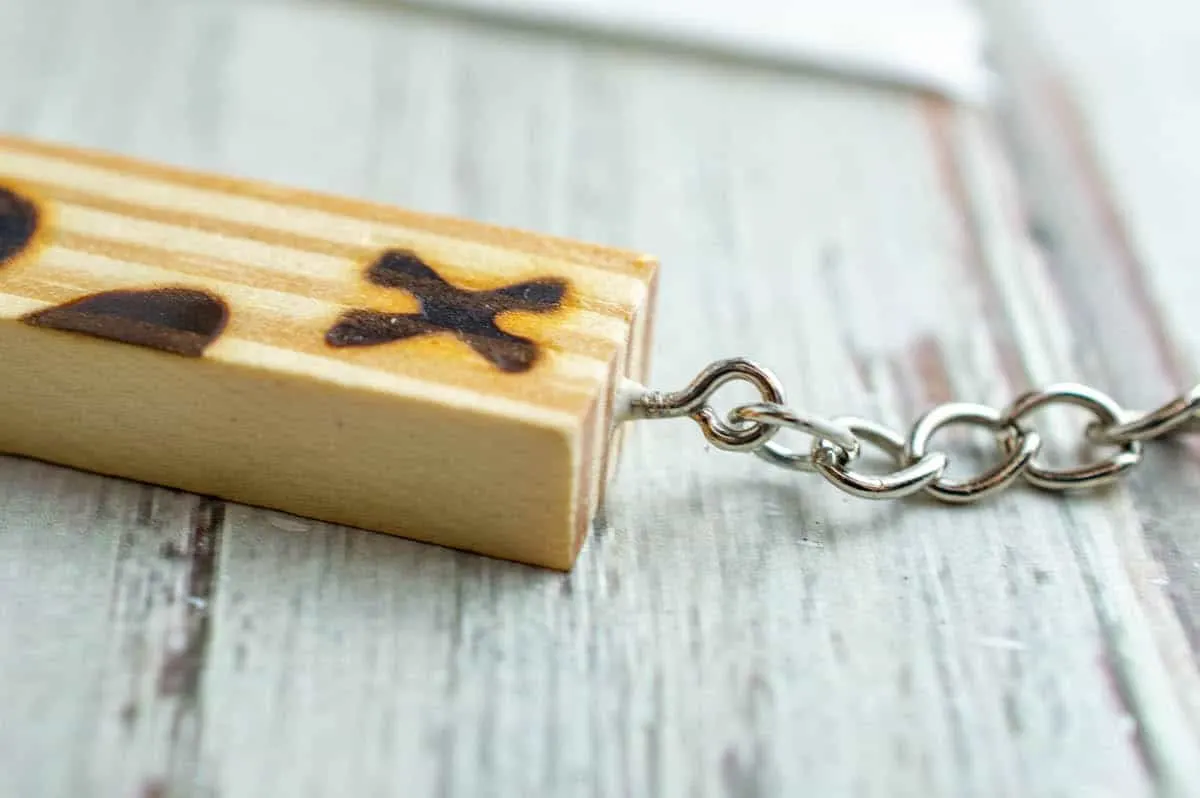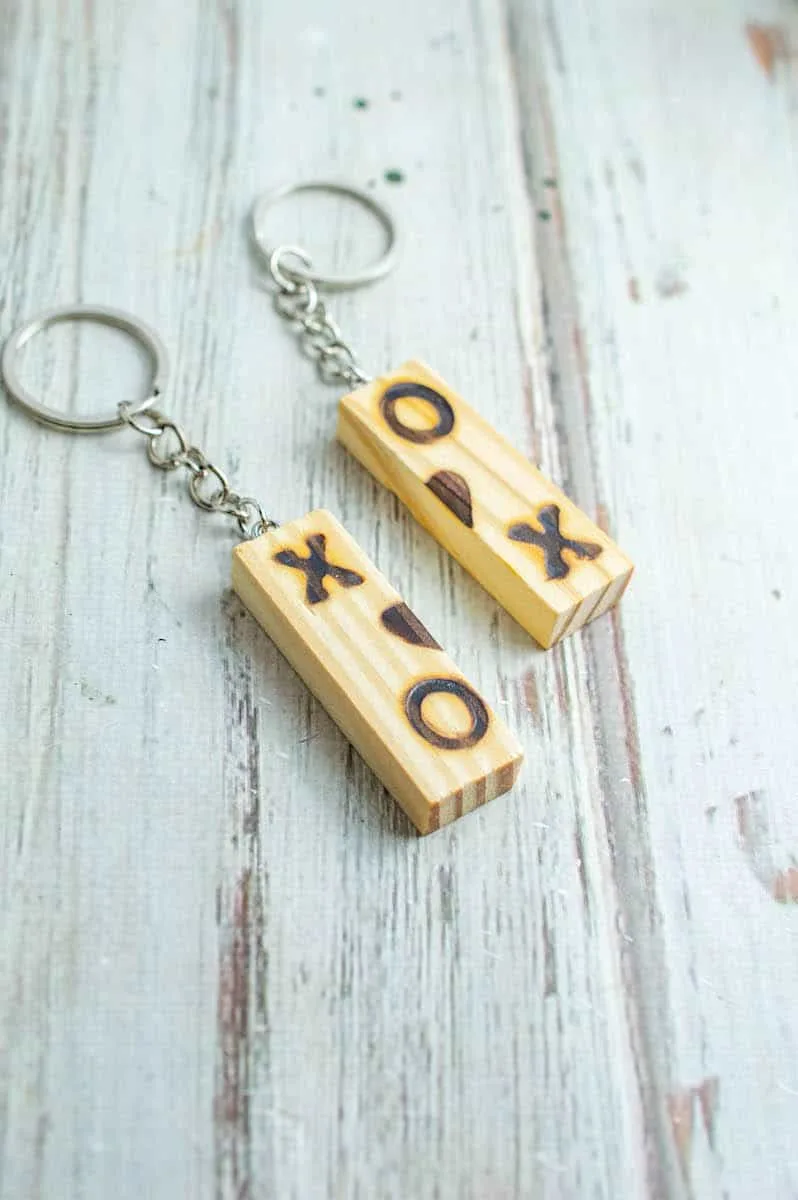 Be sure to see my other easy Valentines Day crafts, such as this super cute Aloe You Vera Much plant pot or this easy Valentine's candle.
I also really, really love this Valentine Song display – it's so sentimental!
You might also like our free printable Secret Cupid gift exchange game, this easy wire heart bookmark or this Valentine's Day Ribbon Loop Tree (no gluing or sewing!).