There are some craft projects that make my heart happy, and this is one of them! I love how simple this Valentine's Day Ribbon Loop tree is to make. And in the middle of winter, these bright red and pink colors add happiness to my life!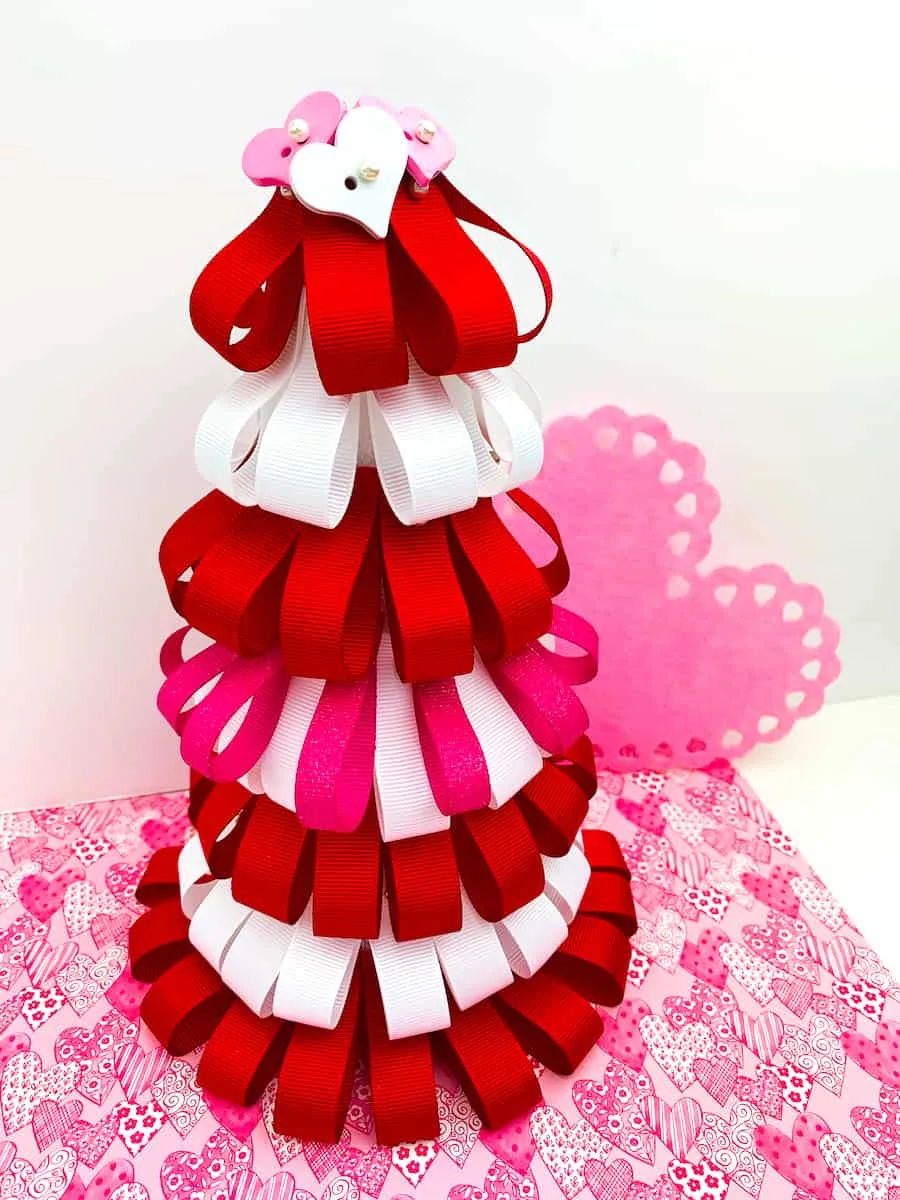 I'm all for easy DIY projects that don't take a lot of time. Yet they look impressive! And this is one of those crafts.
This Valentine's Day tree is the perfect tabletop decoration. Or a great gift for a friend or family member that doesn't scream romance or have candy! This DIY Dollar Tree Valentines Candle is also a great candy-free gift.
You can make this same type of tree with different colors for other holidays. For instance, use red, green or holiday patterns for Christmas. Oranges and browns would be pretty for Fall.
The majority of these supplies can be bought at a dollar store. You might even have some of the items on hand already. While you're at the Dollar Tree, get the supplies to make this cute farmhouse Valentine's Day wreath!
Making decorative trees for the holidays is something I love to do. This tea bag Christmas tree is another one of my favorite projects that looks expensive, but is not.
If you are looking for more fun and easy Valentine's Day DIYs, check out my other ideas: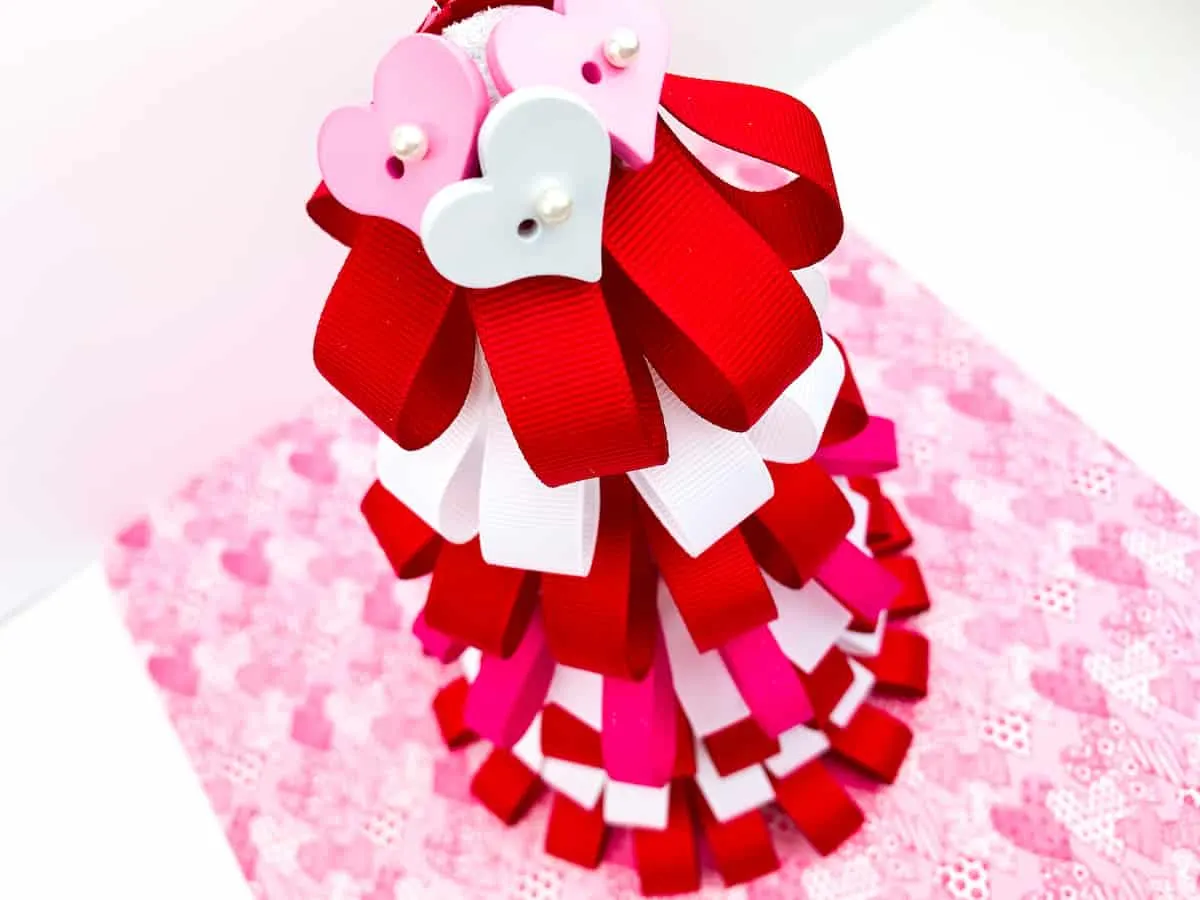 How to Make a Valentines' Day Ribbon Loop Tree
Supplies
Styrofoam cone (I used one 10 inches tall)
Red ribbon (5/8 in. X 15 ft.)
White ribbon (⅝ in. X 15 ft.)
Pink ribbon (⅜ in. X 5 ft.)
Petite pearlized pins (¾ in.)
Ruler
Scissors
Instructions
Step 1
Cut the red, white, and pink ribbon into 4 inch strips.
Helpful Hint: Measure one ribbon 4 inches long. Then just hold that piece up to the ribbon spool and keep cutting segments the same size, rather than measuring every single piece with the ruler.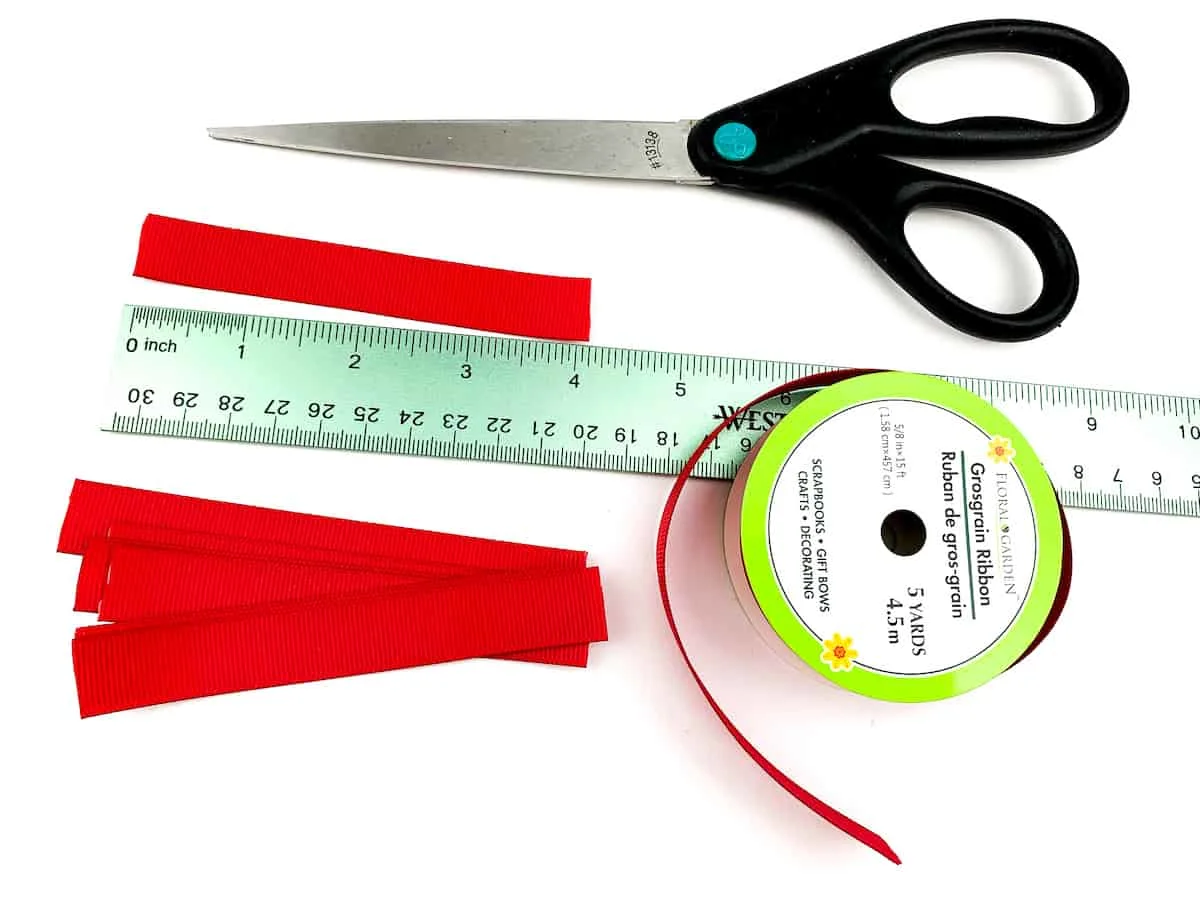 Step 2
Start with the red ribbon first. Bring the cut ends of the ribbon together to create a loop. Place a pin towards the top part where the ends meet. Pin the ribbon onto the styrofoam about one inch above the bottom of the tree. Repeat this same process around the entire bottom of the cone.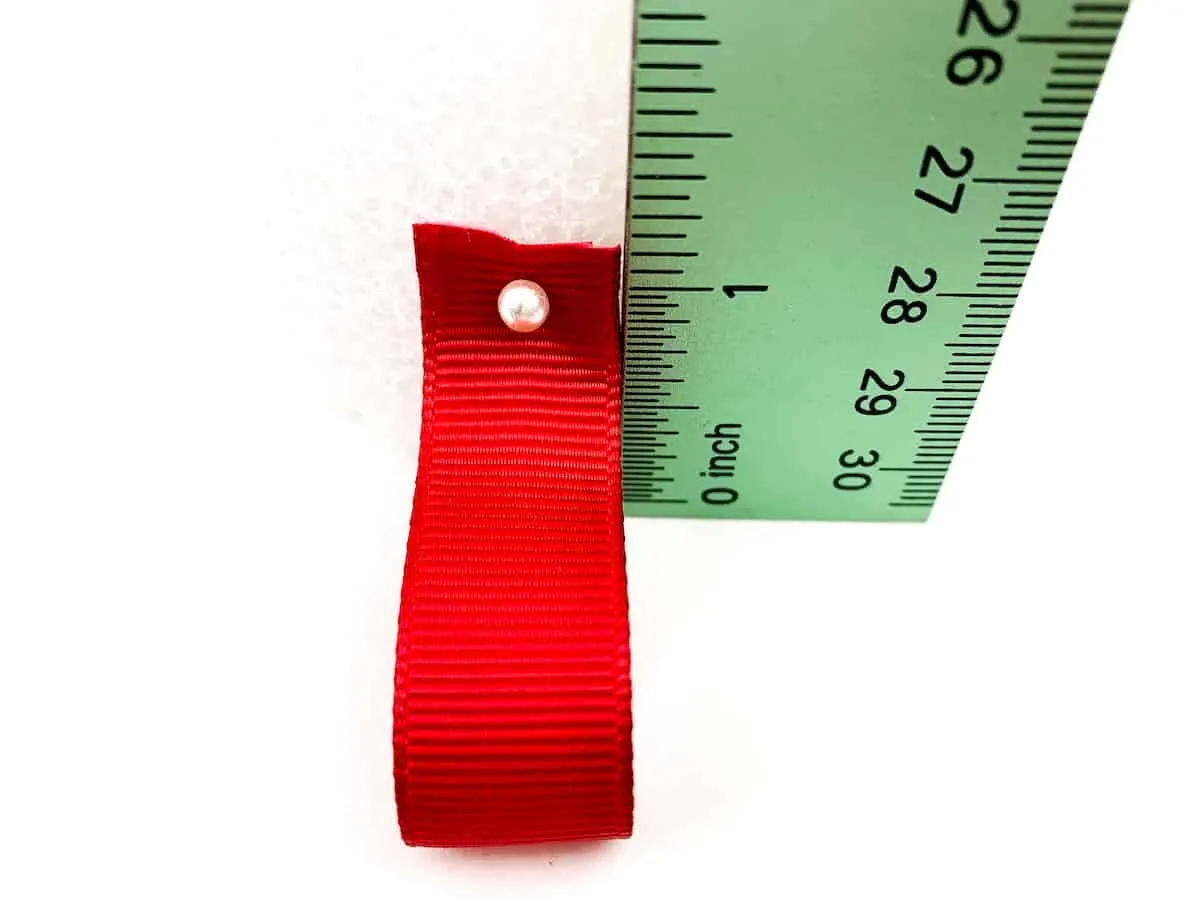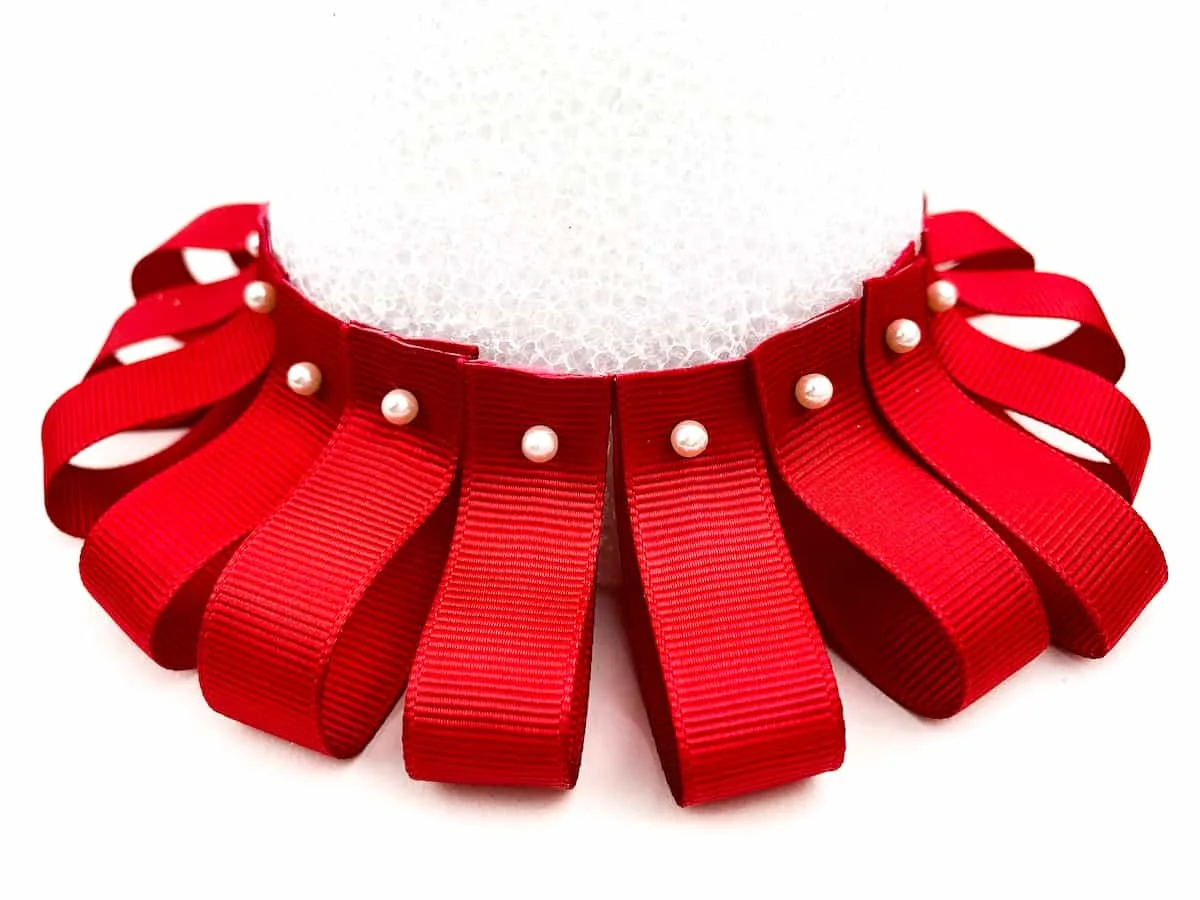 Step 3
Next, repeat this step with the white ribbon.
Helpful Hint: Place the ribbon to hang down over the lower level to cover the pin of the previous loops.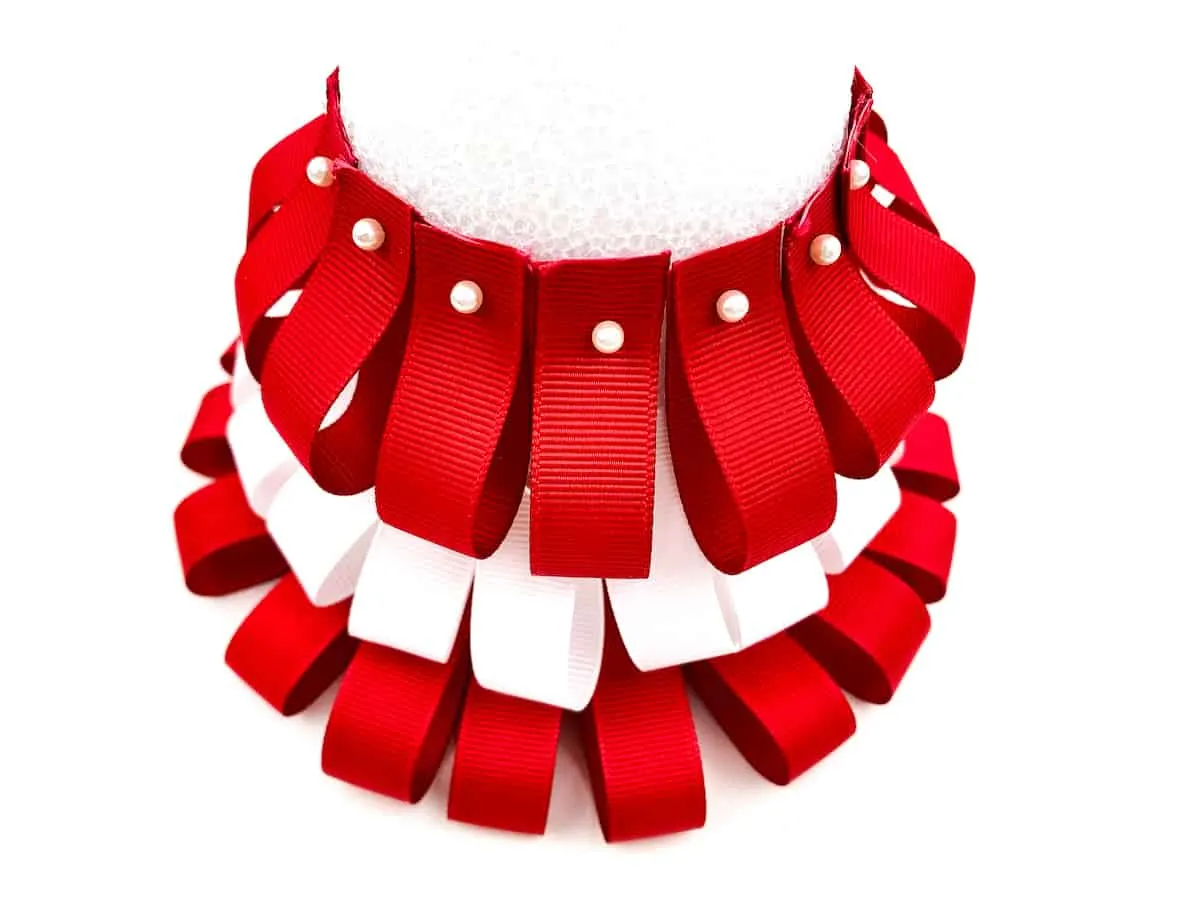 Step 4
Continue this until you cover the entire tree with ribbon.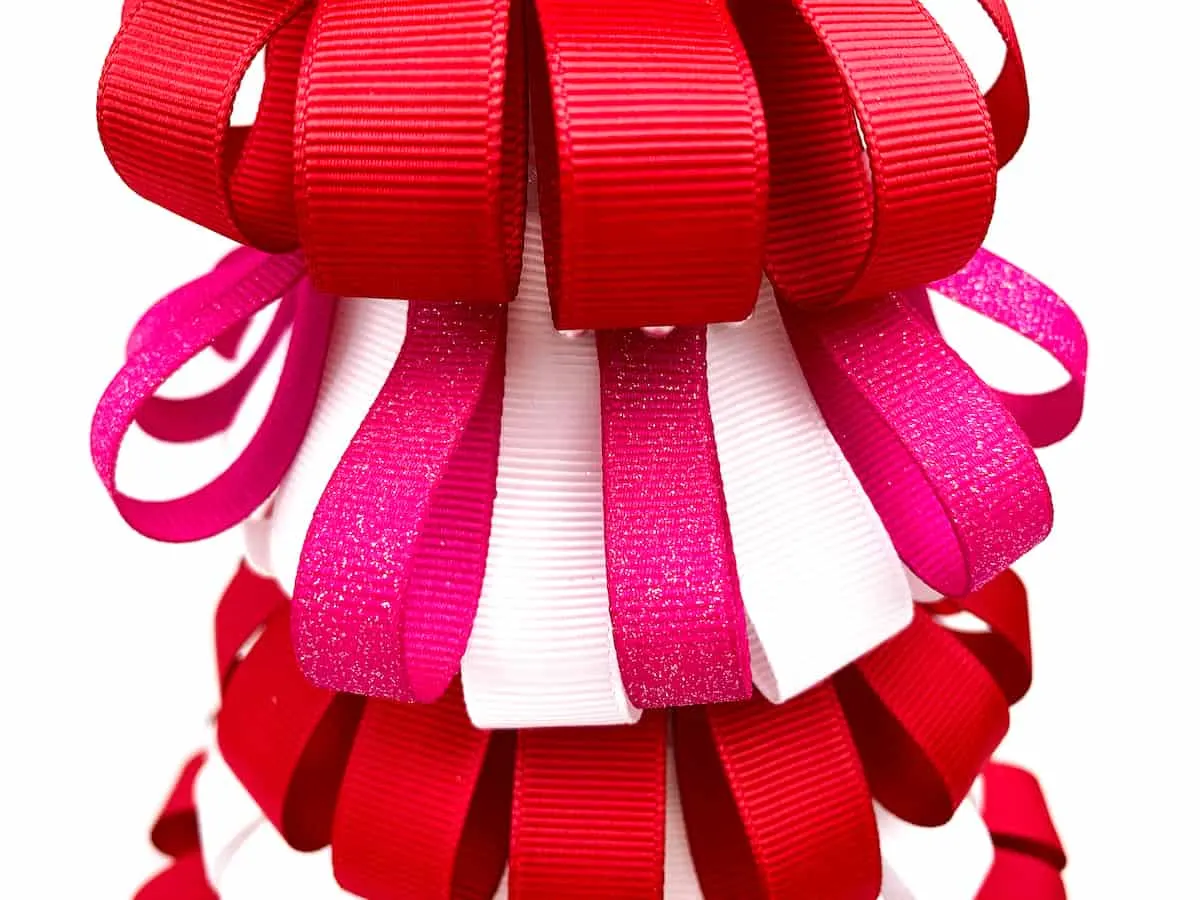 I went back in and added some glittery pink ribbon loops among a row of white loops. You can add in any color or wherever you'd like. Or, just keep it red and white!
Step 5
Once you get to the top of the tree, pin the heart buttons on. Place the heart buttons so that they cover up the empty top of the cone.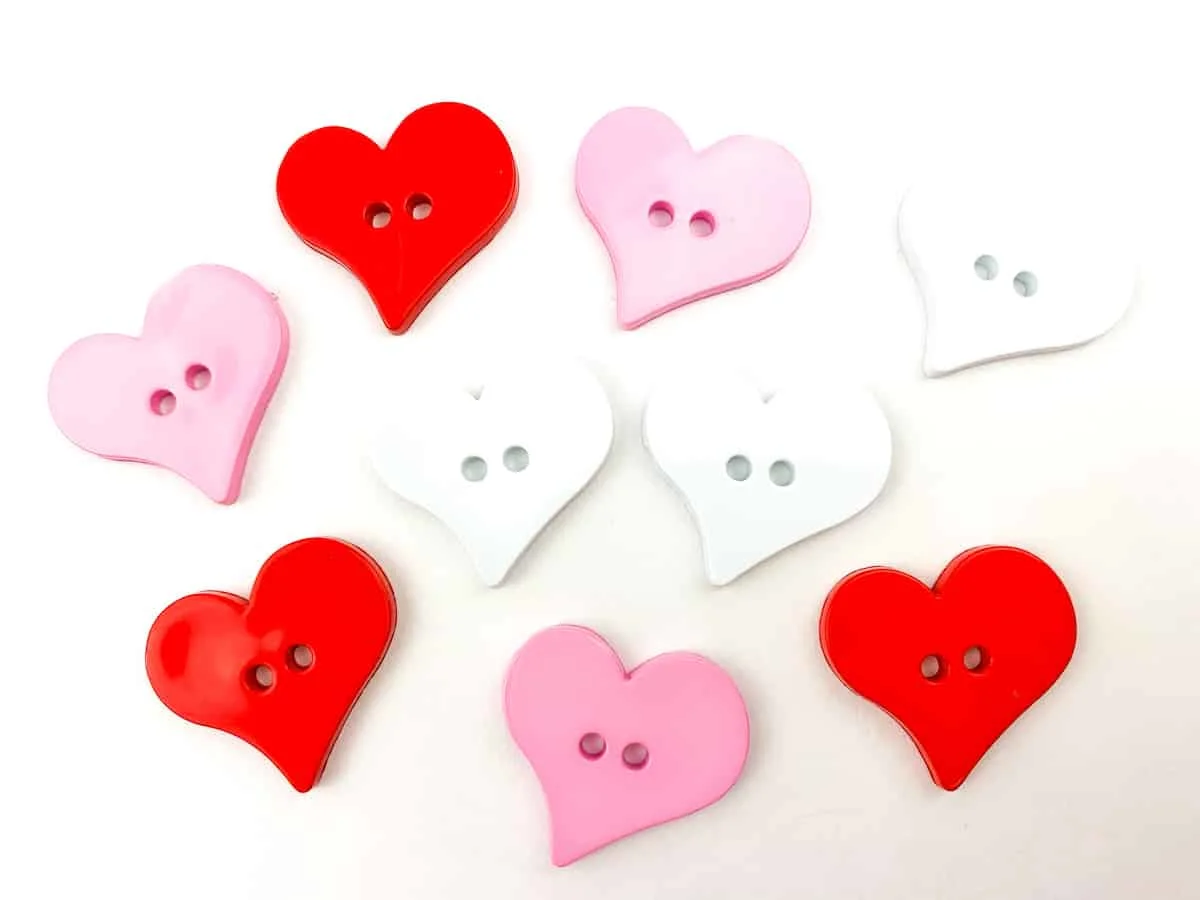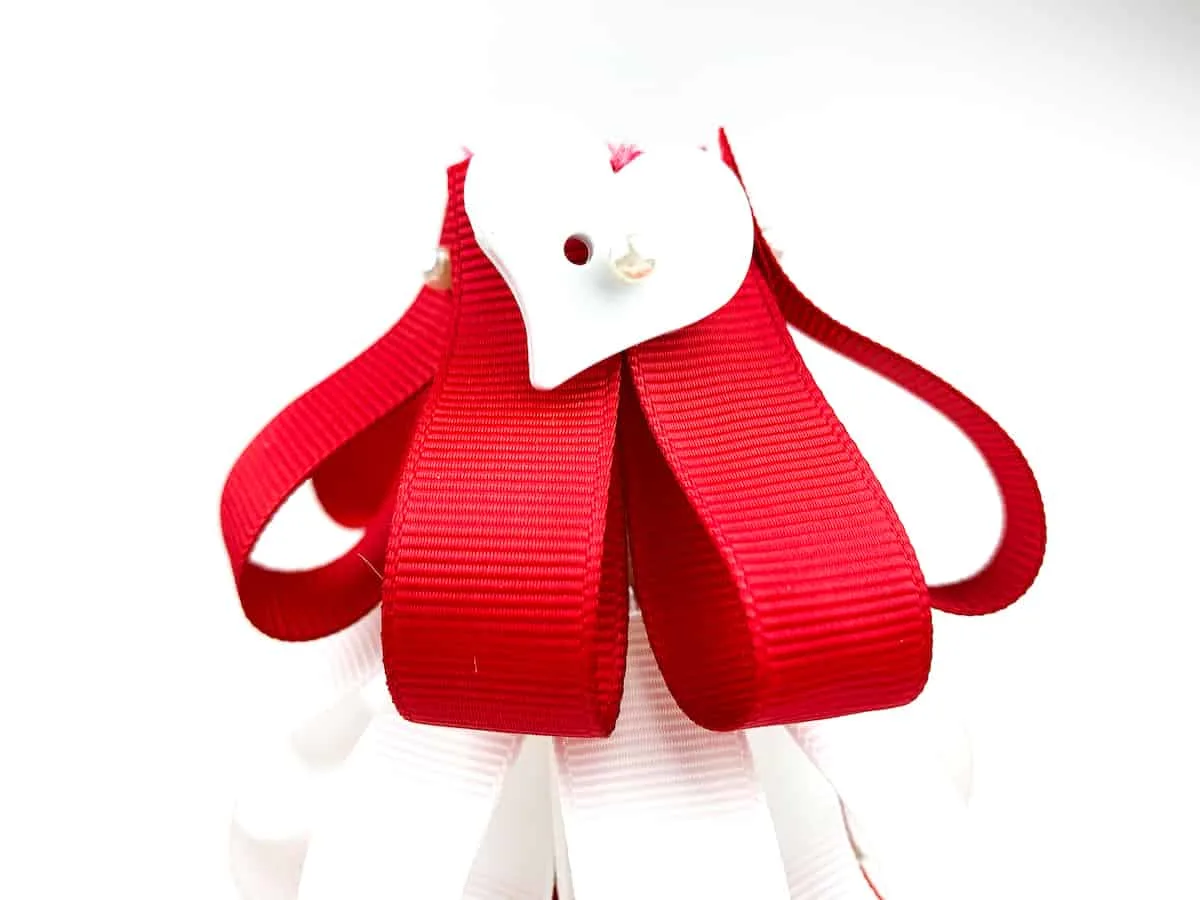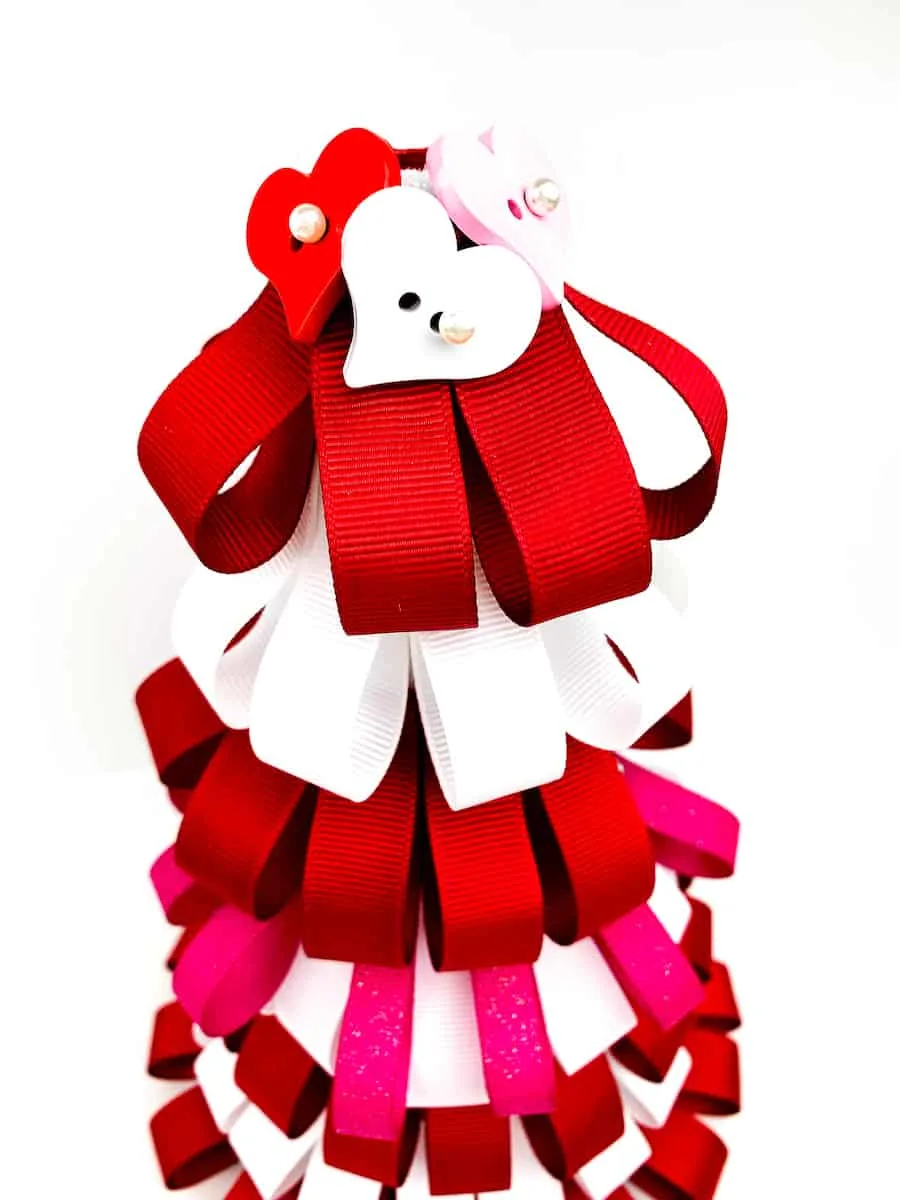 ---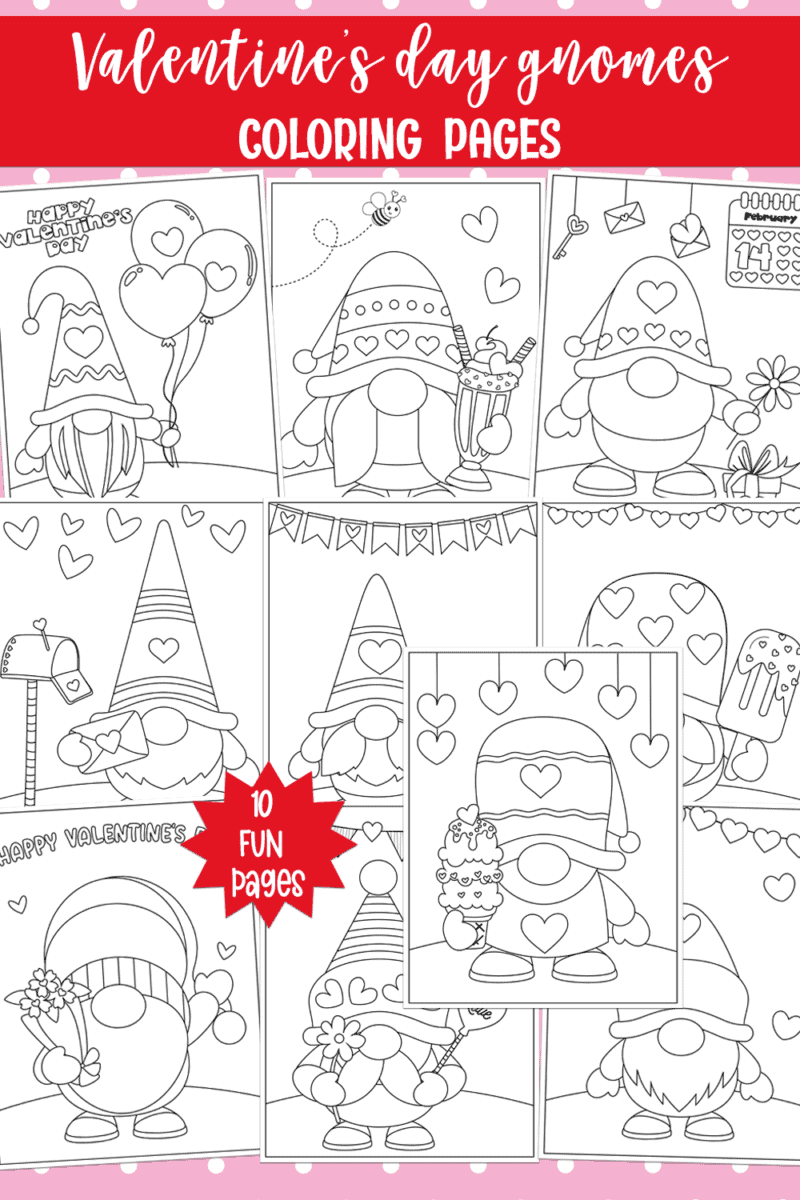 Valentines Day Coloring Pages
Get these cute gnome coloring pages that are so cute to color for Valentines Day!
10 unique designs give hours of stress-relieving fun and adorable decorations!
Only available in our Single Girls DIY library
---
You can see this craft on my Youtube channel, too. I have inserted the video below:
This craft is so easy you don't want to forget about it! Be sure to Pin This to a Valentine's Day board to remember for later!