I love making Christmas ornaments that are cute but don't take a lot of time! I'm not the only one, right? Which is why I am thrilled with these easy DIY Snowman Hat Ornaments. All you need to do is glue items together for an adorable tree decoration that would also make great gift toppers!
This is an easy Dollar Tree Tumbling Tower game craft project. Just paint and glue the pieces together to make a snowman hat ornament.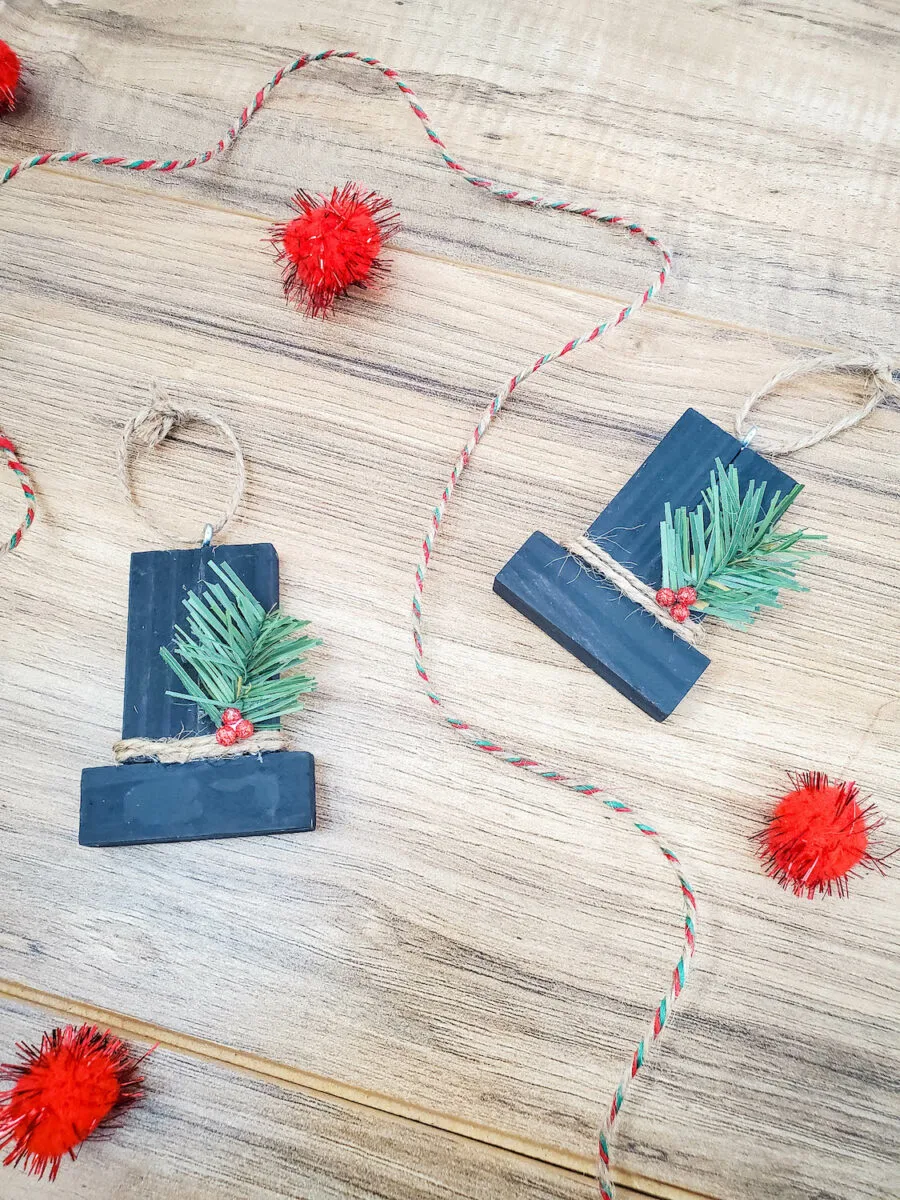 The cost of these ornaments is incredibly low! You can make two dozen ornaments for around $5. Which makes these perfect to give to family or to make to sell.
You could also use some of the wood blocks to make these Christmas present ornaments or this farmhouse rustic Christmas tree, too.
Be sure to see my BIG list of no-sew Christmas ornaments! You're sure to find some more that you'd love to make!
Helpful Tips
I got almost all of my supplies at the Dollar Tree. Eye hooks are the only thing that I bought elsewhere.
This is the perfect craft for using up small bits of craft supplies. For instance, you can use bits of pine garland leftover from making wreaths or other projects. Small red berries that have fallen off other decor items are great to repurpose for the hat.
Use ribbon or yarn instead of twine as the ornament hanger if you'd like.
Jenga game blocks will work the same way, too. They are a bit bigger and they cost a little bit more, but you can still make 18 ornaments for about $7 of wood blocks.
You could also cut pieces of wood into the same size as the Tumbling Tower blocks. (8.625″ L X 2″ W X 2″ H)
Add a name to the brim of the snowman hat to use as a cute gift tag that doubles as a personalized ornament. Use a white paint pen for the best results.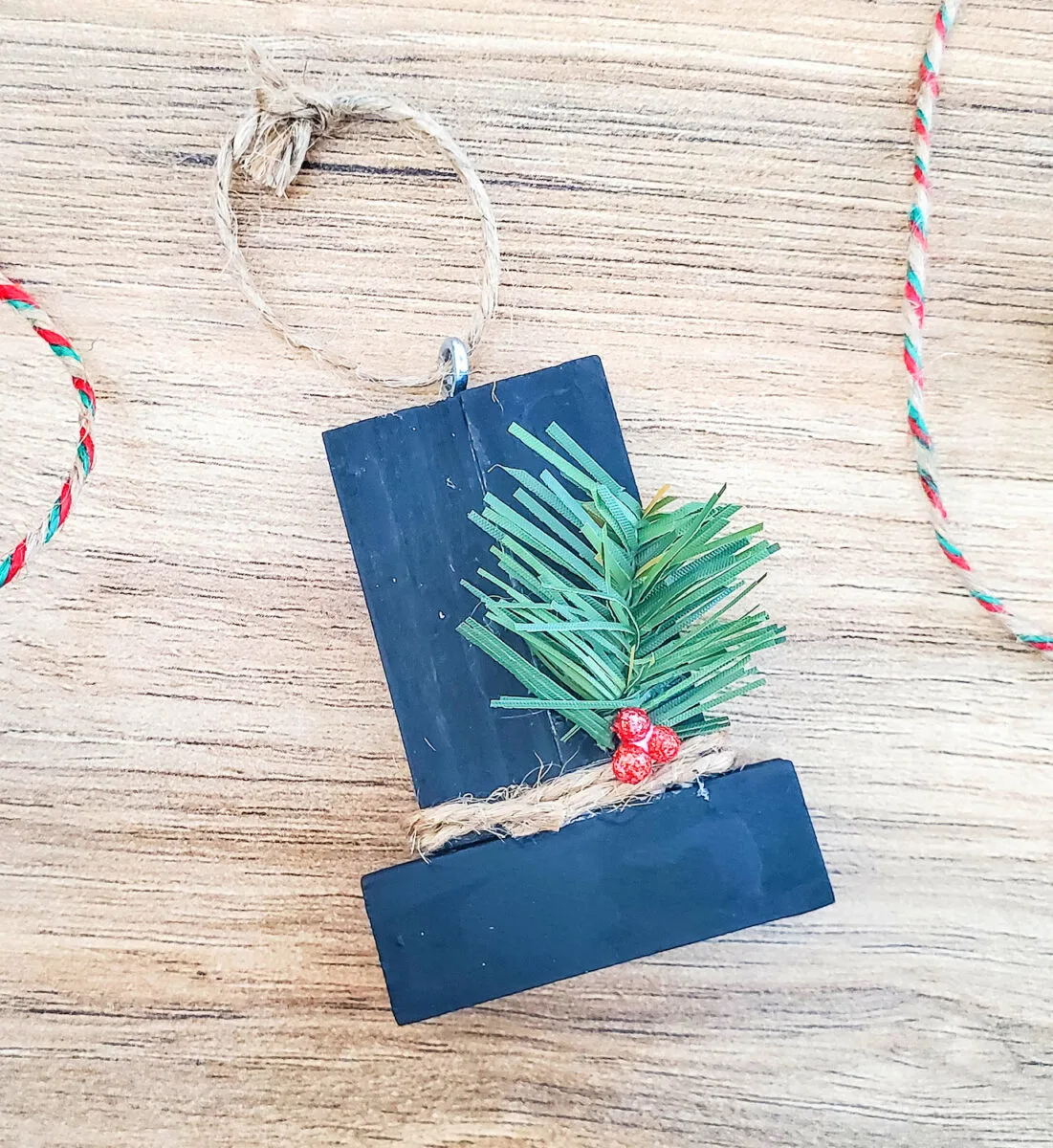 If you love snowman crafts, be sure to see these DIYs:
DIY Snowman Hat Ornaments
These directions make one handmade snowman hat ornament. You would be able to make 24 ornaments from one Tumbling Tower game, or 18 ornaments from a Jenga game.
Supplies
3 Dollar Tree Tumbling Tower Game blocks (or Jenga blocks)
Twine – (2) 7-inch pieces
Fake pine Christmas garland – 1 inch piece
Red vase filler – 3 pieces
Wood glue
Black craft paint
Tacky glue
Scissors
Paint brush
Toothpick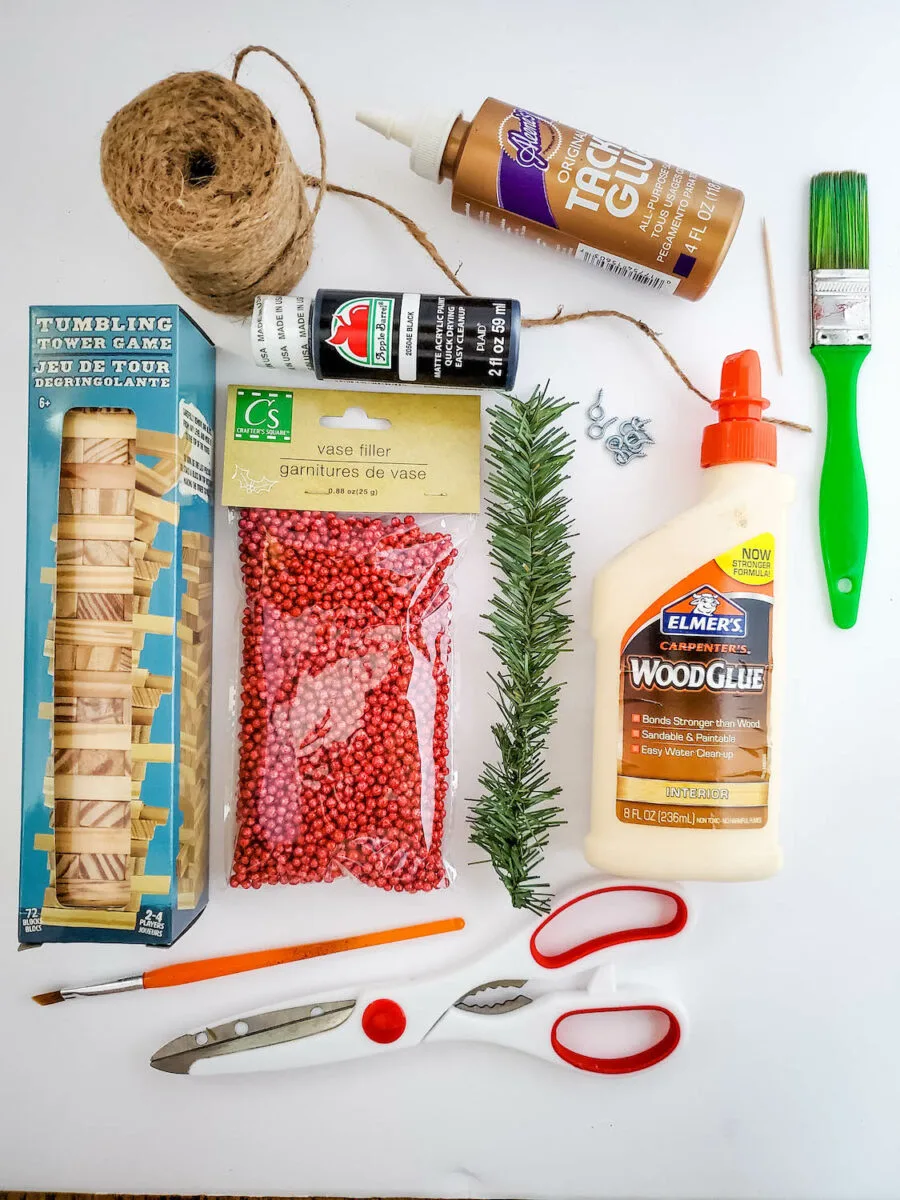 Directions
Step 1
Apply a thin layer of wood glue to the long side of a wood block. Put another wood block side against it and hold together for about 30 seconds, until they stick together.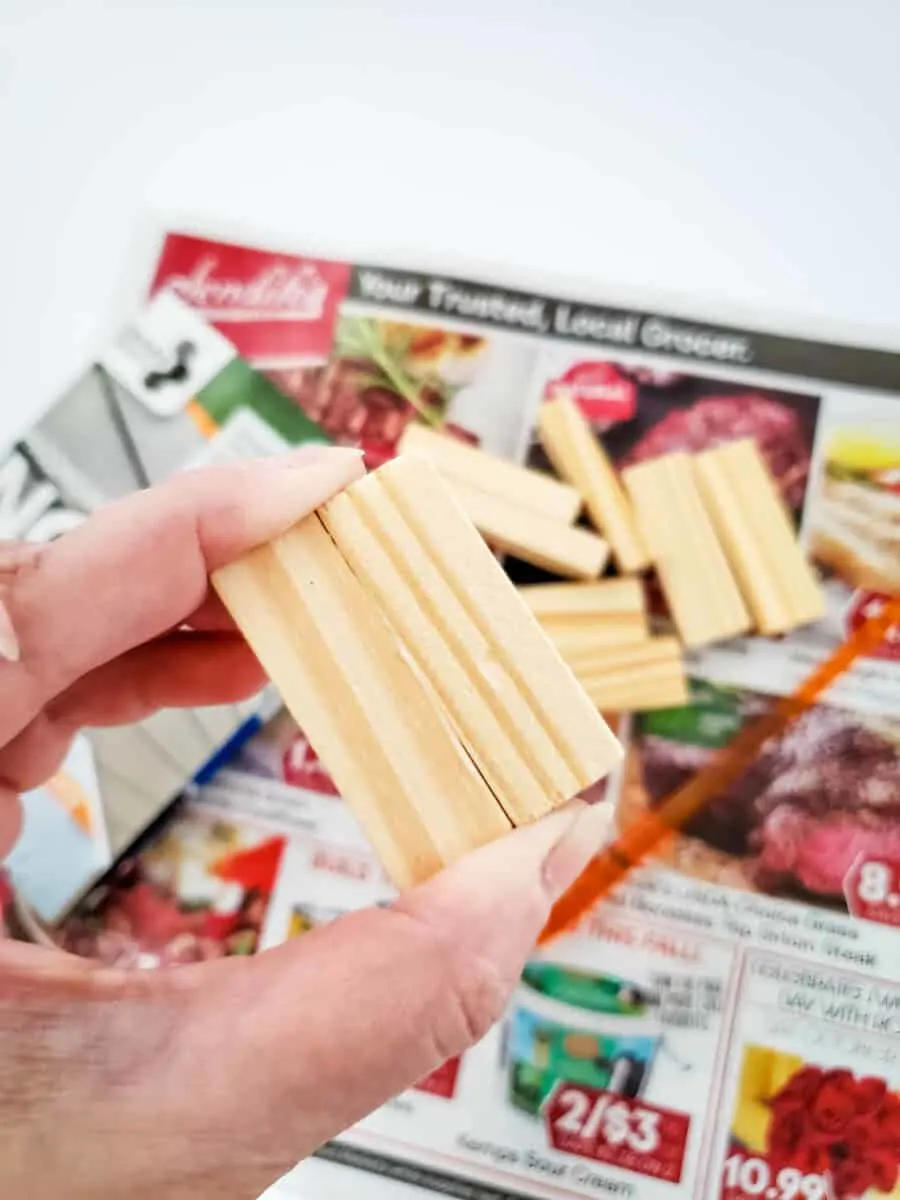 Step 2
Add a thin layer of glue to the long side of another block, but just apply in the middle and not to the outer edges. Place the block against the bottom of the two blocks that are already glued together. This block will be perpendicular to the other two blocks.
Hold together for about 30 seconds, until secure.
Allow the glued blocks to now dry completely before doing the next step.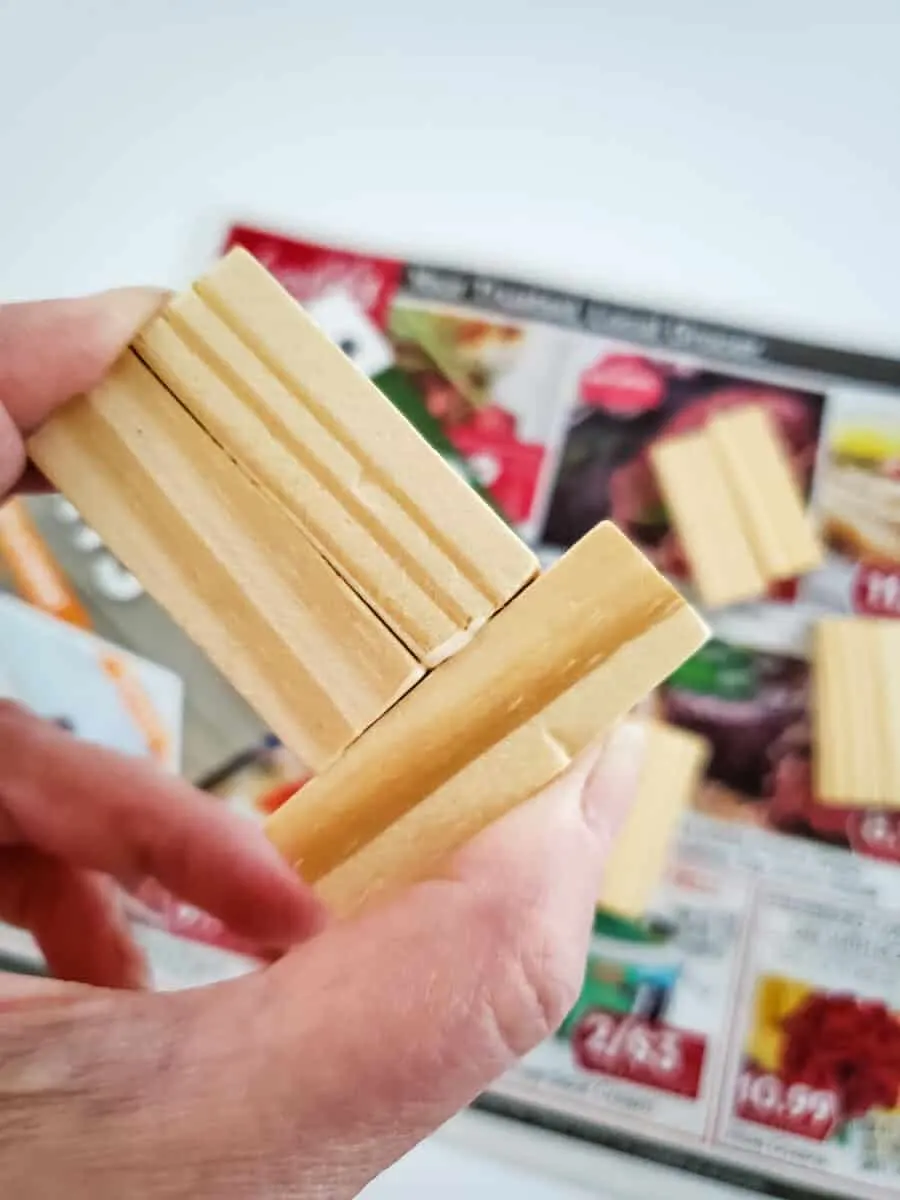 Step 3
Paint the wood block hat with black paint. Be sure to get the front, back and all of the sides. Allow to dry.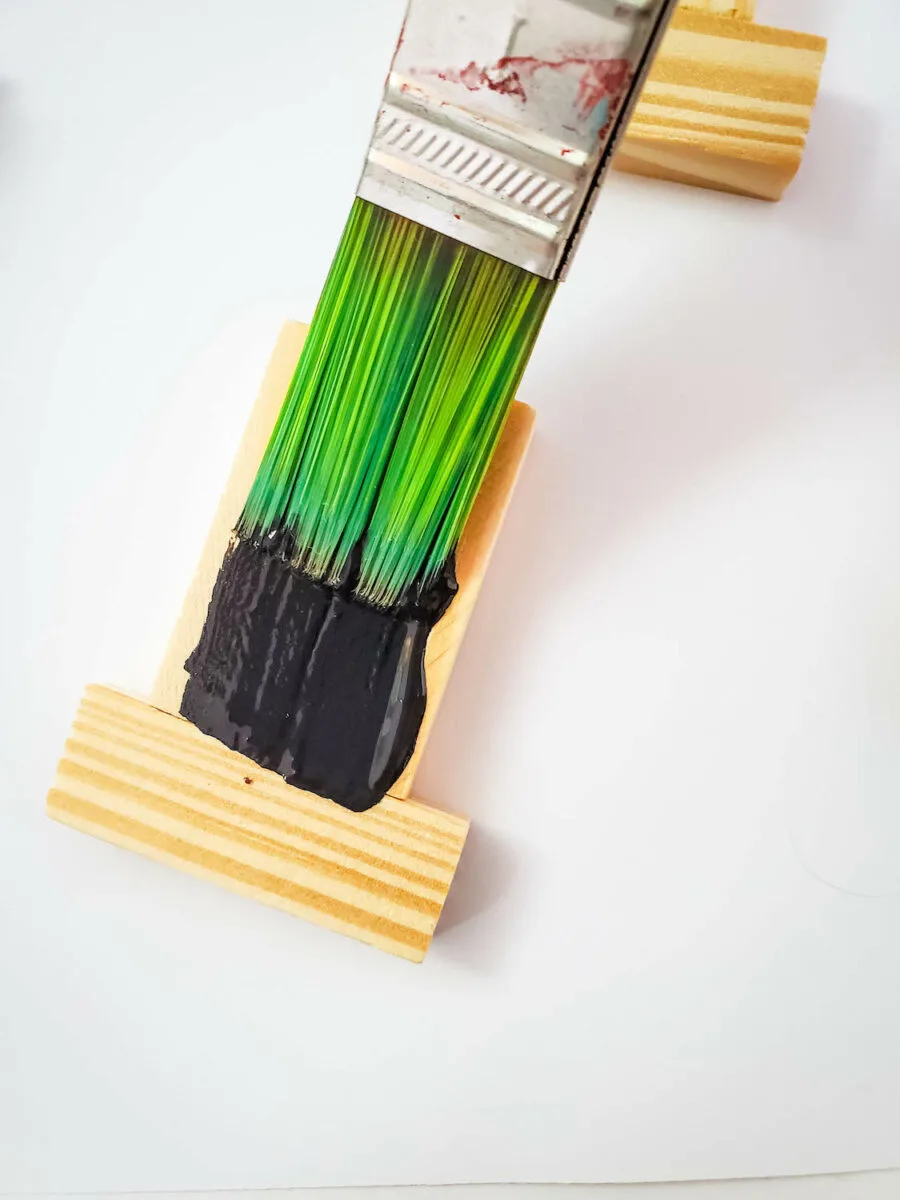 Step 4
Add a small line of tacky glue to one side of the hat using a toothpick, where the 3 blocks meet together at the brim.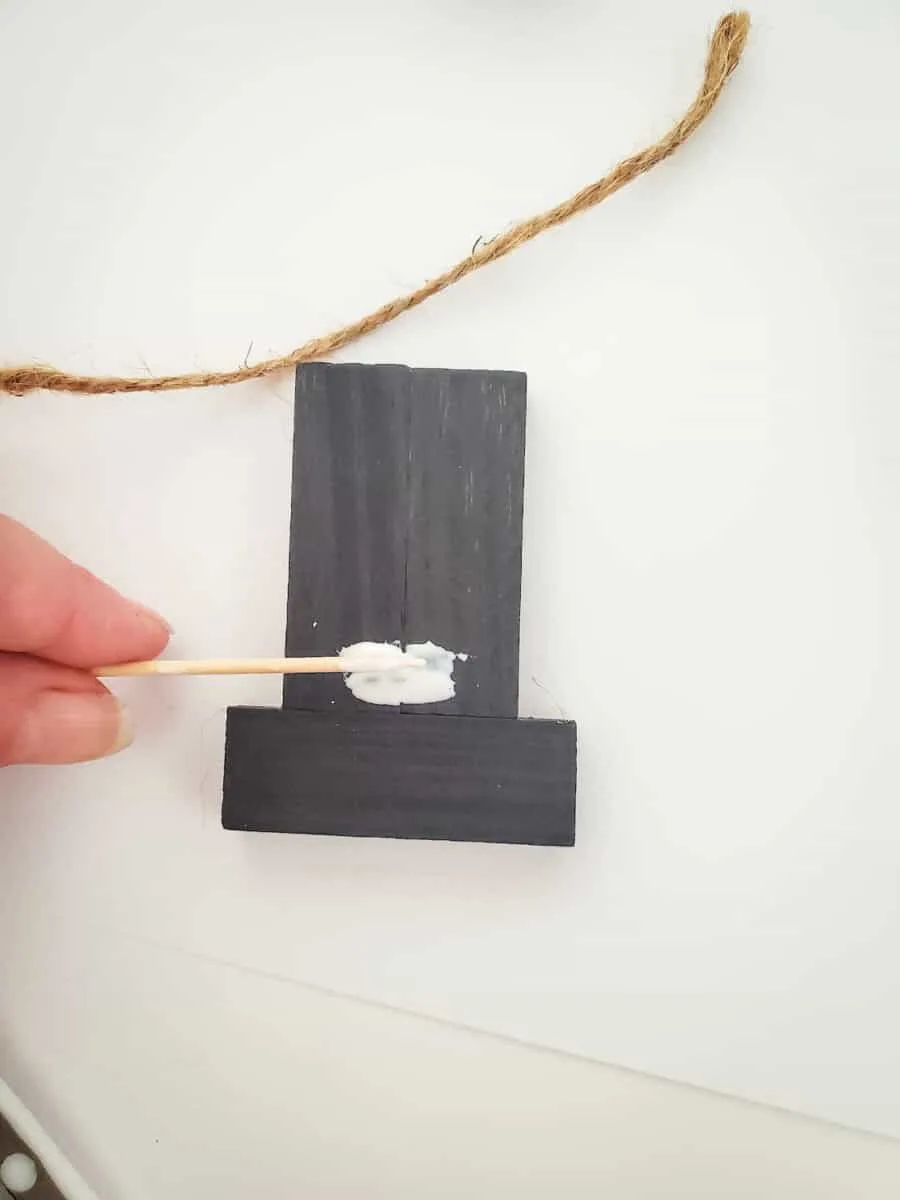 Place the end of one piece of twine on top of the glue. Wrap the twine around twice, securing the end in the same place where you started the piece of twine. This will now be the back of the hat. Hold the twine into the glue until it is secure.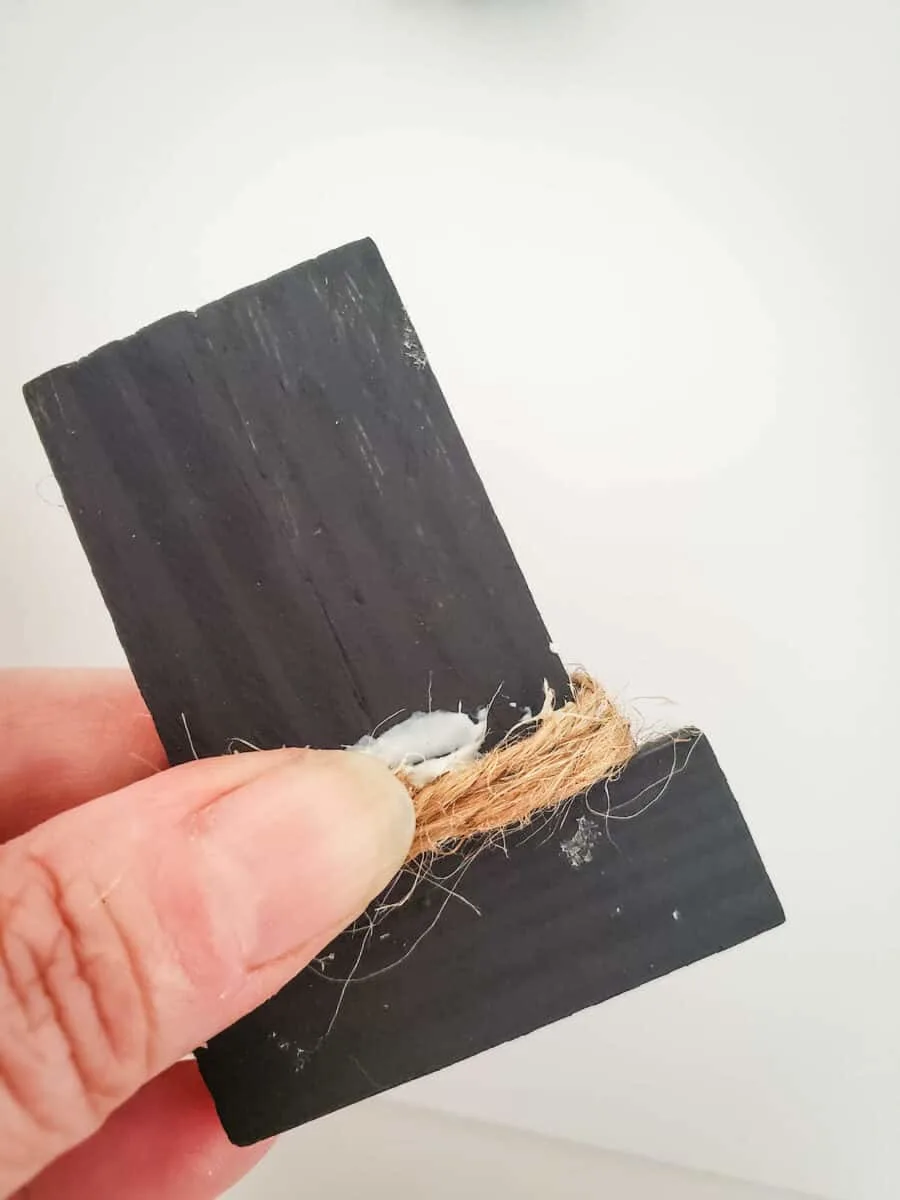 Step 5
Apply a bit of tacky craft glue (or the wood glue) with a toothpick near the twine wrapped brim. Place a small piece of pine branch into the glue and hold in place for about 30 seconds.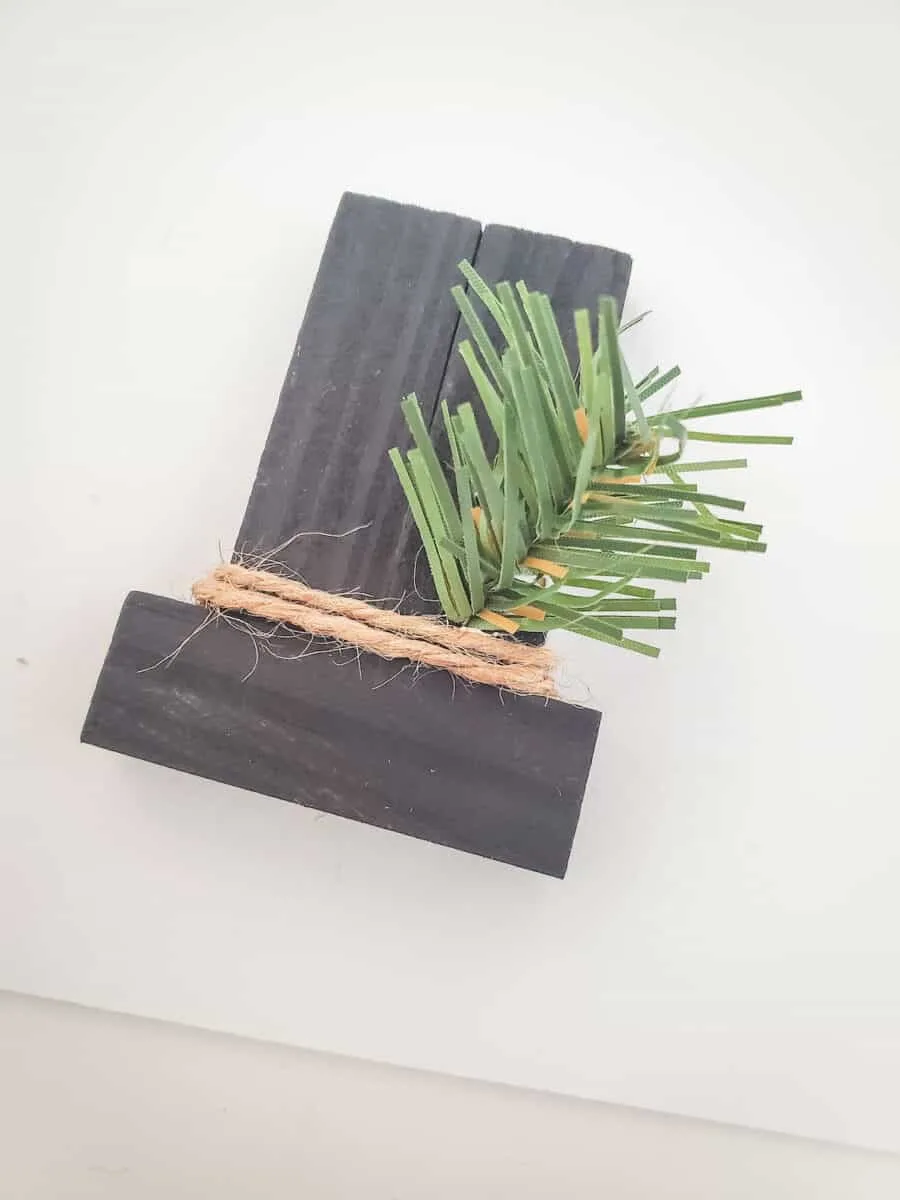 Step 6
Add a dab of glue with your toothpick to the top of the garland, by the twine. Press one red ball into the glue on top, and two on the bottom to form a holly berry. Allow to completely dry.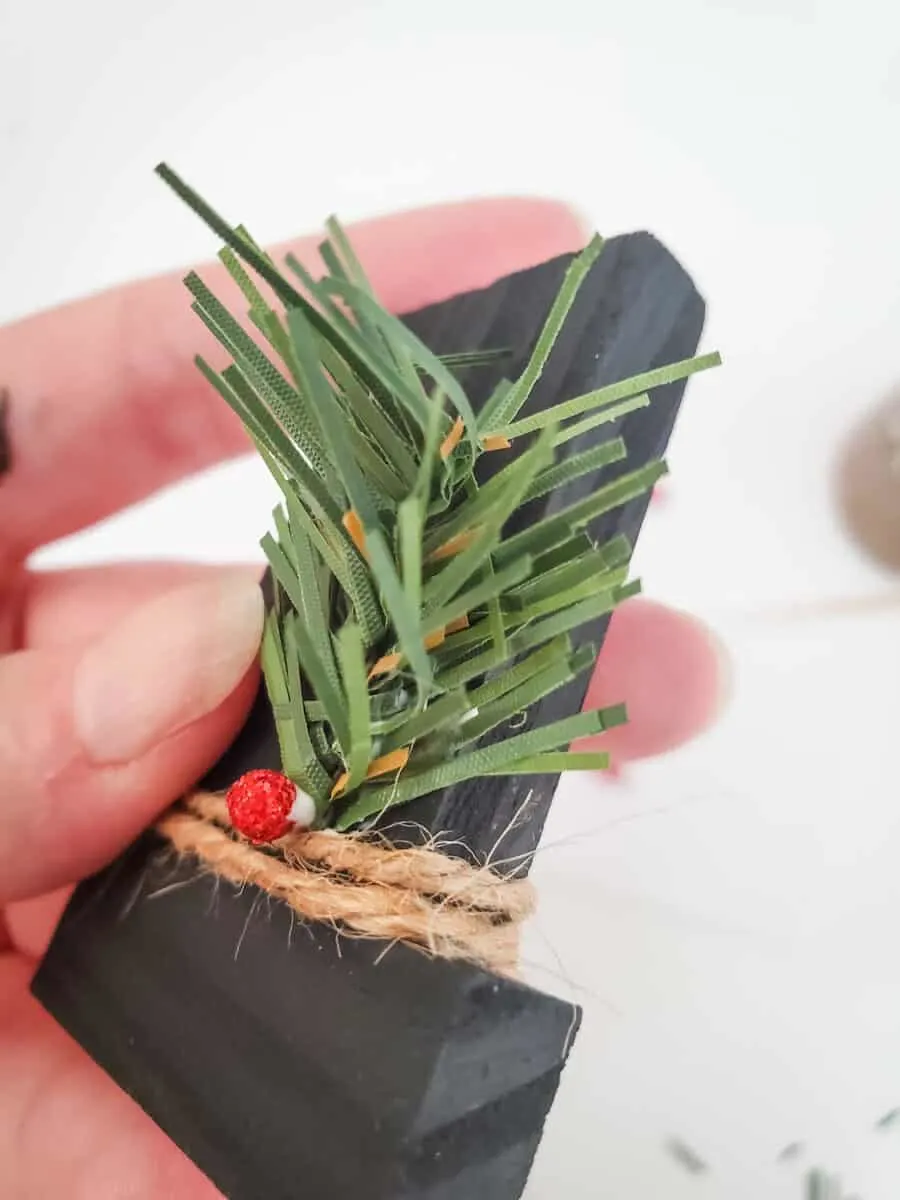 Step 7
Screw an eye hook into the center of the top of the hat. Just press firmly into the center of the wood pieces and twist until it is secure in the ornament.
Step 8
Tie the second piece of twine through the eye hook and knot the ends together to form the ornament hanger.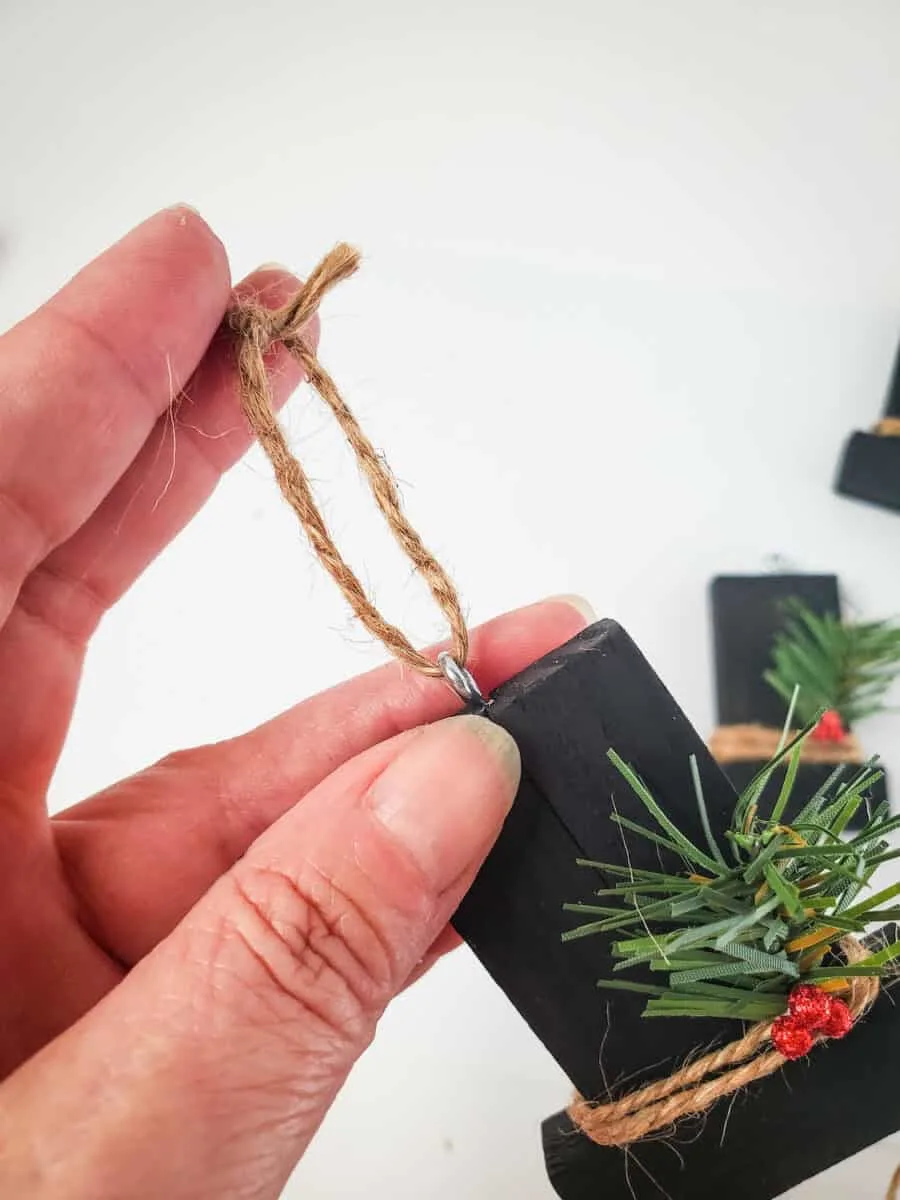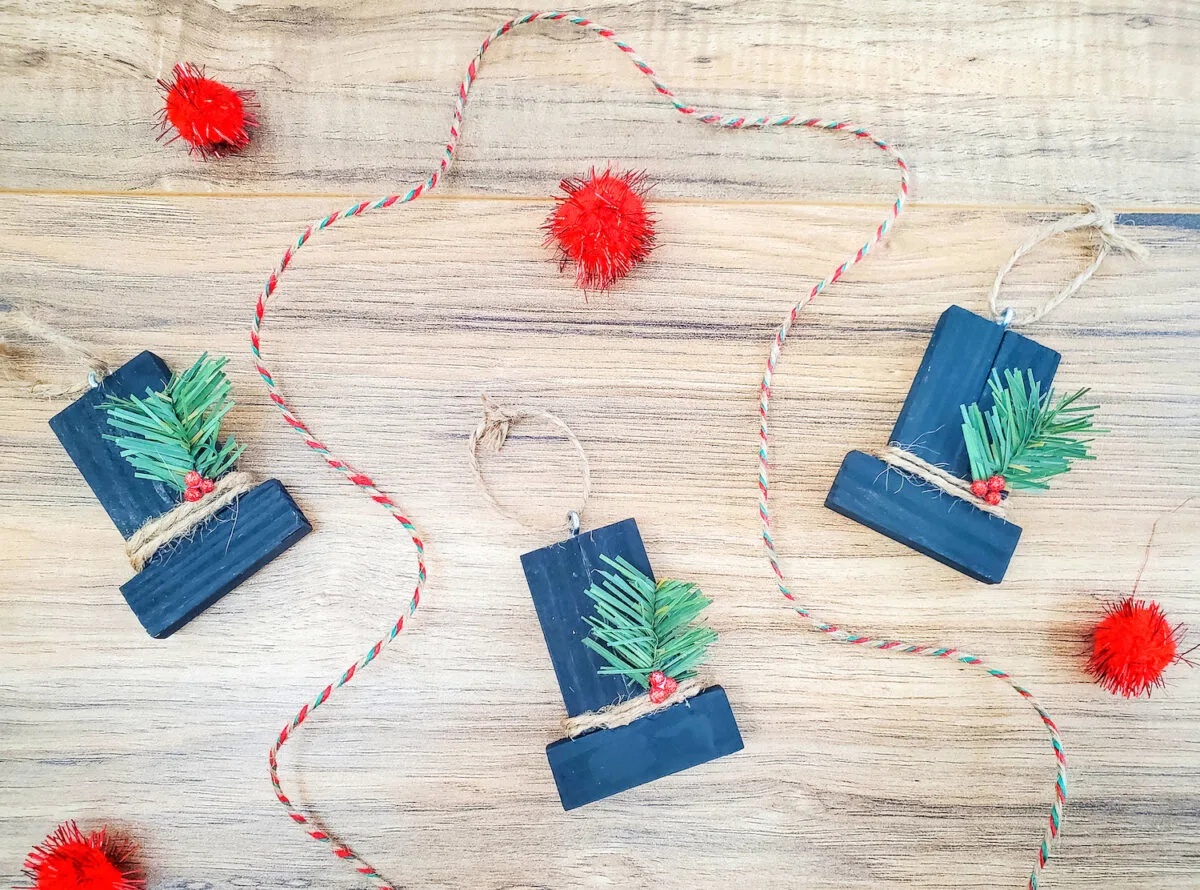 It's super easy to make snowman hat ornaments!
Would you like some more ornament ideas? Check out these cute no-sew mitten ornaments. Or my DIY wood house ornaments.
And my easy gnome ornaments are so cute! They are featured in the 20222 edition of Better Homes and Gardens' Holiday Crafts magazine!