Save money on home remodeling costs and stretch your renovation budget further with these smart ideas.
I bought my house just before the U.S. housing crisis began at the end of 2007. To be honest, I'm one of those people who probably shouldn't have been approved for the mortgage I got. The payments were eating me alive.
For a couple years I lived without TV, internet, phone, and even garbage service to keep my monthly costs down.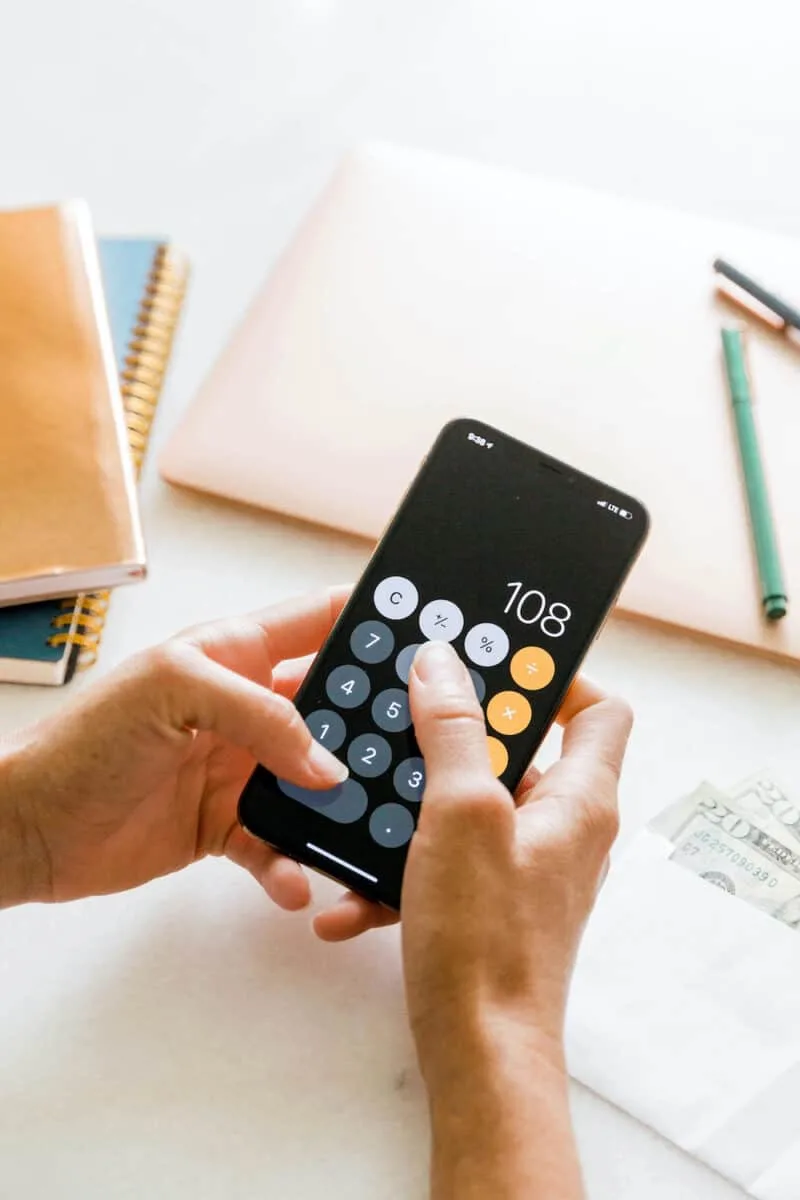 This left me with a lot of free time to do DIY projects around the house. I also spent a lot of time planning and researching ways to do the bigger projects that I was dreaming about, but couldn't afford yet.
The average cost of gutting a house and remodeling in 2021 can be between $19,000 – $73,000, according to HomeGuide.com. When I bought my house over a decade ago, it wasn't inexpensive then, either!
Which is why you need to keep these tips in mind to reduce the costs of home remodel projects.
How to Cut Remodeling Costs
1. Estimate Your Remodel Costs
You won't know what a good deal is – or when you are being overcharged – if you don't start with an estimate of the project that you are wanting to do.
Even if you're in the dreaming stages, it's smart to use a remodeling costs calculator. You can choose the type of project that you are thinking about (whether it is a bathroom remodel or new siding, for example) and get a rough estimate.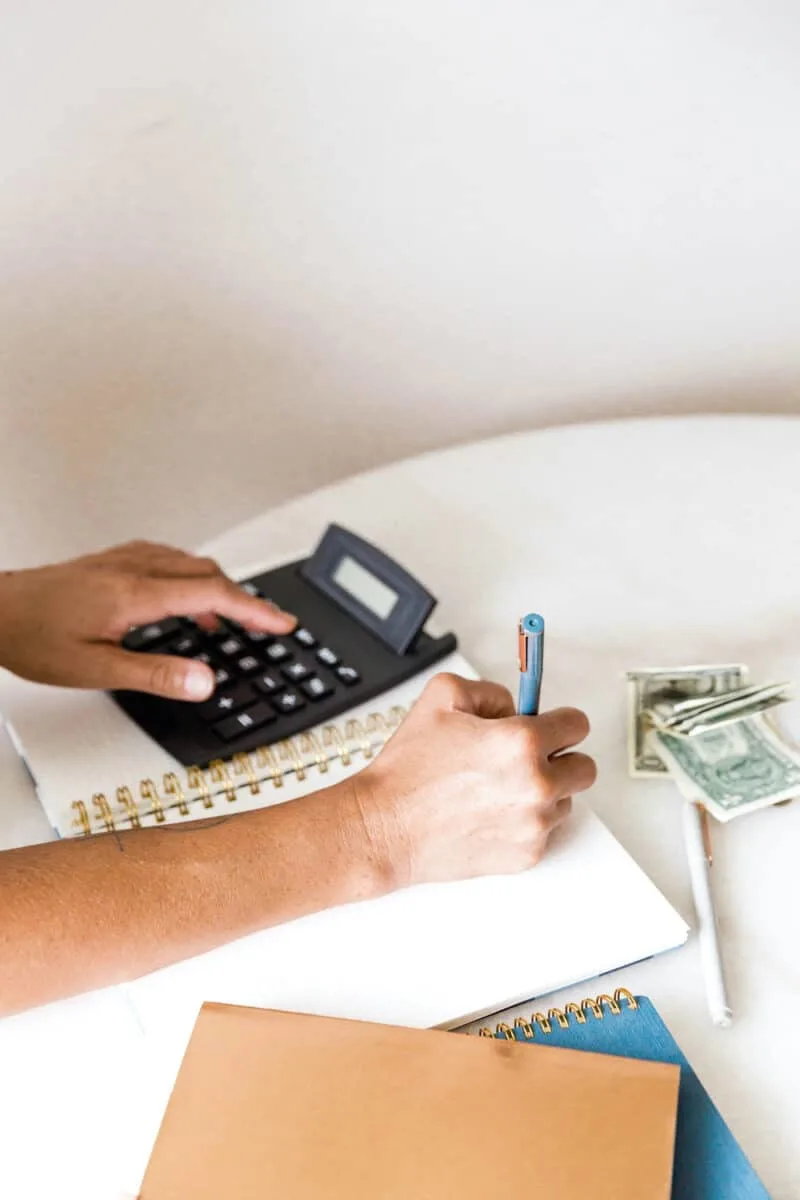 The prices for remodeling can vary widely, and will change depending on where you live. But it helps to get a ballpark figure of what to plan for.
You might be surprised that the cost is less than you anticipated. Or you might realize you need to start saving up for that big ticket item at home.
Either way, now you know what to expect.
2. Research
It is said that you either have a lot of time or a lot of money. And most people choose to invest with one. That might be the case with home remodeling costs.
If you want to reduce your budget, you're going to have to do cost comparisons, get cost estimates, and research the best contractors in your area.
You can spend time researching whether or not you can do a project. Spend time on Youtube seeing how other homeowners saved money on remodels. I spent a lot of time researching concrete alternatives for my patio makeover and found some inexpensive ideas I never knew about before.
Study what the average going rates are for professionals in your area. Research to see if you can get a home loan to pay for the remodel or if you need to pay for it another way.
If you want to save money, you can't get a whim to change your entire kitchen, call the first contractor you find, and sign on the dotted line. You just can't.
3. Do You Need a Remodel or Just an Upgrade?
Maybe you want new kitchen cabinets and think you need all new ones installed. Perhaps you can just have your existing cabinets repainted and save a lot of money.
I was once dreaming about a full kitchen remodel, but there was no way I could afford it. Instead, I managed to reuse my existing cabinets for just a few dollars, rather than the tens of thousands that kitchen remodels can cost.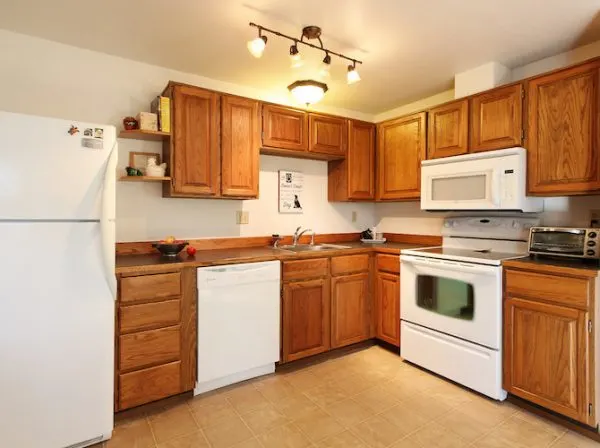 I used the same trick for my bathroom vanities. I refinished what I had, and swapped out the sink and faucet for a quick facelift.
In my low-budget closet makeover, I did buy some new pieces. But I also reused the existing shelf and bar.
Reusing what you already have isn't always the fanciest alternative. However, you could be really surprised at how much money you save without going through a major remodeling project.
4. Go Shopping!
Sometimes the best ways to save on upgrades and remodeling costs is to have an open mind and spend some time bargain shopping.
Some of my best finds have been the bargain bins at home stores. I've found paint colors I love for just a few dollars in the oops paint section.
I even found a swing for my backyard for just $10. What a score!!!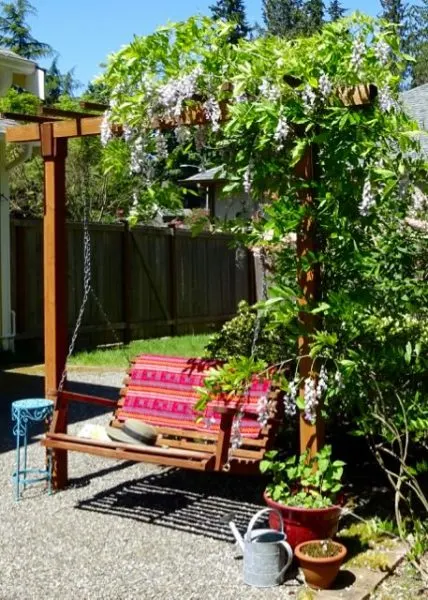 Always keep an eye out for items you can reuse at home. Even if you don't plan on certain projects, you might find a great deal (like a discontinued bathroom vanity) that makes financial sense to buy when you see it.
Thrift stores, garage sales and Habitat for Humanity stores are excellent places to find furniture, hardware, building supplies and tools that you need.
Frequent shopping in home centers also gives you an idea of the costs of appliances, lumber, paint, etc. That way you know if a contractor is charging you way more than necessary for supplies.
5. Rent Tools or Borrow
If you are DIYing a part of your remodel, then the cost of specialized tools can really increase the price. The good news is that you rarely need to buy a tool or piece of equipment brand new.
Renting tools from home improvement stores or hardware stores can save you money and reduce your need to store the equipment afterwards. Because you probably don't need to add one more thing to your organized garage.
Ask neighbors and friends if they have the tool or equipment you need. Perhaps you can borrow it.
There are even tool-lending libraries is some cities. Ask around and see if there is a community program where you live.
If you do need to buy a brand new tool or equipment, sell it afterwards to recoup some of your money if you won't need it again. Craigslist and Facebook Marketplace are good places to sell (and buy) used equipment.
6. Visit Home and Garden Shows
If there is a Home Show in your area, make plans to go. Home shows are great opportunities to see who's out there, and what kind of work they do. Many also offer special home show pricing.
You may also find new ideas and technology that you didn't know existed. I first talked with a Bath Fitter rep at a home show. I was surprised and what they could do to update my old bathtub surround and now I love my bathroom makeover.
7. Know Your Timeline
If you need a new bathroom installed before hosting family for Christmas, then you need to know how long the project will take. If you want to install a new roof before hurricane season, then you need to make sure the project is completed before June.
Figure out when you need your project done, and work backwards. After talking with contractors and getting an estimate of how long the project will take (or how long it will take you to do it), then you know when you need to start.
Needing a rush job will add a lot of money to your costs.
It's important to be kind to yourself when trying to do DIY renovation projects. Giving yourself enough time is just one of the ways to help reduce overwhelm with doing house projects.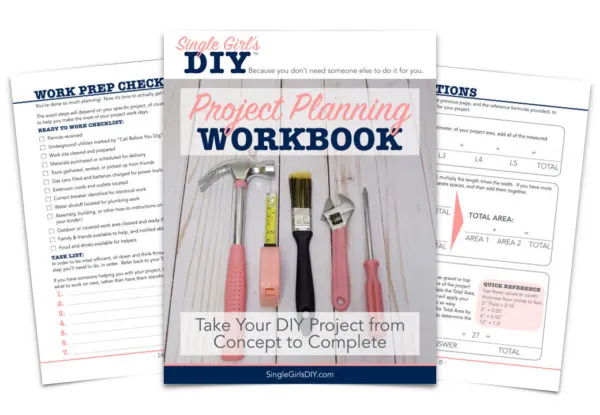 Using my Project Planning Workbook is a really helpful resource for keeping track of timelines, budget costs, to-do lists, and more.
8. Be Prepared for Cost Overruns
Don't expect your project to cost exactly what you are quoted at the beginning. Unless, of course, you have a fixed price contract.
Whether you are doing it yourself or hiring someone, it seems there are always more materials that you need. Or prices might go up. For instance, in 2020, homeowners who were remodeling suddenly faced an increase in lumber of around 30% or more.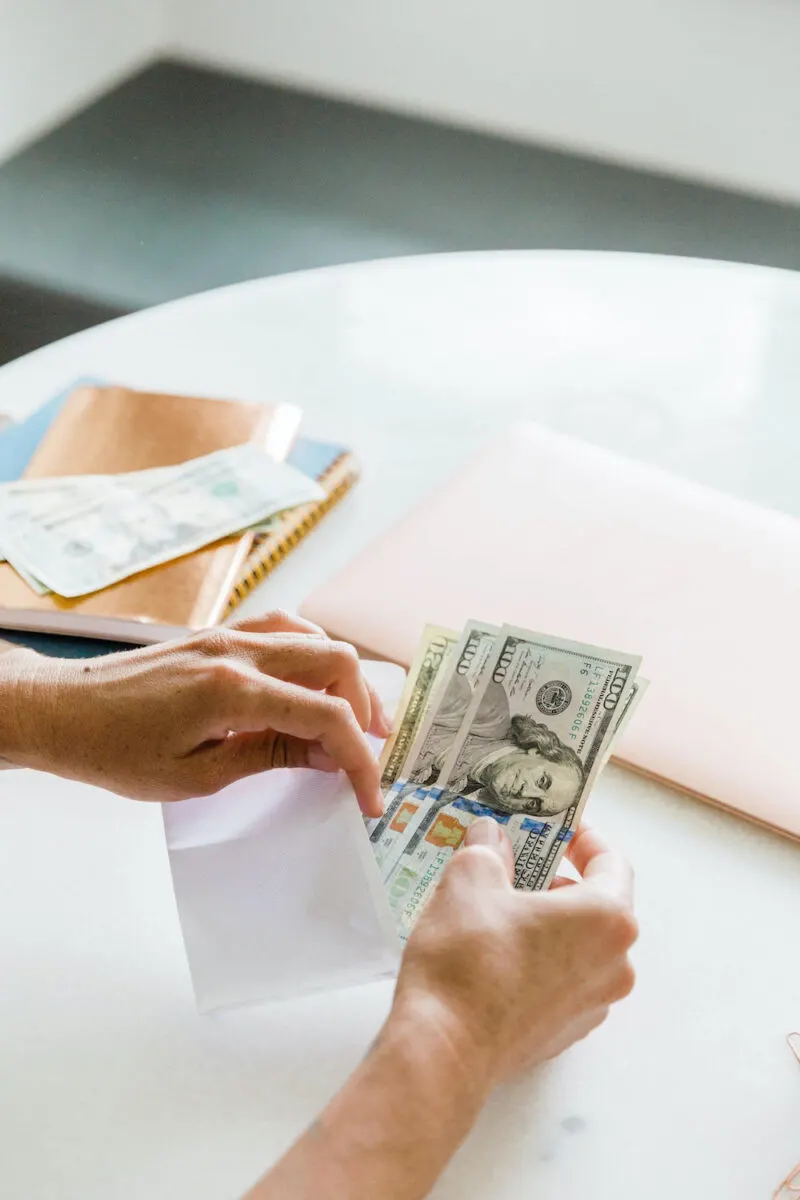 Add in a cushion to your budget of around 20% of the estimate. If you need it, you will have it. If you don't need it, think of it as extra savings to put towards your next project.
9. Schedule Work in the Off Season
Many projects are scheduled to be done in the Spring and Summer when weather is favorable. However, if you are willing to be flexible with when professionals work on your remodel, you could save money.
Contractors need work year round. If you can offer them a project when they would normally not be working, then you might be able to negotiate labor costs.
10. Get Help From Friends and Family
Tell everyone you know about your upcoming remodel plans! You never know who has hidden talents that you don't know about.
They may offer to share advice from professionals they (or their friends) have used. They could loan you tools. Or, if you are blessed, they could even help you out. I was fortunate to have friends help with my kitchen updates, and the building my porch steps.
11. Pay for Quality Work
Finding the lowest bidder is not always going to save you money. If work has to be redone, their cheap estimate will actually end up costing you more in the long run.
If you are hiring out professionals, check their references. Call people who are their references. Don't just read a couple sentence review on a website page.
Having a professional who knows what they are doing, can do it well, and can do it on time will be invaluable. And is worth paying a little more.
12. Get Quality Materials
Yes, paying for upgraded materials will add to your budget. In the long run, though, it will save you money with remodeling and construction costs.
Saving money by using inferior supplies will only give you a bigger bill later.
I know someone who built their own storage shed in their backyard. They didn't want to spend a lot on lumber, so they chose the cheapest supplies. After a rainstorm, they realized that the wood wasn't pressure treated and would not stand up to the outdoor elements because it started warping within weeks of putting it up.
He had to rip down the entire shed and buy all new lumber to rebuild it. A waste of money and time and effort that could have been prevented.
13. Check Your Building Codes and Permits
Are you doing a DIY project? Then it is very important to check your local building codes and pay for any permits you need.
You might think that you can get away with installing a bathroom in your basement without a permit. Or doing an addition to your home in the backyard without pulling building permits. And you might.
But if you sell your house and you don't have proper permits for some items, it can hurt your home value. What you thought would be a good return on investment won't be.
Insurance might not cover damage or repairs to un-permitted renovations and additions in your home, either. Which will cost a lot of money in the long run.
14. Work in Small Sections
Not everything has to be done at once. Most of the time renovations are done room by room.
That's okay!
Or maybe you can only do part of a room, such as installing a new shower and waiting until next year to install a new vanity.
Don't assume that everything always has to be done all at once.
15. Always Get a Signed Contract
If you are hiring out any work, get a signed contract. In the contract, have explicit details of when the project is expected to be done, what the cost of materials will be, who will be doing the work, and what the procedures are for paying for cost overruns and additional labor. A fixed price contact might be higher in price, but you wouldn't be responsible for additional labor costs or materials other than what is quoted for your price.
Other contracts will have you paying for materials and labor as needed above the original quote, but might be less expensive if you don't need additional materials or labor. Be sure to have payment details in the contract as to when money is owed, and the percentage of completion of the project before you make the next payment.