Have you seen pictures of spotless garages, with white painted floors and fancy organizing systems that cost thousands of dollars? Yeah, that's not how I organize my garage! I've got muddy shovels, lots of power tools and Christmas decorations that all need to live in the same place.
I'm sharing my own tips for how to organize your garage. These are the best ideas for a garage that you actually use, not one in a model home! It just takes 5 steps to declutter and organize your tools and supplies that you store.
These pictures of my own garage, and my friend's garages, will give you some ideas of how to finally get your garage organized!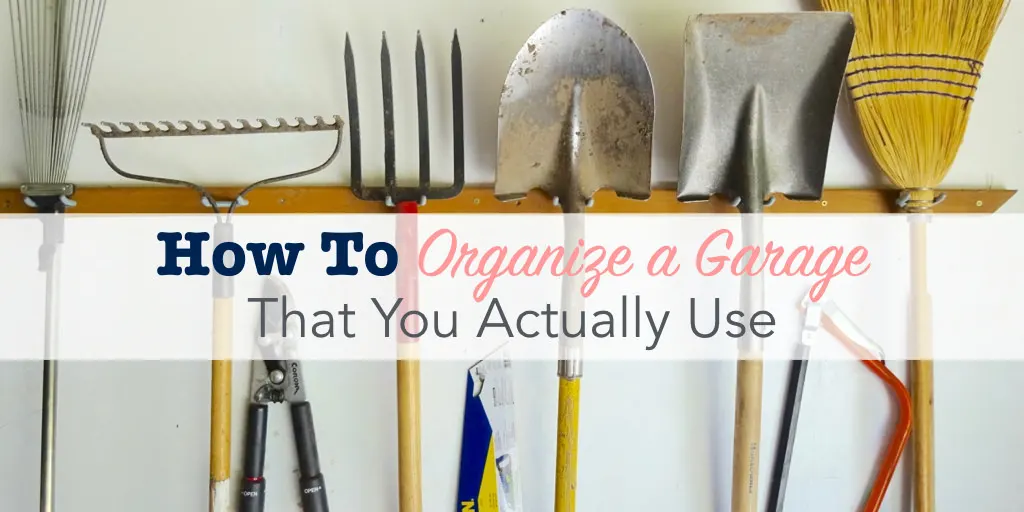 If your garage is a complete mess, you may be overwhelmed thinking, "How am I going to organize my garage?!?" If that's the case, plan to set aside a full weekend to tackle the project.
Get yourself in the mindset that this will be what you will spend your time doing for the chosen weekend. Make a point not to let yourself get distracted, or discouraged. You'll get through it, and feel great when it's done.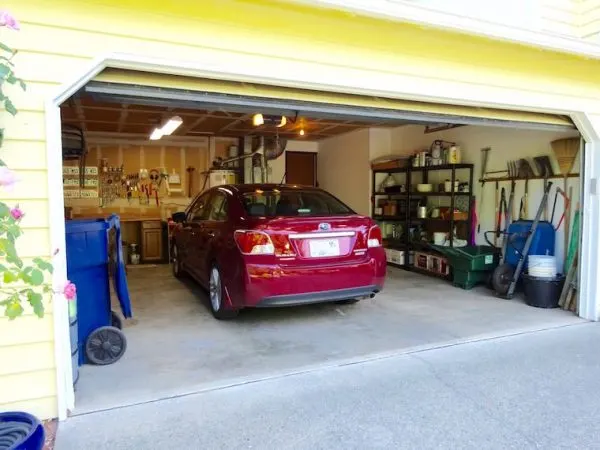 These tips will work for a small garage or a large garage. It doesn't matter what size of a garage you have, you still want to use the same ideas.
1. Create Garage Organization Zones
Consider how you have used your garage in the past. Do you tend to do specific tasks in certain areas? For example, do you find yourself doing gardening projects by the door because it's closer to the yard? Or storing your lawn mower and garden tools there? Do you use power tools and a work bench closer to the home where you can go inside quickly?
It's okay to have certain areas of your garage set aside as zones for certain tasks. You do not need the entire garage to store everything you have in an uncluttered fashion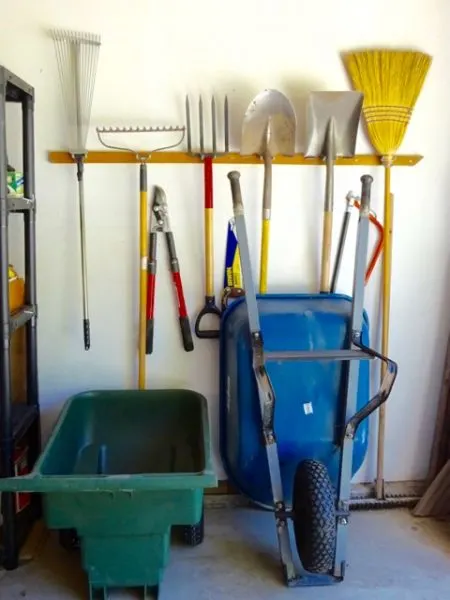 Some common garage organization zones can include:
Gardening tools
Power tools
Workbench
Wood working area
Food storage
Toys
Mudroom Area (These pre-built mudroom lockers are great for instant organization)
If you try to tackle the whole space at once, you will feel overwhelmed. Choose one area to start with. Once you have got that zone cleared out and reorganized, then you can start on another area.
By finishing one section at a time, you'll feel a sense of accomplishment that will help to keep you motivated to do more.
2. Clear Out the Space
Before you can organize a section, you will need to completely clear it out. And I do mean completely remove everything!
You cannot look at a space and think of a fresh start if it is not empty so that you can see how much space you have.
Start by moving everything out of the area. It is best if you can move all of the stuff outside into the driveway or the yard to get it out of the way while you work.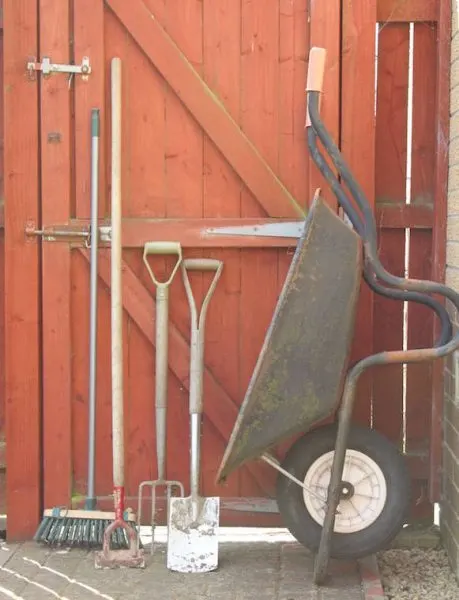 This is another reason why it's a good idea to work in sections. If you pull everything out of the garage at once, you may not be able to get it all put away again that same day. Especially if there was an unexpected rain shower or severe heat. And you probably don't want to leave things outside overnight.
When you work in sections, you will have logical stopping points that won't have you doing more than you should in a day.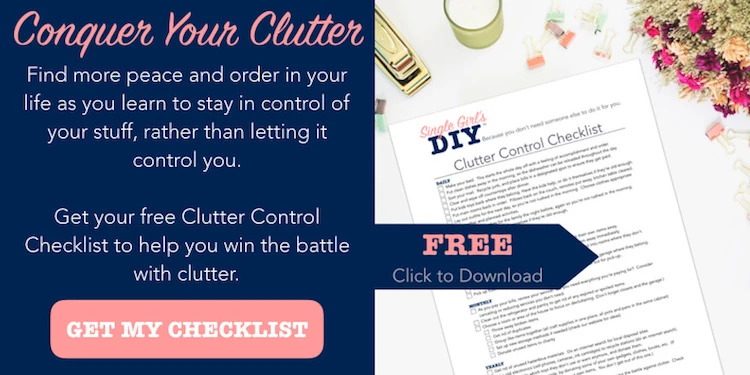 3. Garage Sorting Ideas
As you move things into the driveway and yard, start sorting them into categories. Especially if you didn't already have garage zones before.
Put all the garden tools in one spot, and bikes and toys in another. All of the power tools can go in one corner of the yard, while winter items could go in another.
Trash should go straight into the garbage can, so make sure you have one nearby with plenty of strong garbage bags to handle the heavier items.
Be sure to make a donate or sell pile. Because some of the stuff that you want to get rid of could help someone else out. Or make you money to pay for the organization systems you want to install in your garage. Selling items on eBay, Facebook Marketplace or Craigslist can help you make some money.
Don't feel that you need to drive the stuff to a donation center. Many of them will come to your home for a complimentary pick up.
Helpful Tip: If you know that you are getting rid of a lot of items, schedule a pick up time in advance of the day when you organize. Many donation centers only pick up on certain days of the week in certain areas. You don't want to have a huge pile to donate, and then have to move it back into the garage for another week before they come.
Here's some helpful tips on how to donate your old snow blower, which can be among the most challenging items to donate.
4. Add Smart Storage Systems
You probably already have enough space to organize your garage. Even if you don't think so! What you really need are the best storage ideas to maximize the space you have.
After all, you must work with the space you have, even if it's a small garage. You can't make more unless you move. It's that simple!
Investing in a few of these brilliant storage systems for the garage is cheaper than moving!
I use lots of different types of storage at home. Below are pictures from my own garage after organizing.
Garage Shelving
Shelves are perhaps the easiest way to organize your garage quickly. They are simple to put together. Once you put them against a wall, you immediately have tripled or quadrupled your storage space with vertical storage.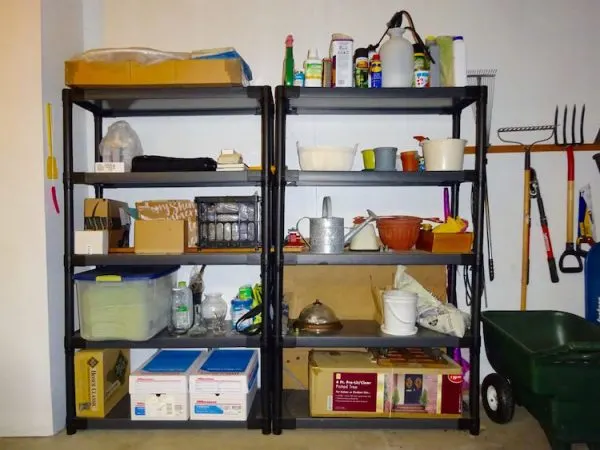 I really love using shelves for my gardening supplies, such as flower pots, soil, gardening tools, etc.
Small hand tools are stored on the shelving. Along with plastic totes full of rags, boxes of home improvement items, etc.
Potentially hazardous items, such as insecticides and cleaning supplies go on the top shelf to avoid exposure to kids and pets.
There are different types of shelves you can buy. I like these inexpensive heavy-duty plastic shelves that are made to stand up to lots of weight. Plus, they have solid, flat shelves so that nothing falls through.
I also love stainless steel shelving. They have a prettier, more modern look. However, they don't offer a solid flat surface. So it depends on what you are storing. If you have a lot of little things, they would fall through. Or, get these handy shelf liners made specifically for wire metal rack shelves.
I've used both in my garages. They both work well.
You might also like to check out the custom-built tool storage shelves that my friend at The Handyman's Daughter built.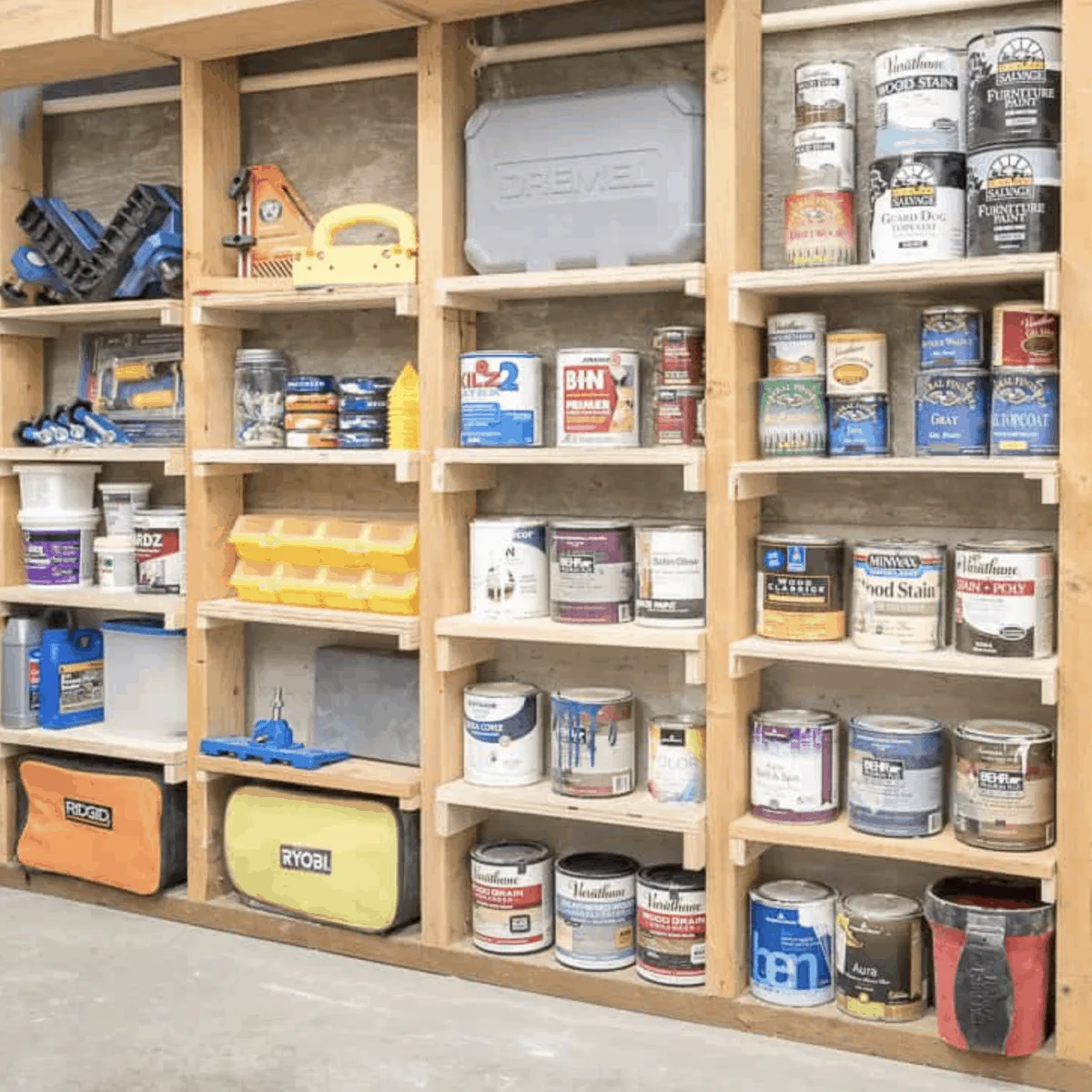 Peg Board to Organize Tools in the Garage
Peg board is inexpensive and super easy to customize for storage! You literally have a blank slate to figure out how to store all of your hand tools and small items that probably won't fit on shelves. (P.S. Be sure to check out our guide of power tools for women.)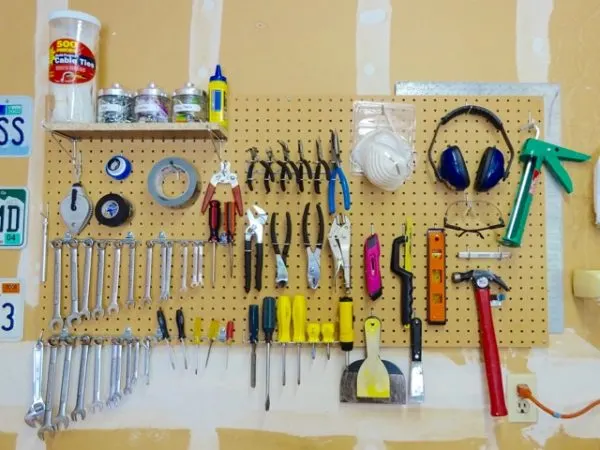 You might be familiar with old-school peg board made with MDF (that you can see in my garage picture), which is a very strong engineered wood. However, there are a lot of modern-looking peg boards made of stainless steel that I love! I want to add these new metal peg boards to my garage!
There are plenty of peg board accessories to make arranging tools easier. I suggest you get a multi-pack (this inexpensive 140-piece assortment kit has bins, hooks and locks) and then start playing with them and see how you want to store items.
Even if you don't want to install a whole wall of pegboard, these pegboard strips are great. Especially for storing garden tools such as rakes, shovels, etc. Just add two hooks into the strip and hang the tool in between, slightly overlapping on the hooks.
The reason that peg board is a tool-lover's dream is because you can constantly change the way you store items simply by moving the wooden pegs or metal hooks.
Helpful Hint: Once you find a method that works for you, you can outline each tool with a sharpie or paint pen on the peg board. That way, if you are using many tools at once, you know exactly where to put it back!
Magnetic Bar for Tools
Thanks to The Kitchen Garten for letting me in on this little secret. Using a magnetic strip to hang tools is like using a peg board in some ways. Since most tools are made with metal, it's easy to hang them up on a magnetic tool holder strip that you mount in your garage.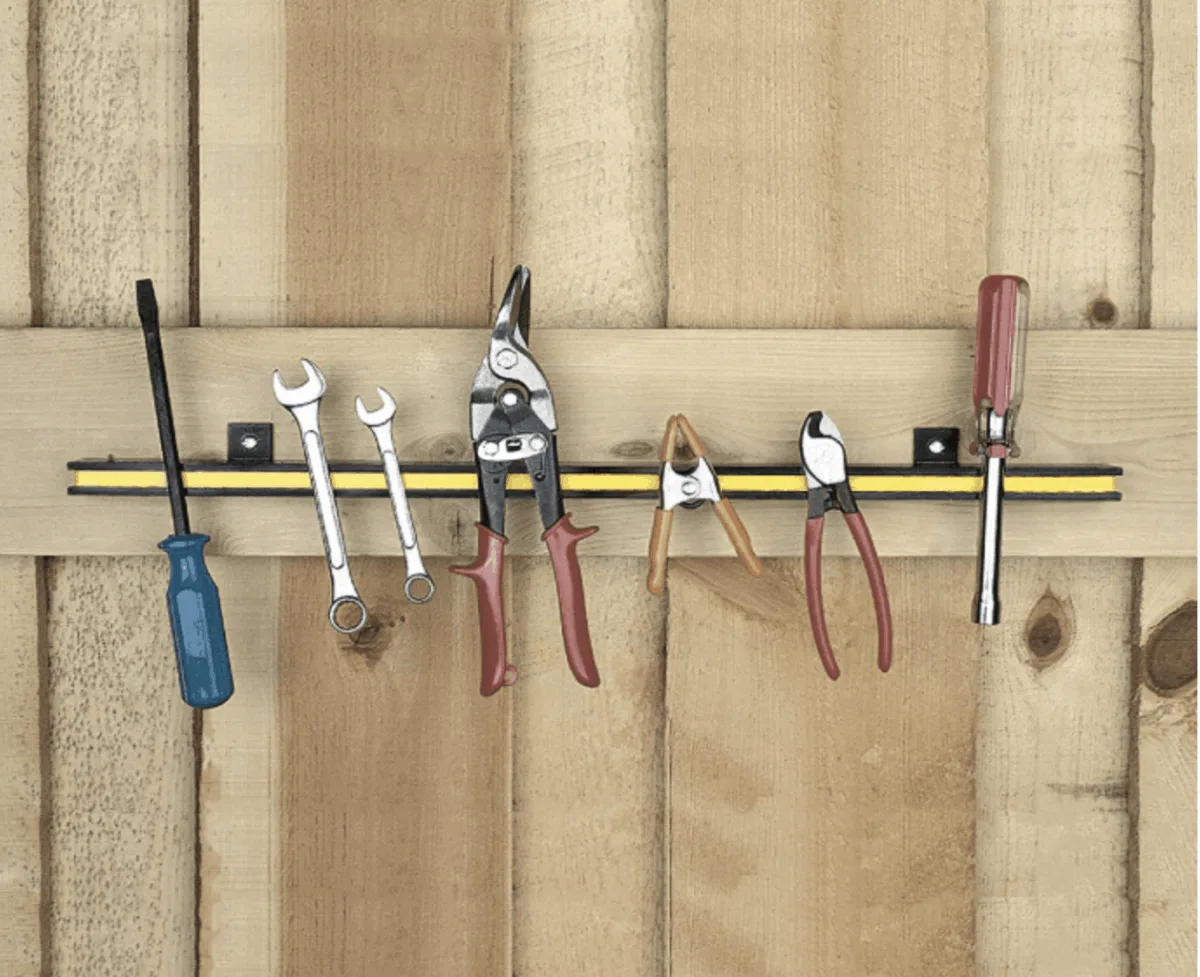 That way, you can see what you have. And you can constantly change what is stored on the magnet.
Heavy Duty Hooks
You can never have enough heavy duty hooks in the garage. You can put them on the wall or on the ceiling, which will really help you to maximize space!
Some brilliant ideas for using hooks in your garage include:
Hanging bikes from the ceiling
Storing ladder against the wall
Hanging outdoor furniture when it's out of season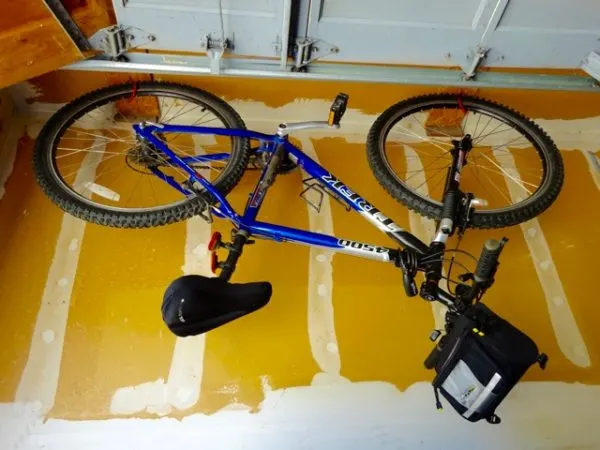 I bought some inexpensive U-hooks to use to store some garden tools. I just screwed them into a scrap piece of lumber. Then I screwed the lumber into a couple studs in the garage wall.
Some of the garden tools that are best for storing this way are:
Shovel
Hoe
Rake
Pitch fork
Spade
Pruning Sheers
Hand Saws
Broom
I believe this is the best way to store garden tools in the garage. They are so easy to grab off of the wall when you need to use them. There's no excuse for not being able to sweep or rake!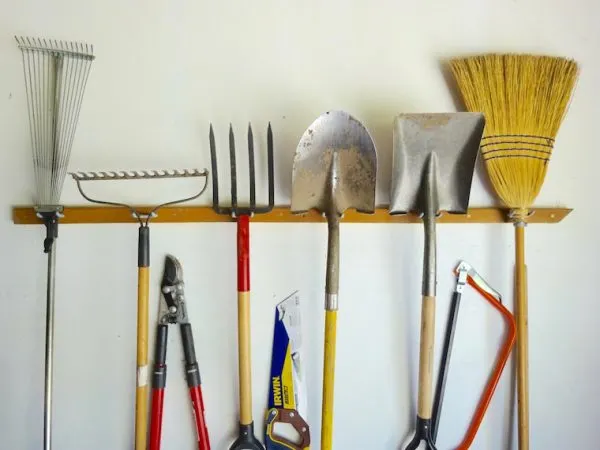 Plastic Tubs and Storage Bins
Large plastic storage totes are great for things like Christmas decorations, and seasonal outdoor items. They protect the items and keep them clean. Plus, it's easier to store lots of small items in one big plastic bin.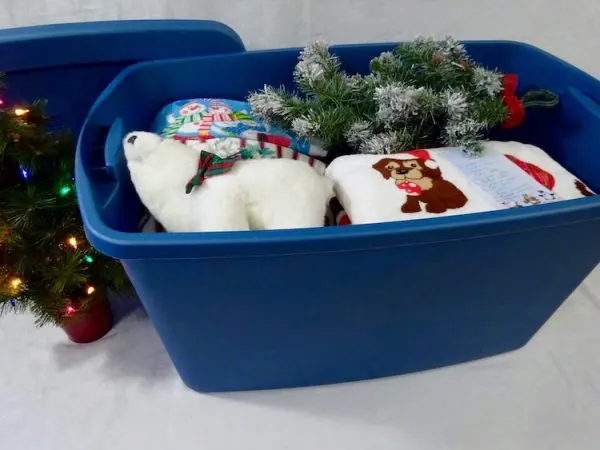 Plastic totes come in a variety of shapes and sizes. Other than storing seasonal decor, I highly suggest you buy industrial strength plastic bins. The ones designed for home use just can't stand up to varying temperatures in a garage, going from very hot to very cold throughout the year.
This 40-gallon wheeled plastic tote is my favorite. It's sturdy to hold up to garage use. It holds A LOT of stuff! Plus, you can wheel it out of the garage to go through the items or empty it. Which is especially great for storing toys, Christmas lights, cleaning supplies, etc.
Reuse Old Cabinets
Old cabinets are surprisingly a really great way to organize your garage. I've repurposed old cabinets from my kitchen remodel into a work table and storage system.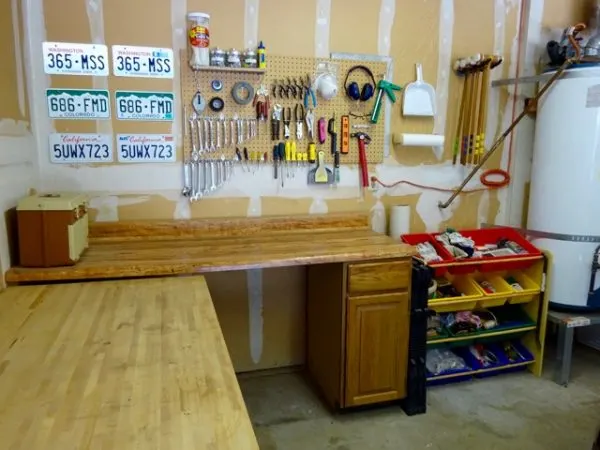 We've turned old cabinets into a work area with lots of storage underneath. It didn't cost anything!
You can get old cabinets at really reasonable prices from salvage shops. Try your local Habitat for Humanity ReStore.
5. Keep it Clutter Free
This part is the hardest. But it is totally doable!
Once you get your garage organized in a way that works, take pictures of the space and how you arranged things. This will give you a reference of how to put them back.
You can also add labels to drawers, bins and even above tool racks to remind you of where things go. An inexpensive label maker can save you a lot of stress in trying to keep your garage organized!
The garage is just one part of the home to get organized for stress-free living. Be sure to download your free copy of our Clutter Control Checklist, to help you stay organized throughout your home. And visit my other organization tips to declutter your home today.
Pin This to remember these ideas!