As you know, I do love my DIY projects around the home. But when it came time to figure out how to update my bathtub surround from outdated blue faux marble, I decided to hire a pro.
Are you wondering what is the best company to update a tub surround? Here's my review of Bath Fitter, with before and after pictures, so you can decide whether it was worth paying for professionals!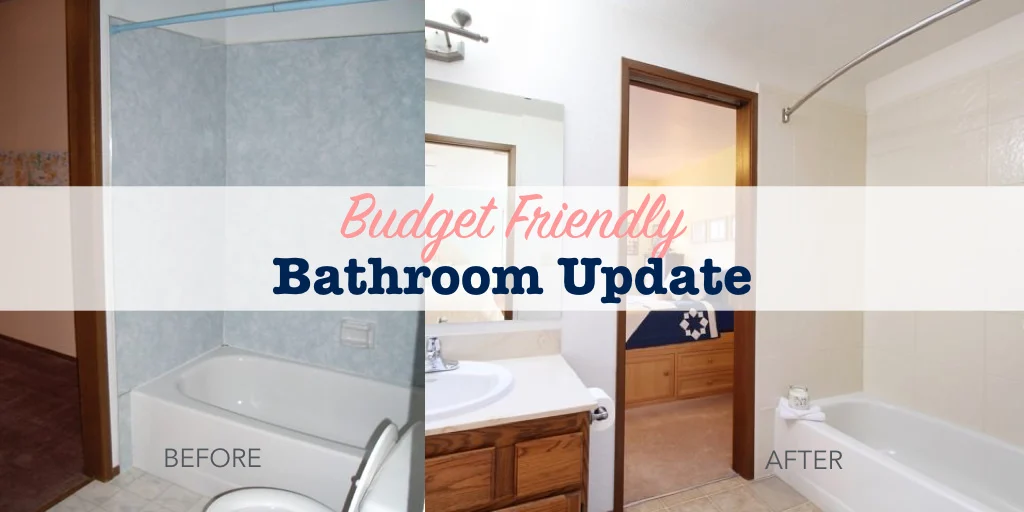 Here's what the old bathroom used to look like: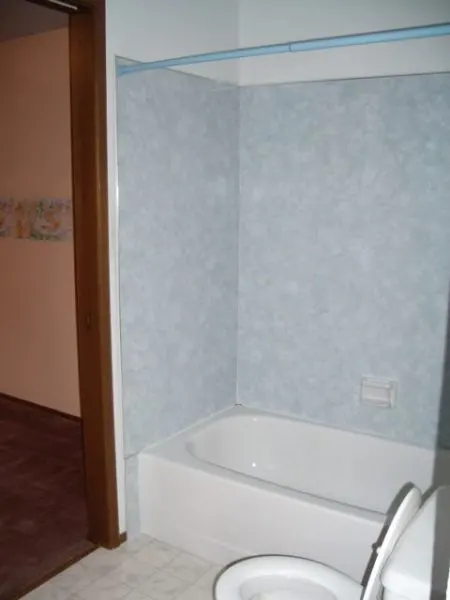 Pretty bad, right? It even had a blue shower curtain rod and blue vinyl floor.
As I've noted in other Home Tour posts, I had all the flooring in the house replaced before I moved in. Then I dreamed and saved for a while to update the rest of the space.
I shopped around a bit to decide how I wanted to update the tub surround. Like always, I needed a budget friendly update option, because I couldn't afford a full remodel.
After visiting booths at a home show, and visiting their showroom, I decided to go with Bath Fitter.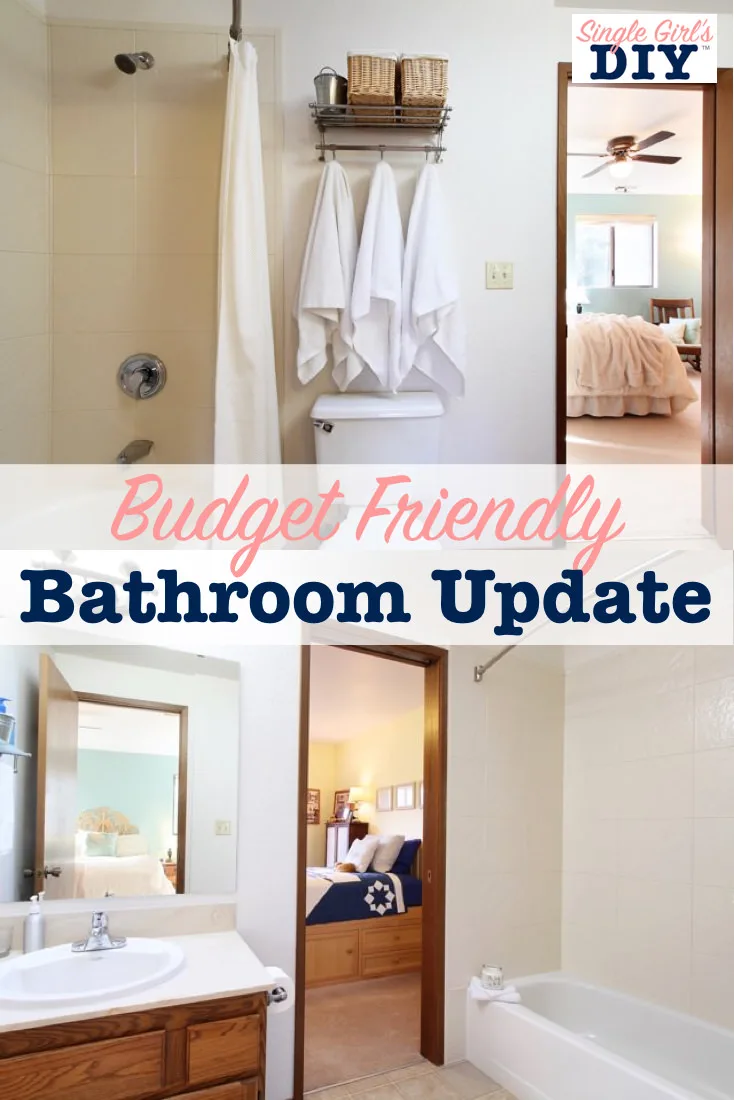 BUDGET FRIENDLY BATHROOM UPDATE
Bath Fitter can install a new tub right over your old one. No demolition required. This is often less expensive than a full remodel.
In my case, the tub was fine. I just had the walls replaced. To do this, they did remove the old walls, and made sure my plumbing was in good shape.
The Bath Fitter installer had my old shower surround out in a flash. (I do not miss that blue marble.)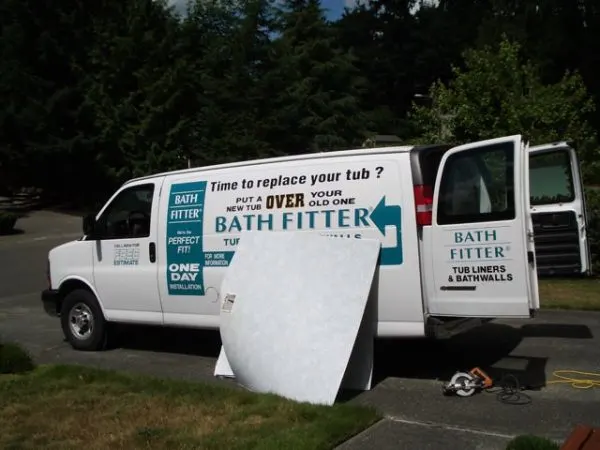 Walls
With the old surround out of the way, the installer updated some of the plumbing inside the wall, to ensure years of leak-free bathing.
After patching the hole he made, he prepped the walls. And then, up went the new surround. Easy as 1, 2, 3.
The surround is all one piece, so there are no corner joints. The only seam is where the walls meet the tub. This gets filled with a color-matched caulk.
Shower Fixtures
Next came the new fixtures. What a difference, right?
He even replaced the chipped ring and missing drain plug in the tub for me, no extra charge.
I had a selection of fixtures and finishes to choose from in the showroom. To keep within my budget, I went with the less expensive options.
Curtain Rod
Finally, they installed a new curved shower curtain rod. If you don't have one of these, you don't know what you're missing. It adds just a little more room in the shower, but that little bit feels like a lot.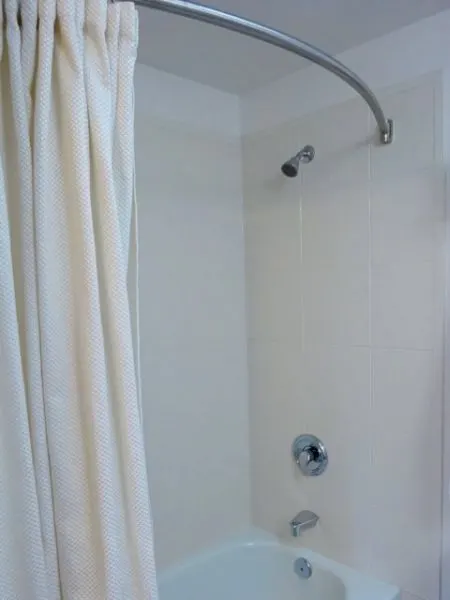 Installing a curved curtain rod is a simple DIY project, if you want a quick bathroom update. (You'll be surprised at how affordable they are and they give you a big bang for your buck with the amount of space you gain!) I actually hung one in my shower before I could afford the Bath Fitter update.
Just that small change, with a pretty shower curtain, went a long way in making the room feel more fresh and modern. (A pretty shower curtain can hide an ugly tub most of the time.)
Now I don't have to hide my ugly tub. I love the simple, clean look of the new surround.
A Clean and Modern Bathroom
During the planning process, I was sure I wanted to go with a classic white surround. But in the Bath Fitter showroom, I really liked the look of the almond walls with the white tub.
By choosing a slightly different color for the walls, I didn't have to worry about a perfect color match with the tub. The almond color also coordinates nicely with my beige floors and wood cabinets and trim.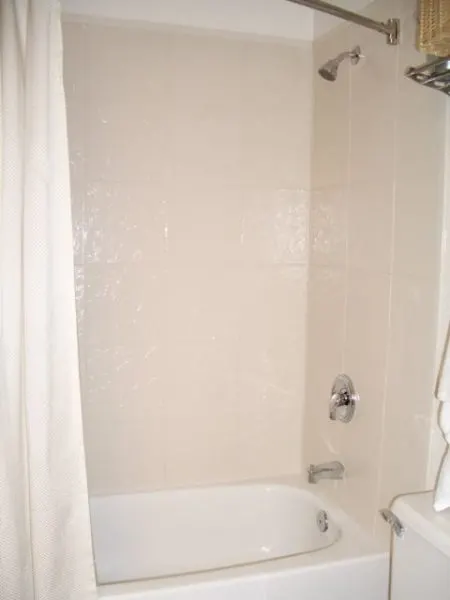 An off white shower curtain and bath mat tie it all together.
I'm very happy with the result.
How Much Did Bath Fitter Cost?
My total cost, with the style of fixtures I chose, was $2,737.50.
This included:
Removal of the old walls
Updating the plumbing
Installation of new shower surround
Bath fixtures
Be sure to check out the other DIY bathroom updates I did in the rest of the bathroom to make it look modern. You'll be amazed at what a difference a few simple updates can make.
SaveSave
SaveSave