Having admitted to hiring a pro to replace my bathtub surround, I wanted to show you all the other DIY updates I did in my bathroom.
By swapping out a few outdated items with more modern and functional pieces, replacing the old light fixture, and adding extra storage, this tiny bathroom has become one hard working space.
DIY BATHROOM MAKEOVER IDEAS FOR AN INSTANT UPGRADE
Have an outdated bathroom, but can't afford a full remodel? Here are a few thrifty DIY updates I made in my bathroom to make the space more modern, and more functional.
Replace the Towel Bar
If you have just one towel bar above your toilet (or on the wall), you're just wasting space!
Add a lot of extra storage space over the toilet by replacing the single towel bar with an over-the-toilet shelf. These shelving systems sometimes have cabinets built in, open shelves, or hooks. They are also known as etagere (fancy word for behind-the-toilet-shelf-system).
Instead of a shelf, I opted to add a combination shelf and towel rack that I could attach to the wall. I wanted to be able to hang lots of towels from the storage system, and this one was the best choice for me.
Wicker baskets and a galvanized bucket on the shelf hold things like extra soap and shampoo. And now more than one person can hang up their towel to dry.
You could also use my DIY Wicker Basket (made out of a Dollar Tree sun hat) to store washcloths or hand towels.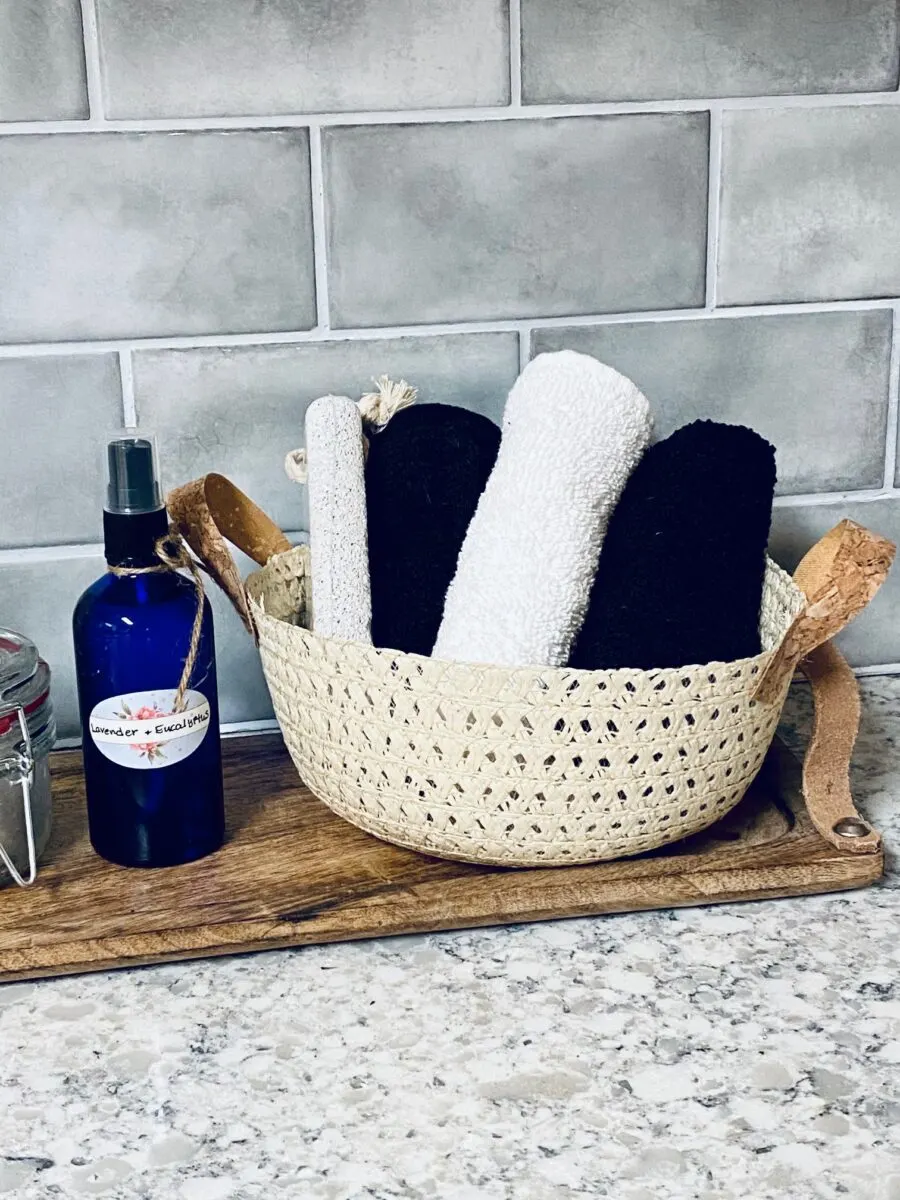 Get Rid of the Ugly Medicine Cabinet
The medicine cabinet used to stick out from the wall several inches. In such a small bathroom, I always felt crowded when I was using the sink.
I replaced the medicine cabinet and towel hook with a sleek glass and nickle shelf, with a built in towel bar.
The shelf is a handy spot for things I use every day, like face wash, toner, and lotion. Glass apothecary jars can make even cotton swabs look pretty, while keeping them easy to access.
Check out my easy DIY Makeup Brush Holder Ideas for pretty ways to store your cosmetic brushes on the countertop.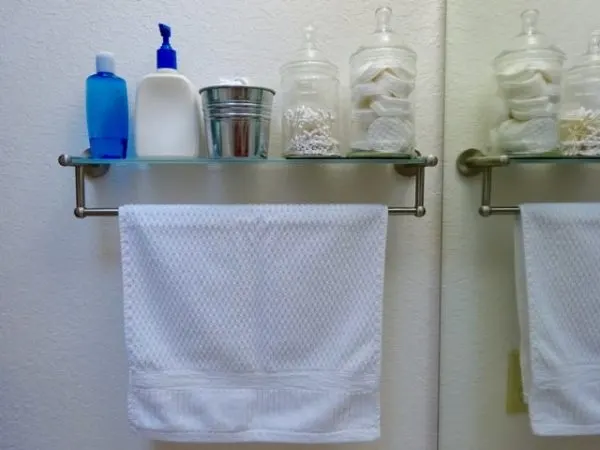 After these photos, I added a DIY hair dryer wall mount next to my glass shelf to keep the appliance off of my counter tops.
Replace the Fixtures
For relatively inexpensive updates that make a big impact, swap out your fixtures. I replaced the sink and faucet. I also installed a new light fixture.
Replacing your old shower curtain rod with a curved curtain rod also makes a big difference, for a tiny price tag.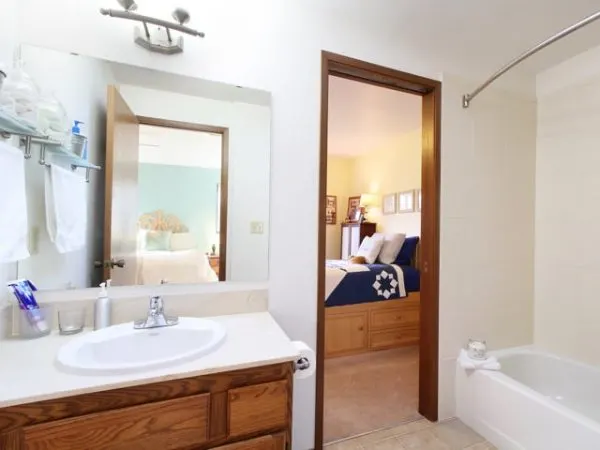 Add Storage Behind the Door
The back of your bathroom door is rarely seen. Which is why it's a brilliant idea to add storage to that prime real estate!
Adding more storage to the door keeps the items stored there out of sight, cutting down on the visual clutter in the space.
More Storage
One thing a bathroom never seems to have enough of is storage space. In addition to my new shelves, I made more efficient use of the vanity space.
Small baskets help to keep items organized in the small drawers. This allows me to put more things in there, without having to dig through a pile of stuff to find what I want.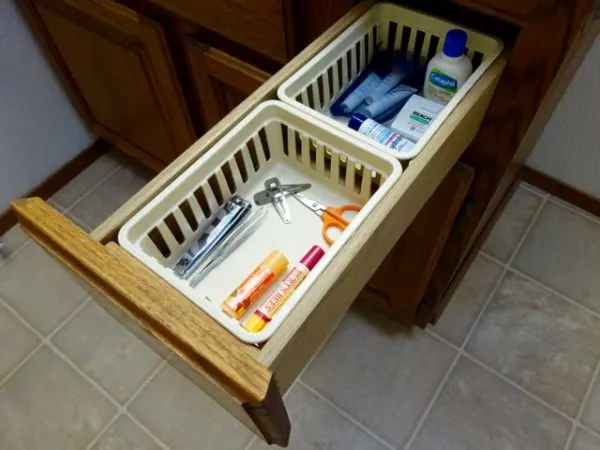 Add Storage Under the Sink
If you are not already using shelves and storage bins underneath the sink, you don't know how much room you have been wasting!
There are plenty of options for choosing under-the-sink shelves that can fit around your plumbing pipes.
A wire shelf under the sink creates better vertical storage. I used boxes and trays to contain items and keep them easy to access.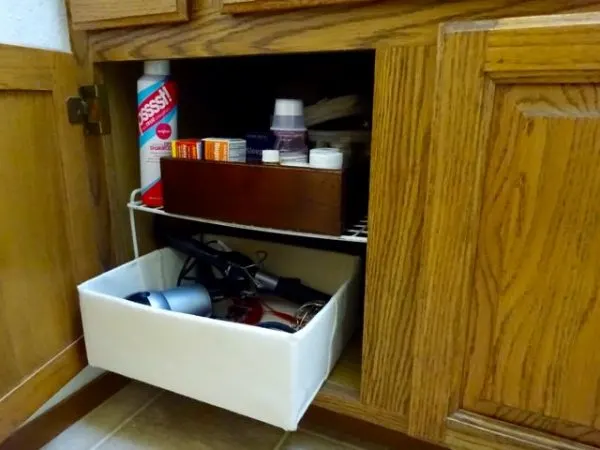 Use Tip Out Shelves
Why just add extra storage to existing cabinets when you can create a new cabinet?!
Installing a tip out tray turns a false drawer front into actual usable space. It's easy to add these trays to your bathroom cabinets. Then, you'll have room for small items such as makeup, cotton balls, hair accessories, or even your toothbrush and toothpaste.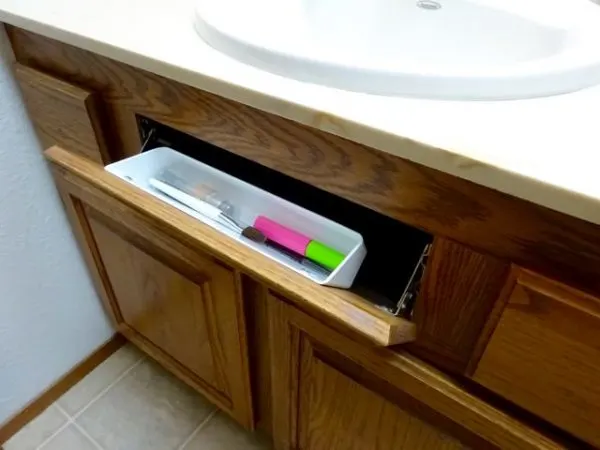 DIY Bathroom Updates
I can't end this post without showing you one of my first bathroom DIY projects. The soap dish in the shower fell off the wall, and I stuck it back in place.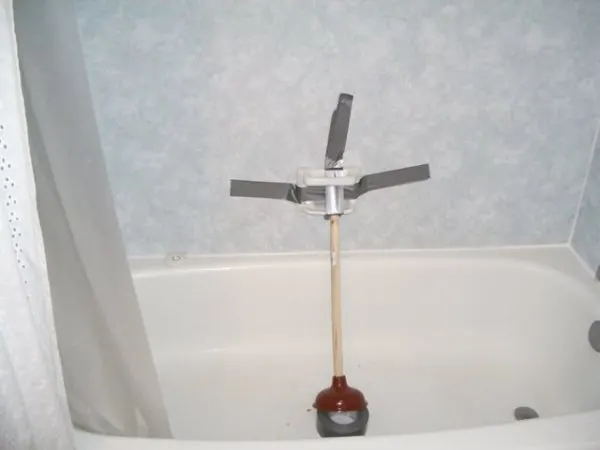 What!? It worked. I had to hold the soap dish in place with duct tape and a plunger while the adhesive cured. I was still saving up my money to replace the bathtub surround.
Fortunately, I did finally get to update those hideous blue tub walls. Check out that transformation here.
Hopefully you're feeling inspired to update your own bathroom. You don't have to do a major remodel. It's amazing what a difference even small changes can make.