In this post: Even if you're not artistic, you can follow these easy steps to make your own colorful DIY tape art. You'll be amazed what you can do with canvas and tape!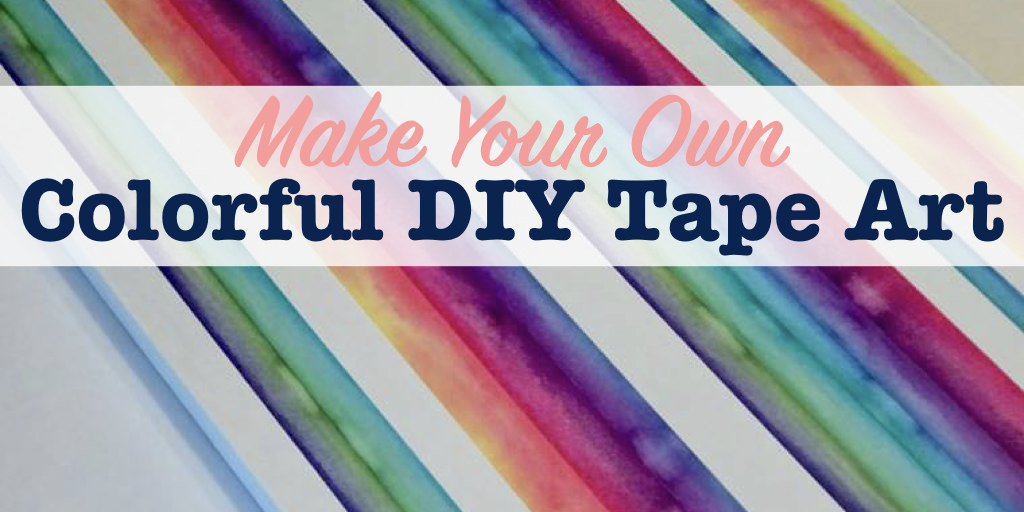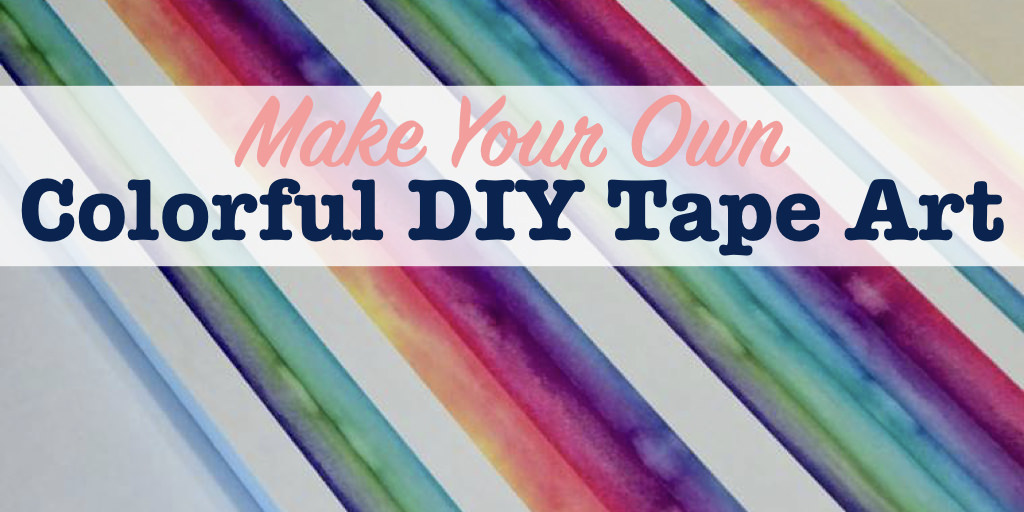 Though I love crafts, I'm not very artistic. I don't have any drawing or painting skills. So, when I want to create art for my walls, I have to be creative in other ways.
Inspired by some beautifully colored Washi tape that I found in the craft store, I created colorful DIY tape art for my office.
MAKE YOUR OWN COLORFUL DIY TAPE ART
MATERIALS FOR DIY TAPE ART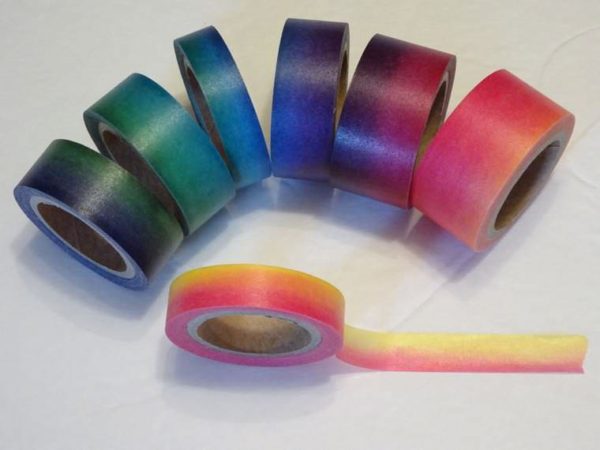 Reclaim a Canvas
To start my project, I found an old canvas "artwork" at a thrift store. It was exactly the size I wanted.
Repurposing an old piece of art from a thrift store is much less expensive than buying a new canvas at an art store.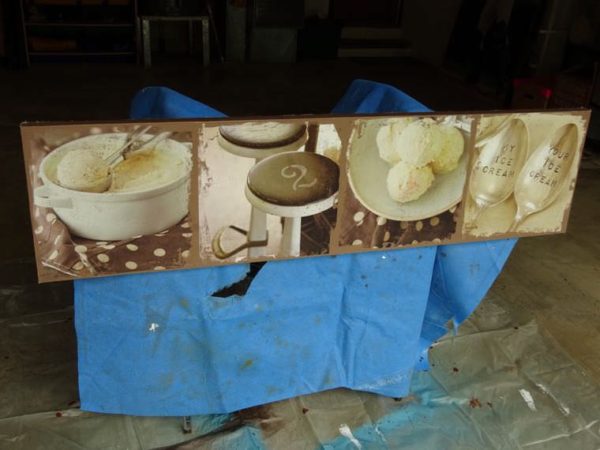 Here is my reclaimed canvas set up in my garage so I could paint it white. You can also be creative with your background color for your project.
Tape it Up
Once I had a plain background to work on, I just started laying down strips of multi-colored Washi tape.
To start myself off straight, I laid the first strip along the edge of the wood frame under the canvas. Then I just kept putting strips next to each other.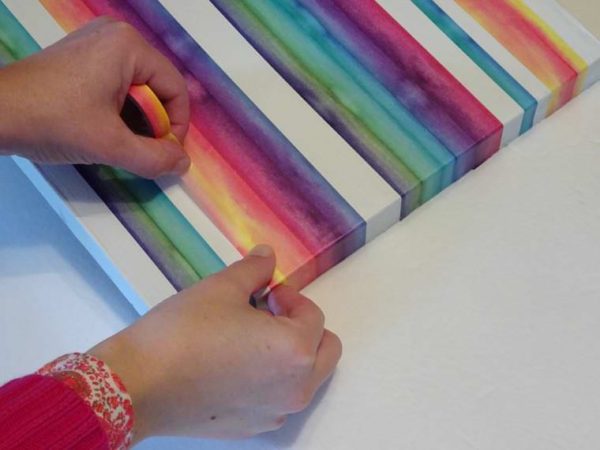 Space it Out
I left gaps between several rows of tape to allow the white background to show through. It's restful to the eye to have some breaks in the colors.
To make sure the gaps between the rows of tape stayed straight, I used an old tip I learned in a high school art class.
First, I stuck a piece of masking tape to my sweater. This causes it to pick up some fibers from the sweater, and makes it less sticky.
Next, I put down several strips of this less-sticky masking tape as a spacer below my last row of washi tape. This gave me a guide to work against when I laid down the next row of washi tape, leaving a gap between rows.
Removing the masking tape when I no longer needed the guide was easy, and didn't risk damage to my painted canvas. All because I stuck it on my sweater first.
Finish the Edges
Use another piece of tape on the back of your new artwork to keep all the little tape ends stuck in place.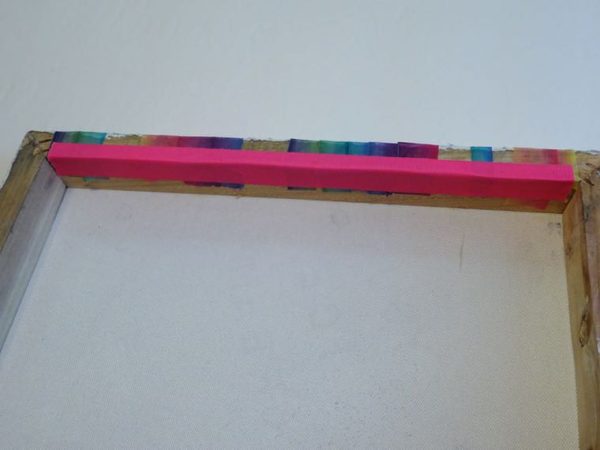 Display Your DIY Tape Art Masterpiece
In just a few easy steps, you now have a colorful piece of inexpensive artwork. I used mine to brighten up a stark white wall in my office.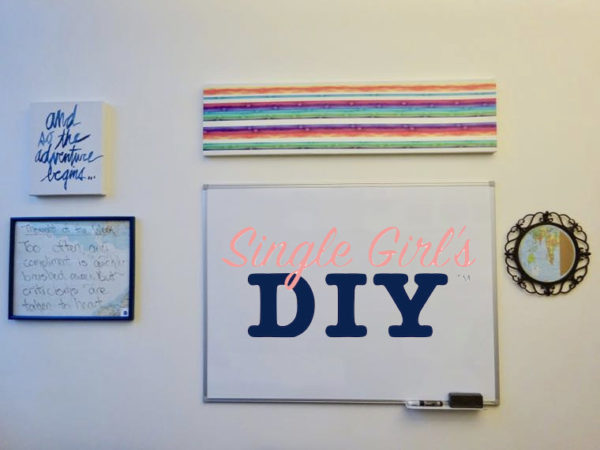 Also on my office wall is a DIY memo board made from an old picture frame. See how to make your own here: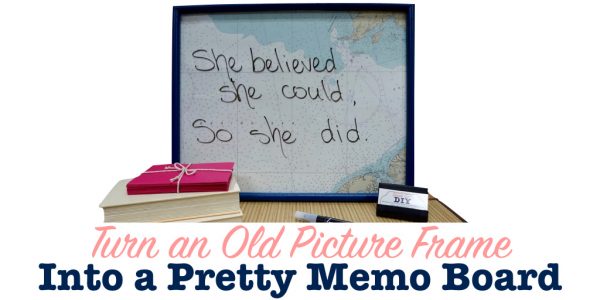 Get Your DIY Tape Art Supplies
I just happened across the tape that I used for my project in the sale bin at a craft store. Here are some options you might like to try for your own quick and easy Washi tape art: