When you are interested in learning crochet, you will need to get some beginner crochet supplies to start learning the basic crochet stitches.
While there are lots of things you could buy, you don't need to buy many tools in order to crochet beautiful items.
In all honesty, if you are a true beginner crocheter, the only supplies you absolutely need to start out are some yarn, a matching crochet hook for the weight of yarn you are using, scissors and maybe a pattern.
That's it.
I would recommend that you only buy crochet supplies as you need them. So, for instance, pick your first pattern to make and buy the yarn and the crochet hook you need for that specific project. Then do the same for the next pattern, maybe add some inexpensive stitch markers and so on.
Beginnger Crochet Supplies You Actually Need
Yarn
You can't crochet without yarn!
Any kind of yarn can be used for crochet and the type you need depends on several different factors. Most importantly, what kind of yarn does the pattern require? That is the first place to look.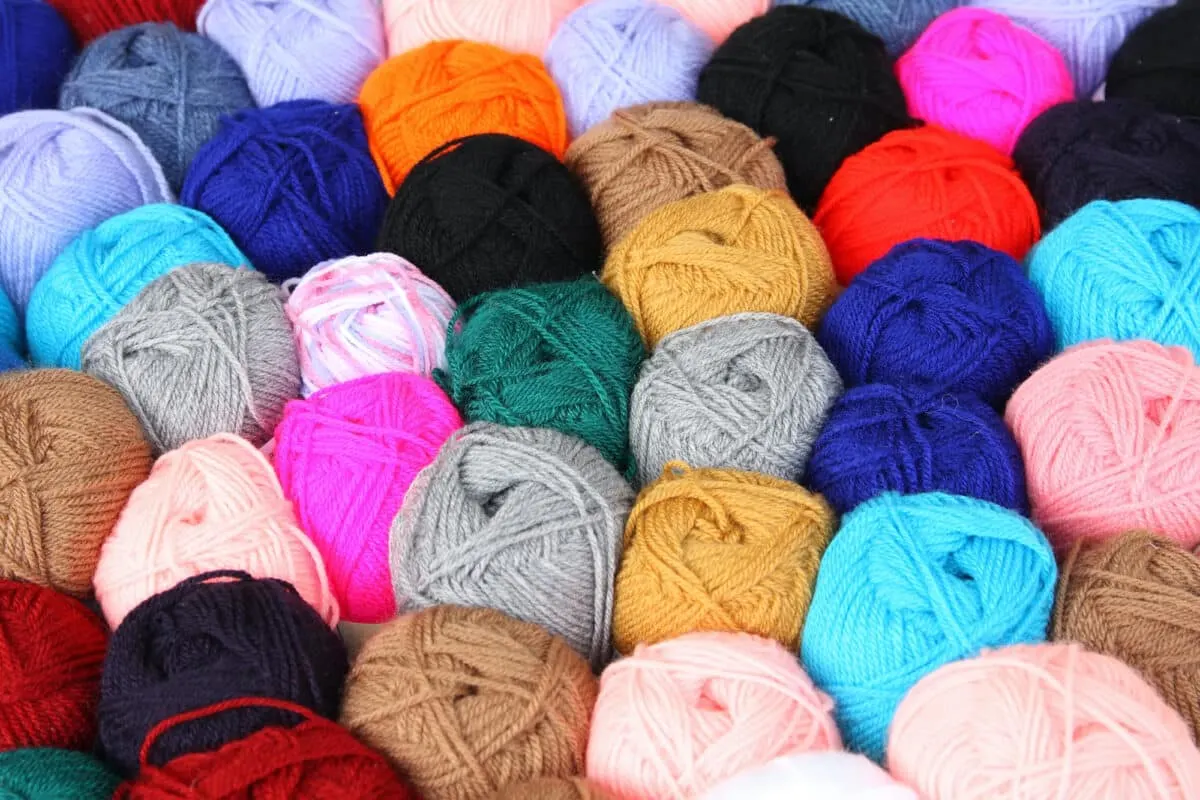 Once you know the weight of the yarn you need, there are various types of yarn to choose from, including:
Acrylic
Polyester
Cotton
Wool
Natural Fibers
Hand-dyed
Designer Label
Machine Washable
Inexpensive vs. Luxurious
What type of yarn is machine washable?
If washability is important, opt for synthetic and plant fibers or yarn marked "Superwash".
Note: Make sure and read the label for specific care instructions.
What is natural fiber yarn?
"Natural fibers" refers to fibers that are not manufactured or man-made. These include your animal aka protein fibers (sheep wool, mohair, silk, alpaca, yak, etc.) as well as plant fibers (cotton, bamboo, linen, etc.)
What are the different yarn weights?
The 'weight' of the yarn refers to the thickness of the strand. This can range from "super fine" to "sport" to "dk" (double knit) to "worsted", "bulky" and so on. This chart shows you the various sizes as well as common applications.
How to Save Money on Yarn
If you are just beginning, save yourself a lot of money and frustration by getting cheap yarn to practice with. Some great places to buy deeply discounted yarn are:
Thrift stores
Garage sales
Dollar stores
Clearance at craft stores and discount stores
You will want to get experience with crocheting before spending lots of money on designer yarns or yarns made with all natural materials, which can be more expensive.
Crochet Hooks
You can't crochet without a hook, either! These are the two items you MUST buy!
Crochet hooks range in sizes to work with the many different types of thickness of yarn.
If you are starting with a specific pattern, be sure to choose a crochet hook and yarn weight that is ideal for that pattern. Otherwise, you can just start practicing with what you have.
The hook size is usually indicated with a letter and number (US) and/or in millimeters (Metric). For instance, a 6 mm hook is equal to a J-10.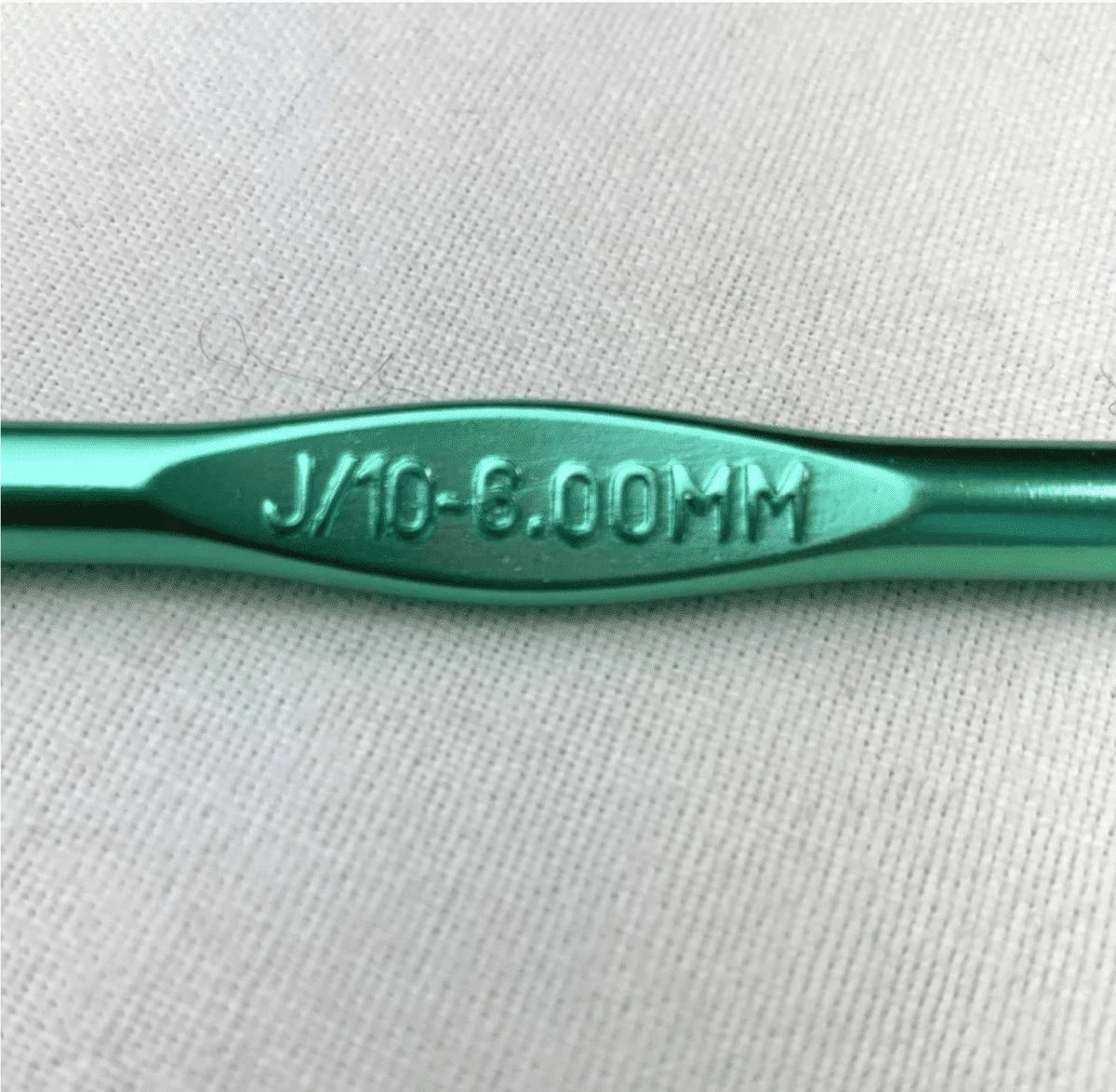 Hooks also come in a variety of different materials ranging from wood, bamboo, aluminum, steel and plastic. Every crocheter has their own preferences and there really is no one-size-fits-all.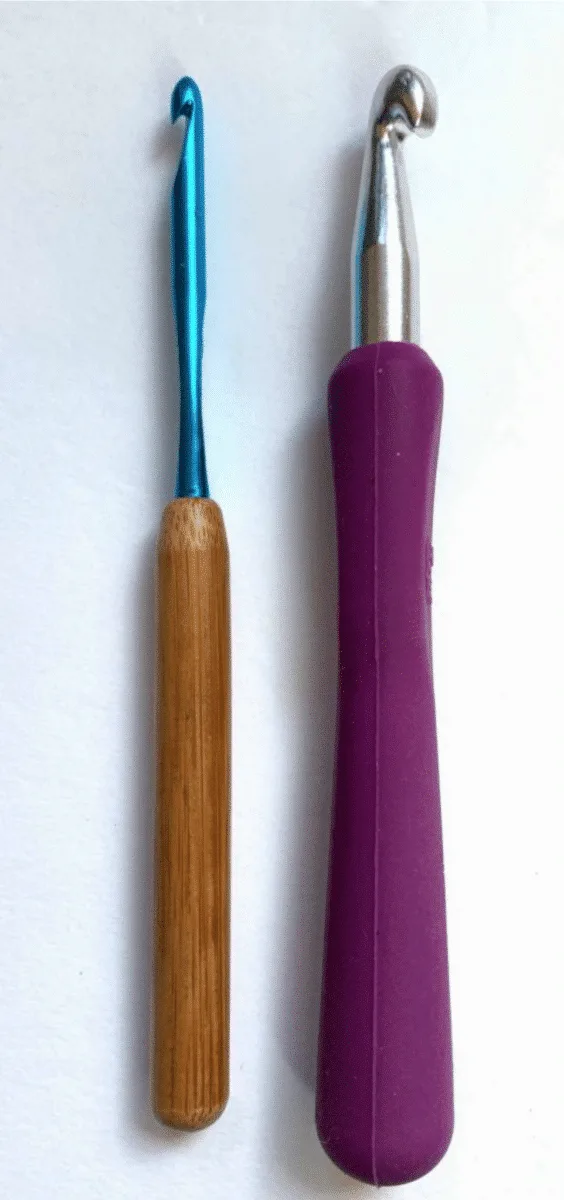 Personally, I find the softer wood or bamboo hooks are easier on my hands.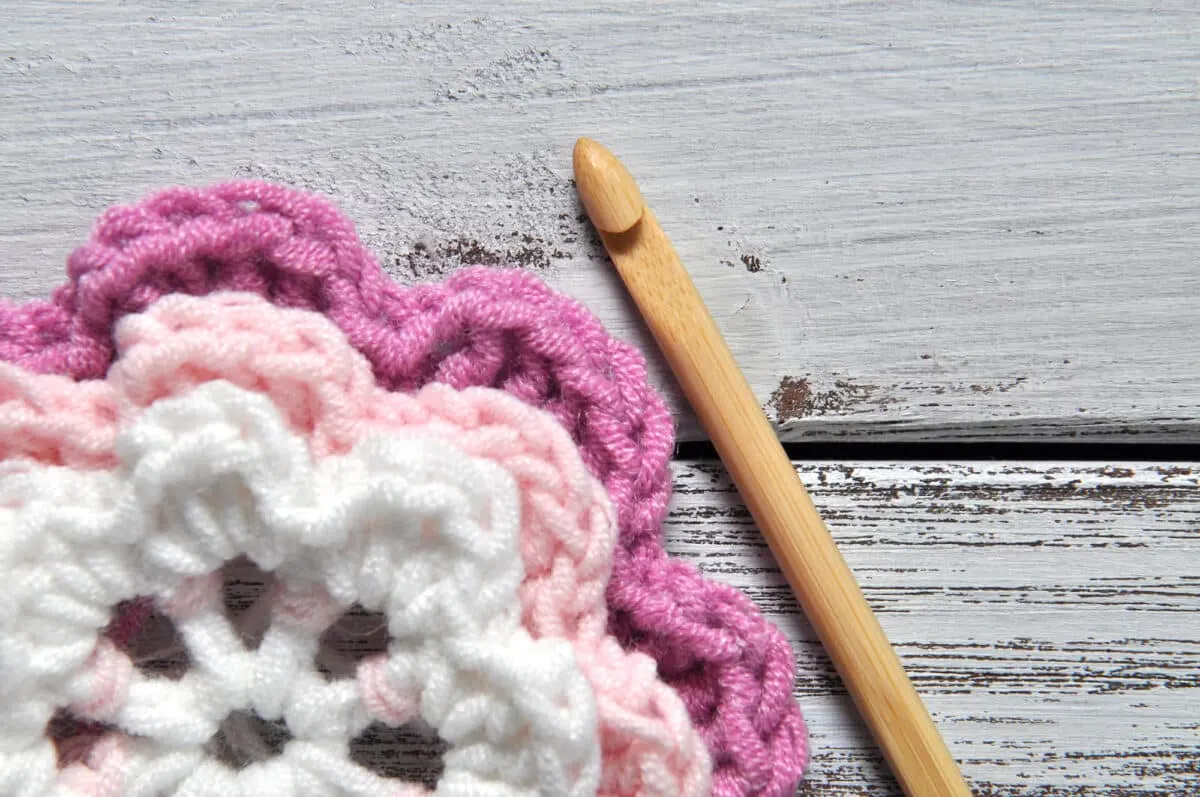 Alternatively, metal crochet hooks glide through wool more smoothly than wood or bamboo hooks, making them a bit faster to work with.
There are special Ergonomic Crochet Hooks which work well for anyone with arthritis or carpal tunnel syndrome.
Scissors
If you have a pair of scissors at home, you can just use those. No need to buy anything fancy.
However, some crocheters like to use embroidery scissors which are smaller and come in fun, vintage designs. The small size fits nicely in a scissors case which is important if you like to take your work with you in the car or while traveling.
Be Sure to See These Free Crochet Patterns:
Crochet Supplies That Make Stitching Easier
Now that you know the absolute essential items for crocheting, you can add more helpful crochet tools as your budget allows.
These are all items that will make crocheting quicker and easier as you work on projects.
Measuring Tape
A measuring tape is useful when you want to crochet a sweater or hat for someone specific and need to know their exact size. This also comes in handy for measuring gauges and yarn lengths.
You could use a basic ruler, but it is hard to measure the circumference of a head with a desk ruler!
Stitch Markers
A stitch marker is exactly what it sounds like: an object that marks a certain spot in your crochet (or knitting) work.
This can be as simple as a piece of yarn in a contrasting color, a paperclip or little rings and clips specially designed for this purpose.
Stitch Markers are helpful for a number of different things from keeping track of the beginning of a row, counting the rows and marking a stitch that you need later on in the pattern.
If you want to smile a little more when you find your stitch, then get some cute little designer stitch markers in fun shapes.
Tapestry Needle
A Tapestry Needle (also known as a Darning Needle) is a large, thick sewing needle with a large eye. In crochet, you would use this for weaving in loose ends as well as sewing together two layers.
The large eye is necessary since you are threading thick yarn instead of sewing thread.
Stitch Book
Having a stitch reference book handy saves you a lot of time when you come across a new crochet stitch in a pattern. If you are crocheting in a place where you don't have the ability to search the internet for the stitch tutorial, such as when you are cozy on the couch or traveling, then a reference book is great to have with your craft supplies.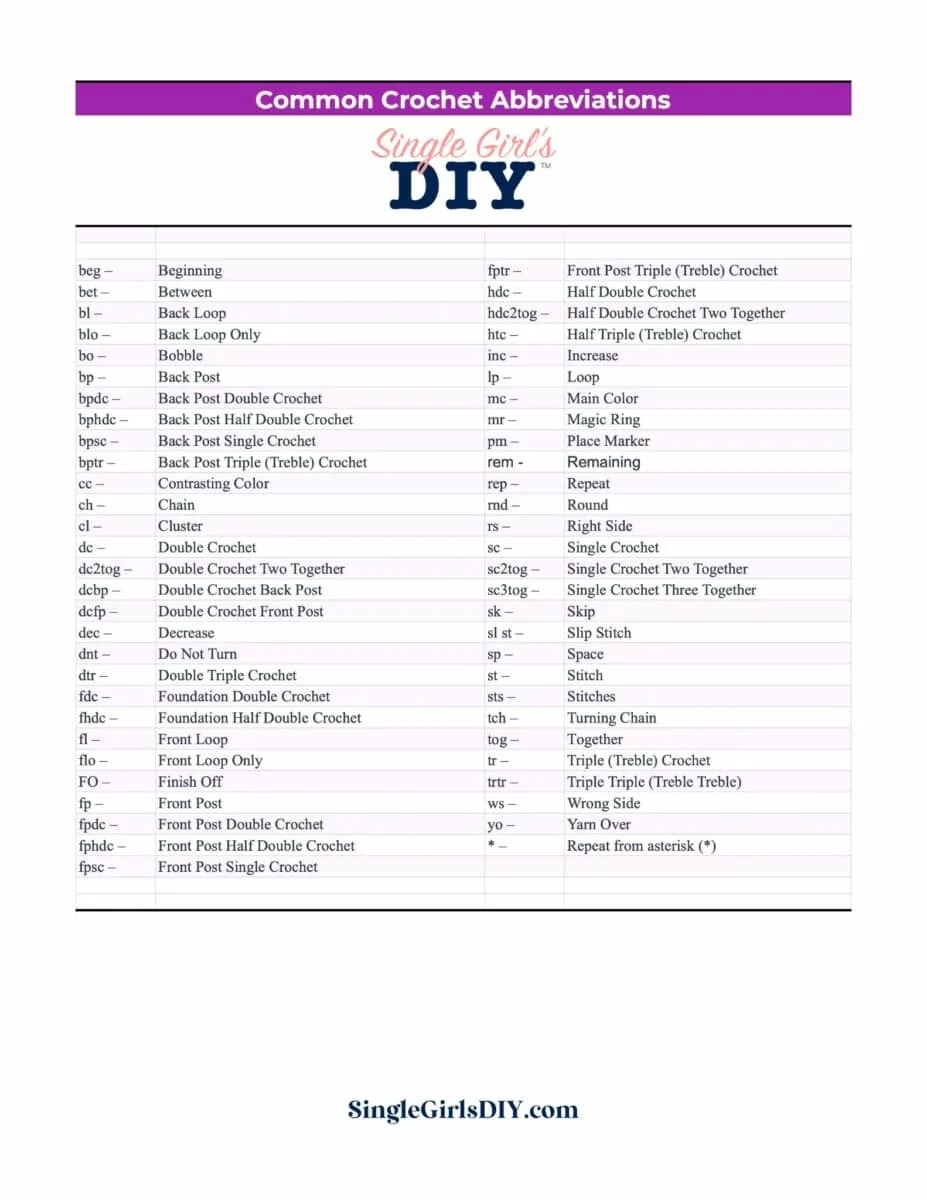 Free Crochet Abbreviations Chart
Get a free printable chart of all the crochet abbreviations you need to know when working on patterns.
The free download is in our pattern library.
Needle Case
Once you start collecting a variety of crochet hooks and accessories, you will definitely want to get a needle case to keep them all organized and easy to find.
This can be a simple small bag with a zipper or a fancy compartmentalized case with individual slips for the hooks.
Storage Bag
As you will quickly see, your yarn stash is going to grow very big and very fast!
It seems no matter how many different types of yarn I have, I can never find the right one to fit my next pattern.
So, with more yarn, you obviously need more storage space. For my current projects, I like to use a large crochet project bag that has a big compartment as well as smaller pockets for the various accessories or patterns.
For longer term storage of yarn, you will want to get a large plastic bin with a tight fitting lid to keep out any potential invaders such as wool moths.
Blocking Mat
If you are planning to crochet clothing items such as sweaters, vests, shawls, etc. where the shape is important, then you will need to "block" the finished item.

Basically, all you do is dampen the piece, lay it out on the blocking mat, pin it in place and allow it to dry completely. This "sets" the final shape and helps to keep it from stretching too much.
This is easily done with specially designed blocking mats. These thick foam squares fit together like puzzle pieces which makes them perfect for small as well as large crochet works.
Row Counter
A Row Counter is a small mechanical or digital device that helps you keep track of your crocheted rows or stitches.
This shop has the most amazing array of row counters and row counting bracelets! The items are truly works of art!
The free Row Counter App is very helpful if you want to download the app to your phone.
Yarn Bowl
Yarn bowls are not only beautiful pieces of art but they are super helpful in keeping your ball of yarn from rolling away while you are crocheting.
You can find beautiful, handmade yarn bowls made from a variety of different materials including wood, bamboo, ceramic, metal and plastic. These yarn bowls on Etsy are handcrafted and support small businesses.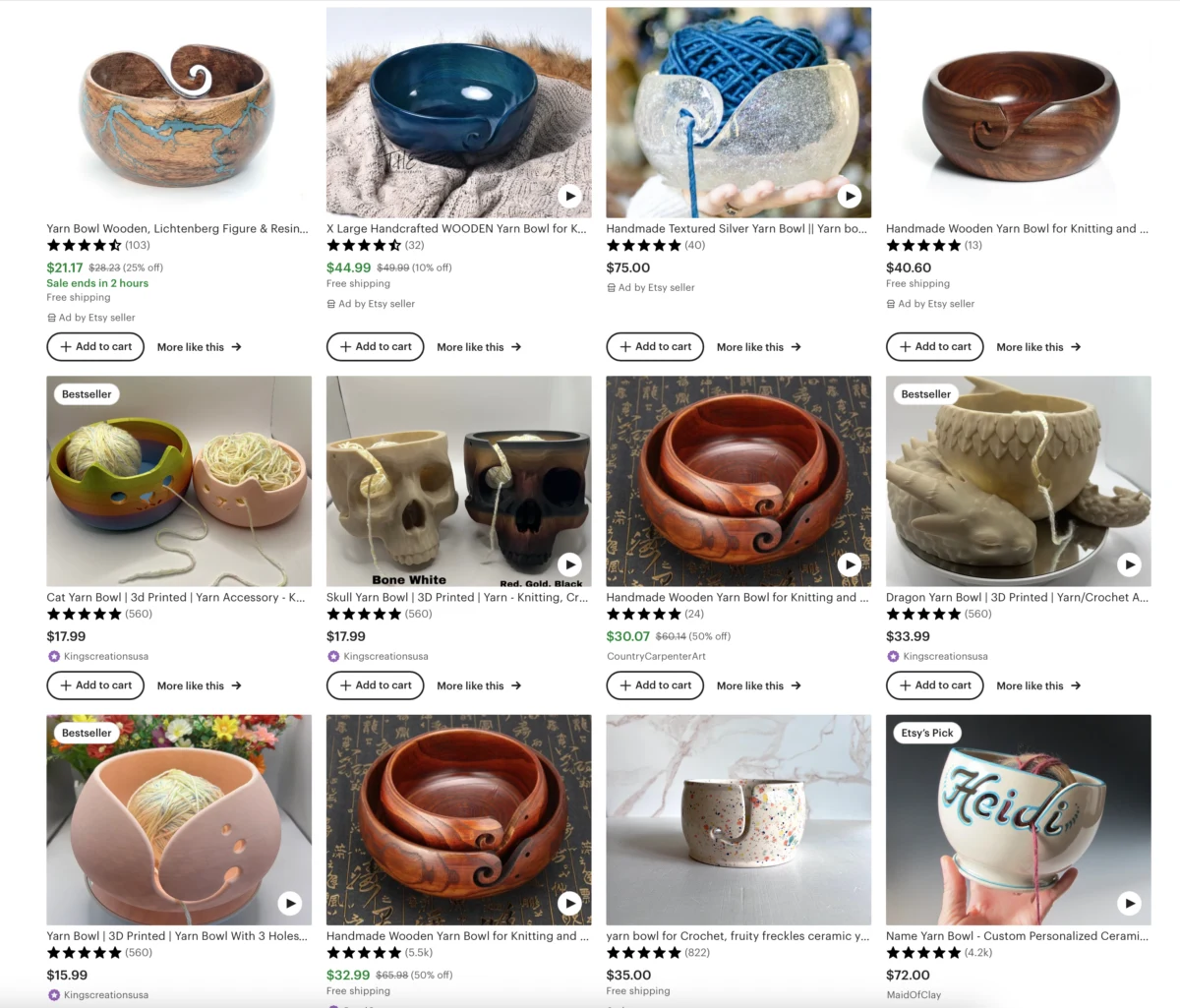 Yarn bowls are also available on Amazon, too. While some people want their yarn bowl to be purely functional, others want it to make a decor statement since it will probably be on display quite often. The choice is up to you!
Yarn bowls are awesome gift ideas for anybody who loves to knit or crochet!
Be sure to Pin This list of beginner crochet supplies to save for later!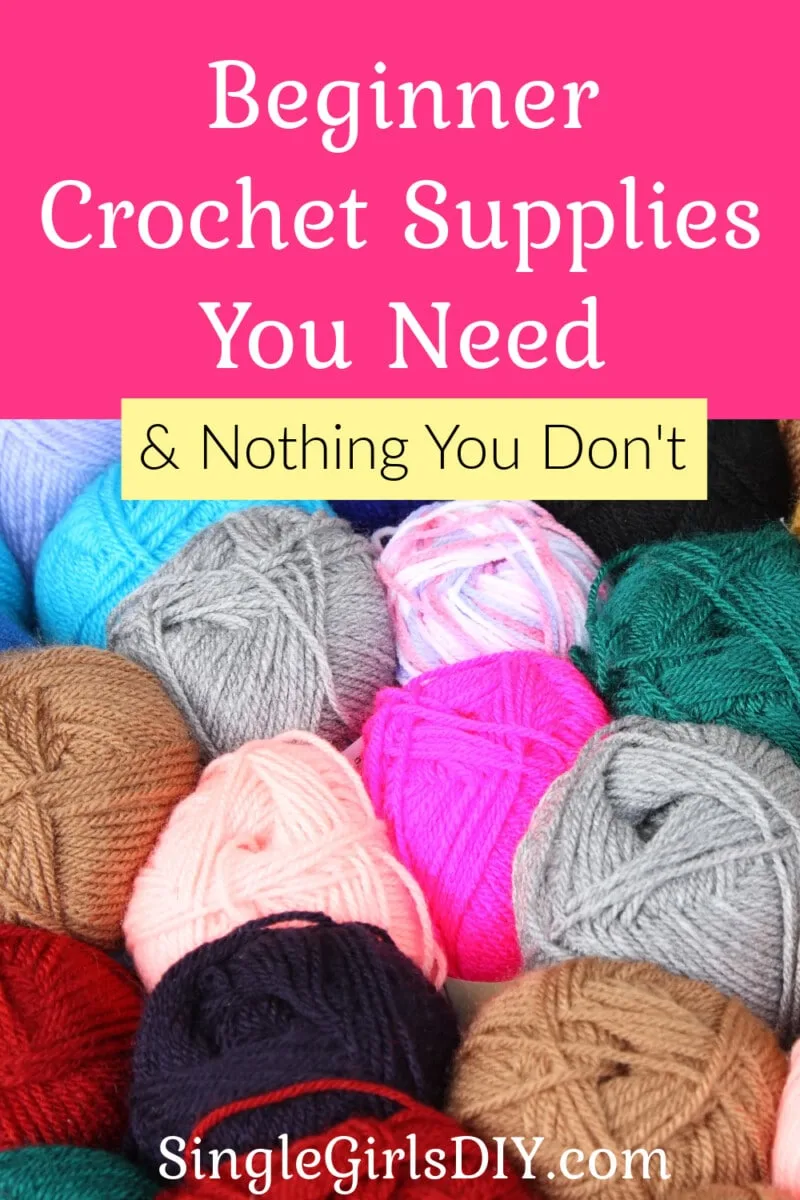 Check out our crochet stitch tutorials which are perfect for beginners!