Crocheting these cheerful flowers with bright colors is guaranteed to bring a smile to your face and joy to your heart! Okay, that's a lot of pressure with this pattern, but seriously. These cute flowers just make me happy!
Our easy crochet flower pattern has open loop petals that have a delicate feel. This is different than our crochet daisy pattern which has solid petals.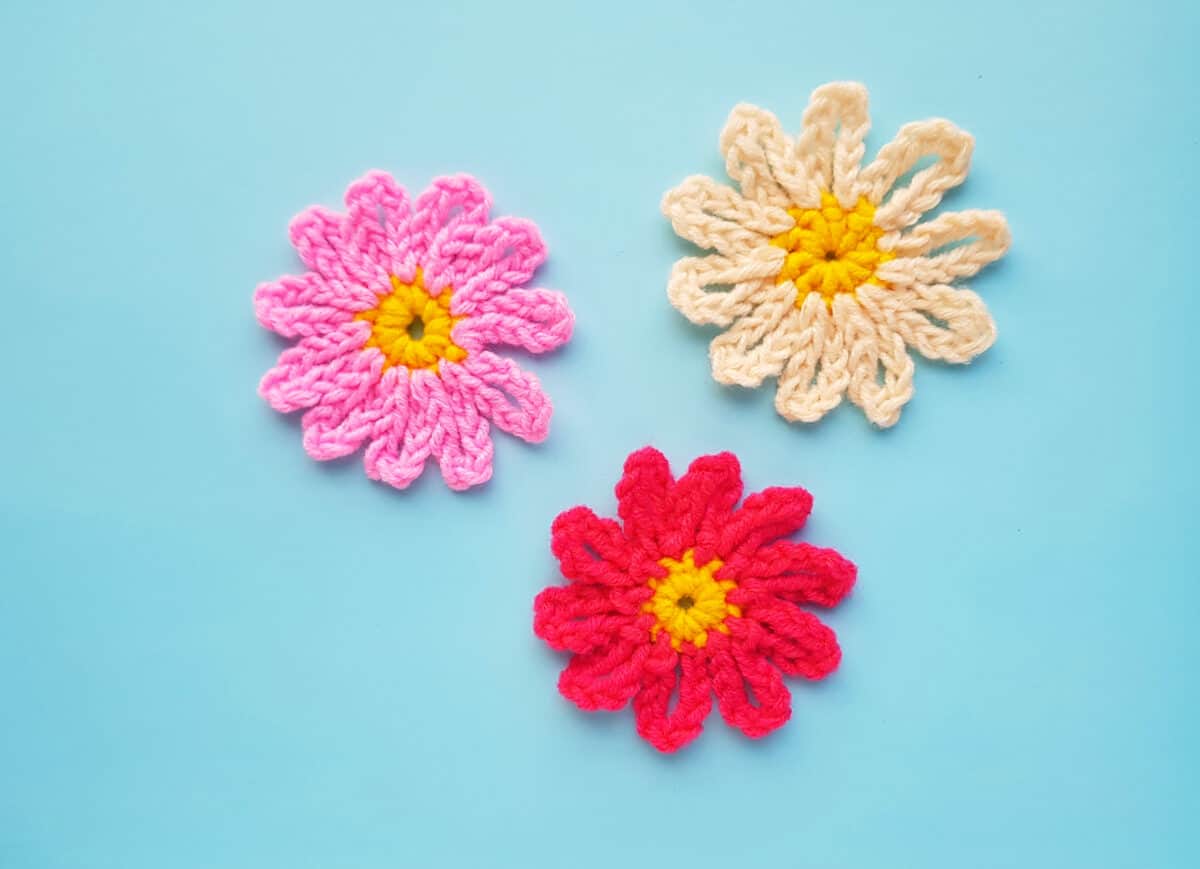 Use these crocheted flowers to decorate handbags, purses, backpacks, or a hat. You can also attach them to a sweater or along the leg of your favorite pair of jeans.
Once you start making these easy flowers, you might not stop! And you might want to try our crochet sunflowers, too.
Or try crocheting granny squares.
For beginner crocheters, I've included a step-by-step photo tutorial of each step to take. There are also links to videos displaying the simple crochet techniques that are used with this pattern.
How to Crochet a Flower
Supplies
Yarn if two different colors – medium or medium-light weight
Crochet hook – 2.5 mm
Tapestry needle (a needle with a large eye hook that will accommodate yarn)
Scissors
Directions
Step 1
Start with the yarn color you want to be in the center of the flower. Start with a slip knot and then do 5 chain stitches (CH).
*Wondering what a slip knot or a chain is? Here's a simple video tutorial on how to make a slip knot and chain.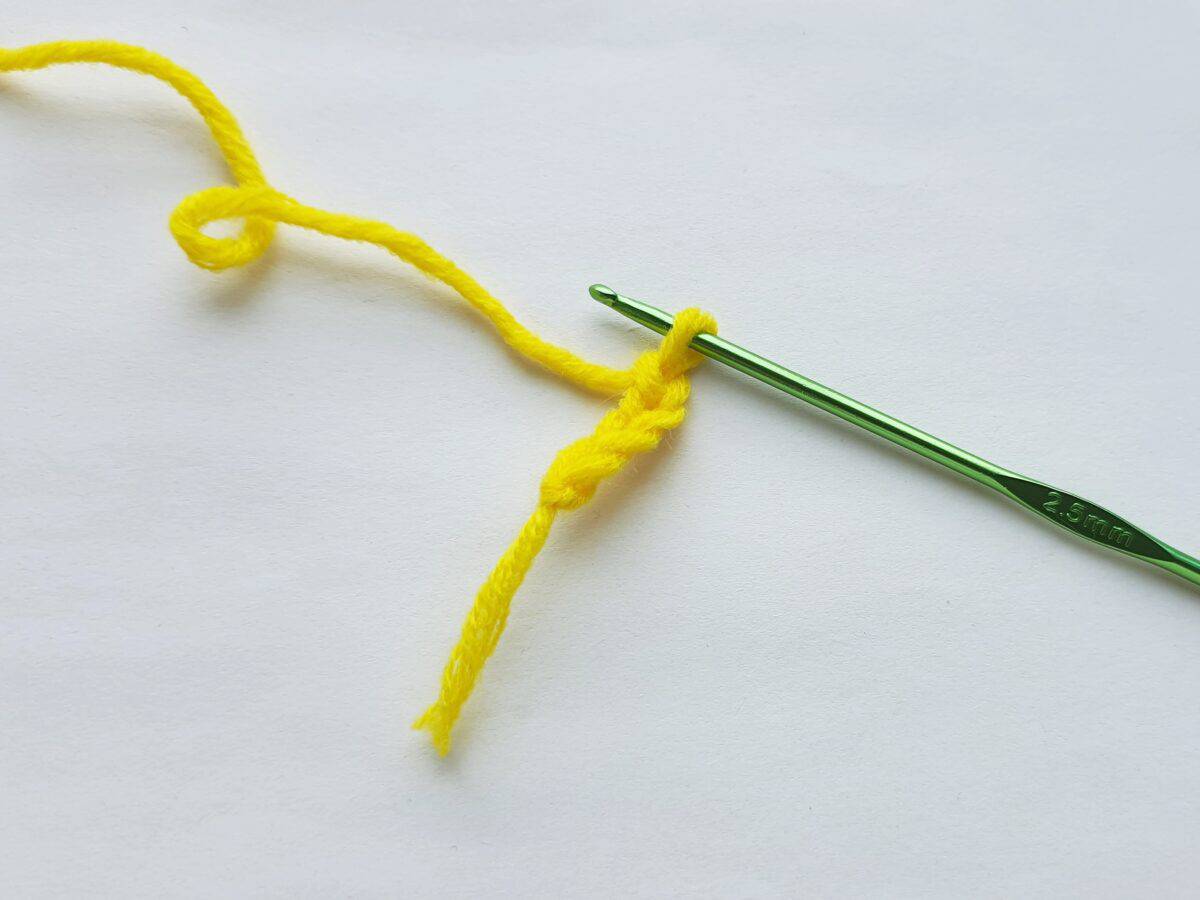 Step 2
Form a ring with the 5 chain stitches by working a slip stitch through the first chain stitch.
*Wondering how to make a slip stitch? Here's a quick video tutorial of how to slip stitch.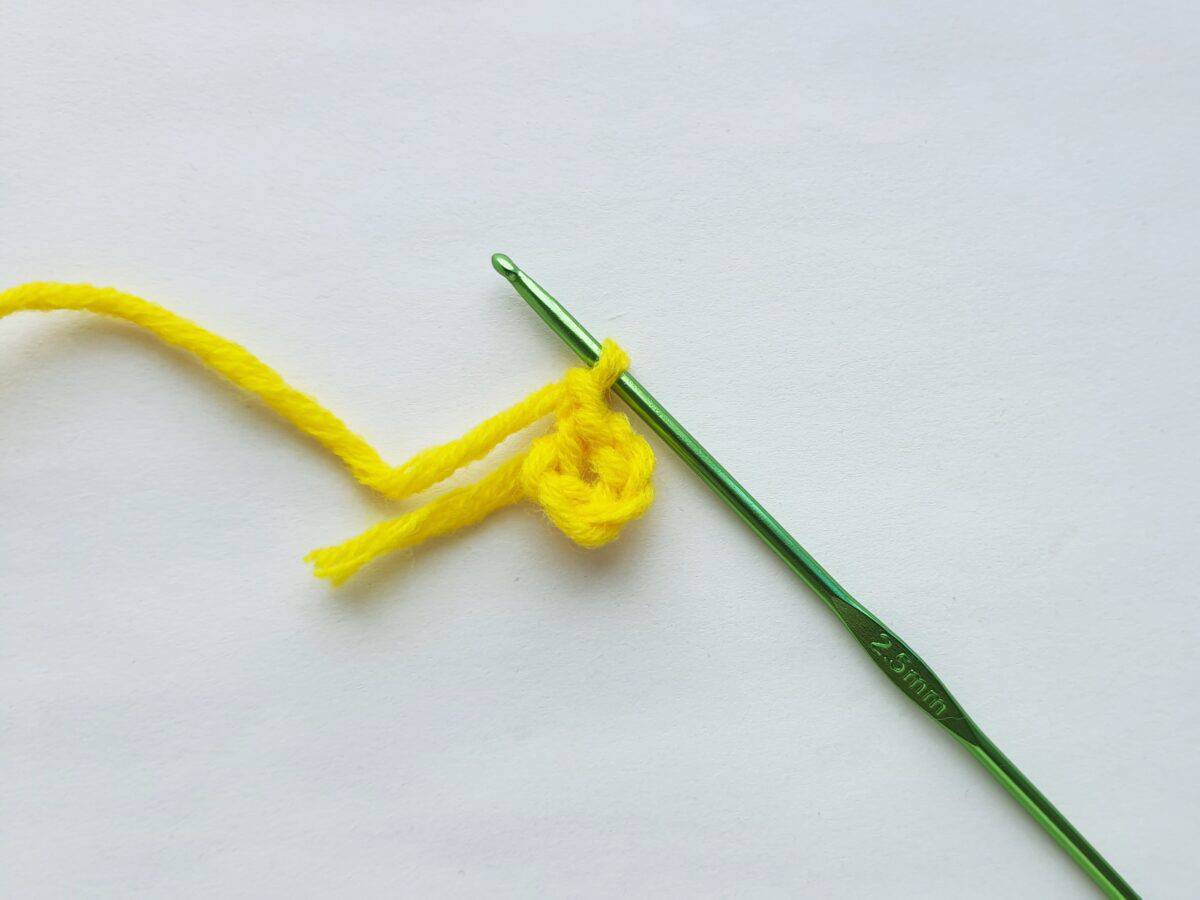 Step 3
Make 1 chain. Then do 10 to 12 single crochet (SC) through the ring.
*Wondering how to single crochet? Here's a quick video tutorial of how to Single Crochet.
The number of single crochet around the ring will be the number of petals that you will have on the crochet flower.
Finish the single crochet round with a slip stitch through the initial stitch of the yellow round.
Pull out an inch of the yarn on the hook and then cut off the yarn from the bundle. Draw the extra open end of the yarn to the backside.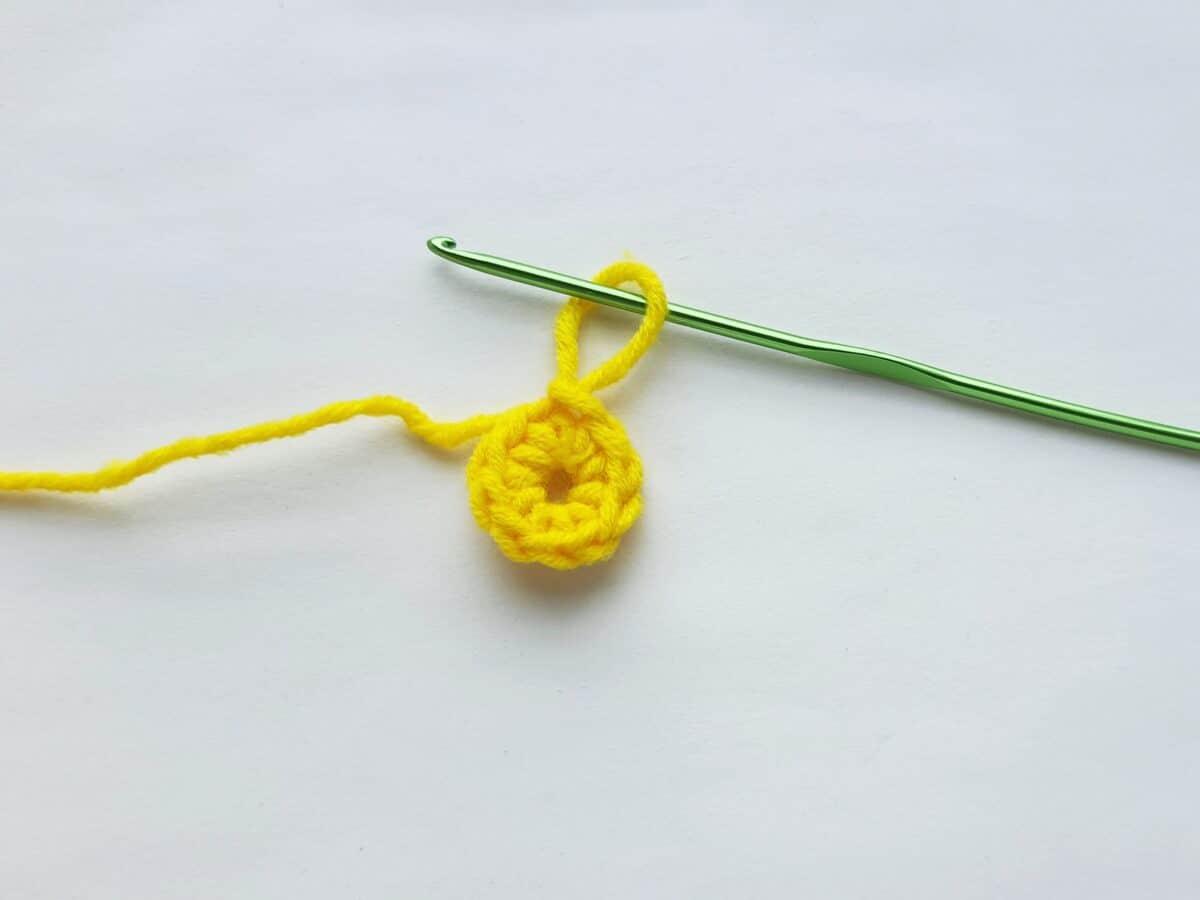 Step 4
Now choose your petal yarn. Make a slip knot. Draw the hook through the top of any of the stitches of the SC round (the yellow center of the flower).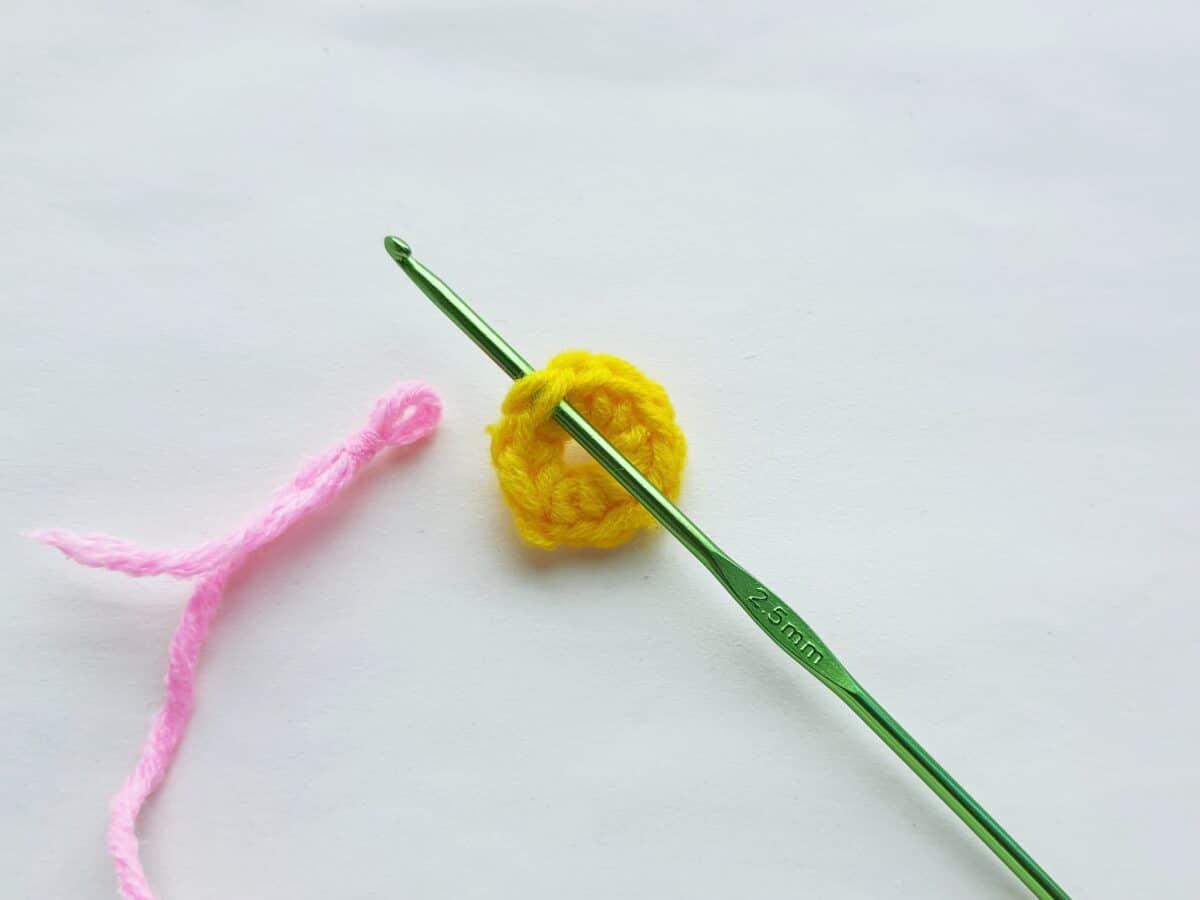 Step 5
Pull out the slip knot through the center pattern's stitch and then work 1 chain.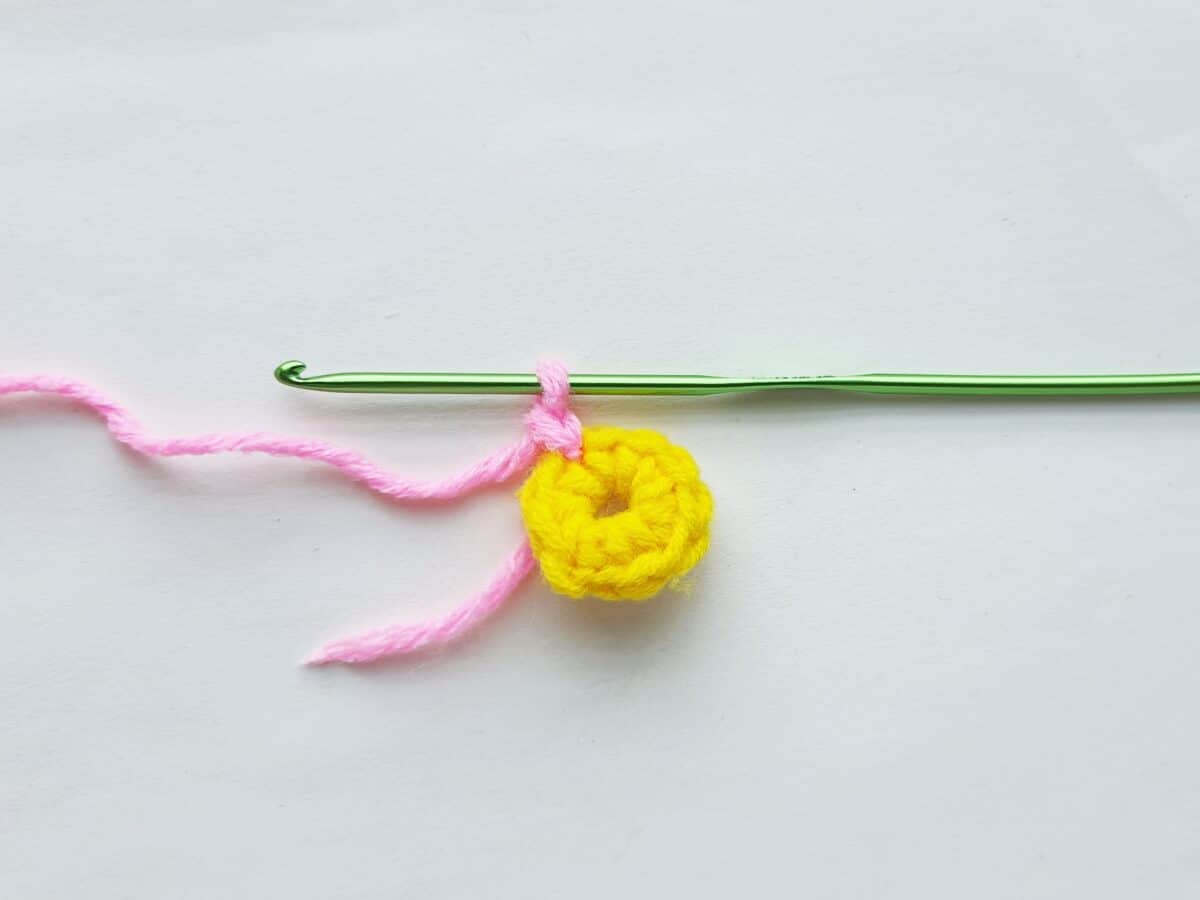 Step 6
Work 10 more chain stitches. Each petal is going to have 10 chain stitches.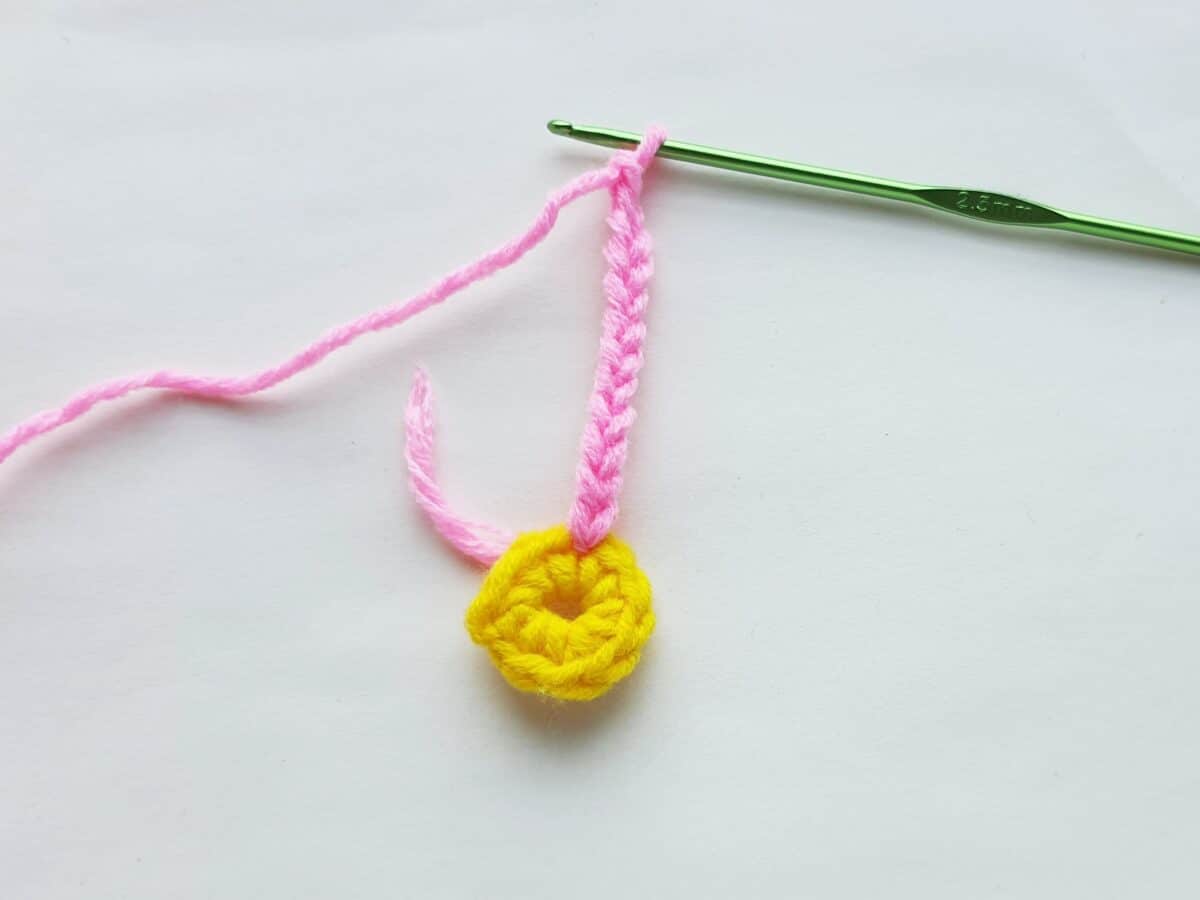 Step 7
Now, pull the yarn through the next stitch of the ring.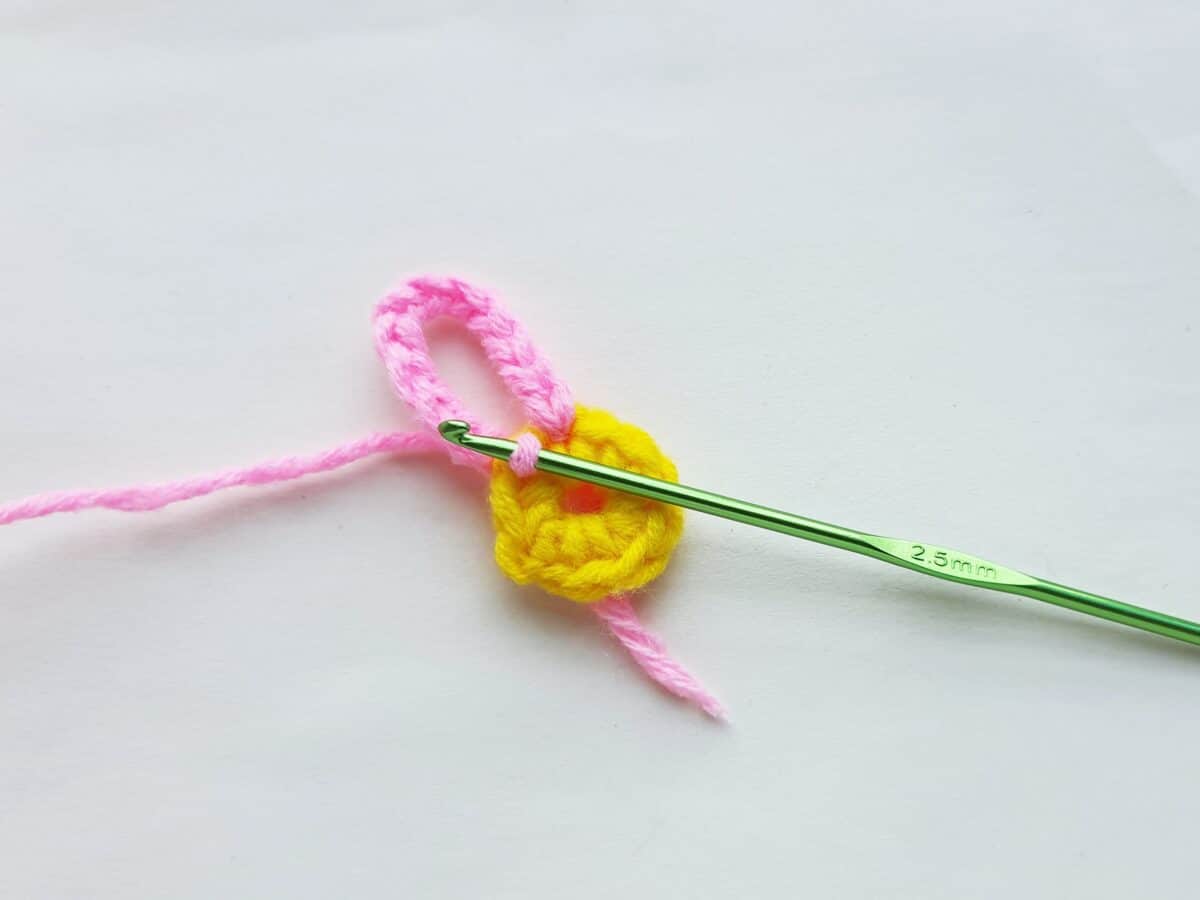 Step 8
Work 10 chain stitches again for the second flower petal, in the same way as above.
Keep making all of the petals by repeating 10 CH and then pulling the 10th stitch through the next stitch of the ring.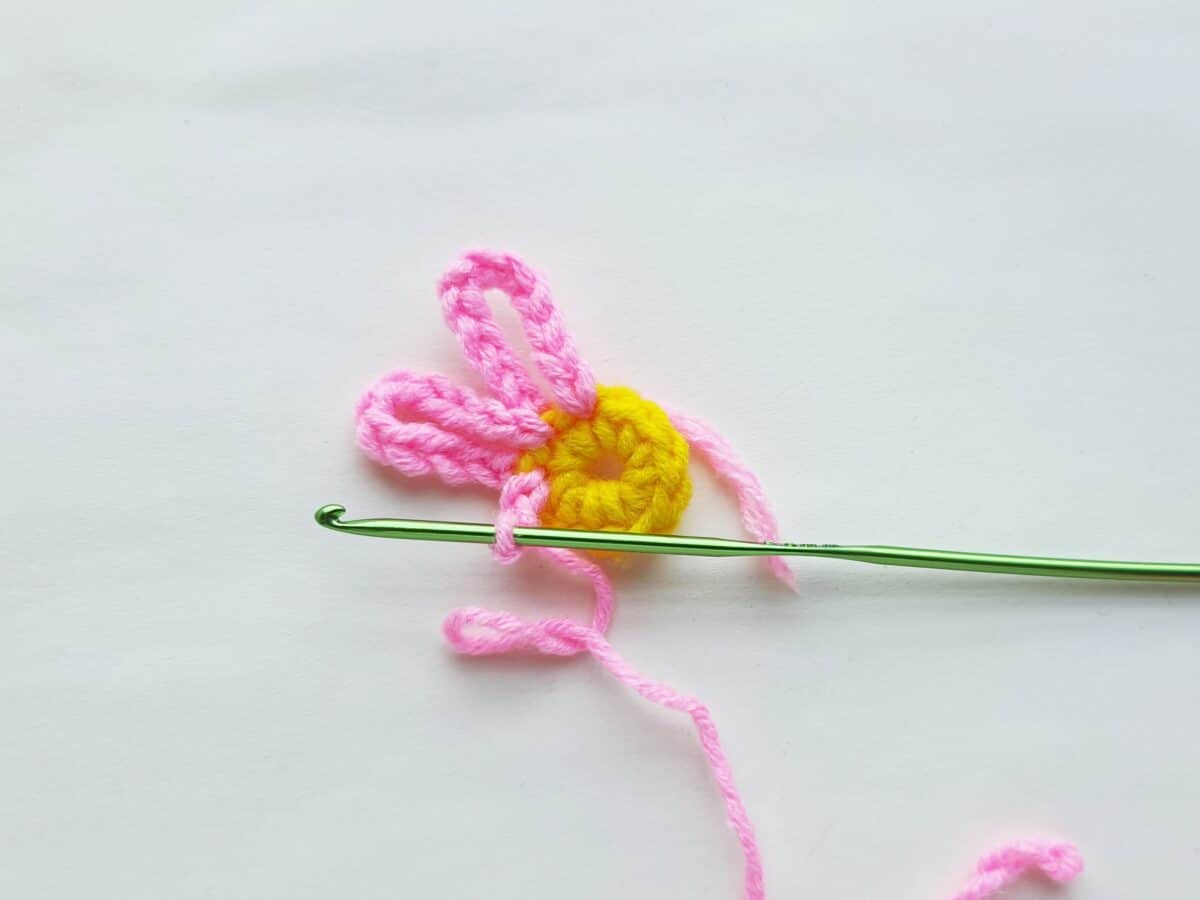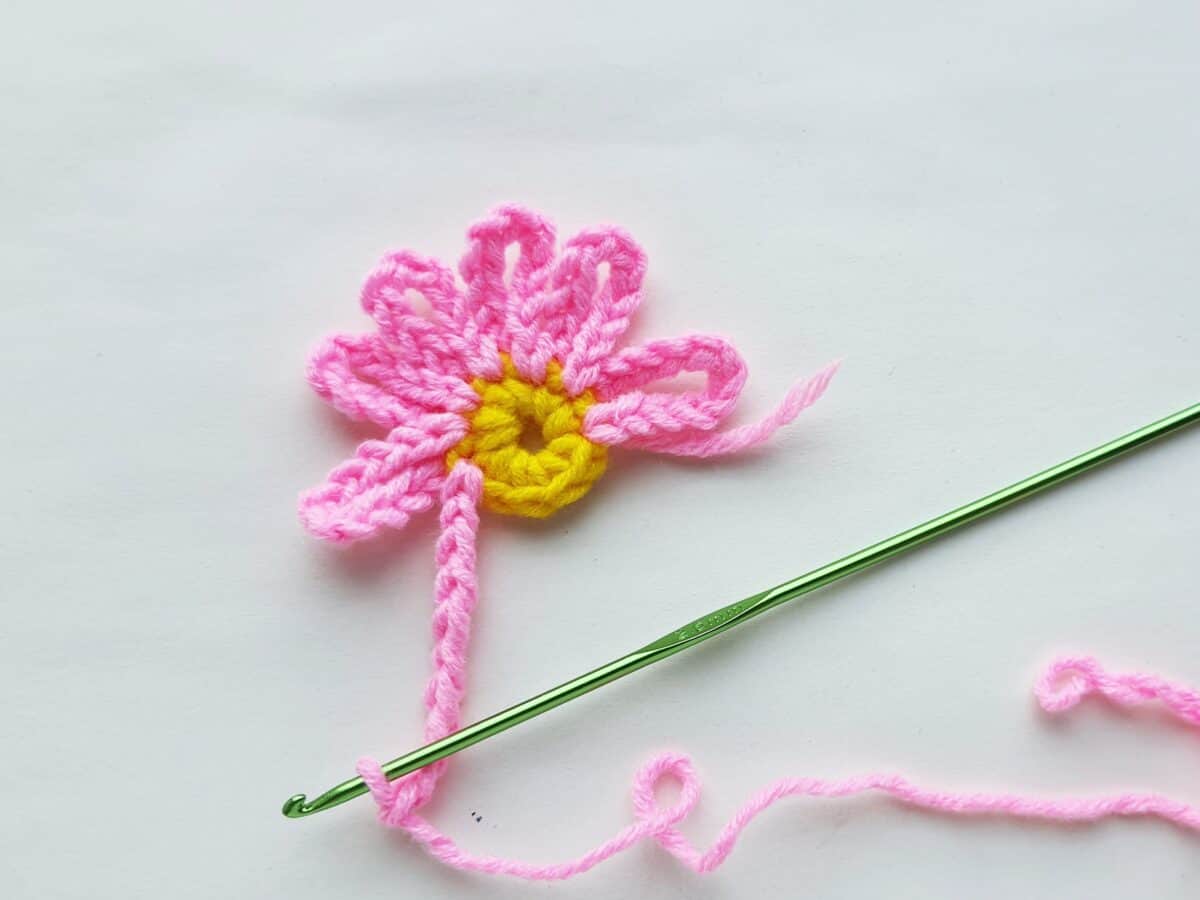 Step 9
When you get next to the first petal, work a slip stitch through the first petal's ring stitch. Pull out 2 inches of the yarn.
Cut off yarn from the bundle, but be sure to keep the extra 2 inches.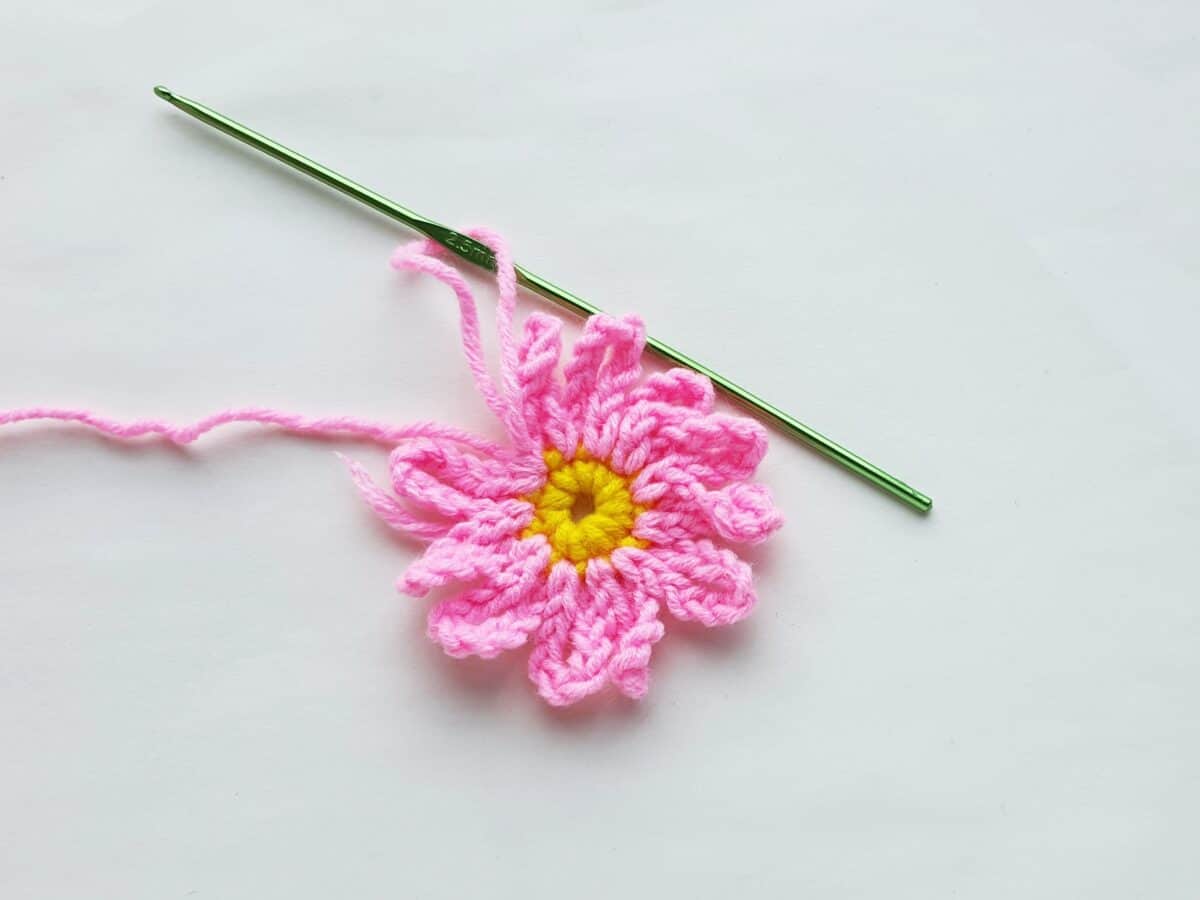 Step 10
Using a tapestry needle, stitch the extra 2 inches of yarn on the backside of the flower pattern.
You will also want to stitch the extra 1 inch piece of yarn from then yellow center to keep it from unraveling.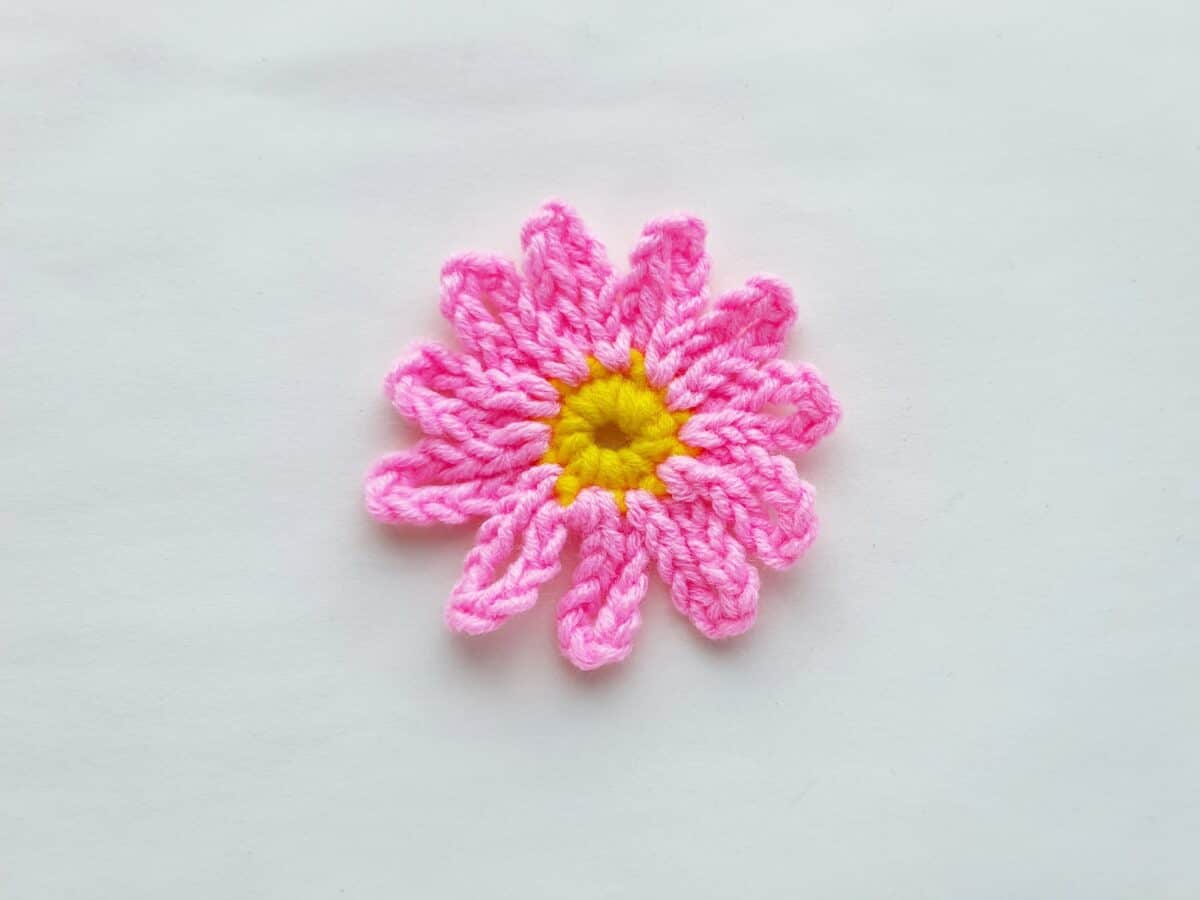 Want to save this for later? Be sure to Pin it to a Crochet or Craft board on Pinterest.
It is easy to make a crochet flower petals that are open and loopy with this free pattern. Once you understand a few basic crochet steps, you will be able to make many crocheted flowers.