Our comprehensive waffle stitch crochet tutorial if perfect if you are excited to explore new crochet techniques and add some delightful texture to your projects. The crochet waffle stitch is a great step for beginners after learning the basic singles, doubles and triples because it uses variations of the basics.
In this tutorial, we will guide you step by step through the process of creating the waffle stitch using basic double and front post double crochet stitches. Whether you are a seasoned crocheter or just starting out, this beginner-friendly tutorial will give you with the skills to master this captivating stitch pattern.
So grab your crochet hook and let's dive into the world of waffle stitching!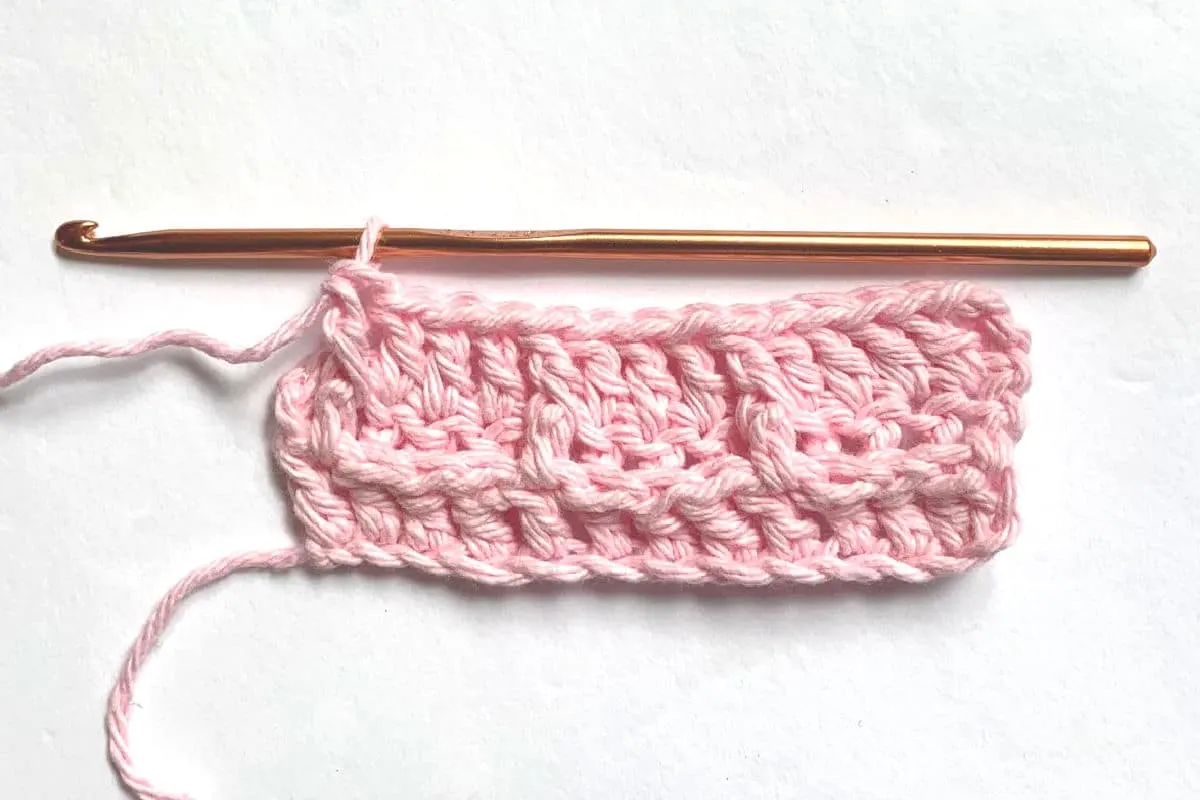 What Does a Waffle Stitch Look Like?
This stitch literally looks like a breakfast waffle! It features raised lines (from the front post double crochet) which give it the look of a Belgian waffle, especially when you have several completed rows.
See our list of essential crochet supplies you actually need! And nothing you don't!
What Patterns Are Good For the Waffle Stitch?
While you can use this textured stitch for a lot of different patterns, it lends itself especially well for blankets, towels and dishcloths. Since these items need to be durable and washable, they are often made with cotton yarn.
Free Crochet Patterns:
How to Make the Waffle Stitch (Step by Step)
As with many crochet stitches, there are multiple ways that you can crochet the waffle stitch. It just depends on how large you want the sections or repeating pattern to be.
For this tutorial, I am going with a repeated pattern of 4 stitches. Therefore, you will start with a chain in multiples of 4 plus 2 stitches.
For instance, the pattern for one row will be a repeat of 1 dc, 3 fpdc. The next row will be the opposite: 1 fpdc, 3 dc. The first and last stitches of each row will be a dc.
This is the crochet waffle pattern I used:
Chain 14
Row 1: dc in 3rd chain from hook and all remaining chains. Turn
Row 2: Chain 3. dc in 1st st, *fpdc in next 3, dc in next st. Repeat from * to one st from end. dc in last st
Row 3: Chain 3, dc in 1st st, *dc in next 3, fpdc in next st. Repeat from * to one st from end. dc in last st
In order to work the fpdc (front post doubles stitches), you need a row of double crochets. These are not technically a part of the Waffle stitch but they form the base row.
So, begin by chaining (multiples of 4 + 2). For the first row, you will crochet doubles all the way to the end.
Then you are ready to make your first row of waffles.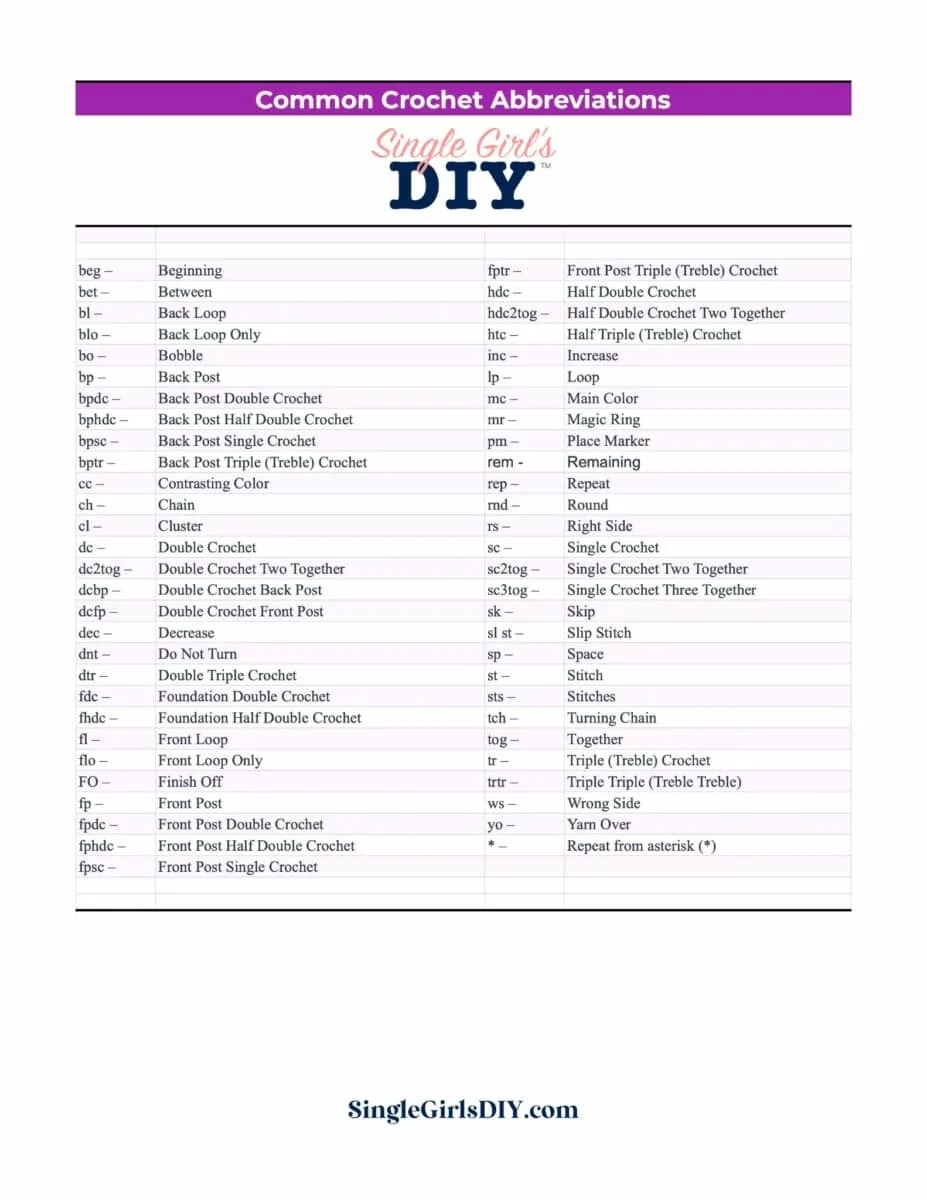 Free Crochet Abbreviations Chart
Get a free printable chart of all the crochet abbreviations you need to know when working on patterns.
The free download is in our pattern library.
1. Chain Three
To begin the first row, make 3 chains. These are your turning stitches.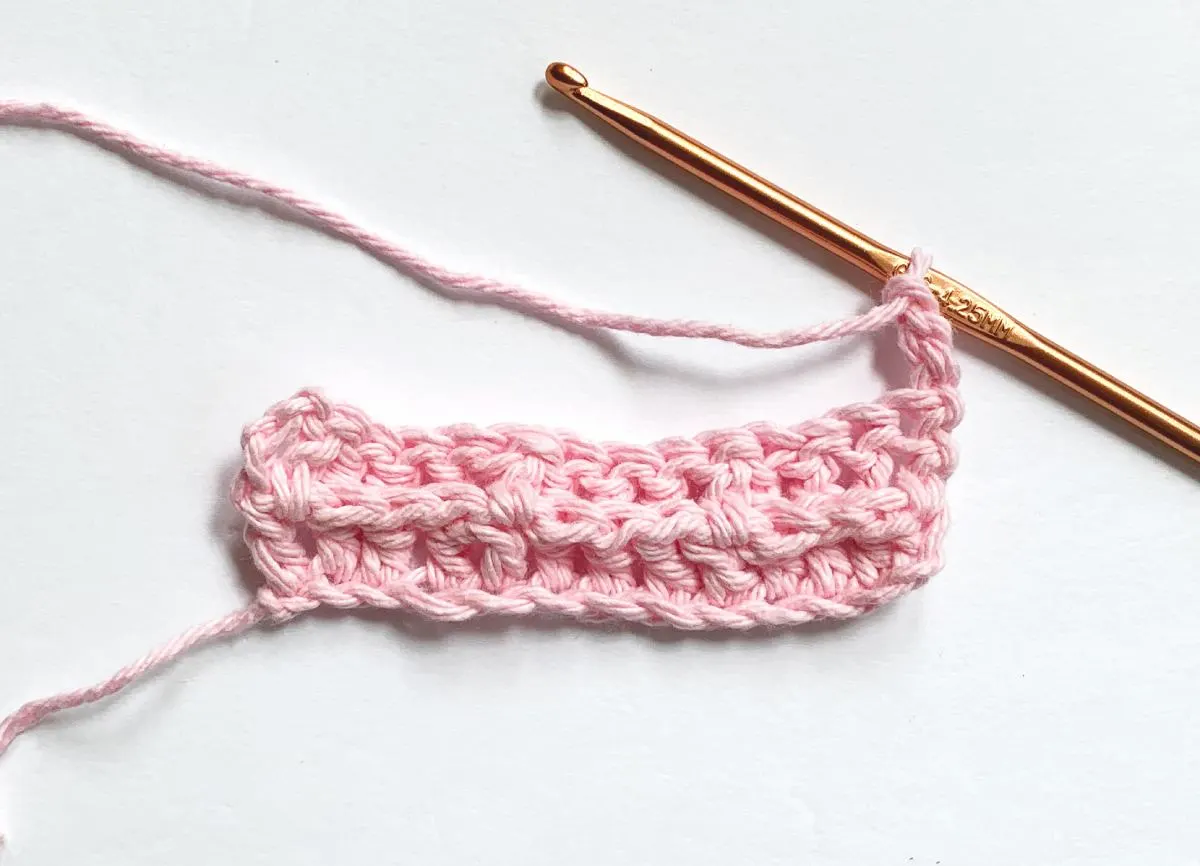 2. Work 1 Double Crochet Stitch (dc)
Next, you will make a double (dc) in the first stitch. Each row will begin and end with a dc stitch. Then the waffle repeats are crocheted in between.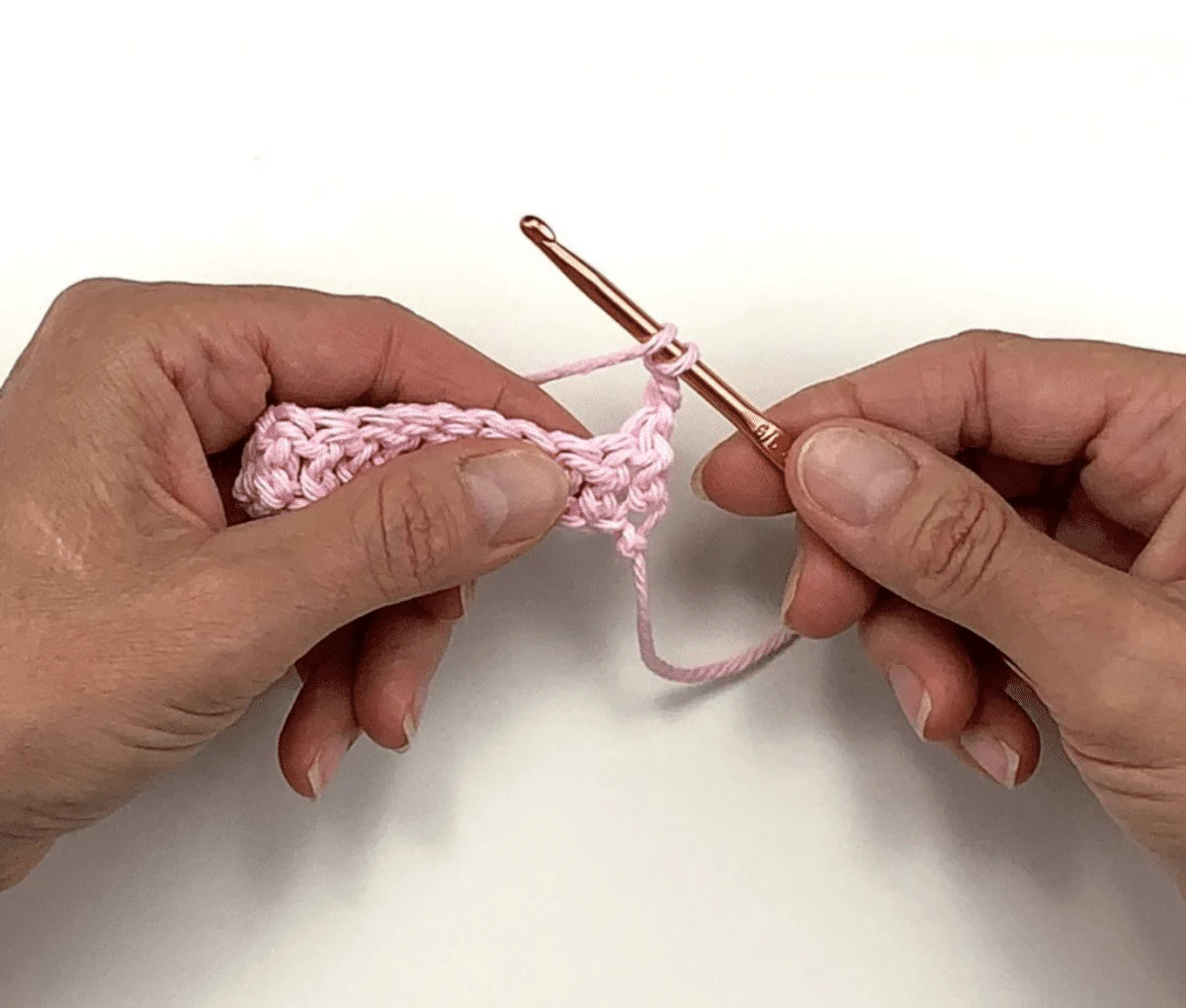 3. Make 3 Front Post Double Crochet Stitches (fpdc)
Now you will begin the first waffle stitch with 3 front post double crochets (fpdc).
If you need a refresher on how to make a fpdc, see our tutorial for making a front post double crochet.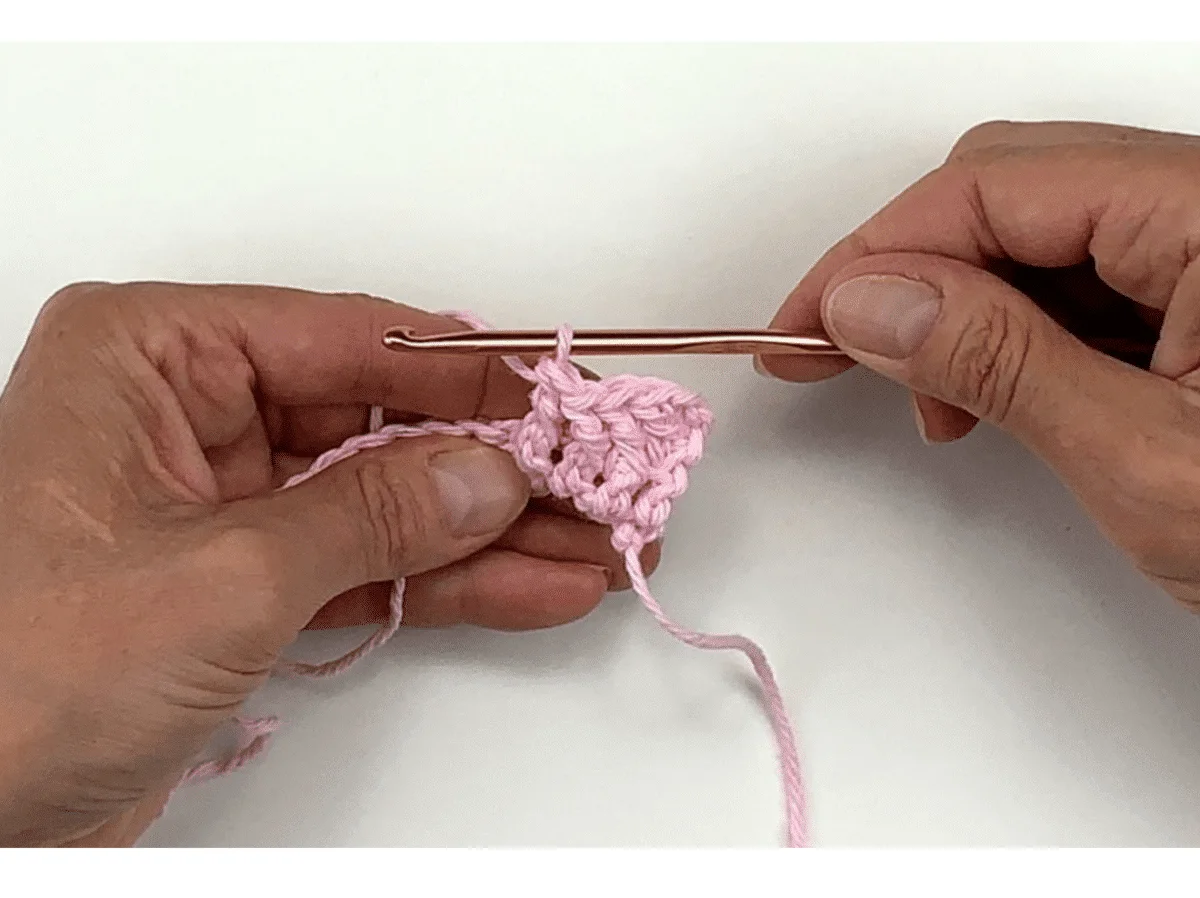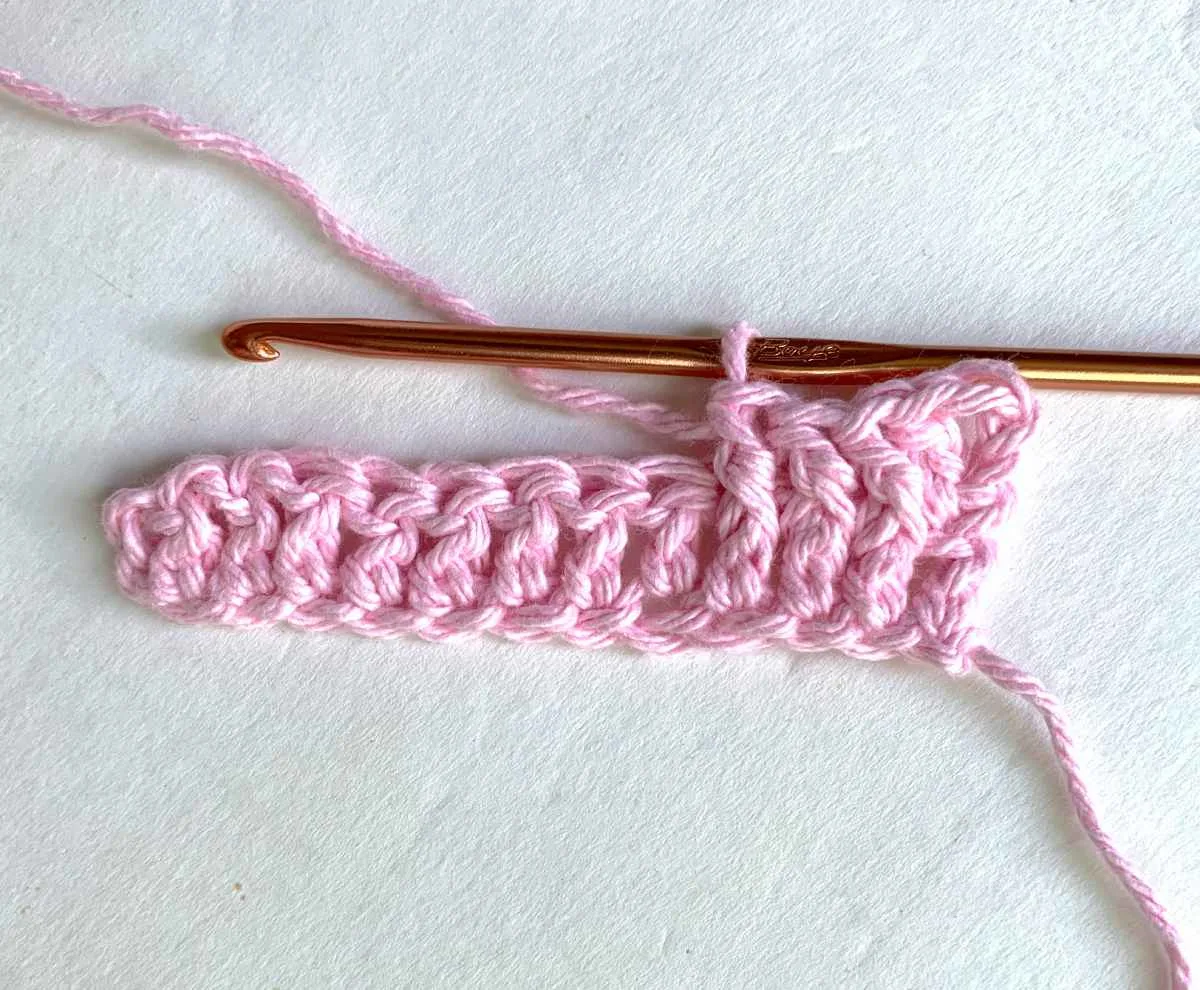 4. Work 1 Double Crochet (dc)
To complete the first waffle stitch, work a double (dc) crochet in the next stitch.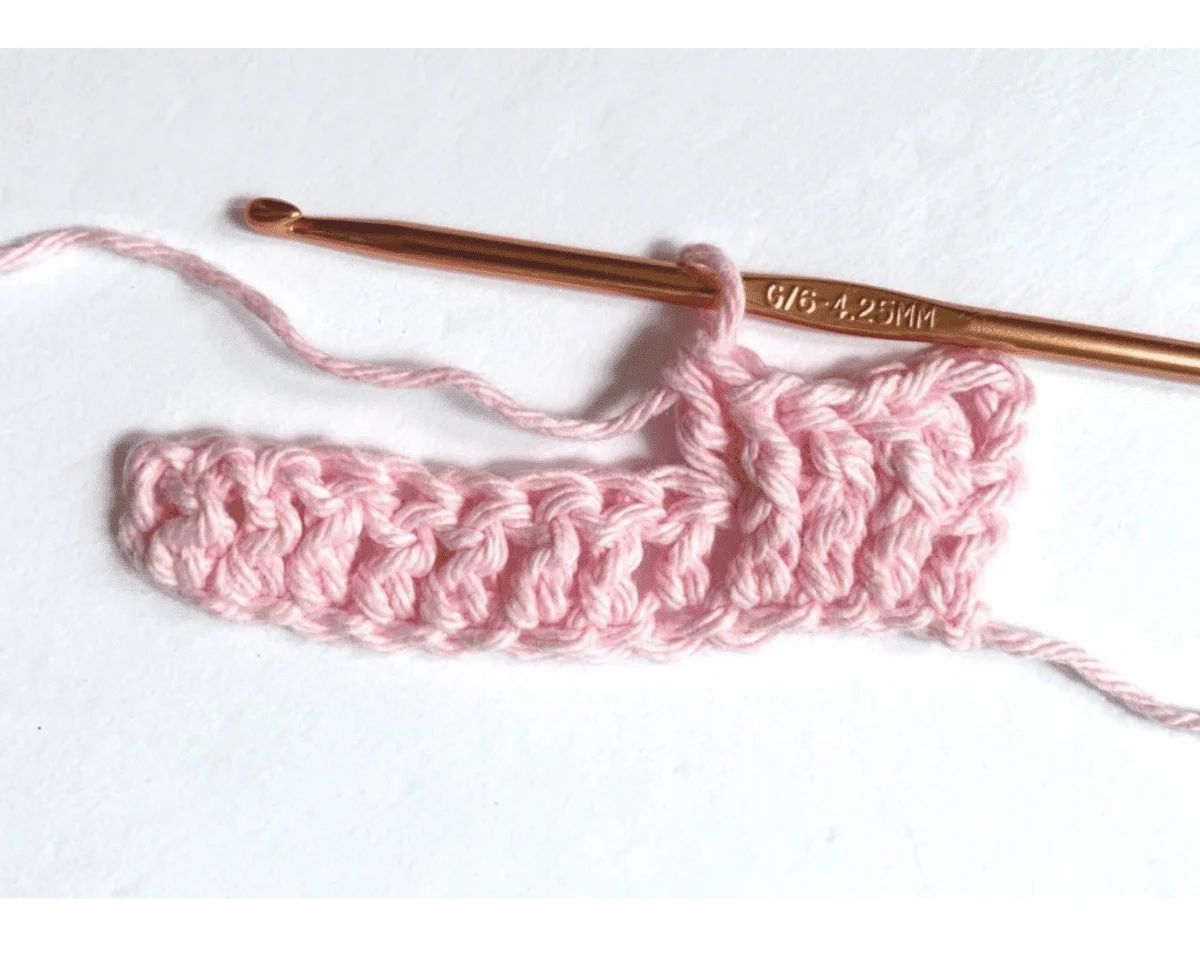 Repeat Steps 3 and 4
From now until you reach one stitch from the end of the first row, you will repeat the pattern: 3 fpdc, 1 dc.
If you followed my pattern of starting with 14 chains, then you will end up with 3 completed waffle stitches per row.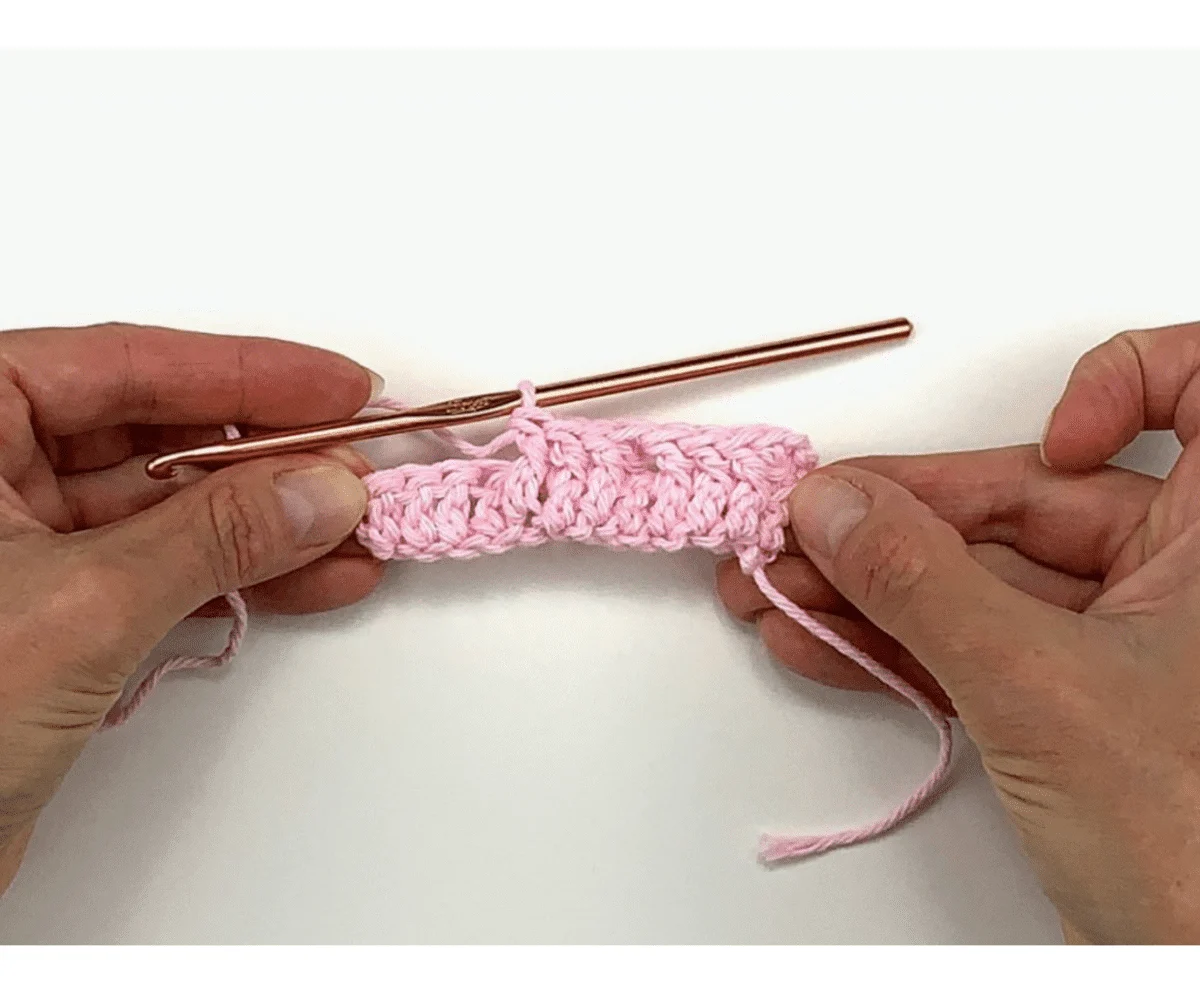 Making Row 2 of the Waffle Stitch
Now, we are going to again begin with a turning chain and a double crochet, and then the waffle pattern will be reversed from the first row.
5. Chain 3 (Turning Chain)
Make 3 chain stitches for the turning chain.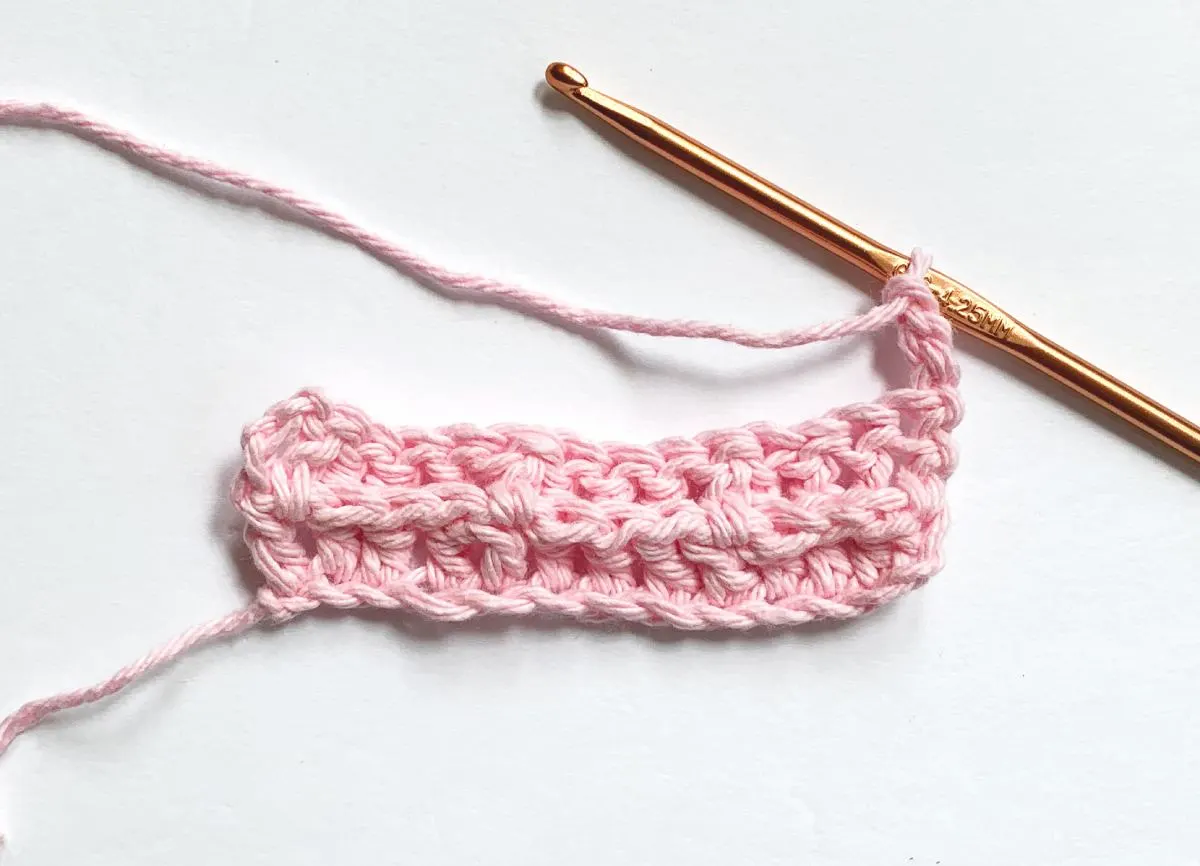 6. Make a Beginning Double Crochet (dc) Stitch
Again, work a double in the first stitch to start the row. (This is not part of the waffle stitches, it is only the beginning of the row)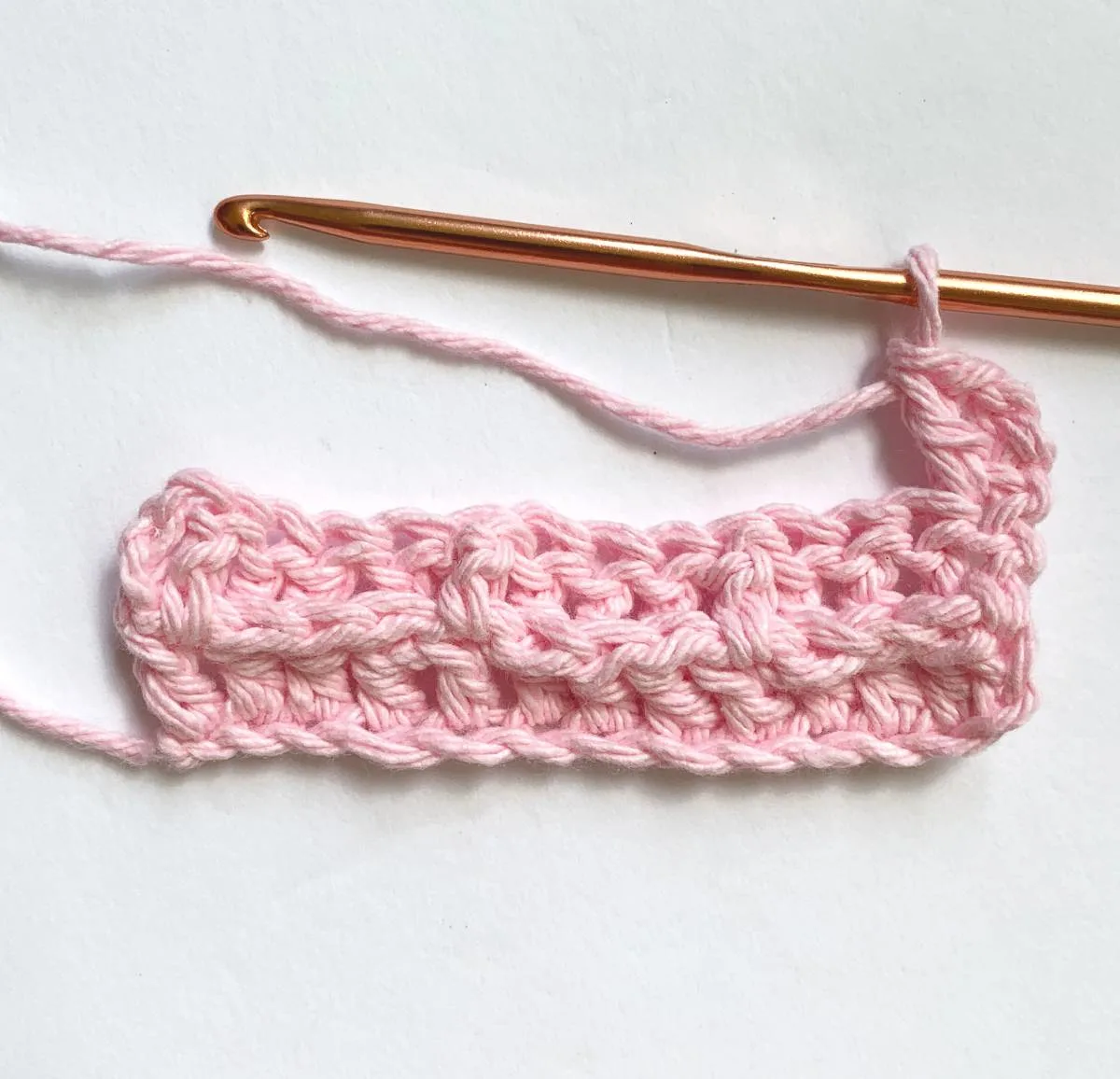 7. Make 3 More Double Crochet (dc) Stitches
Now, you will start the first double by crocheting 3 consecutive dc or double crochet stitches.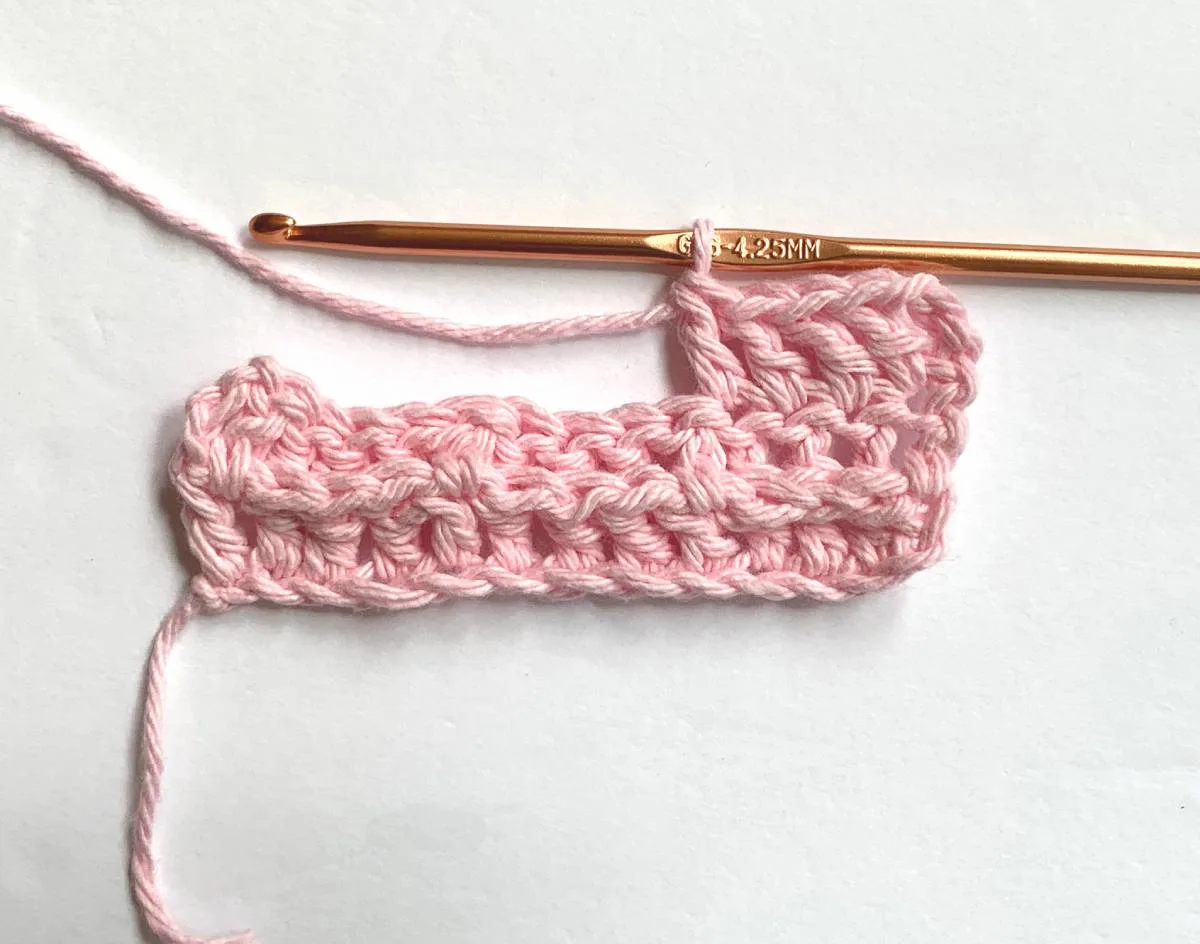 8. Work One Front Post Double Crochet (fpdc) Stitch
Next, you need to make a front post double crochet stitch.
You can see the raised stitch on the row below. That will help you know where to make a fpdc.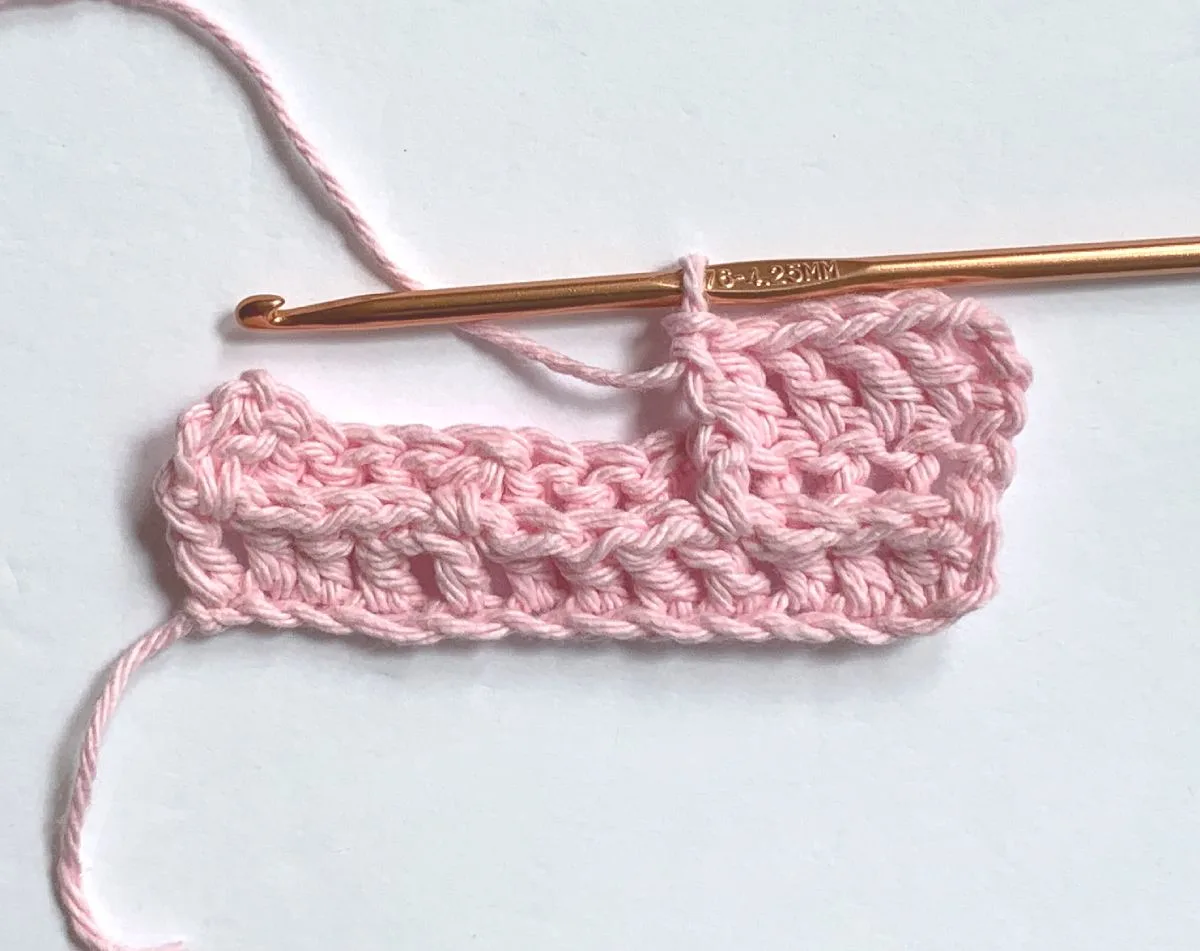 9. Repeat Steps 7 and 8
Now, you will repeat the same four stitches two more times until you reach the last stitch. (If you started with 14 chains like I did); 3 dc, 1 fpdc.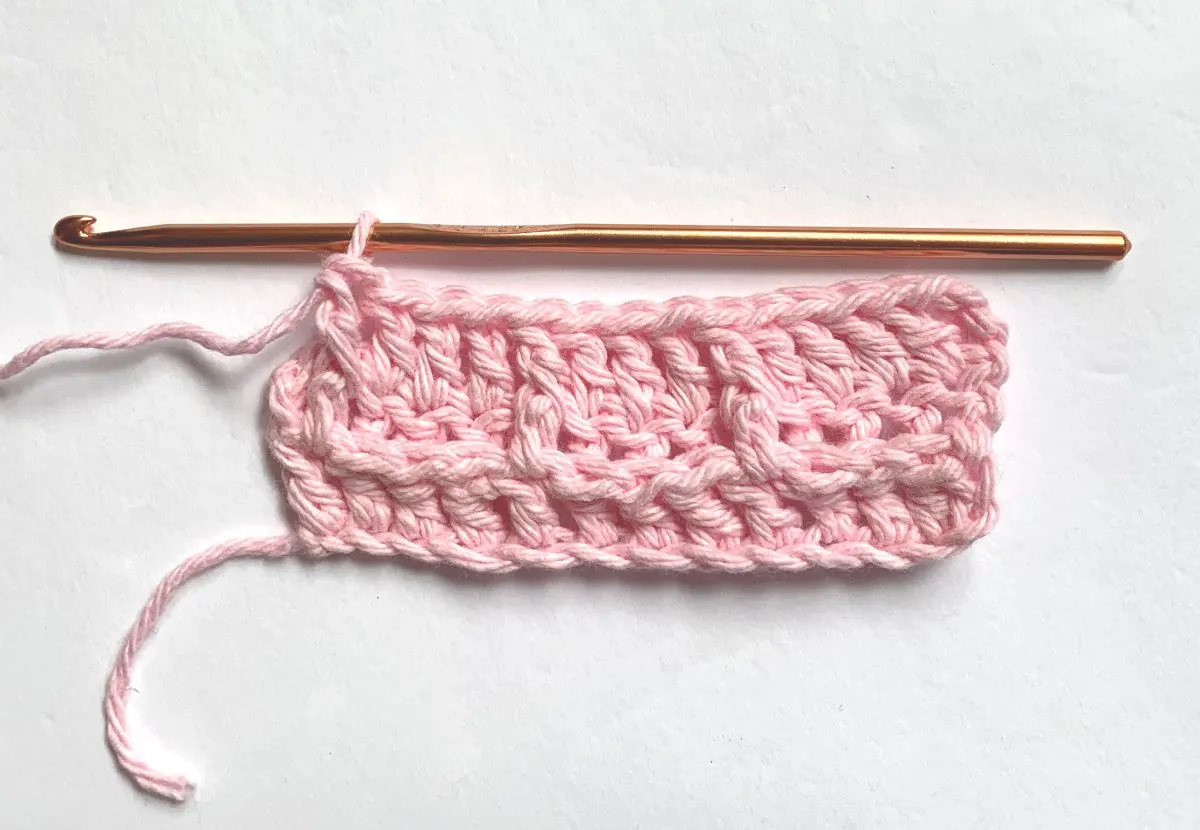 10. Make a Double Crochet (dc) at the End
At the end of the row, work a dc or double crochet into the top stitch of your turning chain.
Now the second row is complete.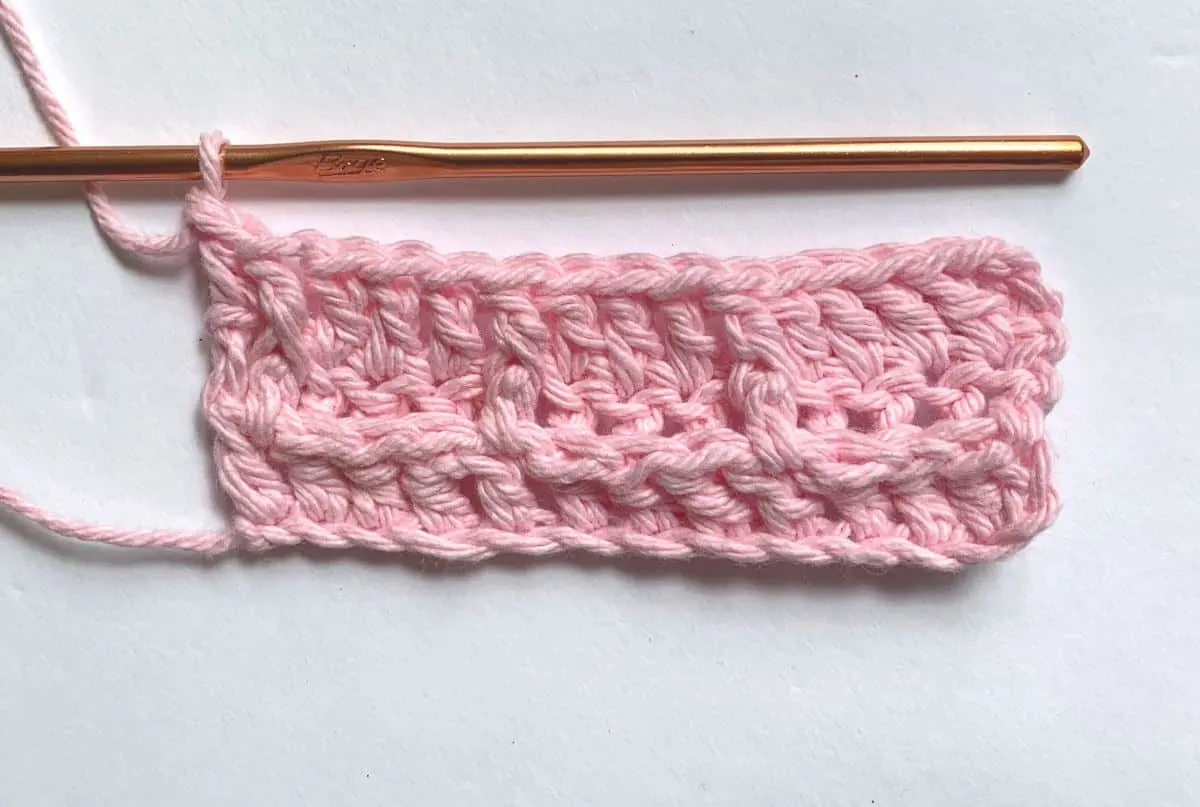 Now all you need to do is repeat rows 1 and 2 until your piece is as big as you want it.
You can make the repeats any size. You could do 2 dc and 2 fpdc as long as you start with a multiple of 4 plus 2 chains.
If you want your waffle squares to be smaller, you could start with a multiple of 3 plus 2 chains. In that case, each waffle is composed of 2 fpdc, 1 dc.
Be sure to Pin This tutorial to save for later when you have a pattern that needs a waffle stitch!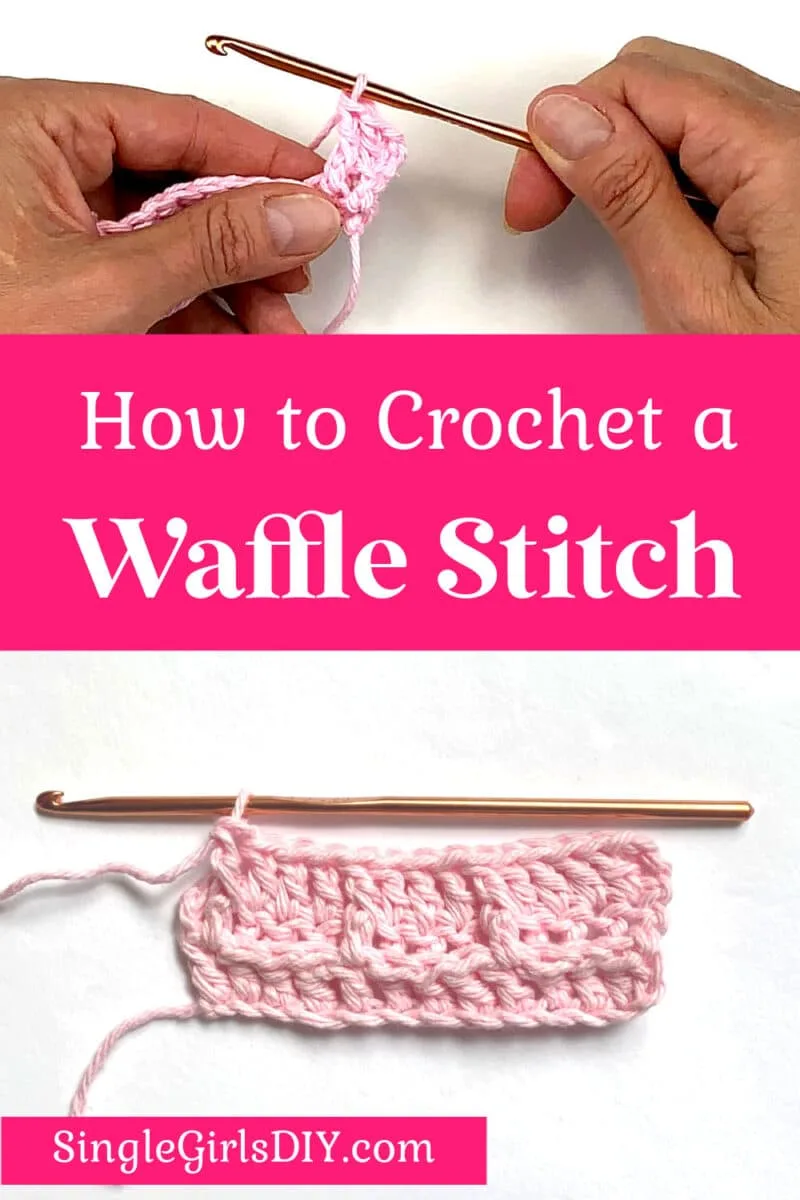 Related Stitch Tutorials: