Do you ever look under your bed? Me, neither! Which makes it a perfect place to add more storage instantly in your bedroom! You can use under bed organizers to store all kinds of things without worrying about keeping it neat and tidy!
If your home lacks storage space, use this hidden gem for maximizing storage instantly!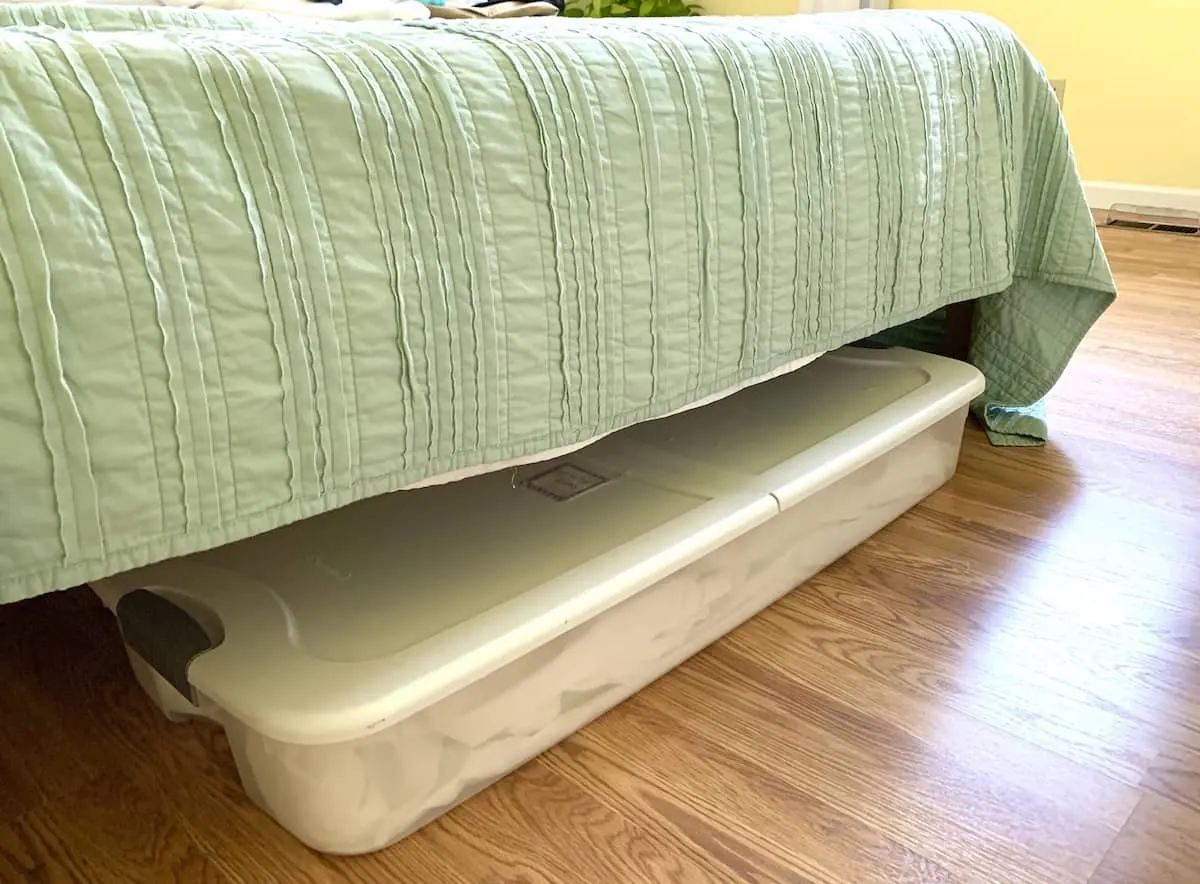 I promise you, by using these under bed storage organizers, you'll wonder why you never did it before!
You can instantly store items out of sight, including:
Shoes
Clothing
Coats
Pillows
Large blankets
Linens
Tablecloths
Craft Supplies
Puzzles
Keepsakes
Christmas decorations
Holiday decor
There's so much freedom in being able to just put stuff under your bed without worrying about it looking cluttered or anyone seeing it! So what are you waiting for? It's time to add more storage to your home and banish the clutter right now!
P.S. If you can't fit storage bins under your bed right now, you should really think about switching bed frames. This inexpensive, solid wood bed frame is what I used to instantly triple my storage space underneath. Plus, it's super sturdy and I really like it for supporting my mattress.
Fabric Storage Containers
Keep everything stored safely under your bed with a set of fabric organizers. I love the minimalist, clean look of these fabric storage organizers with zippered lids. Even if they peeked out from under the bed, it would still look clean and modern.
The firm sides and bottom help keep the bins upright under your bed and the clear plastic cover makes it simple to see what's inside.
Clear Plastic Bins
To keep all your items protected under your bed, consider using clear plastic bins. I have many of these that I've been using underneath beds in my home. With lids that lock tightly in place, everything inside stays safe and clean.
Plus, you can easily see inside. Which is great if you're looking for something in particular, such as shoes or craft supplies.
These long bins are great for keeping all your items dry while they're being stored. And the shallow profile ensures they'll fit snugly under a low profile bed.
Under Bed Shoe Storage
With an under the bed shoe storage container, you can easily store away all your extra shoes. These large shallow bins fit under most beds. And the handy compartments inside each bin fit all shoe sizes and shapes. (Plus, they match the fabric storage containers listed above!)
Each storage container holds 24 pairs of shoes, which means you'll have plenty of space to hide away all those extra shoes that have been cluttering up your closet. And with the clear lid on top, you can quickly and easily see which shoes are stored inside each box.
Wire Storage Bins
If you love a farmhouse or vintage aesthetic, try one of these industrial wire storage bins. Add some vintage style to the space under your bed and hide away extra clutter at the same time!
While you won't be protecting the items stored in them from dust or moisture, they are perfect for often-used items, such as shoes.
Divided Storage Boxes
I personally love these divided storage boxes. While so many other types of under bed organizers are just one big space and everything is thrown inside, the five handy compartments inside each of these can help keep everything inside neat and organized.
One compartment could be shirts. Another compartment could be shoes or flip flops. Yet another could be scarves and accessories. Not everything would be piled up together, yet you would only have one bin.
Solid Wood Underbed Drawer
This classic wood underbed drawer works with so many decor styles. Plus, it can be easily customized with paint or stencils to make it something unique for you!
The solid wood construction ensures it will stand the test of time. And the wheels on bottom make it easy to move the container in and out from under your bed. And with two different size options (queen/king or twin/full), you can find a bin to fit perfectly under your bed.
Rolling Divided Drawer with Metal Support Frame
So many underbed storage organizers are just fabric or plastic. Which is usually fine for many items. But you might need some more rigidity and support for heavier items.
These under bed drawers with a metal frame have wheels plus a handle for easily pulling it out from under the bed.. They are great for sturdy underbed storage. And, this drawer comes with a divider. So you can keep everything tidy inside.
Patterned Underbed Storage
If you want to add some personality to your underbed storage, try these patterned underbed storage containers. The breathable fabric sides feature a decorative lantern pattern and comes in your choice of grey or turquoise blue.
Bonus: These are among the most affordable storage organizers on this list!
Each storage container features a clear plastic lid, making it easy to see what's stored inside, and double strong zippers to keep everything inside safely stored.
Stylish Underbed Storage Drawers
These upholstered wood underbed drawers with leather-like handles make a statement. Whether they are peeking out from underneath your comforter, or only you see them when you roll them out, you're sure to love the classic, minimalist, modern design.
Each drawer features rolling wheels on bottom and a handle on the front, making it simple to move the draw out from under the bed when you need something inside. Each drawer is made to fit your bed, allowing you to choose from two different size options – queen/king or twin/full.
Wicker Storage Basket
If you love the farmhouse look, you can't go wrong with wicker baskets! And these under bed wicker basket organizers are pretty enough to display.
Each basket is made of hand-woven natural rattan wrapped over a sturdy wooden frame. The large basket is perfect for storing a variety of items, including clothing, linens, and shoes.