When we created a reading nook under a sloped roof in our home, we knew we wanted a bookshelf for books and extra storage. While cube storage is inexpensive and offers a lot of options, we wanted something a little different.
Adding legs to cube storage units, especially IKEA Kallax shelves, is an instant way to change the look of the basic unit to something more customized for very little money.
In this article I will show you how to add legs to a cube storage unit, where to buy furniture legs, great reasons why you want to add legs to IKEA shelves, and IKEA Kallax alternatives if you don't have the home store nearby.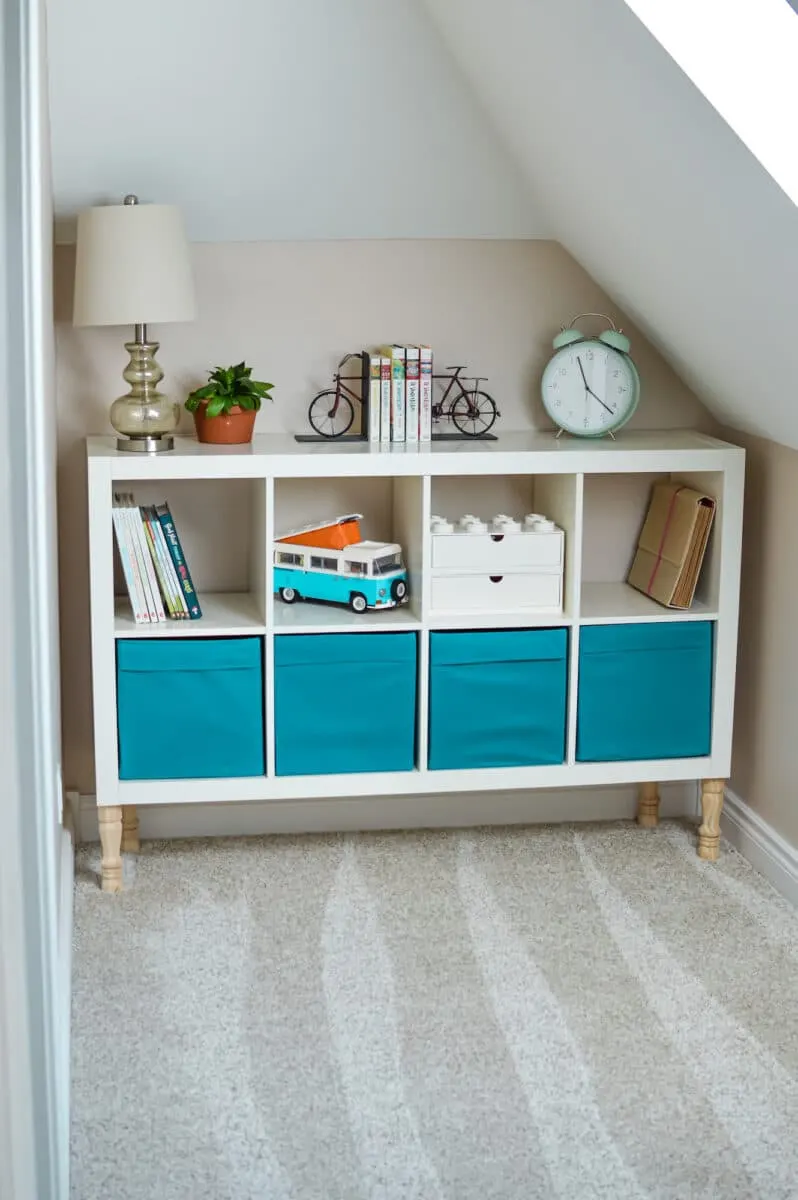 Why Add Legs to Ikea Shelves?
Why not just buy a shelving system with legs attached already? There are many reasons, and most come down to cost and style:
Furniture can be expensive. Customizing simple pieces is the best way to get the style you want without having to pay designer prices.
You can't find the style that you want. Let's face it, a lot of traditional furniture manufacturers just can't seem to get out of the old, stuffy way of doing things. If you have a modern, young, or minimalist style, you may find that not many manufacturers make what you are looking for.
Basic pieces cost a lot less. Kallax shelves are simple, modern and clean. There are no fancy decorations, drawers, legs or other items to drive the price up.
You need a certain dimension. Not all homes or apartments are the same. Dressers and shelving systems usually are all the same dimensions, and that might not work in your space. Customizing a smaller piece of furniture allows you to get the functionality you need with the space you have.
Furnace vent and air conditioning vents can't be blocked on the floor, but that might be the only place you can put furniture. Raising up the IKEA shelves allows for air flow and the heat or cold air to be circulated through the room.
It is cheaper to DIY your style. We love mid-century modern design, but have found that most mid-century furniture is insanely expensive just to get that minimalist look. A four pack of mid-century modern legs costs between $20-$40 on Amazon while buying a MCM shelving unit would probably cost at least $400-600 in a store.
Adding more storage space. Elevating your cube storage shelves with legs will give you room underneath to store boxes, shoes, blankets, etc. If you are really tight on space, this is a smart option when you can't get a bigger shelving system.
How to Add Legs to Cube Storage
The supplies you will need to add legs to a Kallax shelf (or other cube shelving unit) are:
Electric Drill or Hand-held Screwdriver
Level (optional)
Measuring Tape
Furniture Legs (See shopping guide below)
Top Plates OR Liquid Nails / E6000
When deciding what type of furniture legs to buy, you will need to measure the space first. Determine how high you want the Kallax shelves to be when they are completed.
Then measure the distance between the desired height of the finished project and the height of the cube storage unit laying flat on the ground. This will be the size of legs that you want to buy.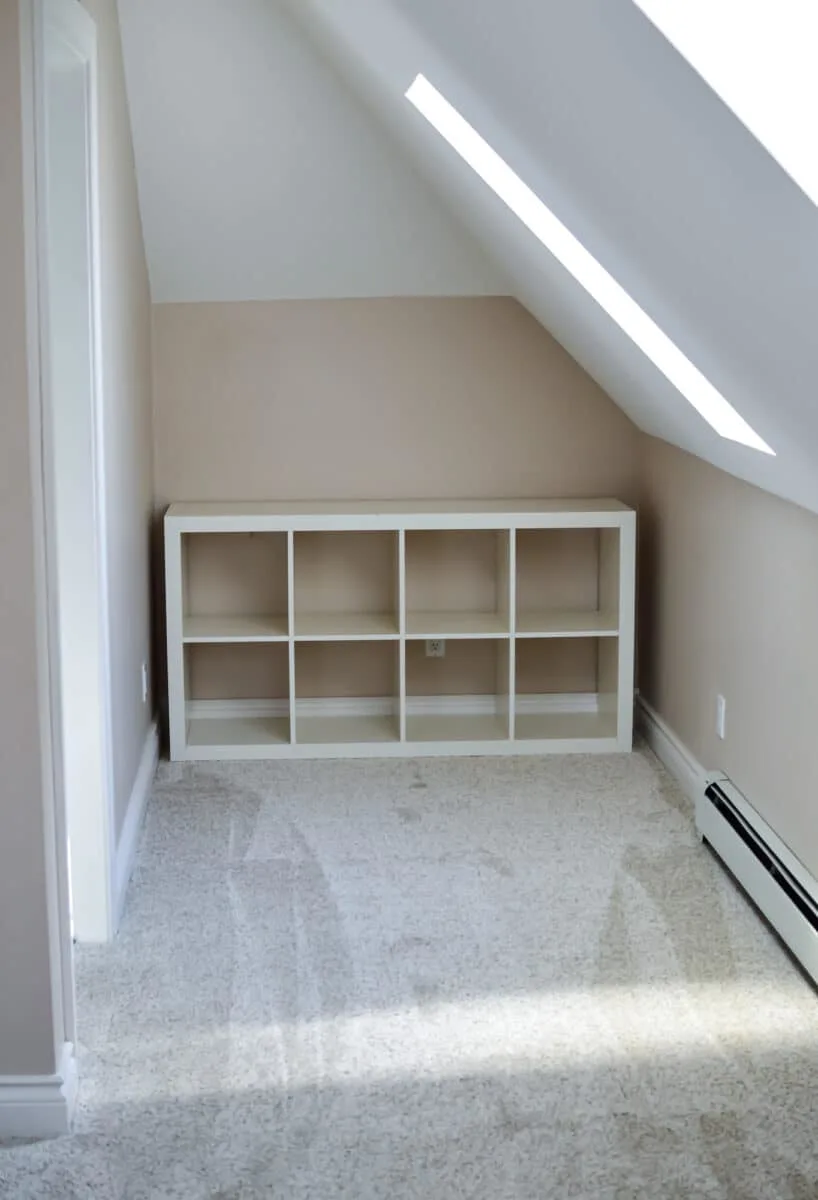 We had the perfect amount of room for these 9" wood legs without interfering with the corner where the ceiling slopes to its lowest point.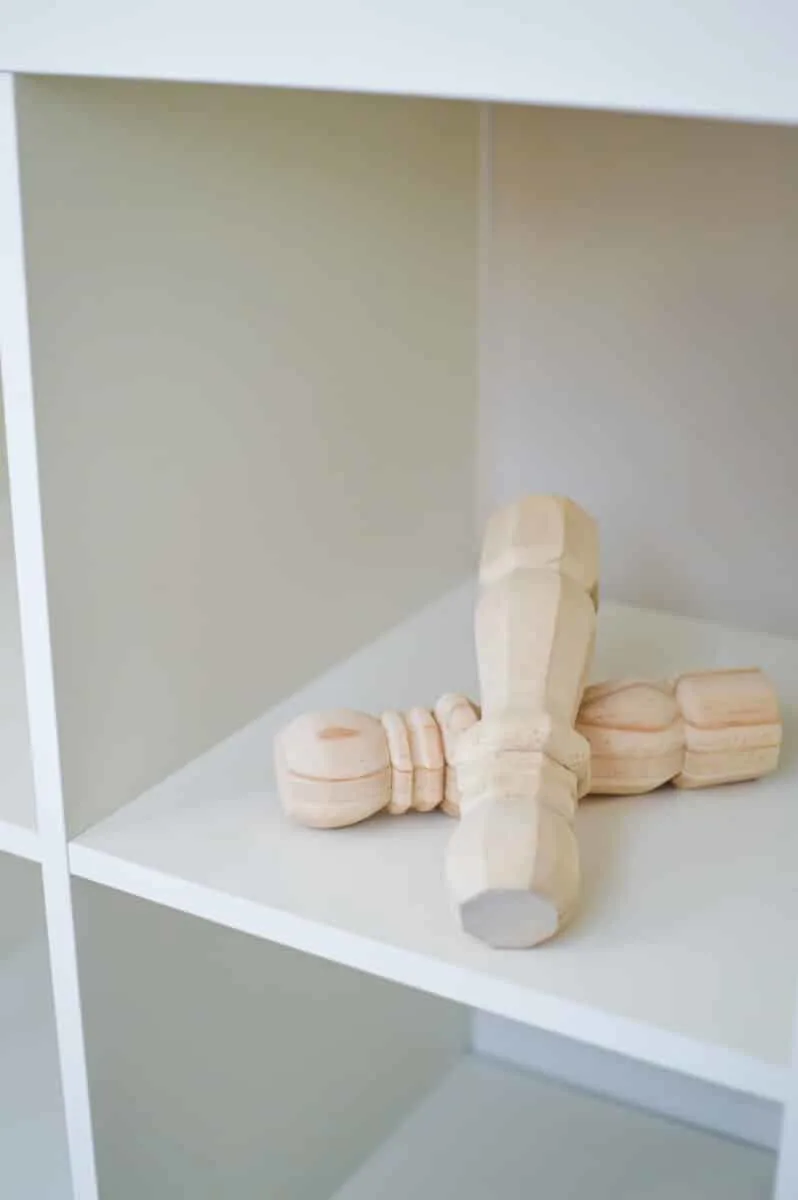 You will also need to decide how many legs to add to the cube storage. Small units will use four legs, but larger units can use 6 legs or more.
Measure where on the bottom of your shelf you need the legs to go. I wanted to make sure the legs were properly spaced, while also not interfering with the baseboards, so we set the back legs in just a little further from the back and sides.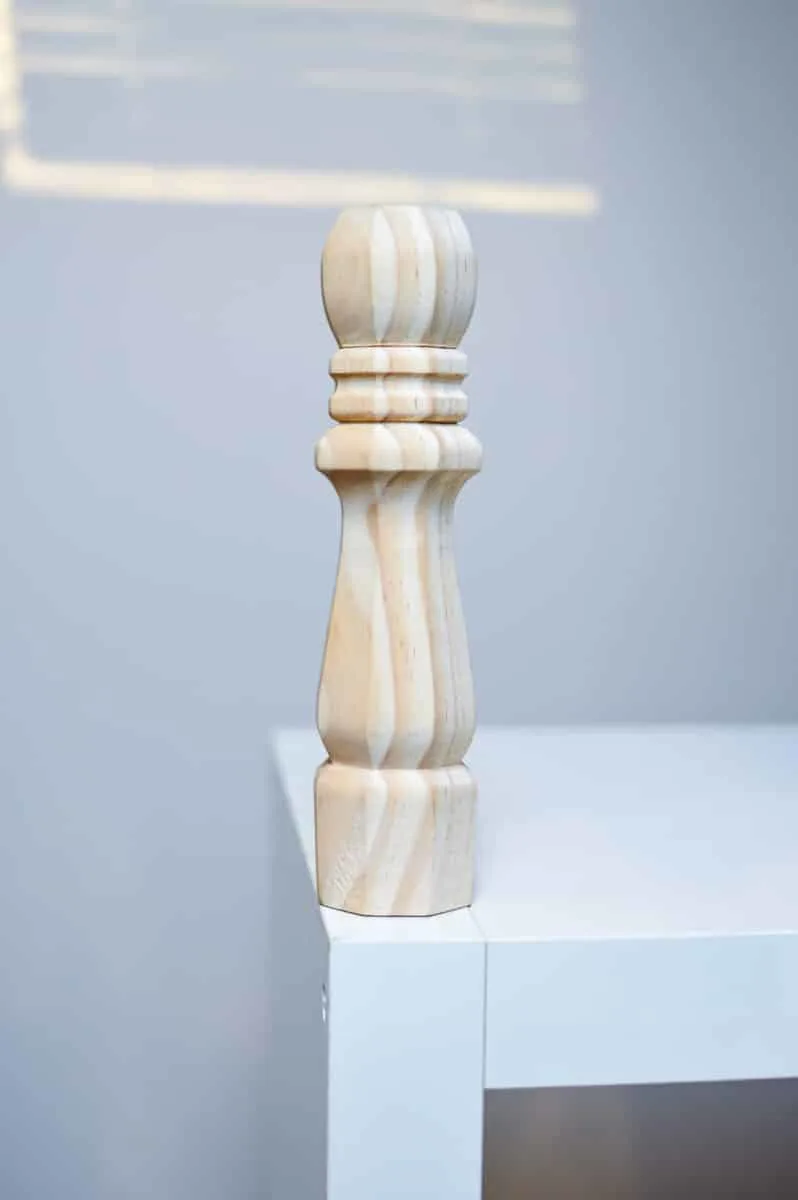 Bringing the legs inward from the outer edges allowed the back of the shelf to be flush with the wall, making mounting the shelves to the wall even easier.
However, you can mount the legs on the outermost corners if you would like.
Once you know where you want the legs to go you can choose one of two different options to attach the legs to the cube storage:
Use top plates to screw in the legs
Use a drill and E6000 or liquid nails
Using Top Plates
Top plates are metal plates that are attached to the furniture piece. They are triangular in shape and fit into the corner where you want to add a leg.
When you attach a leg to the cube storage and use a top plate, you will actually be screwing in the leg into the top plate, not the furniture piece.
If using a top plate, attach them according to the package instructions. Then screw the legs into the top plates.
To attach the top plates, you can start by tapping a pilot hole into the base unit with a small nail. This starts the hole. Then you can use an electric drill or use a handheld screwdriver to insert the screws that come with your top plate.
Most inexpensive cube storage units have a fiberboard exterior but inside there is recycled fibers which are not as dense as wood. (Unless the shelves are solid MDF, which can be quite dense.)
If the material has a hollow core, it can be quite easy to insert the screws manually with a hand held screwdriver once your start the pilot hole with a nail. Which is perfect if you haven't invested in these must-have power tools for homeowners, yet.
Helpful Tip: Tape down the top plates with painter's tape to keep them in the correct position. Painter's tape won't remove the finish from the outside of the shelves when you take it off, unlike masking tape or duct tape.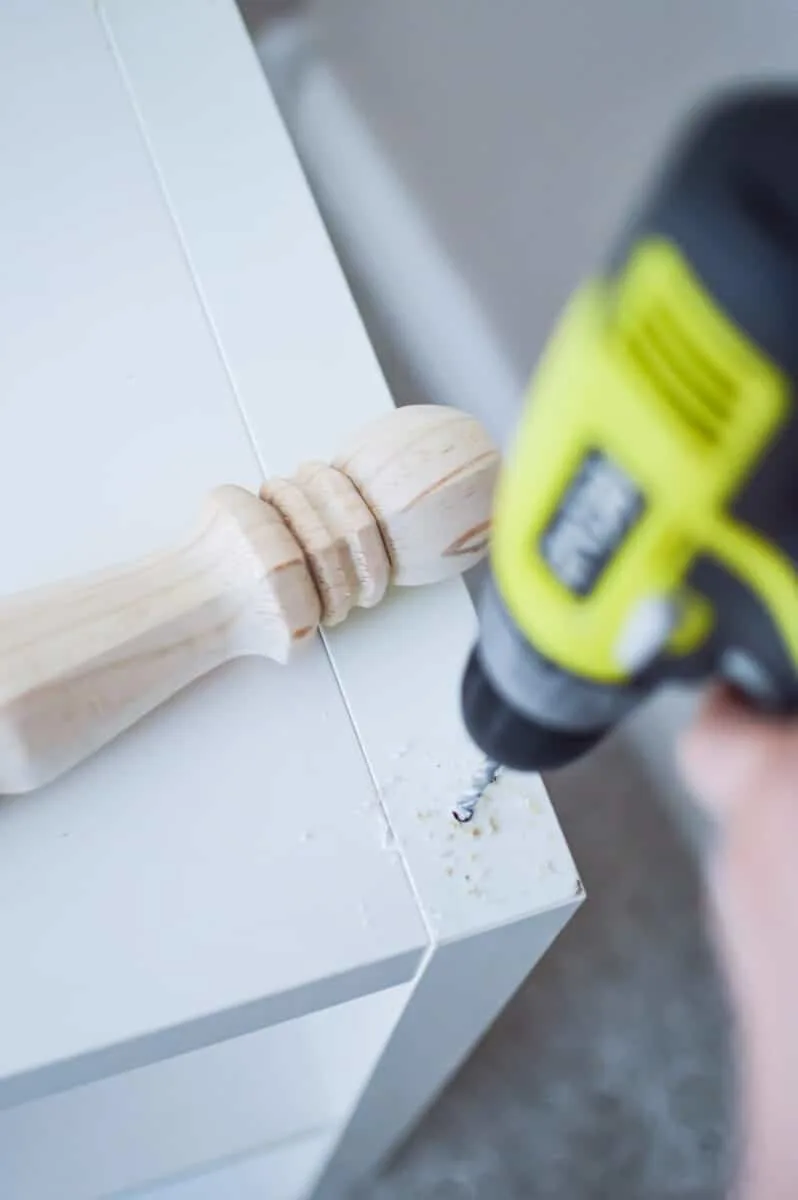 Using Liquid Nails and a Drill
If for some reason you do not want to use top plates or they are not available (which is often common), you can drill a hole directly into the storage shelves to attach the legs.
When I did this project, top plates were out of stock and I knew that I was going to secure the cube shelves to the wall with a wall mount. Otherwise, I would have used top plates.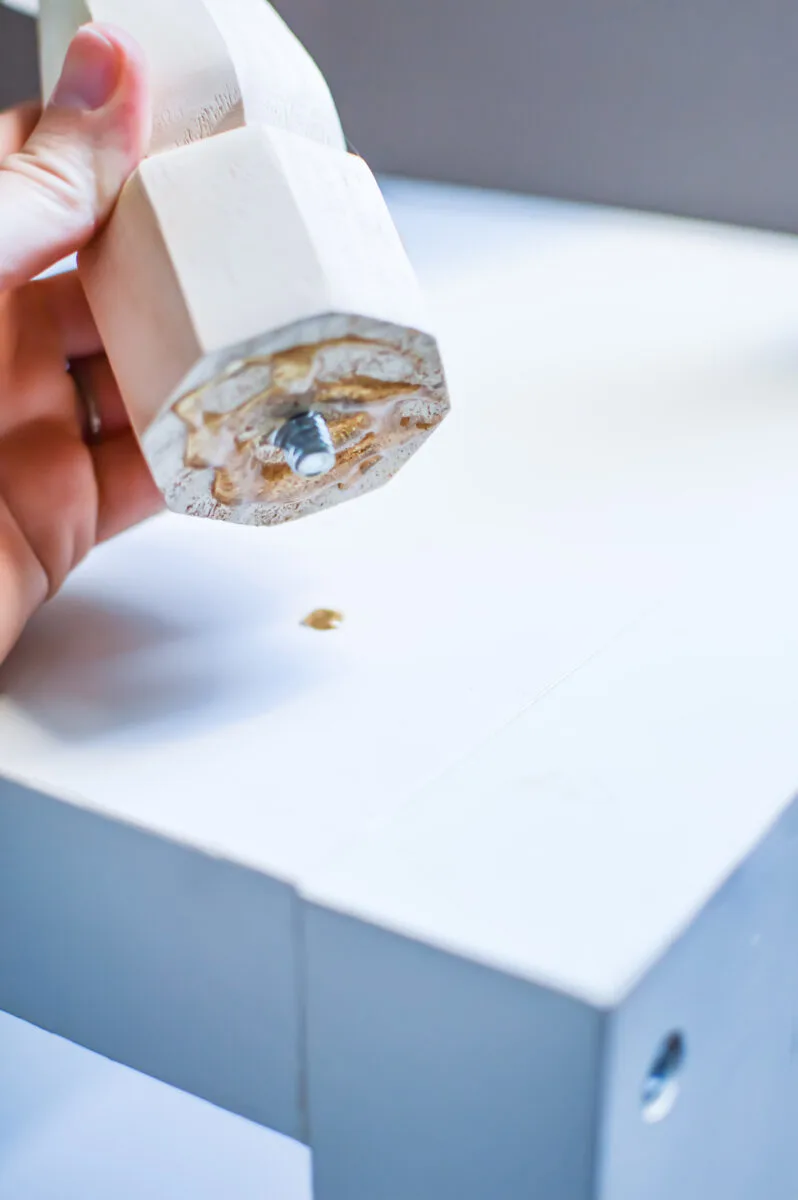 Drill holes for the legs where you want to place them. Then add a generous amount of adhesive (such as Liquid Nails or E6000) and screw in the legs. Wipe off the excess adhesive that will ooze out from the hole.
Wait for the glue to completely set up before flipping over!
Finishing The Shelves
Once the shelf is ready to go, have someone help you flip it over. Regardless of what method you use to attach the legs, you don't want to risk possibly compromising the legs and bending them out of place while trying to push it upright.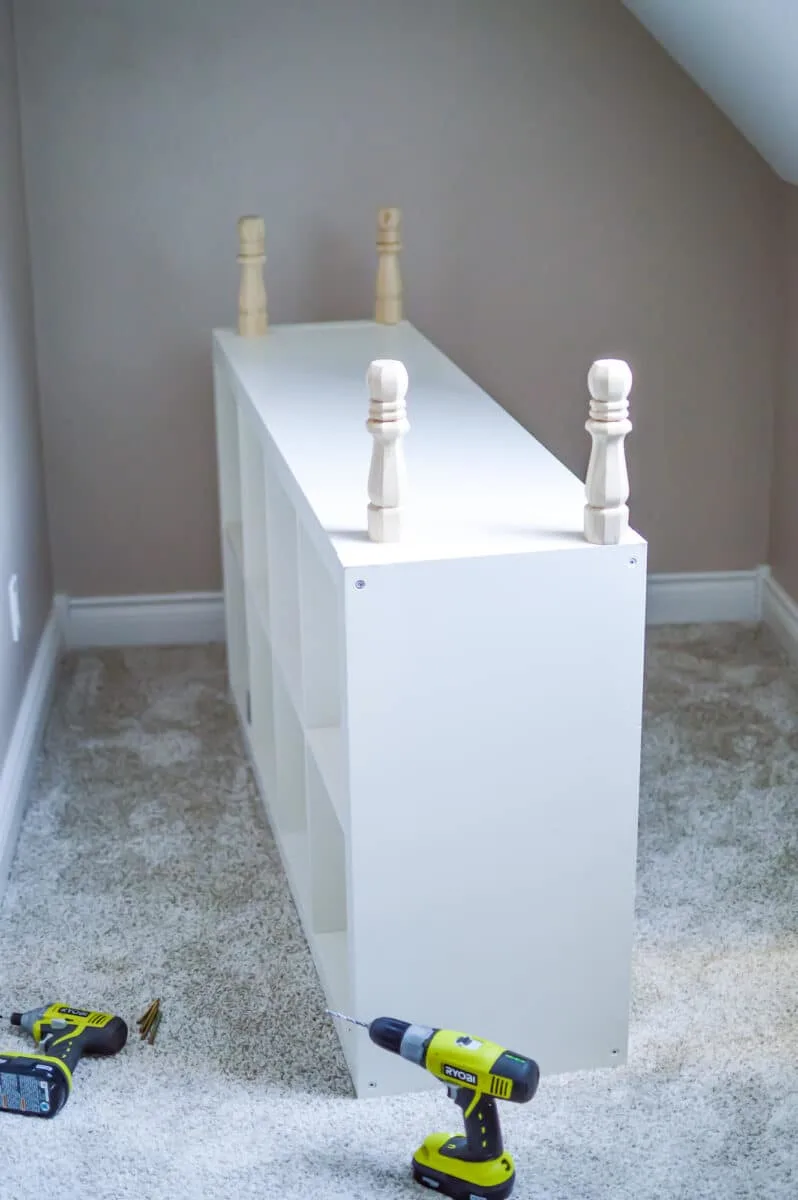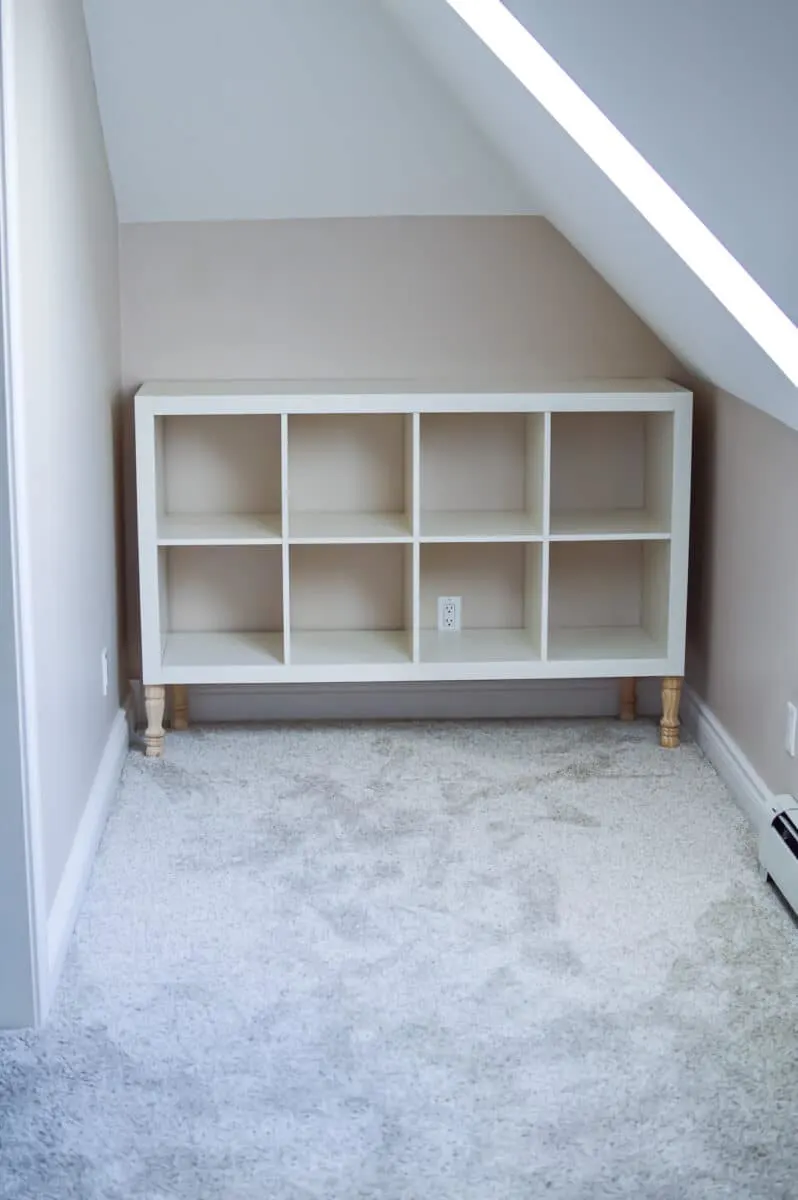 Many cube storage units and shelves now have recommendations to attach the piece to the wall to prevent tipping over. Wall mounting kits are available if you would like to attach the shelving unit to the wall.
These are so very important to use if you have children or pets that could accidentally knock over the furniture.
If you choose to do this, follow the instructions in your wall mounting kit to attach the shelf to the wall. We did this in the very top corners of the Kallax base on legs so they would be almost invisible most of the time.
Legs for IKEA Shelves and Cube Storage Units
Did you know that you can buy furniture legs and feet in any style, shape or material that you can think of? It's true.
If you live in an old home with uneven floors, you can even buy adjustable furniture legs. This is really important when you want your shelves to have a level surface, but your floor isn't level.
The type of furniture leg that you choose will determine the overall look and style of your shelves, so choose something that works with your decor!
IKEA sells furniture legs that you can buy in store with your Kallax unit. We have bought some of these legs for our IKEA couch and chairs.
For our IKEA hack, the legs for the Kallax Unit are traditional pine wood legs bought at Home Depot (also available on Amazon and Lowes).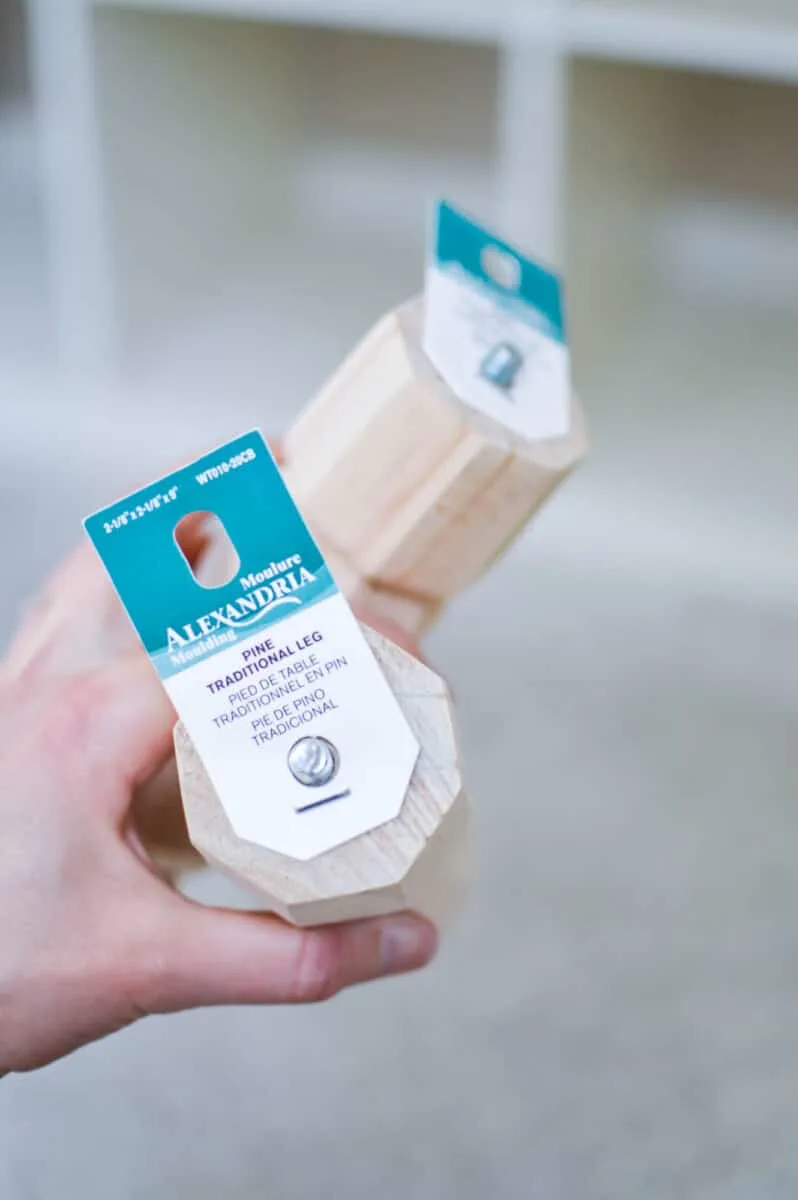 However, the best legs for Kallax (or other cube storage units) for you might not have a traditional look.
The best places to buy legs for cube storage with a variety of styles are:
Kallax Alternatives
Another great cube storage unit at IKEA that you can add legs to is the Eket. (Kallax is similar to the previous Expidit IKEA shelves, so those work great, too.)
Not everyone has an IKEA nearby, though, and ordering items online on IKEA has been challenging for us. Read about all of our previous IKEA Customer Service problems.
You can get the same look with cube storage units from other stores. Here are some great finds:
Be Sure to Pin This tutorial to save for later! You never know when you might be adding legs to cube storage shelves for a great IKEA hack.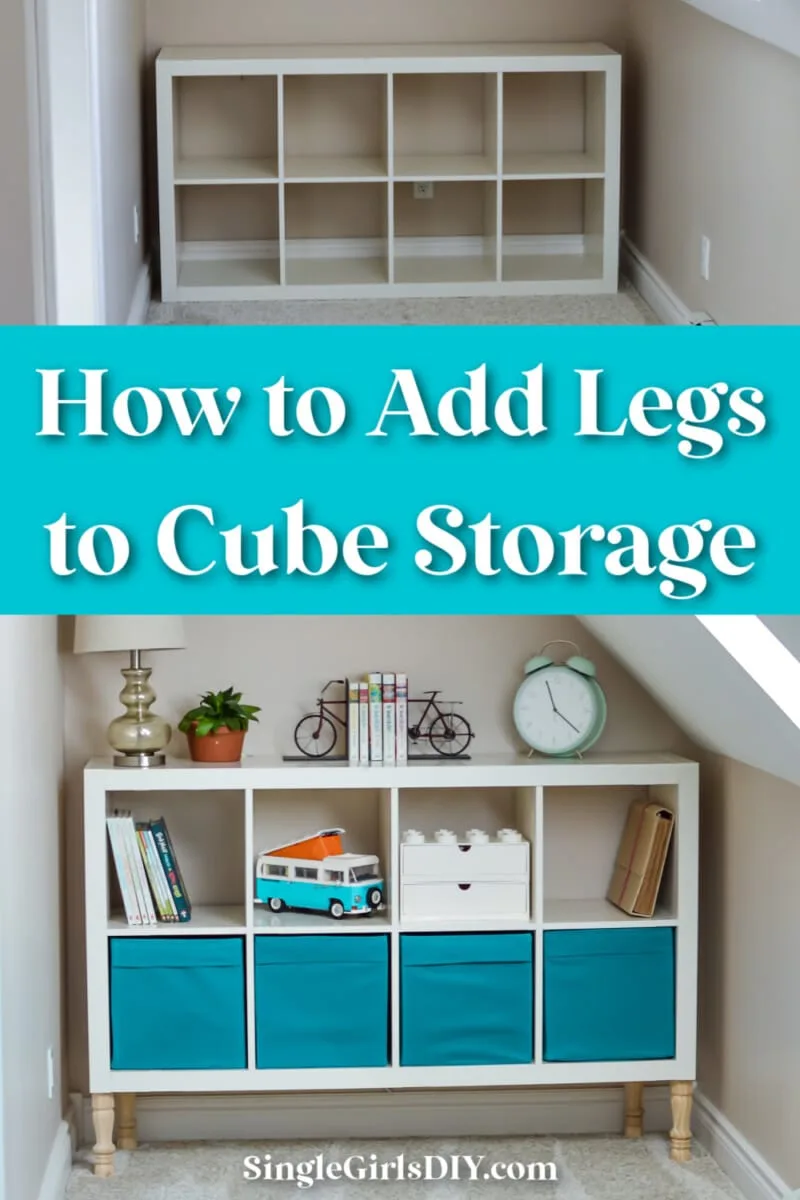 If you love upcycling furniture, be sure to see these tutorials, too: