If you live in a small space, it can be hard to find room to put a dish drainer to allow your pots, pans, utensils, plates and cups to naturally dry. But don't worry. There are some really innovate dish drying racks that you can utilize in a small kitchen, RV or any place with a small countertop.
These space saving dish racks are perfect for apartments, dorm rooms, kitchenettes, homes with limited counter top space (such as mine!), camper vans and tiny homes.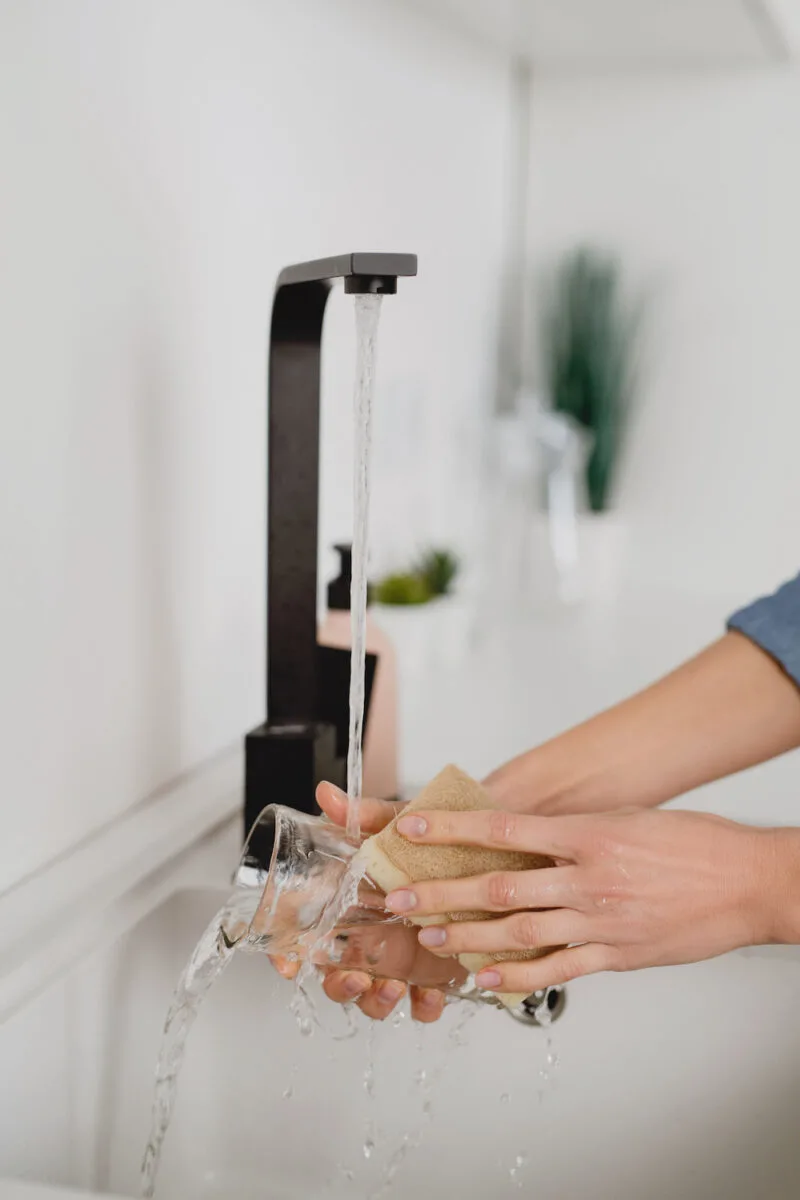 These are just some of the kitchen organizations tips that you'll want to see.
Tovolo Folding Drying Rack
For the smallest of spaces, this tiny drying rack is perfect. The folding dish drainer will hold up to 7 plates. It can also be used for cutting boards or baking pans.
This mini dish rack is ideal for RVs, camper vans and tiny homes.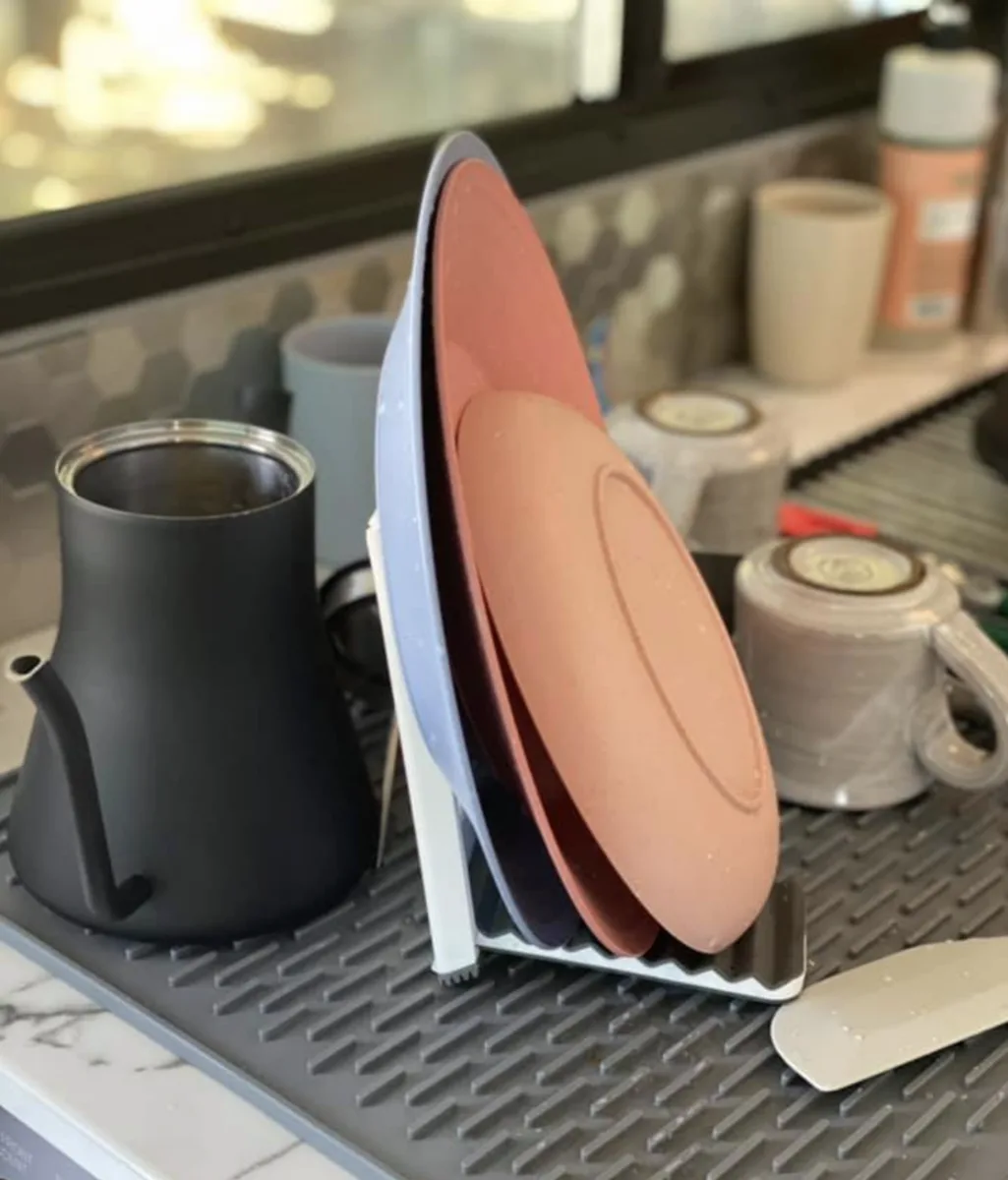 If you primarily wash your plates and cutting mats, this would work well for you. However, if you are needing a rack to also dry cups or utensils, this is not a great choice.
Customizable Dish Draining Rack and Drying Mat
This unique dish rack is modular and can be taken apart and configured in a way that works best for you. It also comes with a drying mat, making this combination a great value.
The one large piece can be unsnapped and made into smaller pieces, which is perfect for storing in a drawer or stacking for storage.
Five plates, two bowls and a few utensils can be accommodated at the same time in this drying rack.
I like that it comes in different colors, including my favorite teal.
Collapsible Dish Rack and Drainboard
If you want a larger dish rack that can easily be hidden from view when you are not using it, then this collapsible dish drying rack is for you.
The silicone material the drying rack is made of can be smushed down to lay relatively flat at about 2 inches in height. Then just pull up the edges for the dish rack to be full sized.
The handles on the drain board can lay over the sides of your sink. Which makes this a multi-purpose dish drainer that can be used in the sink to save space or placed on a countertop. No dish mat is needed to absorb moisture while drying.
Stacked Dish Drying Racks
When your counter top space is small but you have plenty of height available, then this three-tiered stacked dish drying rack is ideal for you.
The design is brilliant. Three smaller drying racks are stacked on top of each other with plenty of room to add cups, bowls and plates. Drying pans are included underneath the racks to catch the water under each rack, so that it doesn't drip onto the other dishes. The water-catching trays can be pulled out to dump out the moisture.
A utensil tray on the side allows you to also dry knives, spoons and forks. While a hook on the opposite side is perfect for larger items such as a pan, mini baking sheet or cutting board.
Roll Up Drying Rack for Over the Sink
Roll up drying racks are common for using over the sink. We have one in our RV and use it all of the time!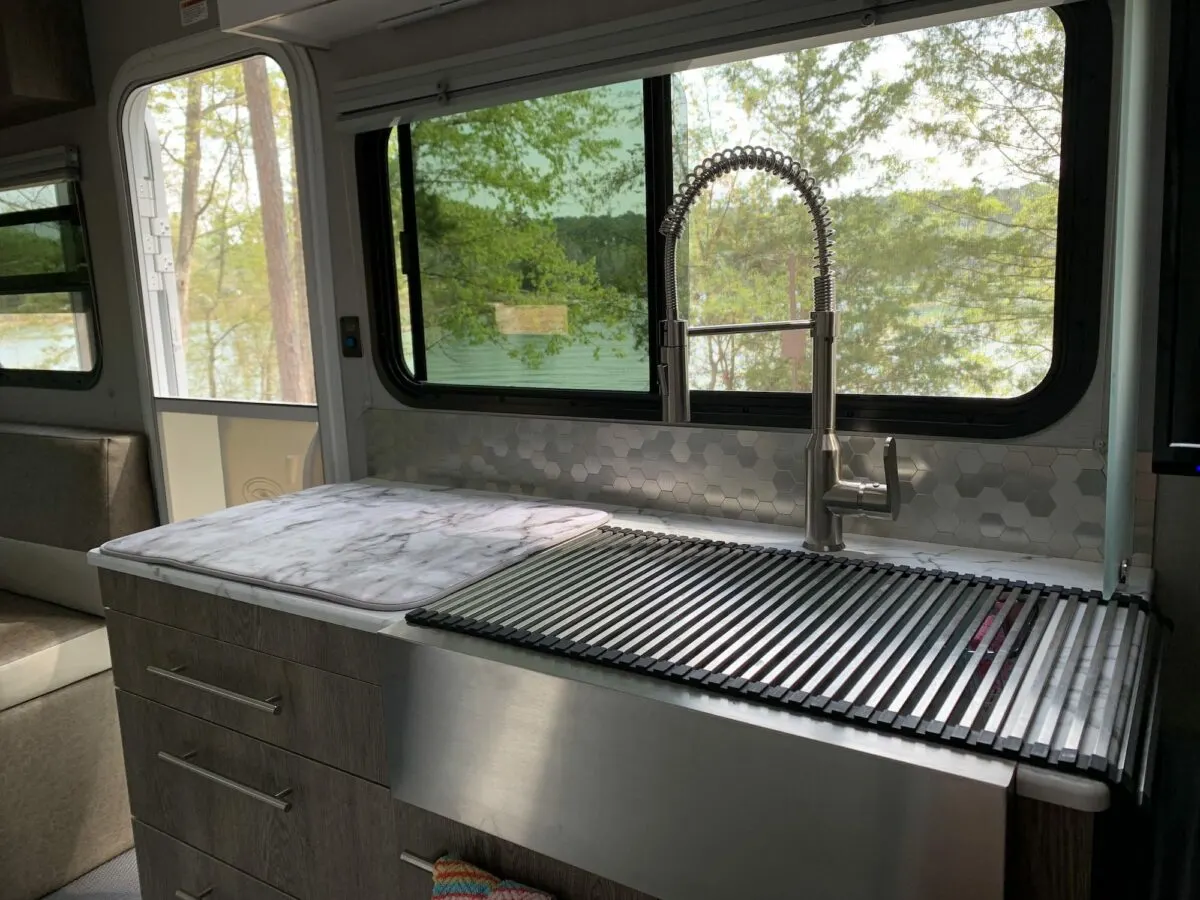 However, drying utensils on these drying racks can be challenging. Which is why this combination drying rack with utensil holder is ideal.
Simply unroll the drying rack over a sink and place your dishes or pots on top. They will drain down into the sink.
The great thing about these types of racks is that they can be rolled up and easily stored away when not in use. You can also just unroll half of the rack if you don't need to dry a lot of items so that you still have access to part of the sink basin.
A big downside to these types of drying racks is that you cannot use the sink bowl when the drying rack is covering it. If you only have one small sink basin, this could be a problem if you are trying to wash your hands or get water for drinking or cooking while the dishes are drying.
A bonus for these type of roll-up drying mats is that they can be used as pot holders for hot pans, too.
Expandable Drying Rack
When you are worried about whether a drying rack will fit over your sink, or if you would like something that you can bring with you when you move, an expandable drying rack is a smart solution.
These types of drying racks will stretch to fit many sink dimensions. They rest on the edges of the sink basin and drain into the sink, without the need of a drip plate or drying mat.
I like this large expandable drying rack with a removable utensil drainer. The stainless steel construction is durable and might last longer than a plastic or silicone rack will.
In-Sink Dish Drainers
To really save space, there is nothing like putting the dish drainer inside your sink! You don't need to move anything off of your counter tops to make room.
Dish racks used inside the sink are best if you have a divided sink. Otherwise, you will need to wash the dishes and keep them on a drying mat on your counter before placing the rack inside your sink after you are done washing.
This in-sink dish drainer has elevated legs which keeps your clean dishes off of the dirty sink. I'm always kind of grossed out about having clean dishes in a sink that could be coated with germs and bacteria and dirty. So I think that having elevated leg stands is a must!
Of course, these small racks can also be used on a counter top, too. Which makes these dual-purpose depending on your needs.
Over the Sink Dish Drying Rack Stands
When your space is really small but you've still got a lot of dishes and cups to wash, that's when these over-the-sink drying rack stands are the smart choice for you.
These types of drying racks are not as portable and they definitely don't pack up easily to be hidden away. Instead, these racks are designed to be put over your sink and stay there for every day use. (Although they can totally be folded up and stored away if you'd like.)
This over-the-sink dish drainer can hold quite a lot of dishes. It can hold 11 plates at one time, in addition to multiple bowls and cups, along with utensils and a cutting board.
What is really unique is that there is a separate knives holder to dry your larger knives. Plus, large utensils can be hung off of hooks on the rack frame to dry, without taking up space from your plates and bowls. And, there's even a caddy for your sponge and soap to dry out, too.
This sturdy rack would be great if you are a baker or prepare your meals, as you would have more dishes to wash. If you usually eat take-out food, this might not be the best fit for you.
Larger racks also come with a higher price tag than the other types of dish drainers. And this one might not be ideal for you if you have a window behind your sink that you do not want to block the view.
The dishes might not drip exactly into your sink, either. If you don't mind some water accumulating around your sink faucet and directly underneath the shelves, then you will enjoy this drainer.
If you are interested in space saving designs for RVing and camping, be sure to check out CouchPotatoCamping.com for more helpful tips.