Are you looking for a dye-free way to color Easter eggs? Want a way to color Easter eggs without needing dye cups or worrying about spilling the food dye and staining everything?
Then you will love this easy method for Tissue Paper Easter eggs. This unique way of dyeing eggs eliminates all of the worries of using bowls of food dyes with young kids.
The best thing about this Easter egg dyeing process is that you can use just one color, or you can mix colors for an easy tie dye effect.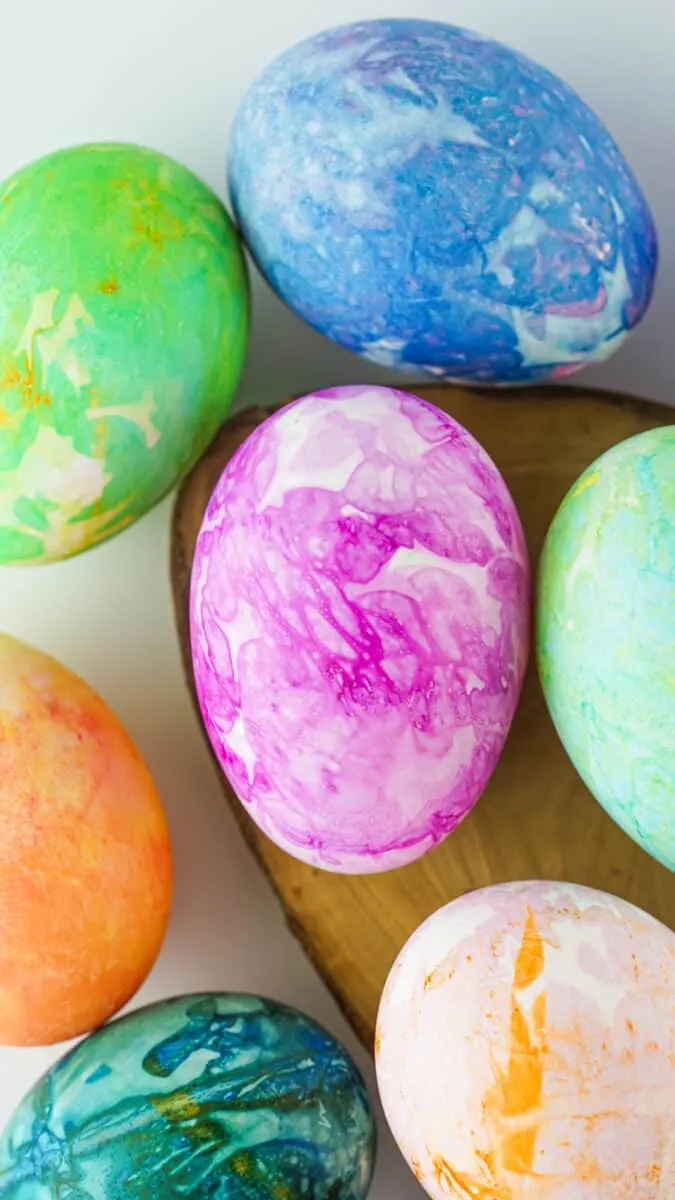 What is Bleeding Tissue Paper?
While this process is very easy, you do need to make sure that you use bleeding tissue paper for this DIY project.
What is bleeding tissue paper? It is tissue paper that transfers color or dye when it is wet.
The best way to test to see what kind of tissue paper you have is to wet a small piece of it. If the color transfers off of the paper onto your fingers, you have bleeding tissue paper. If not, then the tissue paper won't work for this dyeing technique.
If you don't have bleeding tissue paper at home, I suggest this brand or this tissue paper pack, both of which can be found on Amazon.
This bleeding tissue paper brand is more expensive, but does work really well.
P.S. Dollar Tree tissue paper does not appear to be bleeding tissue paper!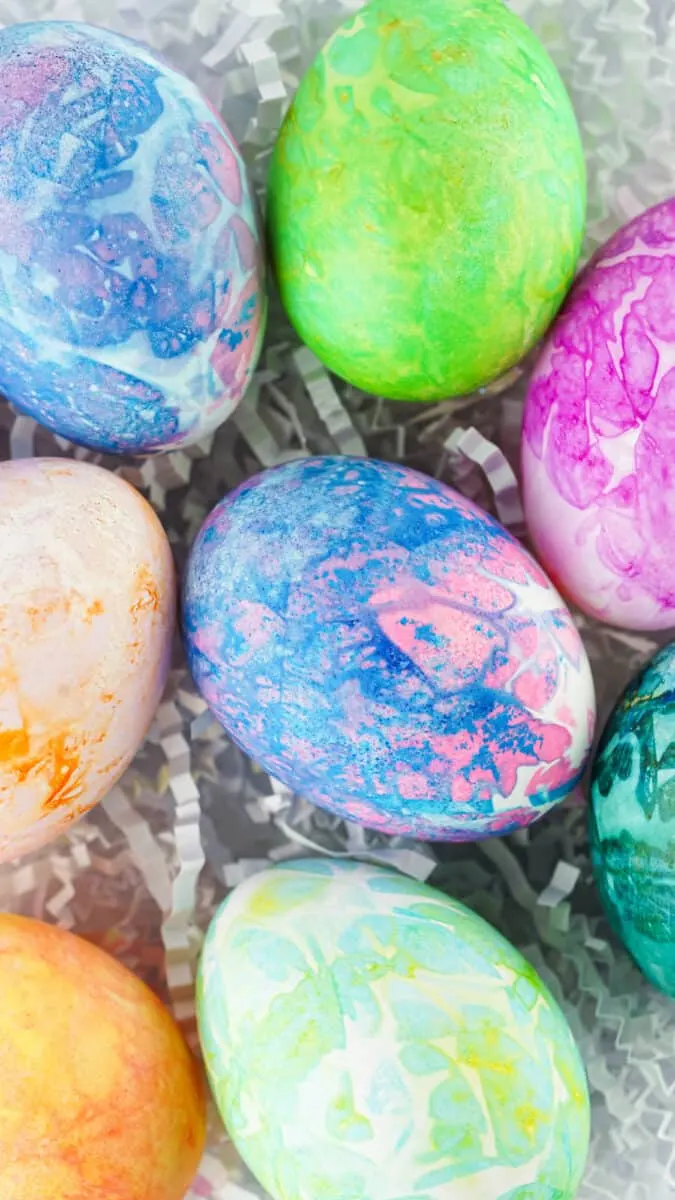 How to Make Tissue Paper Easter Eggs
Prep Time: 5 Minutes | Rest Time: 5 Minutes | Dry Time: 5 Minutes
Be sure to see my list of helpful tips and tricks at the end for the best success!
Supplies
Hard Boiled Eggs (cooled)
7 x 7-Inch Pieces of Bleeding Tissue Paper (see item recommendations above)
White Vinegar
Rubber Bands
Paper Towels
Rubber Gloves (optional)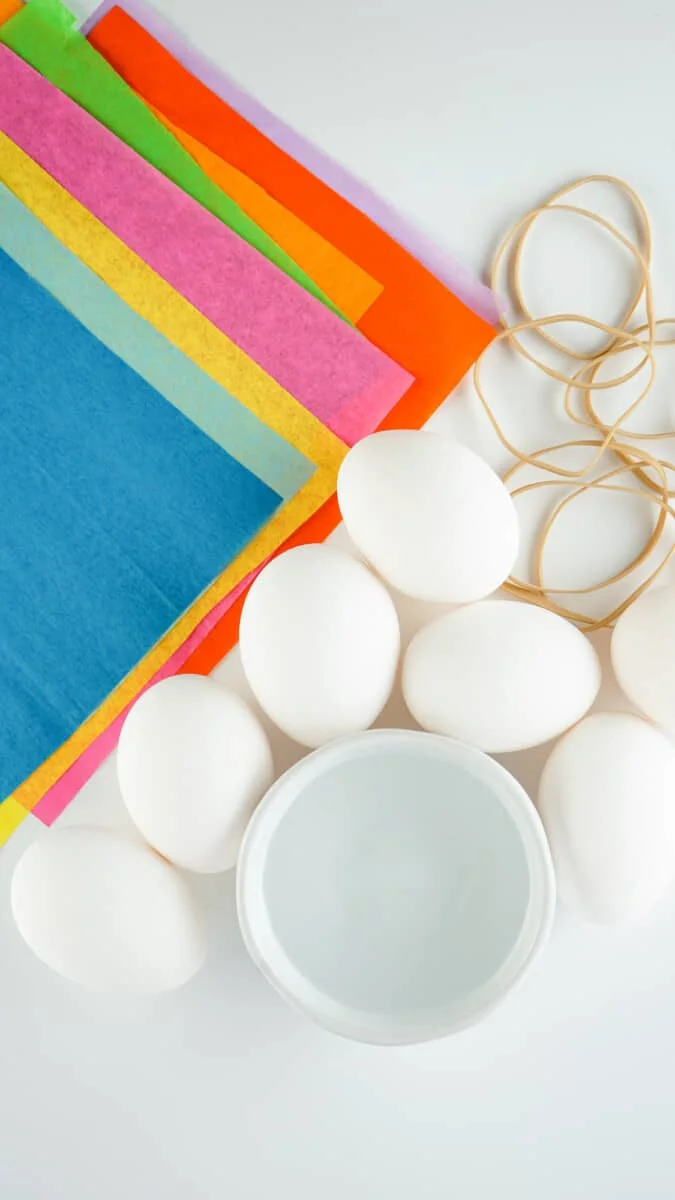 Directions
Use two pieces of tissue paper to wrap each egg in. You can use either both pieces of the same color, or use two different colors for a tie-dyed look.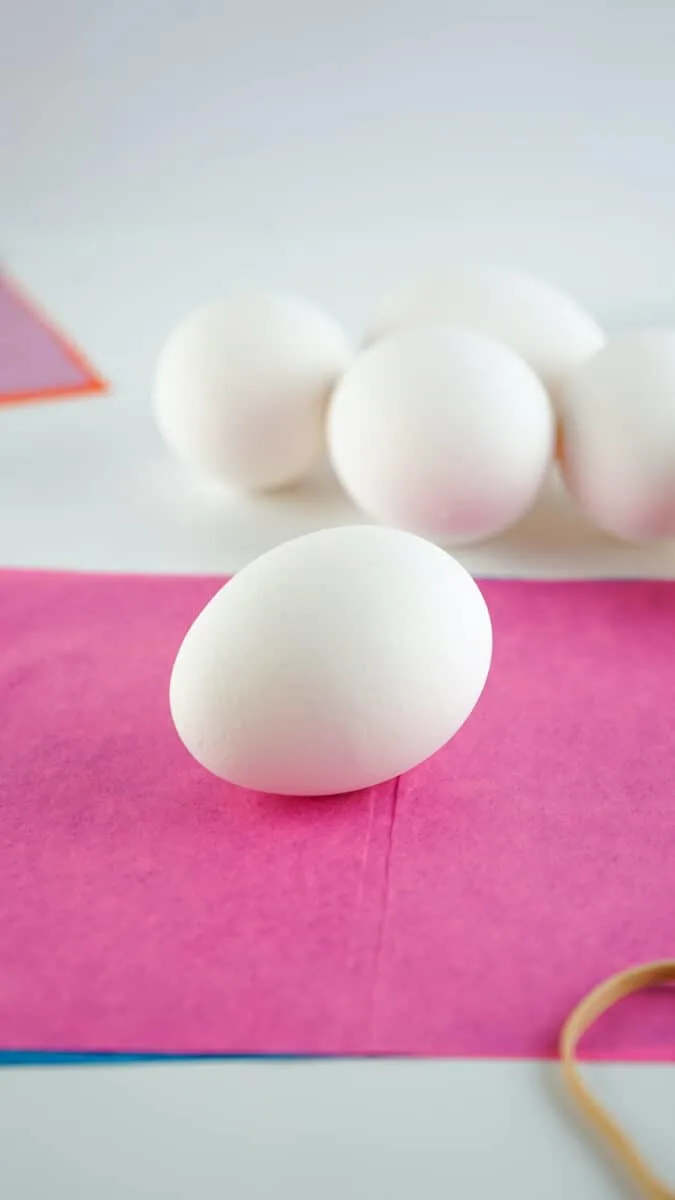 Make sure that the tissue paper is tight against the egg with no gaps. Then, wrap one or two rubber bands around the egg to keep the tissue paper tight.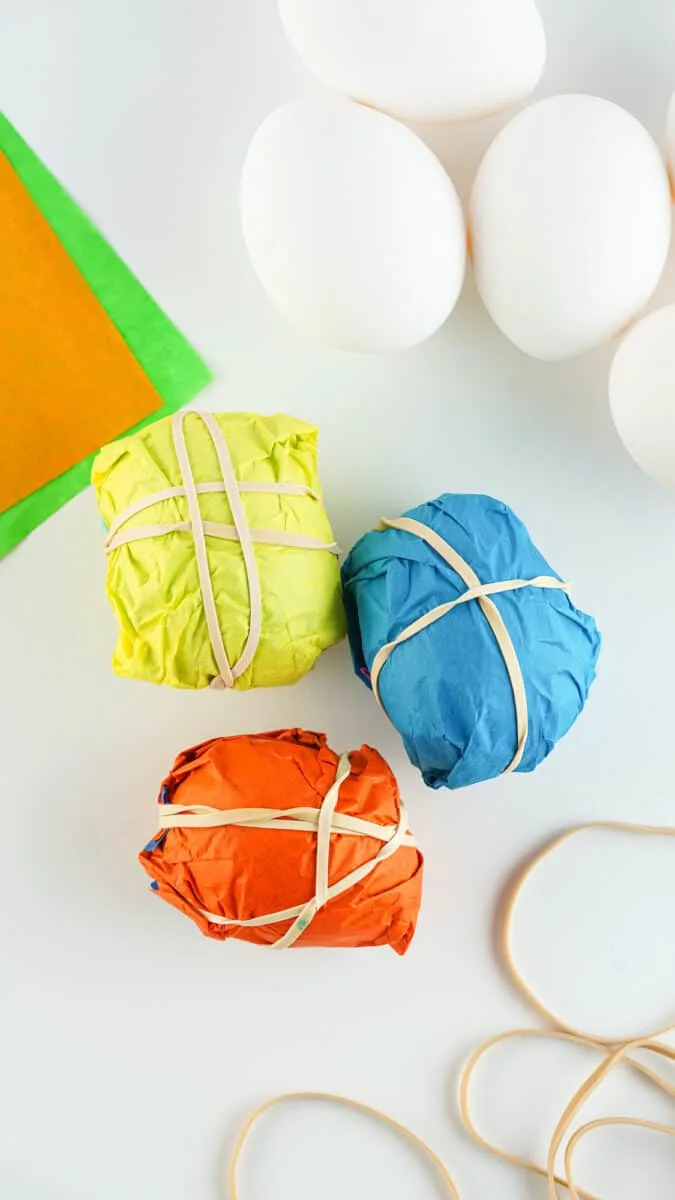 This technique is similar to making mermaid eggs.
Pour white vinegar into a jar, cup or small bowl. Place one egg into the vinegar.
Let the egg sit in the vinegar for at least 30 seconds. You can leave for longer if you would like.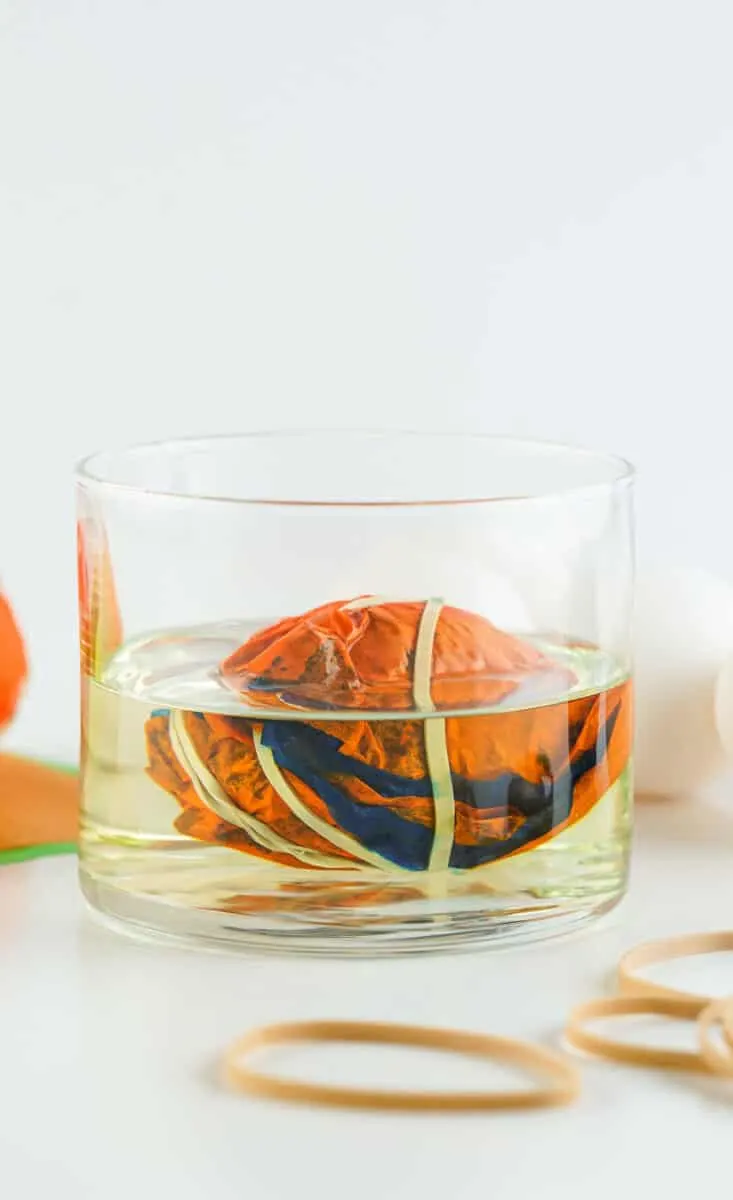 Remove the egg from the vinegar with a spoon and place in the egg carton to dry for 5 minutes.
You do not need to change the vinegar in between each egg dyeing session. Though the vinegar might change colors, it doesn't mess with the dyeing colors too much, so don't worry.
Repeat for all of the eggs that you want to dye.
If you want to keep dye off of your hands, you can put on rubber gloves now. Otherwise, unwrap the eggs from the wet tissue paper and then pat them dry with a paper towel.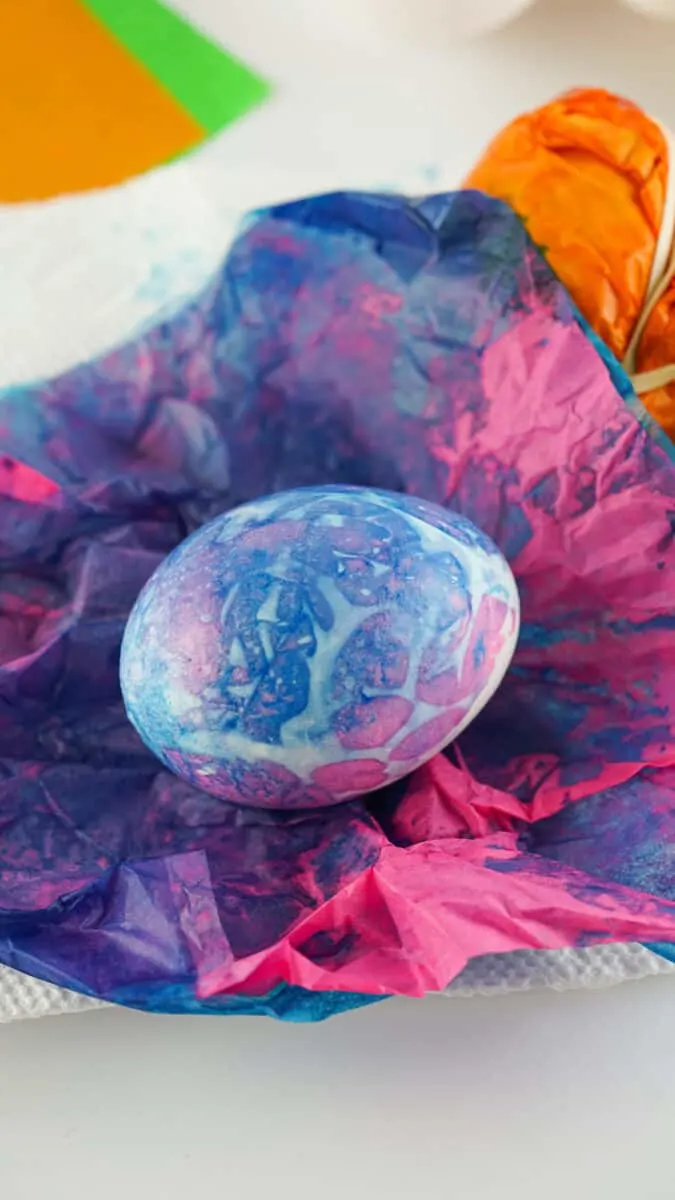 Allow the eggs to continue drying for about another 5 minutes before handling.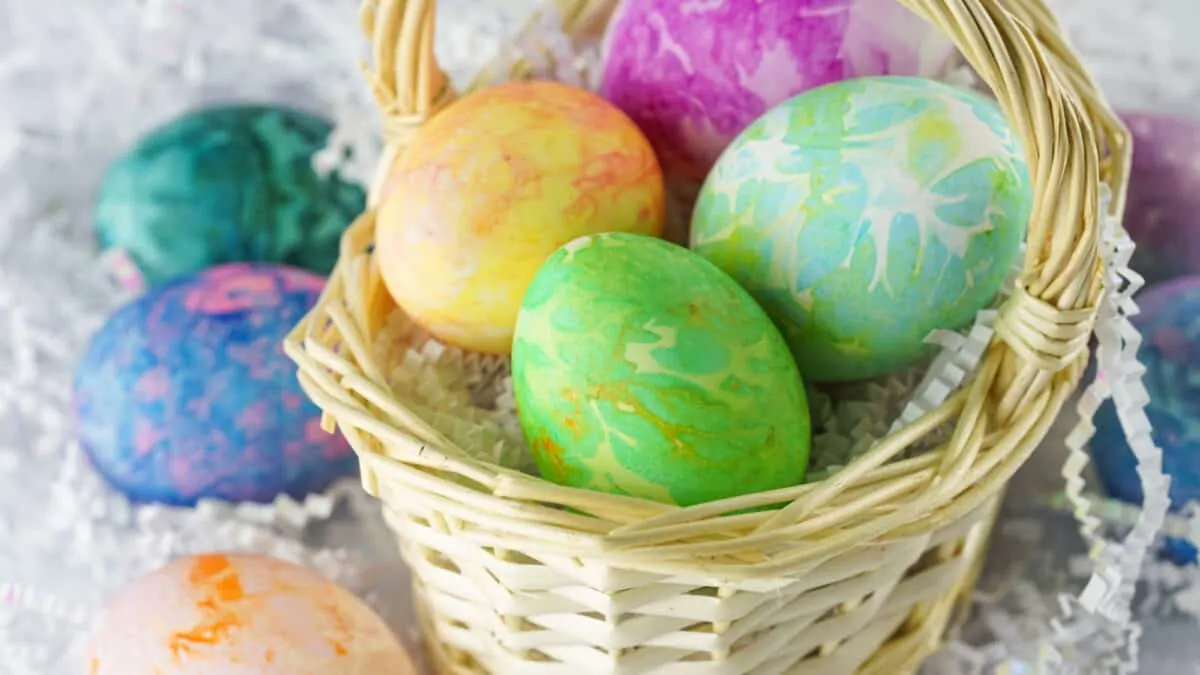 Alternate Method
You don't have to dunk your Easter eggs to get this same look. Here is another method that is especially great for kids:
Rip small pieces of the tissue paper into small squares or strips.
Dip the egg in vinegar, then place the pieces of tissue paper against the wet egg.
Allow the egg to sit for 5 minutes before removing the paper, patting dry, and allowing it to rest in the egg carton to dry.
If the tissue paper starts to dry, you can mist it with a spray bottle of vinegar to keep it wet and stick longer.
Looking for more unique ways to dye Easter eggs? Check out more of my tutorials:
Helpful Tips
These are the tips and tricks I learned while making these tissue paper dyed Easter eggs.
Tissue paper dye is not considered food-safe. You may not want to eat hard-boiled eggs that have been dyed with these dyes if they are absorbed by the egg.
You can use brown eggs rather than white eggs, but the colors will be more dark and muted.
Definitely use two sheets of tissue paper rather than just one, because it adds more color to the eggs.
The longer you let the tissue paper-wrapped egg sit in the vinegar, the darker the color will be.
It doesn't matter how you wrap the eggs or put on the rubber band, just as long as the tissue paper rests against the egg.
It is so easy and fun to make tissue paper Easter eggs for holiday decorating! You can be as creative as you would like and be rewarded with colorful and unique Easter eggs that everyone will love!