Want a unique way to dye Easter eggs without needing to spend a lot of money on supplies? All you need to do is go to your pantry for some oil and you can have gorgeous marbled Easter eggs in minutes!
Marble Easter eggs use food coloring dye and cooking oil to make gorgeous abstract patterns that look like works of art.
These eggs will definitely get compliments when you serve them at Easter brunch or use them for an Easter egg hunt!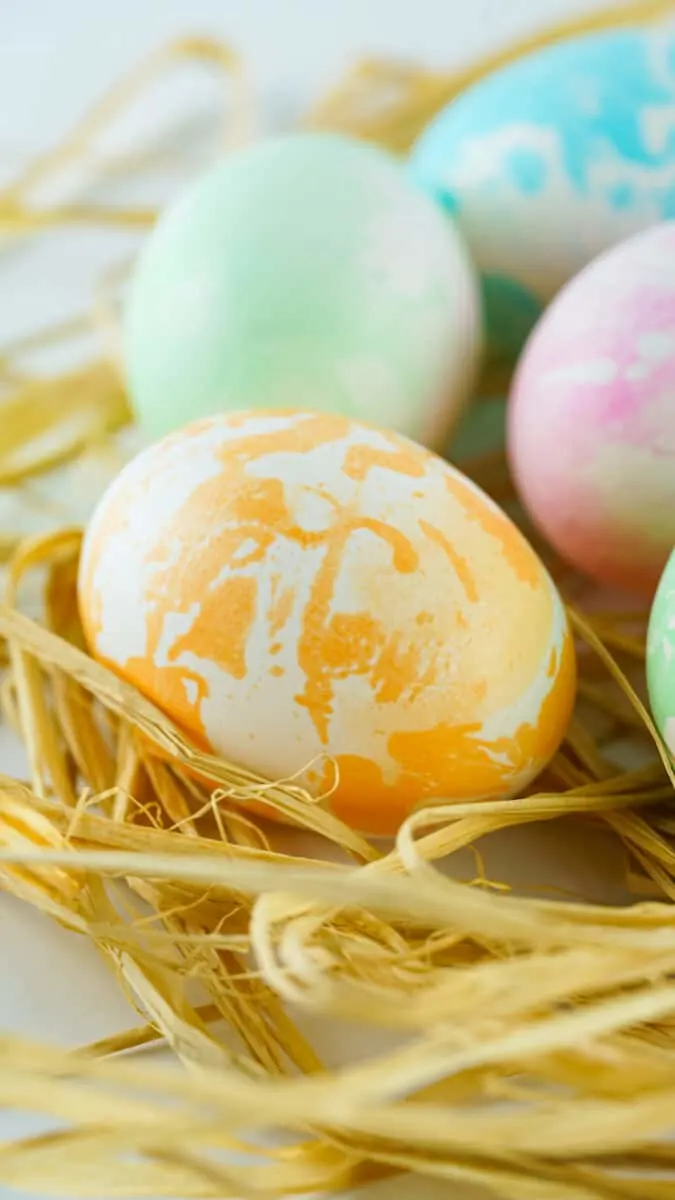 What Type of Oil Should I Use?
You can use any type of oil that you would like, including:
Olive oil
Canola oil
Avocado oil
Coconut oil
Vegetable oil
Peanut oil
Personally, we used vegetable oil, avocado oil and olive oil and they all worked the same.
While you could use baby oil, it is not food safe!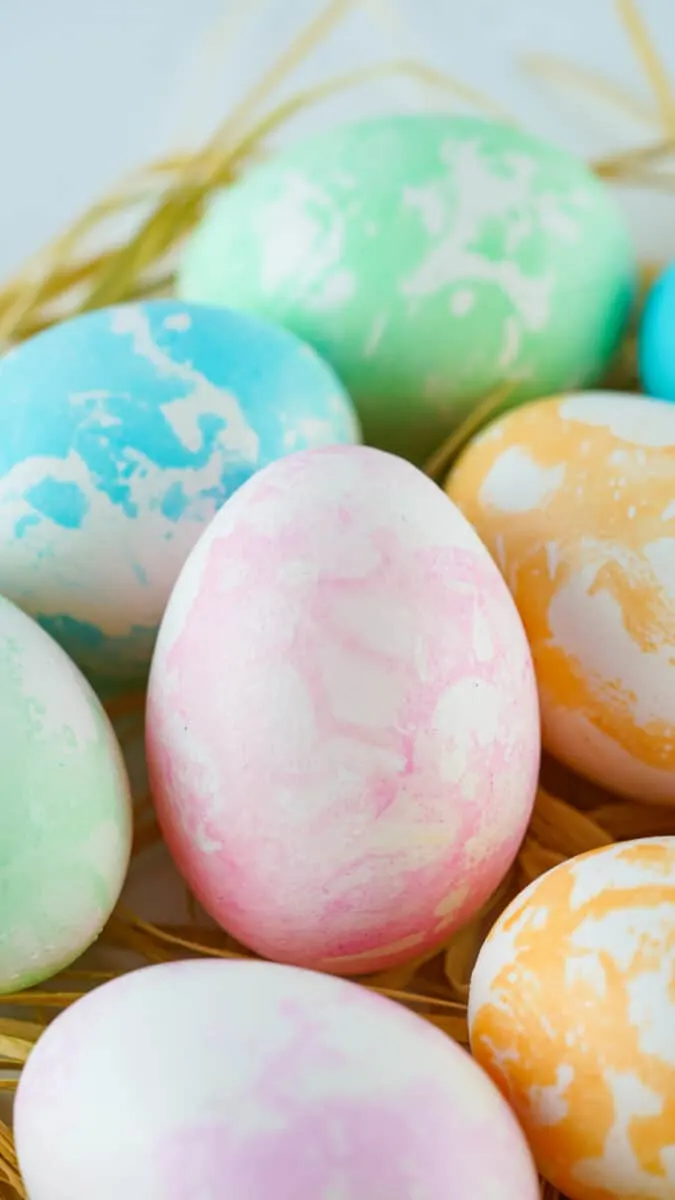 What Bowls to Use
While this process is easy, you definitely want to choose the right bowl for successful dyeing of the eggs. You do not want the water to be over half an inch tall in the bowl because you don't want the egg to get fully submerged when you drop it in.
We found that the inexpensive Walmart plastic bowls (they were .50 cents when we bought them) are absolutely perfect for this project! They are cheap enough that you can dispose of them if they get too stained.
Personally, we have used these bowls at home and for all types of projects. They are actually my favorite types of bowls and plates to bring when camping, too, because they are lightweight and won't shatter.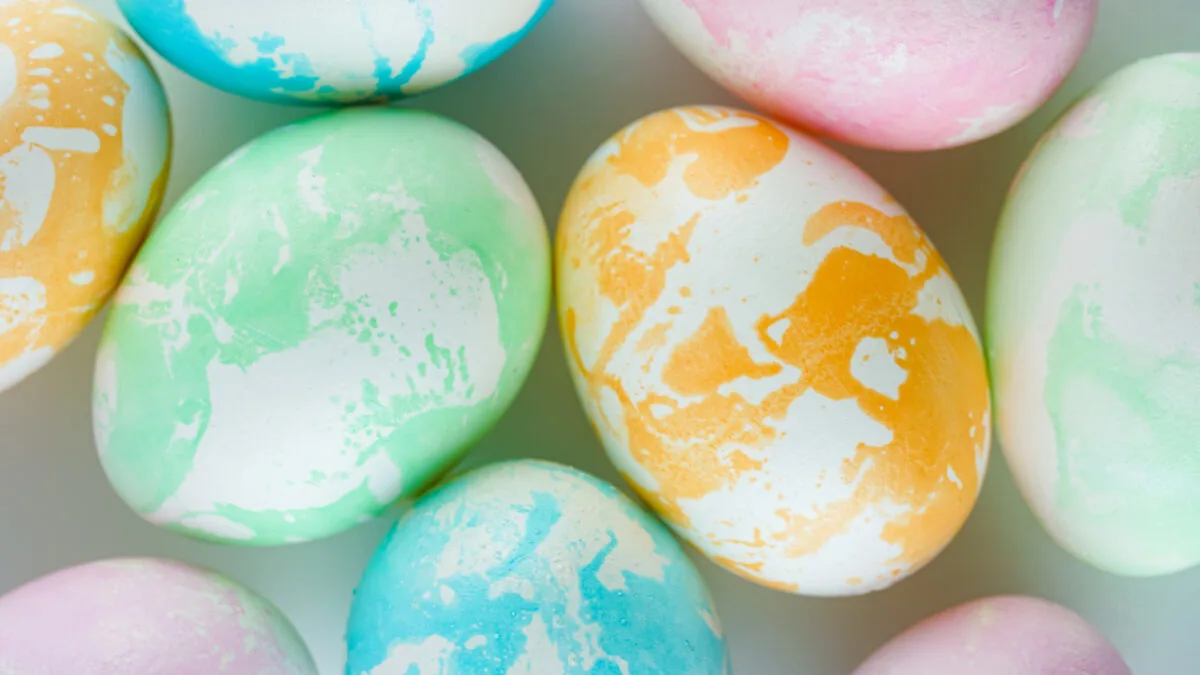 How to Make Marbled Easter Eggs
Prep Time: 10 Minutes | Dye Time: 5 Seconds | Dry Time: 5 Minutes
Be sure to see my list of helpful tips and tricks at the end for the best success!
Supplies
Hard Boiled Eggs (room temperature and dry)
½ Cup Boiling Water
1 Tablespoon Cooking Oil (plus just a dab extra)
½ Tablespoon Vinegar
10-20 Drops Food Dye (The only green that worked, though, was this green)
Plastic Cereal Bowls
Paper Towels
Rubber Gloves
Forks or Spoons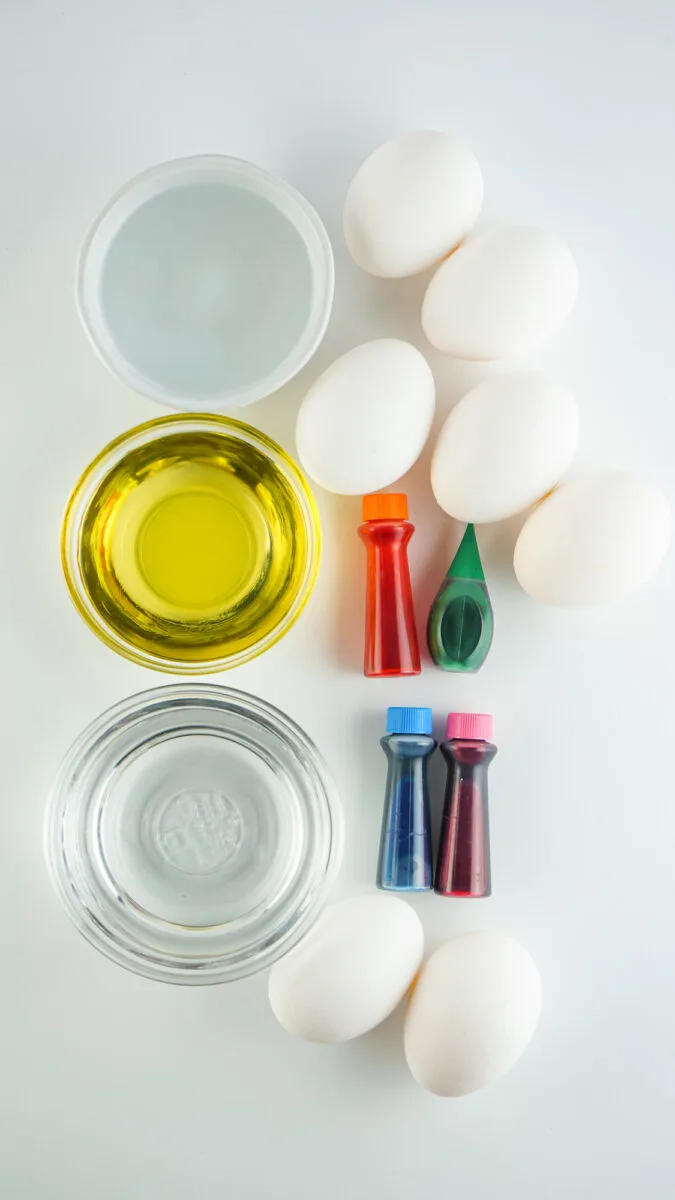 Directions
Add ½ cup boiling water to each bowl along with ½ tablespoon vinegar.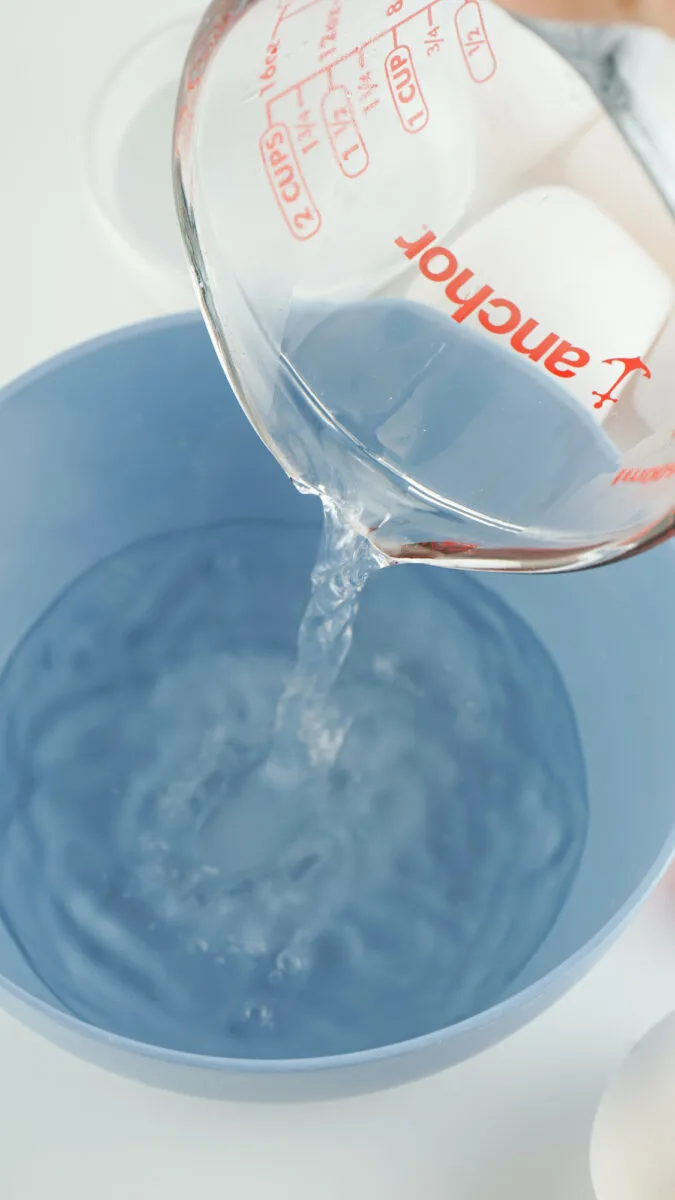 Add 10-20 drops of dye to each bowl. Only put one color of dye in each bowl.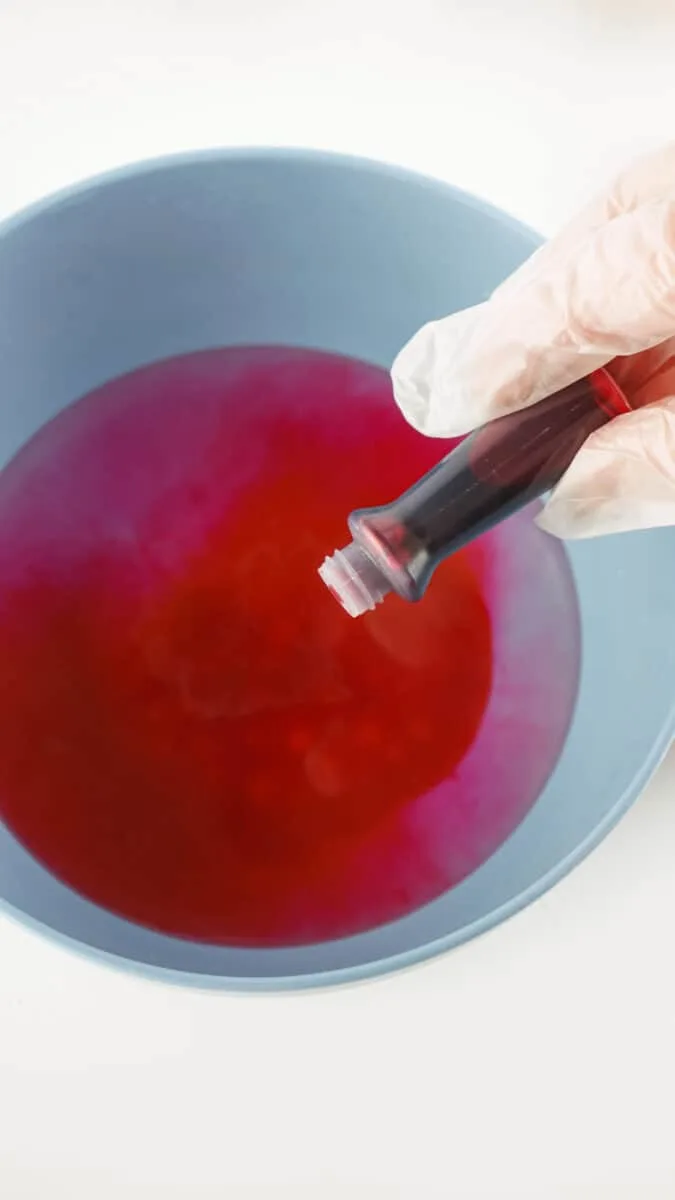 Stir together the water, vinegar and food dye.
Next, add 1 tablespoon of cooking oil to each bowl. Leave just a bit of oil in a small dish to the side for using later.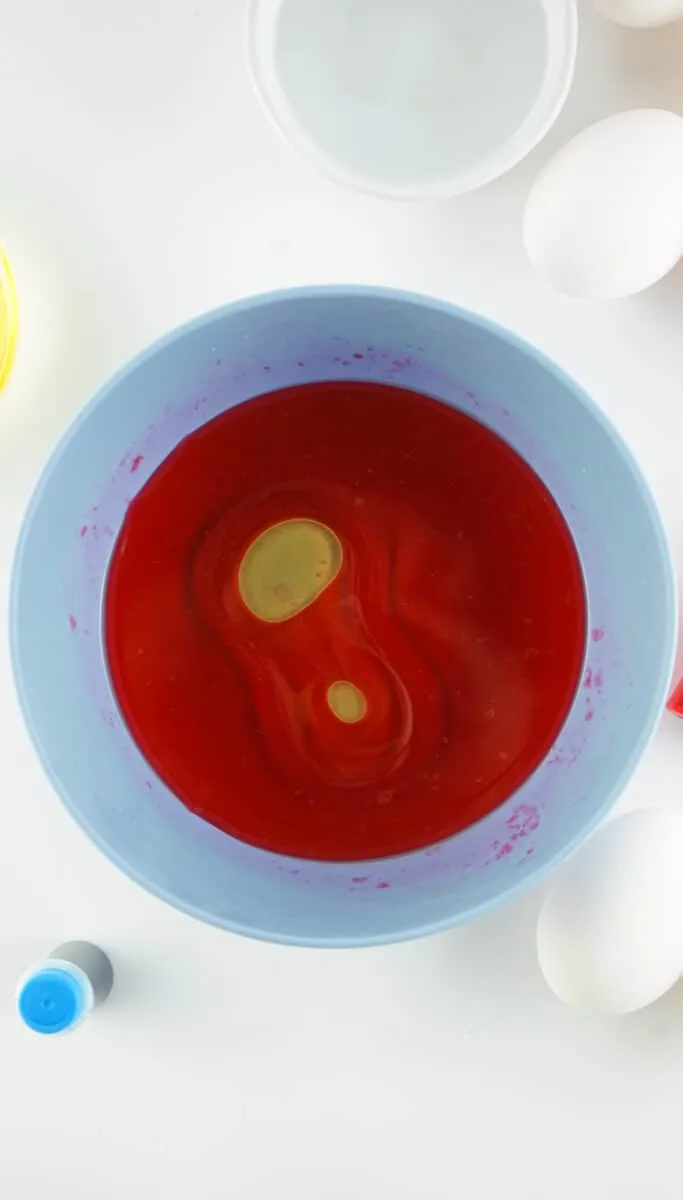 If you want to wear gloves to protect your skin from the food coloring, put them on now.
Using the tip of your finger or a small paint brush, make small streaks of oil all over the egg in random patterns. Do not cover the entire egg in oil. (This is a very important step! Be sure to make patterns with the oil on the egg!)
Stir together the dye and oil mixture using a spoon or fork by agitating it back and forth.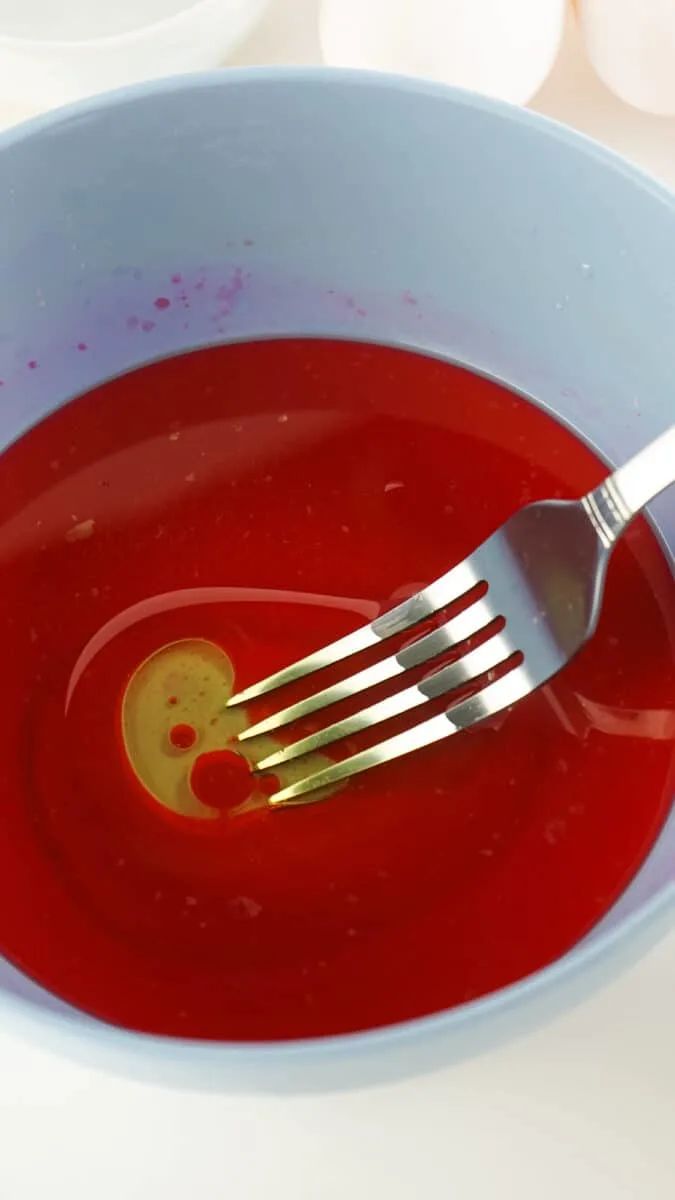 Then immediately roll the egg in the mixture so that the entire egg has touched the dye mixture at least once. Do this step very fast and then immediately pull it out and wipe dry with a paper towel.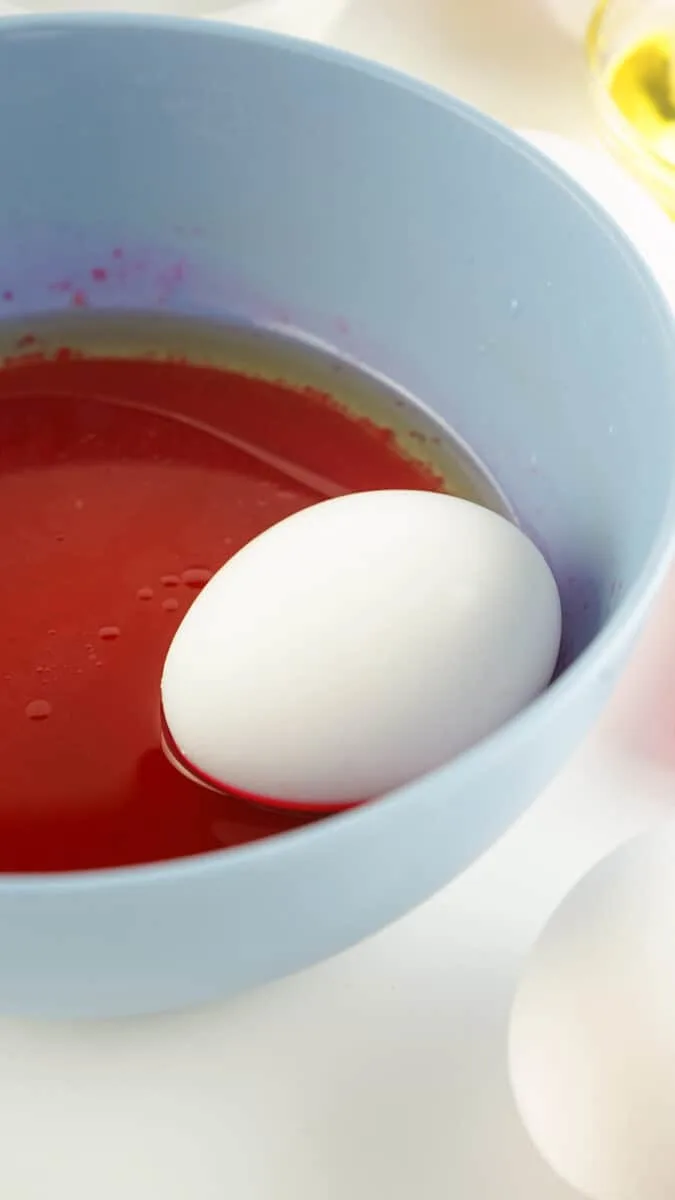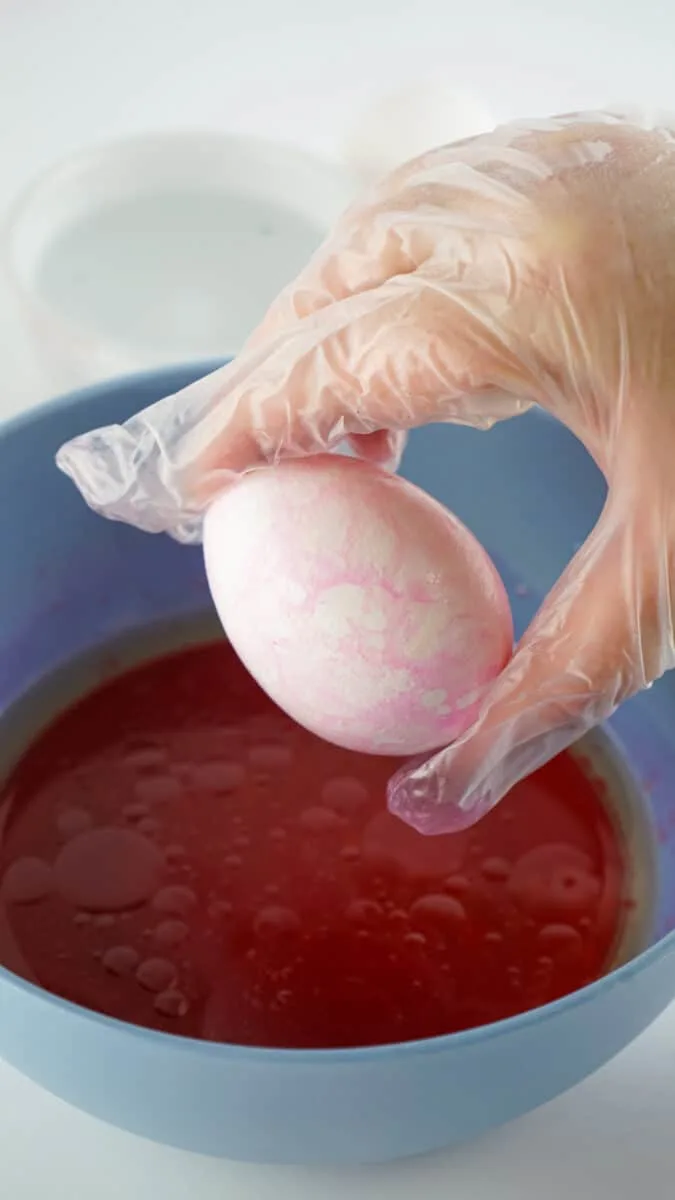 After wiping the egg clean, let it sit for about 5 minutes in the egg carton (or on a wire rack) to dry.
Repeat the same process for each egg you want to marble.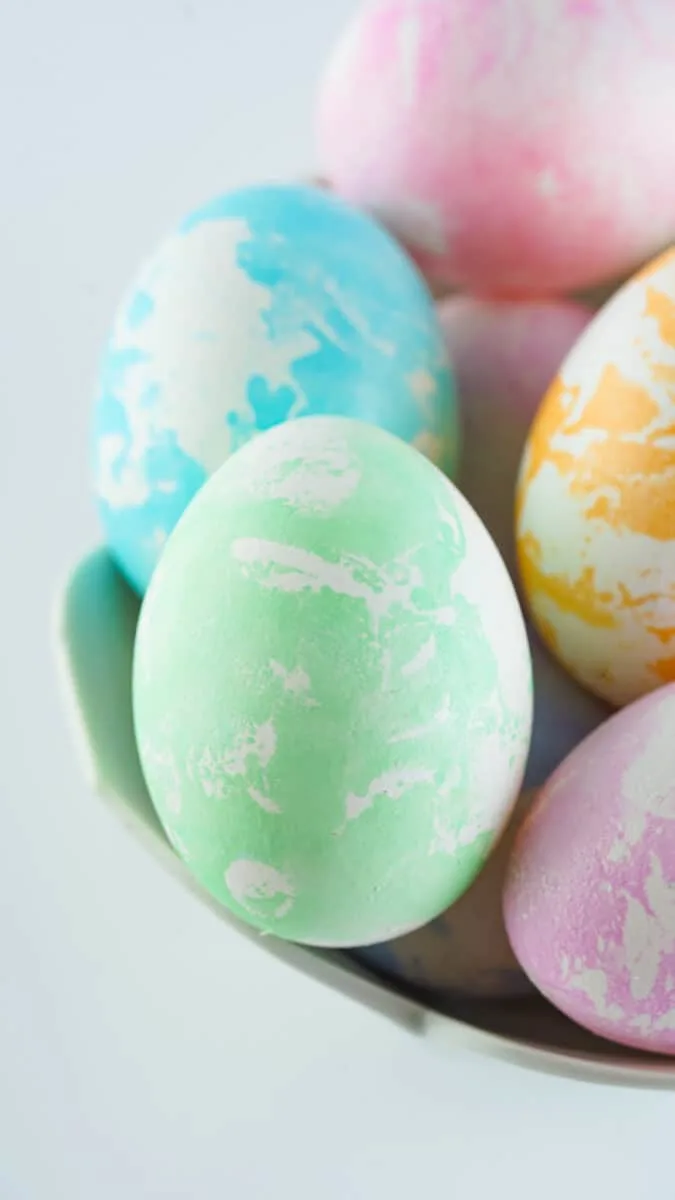 Looking for more unique ways to dye Easter eggs? Check out more of my tutorials: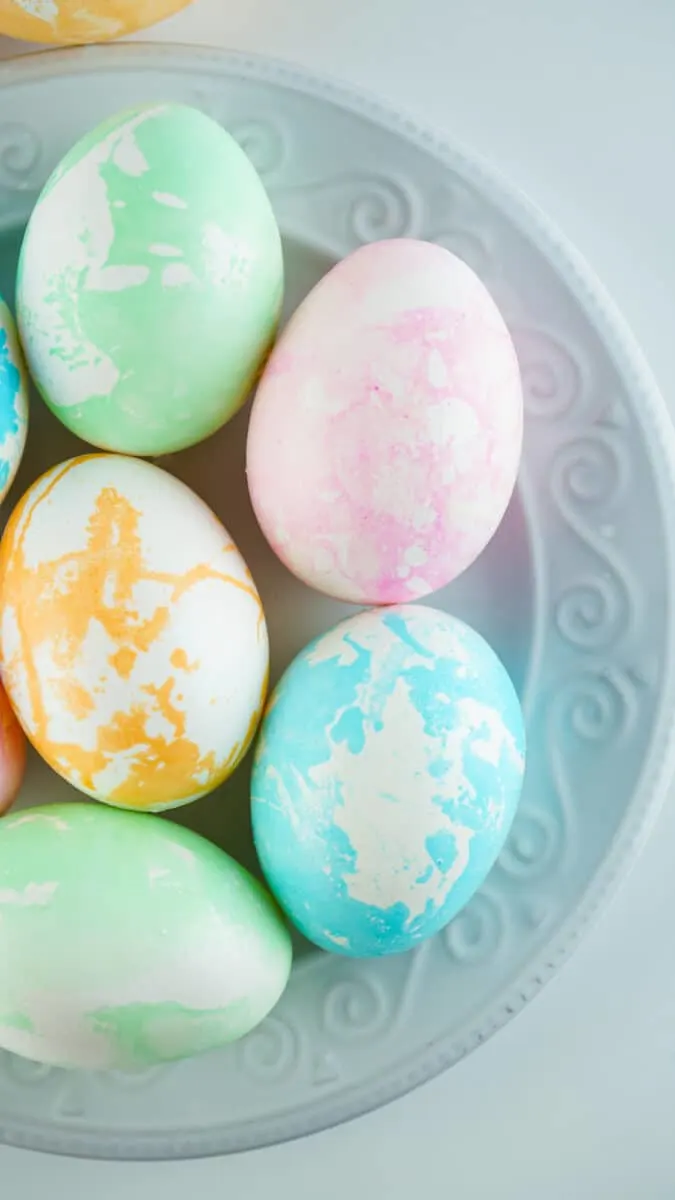 Helpful Tips
These are the tips and tricks I learned while making these marbled Easter eggs.
Gel food coloring dye works, too! You will just need to stir it together for longer to make it dissolve completely.
The darker colors don't need as much dye, so start with 10 drops for colors such as blue and purple.
Lighter colors will need more dye, so use the 20 drops for those colors, such as pink and green.
Green was a hard color to use with this marbling Easter eggs method. McCormick green water based dye was the only one that worked well.
Do not leave the egg to sit in the dye for more than a few seconds or it will not marble. It will just completely be colored with no marbling effect.
It is SO IMPORTANT that your bowl is only full of enough boiling water that when an egg is set in it, the water covers about a third of the egg. This is so the dye doesn't completely coat the egg and mess up the marbling look.
Another important tip is to wipe the dye off of the egg immediately after pulling it up from the dye.
You can use brown eggs, but the colors will just look a little different.
We tried every method on the internet, including the one listed on the official dye sites. None of them worked, or it took hours to achieve the marbled look. This is the only method we've found that is quick and actually works every time IF every step is followed properly.
It is so fun to make marbled Easter eggs for a pretty holiday table and decor! The best part is you can use simple ingredients from your pantry to make them in just a few minutes!