If you have kids or grandkids, they are probably very excited about the Easter bunny arriving and bringing treats! But what if the children are scared that the Easter bunny might forget them? Ease their fears by putting this Bunny Bait outdoors to attract the Easter bunny for sure!
Our fun and glittery Bunny Bait is guaranteed to bring the Easter rabbit to your home. Sprinkle this magical dust on the lawn, your driveway, the street, up the stairs or even indoors to attract the Easter bunny.
Be sure to sprinkle the bait on your yard on Easter Eve. When kids read the poem on our free printable tag, they will understand how this colorful bait will bring the bunny indoors!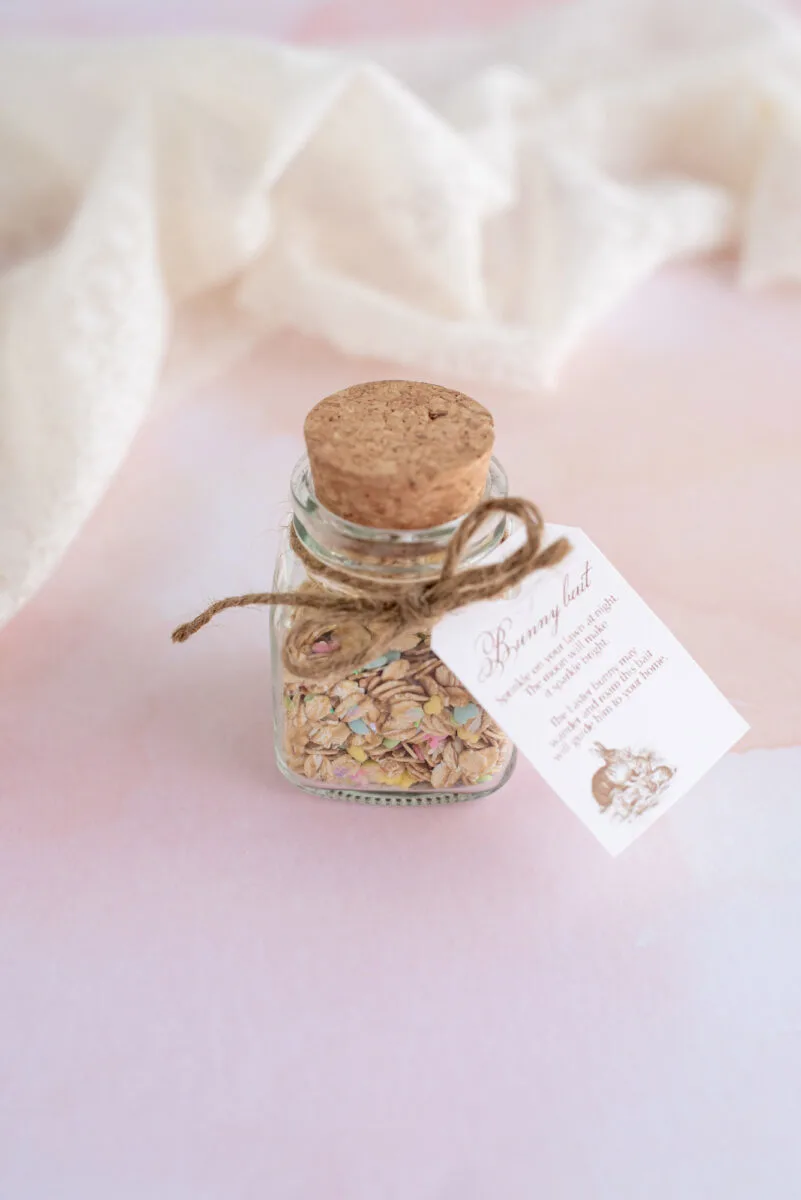 This Easter Bunny bait is similar to Reindeer Bait for Christmas or leaving a key for Santa if you don't have a chimney.
Be sure to check out all of my easy Easter crafts for more ideas.
You might want to make this Bunny Butt wreath for the front door to also encourage the Easter rabbit to visit!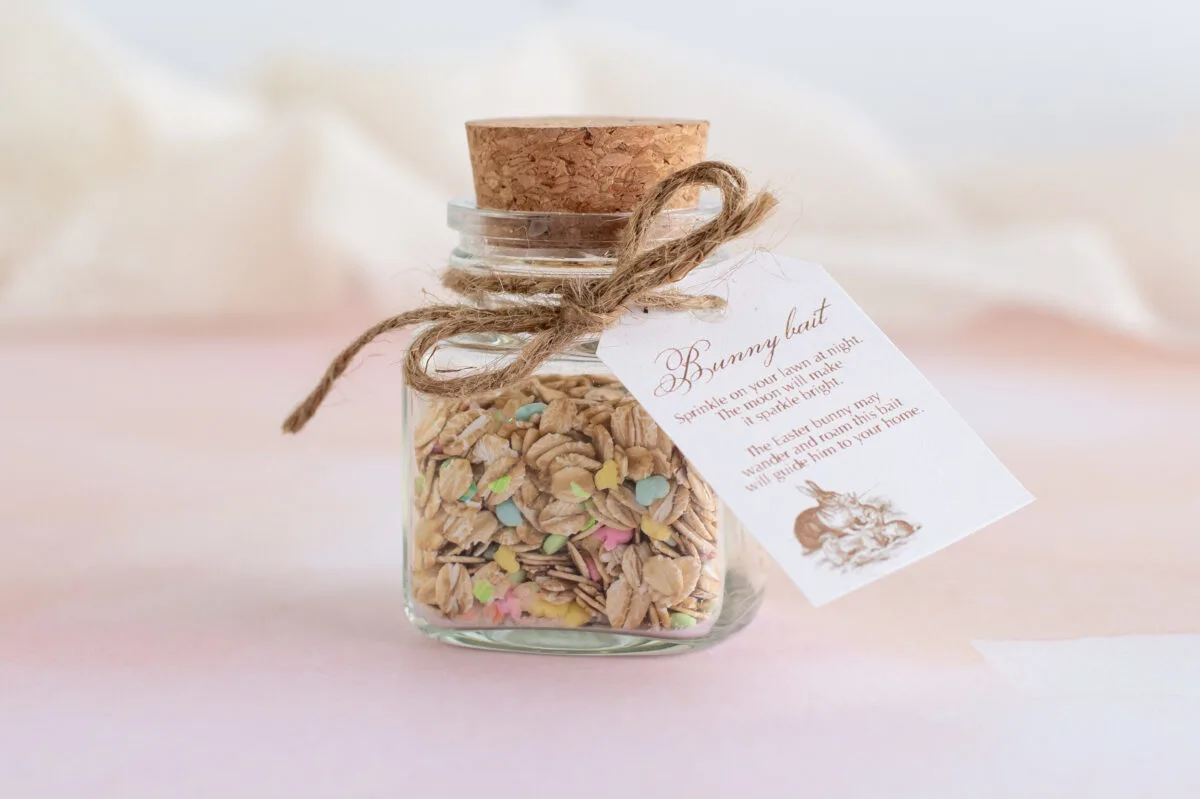 Related Post: DIY Milk Jug Bunny Basket
How to Make Easter Bunny Bait for the Lawn
Supplies
Small glass jars (I used ones similar to these square glass jars)
Oats
Mini Easter Sprinkles (I used these sprinkles)
Glitter, either craft glitter or edible glitter (optional)
Ribbon or twine
Hole Punch (If you don't already have one, these are great for adding tags to jars and gifts)
Scissors
Cardstock
Directions
Using a funnel or a piece of paper wrapped in a cone shape to work like a funnel, start to add ingredients to the glass jar.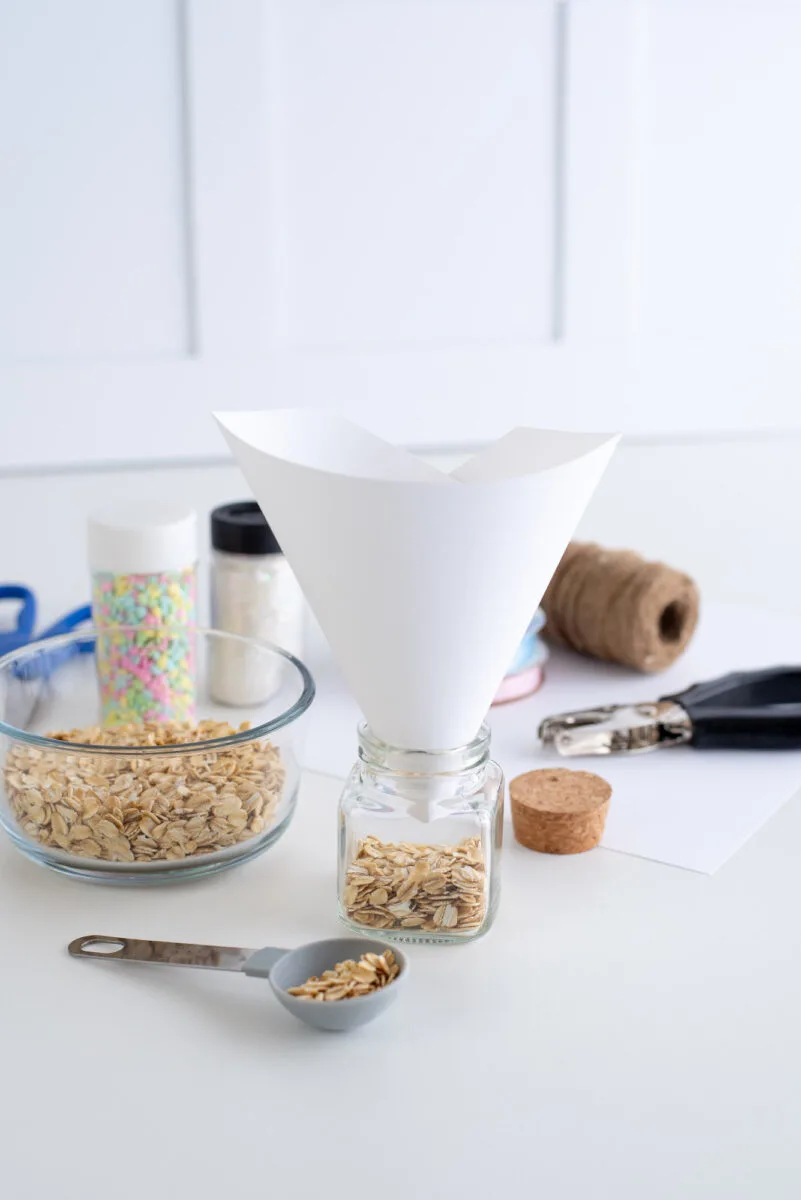 There are no exact measurements for this bait. It will depend on the size of your jar and how much you want to fill it.
You can do this in a variety of ways, whichever works best for you. Add a layer of the oats first, then sprinkles and then glitter (if you would like to add some sparkle). Then shake it all together.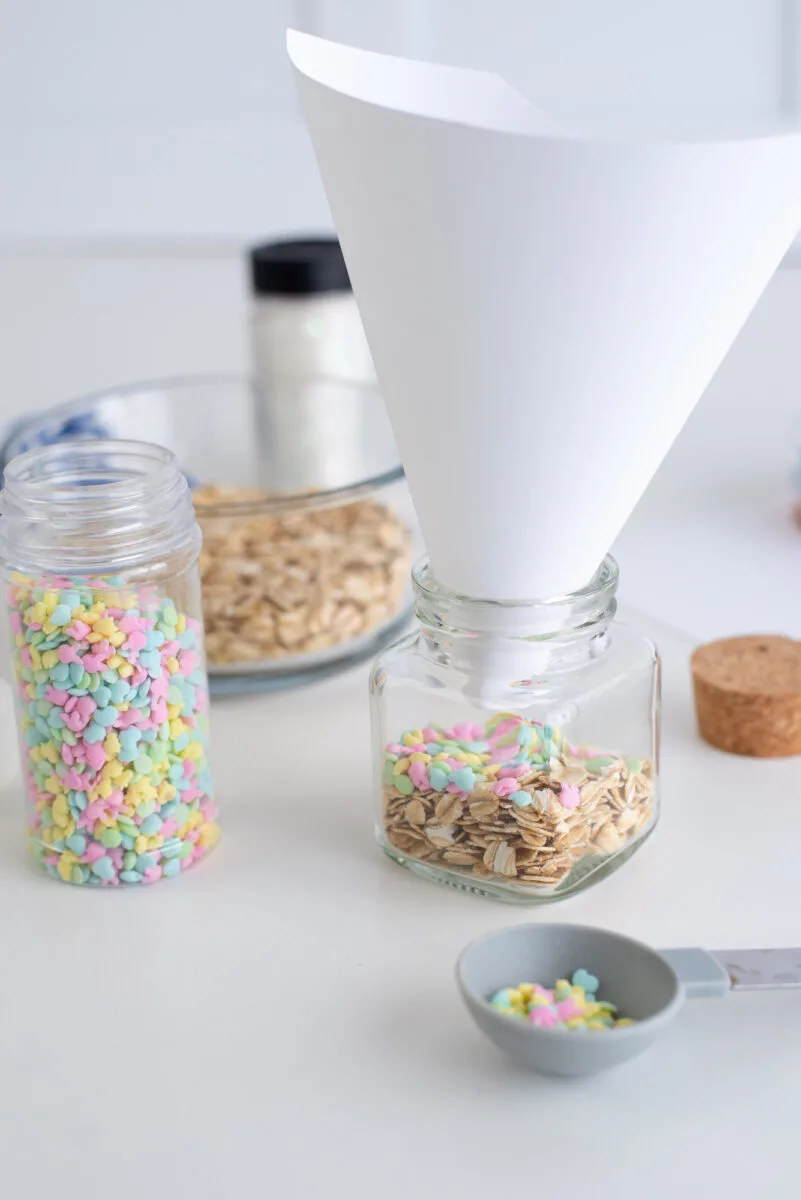 Or, you can combine the ingredients in a bowl and then add to the jar. But be careful, you might make more than you need for the jars if you do it this way.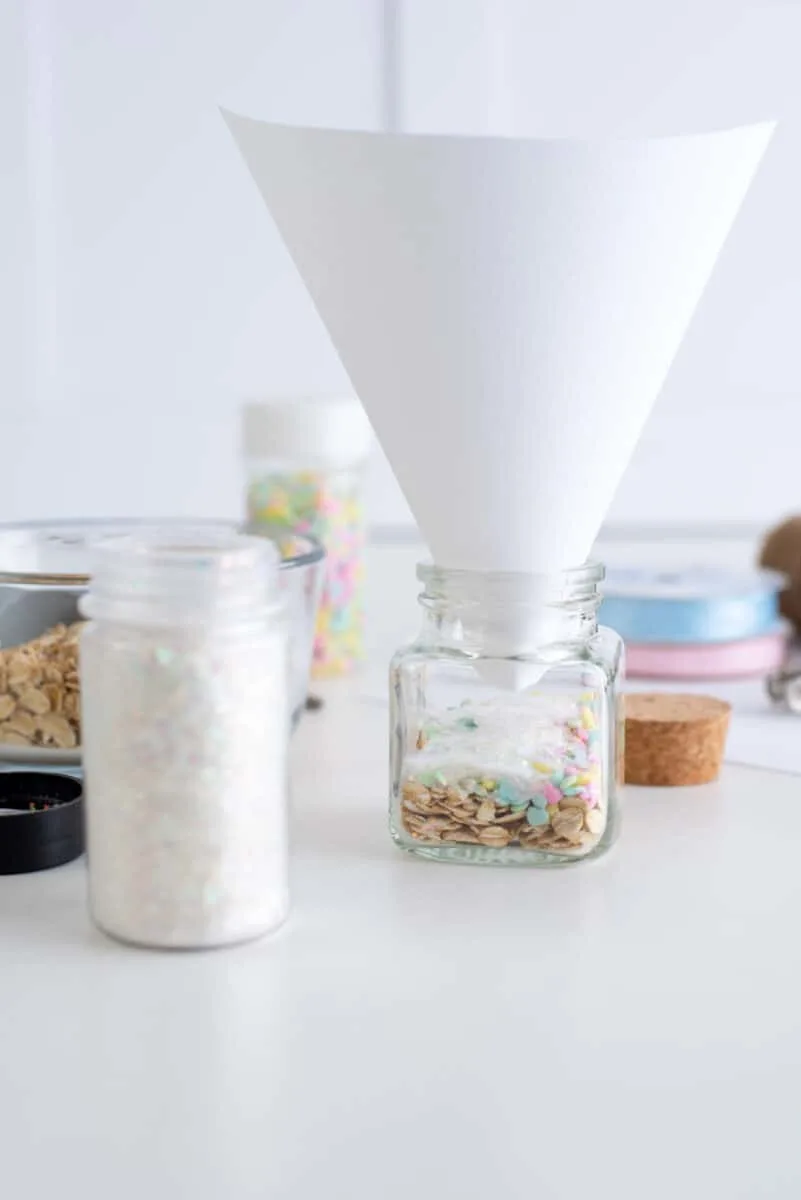 Print out my free Bunny Bait jar tag on cardstock.
Use a hole punch to add a hole to the tag. Loop ribbon through the hole and tie to the jar.
FAQs
Can I Eat This Easter Bunny Bait?
Nope! It's just for the Easter bunny!
Seriously, this bait mix is only to be used as decoration. The dried oats won't be very good to chomp on.
If you use craft glitter, this mix will definitely not be edible.
You could use sugar sprinkles that look like glitter or edible glitter if you are concerned about your children accidentally eating it.
Will the Bait Harm My Lawn?
Sprinkling the food ingredients on your lawn shouldn't harm it. However, if you use non-edible glitter, you will probably see sparkly glitters for a while!
Is This Safe for Animals?
Don't use this Easter bunny bait where pets, including dogs or cats, or wild animals could eat it. Even if you don't use the glitter, you would not want animals or birds eating the sprinkles.
Whether you use edible glitter, sugar sprinkles, or completely leave out the glitter, treat this bunny bait as you would any other food outdoors.
Sweep up or scoop up the bait after the kids have gone to bed to completely remove it outdoors. This also gives the allusion that it worked and the Easter bunny ate the bait and came to your home.
Sugar crystals can be dissolved with water so that birds and animals won't pick them up to eat.
If you like making this Easter Bunny Bait for the Yard, check out these fun Easter crafts: