I love a super easy DIY project that is cheap, too! Which is why these milk jug ghosts and plastic bottle ghouls are one of my favorite Halloween decorations. By repurposing items you have at home, these are almost free to make!
There are two different tutorials in this article, but both reuse old plastic bottles to make decorate ghost decorations.
All you need to do is keep plastic milk jugs or plastic soda bottles that would otherwise go into the recycling bin or trash.
The clear plastic bottles are the best ones to use. However, if you had other color plastic bottles, they might work.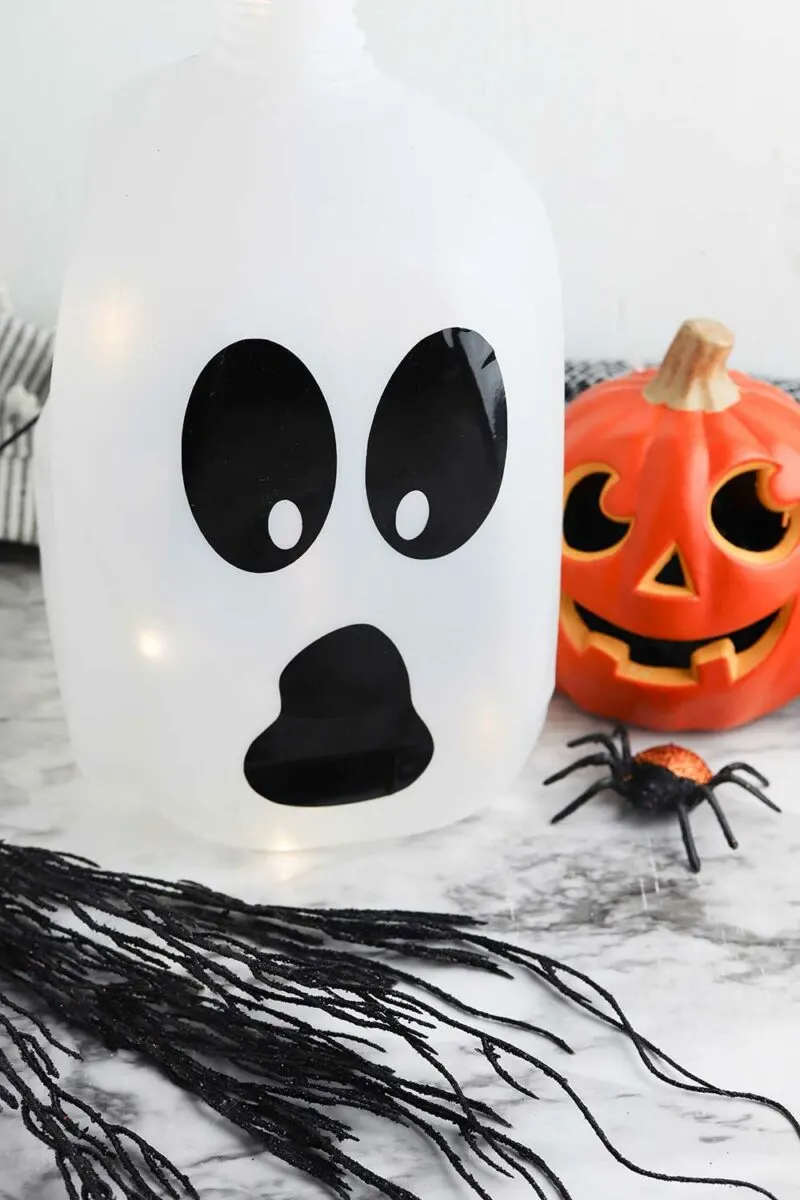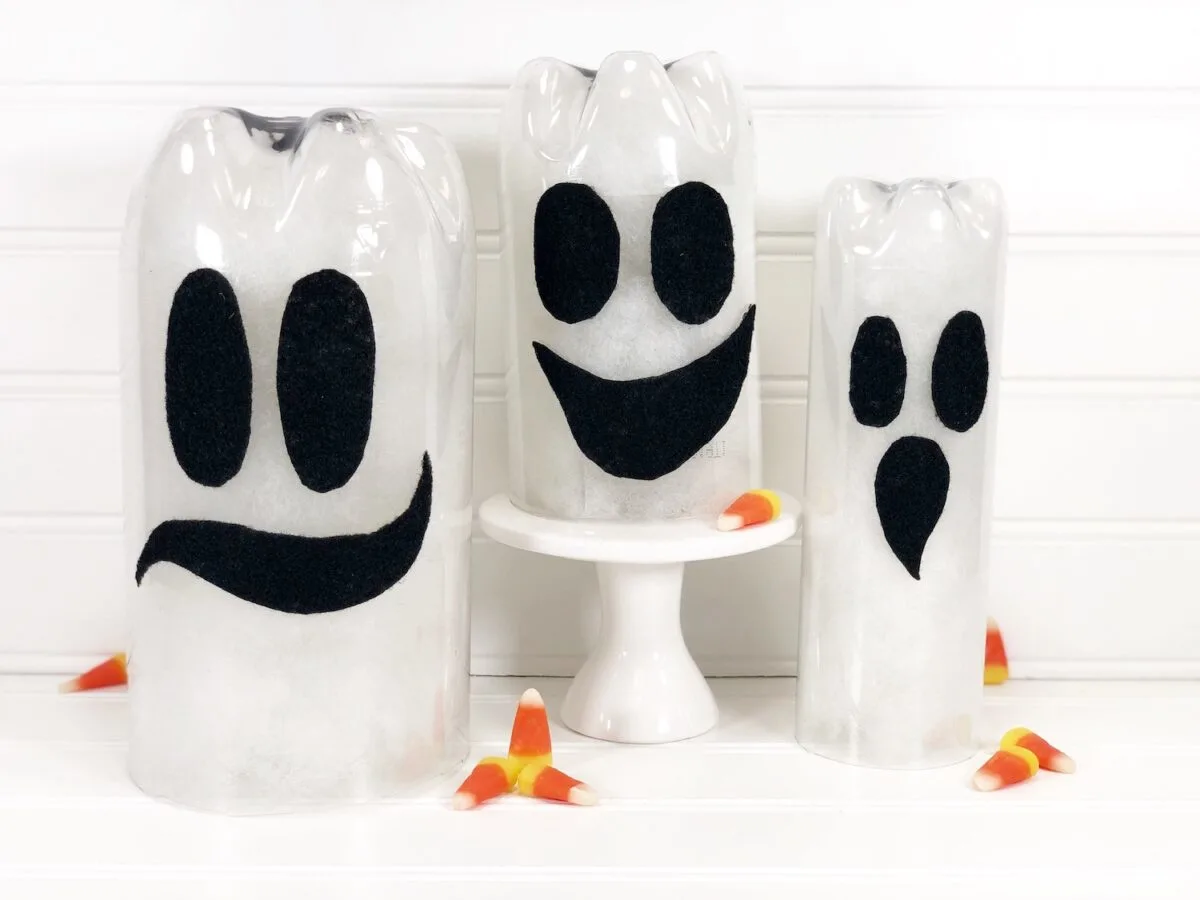 For more easy Halloween upcycling ideas, you will want to see my tin can Halloween lanterns, these cute Halloween candy buckets made from coolers and these easy book page leaves.
I've also got some great outdoor ghost decorations made from laundry detergent containers and a trash can.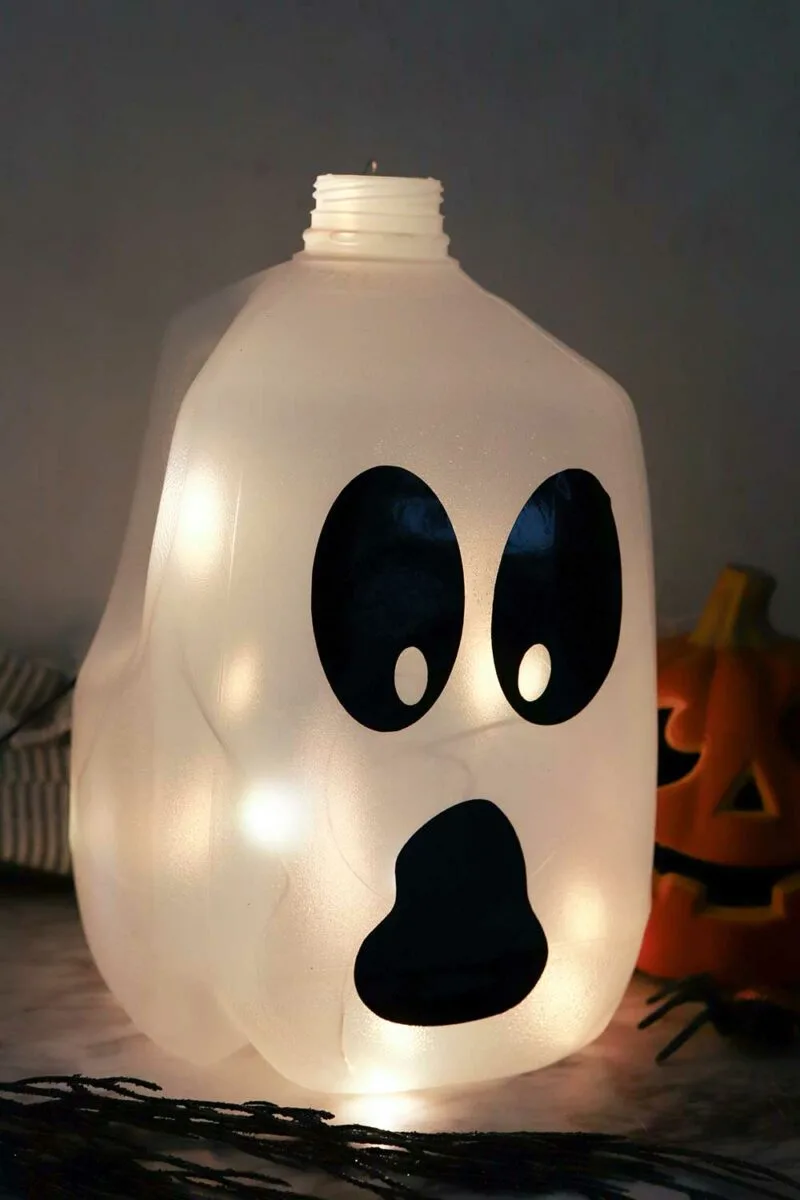 How to Make Milk Jug Ghosts
There are a variety of ways to make milk jug ghost luminaries. But they all have two things in common. First, put a ghost face on the jug. And second, put lights inside to make a luminary.
Here's how I made my milk jug ghosts with Cricut. However, you don't need a Cricut machine to make these.
For even more tips and ideas using other materials without a Cricut, be sure to see the Helpful Tips section below.
Supplies
Instructions
Make sure your milk jug is clean and dry inside. You don't want any milk residue causing your luminaries to smell!
Upload the SVG into Design Space. Resize the design, if needed, to fit on the front of the jug. Weld the pieces together.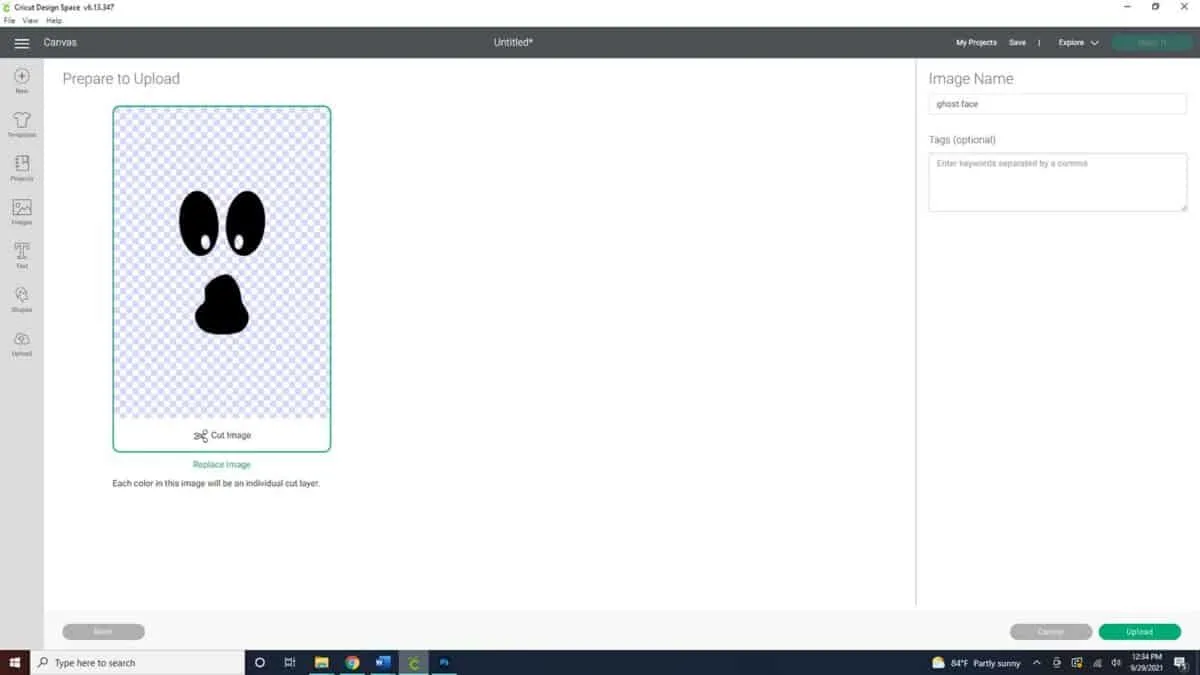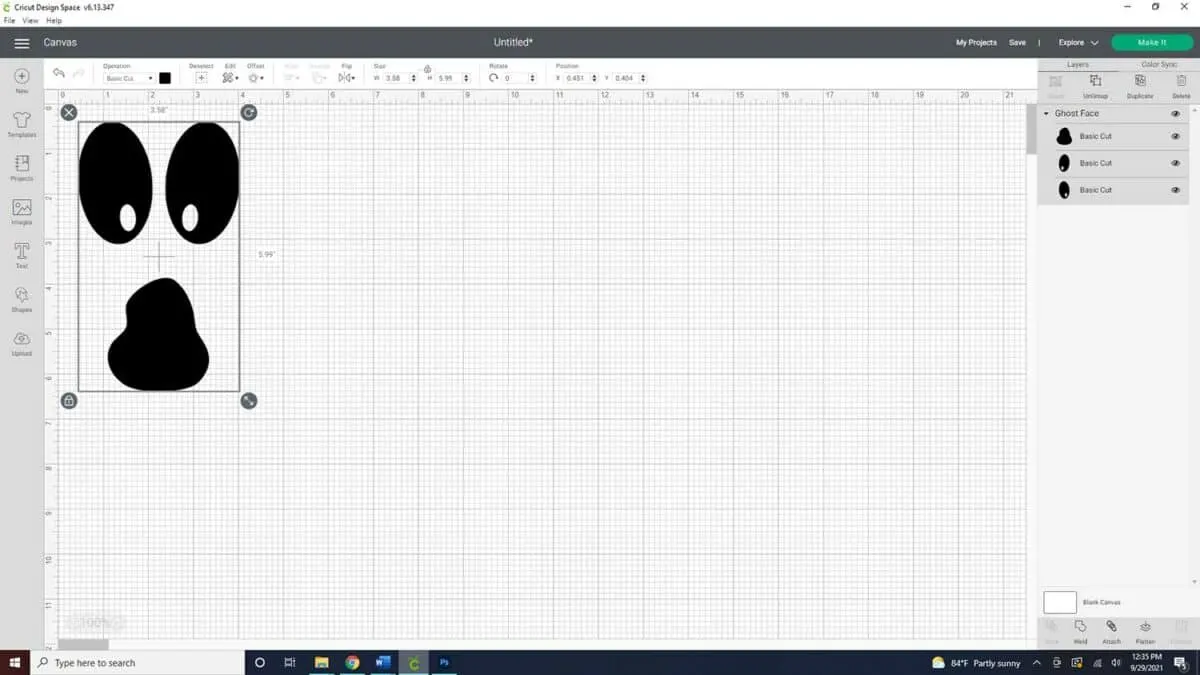 Place the vinyl on the cutting mat and cut the design. Weed out the excess pieces and place a piece of transfer tape on top.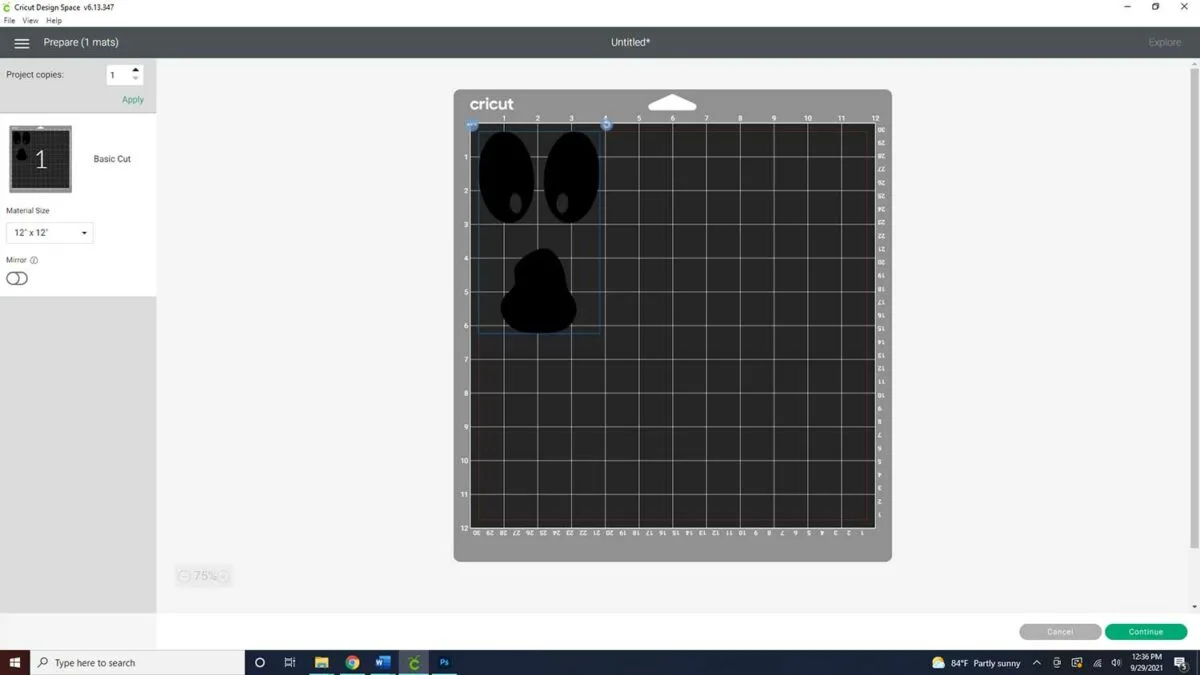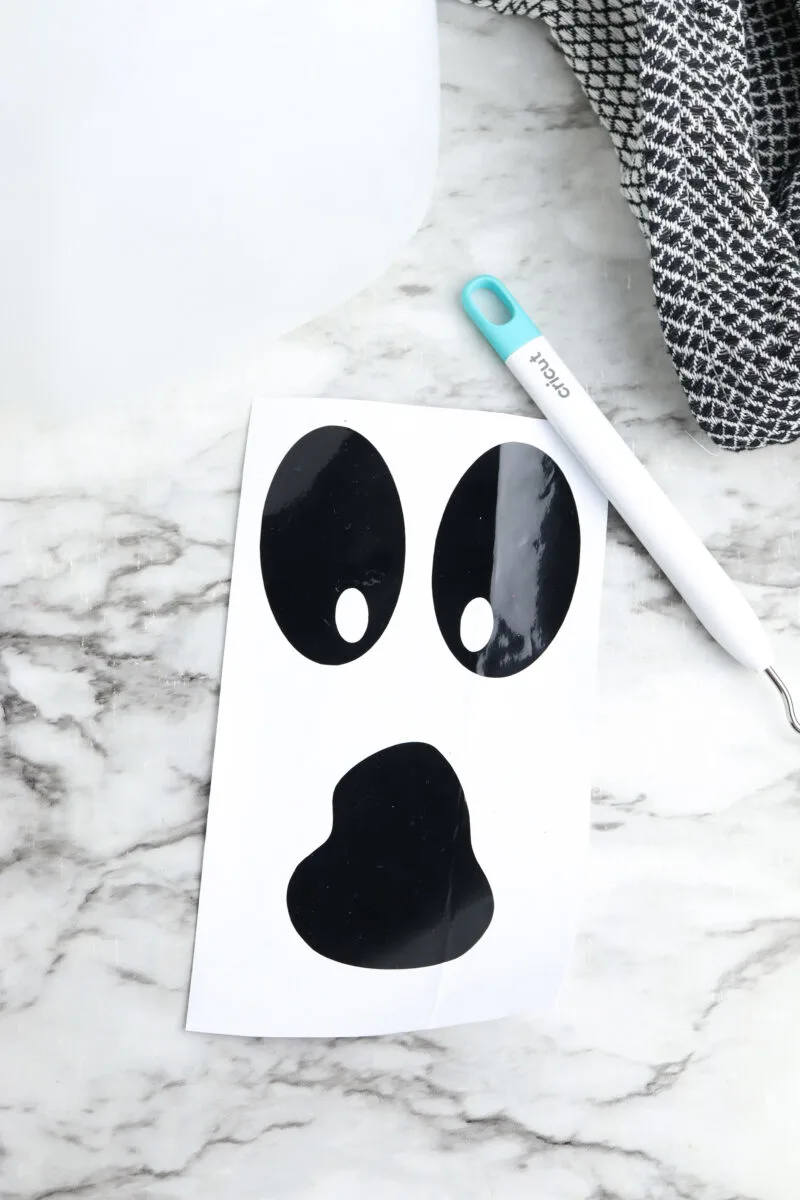 Transfer the face to the front of the jug.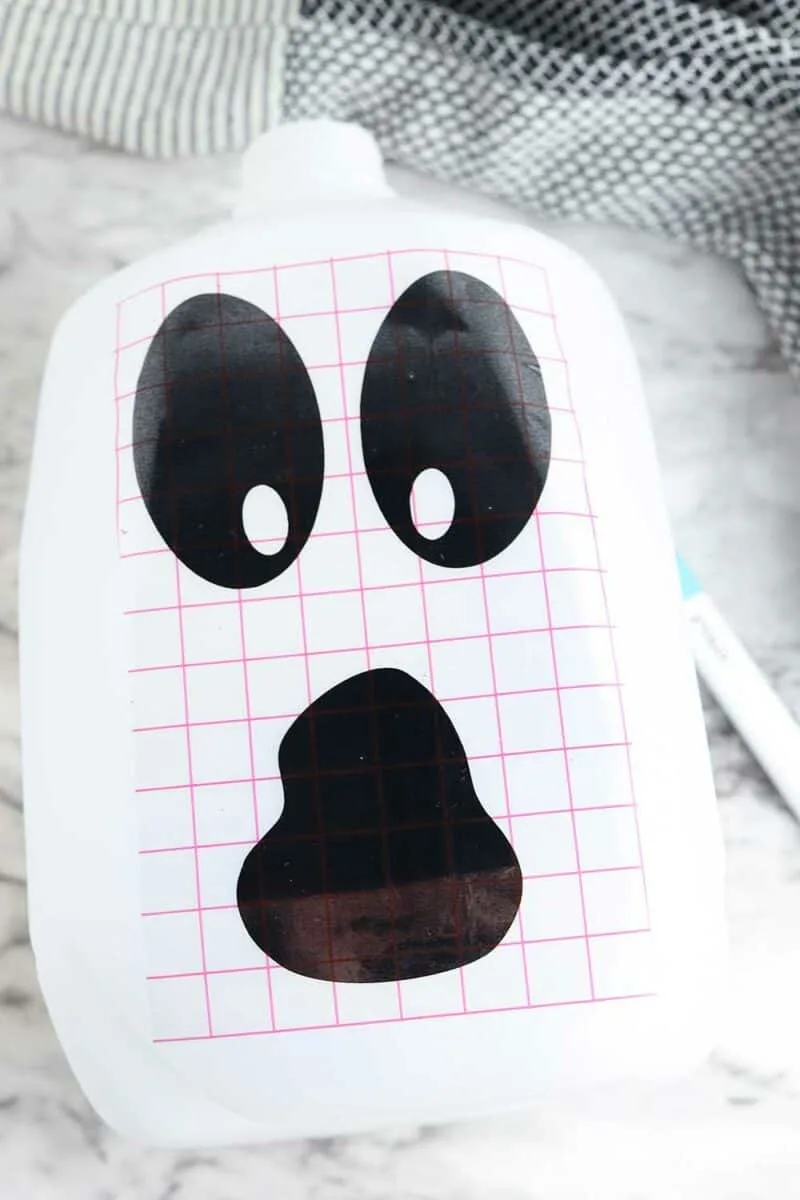 Thread the strand of lights through the top of the jug.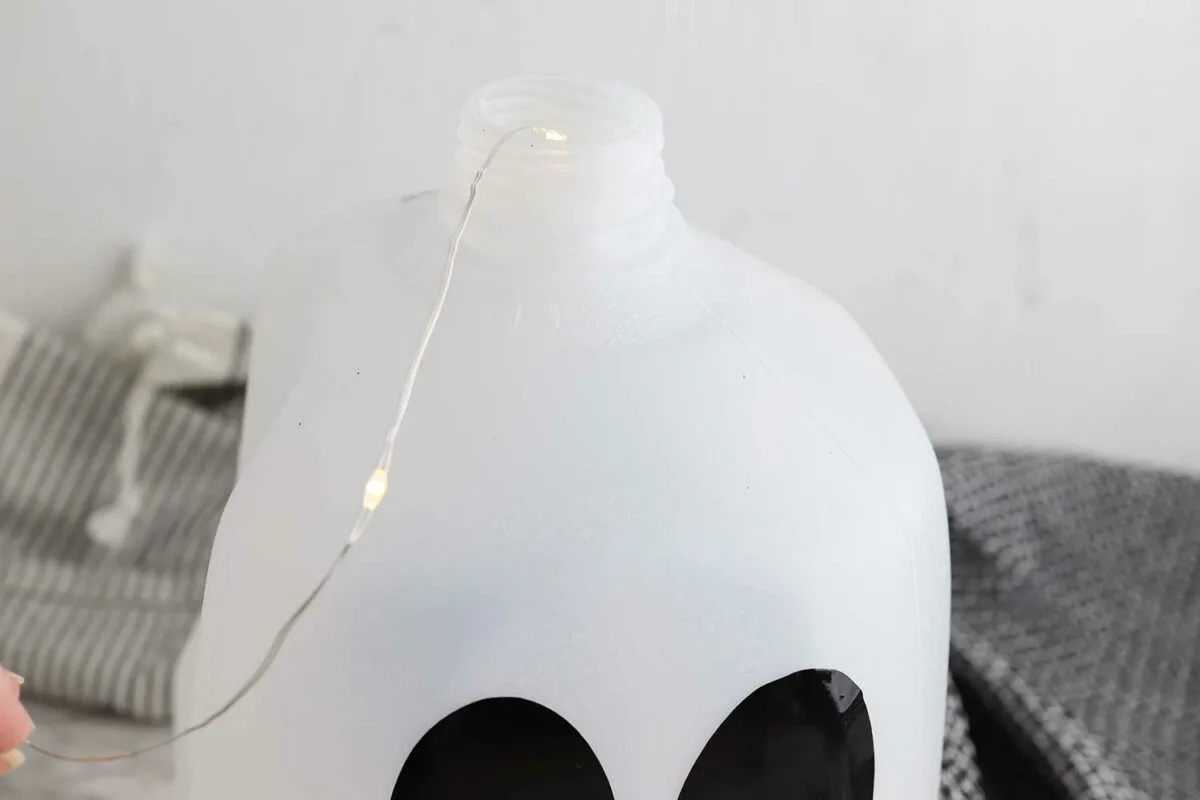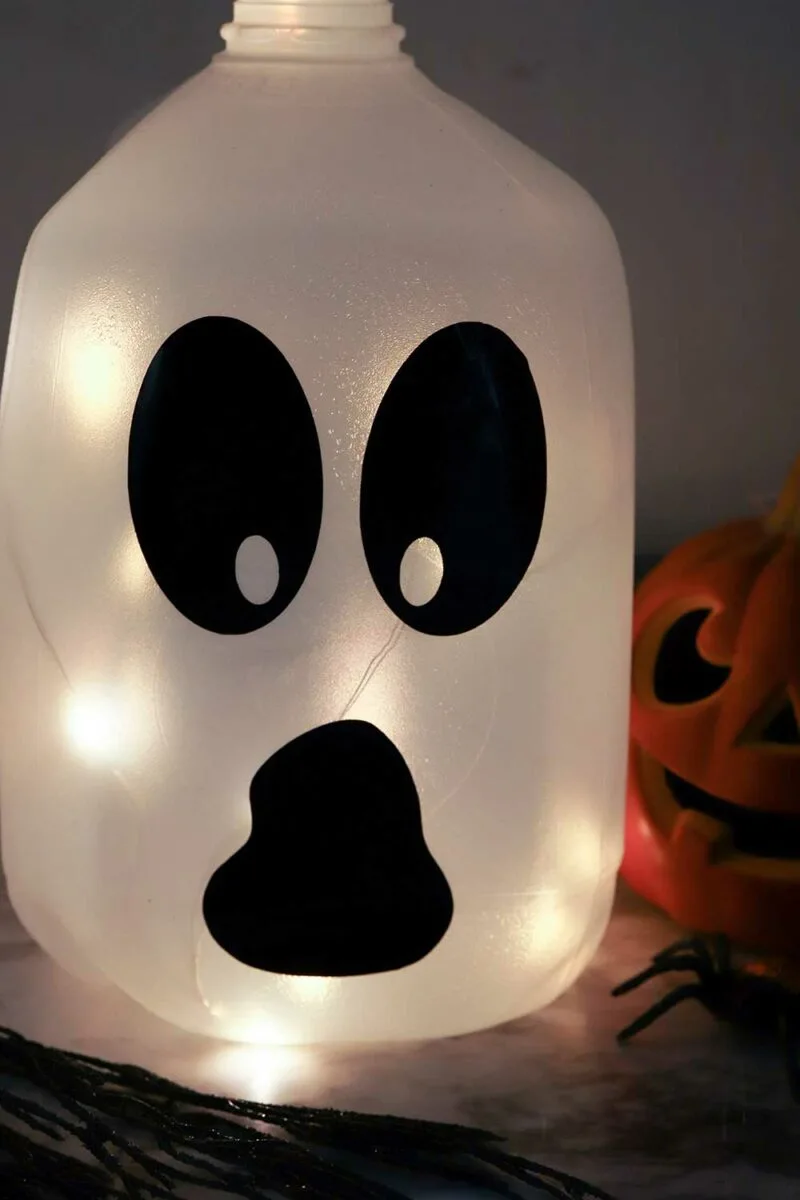 You will also want to weight down the milk jug if you are concerned about winds or being knocked over. Add some sand or rocks to the inside of the jug before adding in lights.
Helpful Tips
Instead of Cricut vinyl, you can draw the ghost face on the milk jug with a Sharpie marker. Use our free download (linked above) as a stencil template.
Remove the labels from your milk jug before turning them into a luminary.
These jugs can be reused next year. Or put them in the recycling bin to dispose of (remove the Cricut vinyl if you are able before recycling).
To make a luminary, you can use glow sticks, battery operated tea lights (NOT real candles with flames that would melt the plastic) or twinkle light strands.
If you have an electrical outlet nearby, you can use plug-in light strands. However, you might need battery-operated twinkle light strands if placing along the driveway or somewhere without electricity nearby.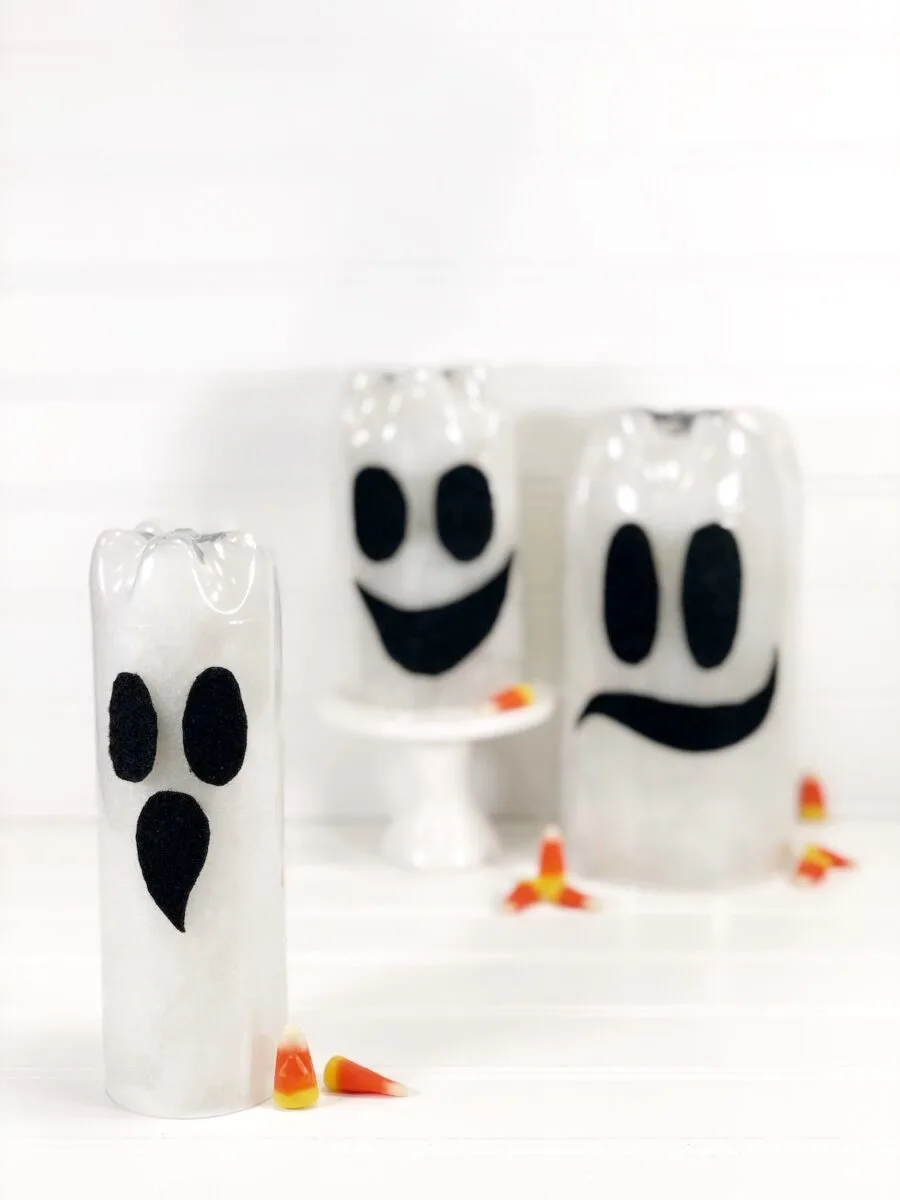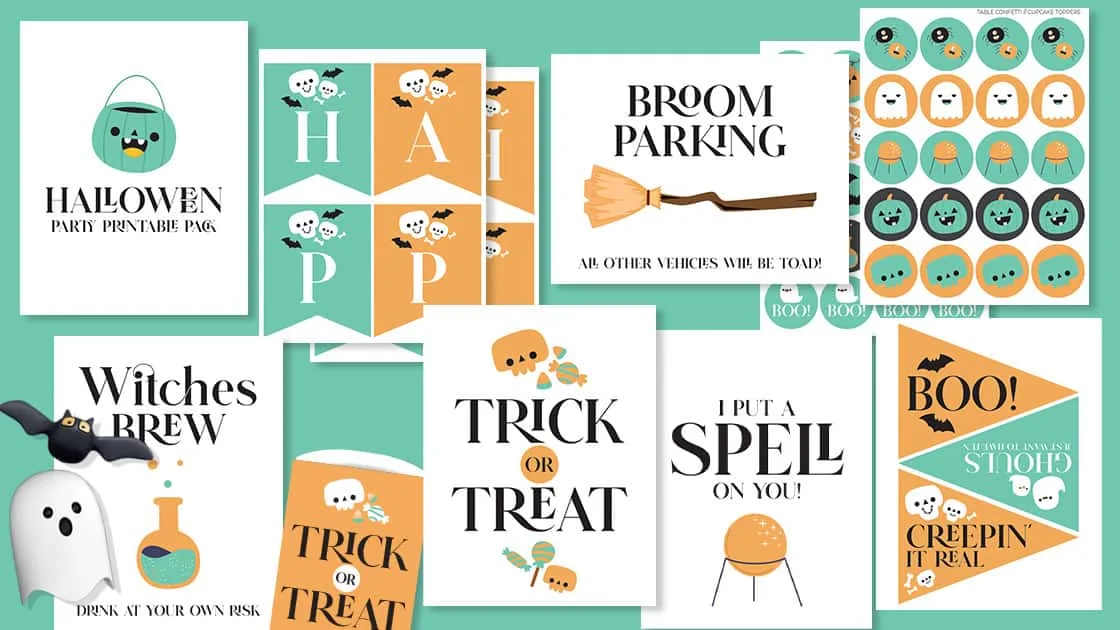 Hurry! Get Your Halloween Printables Pack Now!
This fun Halloween printables pack has banners, signs, treat bags and cupcake toppers. Don't miss out!
DIY Plastic Soda Bottle Ghouls
These upcycled plastic bottle ghosts are very similar to the milk jug ghosts. These do not light up, though. They are great for decorating indoors, or for adding on your front porch.
You could use black craft foam or construction paper instead of felt, too.
Instead of a hot glue gun, you could try liquid craft glue or double-sided glue dots.
Supplies
Clear Soda and Water Bottles in different sizes
Poly-Fil stuffing
Black Felt – 9" x 12"
Glue Gun and Glue Sticks
Scissors
Craft Knife
White Chalk Pencil
Instructions
Remove the labels from the plastic bottles and wash them. Let dry.
Carefully cut off the neck of the bottles with a craft knife or scissors. To keep the ghosts tall, cut off just below where the plastic bottle curves to the pour spout. For shorter ghouls, you can cut further down.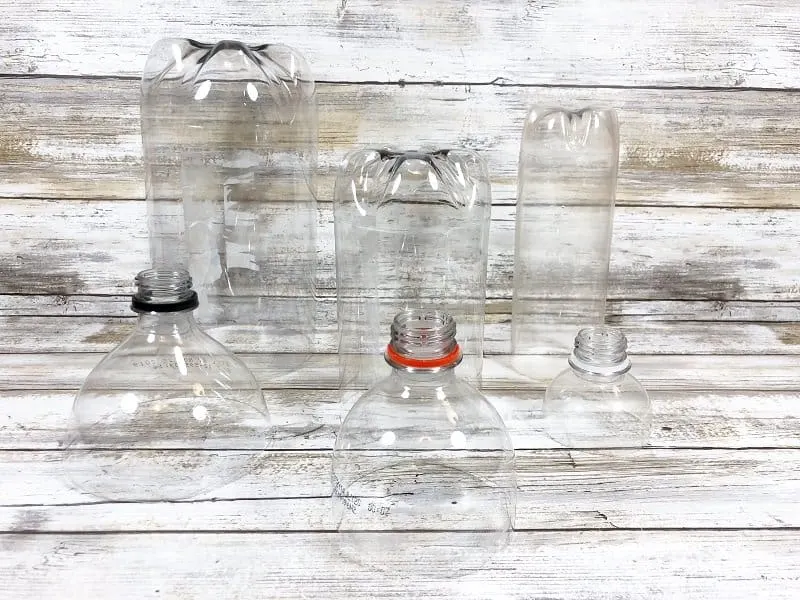 Draw ghost faces on the felt with white chalk. Cut out with scissors.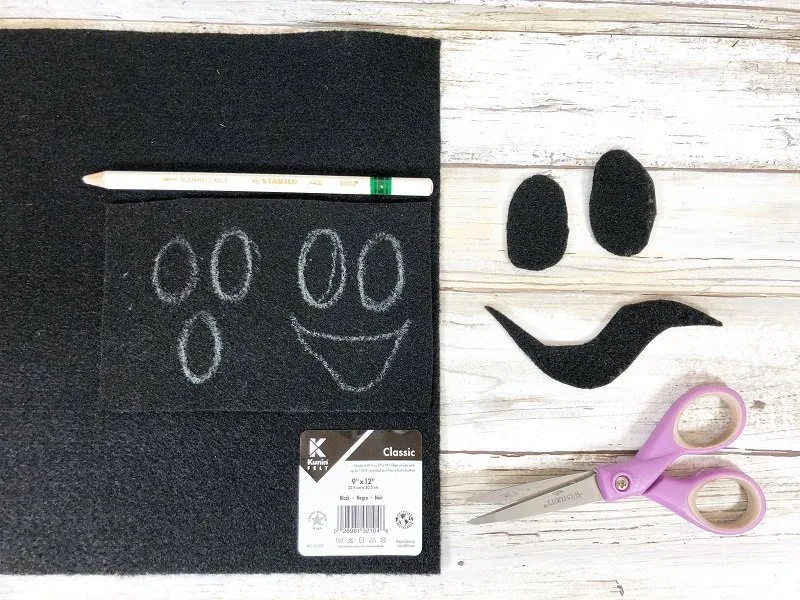 Helpful Tip: Cut inside the drawn lines so that you don't see little bits of chalk around the edge of the eyes and mouth.
Stuff the bottles with Poly-Fil.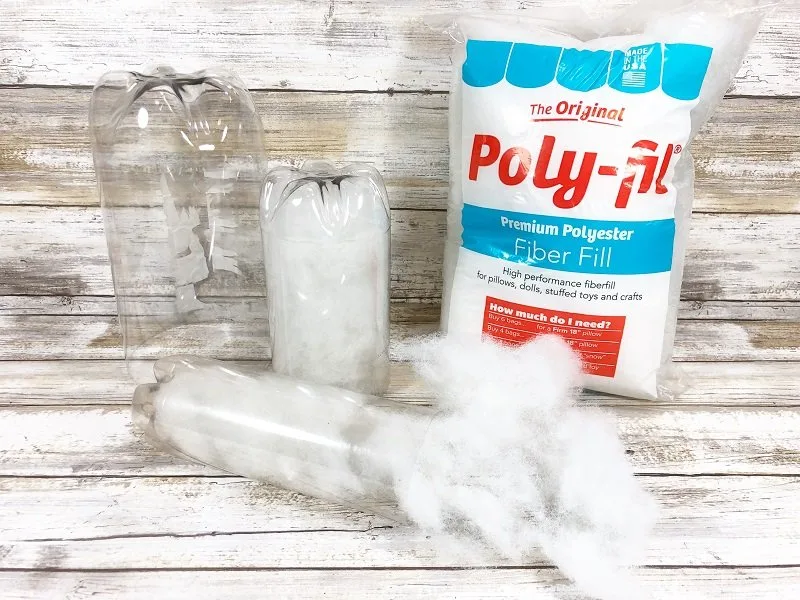 Glue the ghost face cut outs to the outside of the plastic bottle.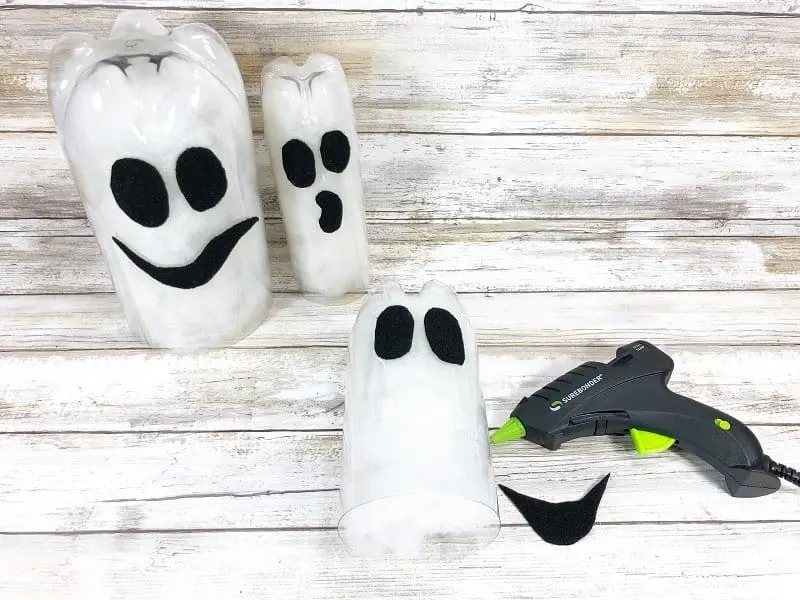 ---
If you like how easy it is to make these plastic bottle ghosts, be sure to see my easy mop head ghosts, too!
You might also like my paper strip pumpkin and these easy Halloween paper cup crafts.
See even more quick and easy last minute Halloween DIYs in my video below (and I'd love if you subscribed to my channel!!!):
Be sure to check out all of my easy DIY Halloween decorations to make!