I want to have kids come trick or treating at my house this year, but with social distancing I don't want to actually open the door and hand them candy! Which is why these cute Halloween candy buckets made from thrift store coolers are a perfect way to give out treats!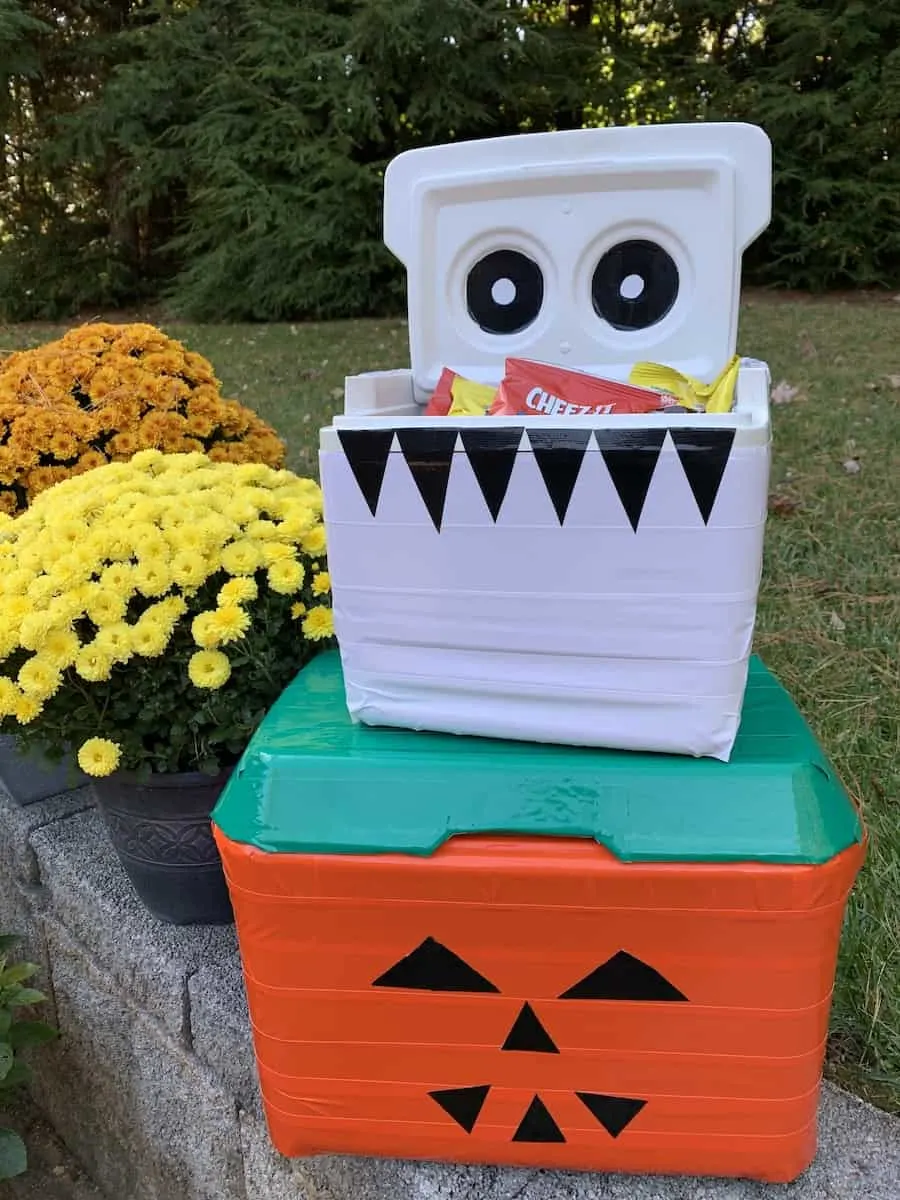 When I saw old coolers for cheap at our thrift stores, I was excited to try out this idea. At first, I wanted to paint them. But after looking for tutorials online (and seeing how much time it takes to prep the plastic and then paint it), I knew that option wasn't for me.
Plus, I want to be able to keep these coolers to use later on. Such as for summer time, camping, and even to have on hand for emergencies. So I really didn't want to have to keep the Halloween themes past October 31.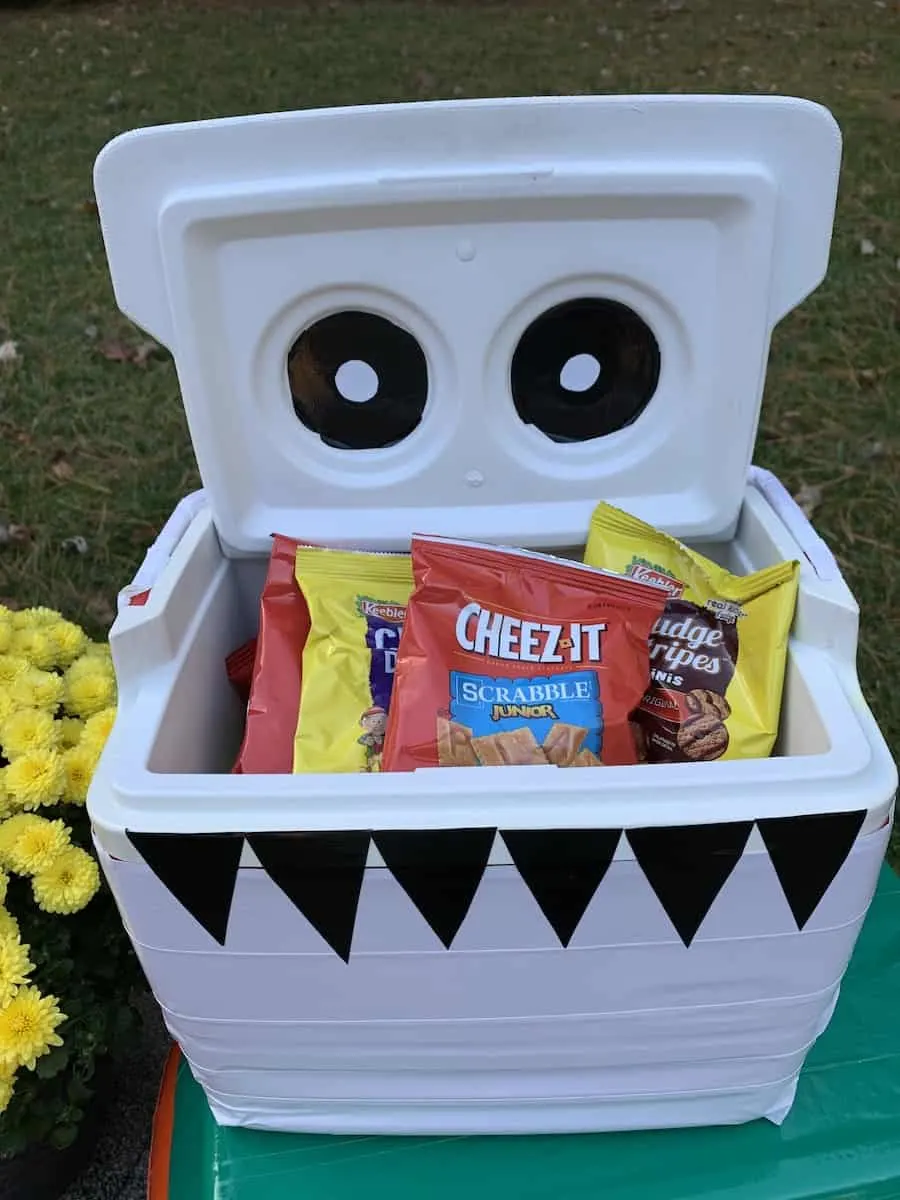 Which is why I settled on using duck tape. It was relatively inexpensive, and I have a lot left over. Plus, I can rip it off easily on November 1.
I also used duct tape and a thrift store find for these easy trash can ghosts!
And here's how I upcycled plastic milk jugs into ghost luminaries for Halloween.
After Halloween, don't waste those candy wrappers! Here are 25 genius ways to recycle candy wrappers into DIY crafts.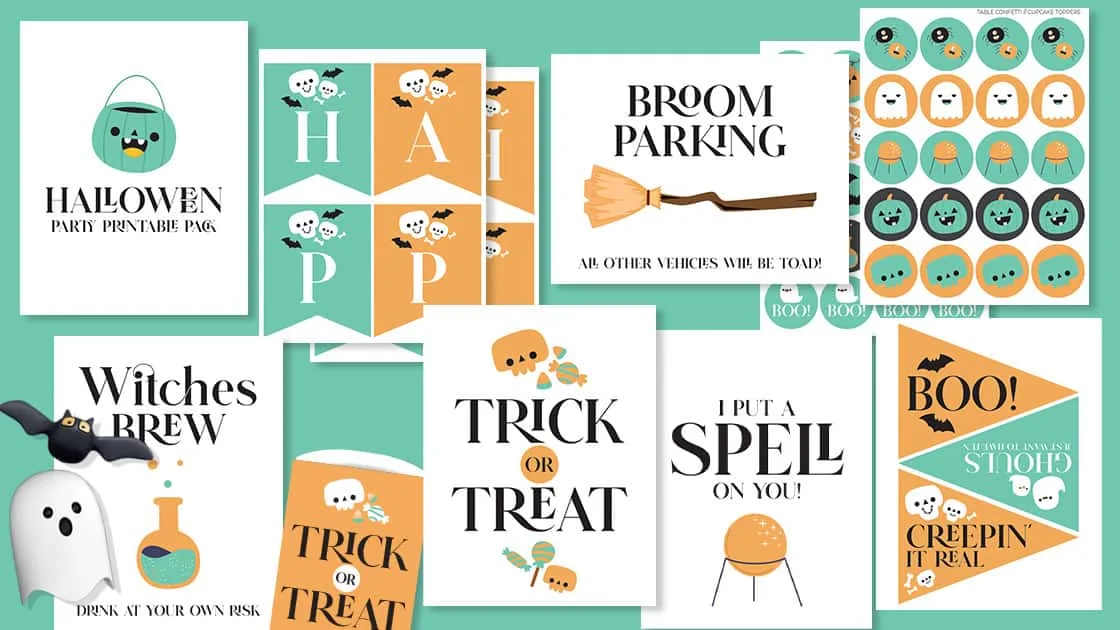 Hurry! Get Your Halloween Printables Pack Now!
This fun Halloween printables pack has banners, signs, treat bags and cupcake toppers. Don't miss out!
How to Make a Halloween Candy Bucket from a Cooler
Supplies
Duck tape (I used orange, green, white and black bought at Lowes.)
Scissors
Instructions
Be sure your coolers are clean and wiped out before you begin. And let them dry completely, because tape won't stick to damp plastic.
I used a magic eraser to get rid of black marker that was on the thrift store coolers. It helped a little bit, but I'm glad I was taping over it!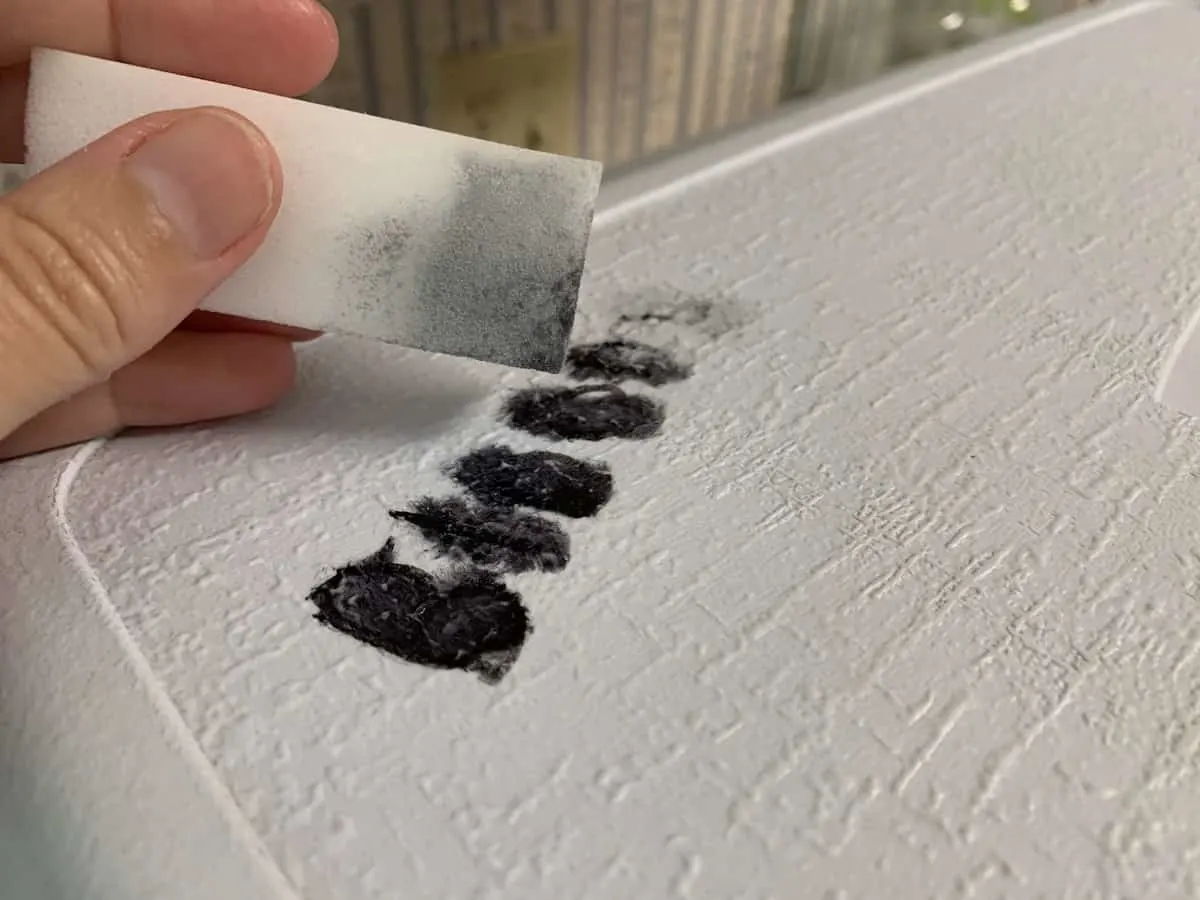 Pumpkin Candy Bucket
For my Halloween pumpkin cooler, I used orange duck tape and wrapped it around the base. What I found was that it was easier to cut long strips to do just the flat parts.
For instance, the front, back and sides under the handles. For the slightly curved parts, it was easier to go back over with smaller strips of duck tape and cover those.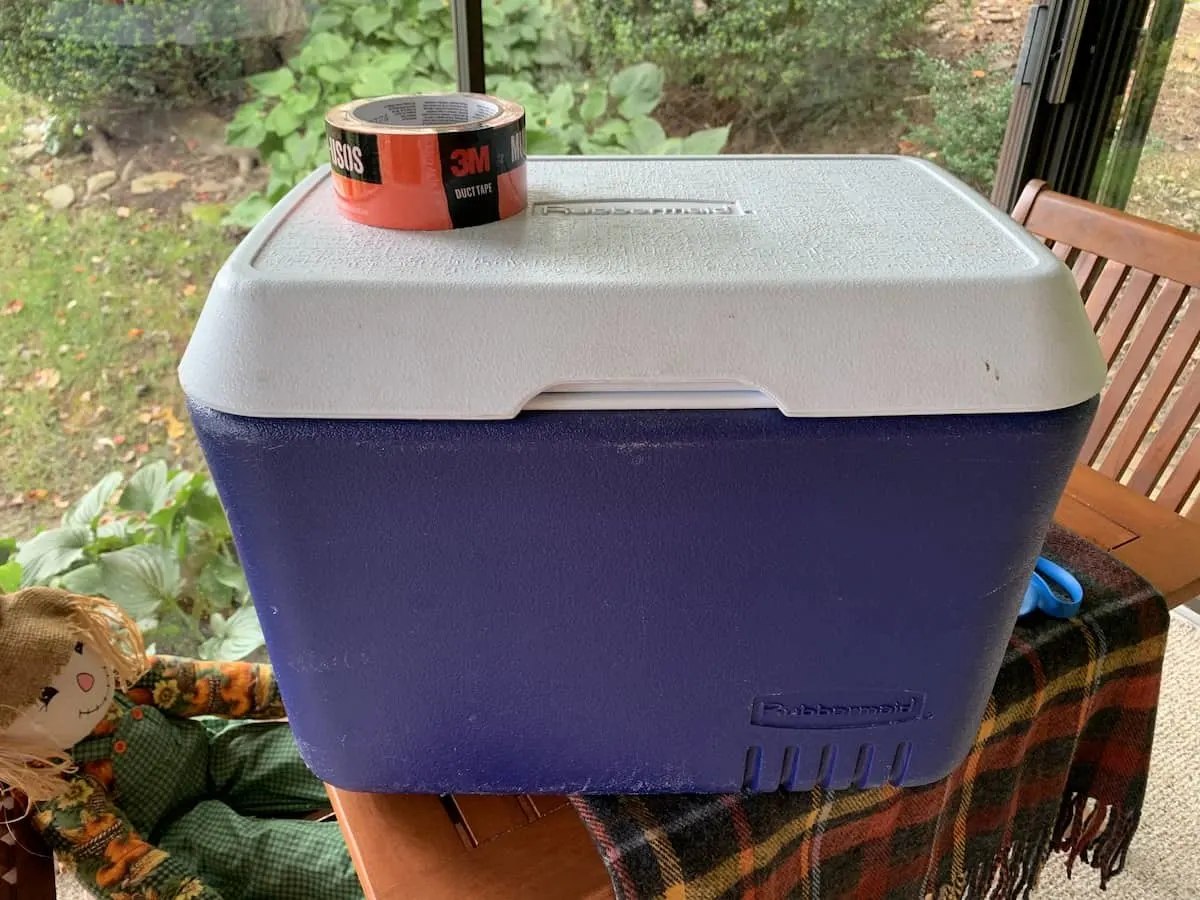 The lid had an indent for the company logo. I wanted a smooth look. So I cut a small piece of duct tape to place over the brand logo.
Then I continued to cover the lid with green duck tape.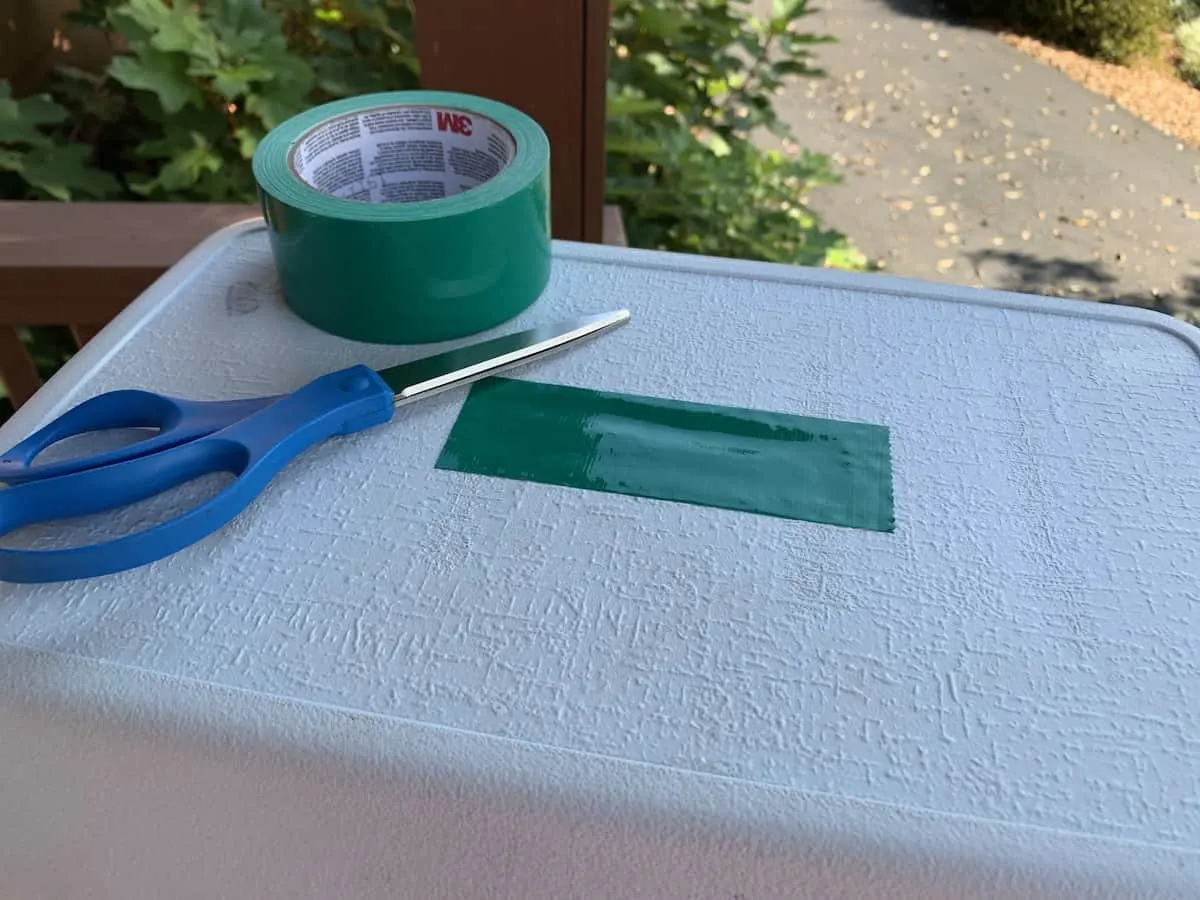 Be sure to cover the small sections where the handles are, too, to complete the look.
After the cooler was completely covered, I added a Jack O'Lantern face. I cut small pieces of black duck tape to make the face. I found that cutting a square of tape, and then cutting it diagonally to make a triangle worked best for me.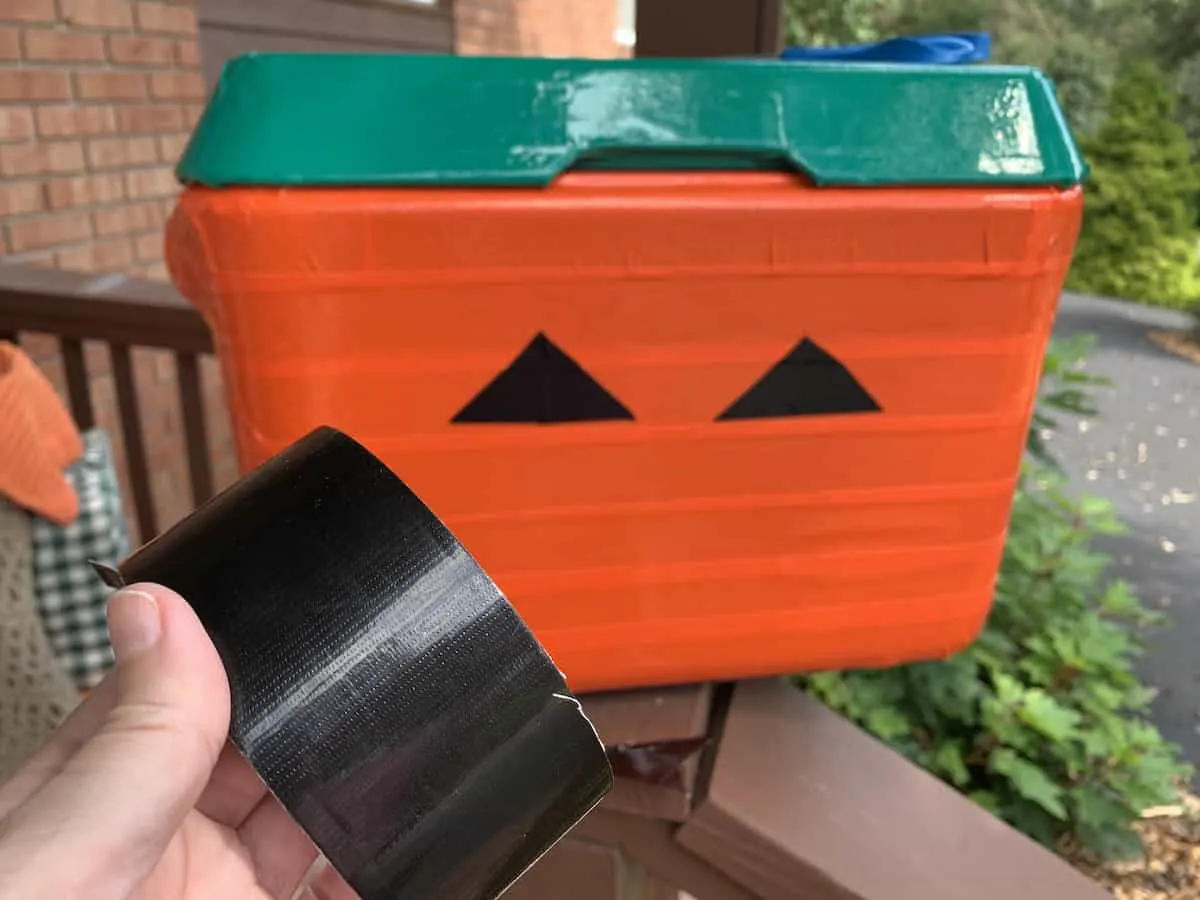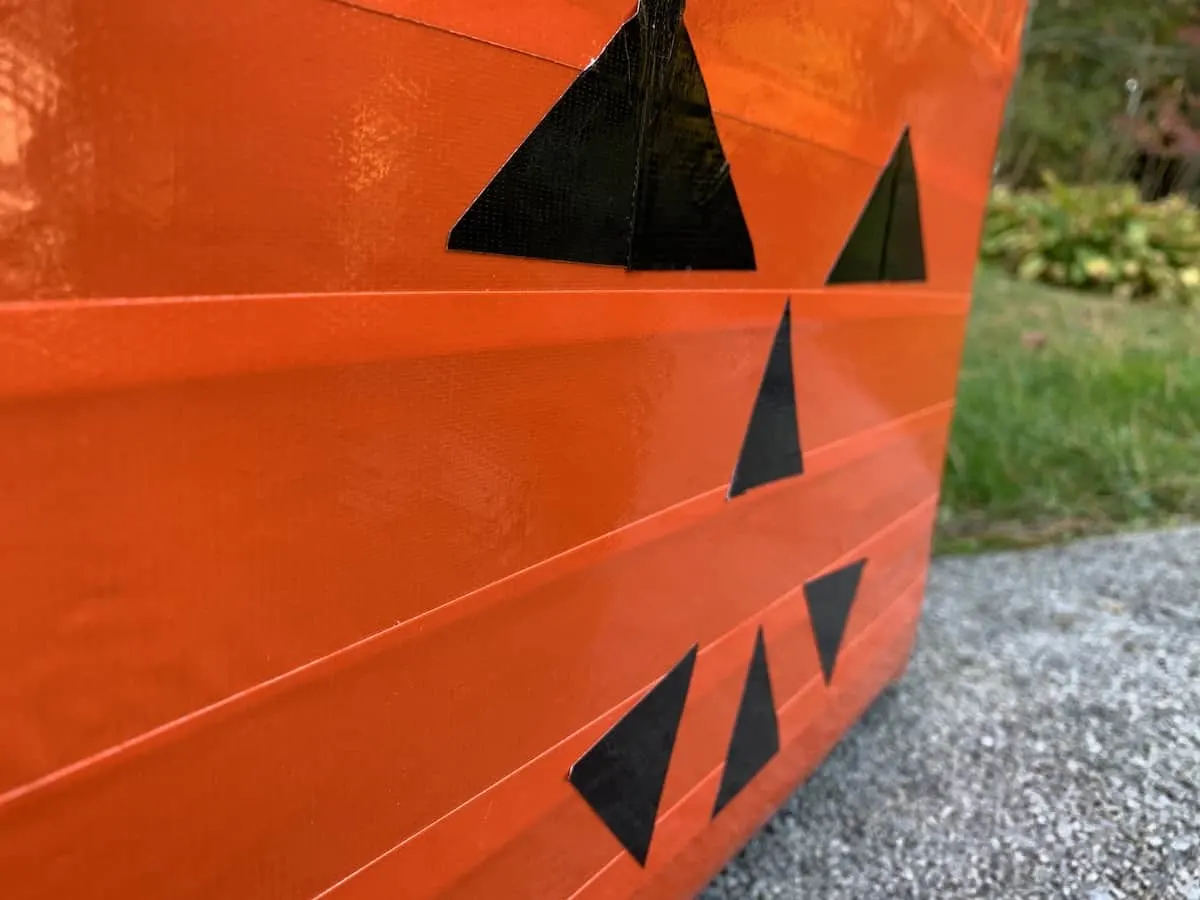 I overlapped the triangles to cut the look that I wanted.
Mummy Monster Candy Bucket
For the mummy monster cooler, I wanted to use the circular indents that were on the Igloo cooler lid. These circles are supposed to be to hold cups, but I thought they looked like eyes!
I wrapped the cooler with white duct tape.
Then I added black tape to make the eye balls. The circles were too big to cut the black out of one piece of tape. So I had to cut sections and curve the edges with the scissors. Then I just applied them to make a circle. I did use a Sharpie to cover up some of the duct tape edges that looked a bit white and ragged.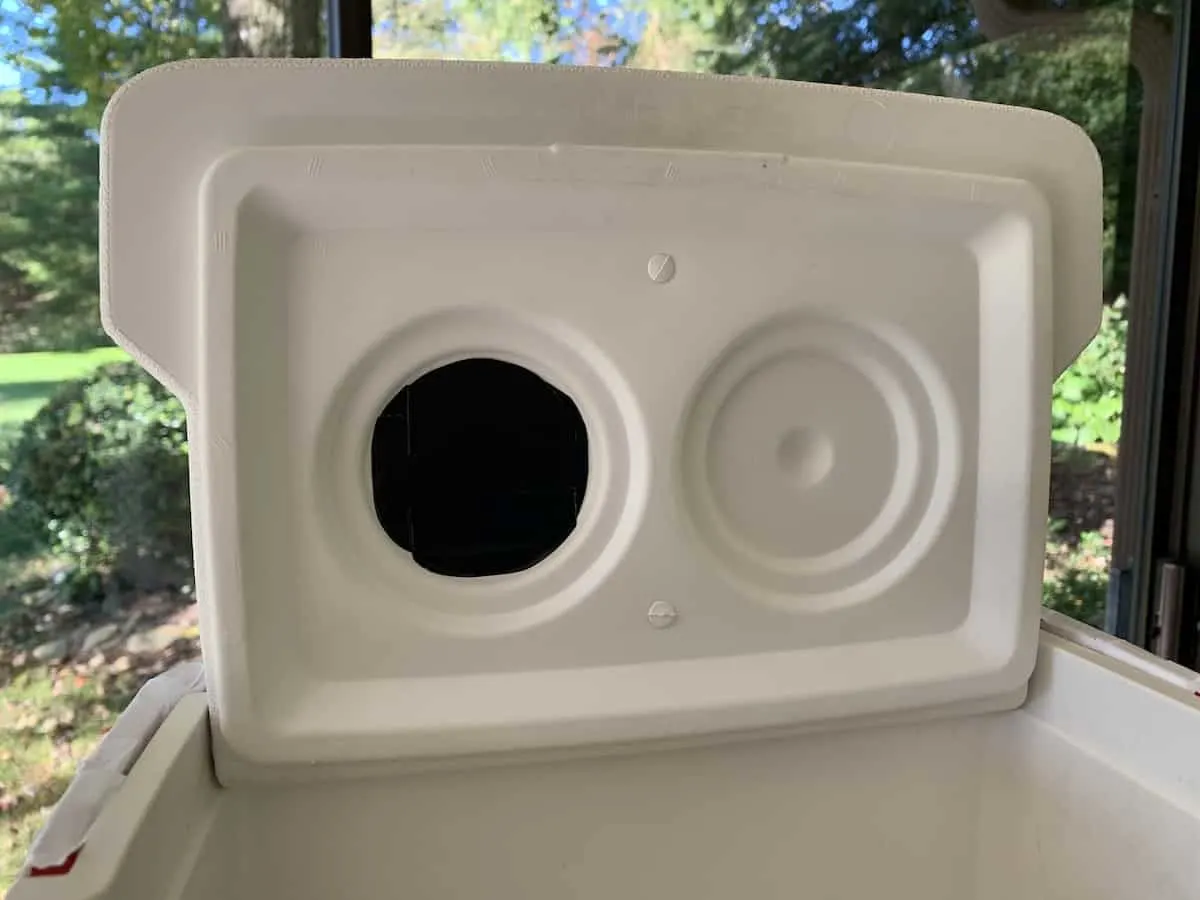 I cut out a small circle from white duct tape for the eye ball.
For the "teeth" I cut long strips of black tape into triangles.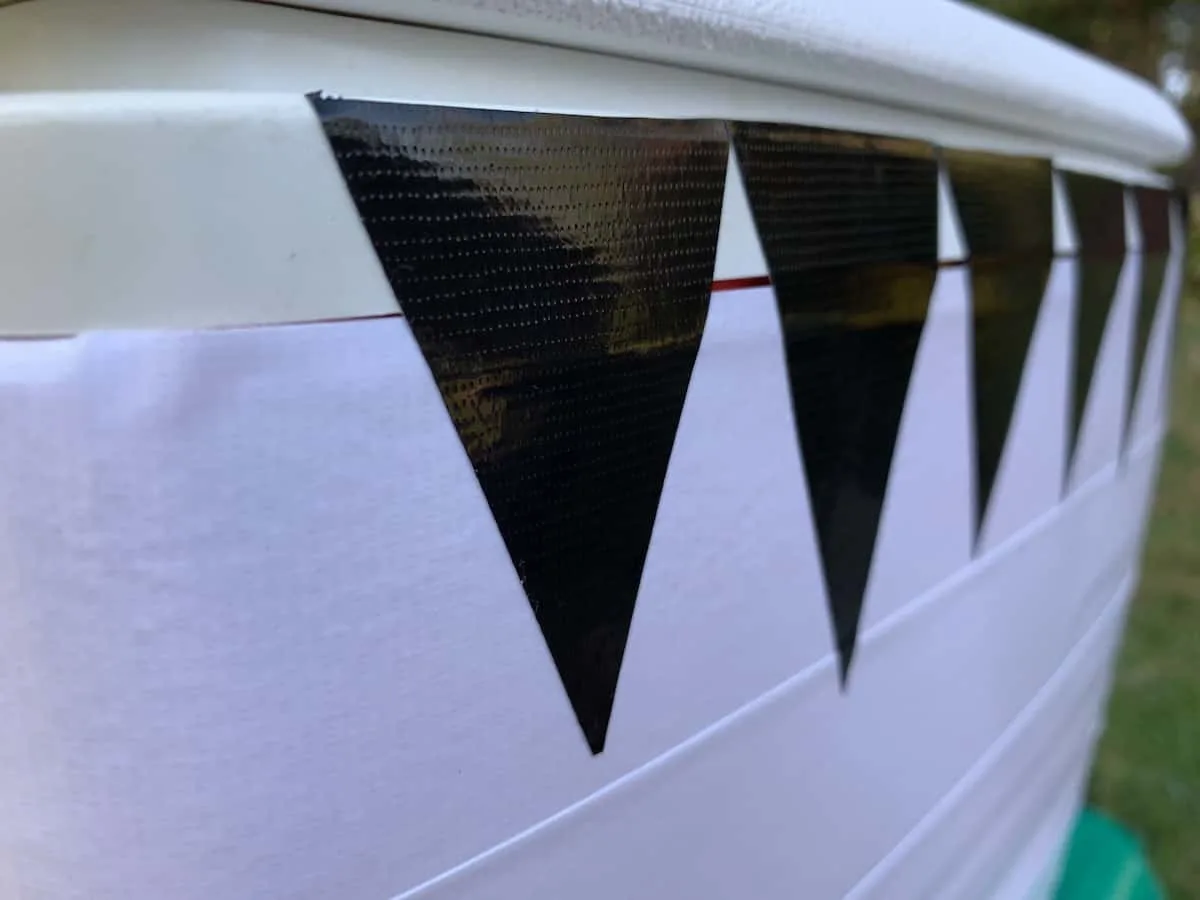 I covered the handle with duct tape, too, to complete the look.
Helpful Tips for Wrapping a Cooler with Duck Tape
Your scissors will get really sticky cutting the tape. Have some all purpose cleaner or Goo Gone ready with a paper towel to consistently wipe them off.
I found colored 3M Duct Tape at Lowes for around $4 a roll. It was the perfect answer, since everything else online was super expensive or not the right colors.
The white duck tape isn't as solid as I'd like. It really showed the layering underneath when doing overlapping strips.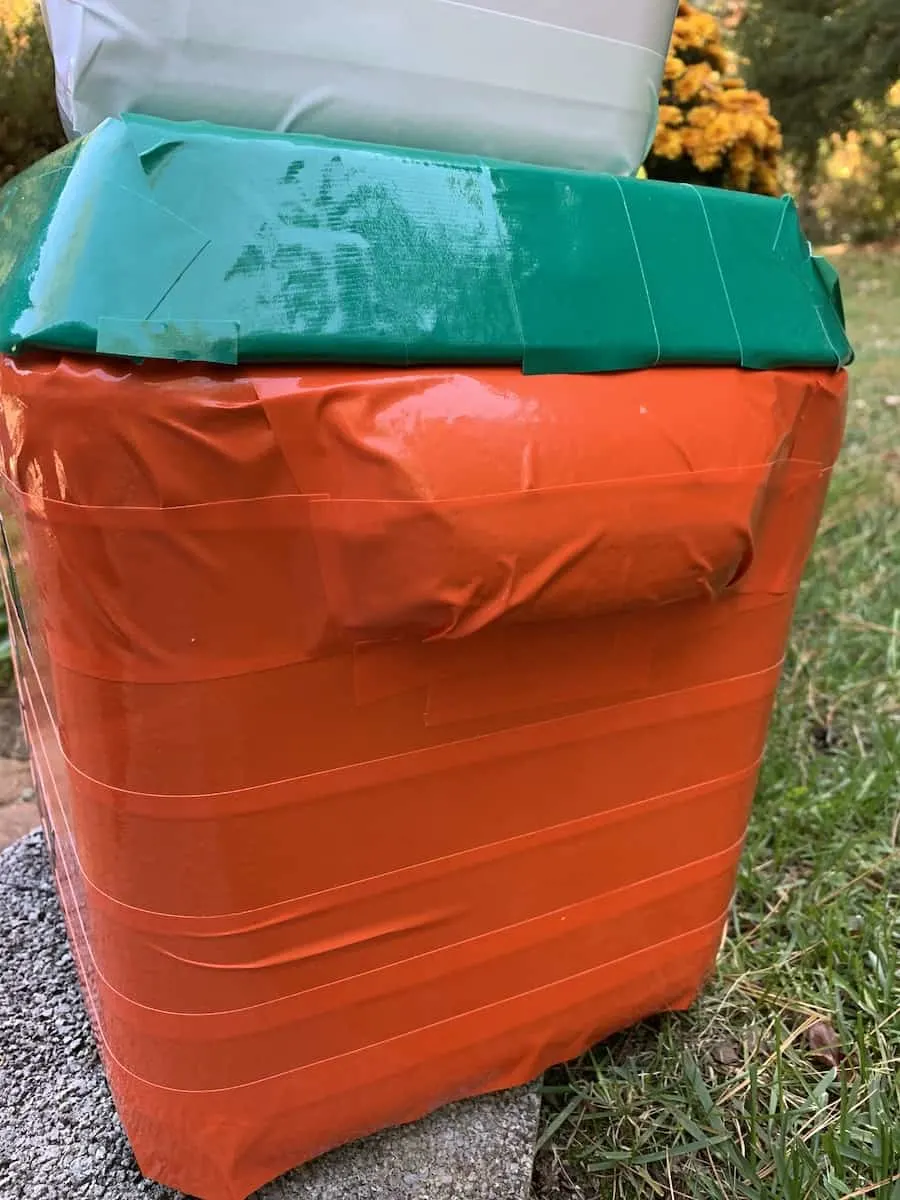 How to Use These Trick or Treat Buckets
When filling the cooler, consider adding some stuffed bags or other packaging underneath so that it looks really full. I didn't do that for this photo, but it would look better!
Use a big cooler filled with ice for water, sodas or fruit juices that kids will love while walking around the neighborhood.
Be sure to add a sign for kids to open the cooler, or that you've got a candy bucket on your porch. Otherwise, people might not realize it's full of candy!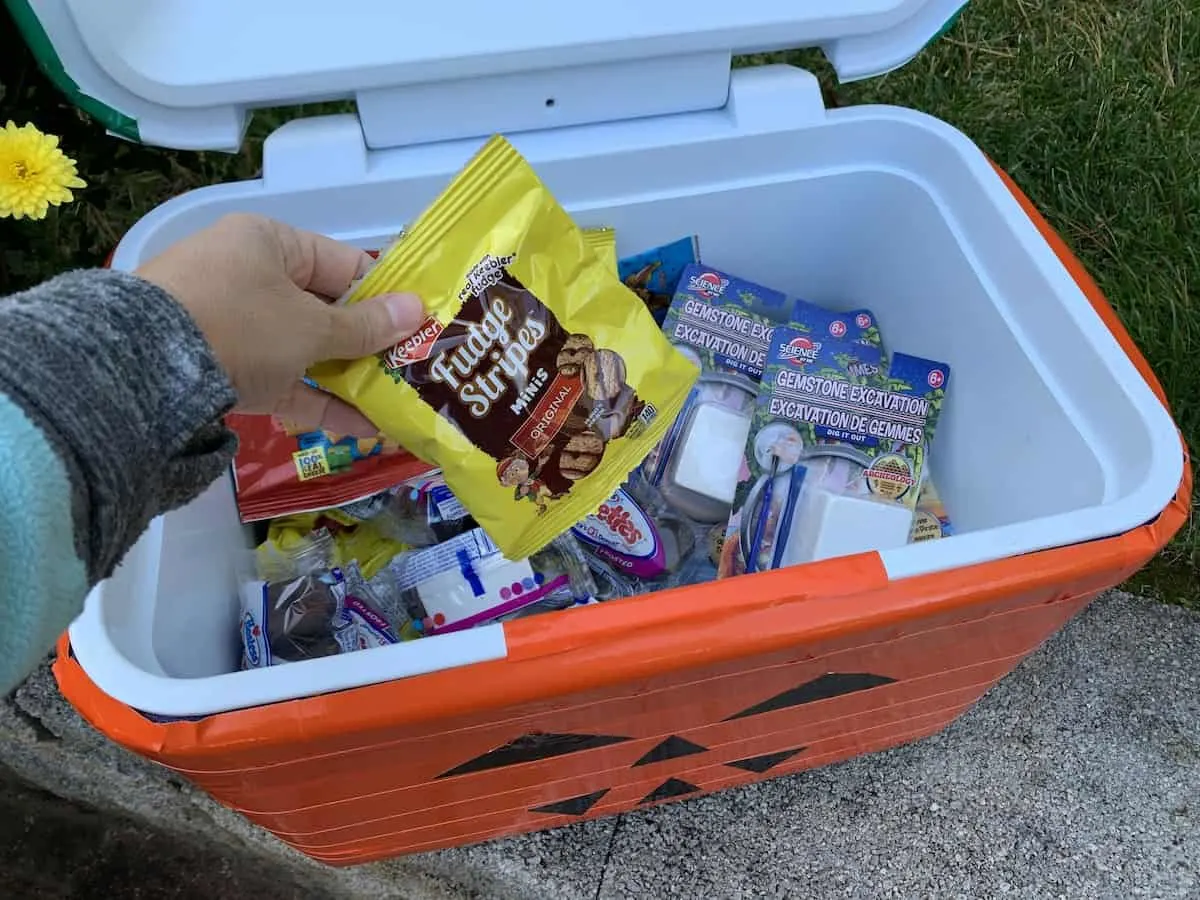 You might like these Halloween crafts, too: