If you are wondering what to do with a spare room, I've got lots of spare room makeover ideas to inspire you!
A spare bedroom tends to become a catch-all room used for storing things that we don't know what to do with. But you can transform your spare bedroom into a fun and cozy place for guests to stay.
If you have been putting off a spare room makeover because you don't think that you have enough money, think again. These 9 bedroom makeover ideas show that you don't need to spend a lot of cash in order to totally transform a room.
You might find pieces from each makeover that you want to combine to create your own perfect bedroom.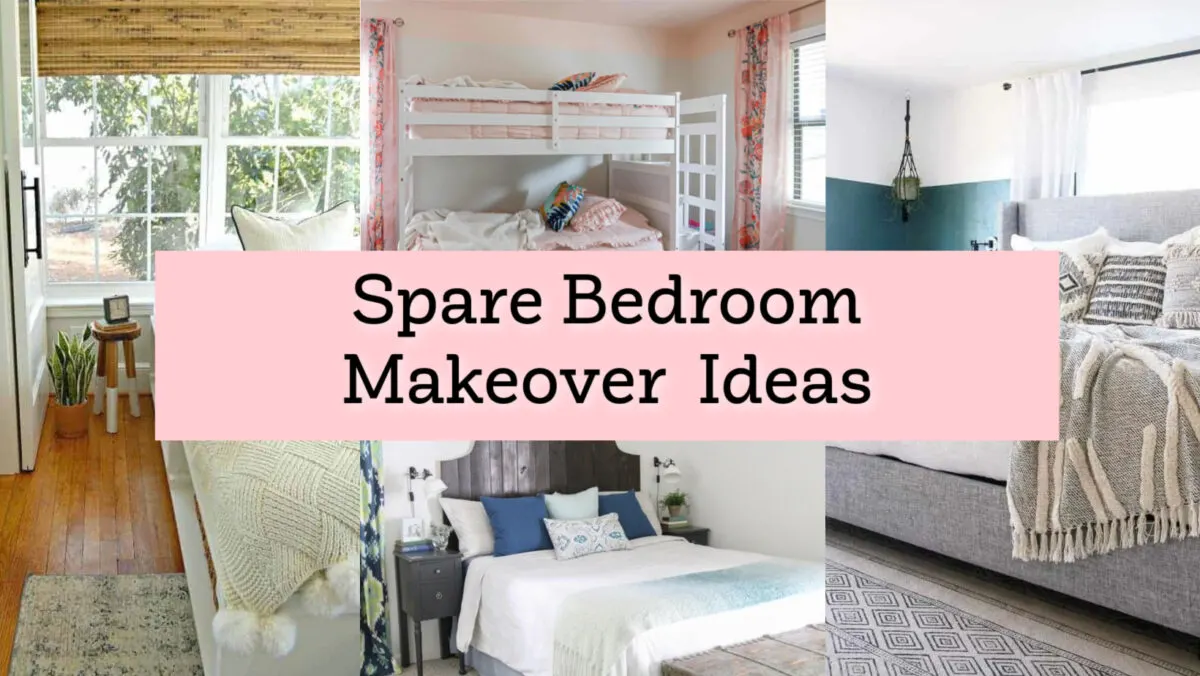 Check out all of my room makeovers throughout my entire home.
I personally have found inspiration for decorating ideas from my friend's ideas below. I love the spare bedroom paint ideas to color block walls or ceilings or use Sharpie pens on the walls.
Some of my other favorites include how to make faux headboards in a variety of ways.
And there are some great spare bedroom storage ideas, too, so that you can store some of your stuff in your spare room without making it look cluttered or messy.
So let us start our virtual spare room tour!
My Thrifty Bedroom Makeover
Let me show you my second bedroom makeover from when I moved in to a new house. This room was REALLY dated with pink carpet, peach colored walls and blinds, and a wallpaper border featuring geese and teddy bears.
Yes, the wallpaper had BOTH geese and teddy bears! UGH!
Here's what the bedroom looked like before:
I was fortunate to have all of the flooring replaced and all of the interior professionally painted white before I moved into the house. Then it was time for some decorating!
First, I wanted to add some color to this room. So I painted two walls with Sherwin-Williams "Glad Yellow" paint in eggshell finish. I left the other two walls white.
The twin size captains bed with storage drawers came from my tiny studio apartment. It's still a great functional piece of furniture.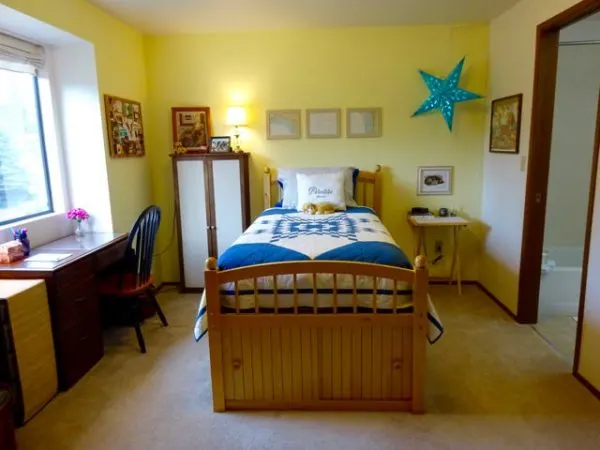 The window nook turned out to be the perfect spot for a small desk. I use this for sewing and crafting with the great light.
Next to the desk, I keep my craft supplies in a set of plastic storage drawers. But, they're stylishly covered with a grass mat so you can't tell they are plastic!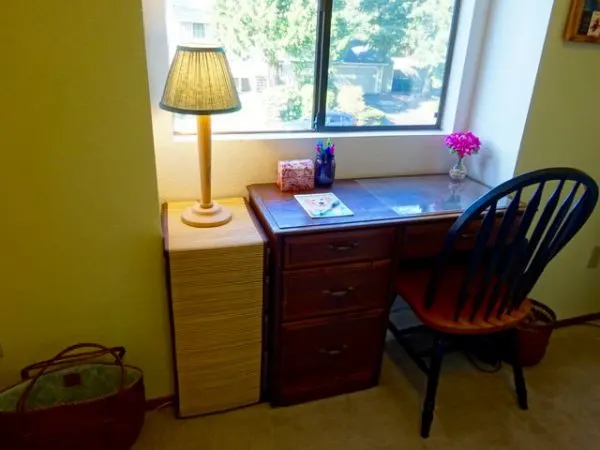 Cabinets from thrift stores provide extra storage space for blankets, and more crafting supplies and fabrics.
This bedroom has a slight, but not overwhelming, nautical and travel theme that reminds me of my past experiences. In addition to the compass star pattern on the quilt, I have a life preserver on one wall, signed by old friends.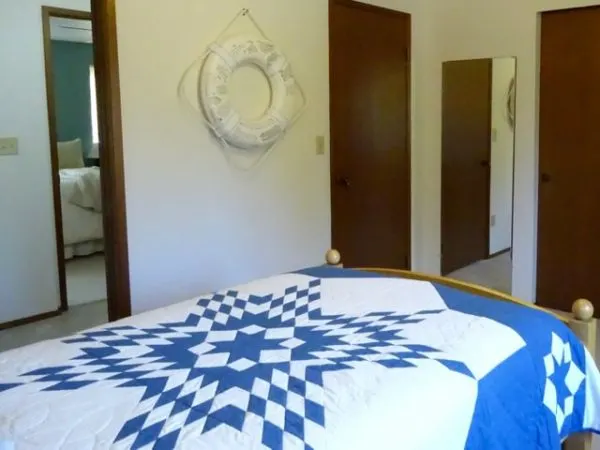 I cut interesting pieces out of an old nautical chart, and put them into frames over the bed. A painting of Florence and an Italian throw pillow are nods to other travel adventures.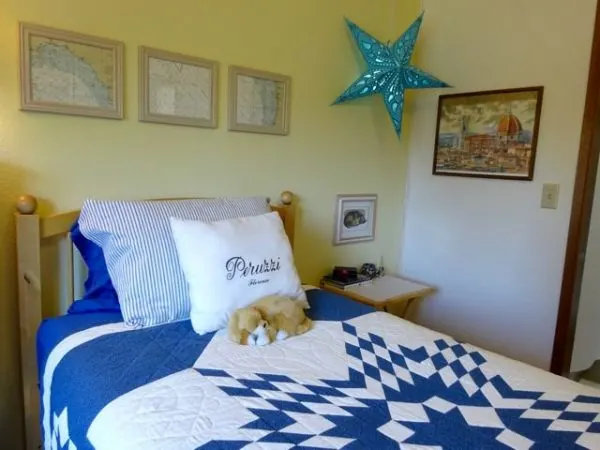 More Cheap Bedroom Makeover Ideas
Everyone has a different style and likes different decor. That's why I want to share some of my friends' inexpensive bedroom makeover ideas, too.
If you don't have any money to spend to redo your room, don't worry! Lovely Etc. shows us a cheap bedroom makeover just by shopping her house to update her boring bedroom.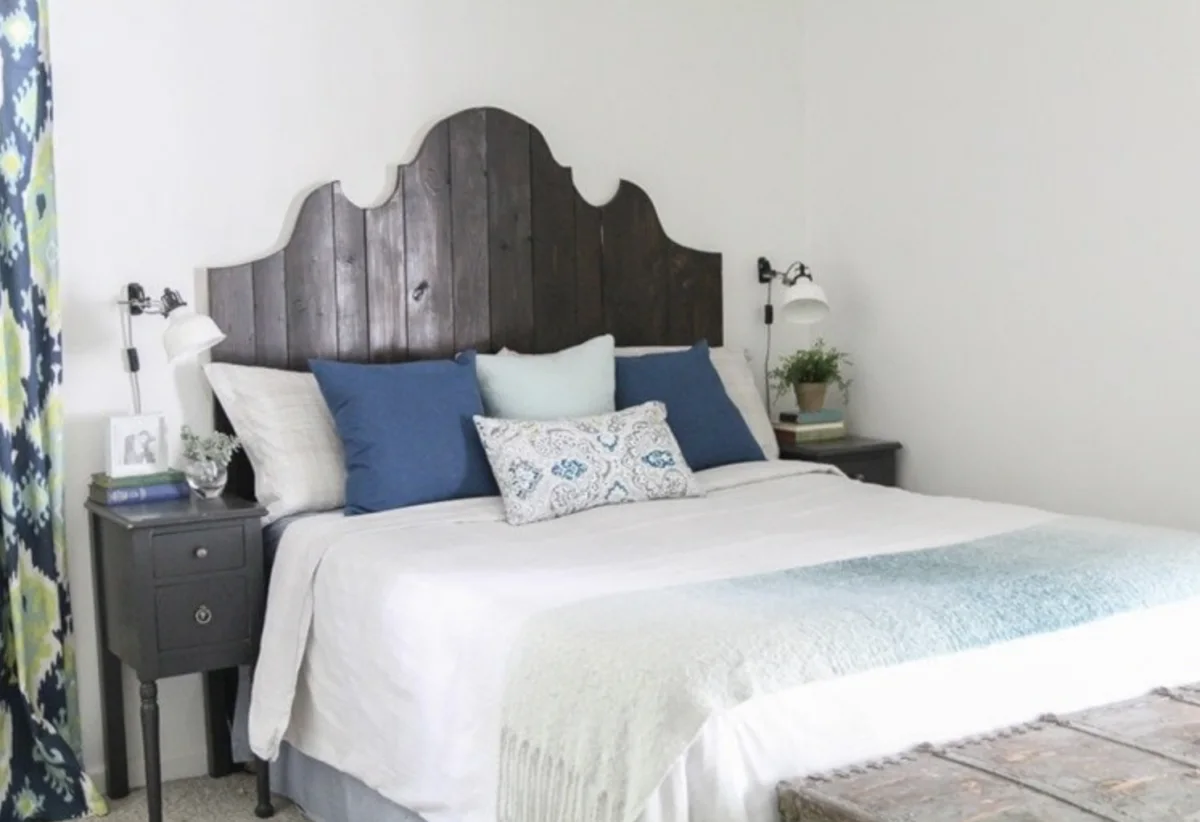 Green With Decor also shopped her home and used random furniture pieces and accessories to make a comfy and pretty guest bedroom that doesn't look mismatched at all.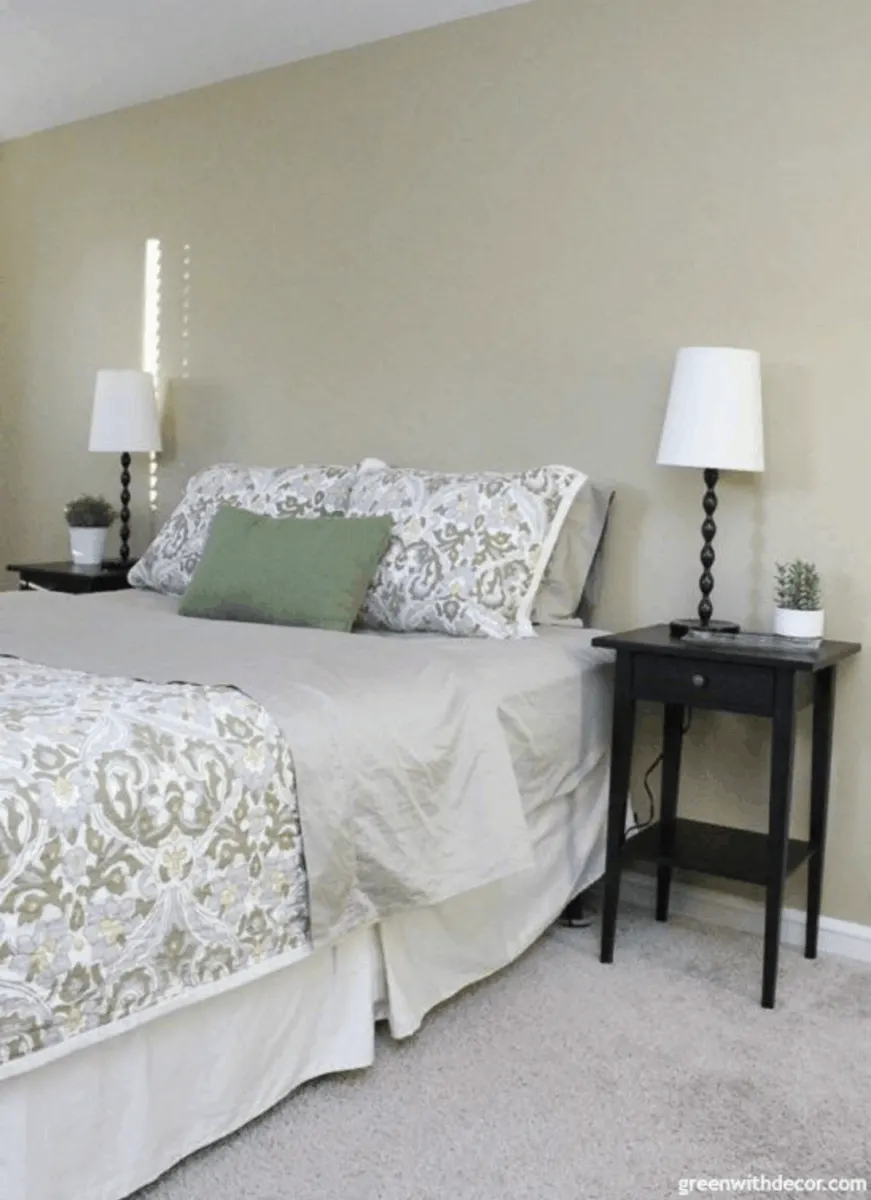 One of my favorite bedroom makeovers from fellow DIYers is this boho bedroom from Making Manzanita. I like the bold color and color block wall. It's a stunning makeover for an adult's bedroom.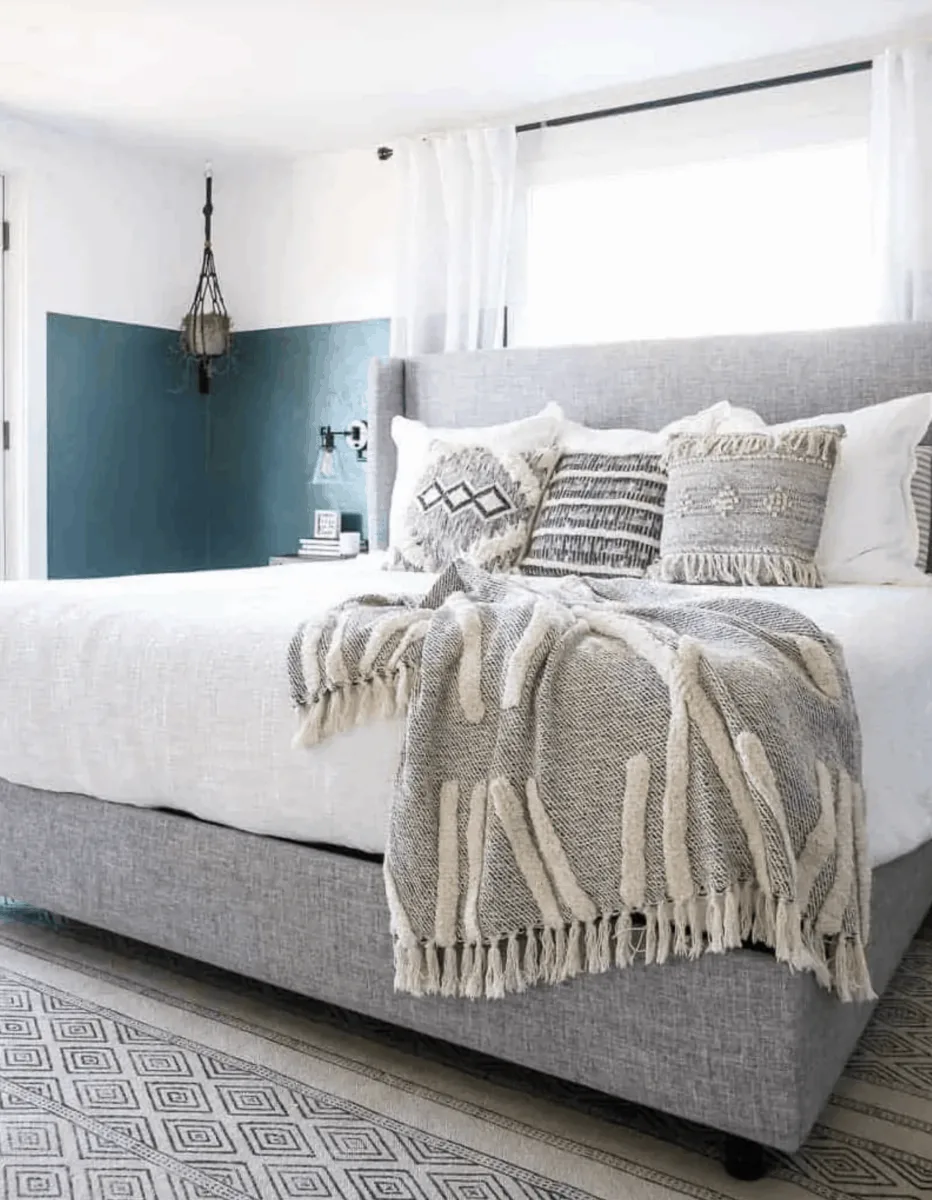 This stylish and neutral guest bedroom makeover was created with a lot of DIY projects – including using Sharpies on the walls as stencils! Brilliant!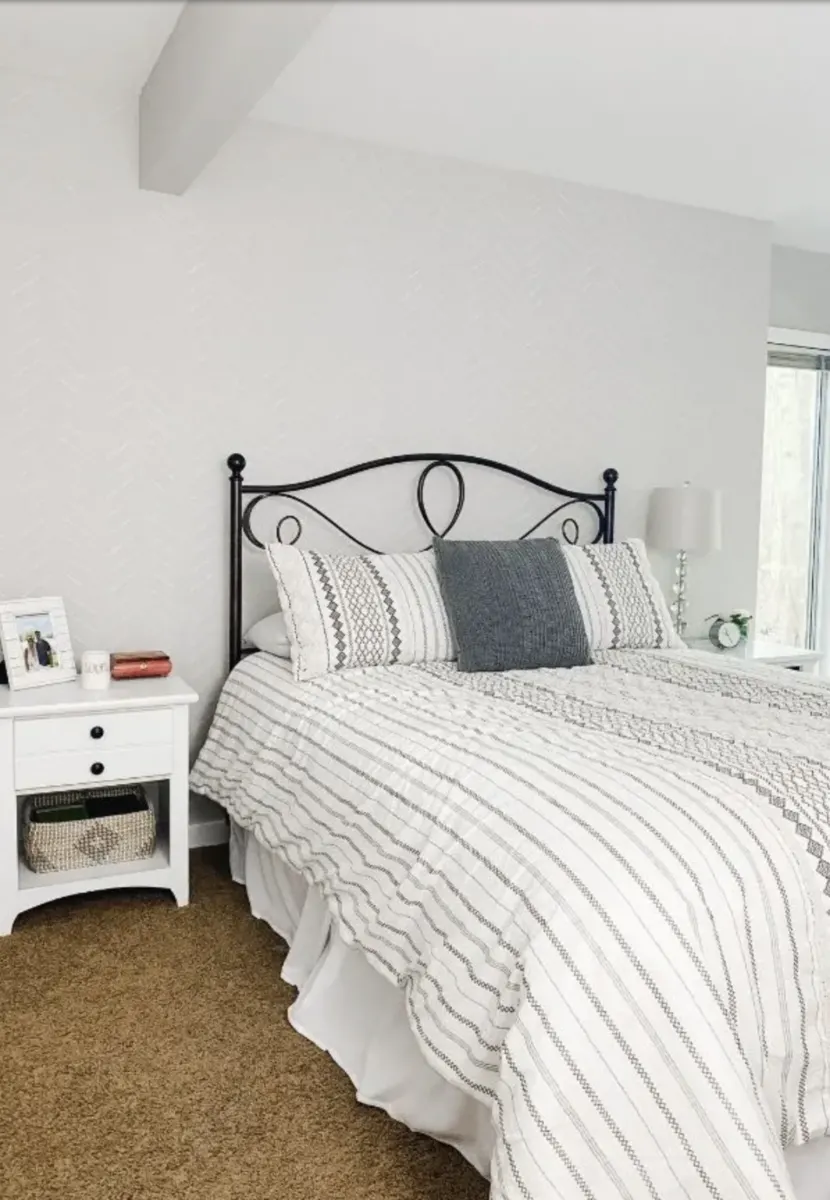 For a girls bedroom makeover, this pink and green bedroom is sweet with grown up details. I love the painted ceiling block. It really adds a statement piece to the room for very little investment.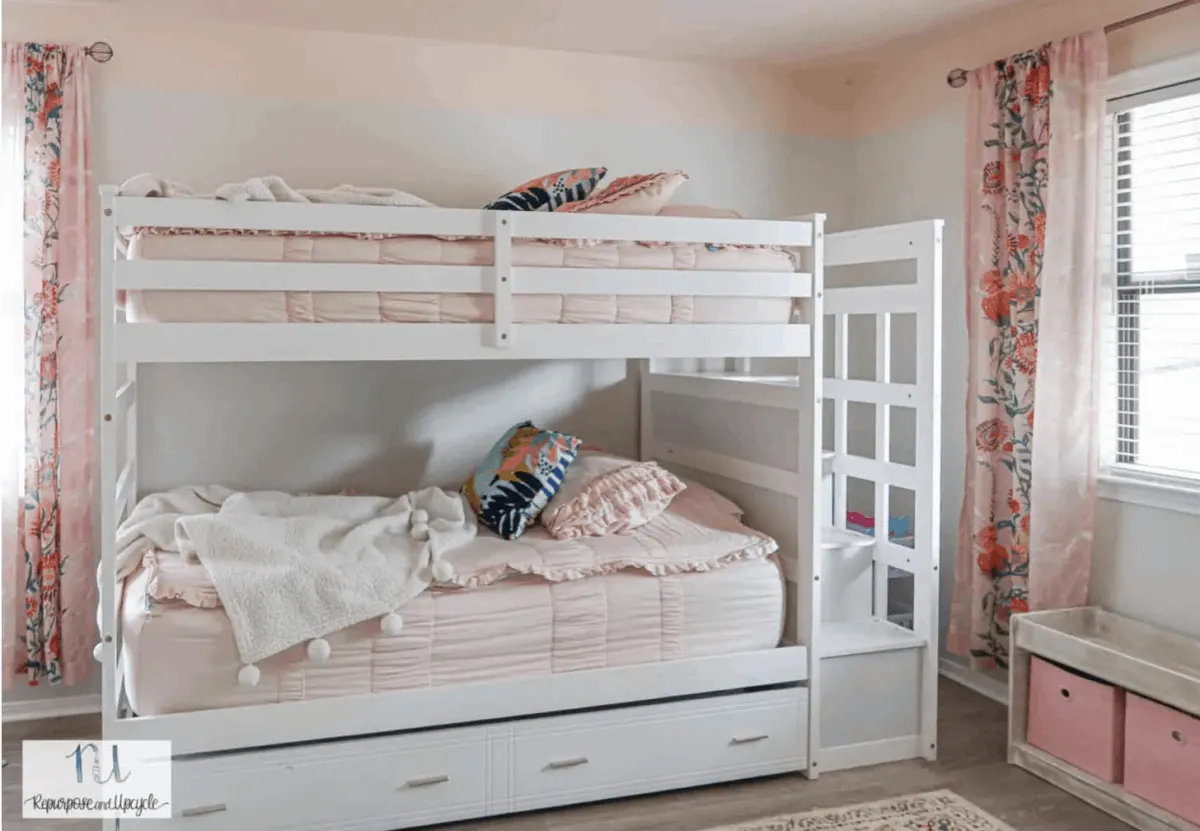 Chatfield Court keeps it real with telling us all about the challenges of transforming an unused room into a pretty guest room. She even added a new bathroom! Check out this modern and fresh guest room makeover.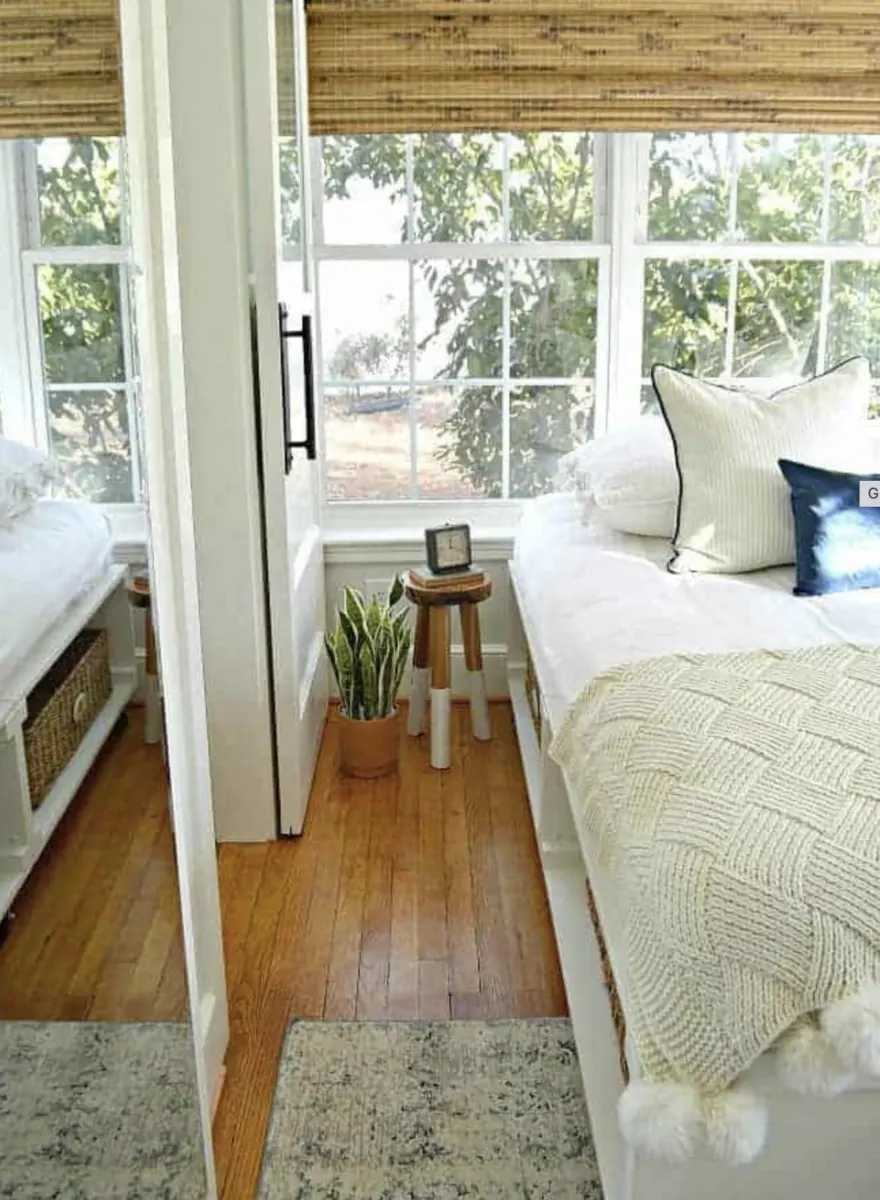 If you are in a rental, you might feel like you don't have as many room makeover options. Green With Decor also shows us her master bedroom makeover in a rental home.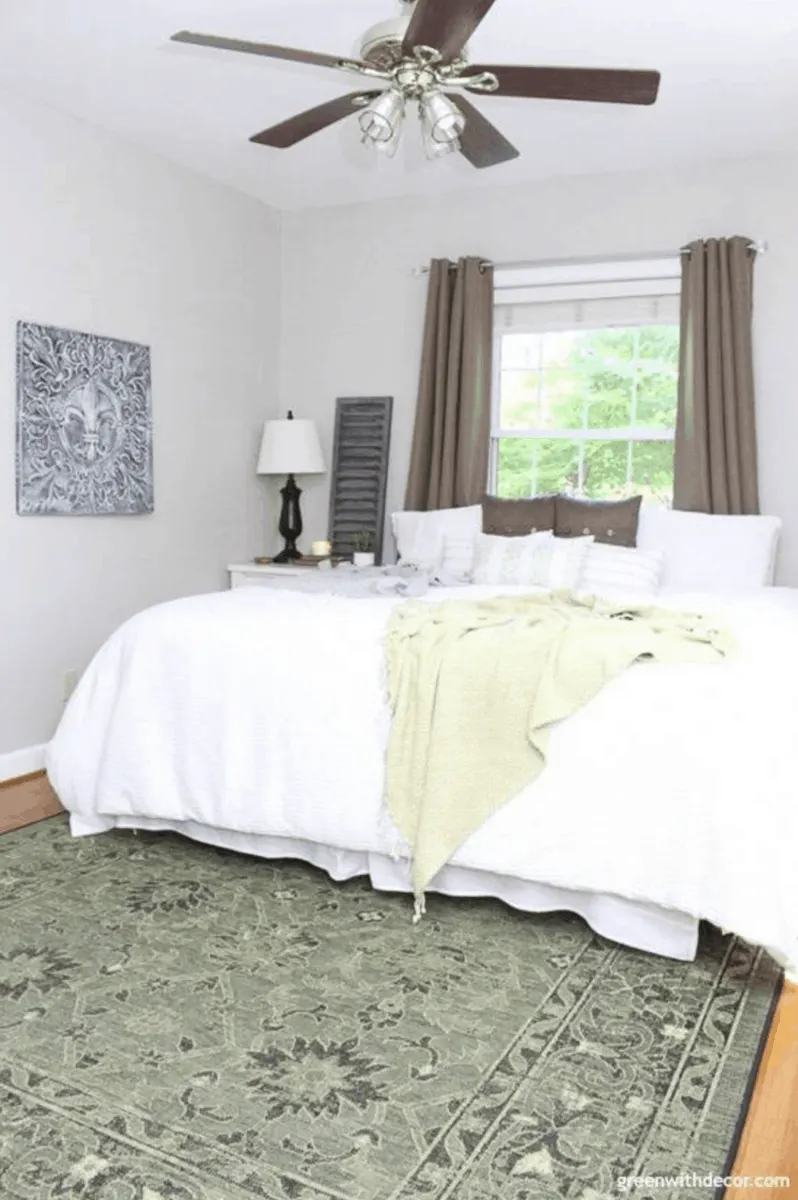 Boys Bedroom Makeover into a Spare Guest Room
Here's another one of my before and after spare bedroom makeovers. This one was my brother's old bedroom at my parent's house.
It felt so good to get rid of the old-fashioned room full of boys clutter!
Here's what it looked like before, with black curtains and a computer monitor from another century. And lots of toys on display.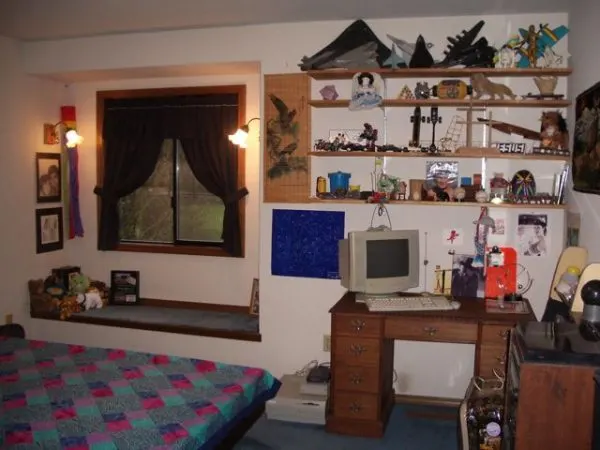 My mom and I started on this spare bedroom makeover by getting everything out of the room. Then it was easier to decide what to bring back in because it was sentimental, and what to donate. (Here's some tips on how to deal with sentimental clutter.)
The new curtains were made by simply cutting a shower curtain in half, and adding a strip of accent fabric. It was the perfect size for the window, and the grommets at the top allow it to slide easily on the rod.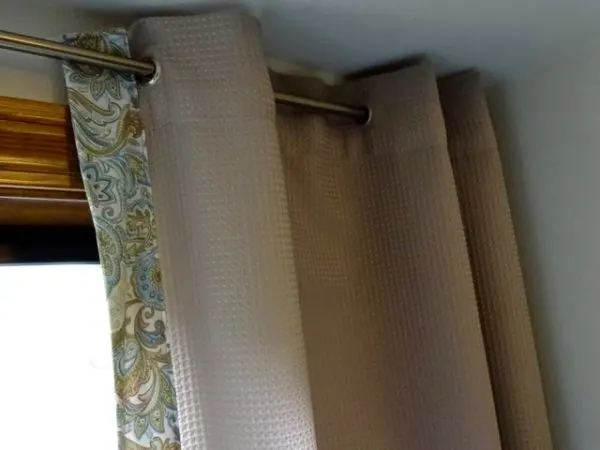 After a fresh coat of white paint, we wanted to protect the wall behind the bed with a headboard.
This is a really inexpensive DIY headboard. It's just a piece of hard foam, that I covered with a piece of faux leather, and attached to the wall with Velcro.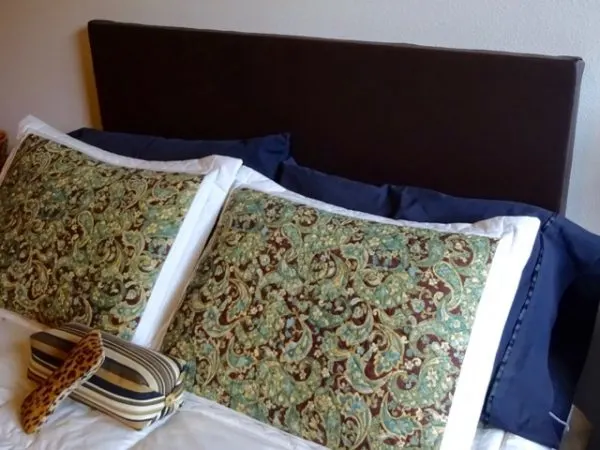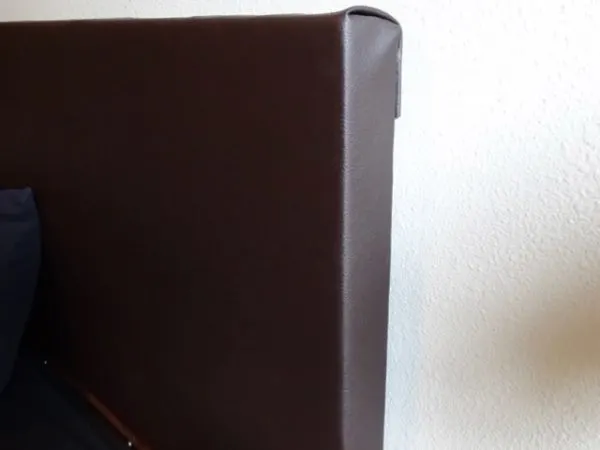 For storage in the spare bedroom, we used two old wooden military chests. They now hold many of the old toys and sentimental items that used to clutter the shelves.
We made them look more stylish in the room by draping them with a bamboo slat window shade we found in a bargain bin. It disguises the wooden storage bins, but still allows easy access to get into them.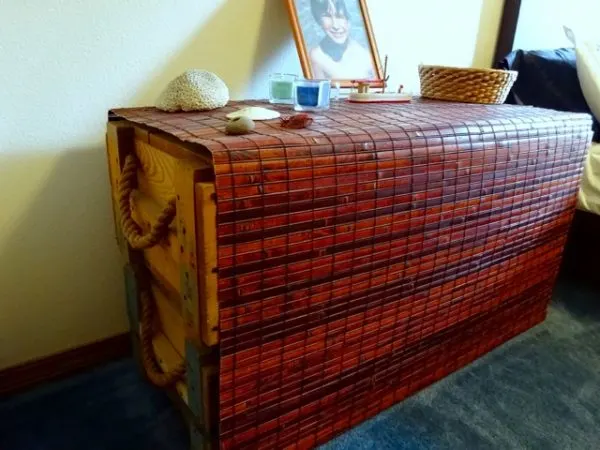 The old shelves that were hung with cheap-looking metal brackets were replaced with stylish brackets to support them. We stained the shelves so that they were darker.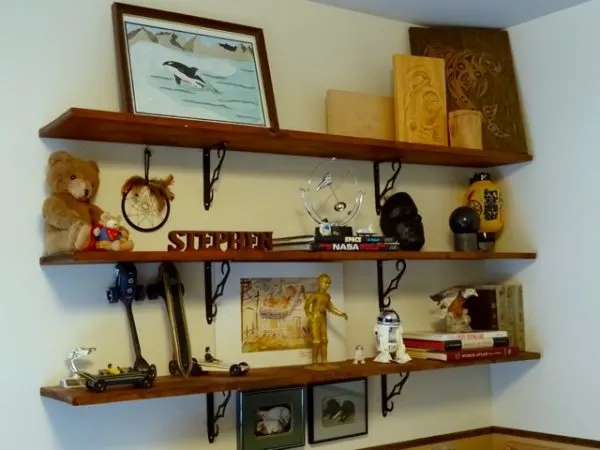 We removed the old-fashioned quilt that was a busy print. Then we added a plain duvet comforter, with a patterned quilt at the end of the bed for extra warmth.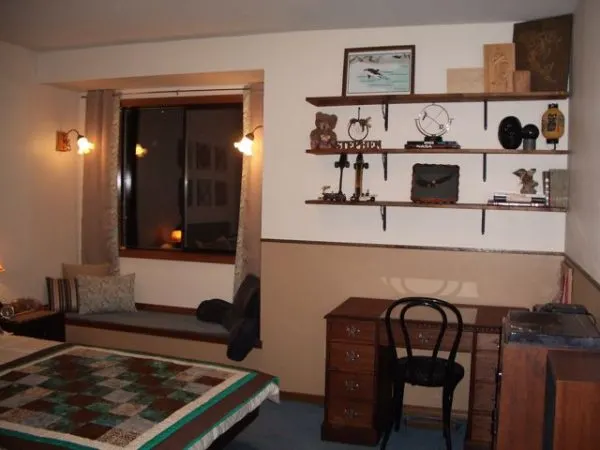 I made some matching throw pillows for the window seat. Check out how to make your own throw pillow covers.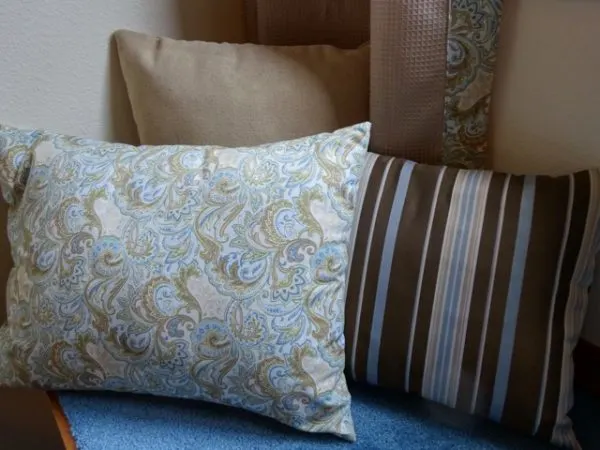 I made the pillow shams on the bed out of a fabric remnant that fit with our new color pallet.
My brother was always into art, and held onto an M.C. Escher calendar for years. We took a selection of pages from that calendar, picked up some inexpensive record frames, and hung them on the wall behind the bed.