In this post: Learn my best tips for how to get organized, get rid of clutter, and make your work areas more efficient.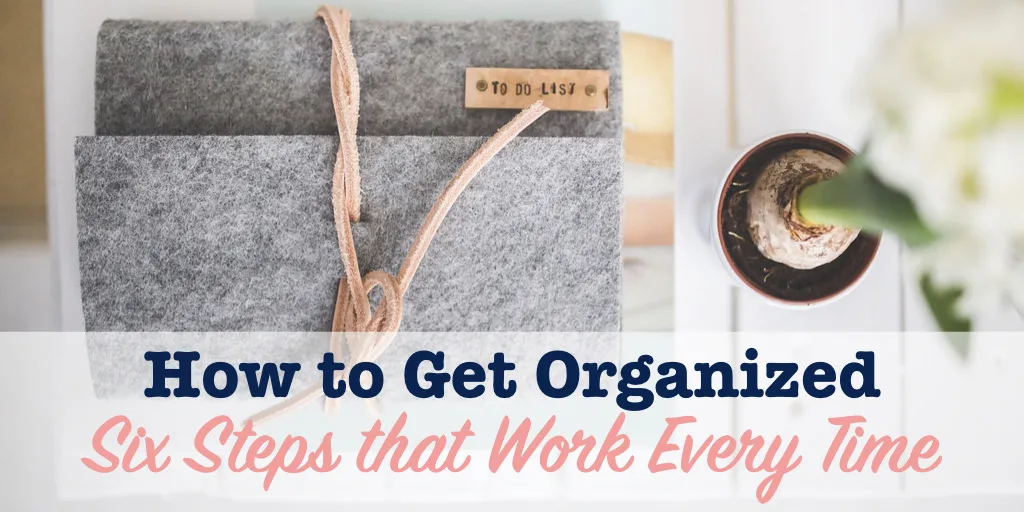 When a room or work area gets filled up with clutter over time, the task of getting it organized can feel overwhelming.
Where do you start?
How do you figure out where to put everything?
When do you even find the time and energy to get it all organized?
There are a few basic steps that I use every time I organize a space. If you follow this guide, you'll be on your way to organizing any room in your house.
HOW TO GET ORGANIZED: SIX STEPS THAT WORK EVERY TIME
When you start organizing a room, you may feel like you need to pull everything out, and then put back only the things that should truly be in that space. That method can work, but it's definitely one that takes a lot of time and energy. You may spend a long time planning to get organized, but never actually get started.
If you'd like to try a different approach, this method lets you tackle a little bit at a time, or get through the whole thing in a day. I've used these steps when organizing my own home, helping other people get organized, and even in the work place, so I know they work.
1. Assess what you have
Start your organizing process by figuring out what you have in the space. Open cabinets, drawers, closets, boxes, everything. Make a mental list, or write things down.
This is similar to the process of emptying everything out of a space, but without all the effort. You just need to know what's in there.
If you're having trouble getting started with this step, think about why you want to get organized. What's motivating you? (Or holding you back?) Check out more tips like this in our post on How to Start Getting Organized.
2. Get rid of what you don't need
Take a look at your list of things in your space. Do you really need all of those things?
Start paring down how much stuff you have in your space.
For example, do you really need 47 different coffee mugs and travel cups, when you use your favorite mug every day?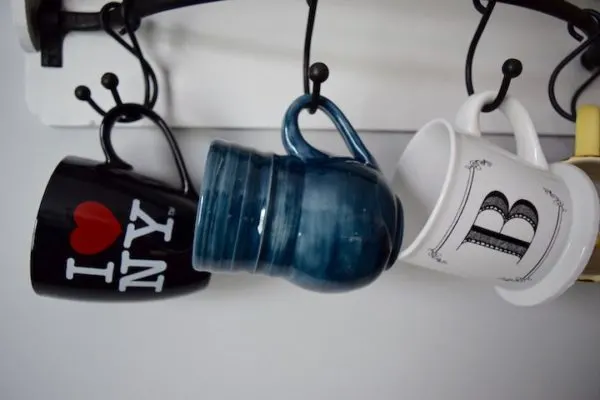 Maybe you have a stash of "work out clothes." Also known as t-shirts that you don't really want to get rid of, but that aren't nice enough to wear for anything other than yard work or the gym. And let's face it, you'd rather wear cute tops to the gym.
Be honest about what you need, use, and want. (You're allowed to keep something just because you like it.) Get rid of the rest.
Sort your un-needed items into piles such as:
Sell (Craigslist, eBay, consignment, garage sale, etc.)
Give away (friends, FreeCycle, Buy Nothing, etc.)
Throw away
Relocate (for things that make more sense to keep in another space)
Do you have trouble letting go of things? Check out the tips I got from a professional organizer in our post Breaking Emotional Ties to Clutter.
3. Group like-items together
Don't you feel a little bit lighter, just by having gotten rid of some things in the previous step? Now you can breathe a little, and consider what to do with what's left.
The next step is to start consolidating and grouping things together.
I'll use the kitchen again, because it's an easy example. All the baking supplies like flour, sugar, baking soda, muffin cups, etc. should be stored together.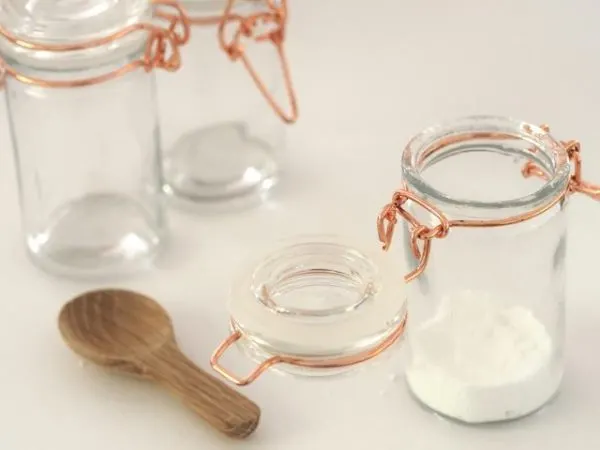 Using an office example, all of your papers and files will go in one area. Pens, pencils, stapler, and other office supplies will be stored together. You may group books by type.

Gather all of your like-items into groups, and keep them together.
4. Put things near where they're most used
For something like a kitchen, office, or work room, decide where the "work areas" are. When you decide where items will be stored, they should live nearest to where you're going to use them.
In a kitchen, I like to keep my dishes in a cabinet near the sink and dishwasher. This makes it easy to put clean dishes away.
I keep the pots and pans near the stove, with the spices within easy reach. The hot pads go in a drawer next to the oven.
The same concepts work for any room. Store items near where they're going to be used the most.
5. Use organizing tools
This is the step you've probably been dying to get to. Buying stuff!
I love walking into Storables or The Container Store. There are so many cool gadgets for getting organized.
Just don't run out and buy anything before this step, or you're likely to get things you don't need, or that won't work for your space.
Once you've started creating your work areas, and putting items into the storage you have, you'll have a better idea of what organizing tools you may need.
These are some of my favorites:
6. Try it out, then adapt
Once you've got your space organized, force yourself to keep using it that way for at least a month, until you get into the habit. It will take you some time to get used to where everything is kept, and to learn your new systems.
As you use your space, look for ways it could be better. Does something keep making its way across the room, and get left there? Maybe it should be stored over there, instead of where you put it originally.
Just don't let this be an excuse for getting lazy, and simply not putting things away. The best way to tackle clutter is to keep it put away.
Pick up a copy of our free Clutter Control Checklist to help you stay on top of the clutter and keep your home organized.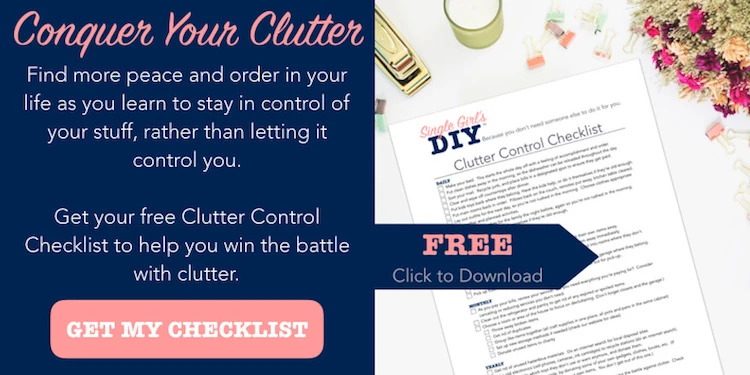 ADDITIONAL RESOURCES:
Getting organized is kind of unique. What works for me may not be the perfect system for you. To give you some more options, I've teamed up with other experts to share more ideas to help you get organized.
Check out these other posts by some of my friends:
Happy organizing!