This fun Dollar Tree DIY is so easy to make! These colorful Fourth of July rockets are perfect decorations for July 4th parties, or fun imaginative play toys for kids pretending to launch rockets on Independence Day.
We used dollar store supplies to make quite a few of these patriotic crafts. They are a great activity to keep kids (and adults) busy at picnics, BBQs and family events for the holiday.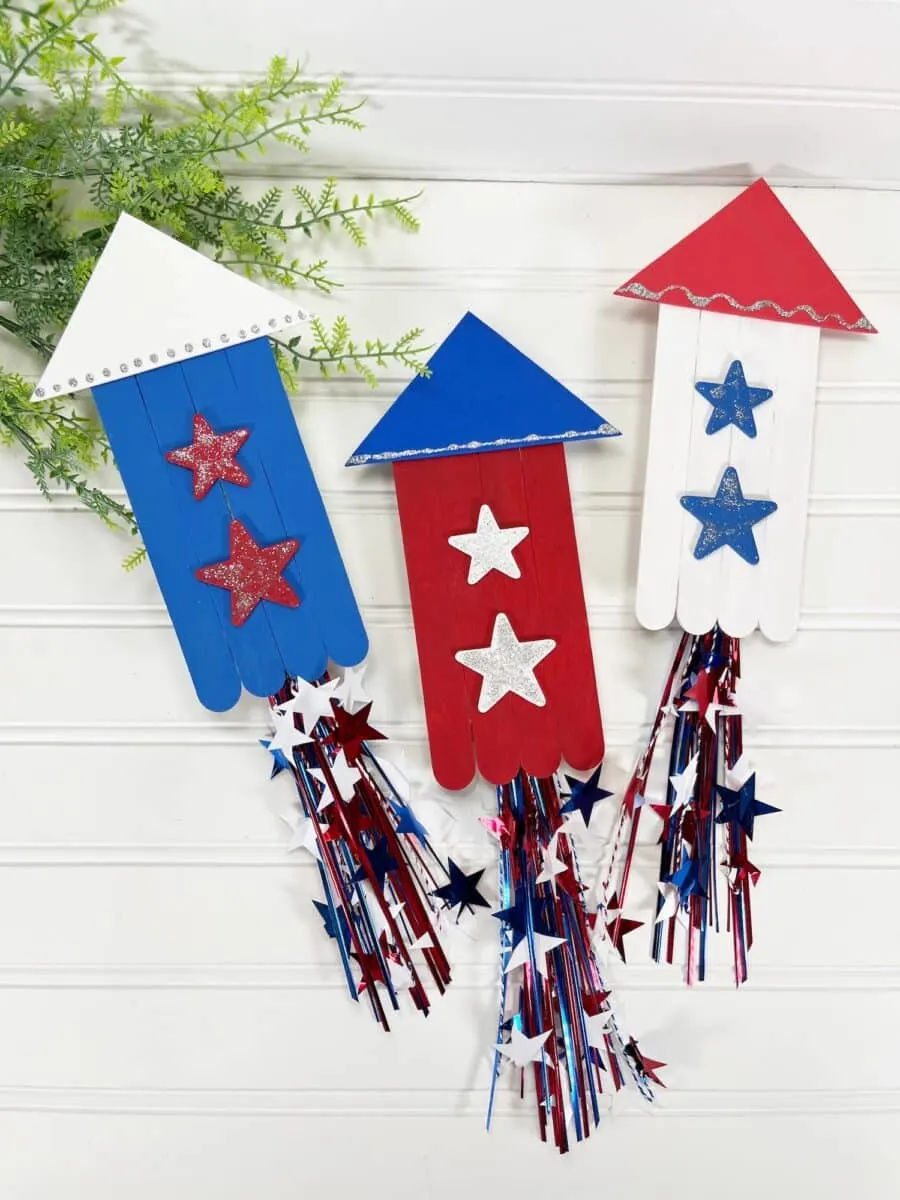 It is easy to customize these rockets with any color that you want. In fact, you can use colors other than red, white and blue to make this rocket craft for any time of the year.
We used wooden stars for the decorations, however you could easily use stickers or foam cut-outs instead to skip a step in the process.
Craft foam was the best choice we found for making the rocket caps, but if you don't have foam, then felt or cardstock will work, too.
Most of the Dollar Tree supplies we used for this rocket craft can be used for our other 4th of July DIYs, as well, including: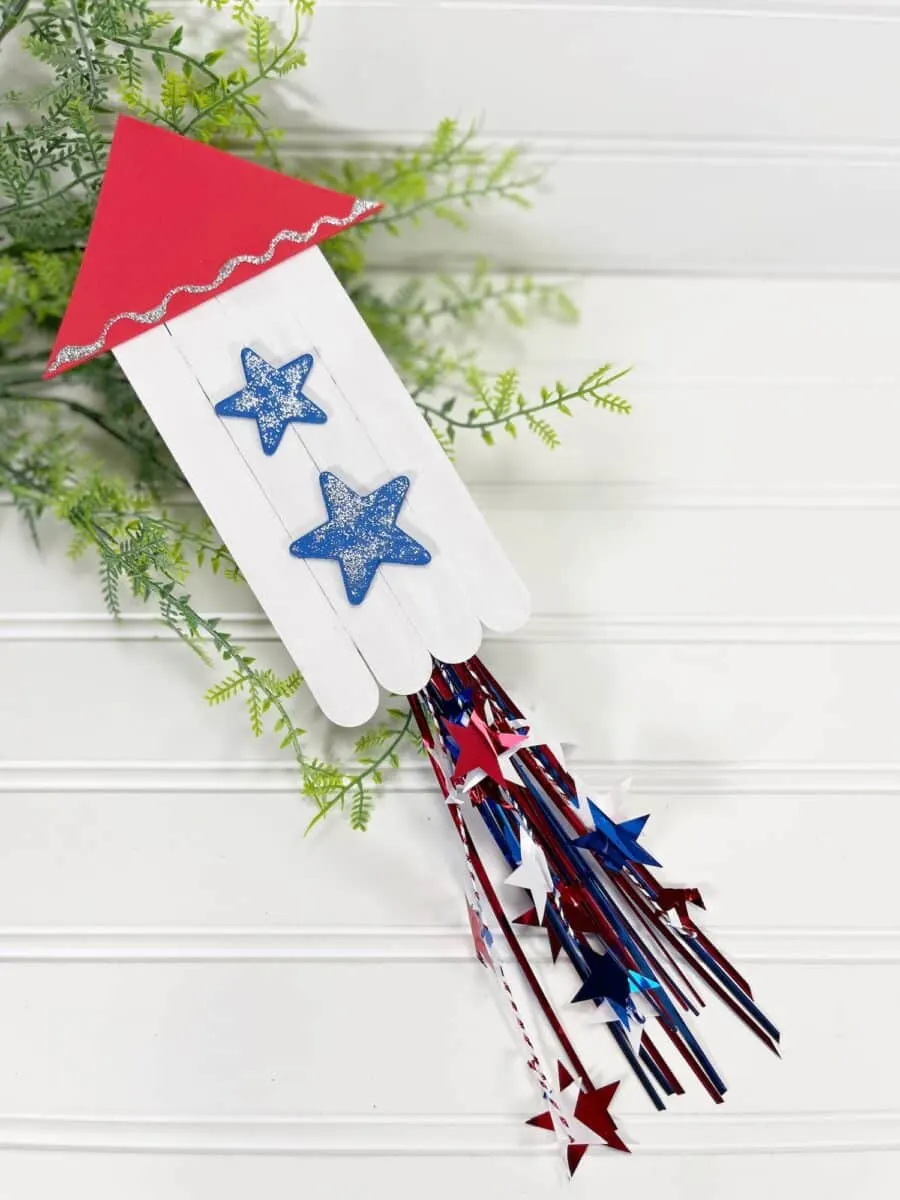 How to Make Popsicle Stick Rockets
Materials
Jumbo Craft Sticks
Craft Foam (Red, White, and Blue)
Balloon Weight (Red, White, and Blue)
Silver Glitter Glue
Wooden Stars (or Star Stickers)
Glue Gun and Glue Sticks or Craft Glue
Acrylic Craft Paint (Red, White and Blue: I used DecoArt Americana in Country Red, Snow, and Sapphire)
Paintbrush
Scissors
Pencil
Instructions
Step 1
To create each rocket, place four jumbo craft sticks side by side. Then, trim another craft stick with scissors to go across the width of the rocket base horizontally.
Glue the cut craft stick horizontally across the four craft sticks lined up side by side.
Repeat two more times to make three rockets in total.
Step 2
Paint the rocket bases on the front and the sides. We painted one each of red, white and blue.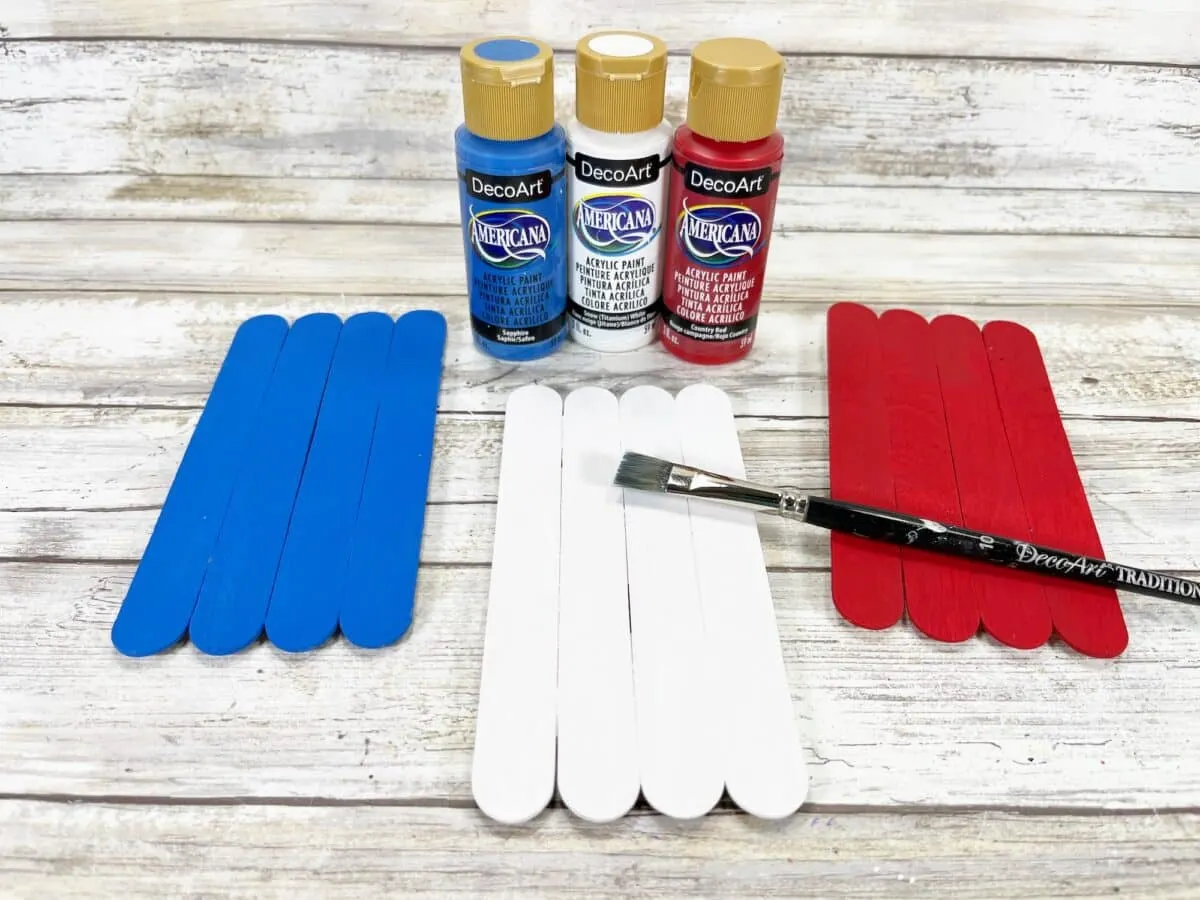 Let dry completely. Apply a second coat, if needed.
Paint the wooden stars with the same paint colors. We painted two stars each with red, white and blue acrylic paint.
Let dry completely. Apply a second coat, if needed.
Or use the star patterns provided to cut stars out of craft foam, felt or construction paper.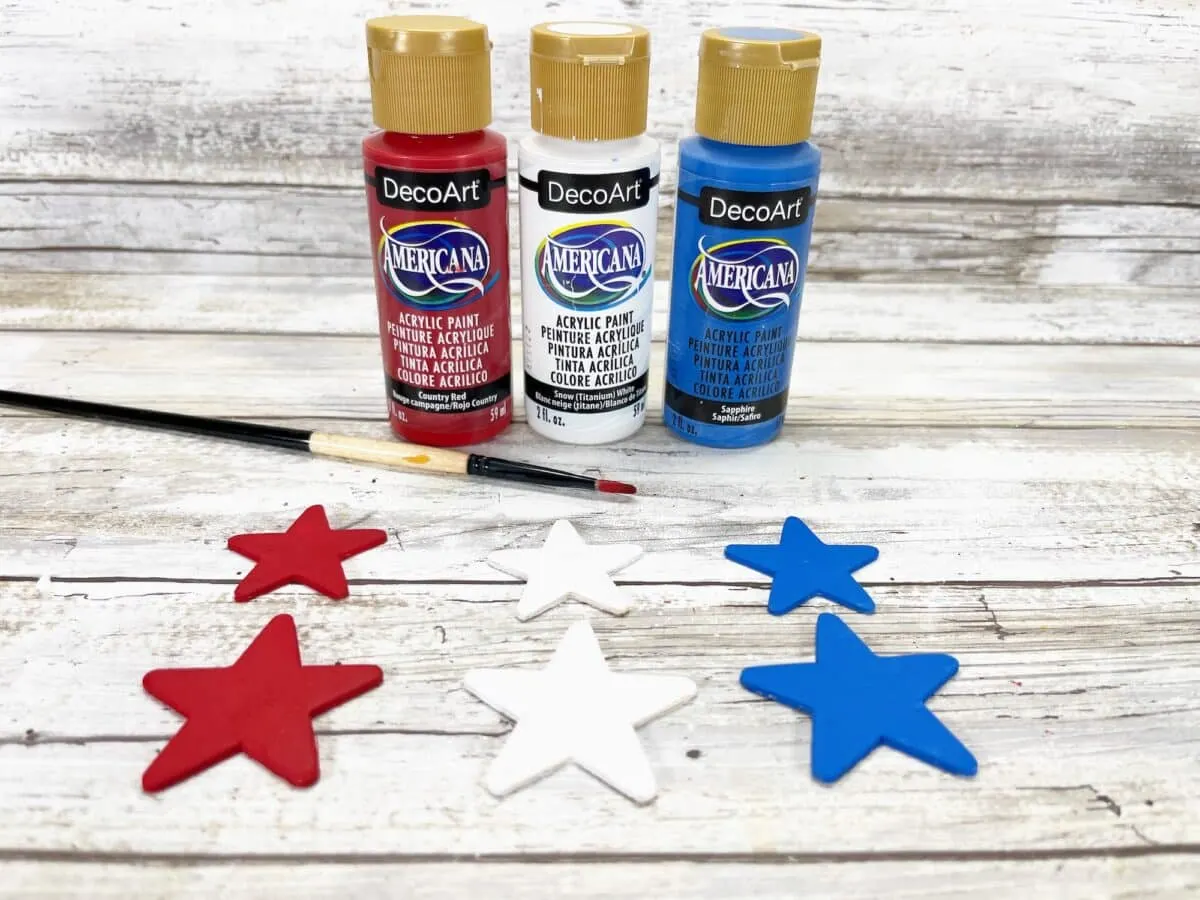 Step 3
Download and print the free popsicle stick rocket pattern. Cut out the pattern pieces.
Trace the rocket top onto red, white, and blue craft foam once. Cut out all pieces.
Glue the blue top and the white stars to the red rocket.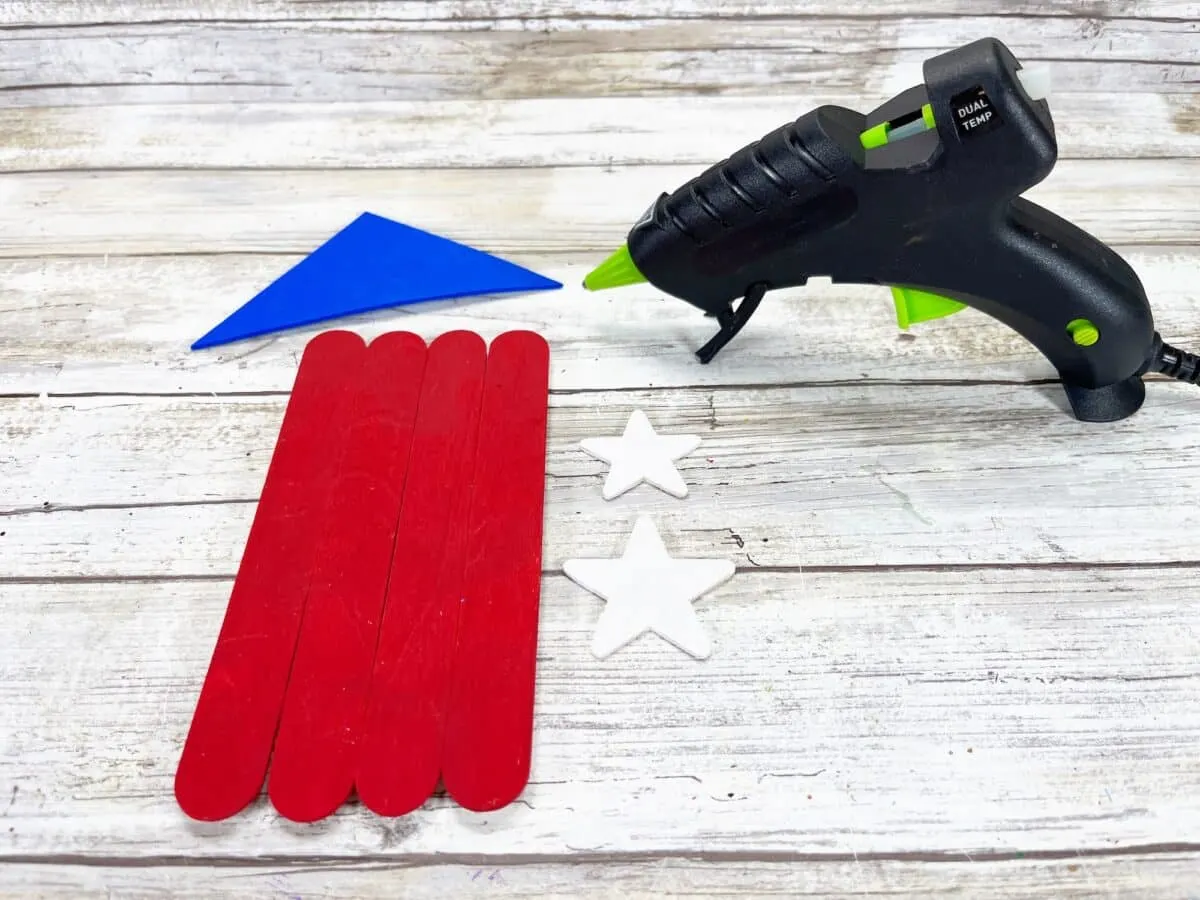 Glue the red top and blue stars to the white rocket.
Glue the white top and the red stars to the blue rocket.
Step 4
Apply a layer of silver glitter glue to the six stars on the three rockets.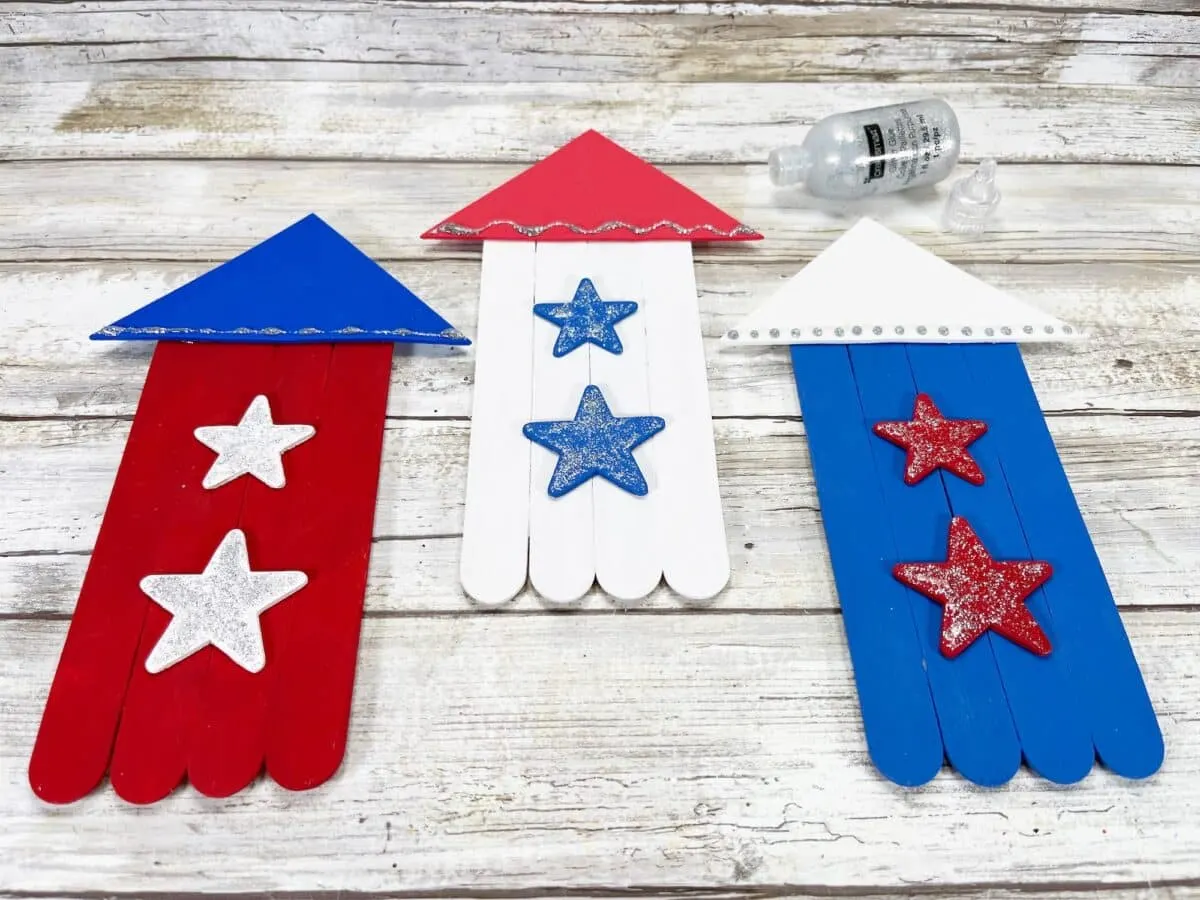 On the rocket tops, add decorative accents such as wavy lines, polka dots or straight lines.
Allow to dry.
Step 5
Separate the wired stars and the tinsel from each of the red, white, and blue balloon weights.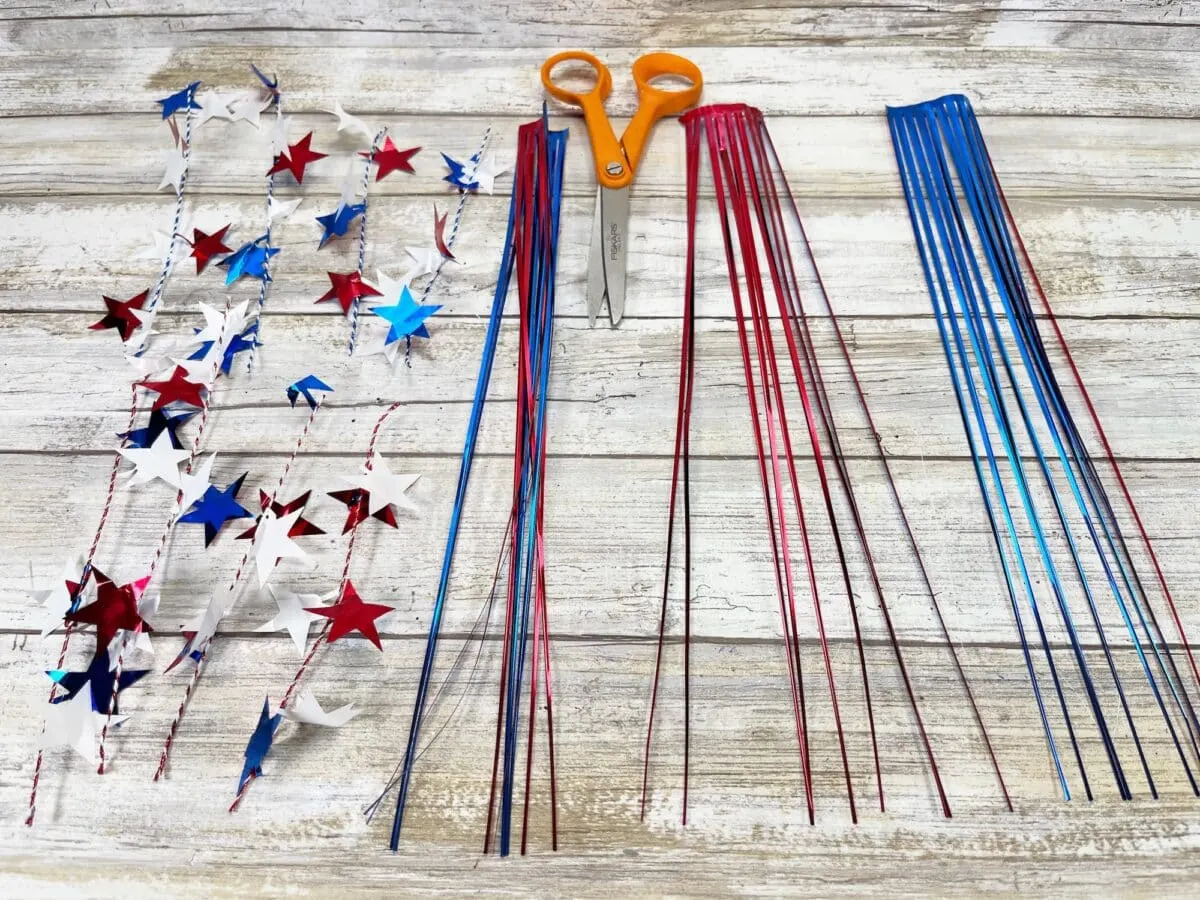 Cut the tinsel into three sections that are approximately 2" long each. Cut the wired stars into nine sections, approximately 5" to 6" long each. This will become the rocket flames.
Step 6
Measure and cut the 12" lengths of tinsel into two sets that are 6" long each.
Glue the loose tinsel pieces to the tinsel base.
Then glue the three lengths of wired stars to the top of the tinsel base. Bend the wire ends over so that no sharp edges are exposed.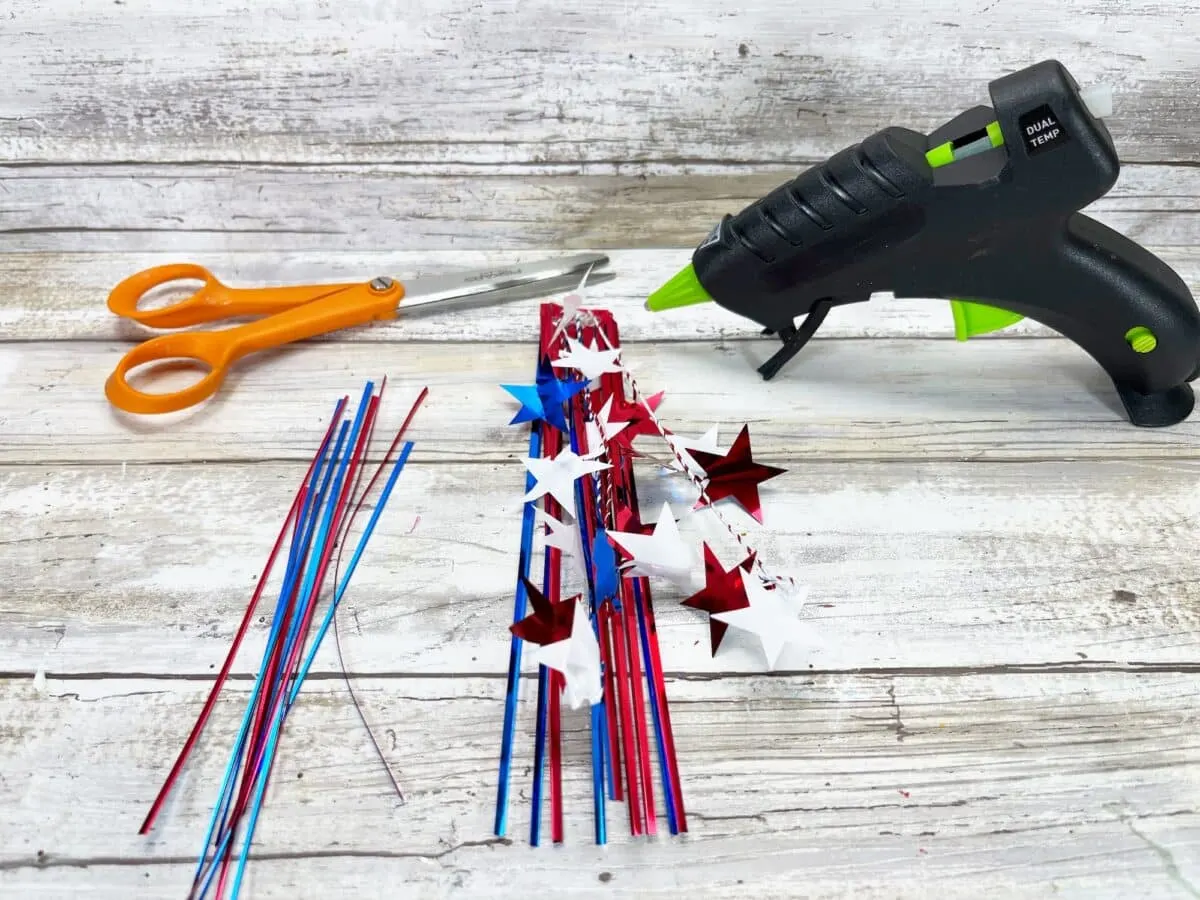 Repeat with the other two rocket flames.
Step 7
Glue the rocket flames to the bottom back center of each rocket.
Be sure to Pin This project to save for later!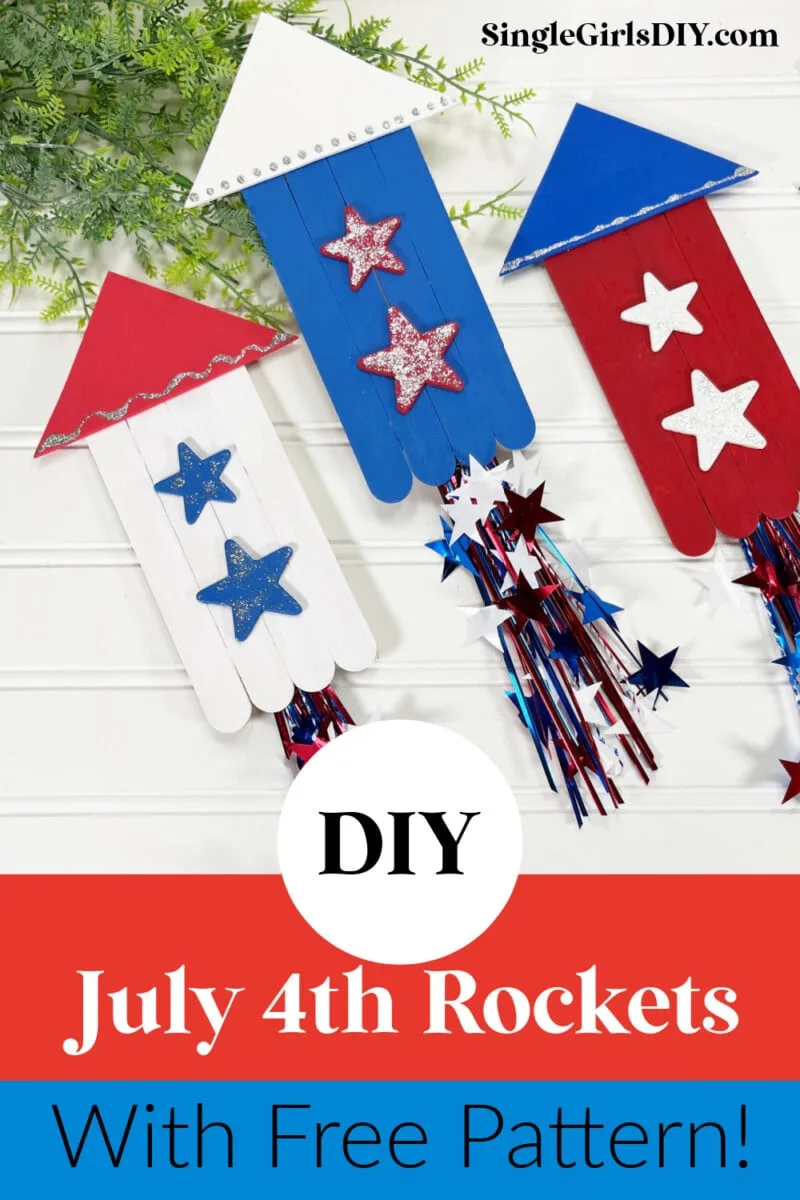 Be sure to see all of our Fourth of July crafts! Most of them are Dollar Tree DIYs, such as this cute Uncle Sam Wooden Spatula and Bald Eagle Wooden Spoon.