This handmade Uncle Sam is the perfect handprint craft for Fourth of July. Celebrate with a keepsake craft that uses dollar store supplies for an inexpensive holiday decoration.
Uncle Sam is one of the icons of American independence and freedom. With a red, white and blue hat, he is the perfect decoration for July 4th parties and crafts.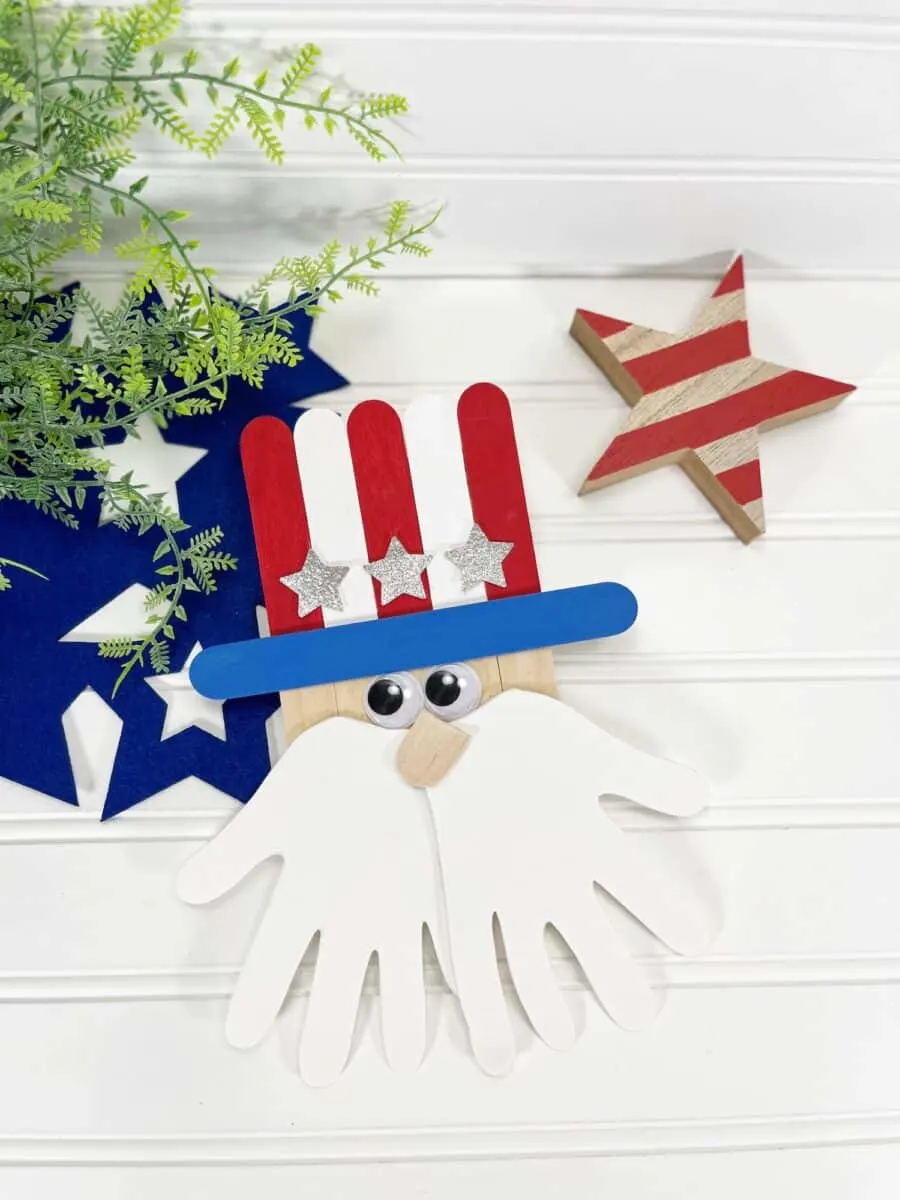 We used Dollar Tree supplies to make this cute patriotic decoration.
This craft project uses many of the same materials as some of our favorite July 4th crafts, including:
You can buy a few dollars of craft supplies and make a variety of unique crafts!
The beard is made of traced handprints. It is fun to use handprints in crafts so that you can remember how small a child's or grandchild's hands used to be.
If you don't use handprints, that's okay! We have a free Uncle Sam craft pattern to make the template for his beard.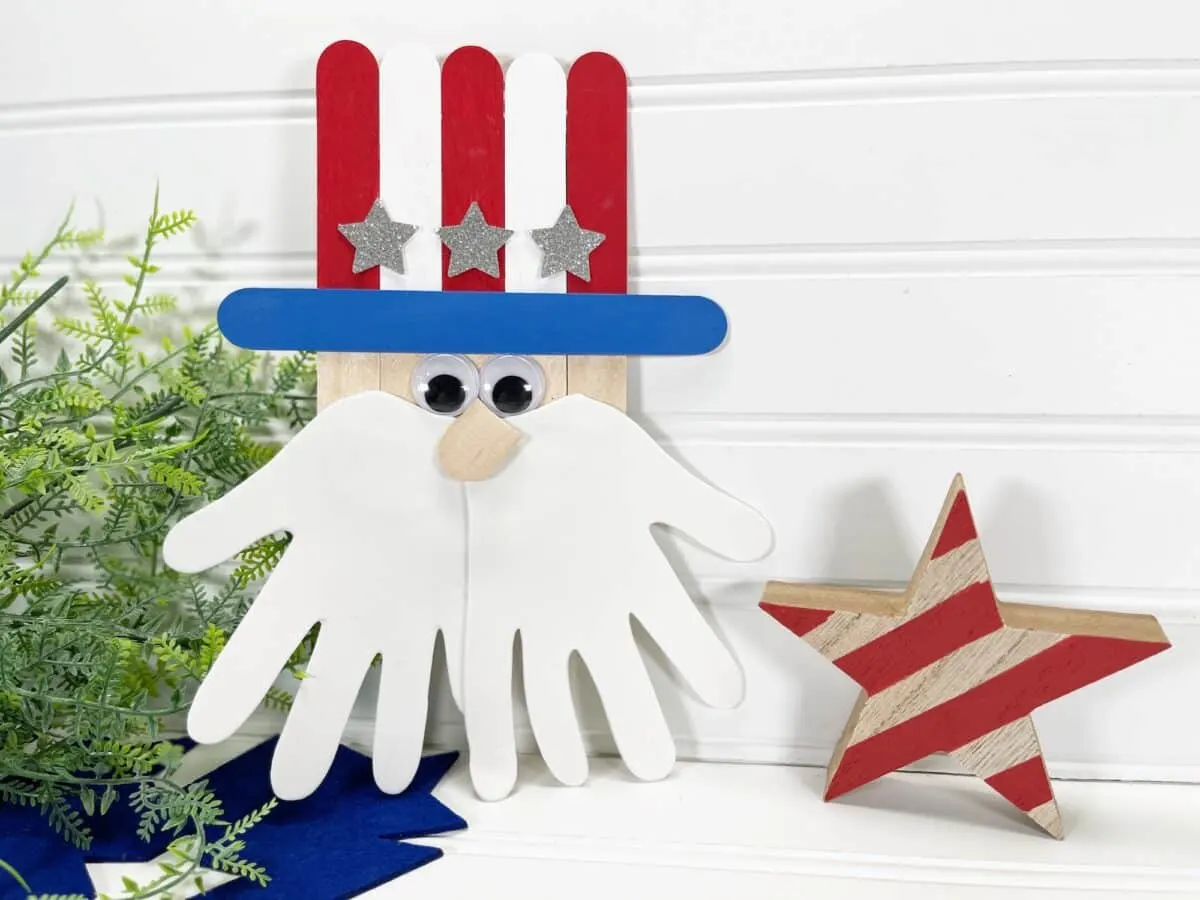 You will also want to see our Uncle Sam Wooden Spatula craft, too!
DIY Uncle Sam Craft
Materials
8 Jumbo Craft Sticks
White Craft Foam (or white felt, construction paper or cardstock)
Silver Glitter Craft Foam (or silver glitter stickers)
2 Wiggle Eyes
Free Uncle Sam Craft Pattern (optional)
Glue Gun and Glue Sticks or Craft Glue
Acrylic Craft Paint (Red, White, and Blue)
Paintbrush
Scissors
Pencil
Instructions
Step 1
To create the Uncle Sam face base, line up five jumbo craft sticks on the table. Measure 3.5" from the end of the craft sticks and draw a pencil line across all five popsicle sticks.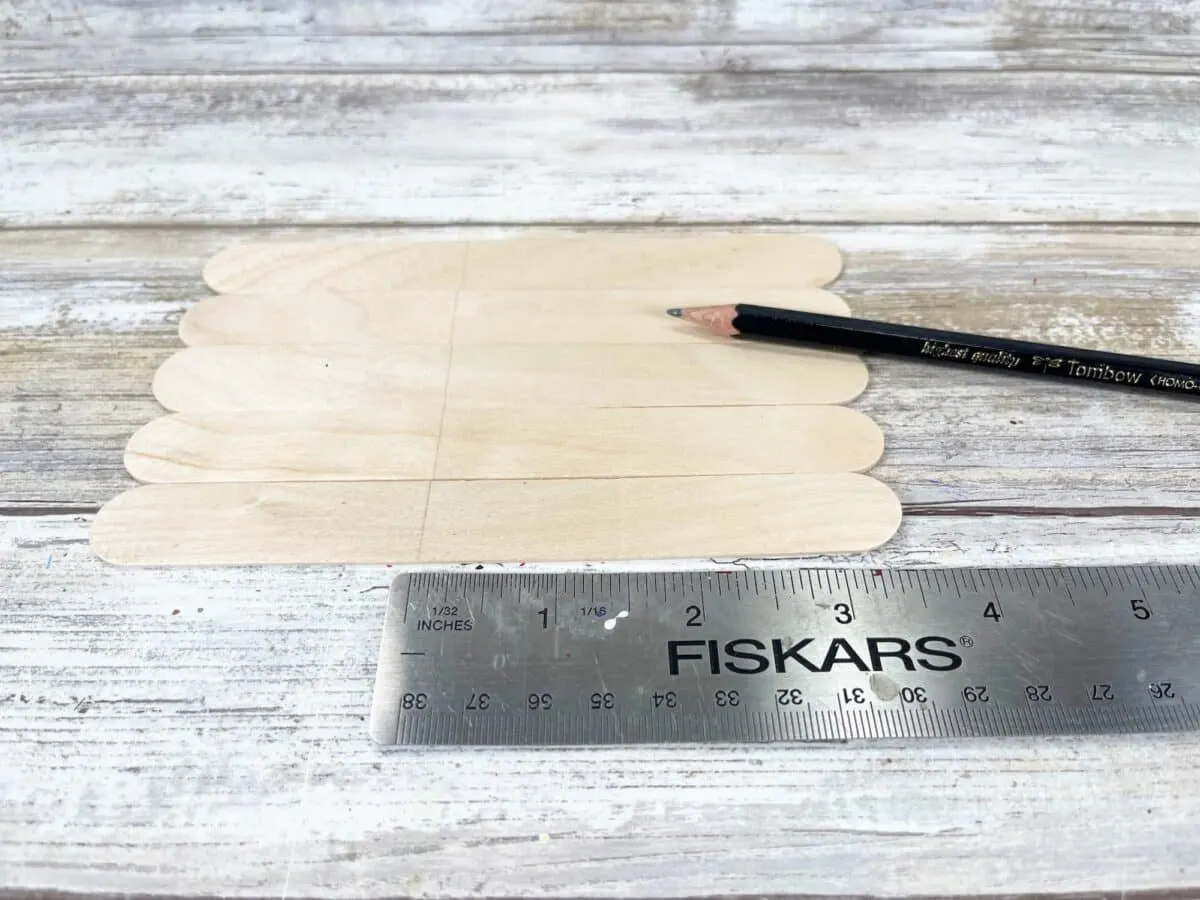 Step 2
Paint the longer end (3.5 inches) of three of the popsicle sticks with red paint.
Paint the long end of two of the craft sticks with white paint.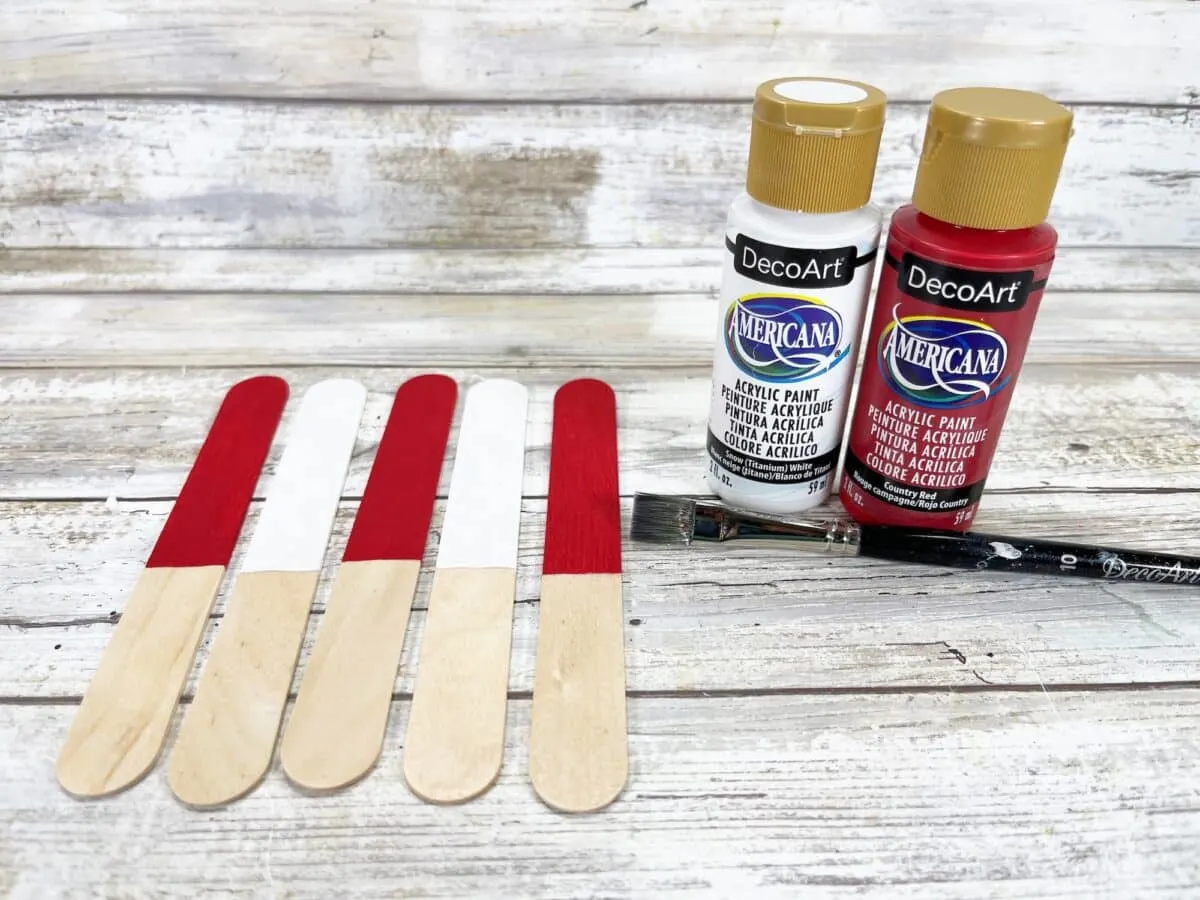 Paint one craft stick completely blue.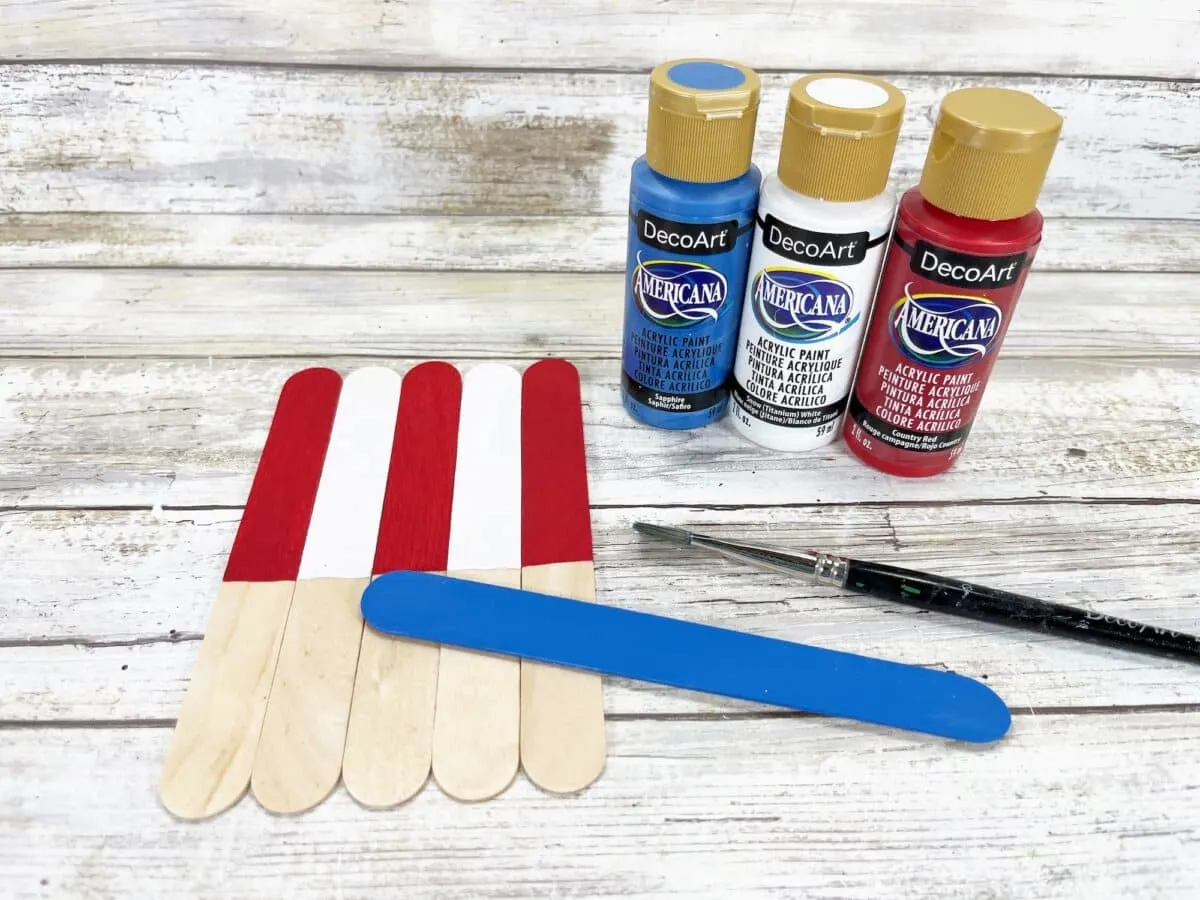 Let dry, and apply a second coat, if needed.
Step 3
Line up the craft sticks upside down on your work surface with the red and white at the top and the natural wood at the bottom.
Glue the blue craft stick brim to Uncle Sam's hat by attaching it over the line where the paint stops and the natural wood begins.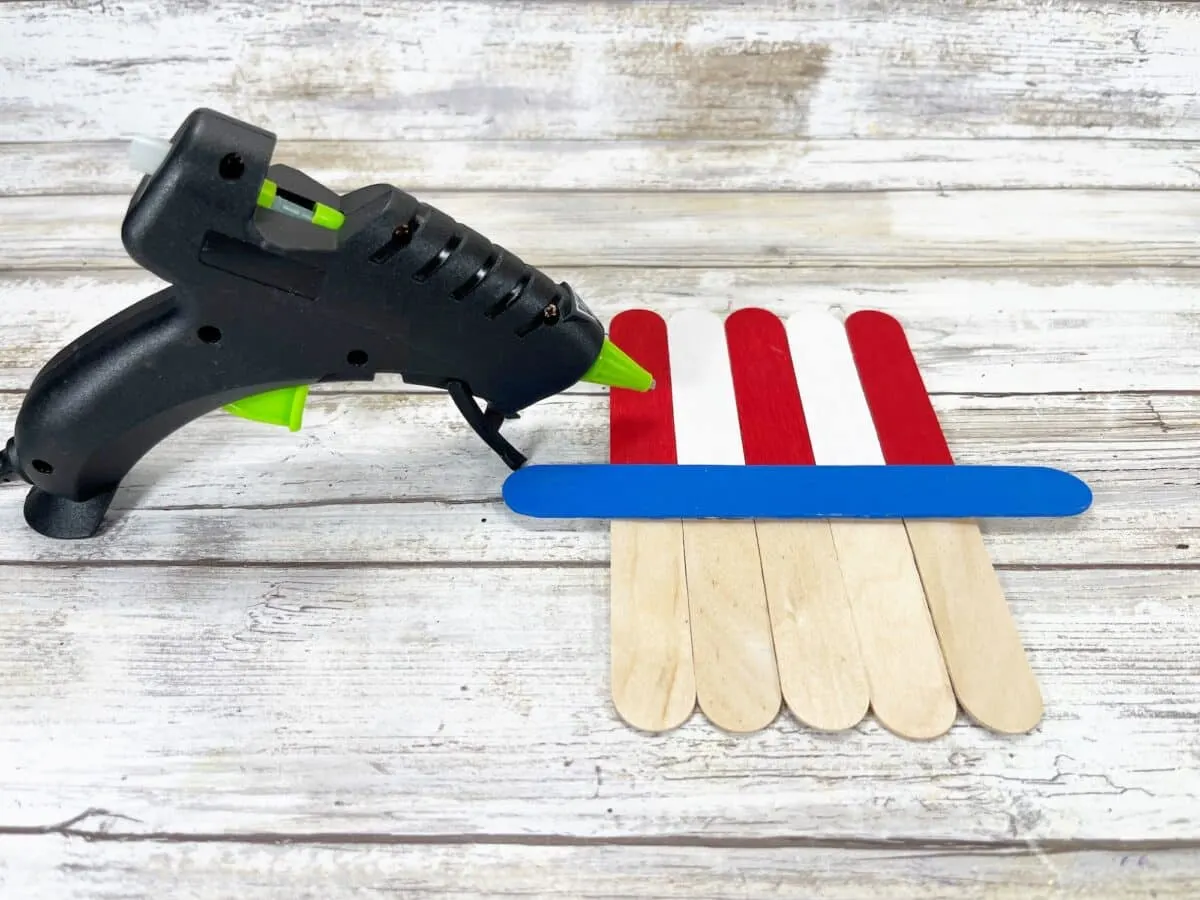 Flip over the Uncle Sam hat.
Use scissors to cut an additional craft stick into smaller pieces that will fit across the back of the Uncle Sam hat and face. Glue those pieces perpendicular across the 5 jumbo craft sticks to give the base some support.
Allow to dry completely.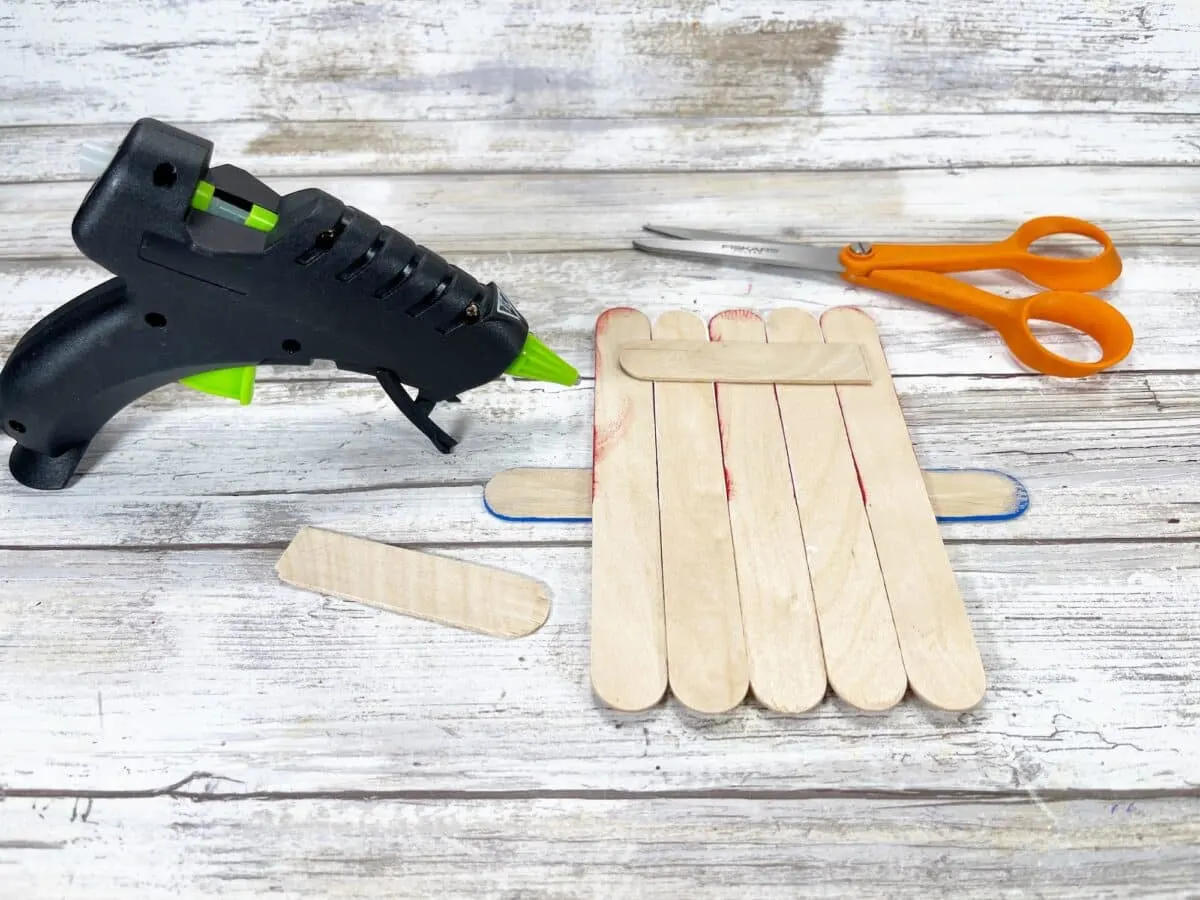 Flip over the hat base and glue two wiggle eyes to the center of Uncle Sam's face.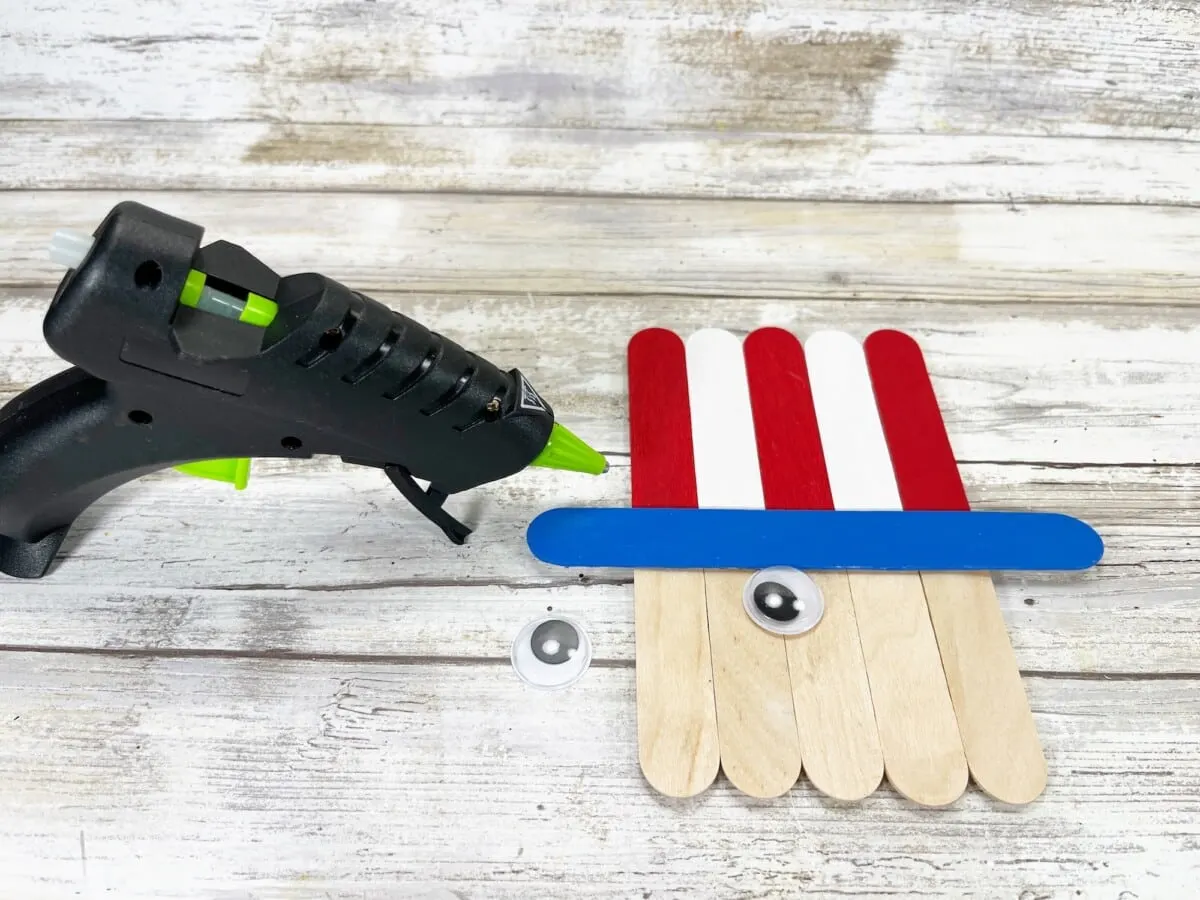 Step 4
Using a pencil, trace a hand on the white craft foam twice. Or use the handprint in our free Uncle Same pattern.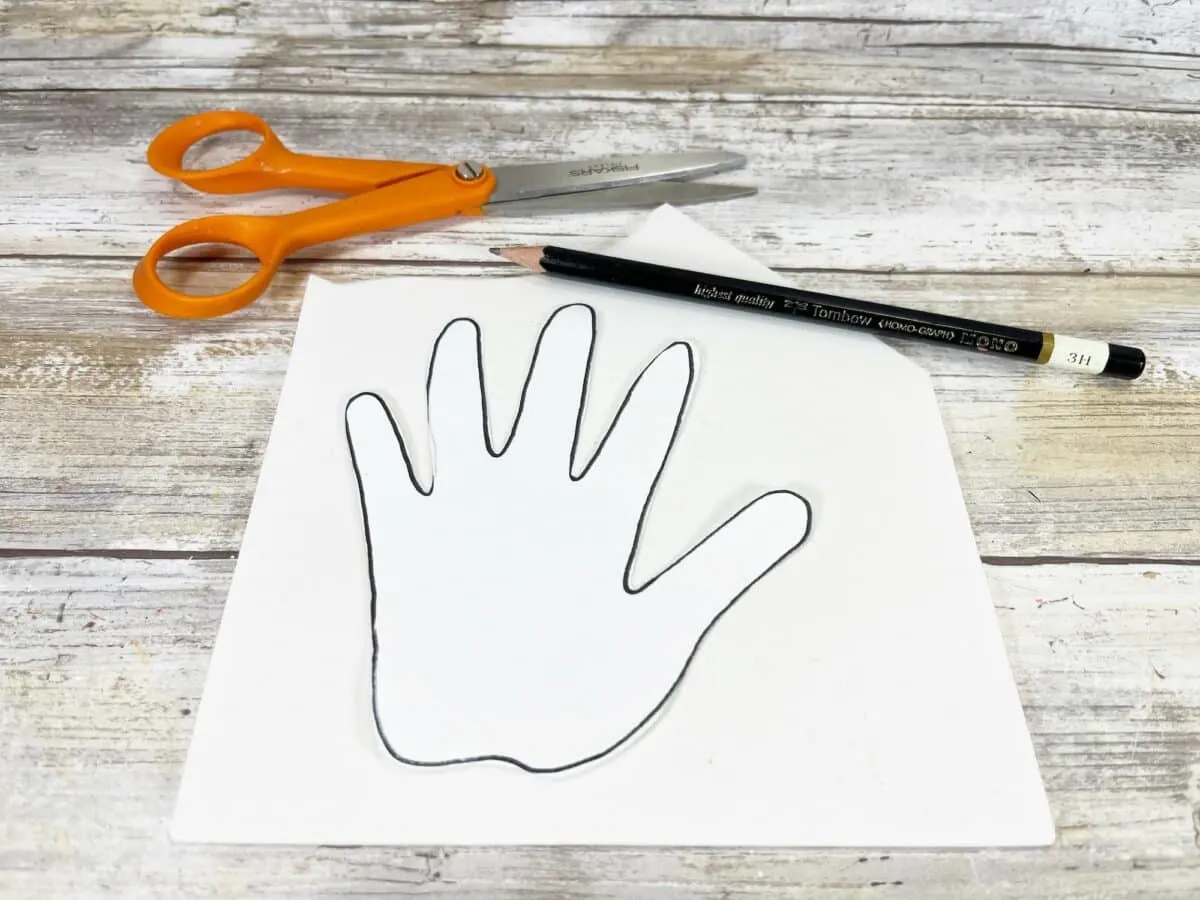 Cut out with scissors.
Glue the two white craft foam handprints to Uncle Sam's face just under his nose.
Step 5
Measure and cut a one-inch section from the rounded end of one jumbo craft stick. Glue the one-inch piece to Uncle Sam's face directly under his eyes to create a nose.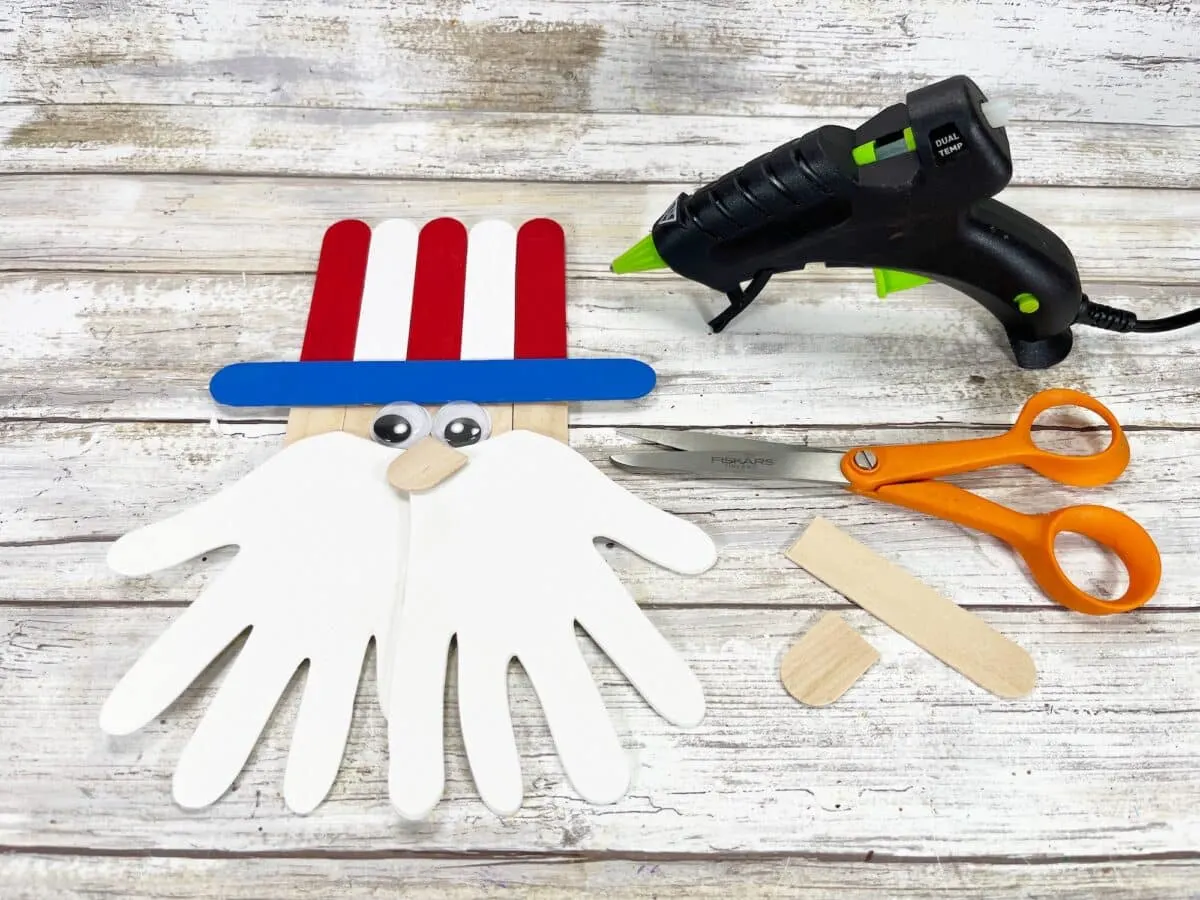 Have the curved end facing downward and angled to the left slightly.
Step 6
Trace the mini star pattern onto silver glitter craft foam three times. Cut out the stars. Or use three star stickers.
Glue the three stars to Uncle Sam's hat.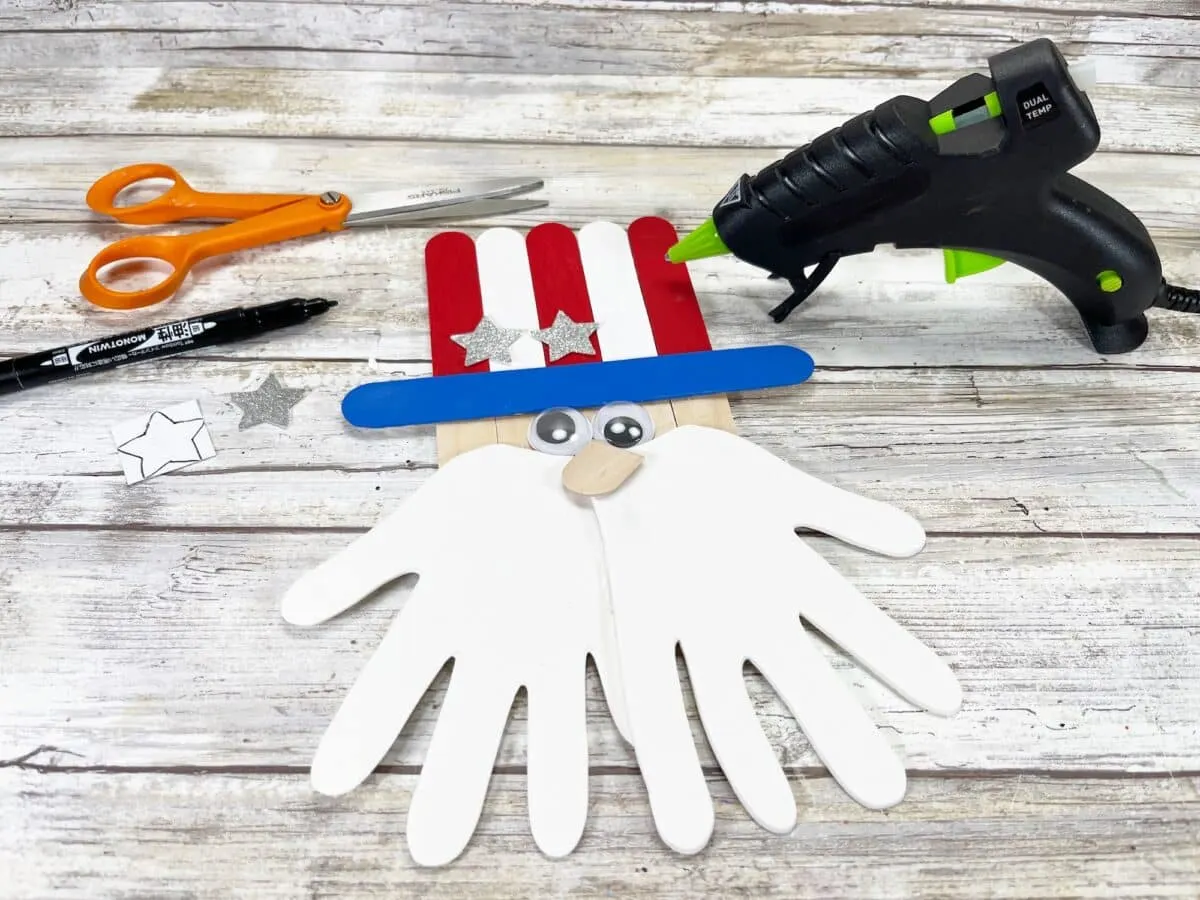 Be sure to see all of our Fourth of July crafts, including this cute bald eagle wooden spoon craft!