Share your excitement this Fourth of July by waving festive DIY star wands in the air as the fireworks burst in the sky or 4th of July parade goes by.
These adorable popsicle stick star wands are so easy to make. They are a great craft to keep everyone busy during holiday picnics or get togethers. Kids and adults will both enjoy this DIY project!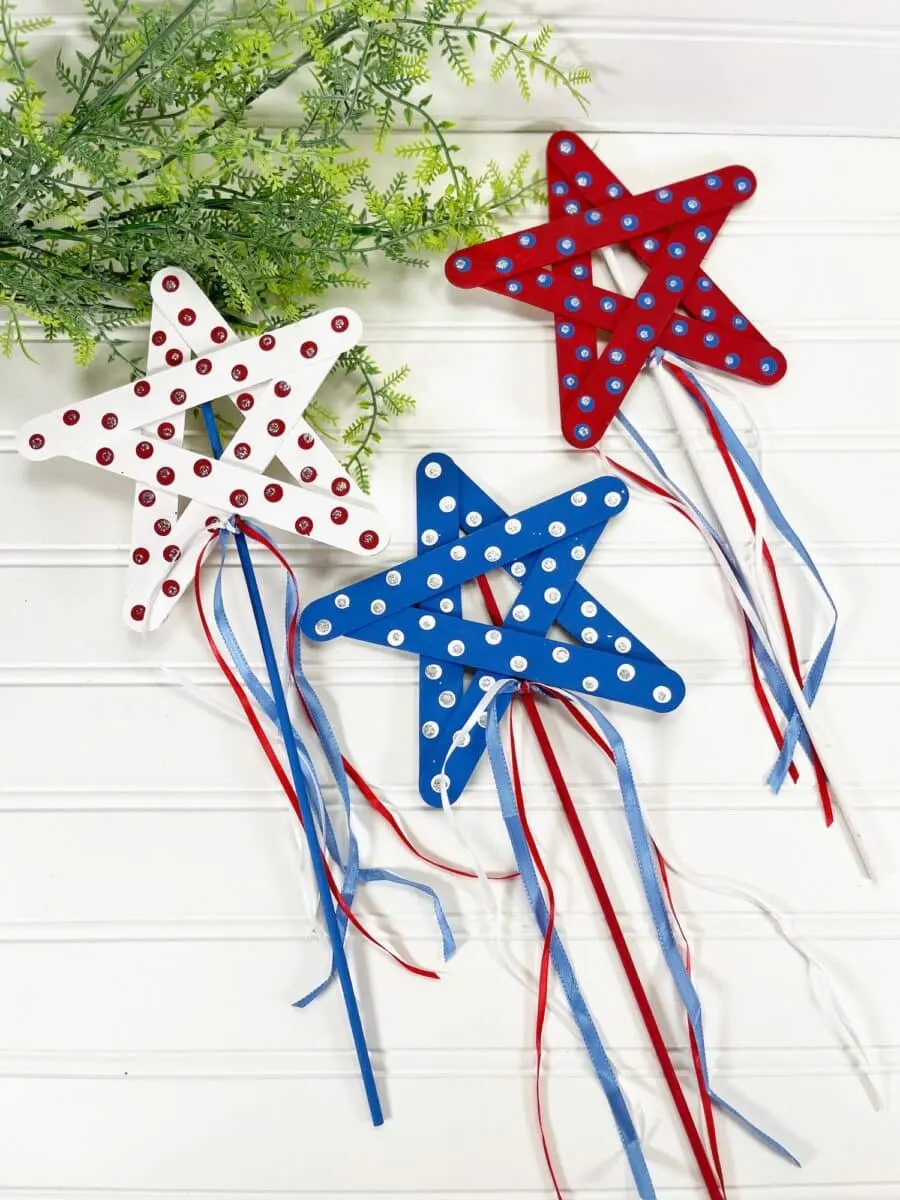 Make these patriotic parade wands before going to the festivities!
We used Dollar Tree materials to make these patriotic wands in under 30 minutes.
The great thing about this craft is that you will have enough supplies leftover to make these July 4th crafts, too:
There are a variety of ways that you can customize these handmade star wands. They don't have to be made just for patriotic holidays. They would be perfect for princess and fairy tale parties, too, if painted in pastel colors.
Here are some more variations and ideas for making these wands.
We painted our patriotic star wands in coordinating colors or red, white and blue. You can match the colors if you would like, or use other paint colors. Gold or silver would be pretty, too.
Instead of ribbons, you can use curling ribbon or yarn.
Paint pens or small squeeze tubes of paint would make applying the polka dots even easier.
Instead of paint polka dots, you could use stickers, instead.
For more patriotic crafts you can wave in the air, see our Bald Eagle Wooden Spoon and Uncle Sam Wooden Spatula crafts.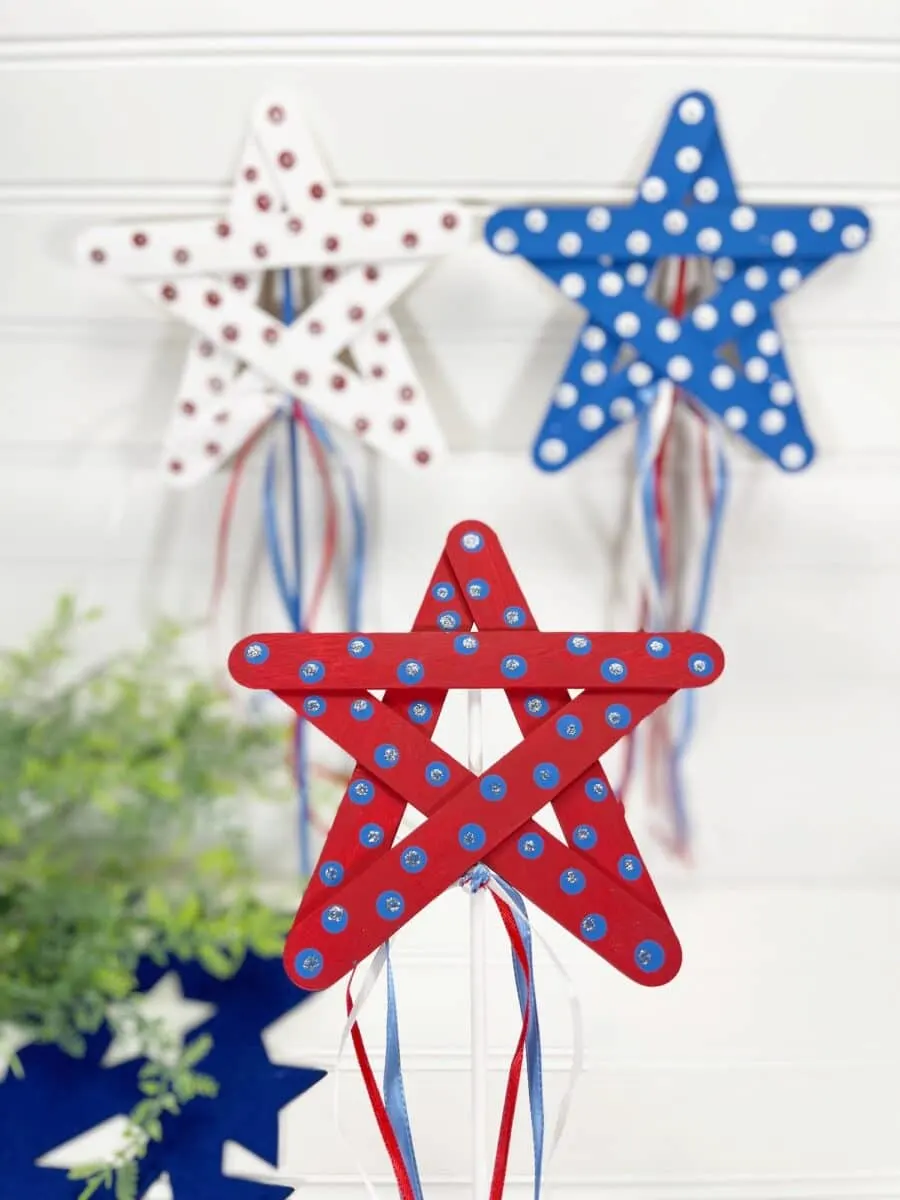 DIY Star Wand
MATERIALS
Jumbo Craft Sticks
Wooden Dowels
Assorted Ribbons in Red, White, Blue
Silver Glitter Glue
Glue Gun and Glue Sticks or Craft Glue
Acrylic Craft Paint in Red, White, Blue
Paintbrush
Scissors
Pencil with New Eraser (optional)
INSTRUCTIONS
Step 1
You will use five jumbo craft sticks to make a star for the wand.
Glue two craft sticks together in an upside down "V" shape.
Glue a craft stick at a diagonal from the bottom right-hand side of the "V" shape.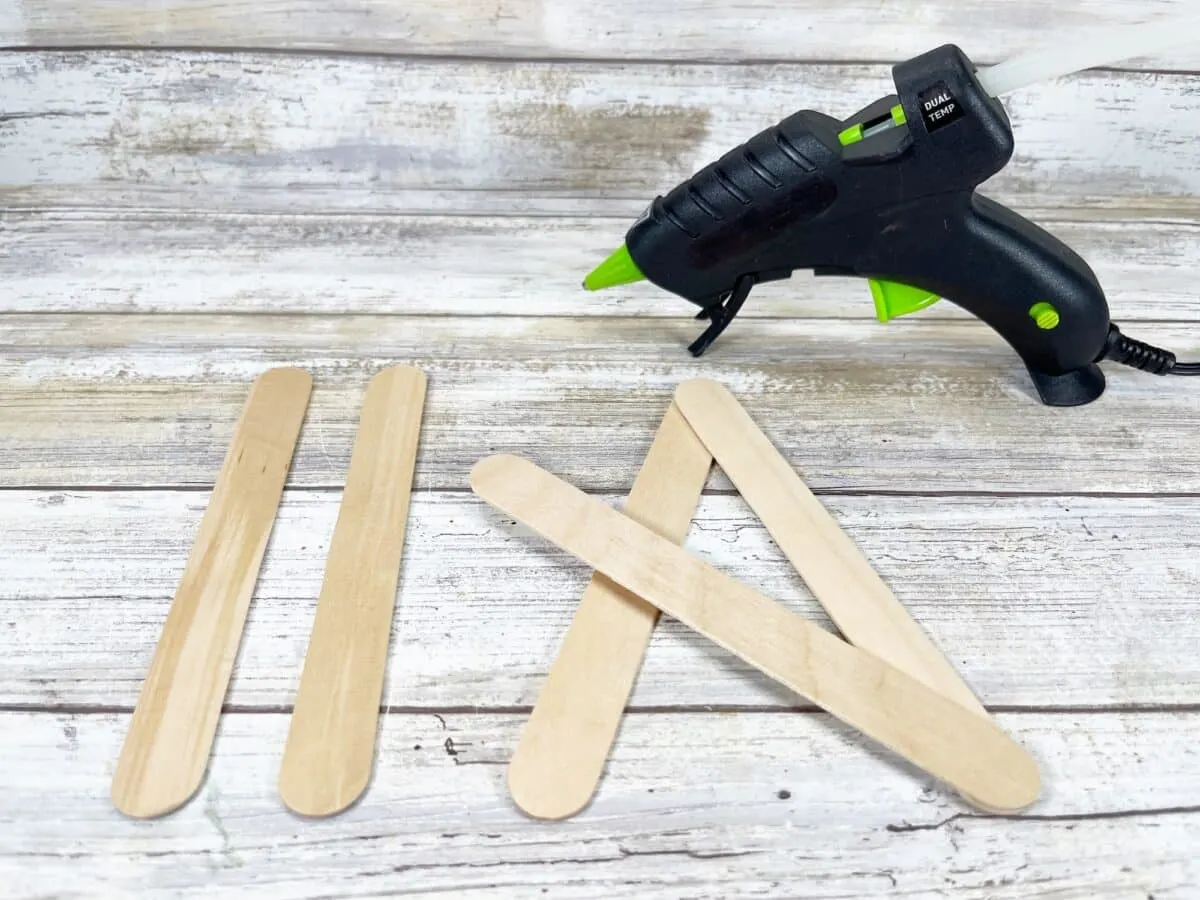 Glue a craft stick at a diagonal from the bottom left-hand side of the "V" shape. This creates an "X" shape.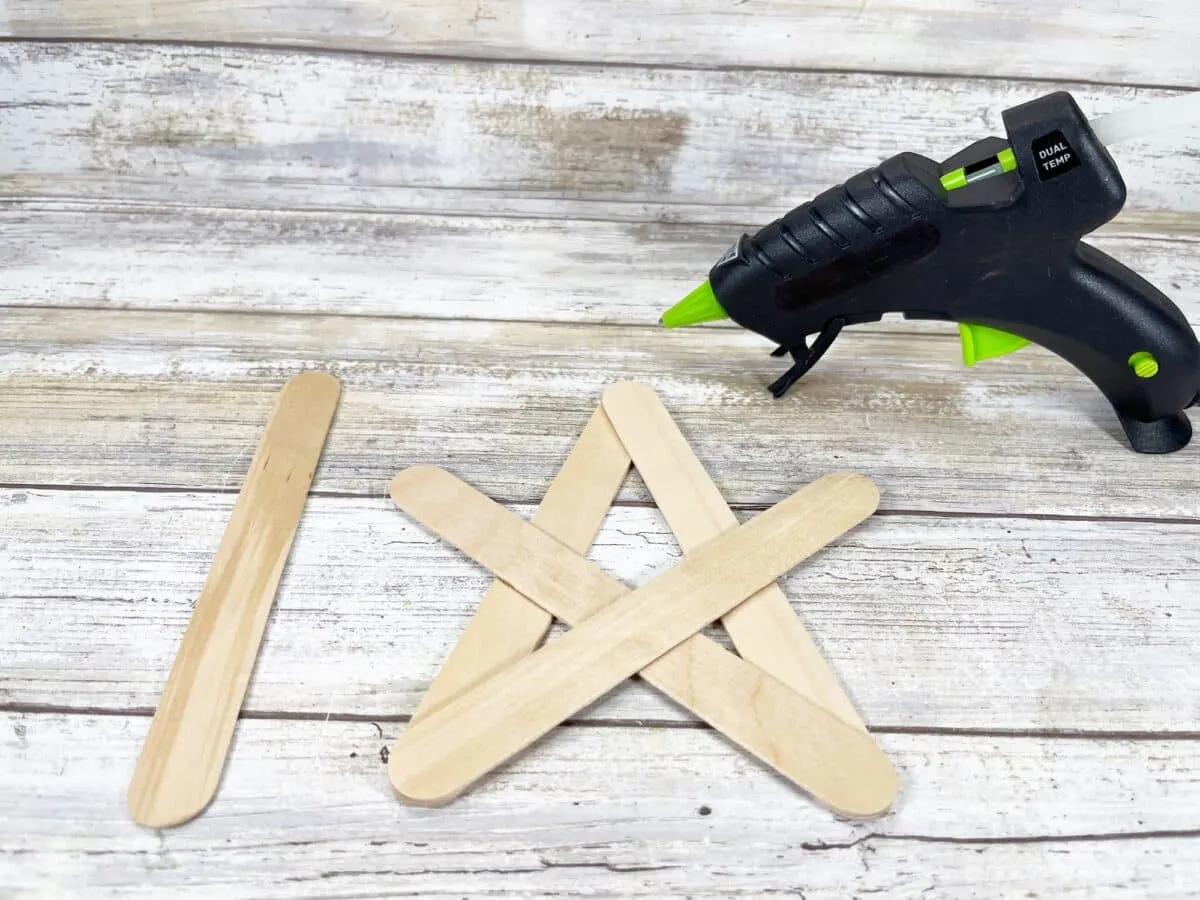 Attach the final craft stick horizontally across the star, gluing the stick across the top curved ends of the "X" shape craft sticks.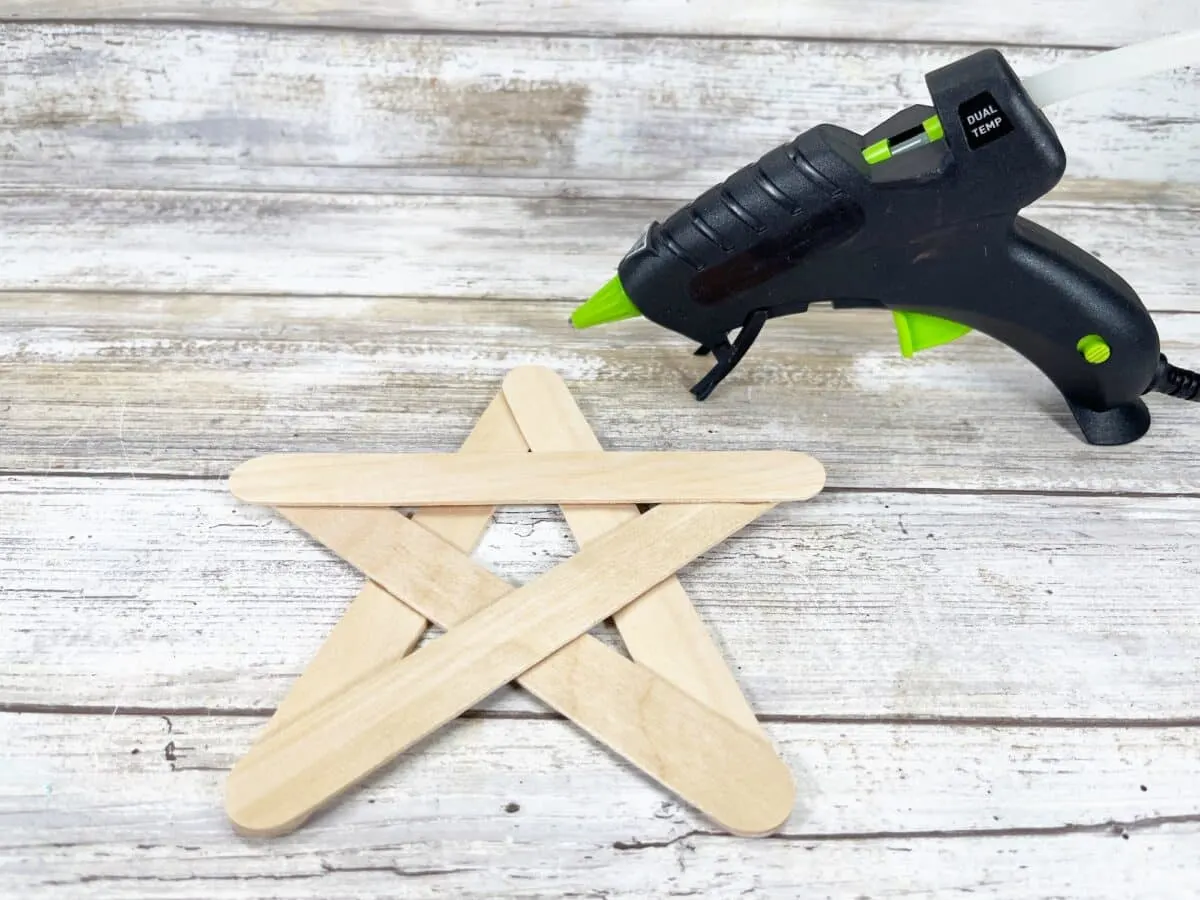 Step 2
Paint the front and sides of the star with your color choice of craft paint.
Allow to dry, and apply a second coat, if needed.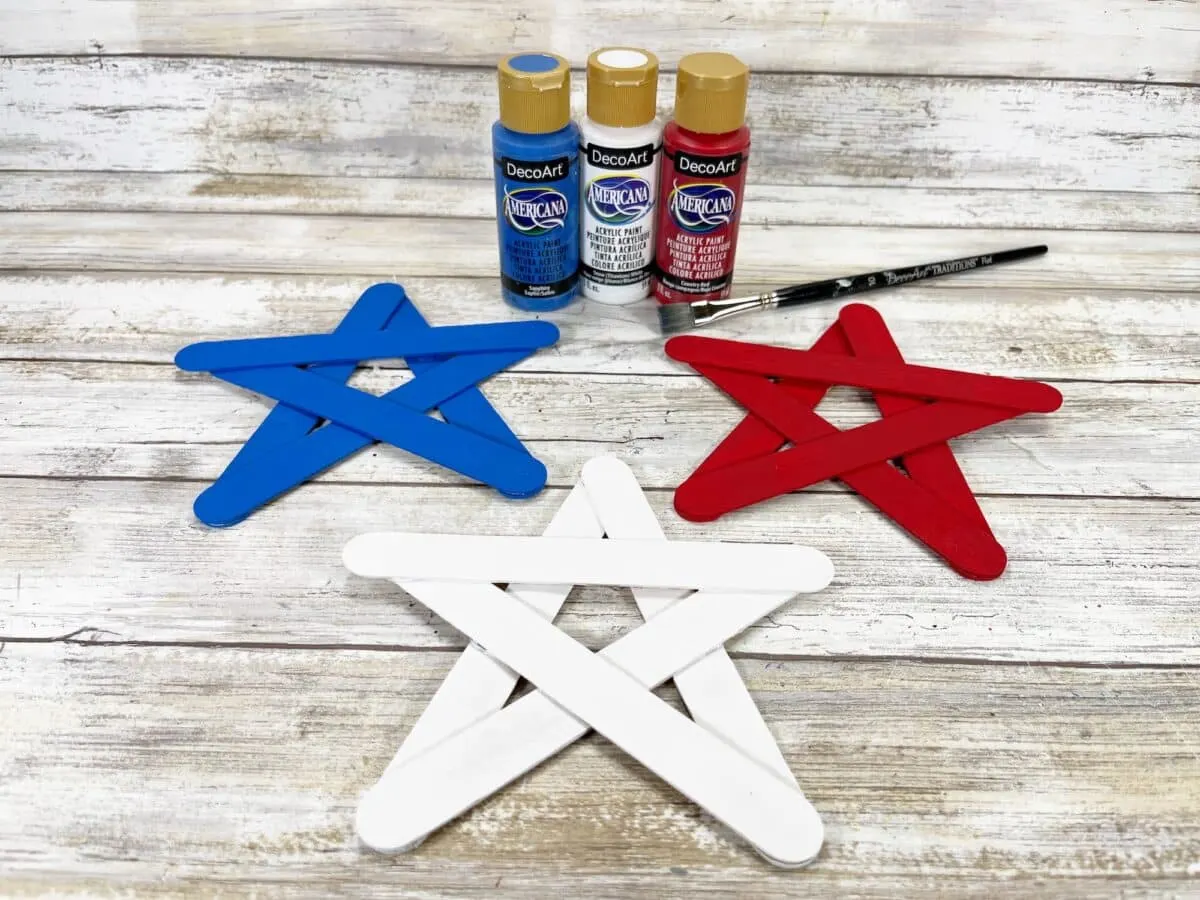 Step 3
Paint a wooden dowel for each of the popsicle stick stars that you make.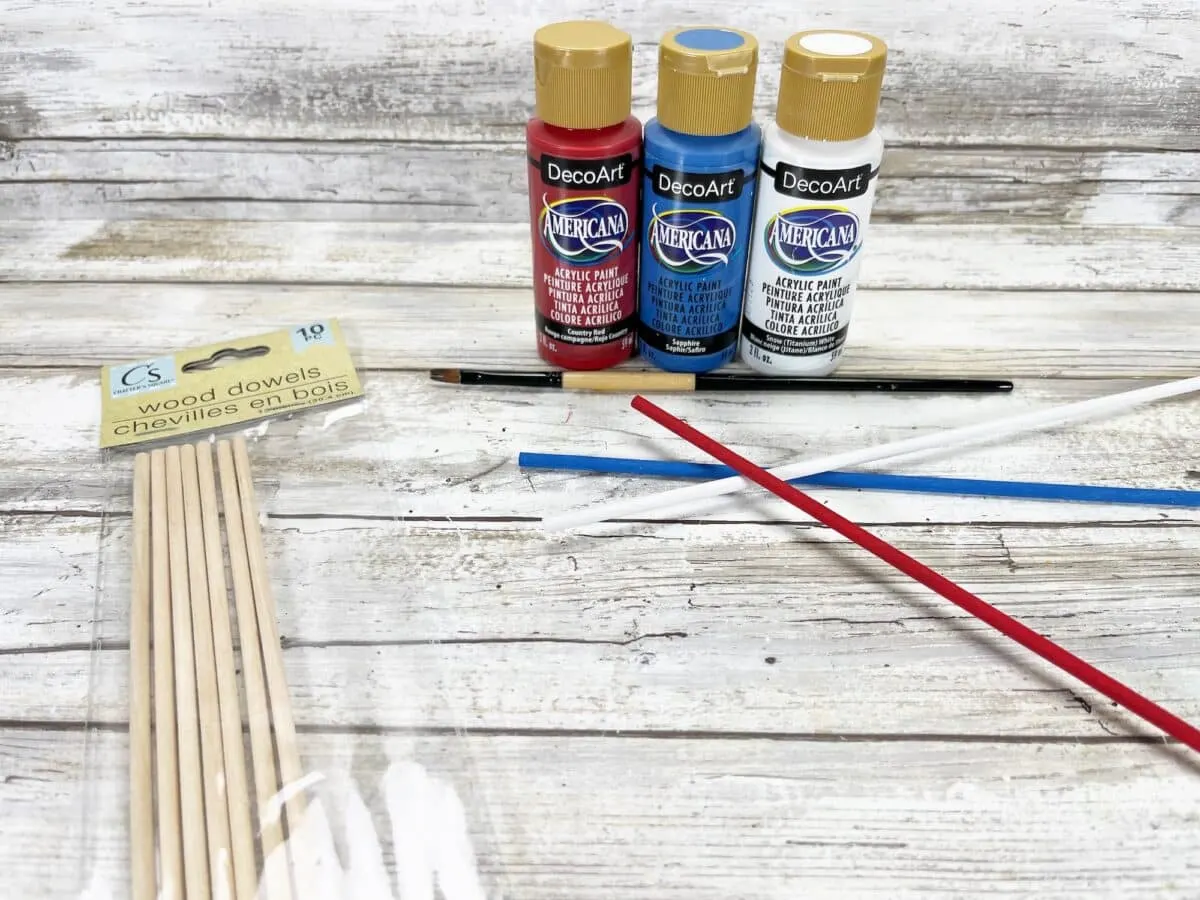 Apply paint in the same color as the star, or choose a complimentary color.
Allow to dry completely. Add a second coat of paint, if needed.
Step 4
Create polka dots on each star in patriotic colors.
For white stars, you could use red and blue polka dots. For blue stars, you can use red and white polka dots.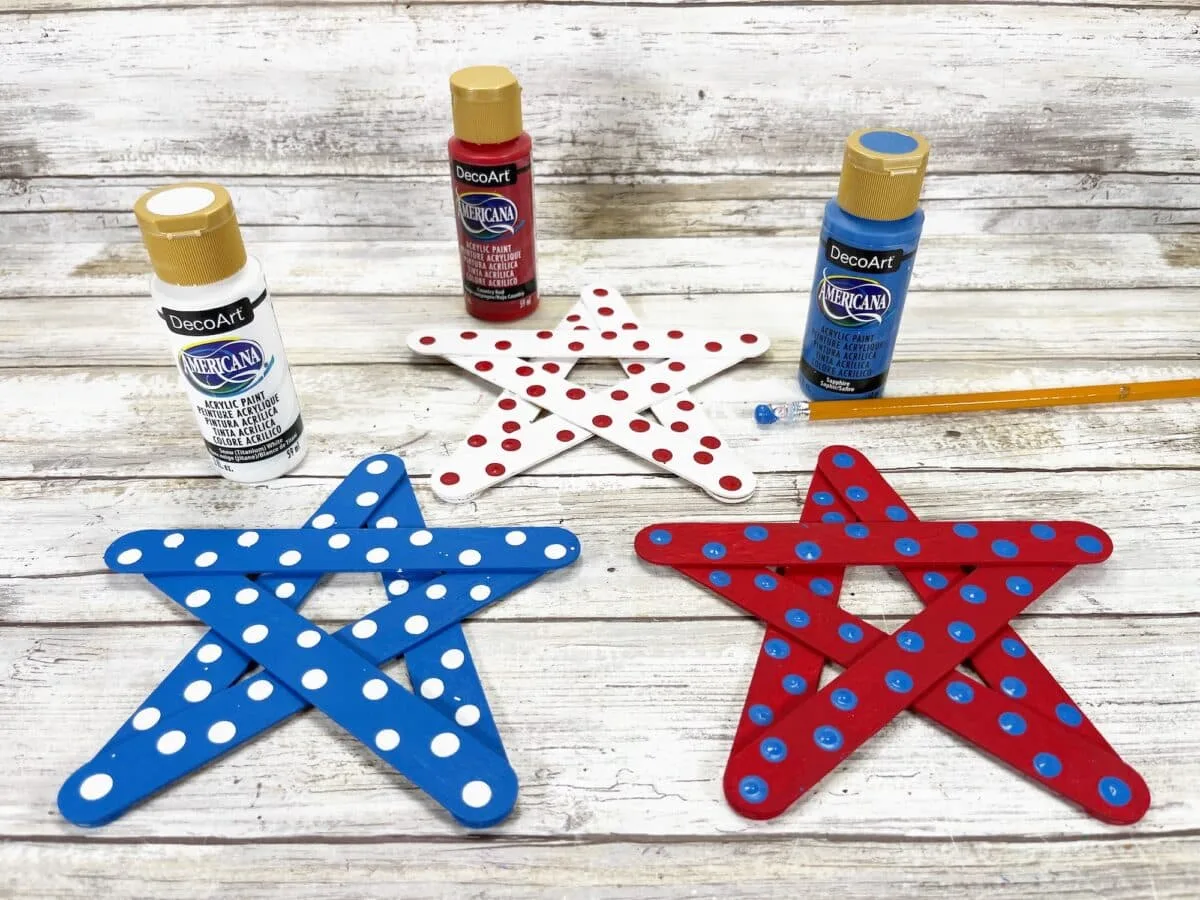 We used a new, unused pencil eraser to dip into craft paint and create the polka dots. You can use a paintbrush or other method if you would like.
Step 5
After the polka dots have dried, add smaller dots of silver glitter glue or silver paint on top of each dot.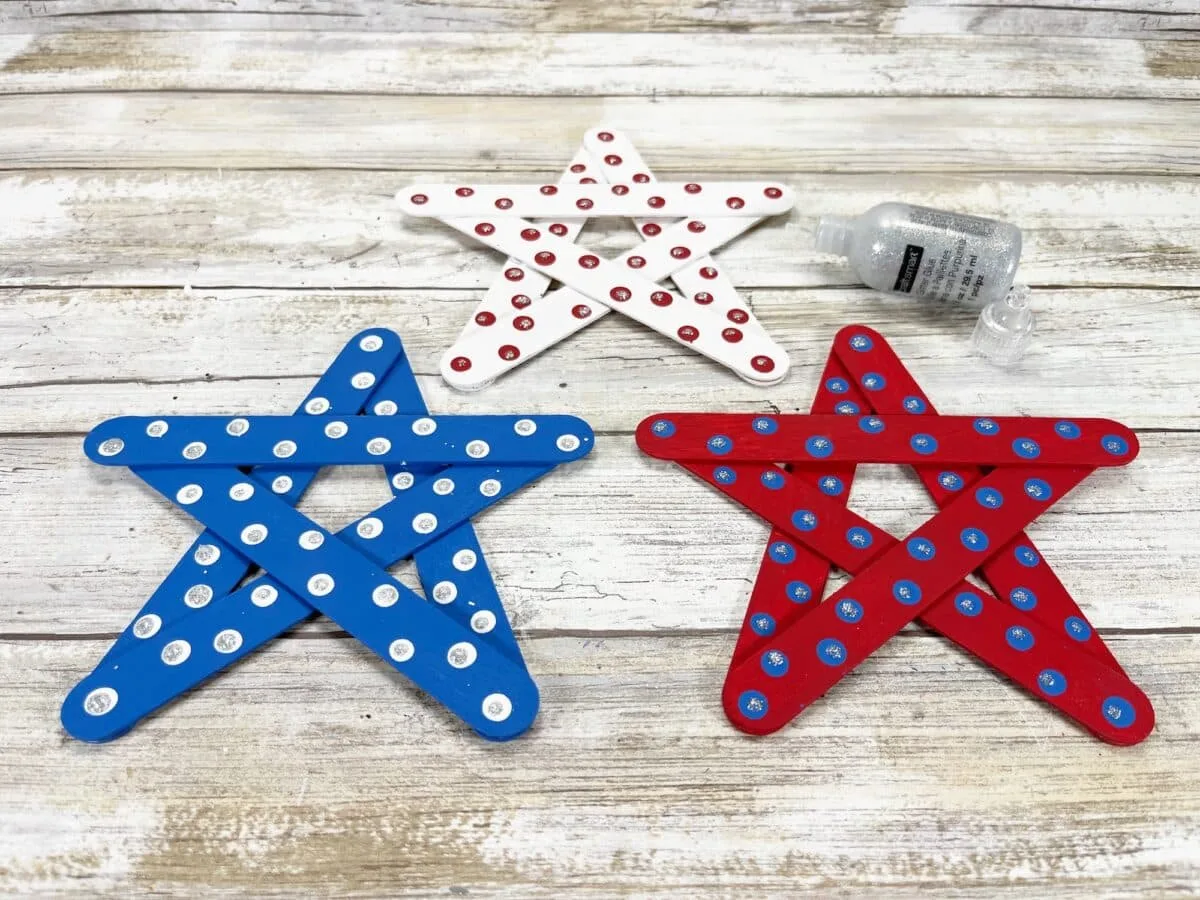 Step 6
Glue the dowel to the back of the star, making sure to attach the dowel to as much of the back of the star as possible so that it is sturdy. (Don't just glue to the bottom of the star.)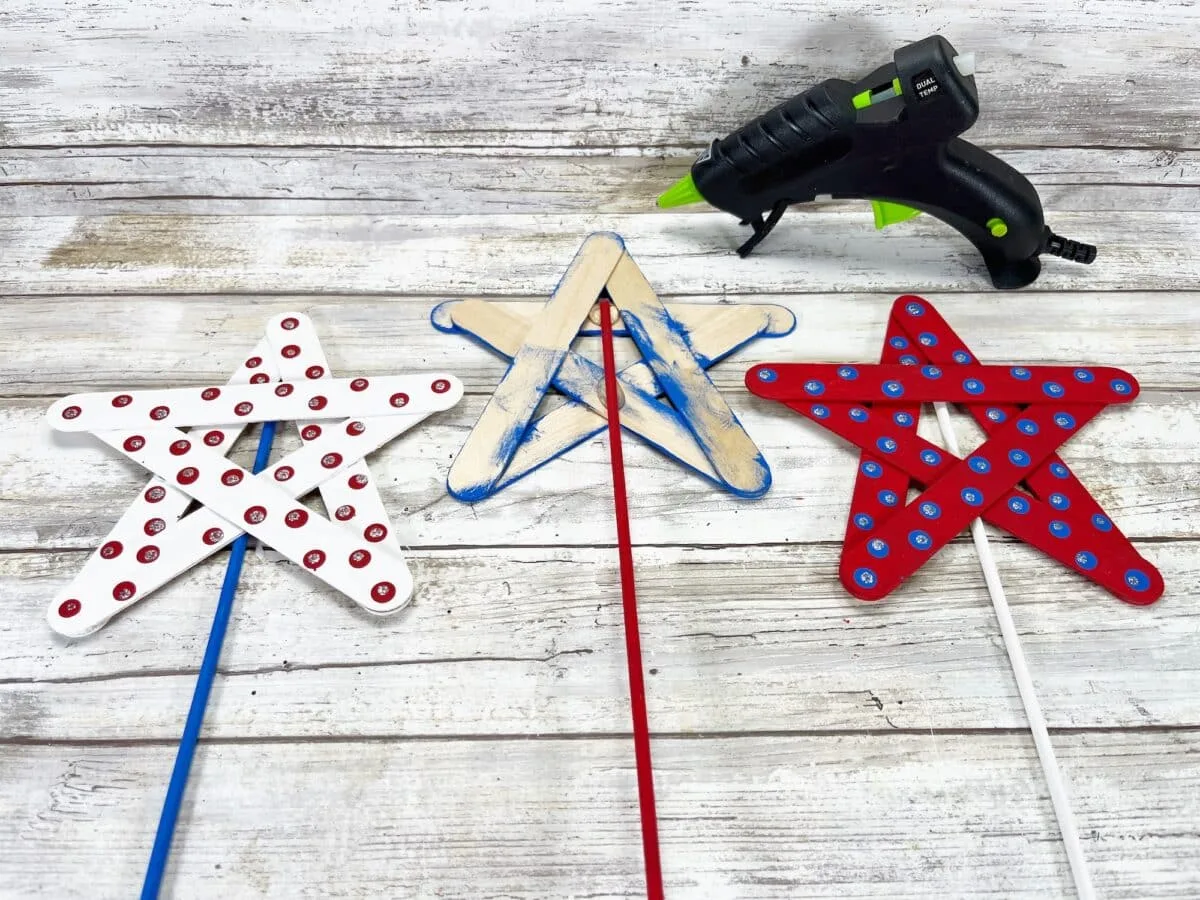 Step 7
Cut a variety of red, white and blue ribbons into 12" lengths.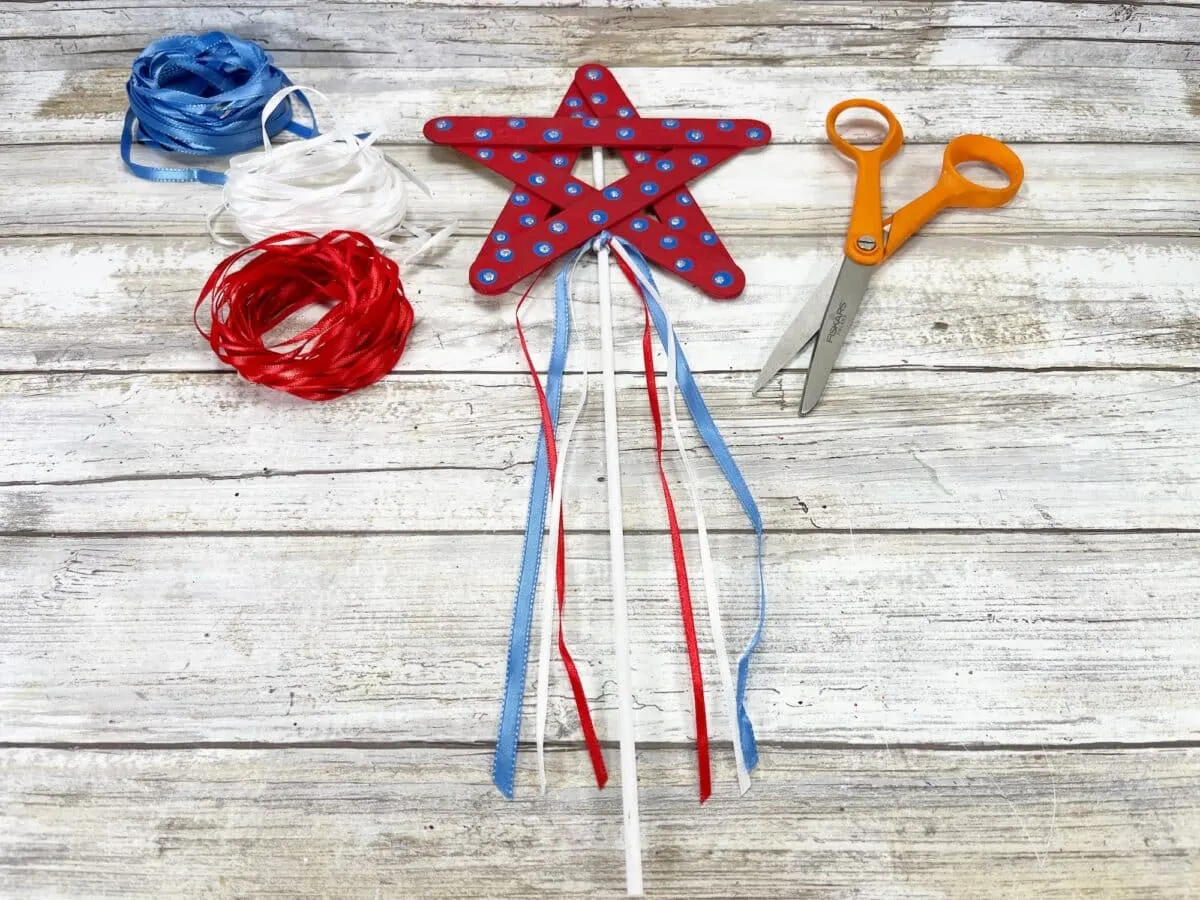 Tie and knot the ribbons around the wooden dowel at the base of the star.
Be sure to see all of our Fourth of July crafts! You might like our Bald Eagle Craft, which also uses popsicle sticks.