These easy DIY place card holders are the perfect way to show guests where to sit at your Thanksgiving dinner or a Fall-themed wedding reception. They are not complicated to make and the materials don't cost a lot of money.
While these name place holders or table card holders look like something you'd pay a lot of money for at Williams-Sonoma or Pottery Barn, they actually use inexpensive materials.
Plus, it's easy to make these cute party decorations. If you can use a hot glue gun, you can do this!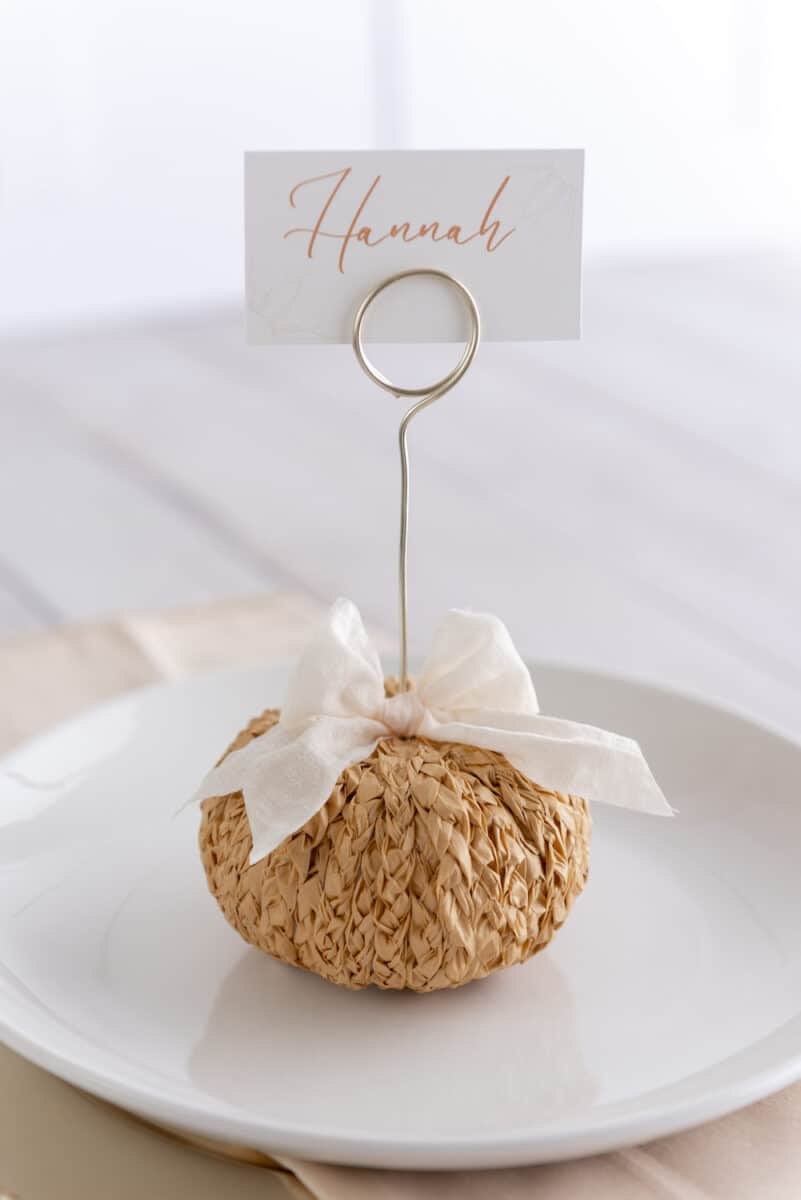 Be sure to see all of my Fall crafts for easy ways to decorate your home! My matching farmhouse floral monogram letter pumpkin would look great on the table with the place holders.
This easy square Autumn wreath is the perfect way to welcome guests through your front door.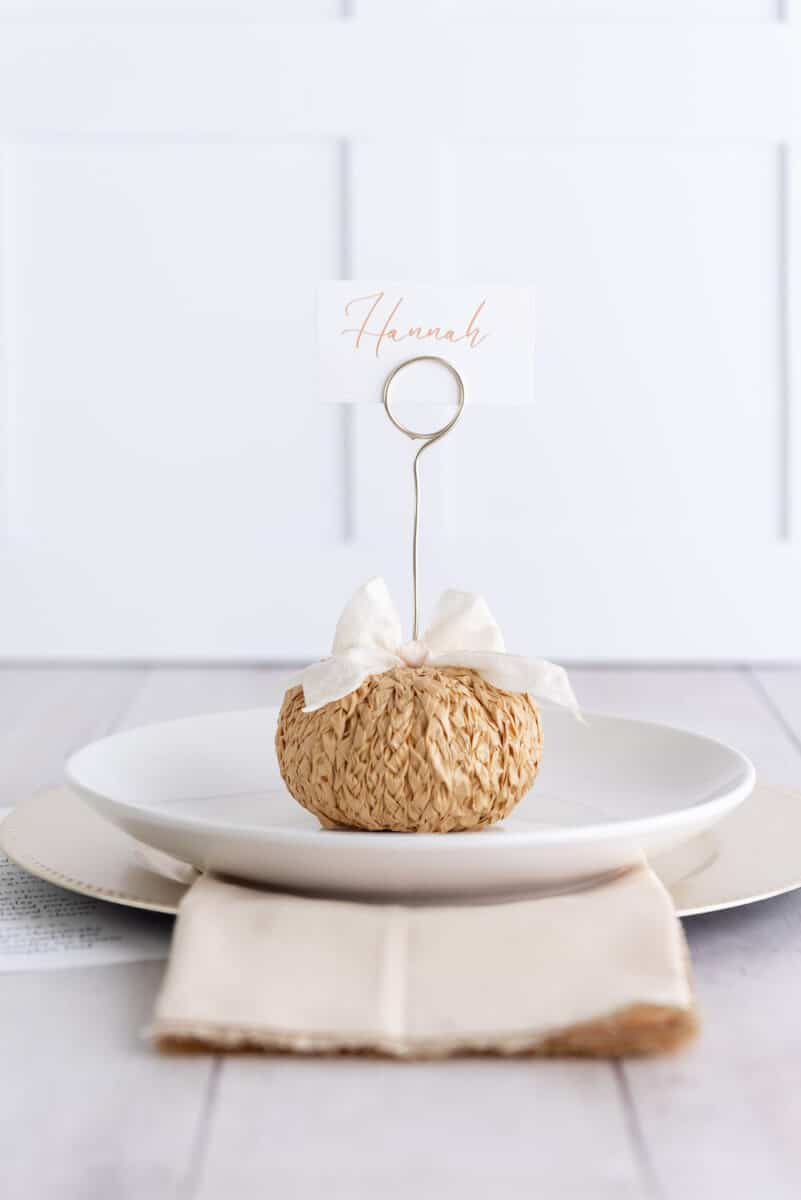 Helpful Tips
I used a smooth paper raffia so that all parts of the ribbon looked the same. Raffia made from natural materials might have color and texture variations. If you are okay with that, you can use any type of thin raffia ribbon.
Find faux pumpkins either sold individually (like in the dollar store), in bags or on floral sticks. You would want to remove the pumpkins from the sticks before starting this project. If you use a bag of assorted size pumpkins, you can use the smaller pumpkins to make these cute DIY napkin rings.
Floral wire comes in many colors other than green. Choose wire in a metallic shade, such as silver, gold or rose gold.
These pumpkin place card holders are great for using at individual table settings with your guest's names. Or, you could use them as table card holders to show the table numbers.
After your party or dinner, these DIY name place holders are great to hold a photograph or a piece of paper with a beautiful quote written on it. Which makes them great party favors, too!
Use these pumpkin place card holders all Fall, from early harvest dinners to Halloween to Thanksgiving.
If you are using these for Thanksgiving, download our free printables for the Thankful Dice game and Thanksgiving Bingo cards to keep everyone laughing, talking and having fun.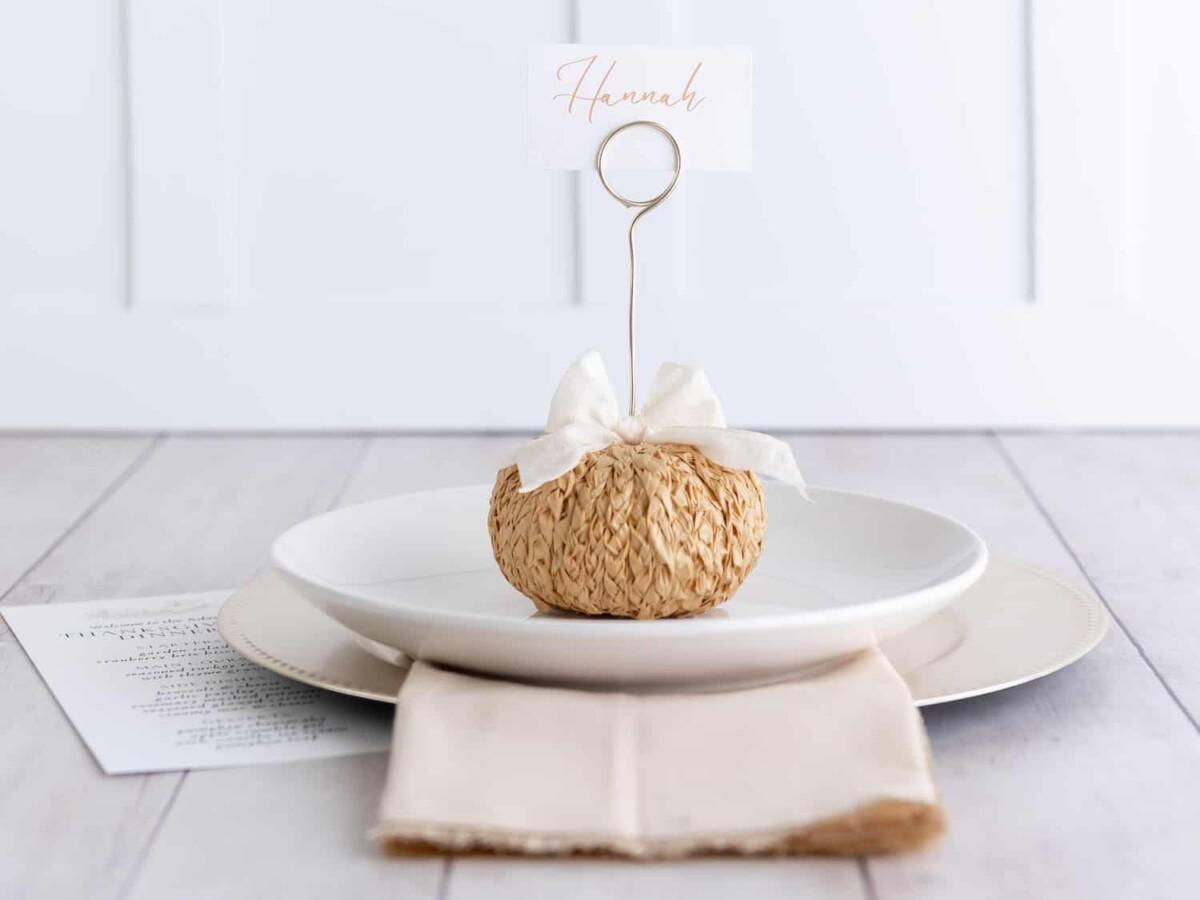 How to Make Pumpkin Place Card Holders
Supplies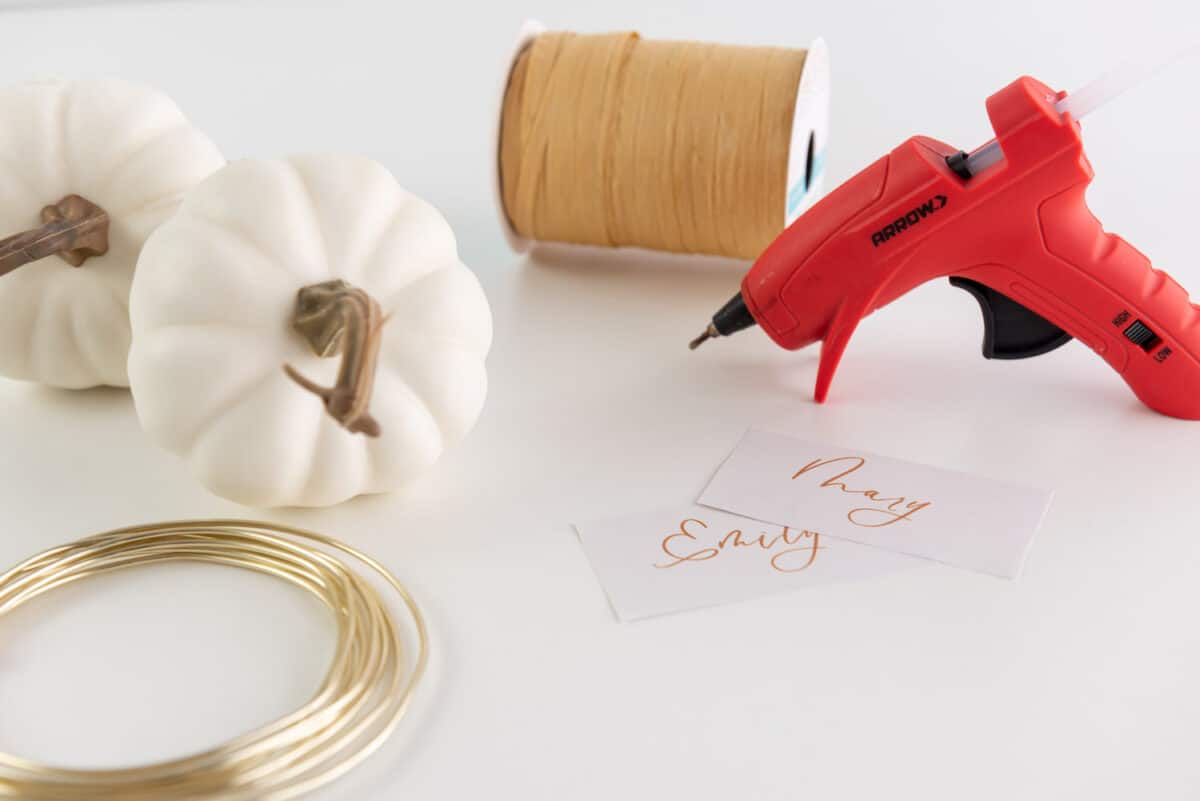 Directions
Step 1
Braid the raffia ribbon. It is easiest to tape down 3 strips of raffia to a table and then start braiding, like you would braid hair.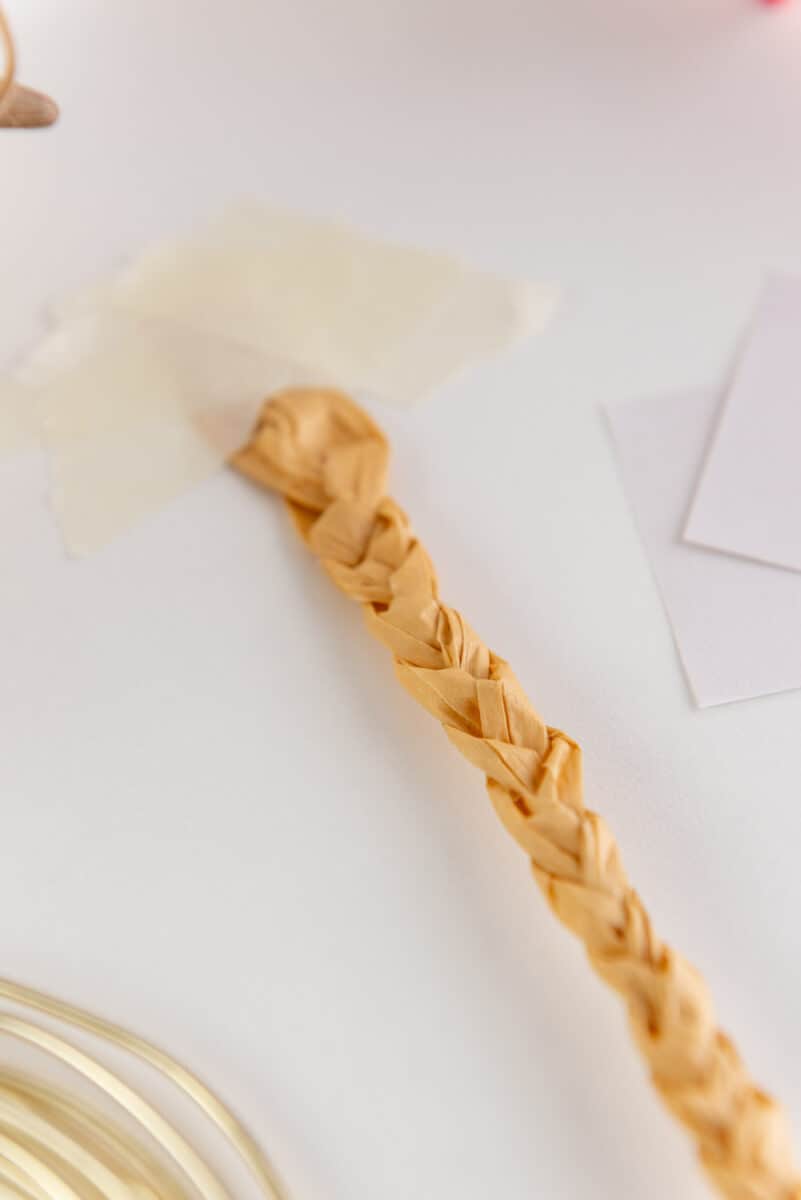 You can either do one really long braid, or braid several smaller sections of ribbon.
Step 2
Remove the pumpkin stem from your foam pumpkin.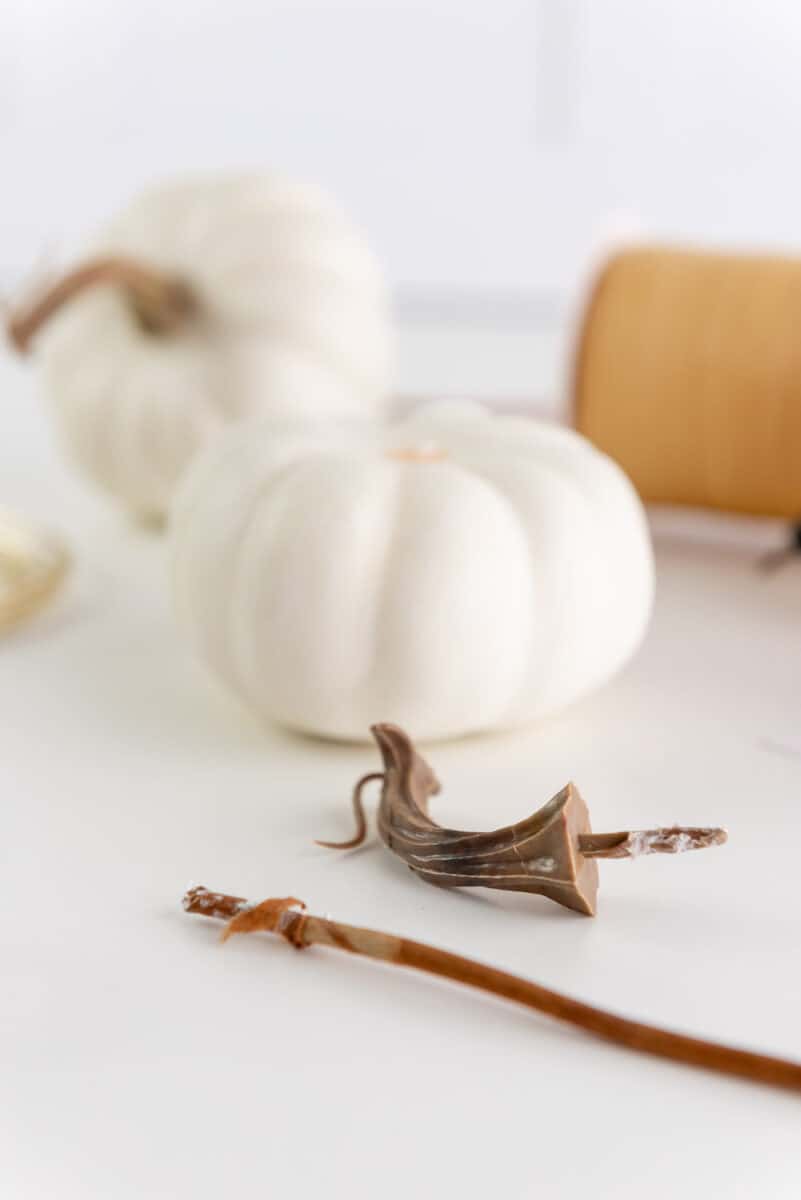 Start gluing the raffia braids to the pumpkin. Choose a braid and start at the top of the pumpkin, near where the stem was. Wrap the pumpkin with the braids going from top to bottom.
Hot glue the raffia down as you wrap the pumpkin. You will want the raffia to overlap.
You can make this one continuous loop of braiding, or do several sections with smaller pieces.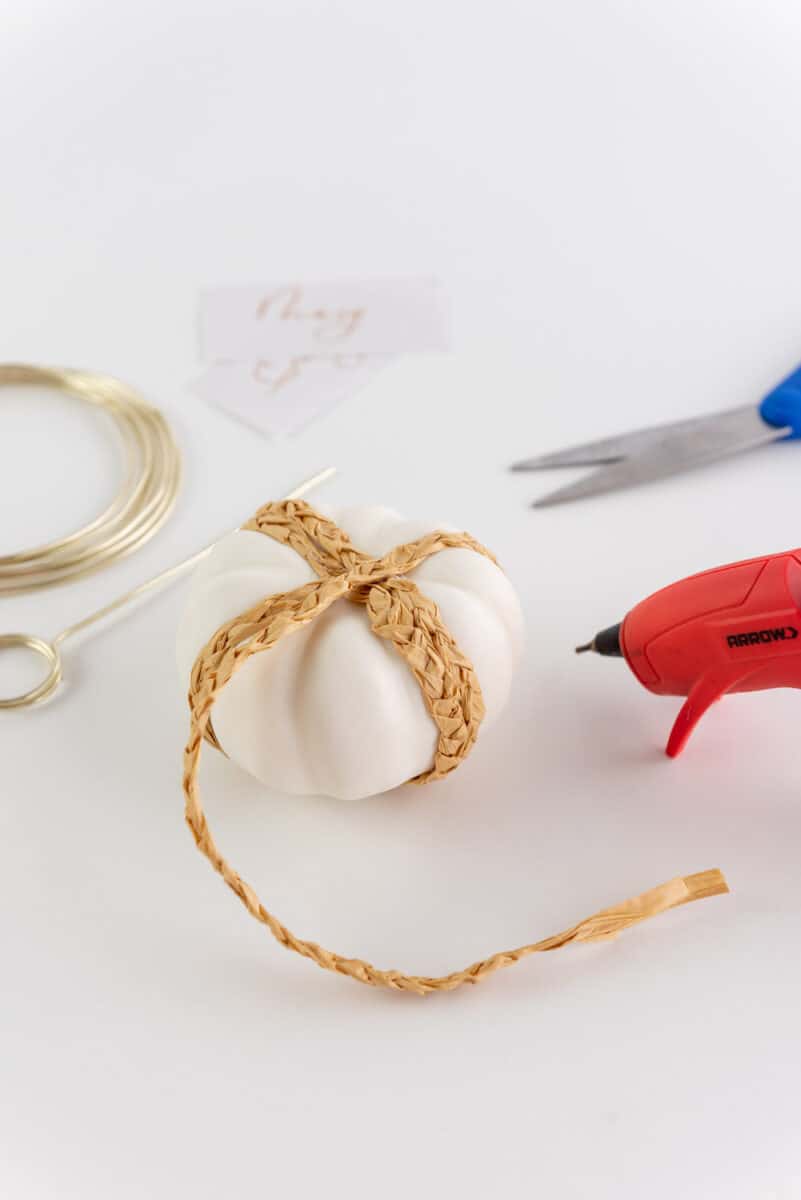 Do not cover the hole from the stem, though!
Step 3
Create a place card holder with the wire by wrapping the wire around a bottle cap twice to make a circle. Bend the remaining wire so that it is a straight line. Cut the wire at a length that you would like for your placecard holder.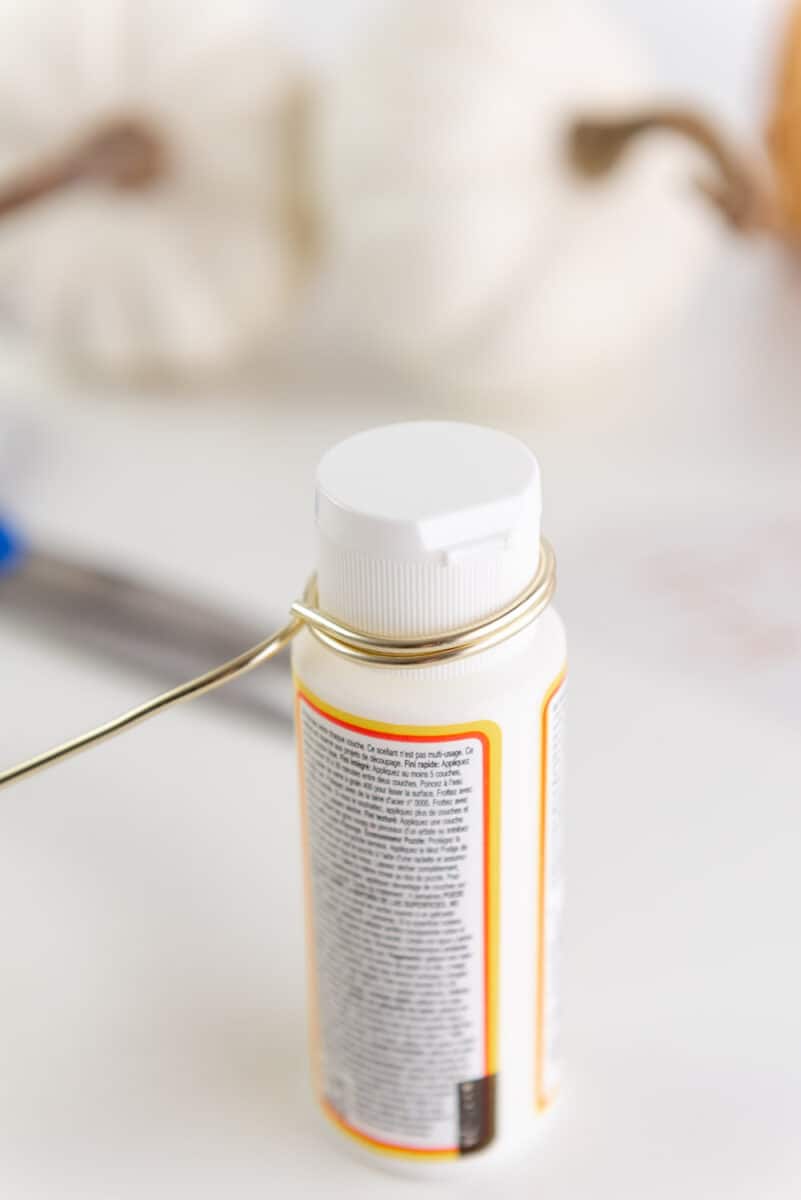 Step 4
Add a drop of hot glue into the hole where the foam pumpkin stem used to be. Place the straight end of the wire into the hole and hold until secure.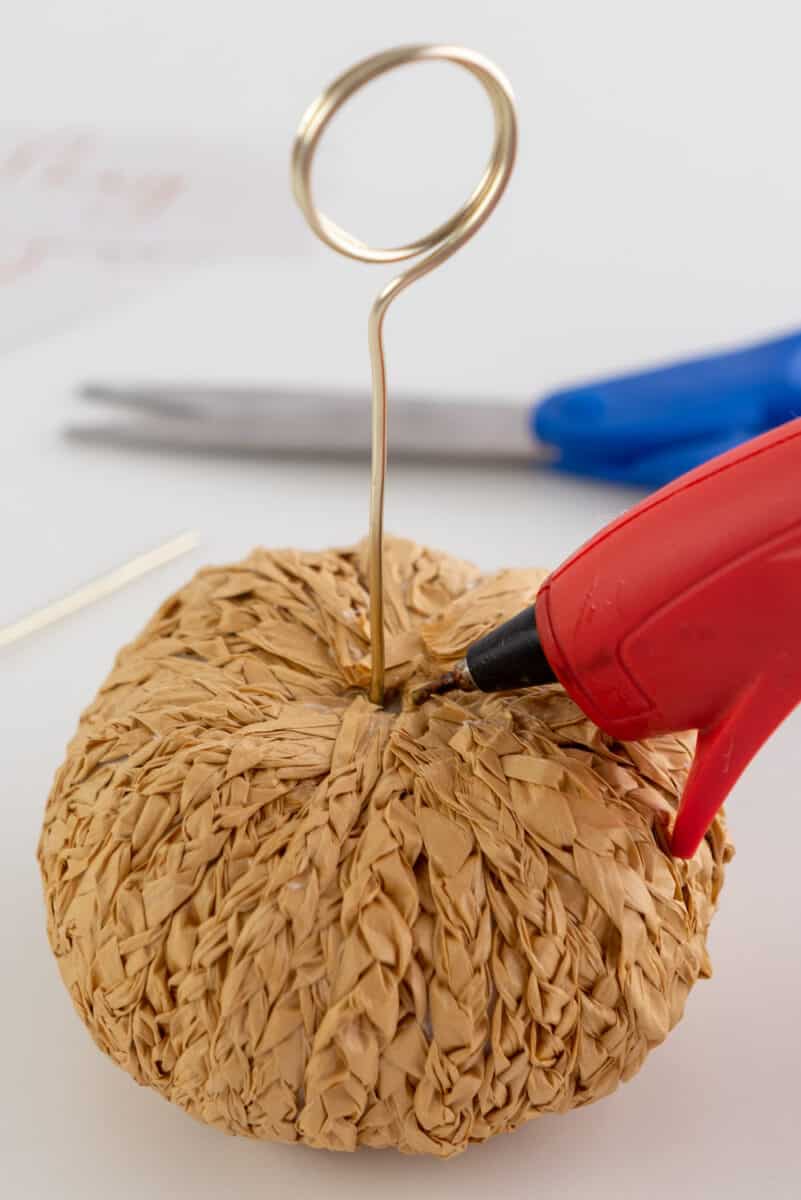 If you would like, tie a ribbon around the base of the wire to hide any hot glue.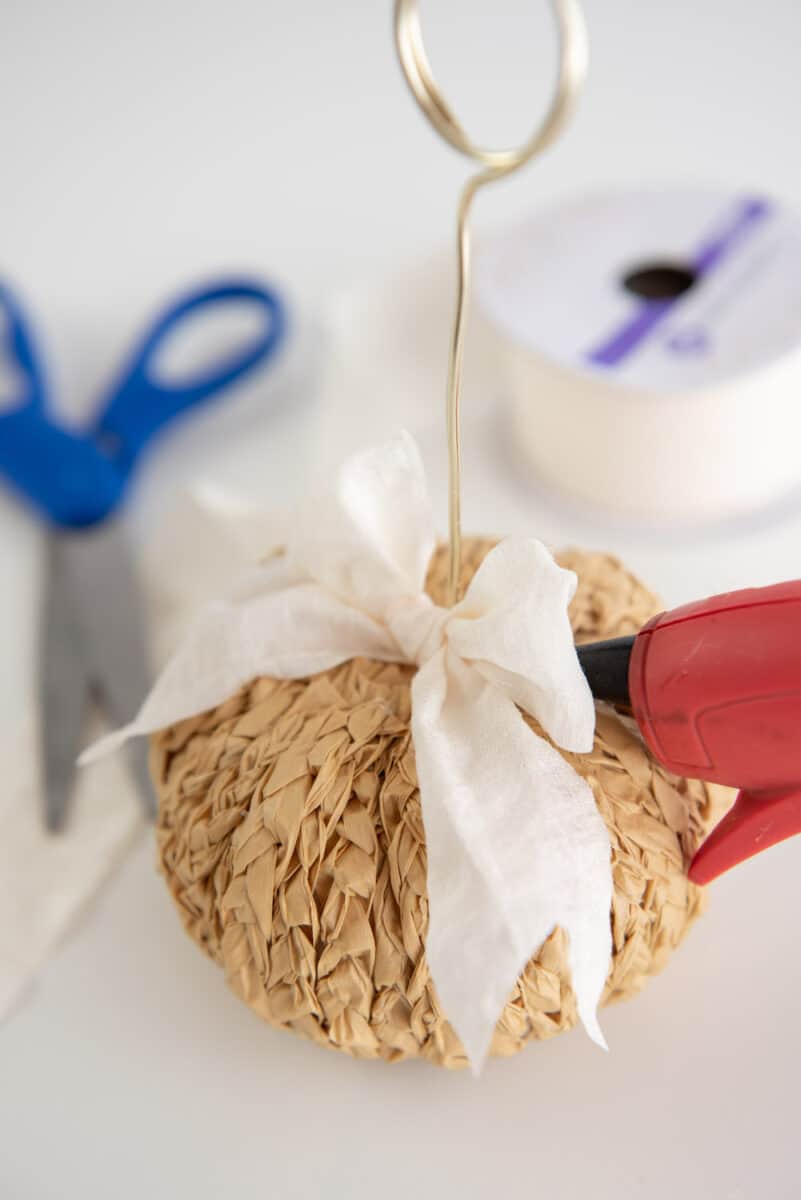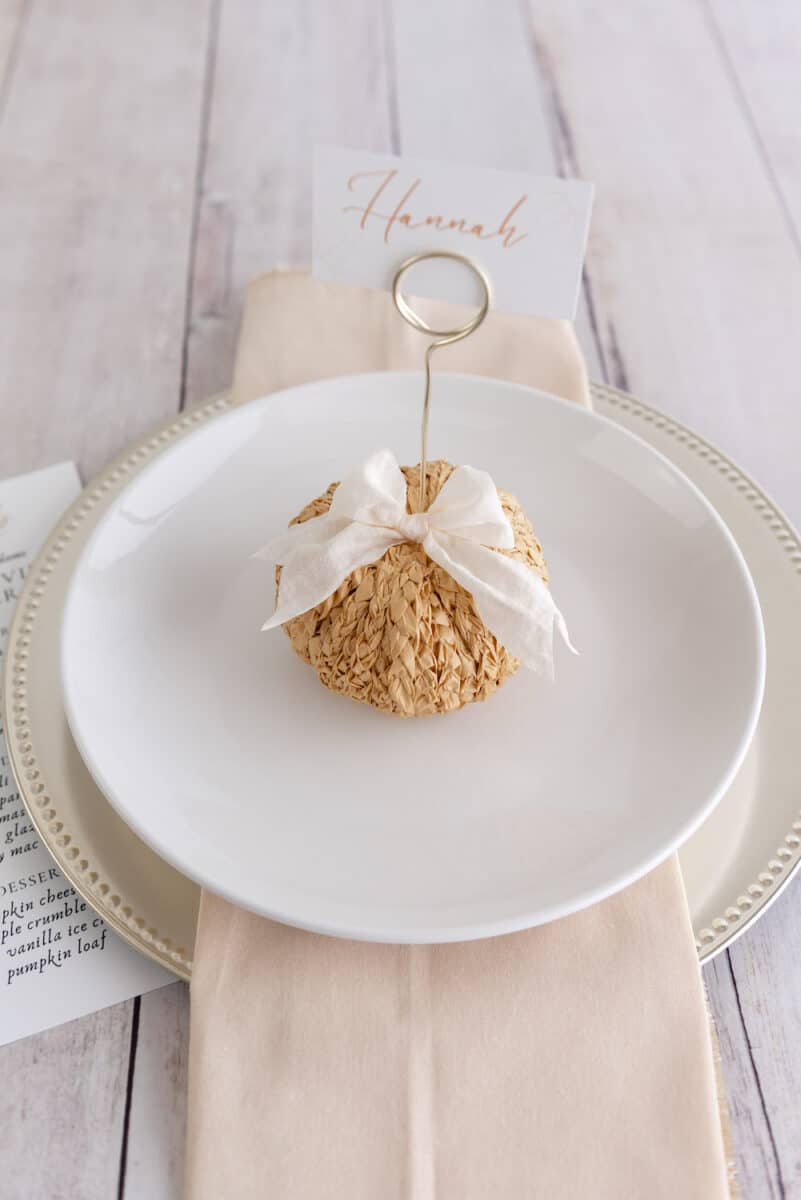 If you are creating a beautiful table setting for your dinner, make this easy fresh pumpkin vase floral arrangement as a centerpiece.
Or you could decorate your table with these DIY wooden pumpkins or these cute 3D felt pumpkins.
My DIY wine glass charms let your guests keep track of whose glass is whose during the meal!
After a big Thanksgiving meal, send your guests home with food and these pretty Thanksgiving Leftovers labels.