This easy wood slice wreath looks like it is expensive, and you would probably pay a lot of money for something similar in a home decor store. But as a savvy DIYer, you know that you can make it for a LOT LESS, right?
We made this wooden wreath for less than $20 in materials. If you have a tree branch that you can cut into thin slices, then you can easily make this for $5 or less!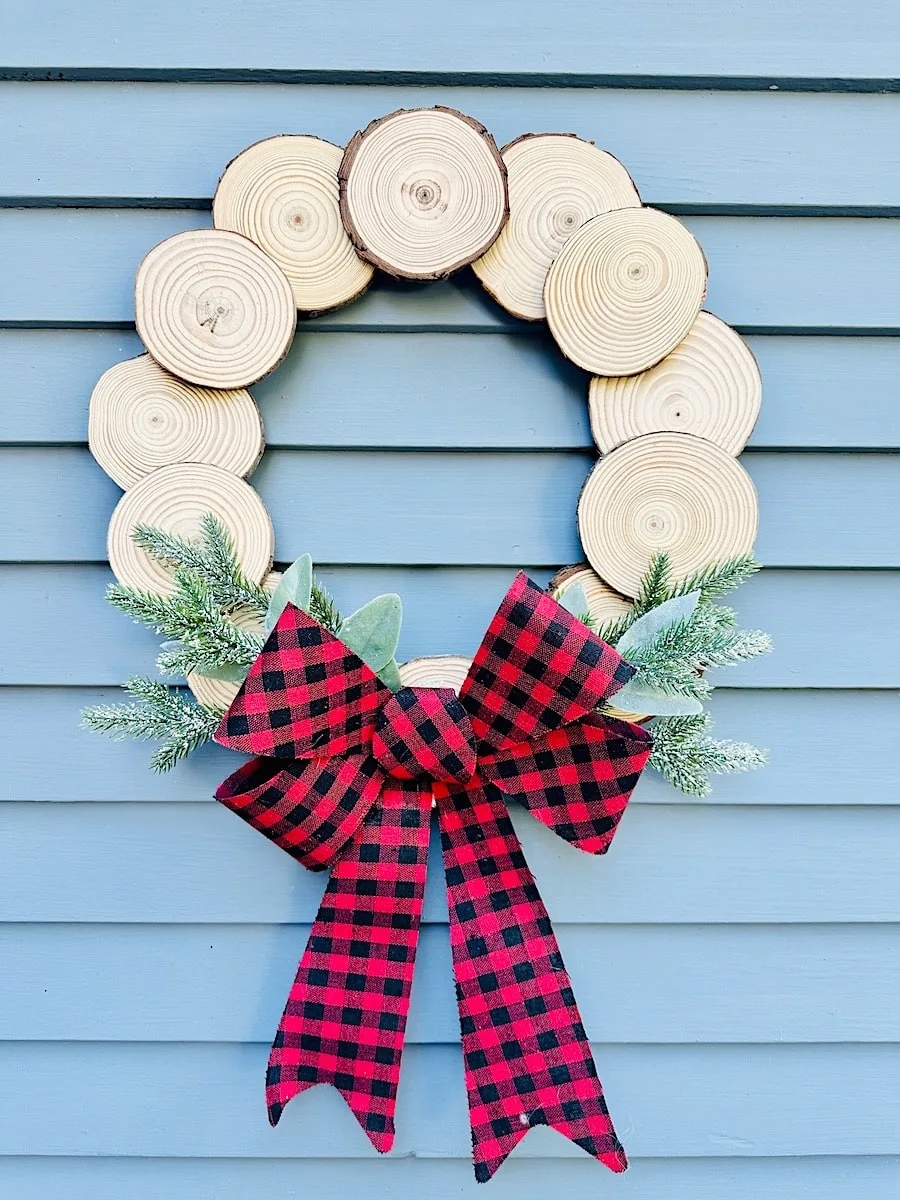 This is just one of the many pretty DIY wreaths we have tutorials for! Be sure to see more of our quick and easy wreaths, such as:
We didn't use all of the wood slices in the package for the wreath. You could easily make these wood slice ornaments, too!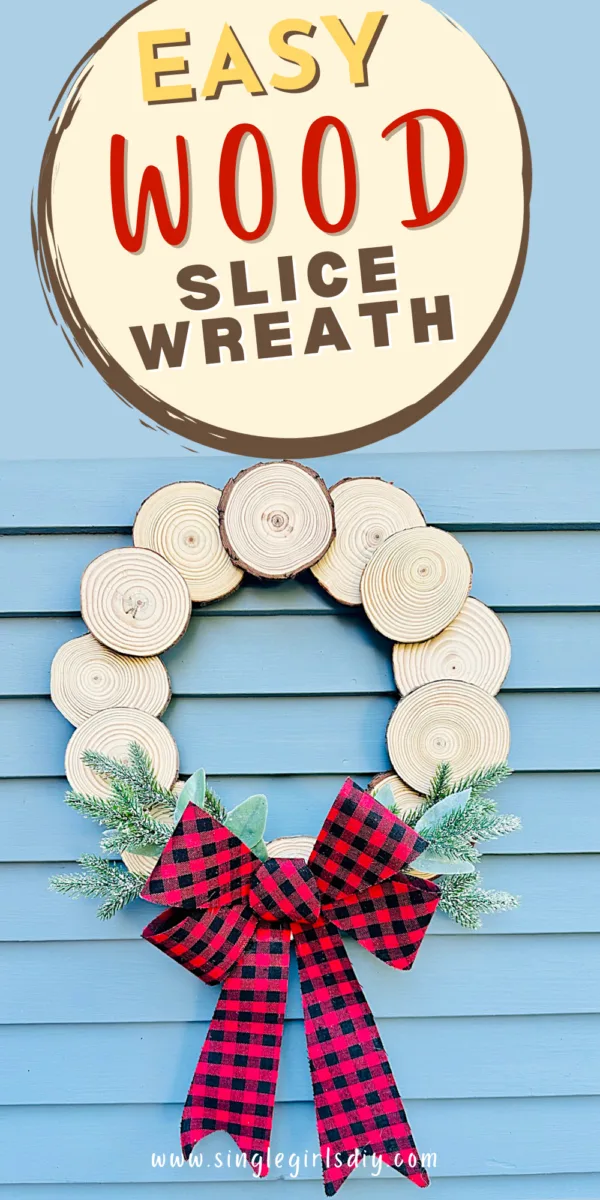 How to Make a Wood Slice Wreath
Materials
Wood Slice Rounds, 3.5"-4" (I used 12 slices)
Hot Glue Gun
14 inch Wire Wreath Form
Faux Pine Branch Pieces
Greenery (I used a few faux Lamb's Ear leaves)
Wired Ribbon or Pre-Made Ribbon Bow
Instructions
Step 1
Lay out your wood slices on the wreath form to get an idea of how to glue them. You will want to layer some slices on top of others.
As you can see, I used 12 round wood slices. I didn't think that it would be easy to add another one to the wreath form with the space. Also, I didn't need the wreath form to be completely covered on the bottom because the large bow would be covering the gaps.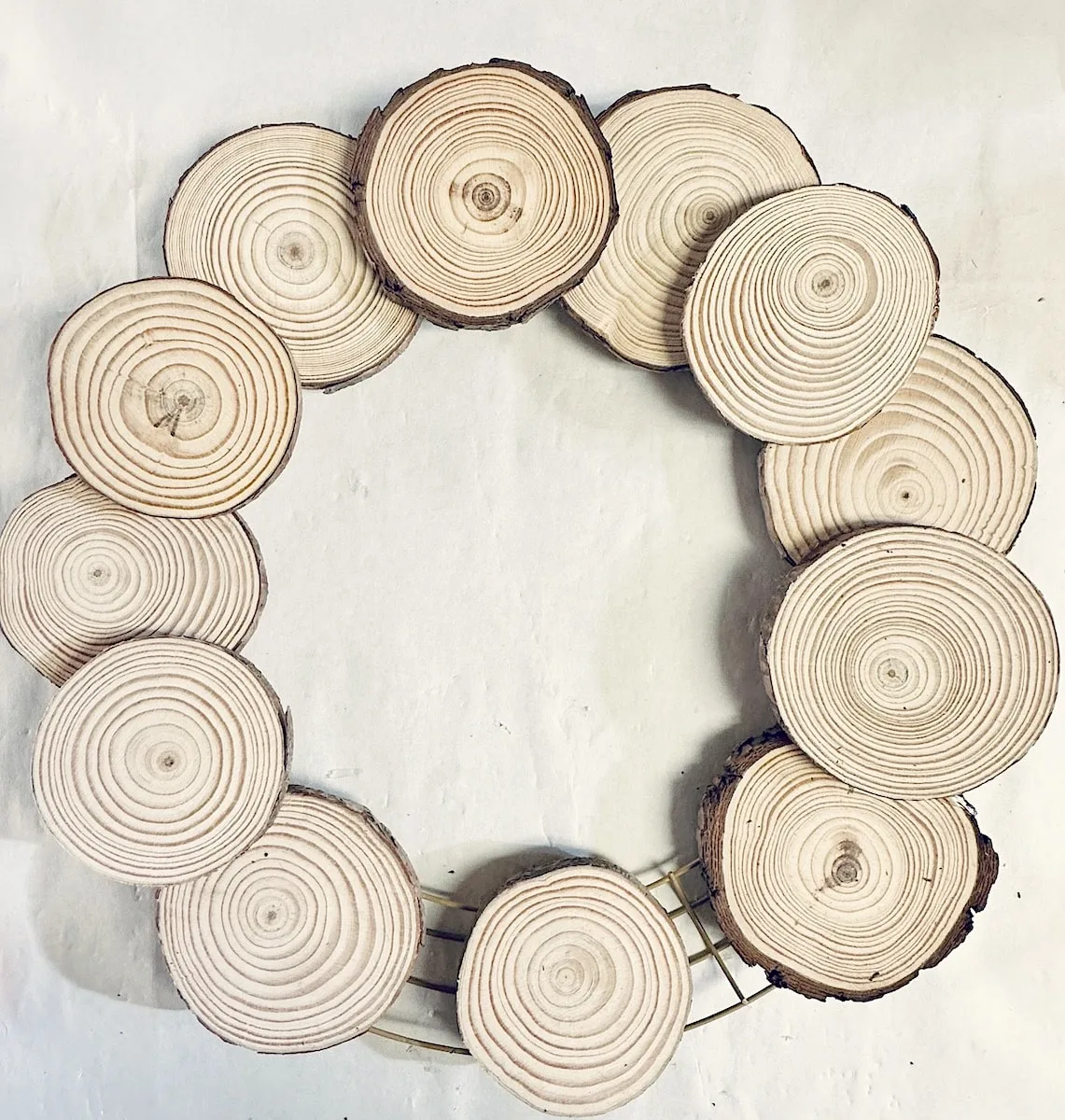 Step 2
Once you have decided on the arrangement, start to hot glue the wood slices to the wreath.
Begin with the bottom layer and add glue to the wreath while pressing the wood round firmly until it is attached securely.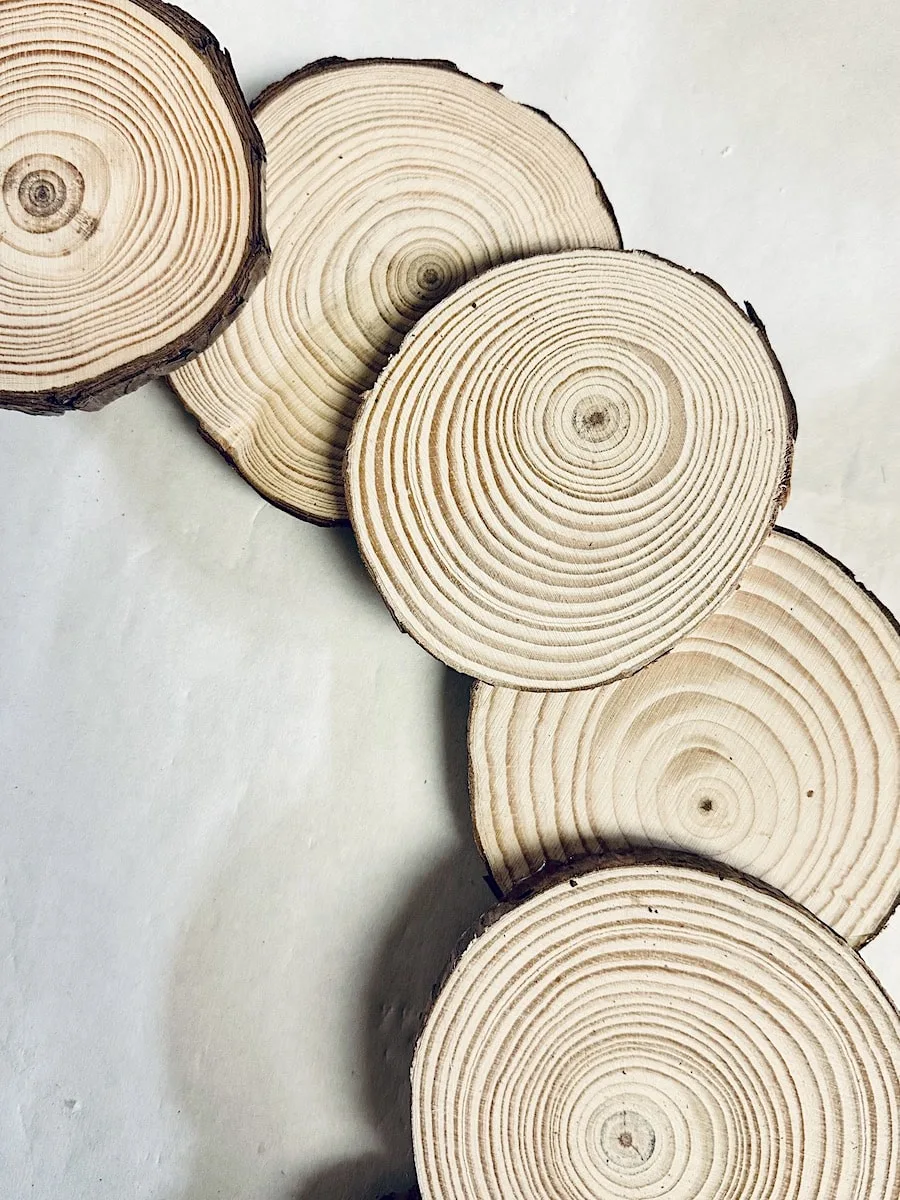 Repeat this process until you have completely covered the wreath.
For the layered wood slices on top of the base wood rounds, secure the piece with hot glue to the wood slices underneath.
Step 3
Now, lay out the greenery and bow, getting an idea of where you want to glue them. Either use a pre-made bow or use wired ribbon to make a bow for a wreath.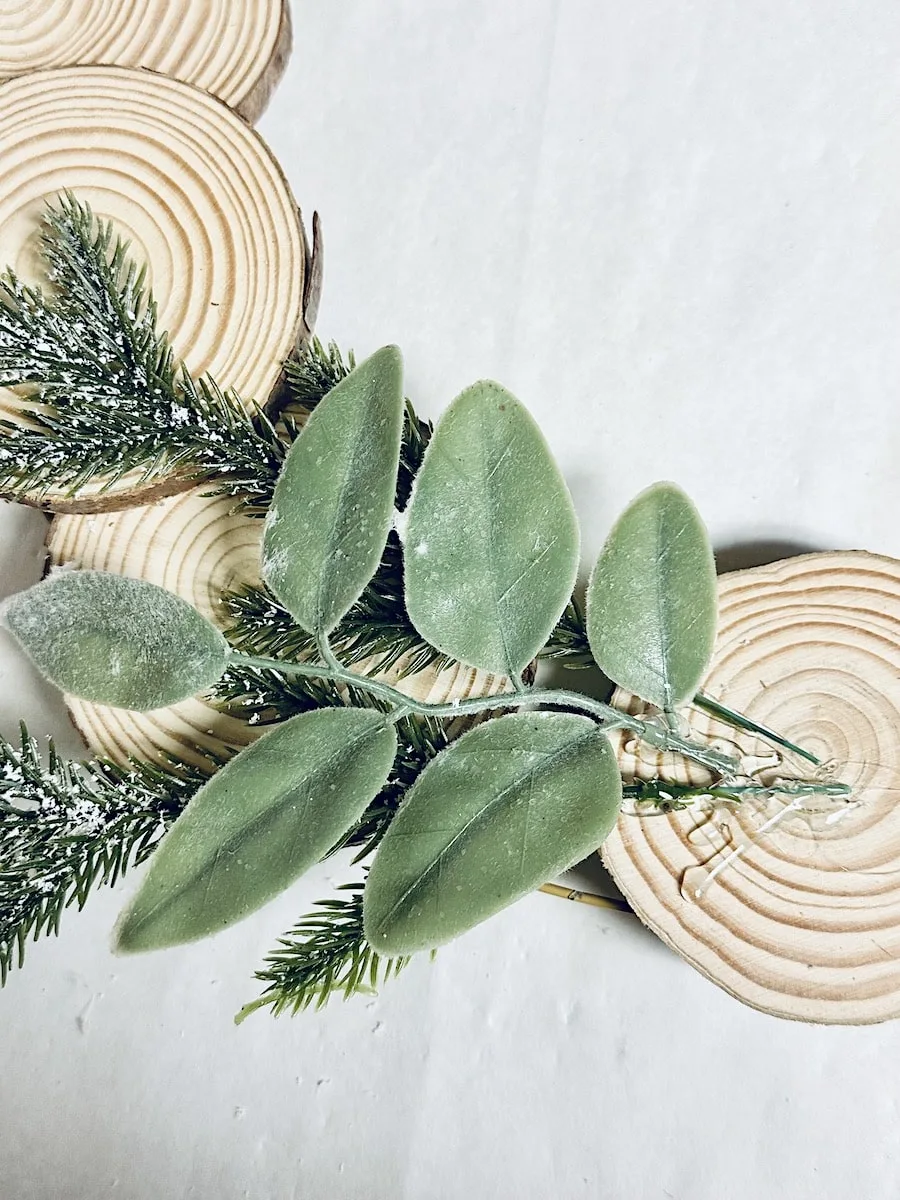 Once you have decided the placement, glue the greenery down first, directly on the wood slices.
Then, glue the bow over the greenery stems.
Or, if your bow has a twist tie, you can tie it to the wreath form.
Want to save this Wood Slice Wreath tutorial for later? Be sure to Pin It to your Christmas or Wreath boards!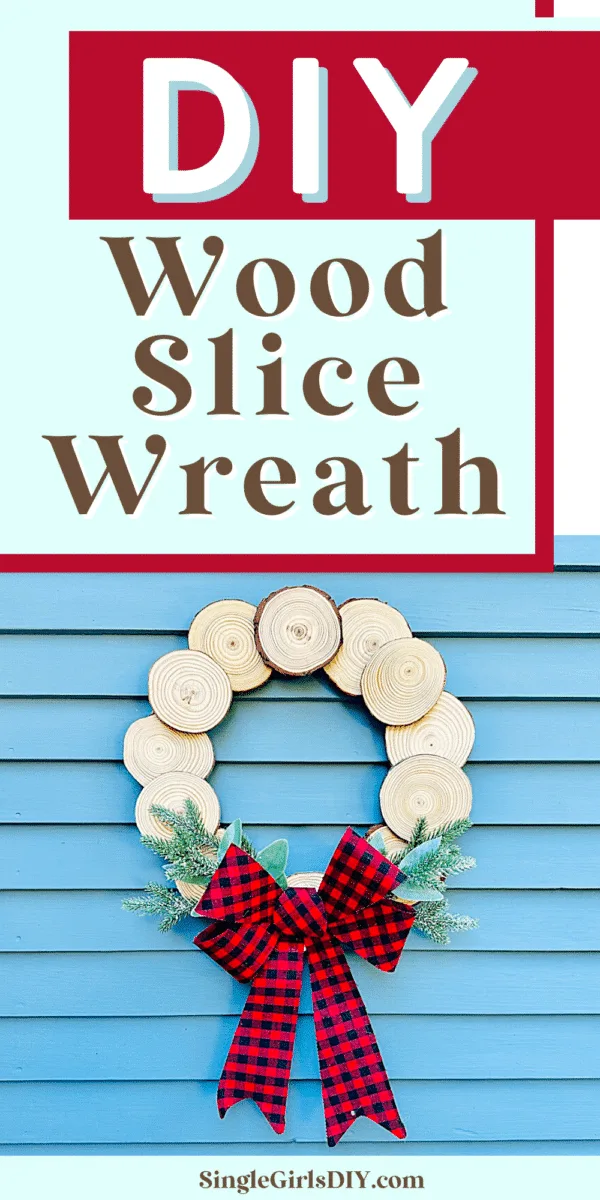 Be sure to see more of our fun Christmas crafts!