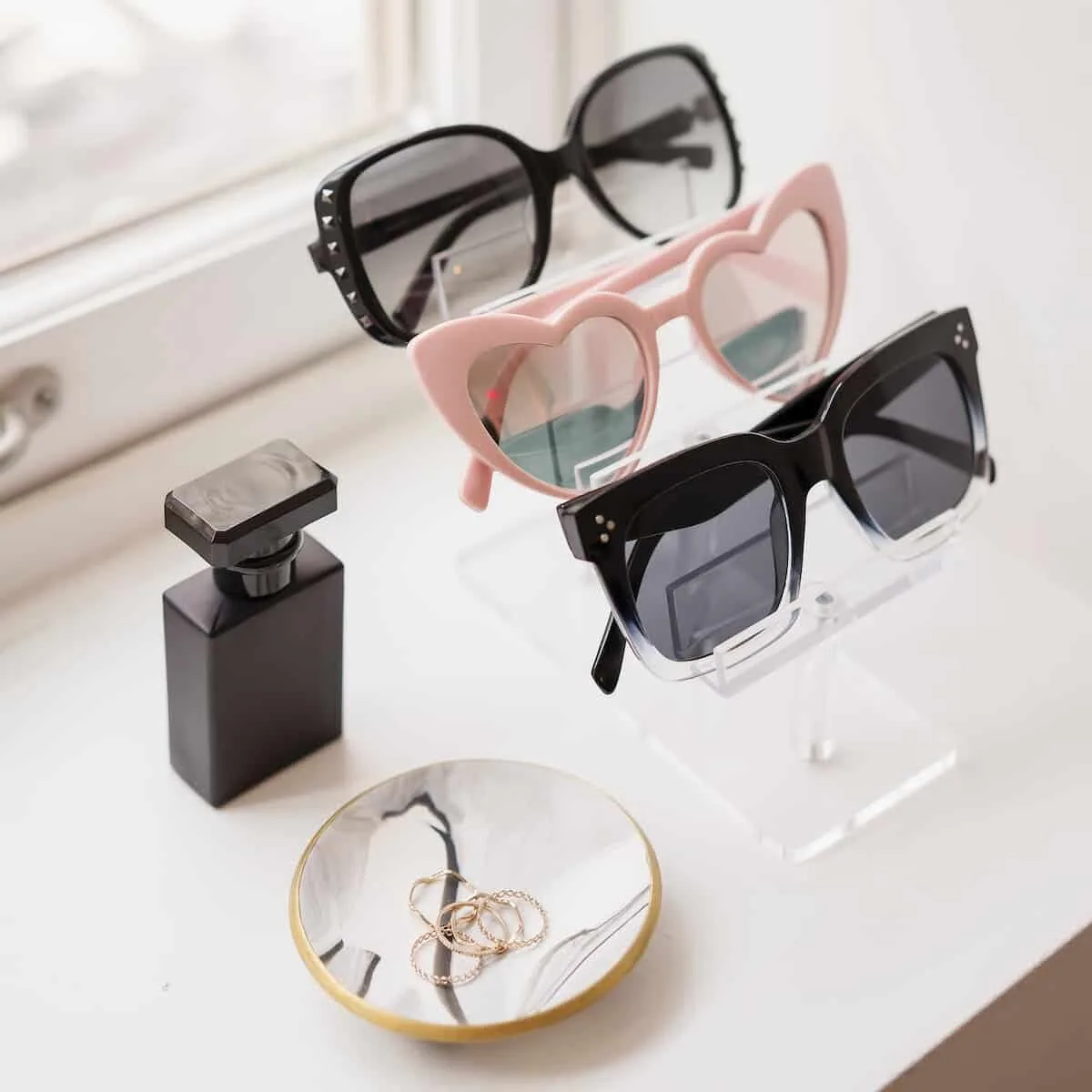 Wondering how to store your jewelry? I had the same problem, too, for years. I would get so frustrated trying to find a pair of earrings or having all of my accessories in different spots around the room. Until I finally just took a few minutes to look at the best ways to store jewelry and decide to indulge myself with some proper organization for my pretty things.
There are a variety of simple, inexpensive and easy ways to store your jewelry. It's all about just choosing one thing to try and getting it. Below I've put some cute ways to store individual types of jewelry. But first I want to tell you about my favorite find (and how I store my jewelry now).
If you love to see beautiful jewelry on display, then check out how to make resin jewelry. Each piece is like a work of art!
Jewelry Cabinet
I didn't even know a jewelry organizer was a thing until I saw it on Amazon. Makes sense as these jewelry armoires are too big for most stores to have in their accessories aisle. But once I saw it, I KNEW this was the answer I was searching for all these years.
After having it in my cart for months on end, finally I bought this jewelry armoire organizer with a mirror and lockable doors (they're not even that expensive). And I'm SO GLAD that I did! It's totally worth it.
Inside this jewelry cabinet is room to put all of your accessories: earrings, bracelets, necklaces, rings, hair accessories, sunglasses, etc. There literally is room for everything. In fact, I have extra room available (which is nice)!
We hung my jewelry armoire on the wall because it made sense in my bedroom. However, there is a handy over-the-door rack that comes with the organizer that is super simple to put together and easily hangs over a bedroom door or closet door.
If you don't have room to hang on the door or wall, or just want something that holds less jewelry, I highly suggest a hanging jewelry organizer for the closet such as this one. (If it's under $15, grab one now! You will love it!)
My aunt made me one similar to this for college, and I've used it for over 20 years. I just outgrew the storage capability a decade ago!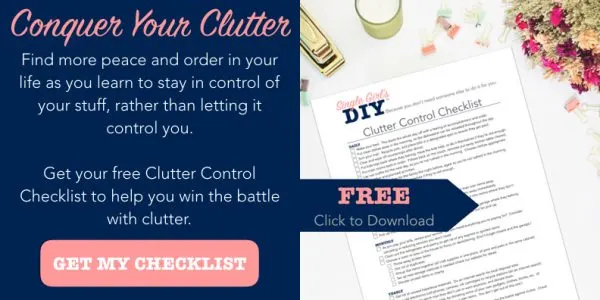 Cute Ways to Store Earrings
Since jewelry is so pretty, you often want to have it on display to look at. Like artwork, which it really is!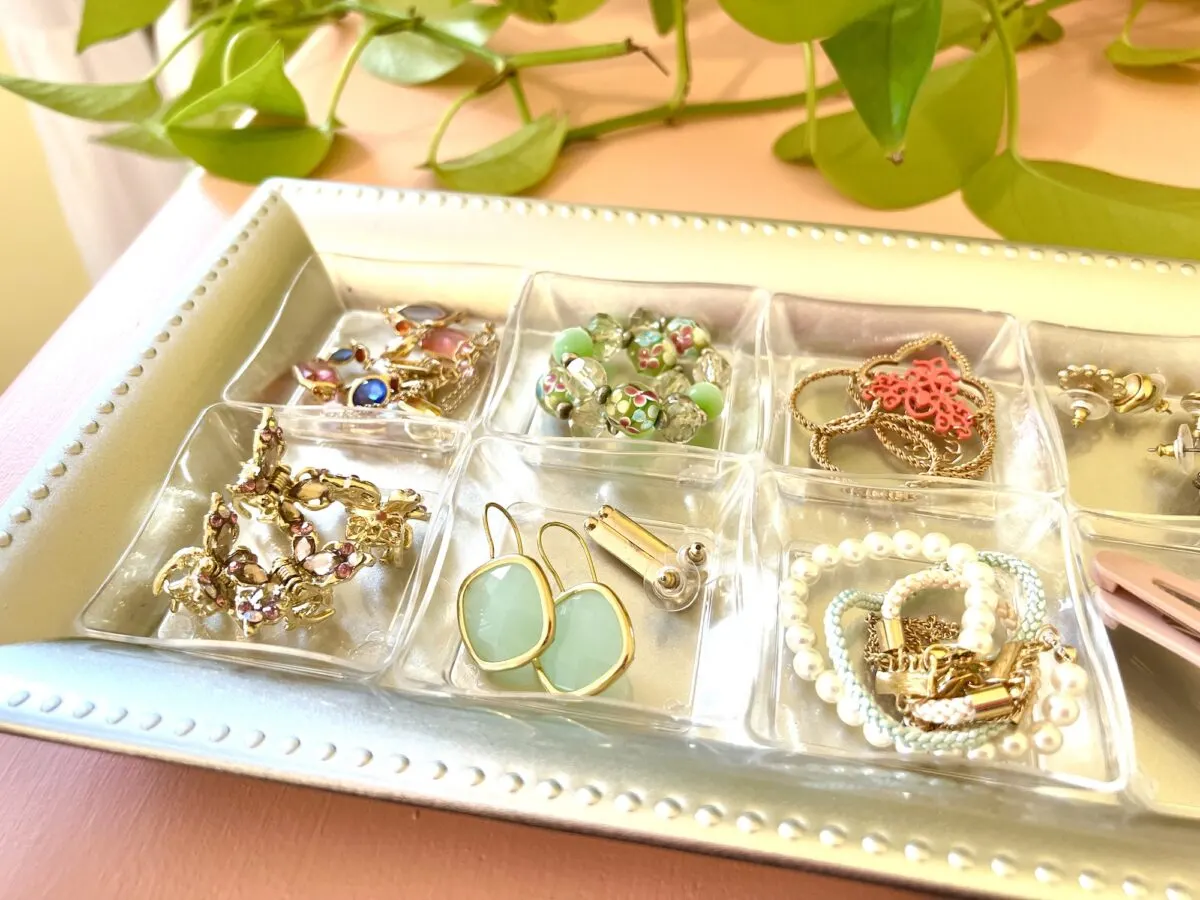 I made this easy jewelry organizer tray which is perfect for storing lots of earrings, as well as other accessories. It's made from Dollar Tree supplies, so it cost under $3. It's perfect if you don't need your earrings to hang from your organizer.
Jewelry stands are among the best ways to stylishly store lots of earrings and have them on display. They are perfect for putting on top of a dresser. Or on a shelf in a closet. This earring stand is made only for earrings – both stud earrings and dangling earrings. It's beautiful and you can see what you have all at once.
I also love jewelry boxes made specifically for earrings such as this earring box. It easily tucks into a drawer. You can see everything via the see-through lid, but you don't necessarily have to display them.
If you don't want to buy organizers specifically for earrings, here are some thrifty ways to store them: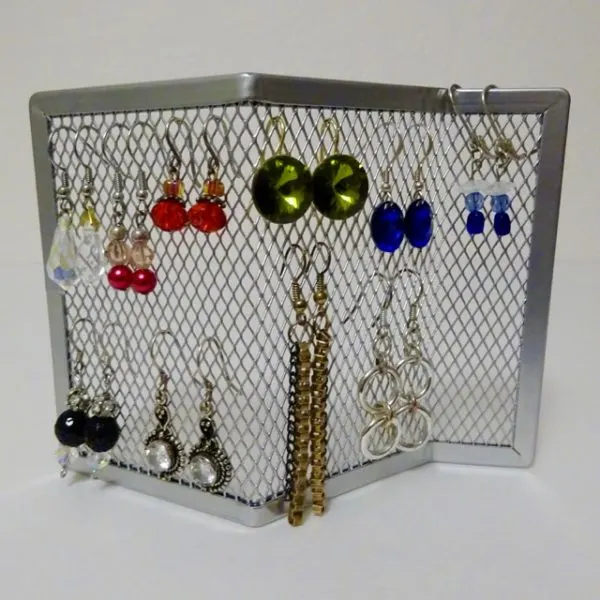 Earrings with hooked backs can be tricky to store, and they tend to just end up in a pile. But check out my dollar store find! This wire mesh used to be a business card holder. By stretching it out a little bit, it becomes the perfect way to store dangly earrings. It even stands up on its own.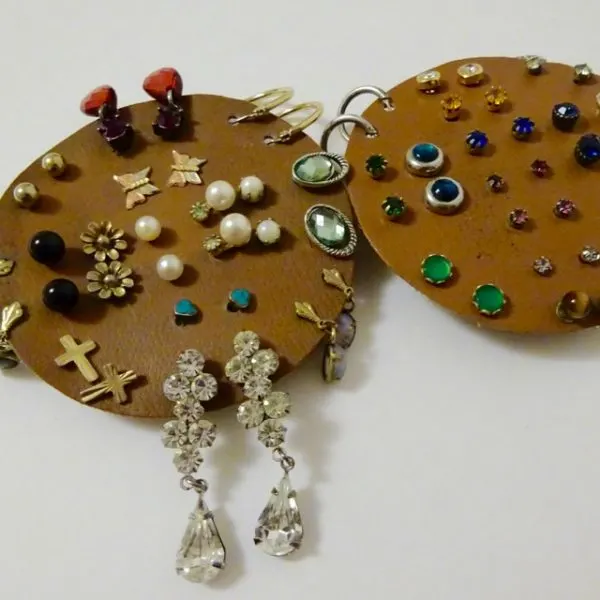 For studs, cards with small holes punched in them are a great solution.
How to Store Bangle Bracelets
Those big, thick bangle bracelets make a statement – and a problem with keeping them stored. They're awkward to store since they want to roll everywhere. So invest in an organizer specifically made for them. You'll want something with bars that can be removed, yet are easy to slide the bangle on.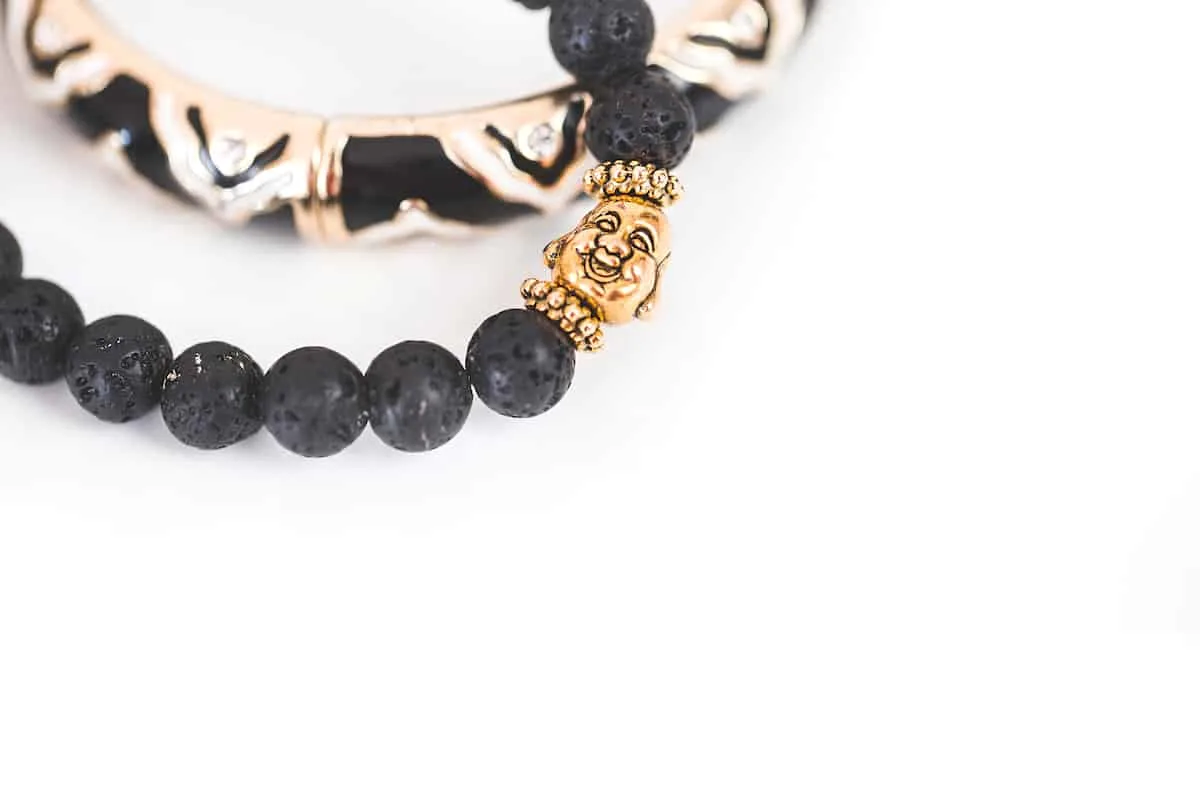 I love this wood 4-tier bracelet holder. Not only is it farmhouse-chic, but it makes your bangle bracelets a work of art. It's a perfect blend of modern and rustic when you store metal bracelets on it against the dark stained wood. Beautiful!
Of course, there are plenty of other types of bangle bracelet holders, from simple and classic to modern and acrylic. There truly is cute storage no matter what your aesthetic is.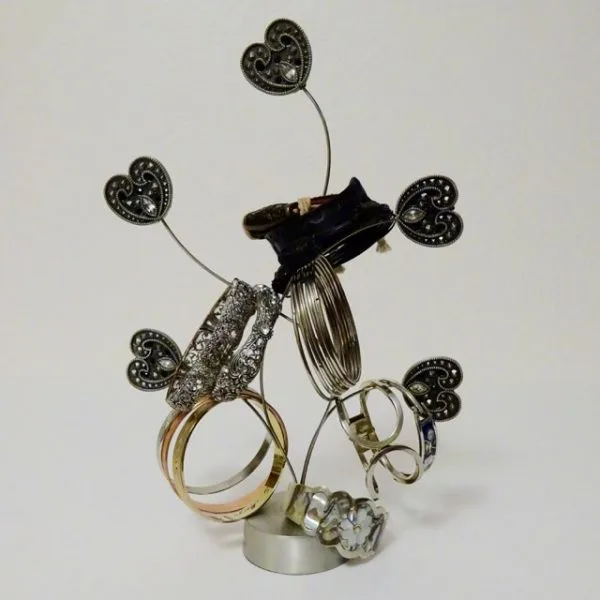 Here's a budget friendly way to store bracelets: Keep them in place and create a pretty display with a stand. This little stand is actually intended to hold photos. But it's also perfect for bracelets.
If you'd like to lay out your bracelets instead of hanging them, this DIY felt valet tray is the perfect way to keep them organized so that you can see them.
How to Store Necklaces
Necklaces can be especially difficult to store since they can easily get tangled in a knotted mess. And I've spent lots of time trying to untangle a necklace before wearing it.
How you store your necklaces will depend on the types of necklaces you have. If you have a lot of dainty chains, you'll want a hanging necklace organizer so that they don't get knotted.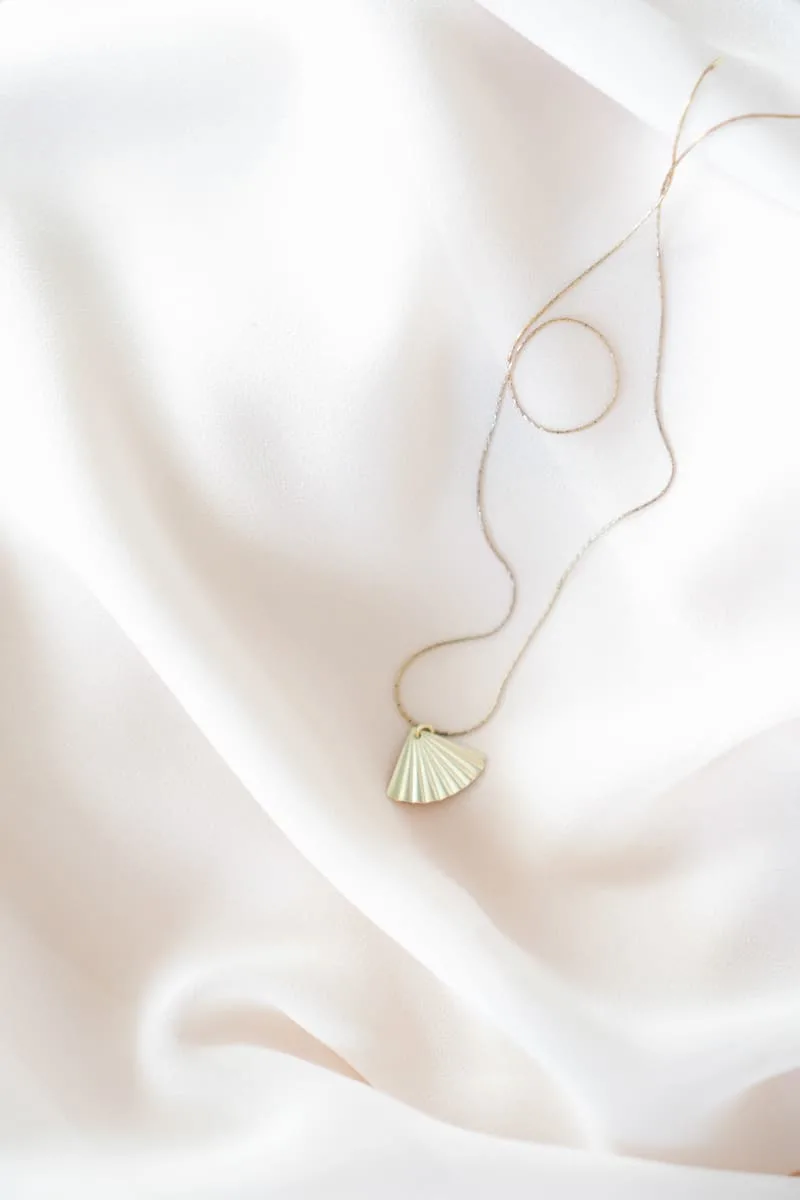 But you also need to know how long your necklaces are. If you like the long chains, then many necklace holders just won't make sense for you. They are usually for smaller necklaces, such as chokers or ones that don't hang down.
For longer necklaces, I've found that installing small coat racks on the wall behind my bedroom door is the easiest way to store them. You could even just add individual hooks instead of a rack. Command Hooks work great for this, and are easily removable. Once I hung them this way, I didn't have a problem with them getting knotted up and tangled.
If you have chunky necklaces that are unlikely to get tangled, a tray with compartments is a handy and compact way to store necklaces. You can also get more than one tray, and stack them for compact storage.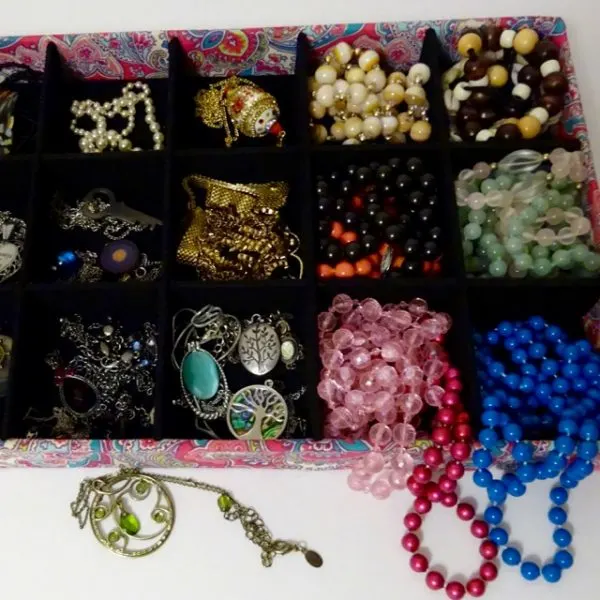 Ring Storage
It's pretty easy to store rings. You don't need a lot of space, either. Ring stands are a standard way to keep your rings displayed and organized.
You can add some extra personality to your jewelry storage with a fun ring holder. They come in all shapes and sizes and add personality to your room. Buy one that makes you smile and display it on your dresser or shelf.
Or consider making this DIY jewelry trinket dish to hold your rings.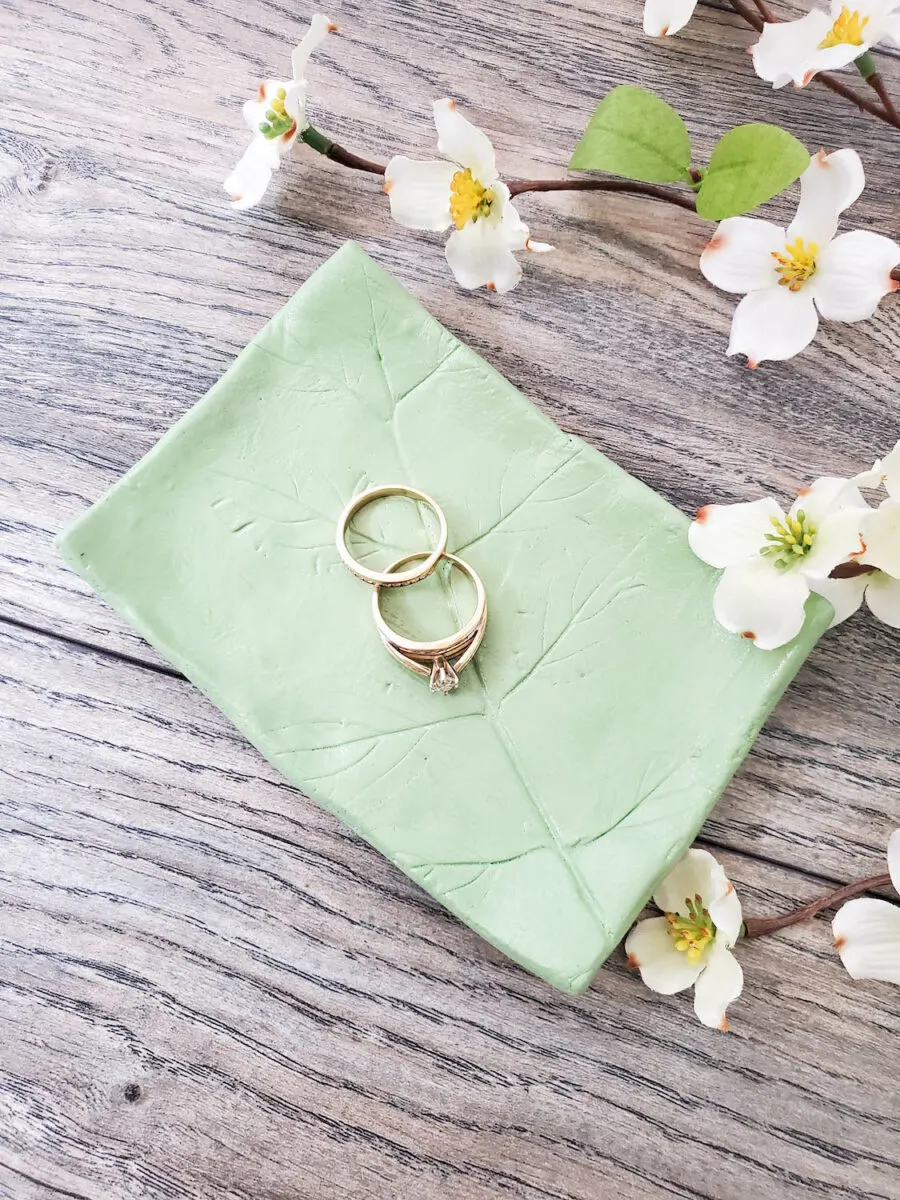 For a lot of rings, my easy DIY foam ring holder is a pretty way to keep them stored. Plus, it is nice to display like a piece of art!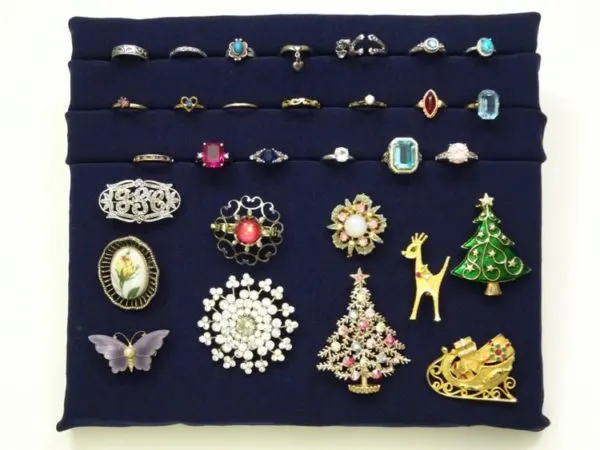 Where to Use These Organizers
There are lots of ways to hide or display your jewelry organizers. No matter whether you have lots of space or no space at all, you can still keep your jewelry organized.
Hiding the organizers in a drawer is a great idea if you don't want them on display. Any drawer will work, including a nightstand drawer.
Also, consider adding storage under or over clothes in your dresser. For instance, place an earring box on top of the sweaters in your dresser drawer during the summer. That way you don't waste space and are not hassled having to remove it to get clothes out.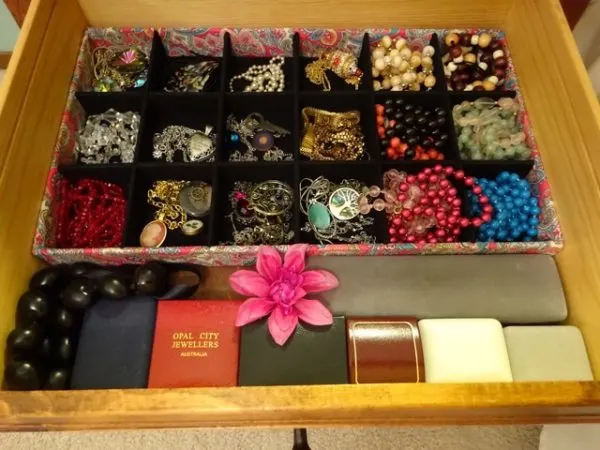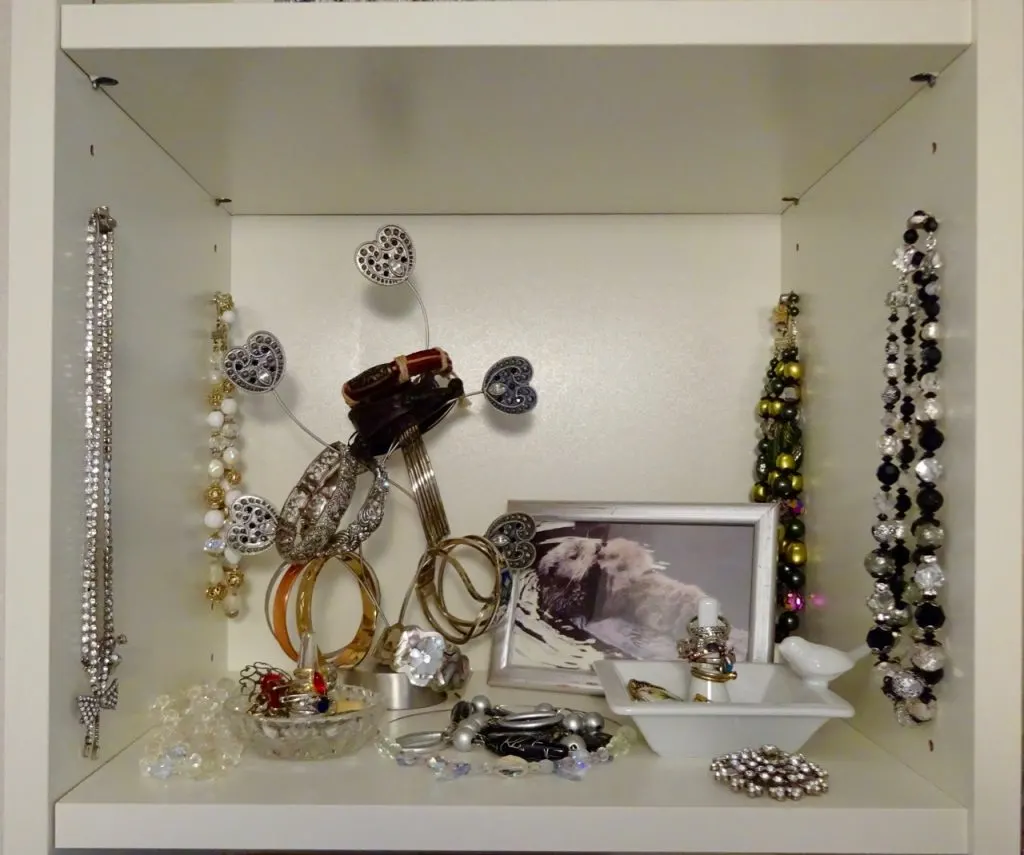 A cubby in the closet becomes a pretty vignette when you keep all of your pieces together. This would also work well on the top of a dresser. I added a fun photo in a shiny frame, to add a little more personality to my display.
Using organizers in the closet or on top of dressers is a great way to keep jewelry close to where you get ready. Or put them in a bathroom that doesn't have a shower or tub (you wouldn't want the steam and condensation to ruin costume jewelry).
Behind doors is always a smart idea for hidden storage, too.
Wondering how to organize your accessories, such as hats, gloves or scarves? Then check out our tips for how to keep accessories organized.