Terrazzo is possibly one of the hottest "new" trends in home decor. Which is funny, because the material is super old. But everything old is new again, which is why you'll love these fun DIY terrazzo crafts!
I personally started to fall in love with Terrazzo when I found a 4-pack of these coasters on clearance at Target. They weren't my style at the time, but for $5, I knew I wanted them.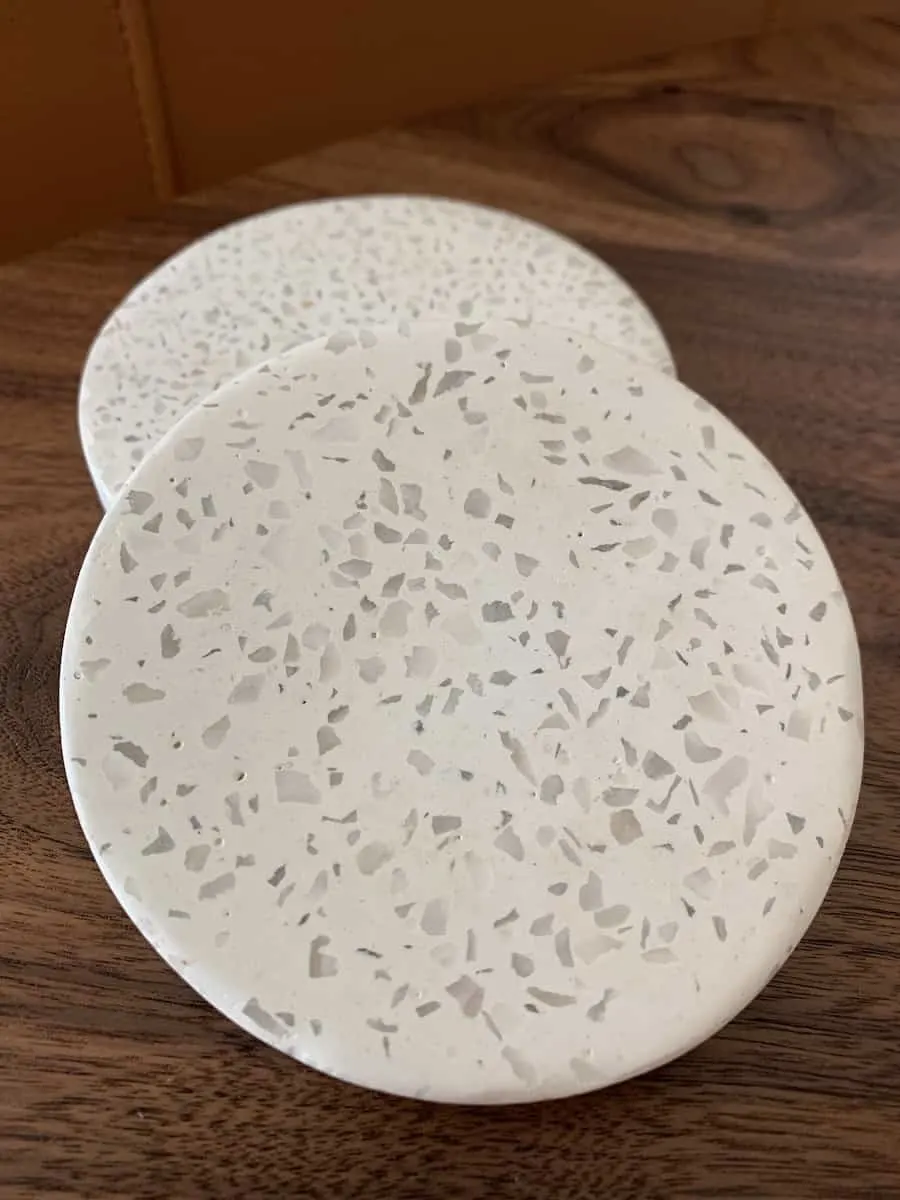 Fast forward a few years and now I'm thinking about using the design everywhere. In fact, I even have some terrazzo fabric I'm considering using on throw pillows. (This is the style that I bought.)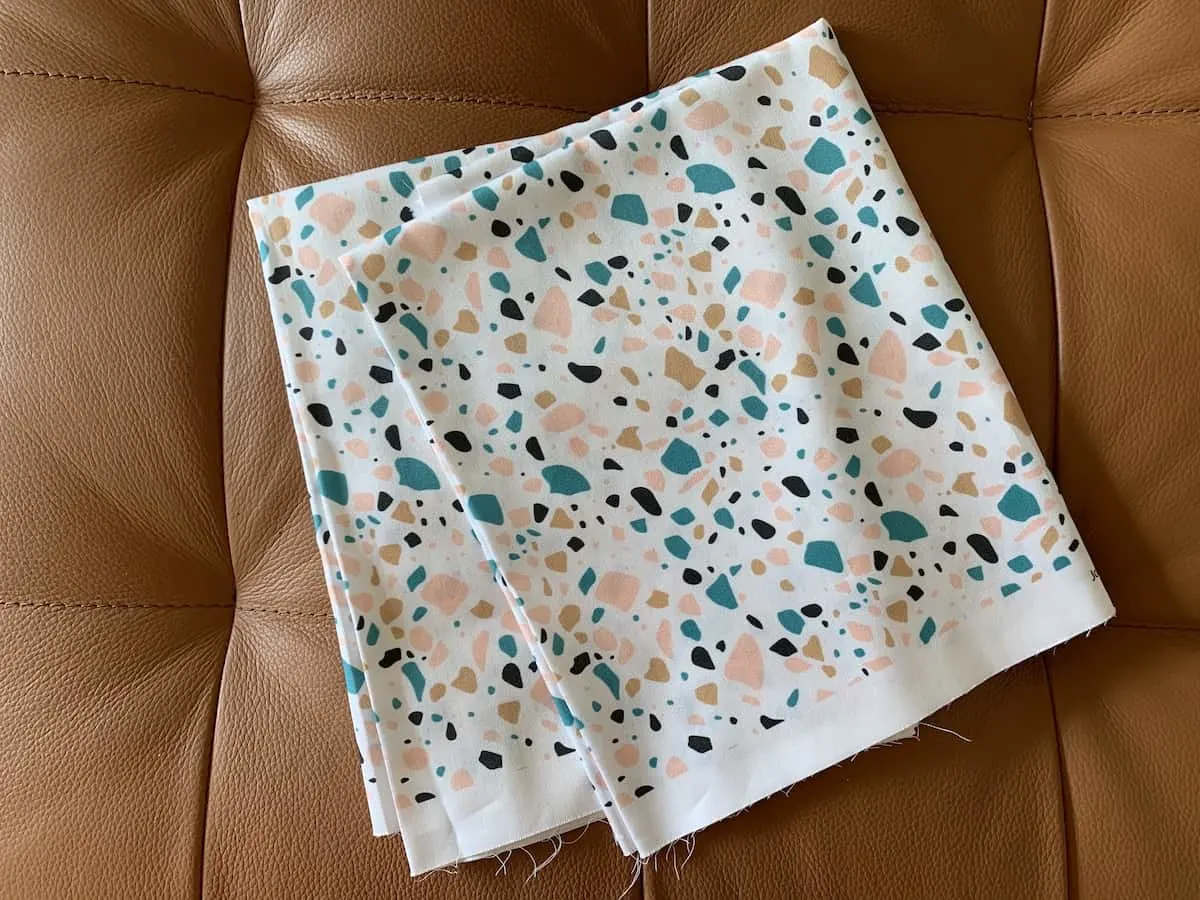 What is Terrazzo?
Okay, so what is this thing called Terrazzo? It's a method of combining broken bits, such as marble, glass, quartz or porcelain, and then adding it to concrete. Once it is polished smooth, it has this wonderful colorful confetti look to it.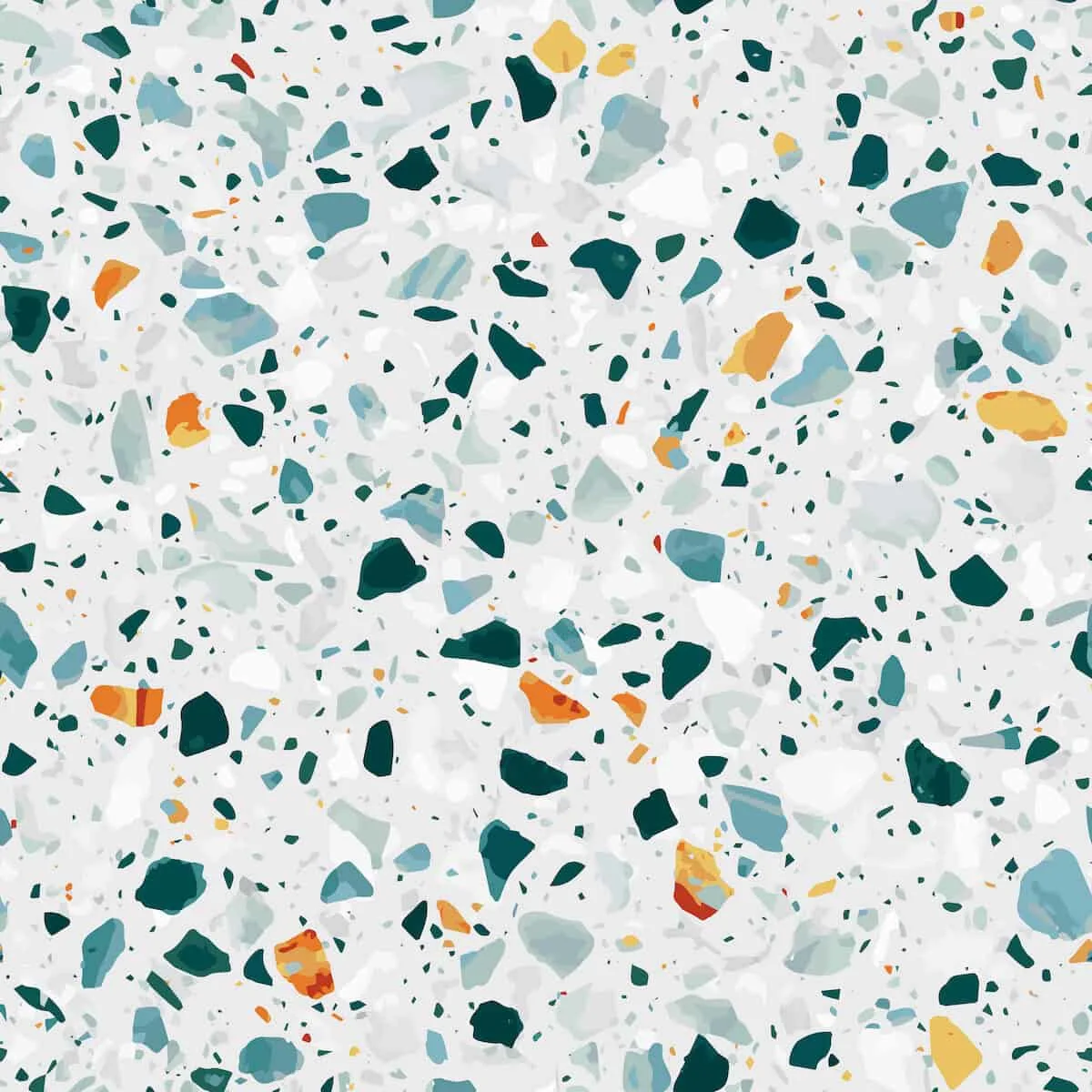 It's eco-friendly, too. Because bits of materials that otherwise can't be used can be combined into beautiful terrazzo.
Usually it was used in flooring and countertops. And that's where you'll still find it. A lot of old terrazzo still is in great shape in older homes, schools and industrial buildings. In fact, all it usually needs is some polishing and it looks like new!
But today, terrazzo texture is starting to be used in a variety of home decor designs where the actual heavy concrete stuff would never work. (Like these amazing upholstered terrazzo dining room chairs.)
The workers in Venice first started this process hundreds of years ago. They needed a way to use up their bits of broken marble. And voila! Terrazzo was born!
Terrazzo came to America in the late 1700s, and can be seen in George Washington's Mount Vernon home. But it wasn't until the early 1900s – specifically the Art Deco movement of the 1920s – where the design aesthetic really took off.
Oh, and those stars on the Hollywood Walk of Fame? They are made from terrazzo!
Terrazzo is somewhat symbolic of Art Deco and Mid-Century Modern design, and that's what it's making a comeback for home decor today.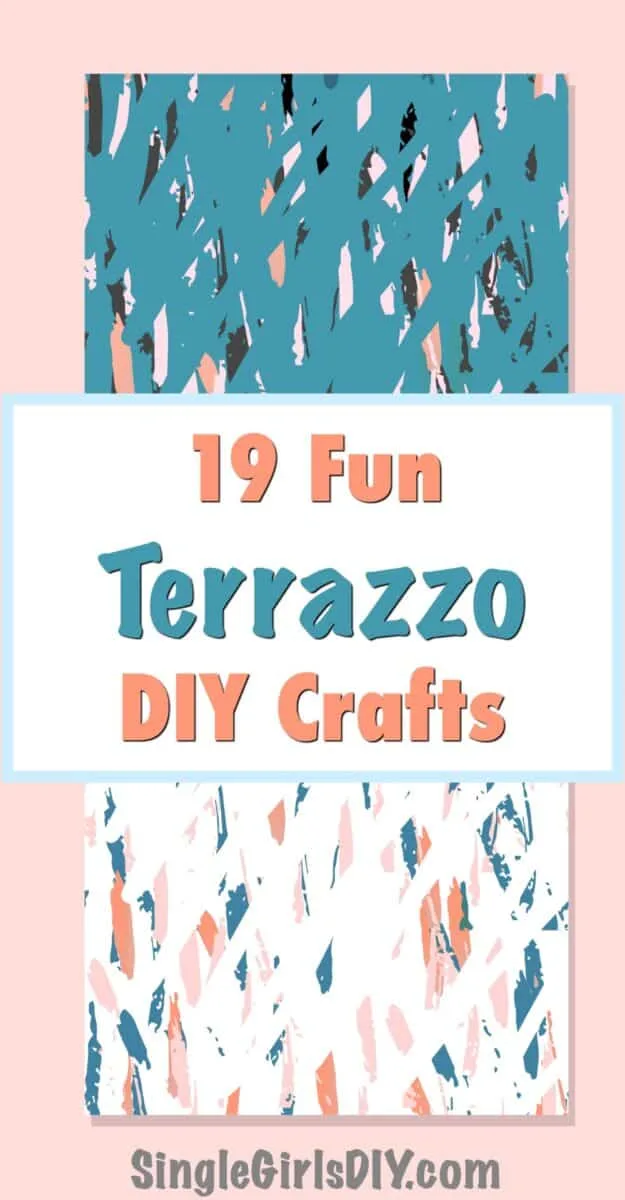 Easy Terrazzo DIY Projects
If you want to add a bit of this trend to your home decor, these are some simple craft projects that simulate Terrazzo. What's great about them is that you don't have to follow any rules when it comes to adding colors and patterns. Whatever you do works! Terrazzo is like confetti – there's no rhyme or reason to it and you can never have enough!
1. DIY Terrazzo Coasters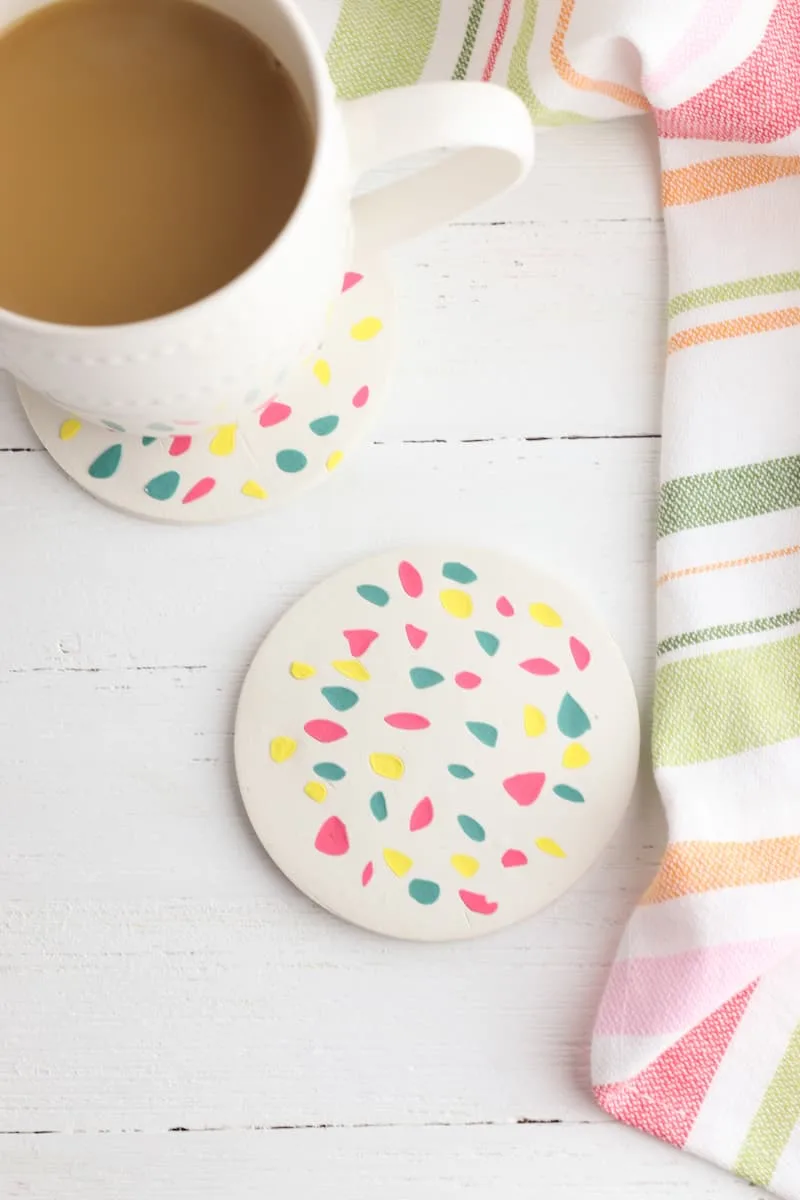 Our tutorial for making terrazzo coasters couldn't be easier! Just use clay that bakes in your oven.
2. Cheese Knives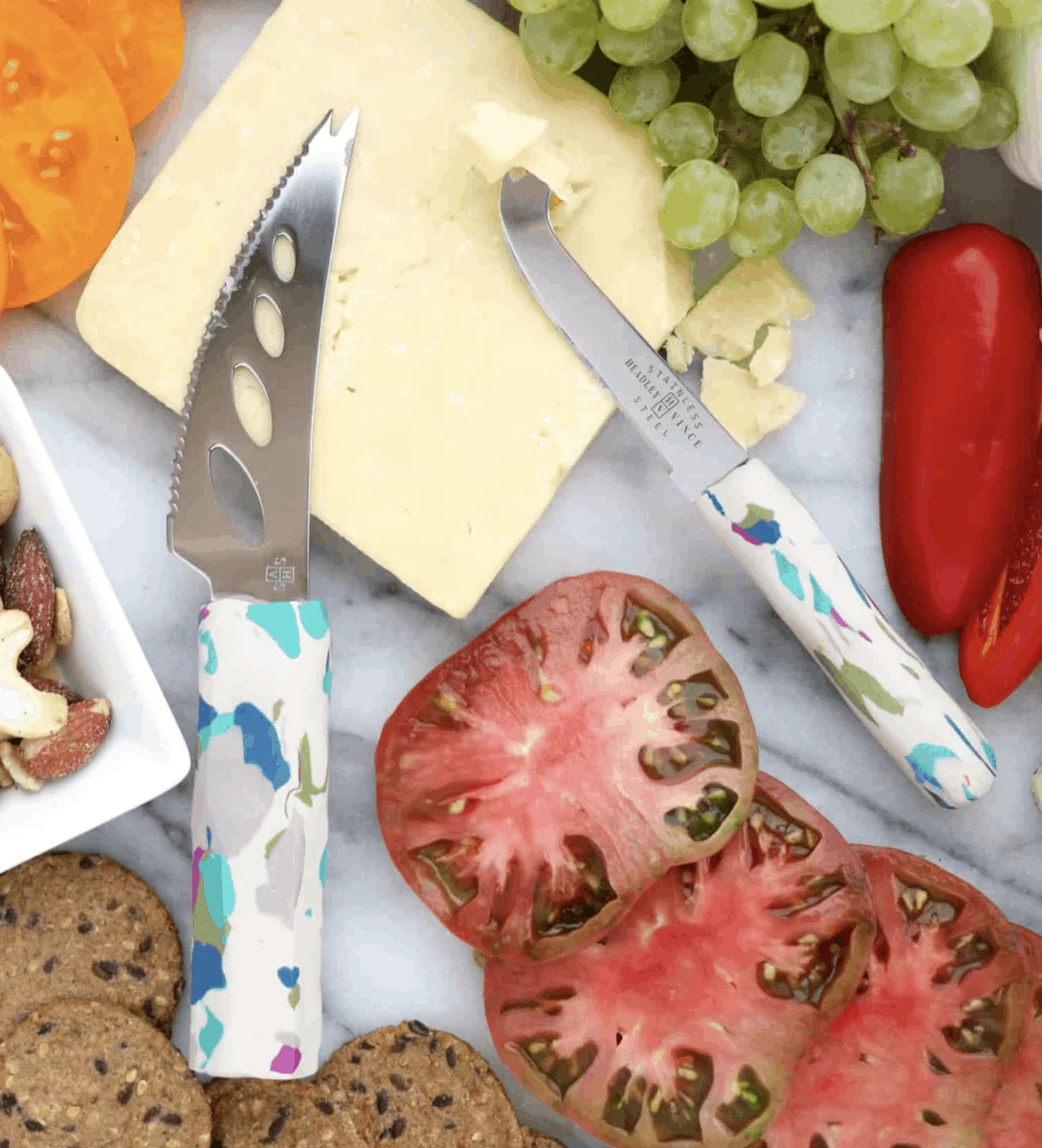 Using polymer clay to make a colorful design, these DIY Terrazzo Cheese Knives from A Beautiful Mess are great for your next party! They are also thoughtful hostess gifts!
3. Soaps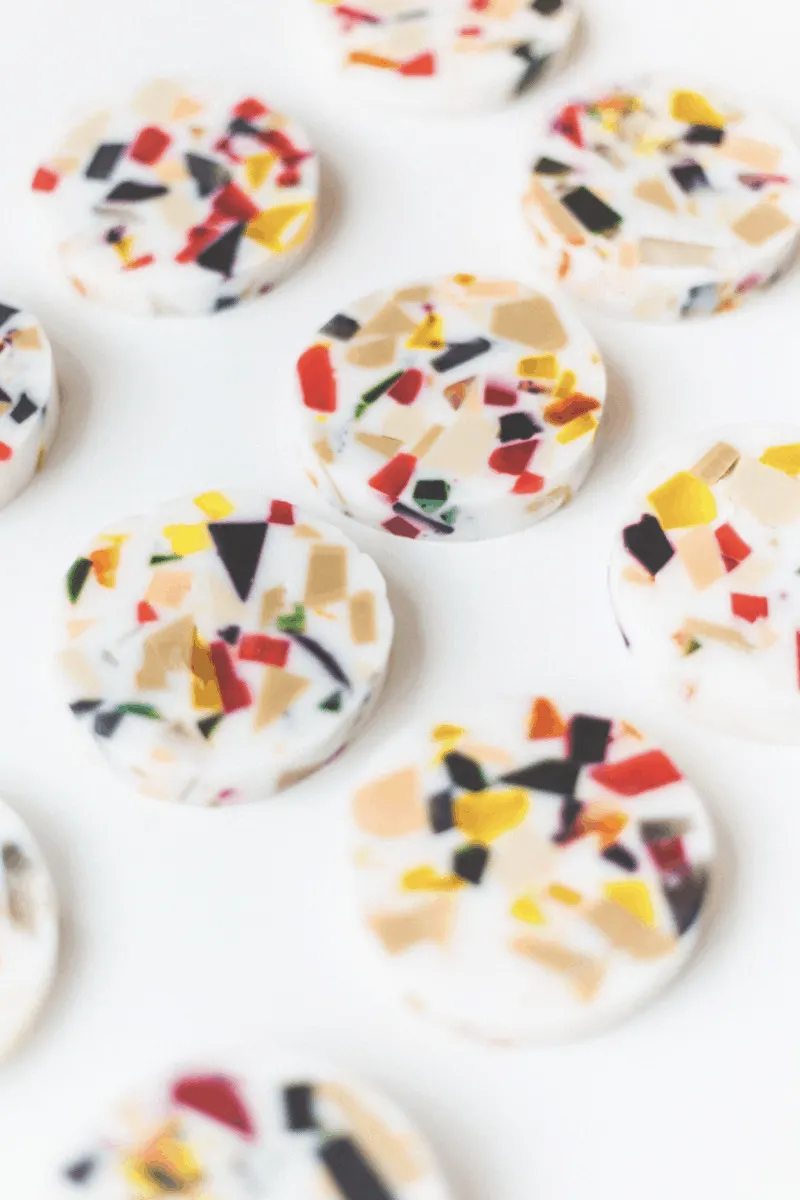 I'm loving how simple these Terrazzo Style Slice Soaps from Fall For DIY are to make. Using just melt and pour soap, it couldn't be easier to make these stylish soaps that will look great in your guest bathroom!
4. Wall Hanging
Combining mid-century modern and boho designs, this Terrazzo Tile Wall Hanging will look great on your wall! Visit Idle Hands Awake for the entire tutorial.
5. Book Ends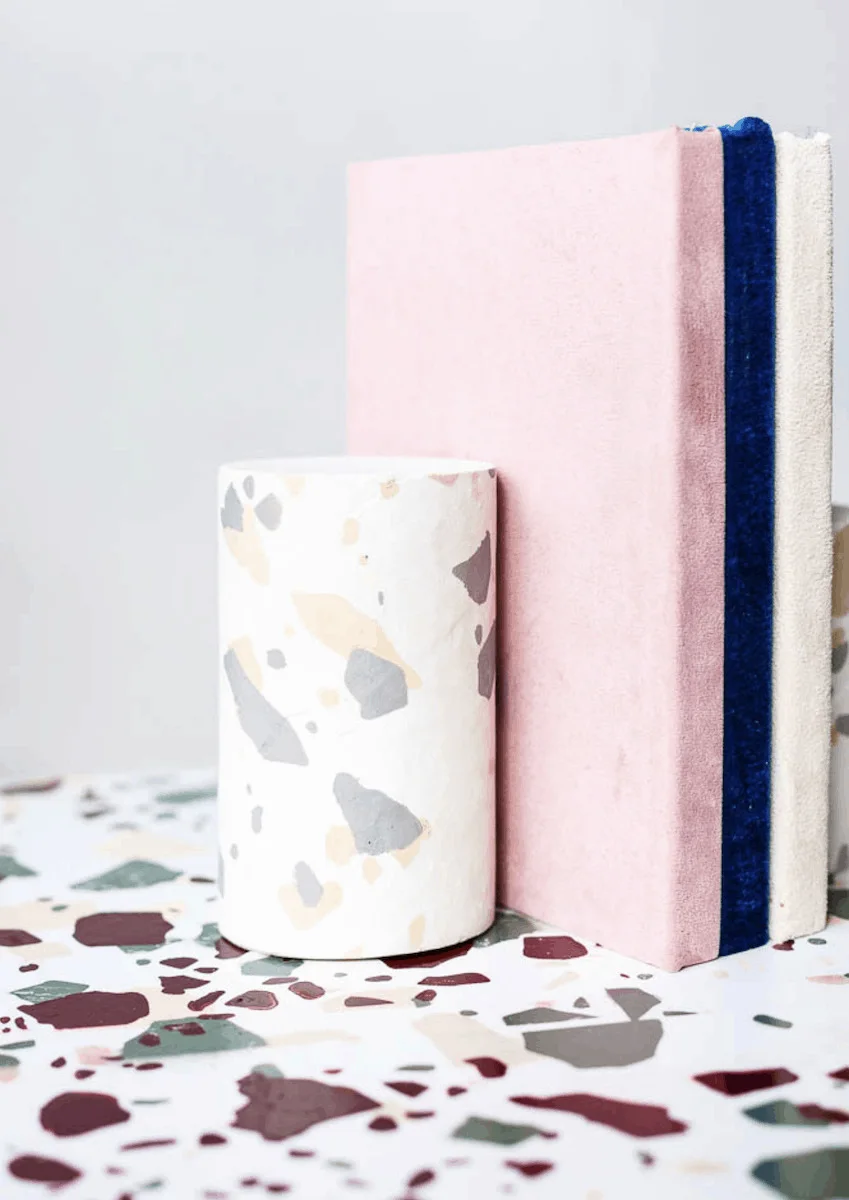 These mid-century modern Terrazzo Concrete Book Ends are perfect for styling bookcases and shelves. The easy tutorial from Fall For DIY uses concrete and spray paint to effortlessly create this high end look on a dime.
6. Terrazzo Ornaments
These Terrazzo Tile Ornaments from Idle Hands Awake certainly look great on a Christmas tree. But we say they would work all year round! Consider hanging them in a window, or adding one to a door handle or closet door knob. It adds a little bit of extra design flair to some overlooked places.
7. Terrazzo Planter
Upcycle an IKEA glass vase into this pretty Terrazzo Tile Inspired Planter from Enthralling Gumption.
8. Clay Incense Holder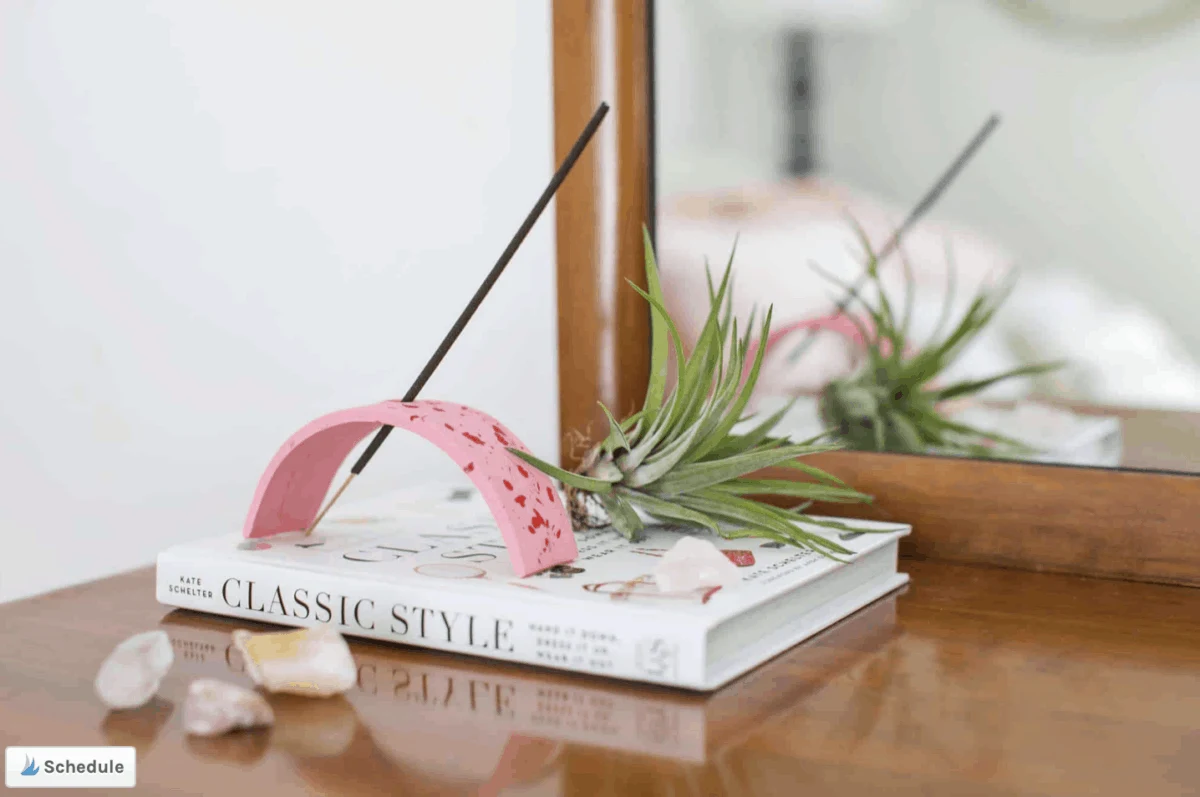 This unusual Clay Incense Holder from A Beautiful Mess definitely makes a style statement. Not only does it add a pop of unusual color to your room, but you can also use it to add soothing fragrance. Perfect for a bedroom!
9. Chocolate Bars
Edible Terrazzo? Sounds strange, but it's actually beautiful! Check out these colorful Terrazzo Chocolate Bars from Aww Sam. They are super easy to make!
10. Terrazzo Tile
Make your own DIY Terrazzo Tile with this simple tutorial from Enthralling Gumption.
11. Cat House
If you think your cat needs a fun and funky place to hide from humans and plot their demise, this Terrazzo Inspired Cat House from Delicious and DIY is the perfect upcycle of a cardboard box!
12. Terrazzo Wrapping Paper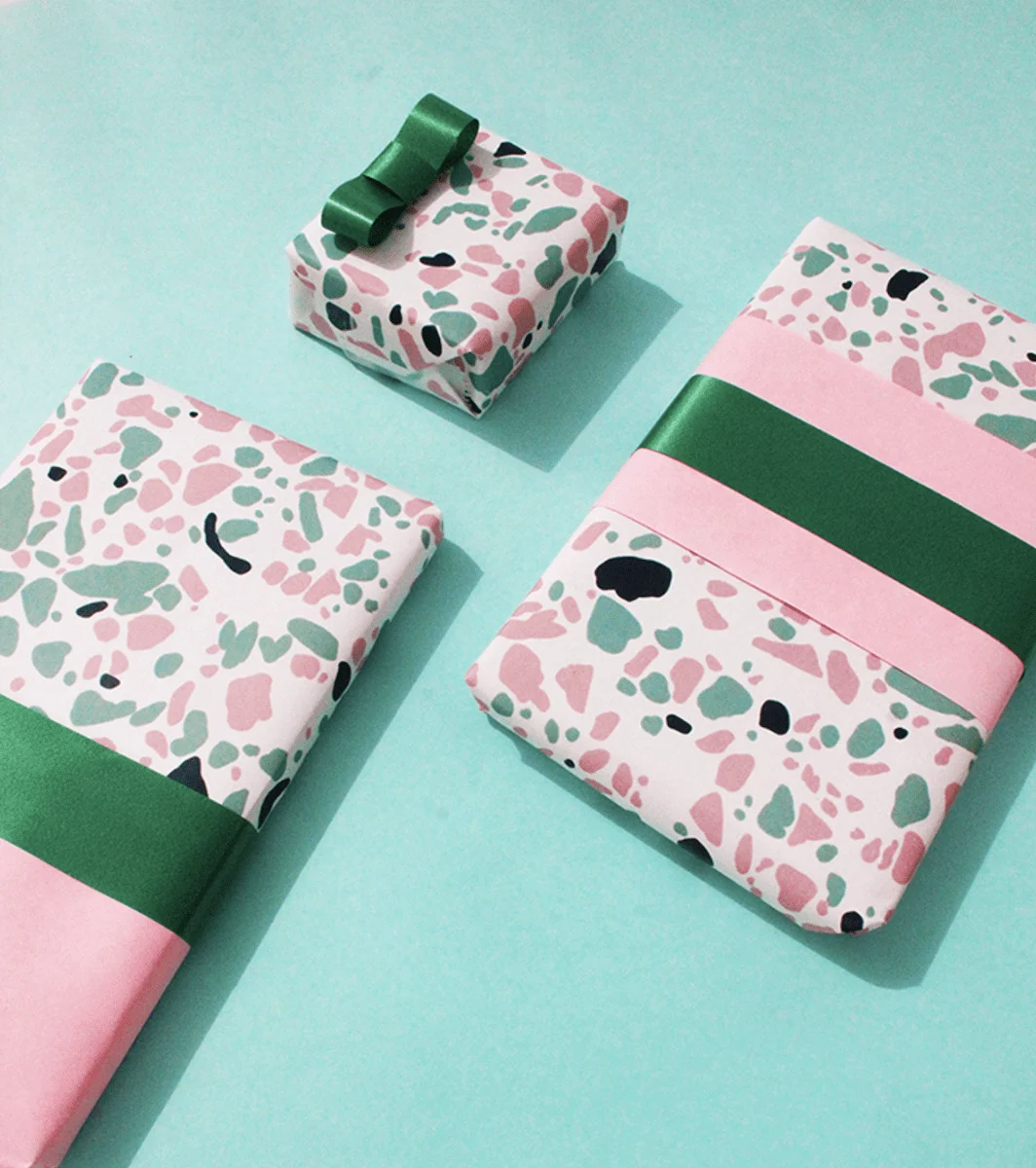 Download this fun Terrazzo Wrapping Paper design from The Craftables for the most stylish gift wrap. Great for design enthusiasts!
13. Notebooks
Jot down all of your design and DIY ideas in this simple Terrazzo Style Notebook from Enthralling Gumption. Super easy to make with paper products and paints.
14. Terrazzo Earrings
Unique and colorful, no one else will have earrings like you do when yo make these Terrazzo Clay Earrings found over on Bliss Makes.
15. Umbrella
Rainy days won't be so gloomy when you stay dry under this colorful Terrazzo Umbrella from A Kailo Chic Life. Super cute and easy to make!
16. Terrazzo Travel Wallet
If you just can't get enough of the trend in your life, then make this Terrazzo Wallet from CTRL + Curate. It will bring a smile to your face every time you bring out the credit card to buy more craft supplies!
17. Stylish Compact Mirror
Using an svg file and temporary tattoo paper (brilliant!), this Terrazzo Compact Mirror from Maritza Lisa is a fun craft that adds just a little bit more glam to your beauty routine.
18. Easter Eggs
Super bright and colorful, these DIY Terrazzo Easter Eggs from Club Crafted make a stylish display in the spring. Just nestle them in a bowl with grass and they're perfect to add to a tablescape or entryway table.
19. Jewelry Box
Looking so pretty on a dresser, this DIY Faux Terrazzo Jewelry Box from Pretty Life Girls is super simple to make. Though it resembles the concrete pattern, it's actually made from a wooden box!
20. Terrazzo Side Table
If you can't have a countertop, this Faux Terrazzo Table from The Sorry Girls might just be the next best thing. But make sure you watch their video below. They had several failed attempts before finding success in this tutorial.
Check out our craft projects for even more home decor inspiration!