Scarves, belts, hats, gloves and purses can be tricky to keep stored and organized. They're small and hard to fold or stack. But there ARE smart ways to tame the clutter! Here's my favorite ways how to keep accessories organized.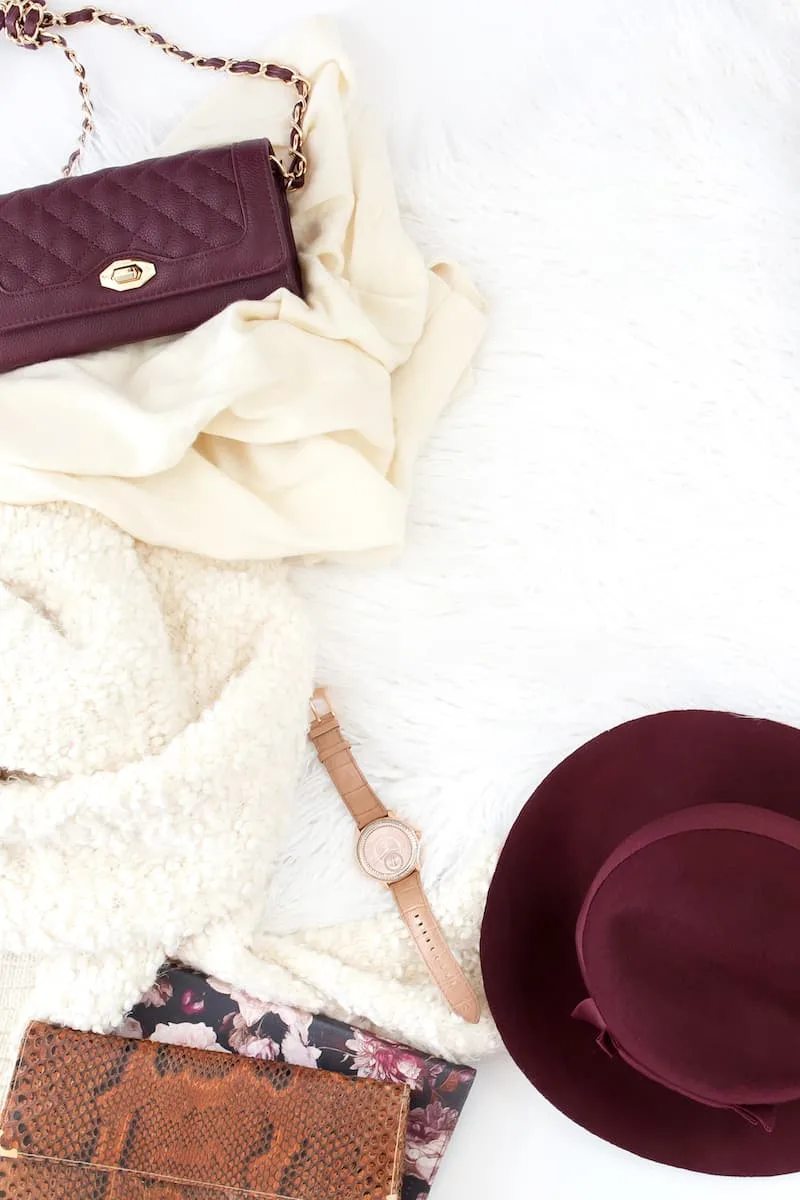 Creative Ways to Organize Belts
Belts can be a challenge to organize because they are so long. But there are many ways how to store belts that take up very little space in your closet.
Hanging Belt Hook
I've used a belt hook for years and love it. All of my belts easily slide onto the hanging half circle. It just takes a moment to pick the one I want and slide it off of the hook. (Don't be fooled by the image on the site. I store multiple belts on the same hook.)
If I had a lot more belts (and a little more closet rod space), then this hanging belt hook rack would work great, too. It's just a little larger than my slim-line half circle hook.
Pull Out Belt Racks
Of course, these options mean you need to remove the hanger from your closet or make enough room around the hanger to see what is on it. If you want a closet organizer that pulls out of the closet, this Rubbermaid belt holder attaches underneath wire shelving easily and pulls out easily to display belts away from your clothing rack. (I'm surprised at how inexpensive it is for such a smart solution.)
This Rev-A-Shelf option is better if you don't have wire shelves in your closet.
Roll Up Belts
If you have more surface space rather than hanging space, rolling up belts and storing on a shelf or in storage cubbies is an easy and budget-friendly way to keep belts organized.
Best Way to Store Scarves
It's also hard to store scarves. Just like belts, they can be long and need to be hanged or rolled up.
Many of the options to organize belts are also the same options to organize scarves.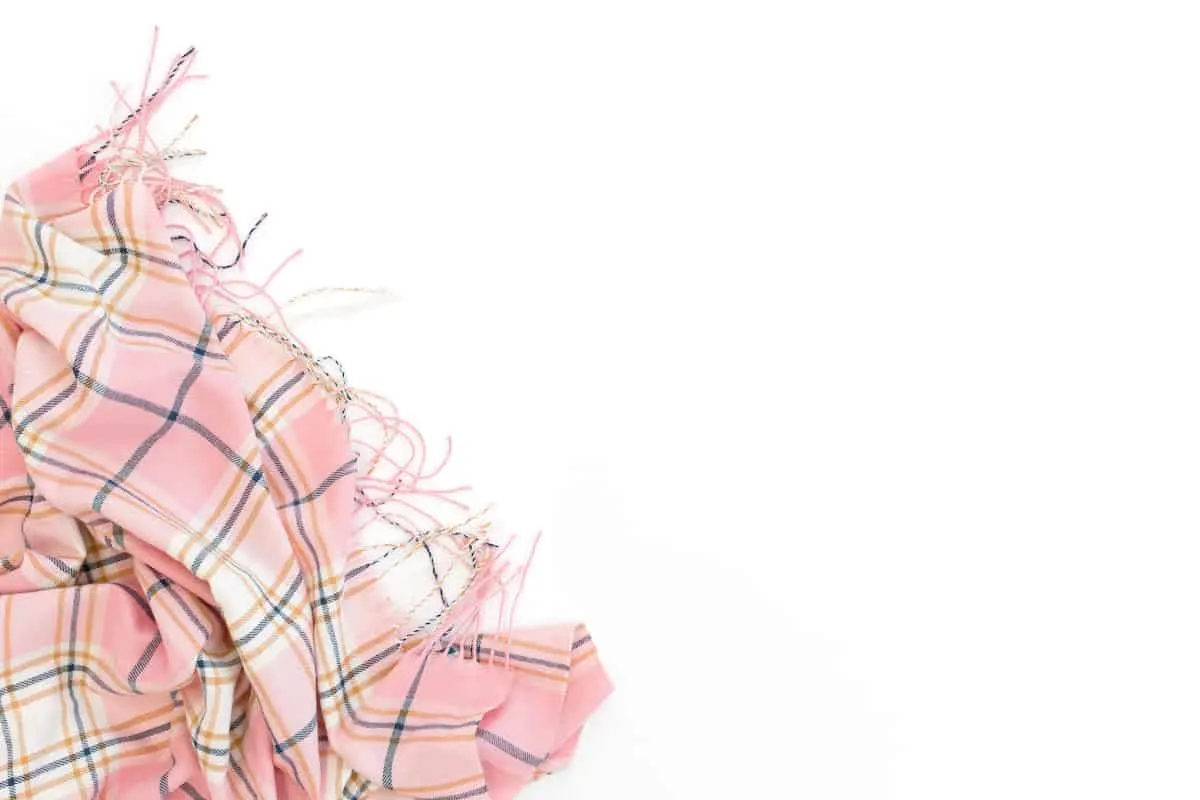 Storing Scarves in a Basket
If your scarves don't wrinkle easily (such as thick wool scarves), one of the best ways to store them is in a basket. If you can just toss the scarves in a basket, it's about the easiest way to keep them organized.
This DIY basket made out of a straw hat is a cute way to store scarves! It's upcycled fashion for storage!
But what if you want to see your scarves on display when you open your closet? There are plenty of options to keep scarves organized and hung up nicely without wrinkling.
Scarf Hangers
Again, many of the belt organizers mentioned above will also hold scarves, or a combination of the two (which is what I do). I have also invested in a hanging scarf holder for my more delicate scarves that I don't want to accidentally get snagged on a belt buckle.
I'm not exaggerating when I say that every time I take my scarf off of a scarf hanger (similar to this one) that I'm thankful I found an easy solution to store my scarves. Before, they were stuffed in a drawer and I never knew what I had. Now, I can see them all at once, yet they don't take up a lot of space.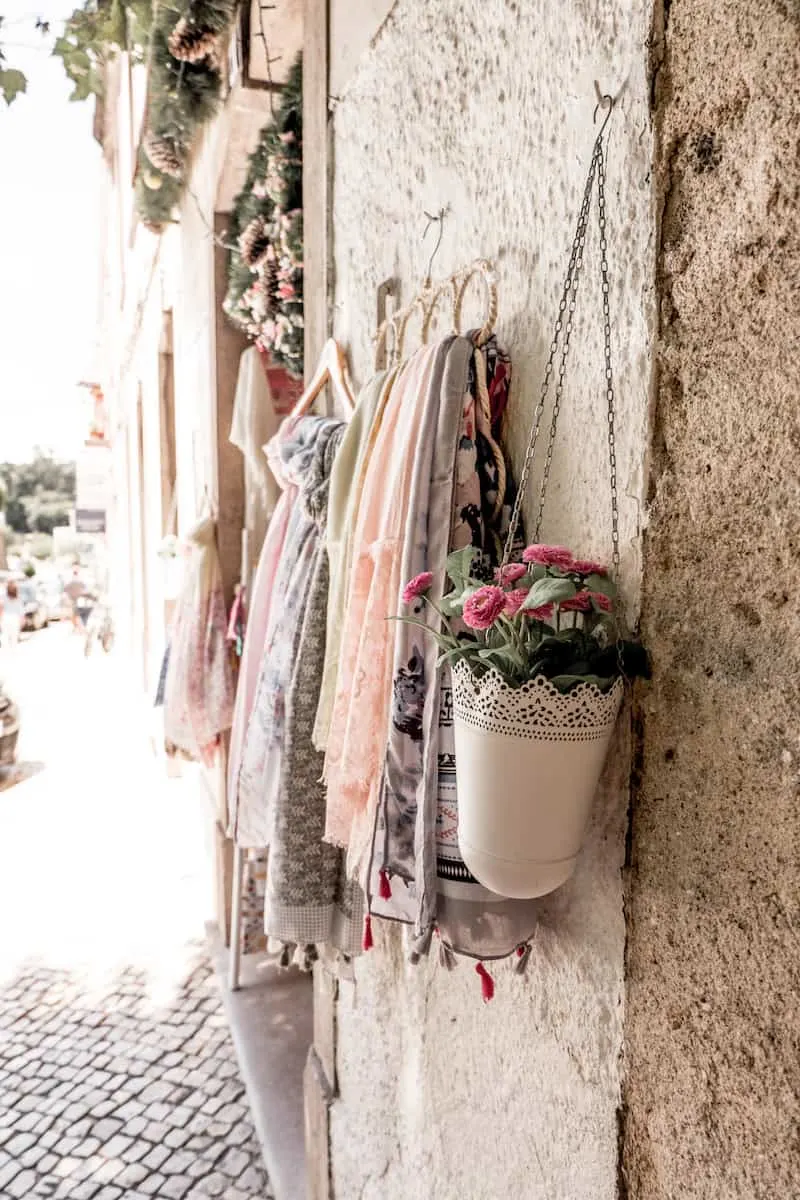 Pants Hangers
If you have got bigger or heavier scarves, such as pashmina shawls or infinity blanket scarves, you won't be able to fit too many on traditional scarf hangers. And you'll need a pretty big basket to store them.
The better solution is to use pants hangers to store them. It's easy to slide the scarf off without it getting snagged or torn. And these hangers will also hold a lot more weight, compared to traditional scarf hangers. Which is important when you start storing heavy winter scarves.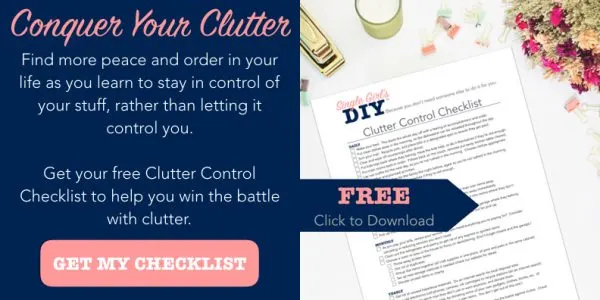 Storing Hats, Gloves and Winter Accessories
Those accessories that you only use a few months of the year can be among the hardest to keep organized.
I like to use a basket or tray to keep gloves and hats in. I can lay out the winter accessories to keep flat, which also saves space.
Another perfect idea that my mom started doing a long time ago is storing winter accessories in a plastic shoe pocket organizer. This is hung on the door in her mudroom. It's perfect because it takes up no extra space since it's on the back of the door. And each pair of gloves or hat fits in each holder to keep them organized.
More Creative Ways to Organize Accessories
Baskets & Bins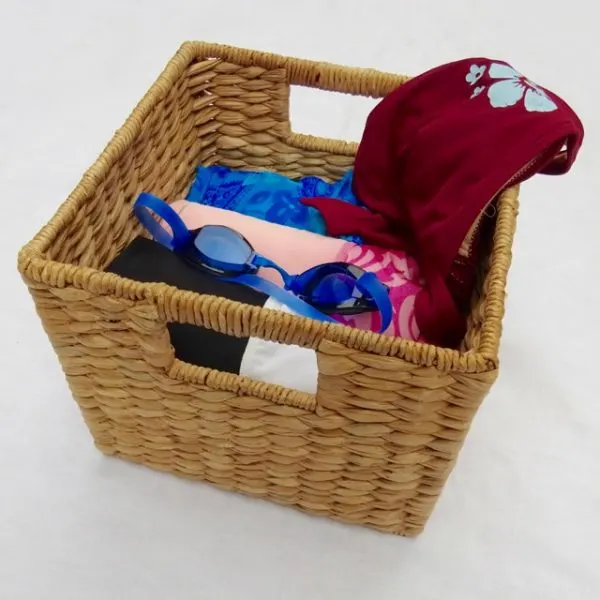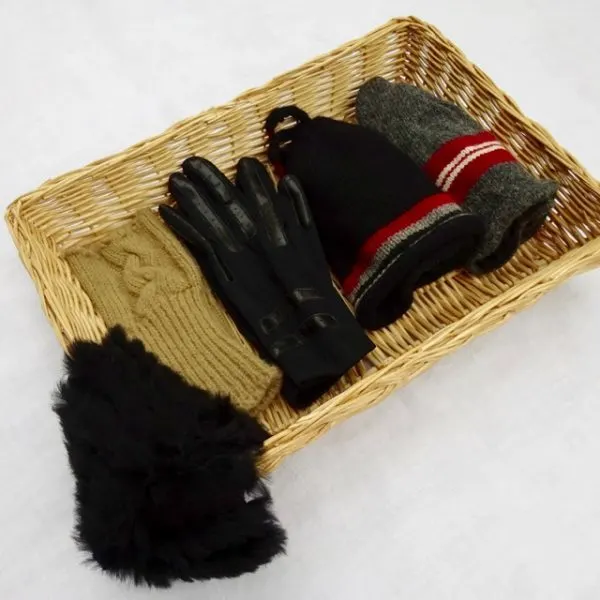 Baskets come in all shapes and sizes. This cube shaped basked is great for holding swimwear. Bathing suits roll up and can be stacked, making the deep basket useful. Deep baskets also work well for handbags.
Shallow baskets may be better for items like socks, or winter hats and gloves. Then you don't have to dig through too many layers to find what you want.
Trays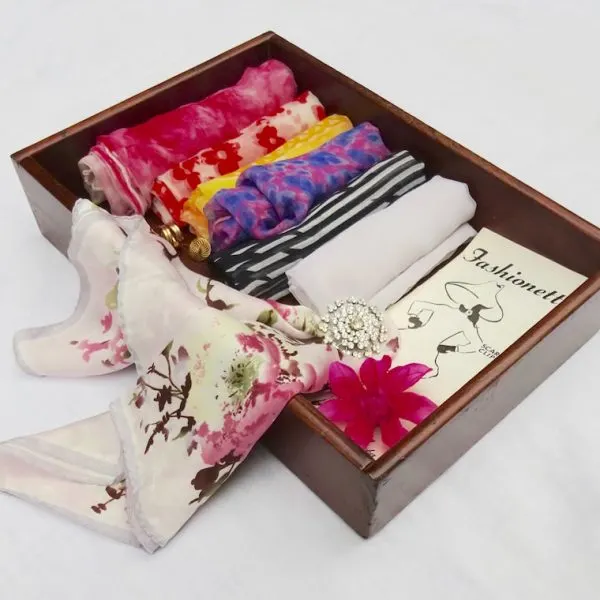 Trays are extremely handy for storage. This tray is how I organize silk scarves – they are rolled up, making them easy to see and keeping them protected from snags or wrinkling.
A tray is also the perfect place to store rolled up belts or ties.
You probably already have one or two around the house. If not, you can find trays at a thrift store, or the dollar store. Keep them on a shelf in your closet, or even stacked in a drawer.
Or make your own! These easy hand stitched felt trays are perfect for soft items. And my nesting canvas fabric trays can be used for a variety of accessories in your closet.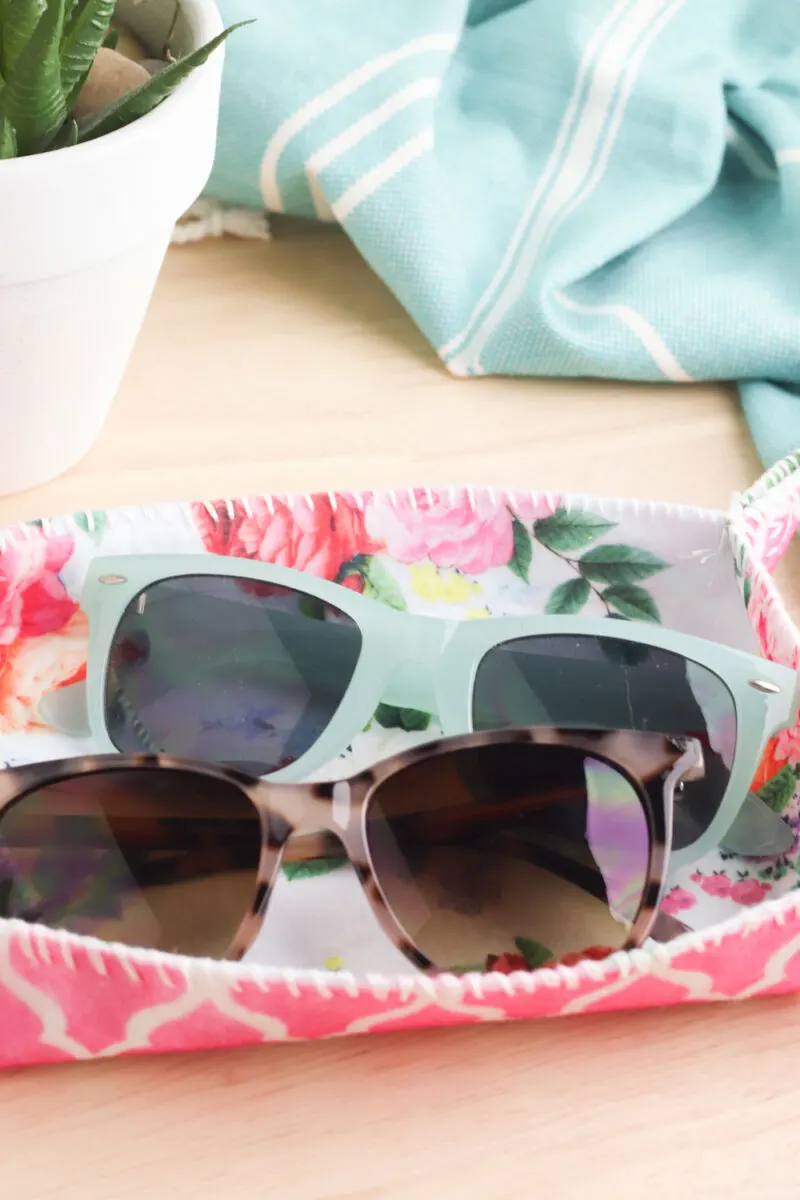 Pegs or Hooks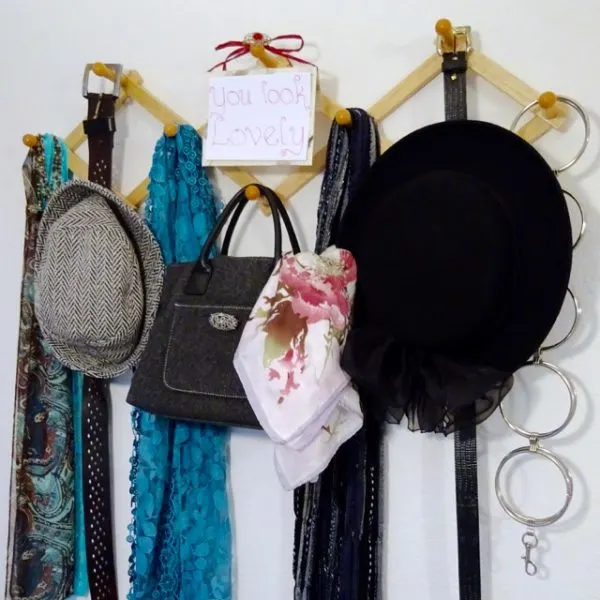 Many accessories, such as hats, scarves and belts, store better if you can hang them up. Then you can see them, and use them more easily. That's where pegs and hooks come in handy.
Any pegs or hooks will do. Shop your house for an unused coat rack, or just screw a few pegs into the wall in your closet.
I actually repurposed a coffee mug rack for some of my favorite accessories. These pegs are perfect for hats and more. Hang it on a wall in your closet like this, to keep all your accessories handy.
Drawer Pulls or Knobs
Drawer pulls can be really handy places to hang your hats. If you get the pulls that have an attached bolt, they will screw right into the drywall. Just don't hang anything too heavy on it.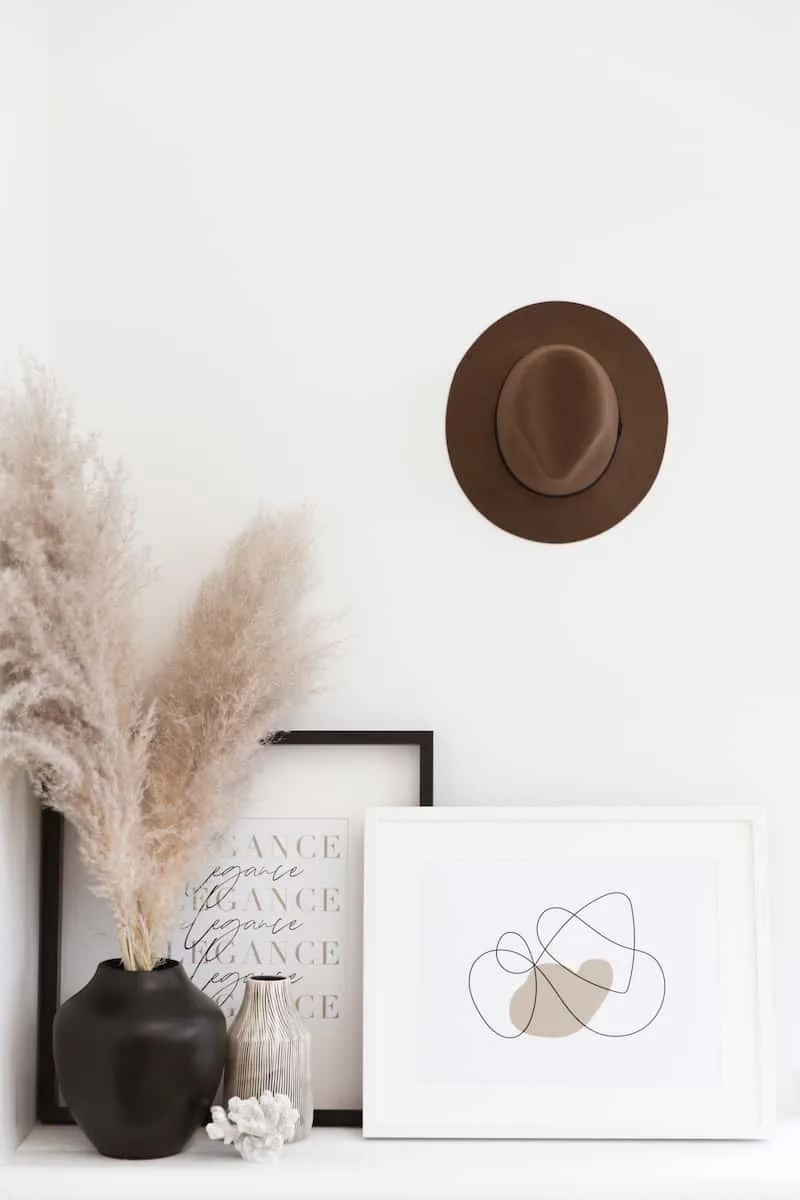 You can get a variety of styles in all shapes and colors, but I love these diamond-shaped drawer pulls (with an attached bolt) that adds an extra sense of glam to store your hat on (or necklaces, scarves, etc.)
Keep in mind that hats don't have to be stored in a closet. If they are beautiful and bring you joy, you can hang hats as artwork in your room. Just use a drawer pull or hook to hang them on.
For smaller items, here are some great tips on how to store jewelry.