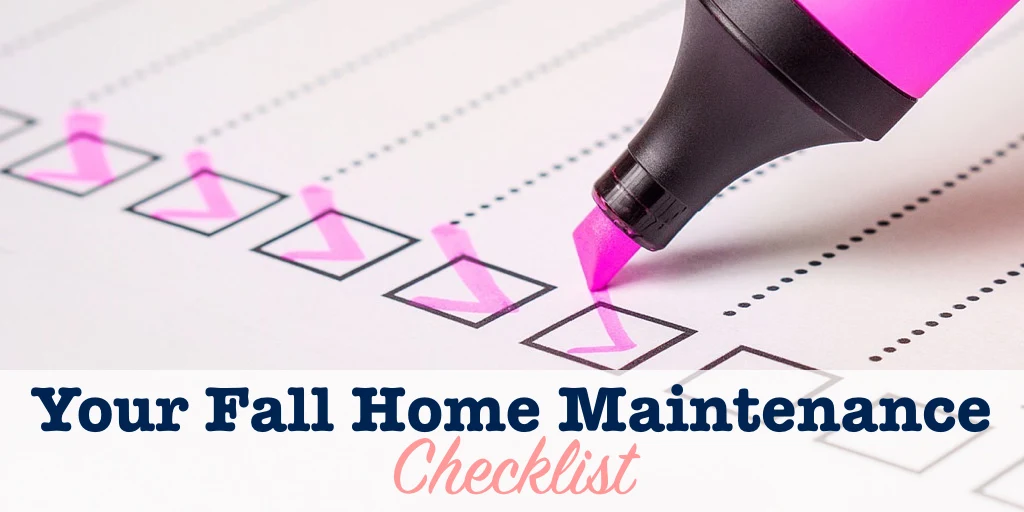 With the change of seasons, you might start thinking ahead to how to prep your home for cold weather and winter. Get a head start (while the weather is nice and you have time now) with our fall maintenance checklist for home chores.
I'll admit that I don't do all of these every year. It's easy to become overwhelmed with home improvement projects to do.
Just do what you can, and catch the rest next time. (Here's a list of home improvement projects by the seasons. And don't forget to look at our Spring Home Maintenance checklist, too.)
Do the outdoor tasks first. You can do the indoor tasks even after the weather turns bad.
Here's 25 tips, tricks and chores for Fall home cleaning and maintenance.
Fall Maintenance Checklist for Home
1. Weatherproof Decks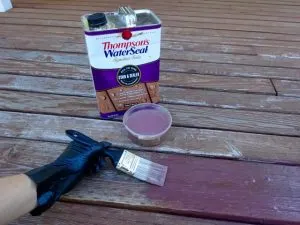 While the weather is still dry, get out and weatherproof your decks. This will help extend the life of the wood, plus it looks so good! This doesn't have to be a big project. Check out my tips for how to stain and weatherproof in one easy step.
2. Clean Sidewalks
During wet winter weather, sidewalks can get slippery. Clean them off now with a dilution of bleach or vinegar and a push broom. Rinse thoroughly, but try not to get it into your lawn or gardens, because it can damage plants.
3. Put Away Hoses & Cover Spigots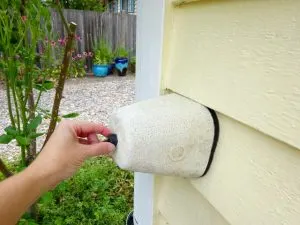 Disconnect your garden hoses, and drain the water out. Store them in a shed or the garage for the winter. Put an insulating outdoor faucet cover over the spigot to keep it from freezing in cold weather.
4. Insulate Water Pipes
I can tell you from experience that it is a terrible feeling to get up on a freezing cold morning, turn on the tap, and not have any water come out. (And then going out to the hardware store in icy weather to find a way to fix the problem.)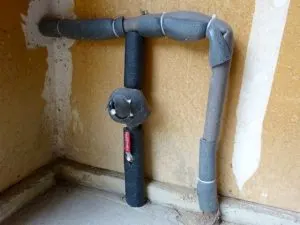 To keep your pipes from freezing, make sure any exposed sections (like mine here in the garage) are covered with pipe insulation.
Also, be sure you know where your main shutoff valve is, just in case you have a pipe burst.
Here's some more helpful info on what to do if your hot water heater stops working.
5. Review Your Insurance Coverage
Speaking of near-burst-pipe experiences, lots of things can go wrong in harsh winter weather. Make sure you're protected against damage by reviewing your insurance coverage.
6. Replace Exterior Light Bulbs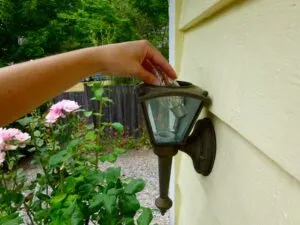 Winter is dark! Keep yourself and your visitors safe with a well lighted exterior. Get out the ladder and replace any burned out light bulbs.
7. Check Window Seals
Winter is cold! Keep your warm air in by making sure your windows are in good shape.
If you have a a window that is foggy between the panes of glass, the seal has failed. That means the window is less effective at insulating your home.
You don't have to replace the whole window. Save yourself a ton of money by just getting the glass replaced. Your local window company will be able to do this for you. (Just be ready for them to try to up-sell you to all new windows.)
8. Check Weather Stripping
Another sneaky way that heat seeps out of your house is under and around your doors.If you can see daylight anywhere around them, you should look into adding or replacing weather stripping. It's a cheap fix for a more comfortable and energy efficient home.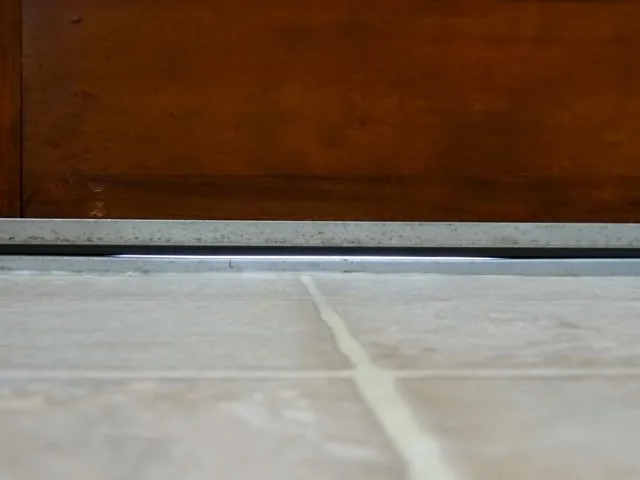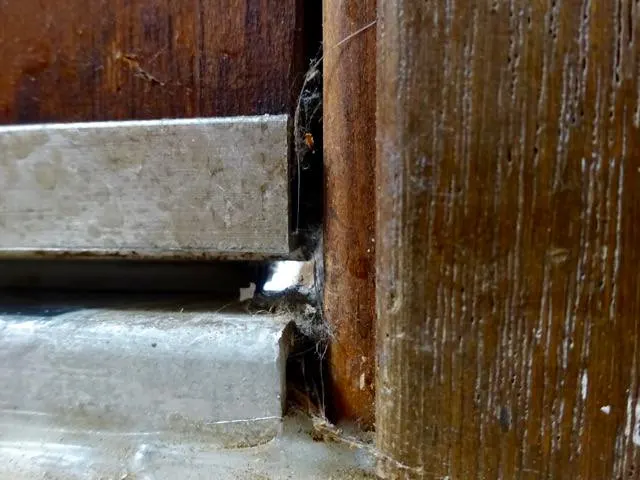 (To be honest with you, I'll probably just shove a towel in front of the door this year, and deal with new weather stripping next year. Like I said, do what you can.)
9. Clean Out the Dryer Vent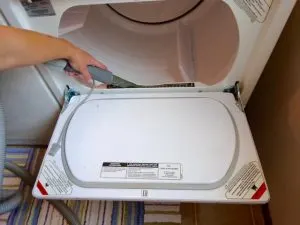 It's a good idea to clean out your dryer vent at least once a year. Let's do it now.
I use a vacuum to clean out inside the dryer. Check the vent connection at the back. If you can get to it, peak inside the exhaust where it comes out of the house, and make sure it looks clean in there, too.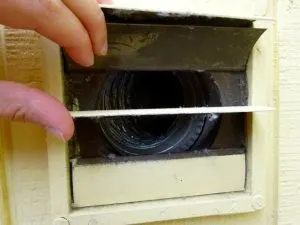 10. Stock Up Supplies
I am famous for never having food in my house. But I try to be a little more careful in the winter time to make sure I have at least several days worth of food on hand. Stock up on non-perishable items, so you have them in case the weather turns bad.
11. Feed the Lawn
Did you know that fall is a great time to do lawn maintenance? Now is a great time to apply fertilizer made for fall lawns to help your lawn recover from a rough summer.
If you don't have a fertilizer spreader, don't worry! Here's how to use a salt spreader for fertilizer on your lawn.
12. Cut Down & Divide Perennials
Keep your gardens from looking overgrown by dividing your perennials every few years. Cut back dead growth, to leave your gardens looking tidy over the winter.
13. Clean Leaves Out of Gutters
Again from personal experience, I can tell you that nothing makes a dark and stormy night scarier than the sound of gushing water. You do not want to be outside in the pouring rain trying to find a blockage in your gutters.
Make sure to clean out fall leaves to keep your gutters flowing freely. Water can do a lot of damage if you're not careful.
14. Compost the Veggie Garden
While you're cleaning up fall leaves, rake them into your veggie garden. Better yet, use a leaf mulcher to help them break down faster. They'll compost over the winter and you can turn them under in the spring to enrich the soil.
15. Clean & Put Away Garden Tools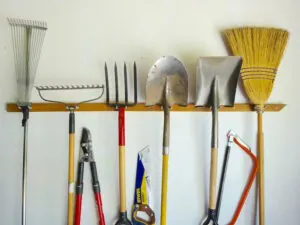 Once you've got the yard all raked and the gardens cleaned up, take a moment to take care of your tools. Clean them off, and store them inside. If you're short on space, be sure to check out my garage organizing tips.
16. Put Away Outdoor Furniture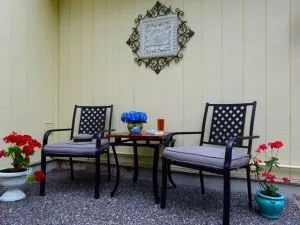 I know, it takes up a lot of space, but you'll get a lot more life out of your outdoor furniture if you put it away for the winter. I keep mine on hooks in the garage, where it's out of the way.
17. Get Organized for Back to School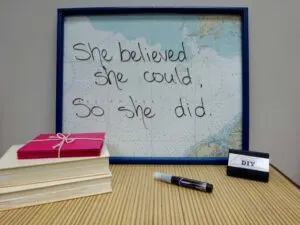 I don't even have kids, but fall always makes me want to buy school supplies and "get ready." Get ready for what, I don't know, but I like to take some time and reorganize in the fall.
A fun way to get organized is to create a command center where you can leave notes, drop your keys and the mail, and have your work bag (or school bags) ready to go.
See this tutorial for a fun DIY memo board to help you get your command center started.
18. Store Your Summer Clothes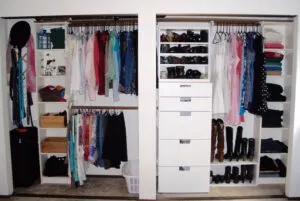 You may want to pack away some of your summer things to make room in your closet for cold weather clothes. This isn't something I actually do myself. I wear summer dresses with boots and a sweater in the winter time. Or a sleeveless shirt under a blazer.
If you want some tips for finding more room in your closet, get inspired by my amazing closet transformation.
19. Service Your Car
Get your car serviced, to make sure you don't get stuck on the side of the road somewhere when it's cold, dark, and raining. And, make sure your tires are in good shape for driving in bad weather.
20. Service the Furnace
Did you know your furnace should be serviced once a year? When I first bought my house, the repairman told me my furnace had, "lived a maintenance free life." Then I had to spend a lot of money to replace it.
Get your furnace serviced before you need to use it, to keep it running efficiently all winter. If you have a wood burning fireplace, be sure to get your chimney cleaned as well.
21. Vacuum Out Vents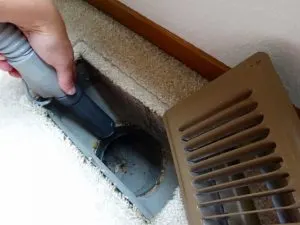 Prevent dust from blowing out of your floor vents when the heater kicks on again by vacuuming out the vents in the fall. You may be surprised what you find down there!
22. Wash Curtains
I'll admit that this is the maintenance task I do the least. I may go years between curtain washings, to be honest.
But, if you have asthma or allergies, it is a good idea to wash out the dust an pollen that may have gotten onto your curtains from having the windows open all summer.
23. Switch to Warmer Bedding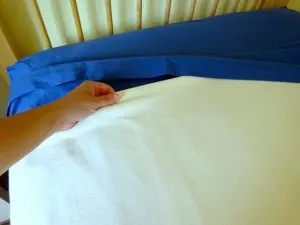 Save money on your heating bills by putting warmer blankets on your beds. Then you can turn the heat down at night, and still stay snuggly warm.
24. Get Out Blankets and Throws
You're not just going to want warm blankets at night. You'll need them for curling up with a book, or watching TV, too. Scatter blankets and throws around the house to help you stay warm.
If you want to update your throw pillows with fall colors and fabrics, be sure to check out this easy tutorial to make your own throw pillow covers.
25. Decorate for Fall
Finally, we made it to the fun part! Now that you've got your house all ready for winter, you can start decorating for fall.
Download your Fall Home Maintenance Checklist!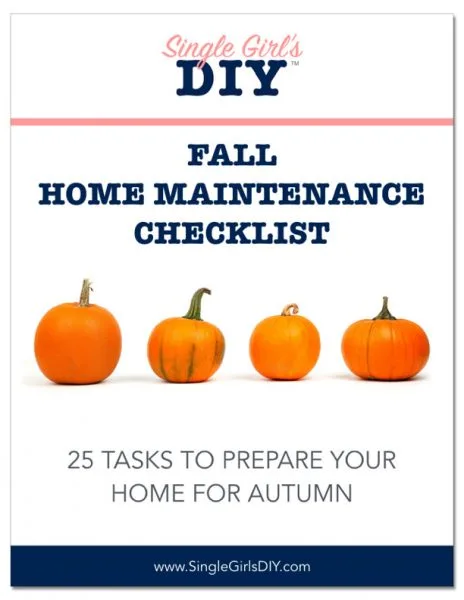 Get a free printable Fall Maintenance Checklist so you can make sure to tackle everything you need to do to keep your home running at its best.