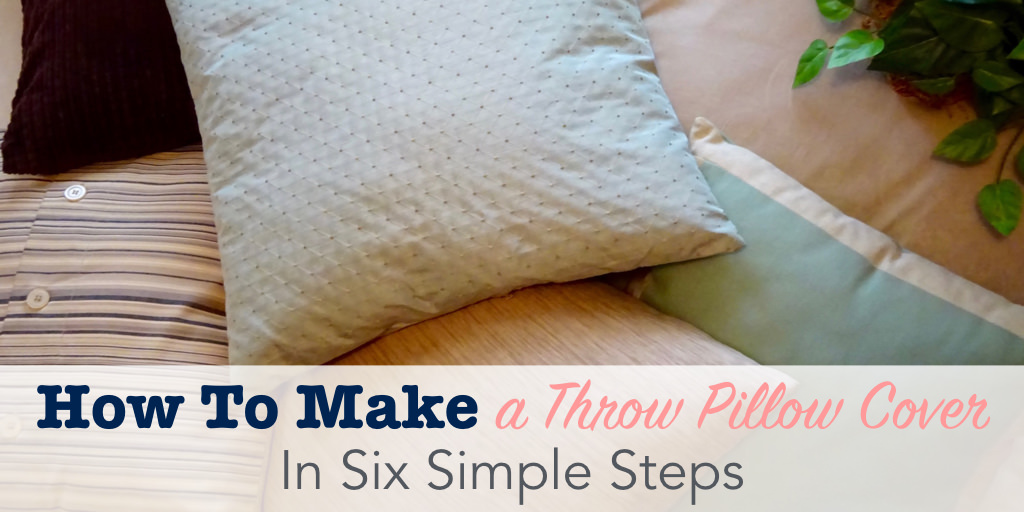 When you want a new look in your home, but don't want to spend a lot of money redecorating, try changing out a few small things, like throw pillows.
Throw pillows are like the paper dolls of decor.  It is super easy to change their outfits for a whole new look.
If you can sew a straight line, you can make a throw pillow cover.
P.S. You can use any fabric scraps you have to make these simple pot holders, too!
HOW TO MAKE A THROW PILLOW COVER IN SIX SIMPLE STEPS
MATERIALS TO MAKE YOUR OWN THROW PILLOW COVERS
Pillow form (or use a pillow you already have)
Fabric – For an 18″ pillow form, you will need about 2/3yd. of 44″ wide fabric
Scissors or rotary cutter
Ruler
Iron
Sewing machine
Follow these easy steps to learn how to make a throw pillow cover.  Get a custom look that you can change as often as you want.  (Click on any image to enlarge, and get a better look.)
1.  Choose your pillow form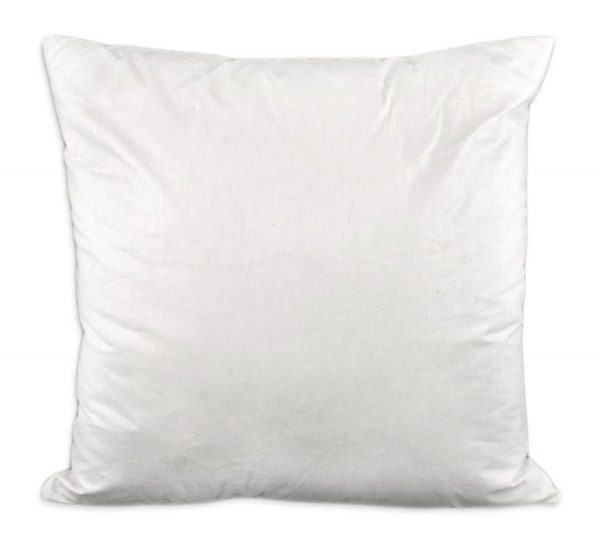 The great thing about this project is that you can use a pillow you already have.  Make new covers for the pillows that came with your couch, to give them a fresh look as often as you want.
You can also buy pillow forms from a craft store.  (Click below to get a coupon for Michaels.)
2.  Measure the pillow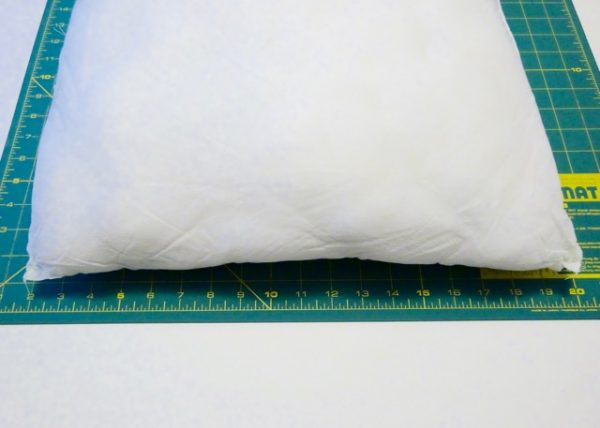 If you buy a pillow form, the dimensions will be on the packaging and you can skip this step.
If you're using one of your own pillows, you'll need to verify the size:
Lay the pillow on top of a ruler or yard stick.
Smoosh it out a little, and eyeball the widest point.  It's OK to under estimate a little.  This makes your pillows look plump.  (I would call this one 18")
Measure both length and width.
3.  Cut the fabric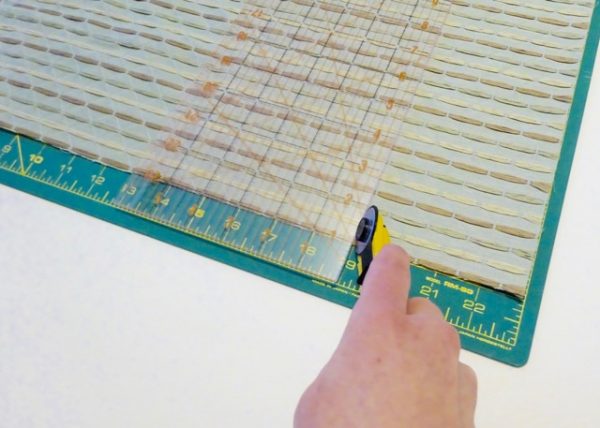 The amount of fabric yardage you will need will depend on the size of your pillow.  You will need a single piece of fabric with these dimensions:
1x pillow width + 1"
2x pillow length + 4"
For example, for my 18″ x 18″ pillow, I cut the fabric to 19″ x 40″.
Choosing the fabric may be the hardest part of the project, but don't worry.  You can make lots, and swap them out as often as you want.
4.  Finish the short edges
The pillow cover is going to wrap around the pillow.  The short edges will overlap and have a finished opening.  To make these finished edges:
On one short edge, fold under 1/4" to the wrong side of the fabric.
Fold under 1/4" again, so the raw edge is completely tucked inside the fold.  Press with an iron.
Stitch close to the inner edge to hold the seam closed.
Repeat on the other short edge.
5.  Stitch the long edges
Now it's time to finish the long edges, to make your pillow case.
Lay your fabric out on a flat surface, right side up.
Fold one of the short edges in toward the center, so the wrong side of the fabric is now facing out on that end (photo 1).
Use your ruler and the measured length of the pillow to determine where to fold the other side.  The short edges will overlap at the back by a couple inches (photo 2).

For my example pillow, I measured 18″ from the first fold to know where to make the second fold.  The length of the fabric between the folds will match the length of your pillow form.

Pin the long (unfinished) edges in place.
Stitch along both sides, 1/2″ from the edge.  Back stitch at the places where the short edges meet to add a little reinforcement.
6.  Turn the cover through and enjoy!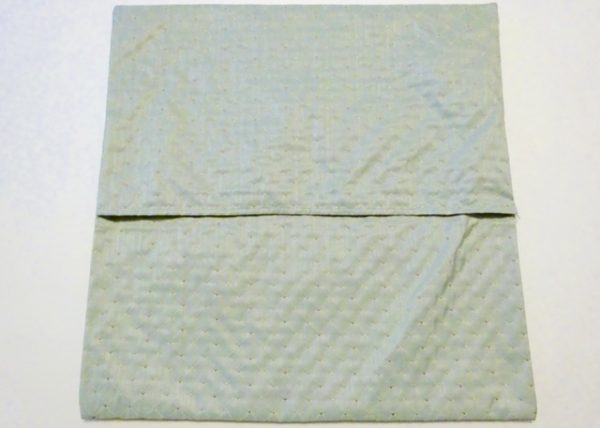 Once the final edges are sewn, you're ready to flip the cover right side out.  Use your fingertip to push out the corners.
This cover will now slip easily on and off your pillow like an envelope.  No zippers or buttons required, just a bit of squishing to get it to fit.
Getting it off is just as easy!
Keep Your Decor Fresh with Variety
Make multiple covers for the same pillow to enjoy different looks throughout the year.  This is a great way to update your decor on a small budget.
Changing the cover is much cheaper than buying a new pillow.  Plus, the covers take up a fraction of the space of a pillow, so they're easy to store.
Have fun creating new custom looks throughout your home!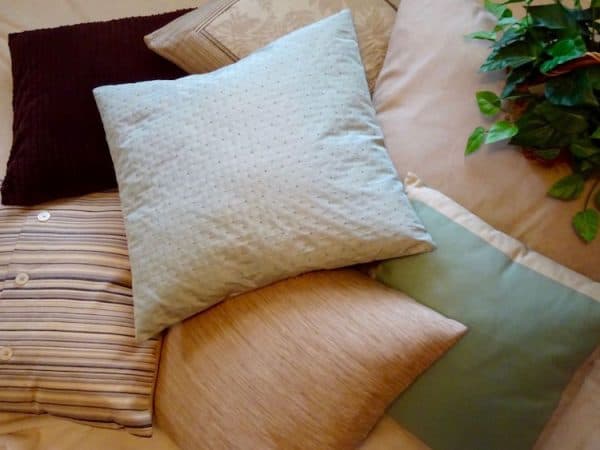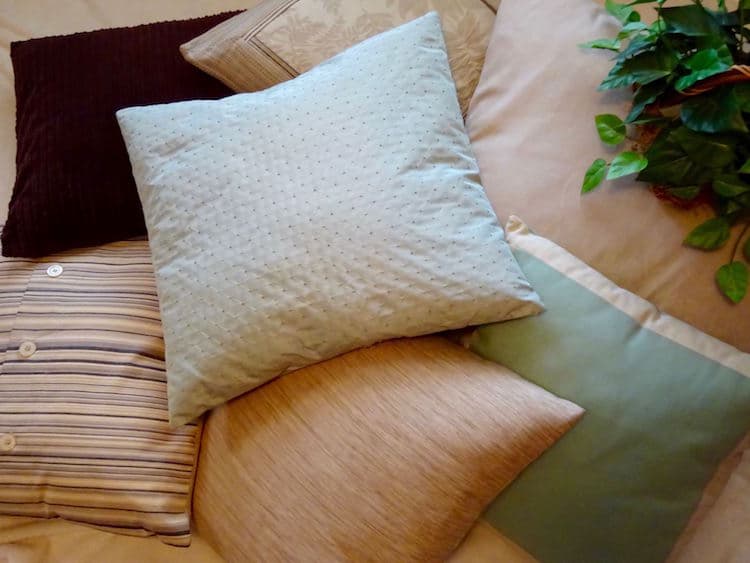 ---
Get the Look without the Effort
Love this idea, but don't have the time, energy, patience, skill, or a combination of all of these?  You can cheat and buy throw pillow covers fairly inexpensively.  Shop these looks, or use them for inspiration when you make your own.  Have fun!