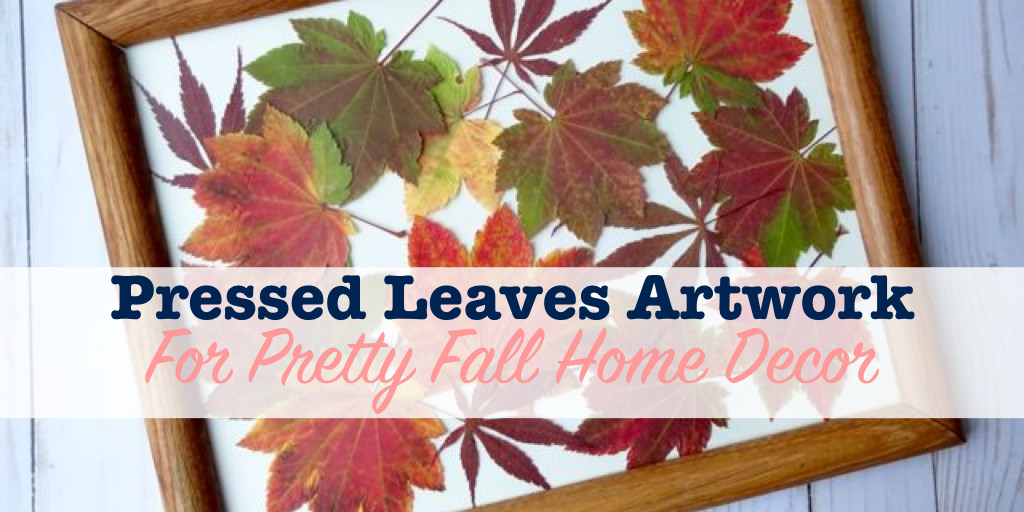 I love anything that's pretty and inexpensive. Well, this pressed leaves artwork project is totally free!
Part nature walk, part home decor, this project captures a little bit of fall's beauty, brings it into your home. Let's make those beautiful autumn colors last just a little longer.
PRESSED LEAVES ARTWORK FOR PRETTY FALL HOME DECOR
[disclaim]
MATERIALS FOR PRESSED LEAVES ARTWORK
Colorful leaves collected from your yard or local parks
A stack of heavy books
Any picture frame
Poster board for backing
[/disclaim]
As you're outside enjoying the autumn weather, pause to pick up some of the beautifully colored leaves that are starting to fall. We're going to use them to make a piece of art for your home.
1. Gather leaves of different sizes, shapes, and colors
This is a fun task on a lovely fall day. Get outside and enjoy the fresh air.
If you don't have leaves in your yard, or if you don't have a yard, take a walk around a local park and have a scavenger hunt.
2. Press the leaves for at least a week
In order to better preserve your leaves, press them flat in a heavy book for a week or so.
Phone books used to be the perfect way to do this. Since most of us don't have those anymore, look around for the biggest book you have. I chose an old dictionary.
Lay the leaves out flat between the pages. If you have a lot of leaves, you'll need to do this is in several sections of the book. Leave a fairly large number of pages between each group of leaves.
Carefully close the book, keeping the leaves flat, and watching for bits sticking out the ends. Then find a stack of other books to lay on top. This adds extra weight, and helps with the pressing.
3. Find any picture frame
Every time I do a project with a picture frame, I am amazed at the number of options I already have lying around the house. The one I chose for this project has a glass size of about 10" x 12".
Shop your home and see what you can reuse. Otherwise, check your local thrift store.
4. Choose a backing material
I picked up a piece of poster board from the dollar store to put behind my leaves. Cut it to size, using the glass from the frame as a guide.
Don't be afraid to get creative with your color choice. Black would really make the fall colors stand out. Or you might choose a color that ties in with your decor.
5. Arrange the pressed leaves artwork
When your leaves have been pressed for about a week, you can take them out of the book. Arrange them on top of your backing material.
Once you have an arrangement you like, you can either secure the leaves with tape, or just capture them with the glass from the frame.
Clean the glass on both sides before you lay it on top of the leaves. This will hold the leaves in place while you set the frame on top.
When your frame is in place, just flip the whole thing over. Now you can easily secure the backing to the frame. And you're finished!
Easy DIY Pressed Leaves Artwork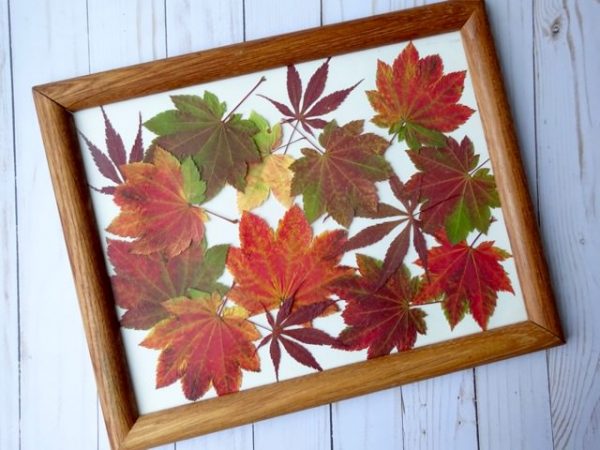 So simple and so pretty! Just my kind of project.
Be sure to check out some of my other favorite craft projects for more home decor inspiration.