Have you seen those dreamy rope ottomans on Pinterest? They're all the rage, especially with a boho decor. When I found out how much the rustic-looking items cost, though, I immediately decided to make a DIY tire ottoman with rope and am very happy with how it turned out!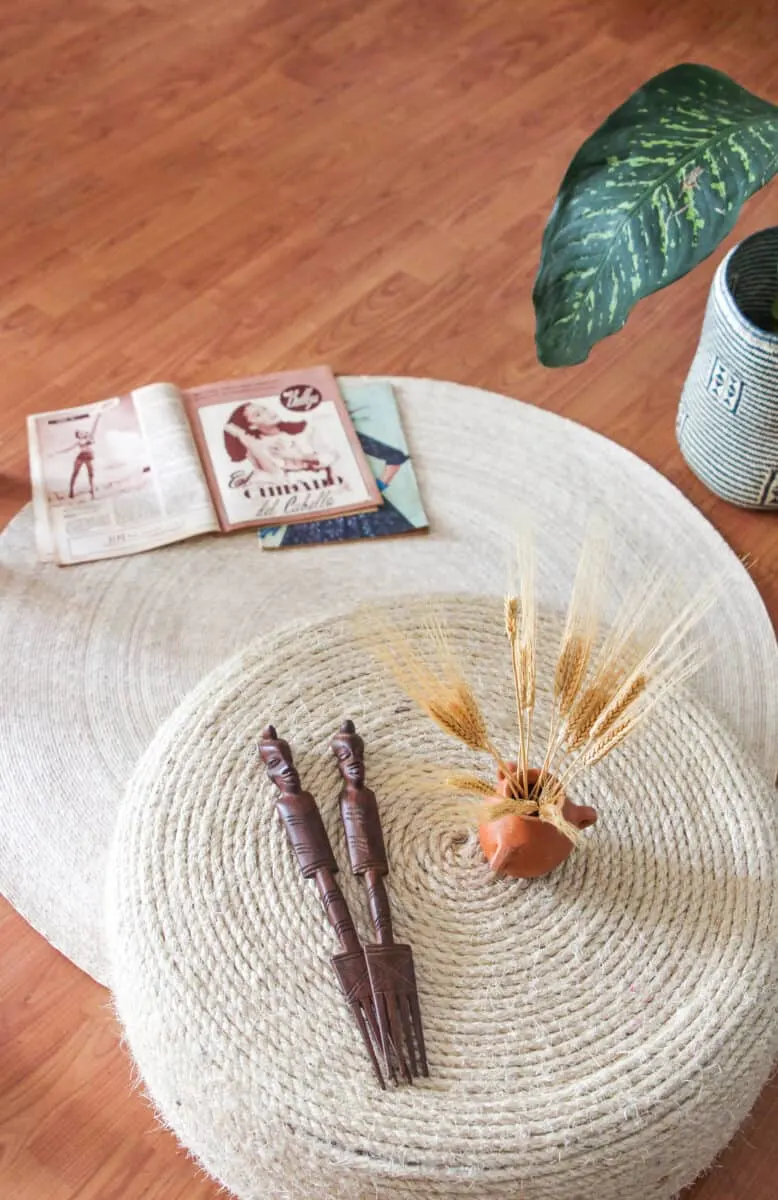 Not only is this DIY home decor project very thrifty, but it also helps to reduce landfill waste. Because old tires are a major source of pollution unless they are recycled or repurposed.
What's better than that? I can save money and save the environment, while making a really cool looking footstool!
The great thing about this recycled tire ottoman is that it works both indoors and outdoors. Especially if you seal the rope rather than leaving it unfinished.
This twisted sisal rope is great to use for this project!
It would be perfect to add to my backyard makeover, don't you think?!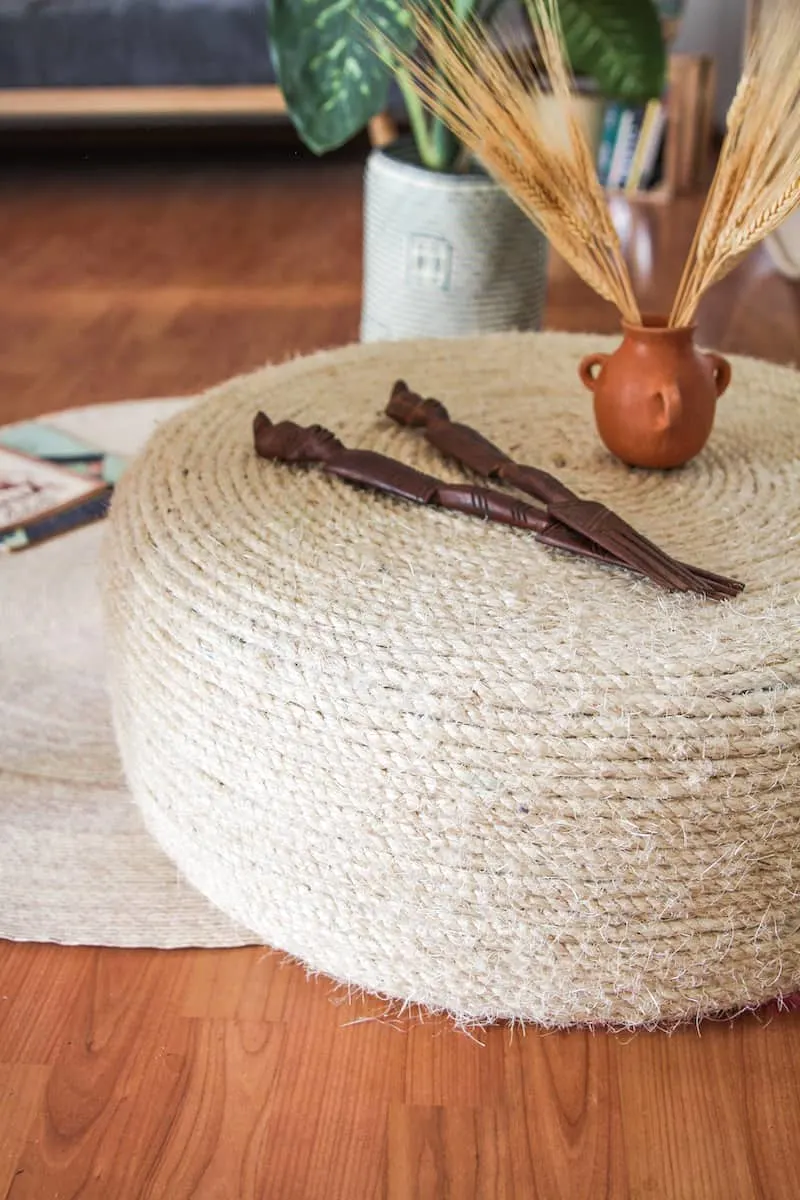 I've also made a storage ottoman out of an empty popcorn tin container. It's perfect for small spaces and extra storage!
Love this project and want to remember it? Be sure to Pin it to a DIY or Home decor board on Pinterest!
Where to Get Recycled Tires
Where can you get a used tire to make this upcycled project? Here are some great places. Keep in mind, businesses might have to pay to recycle a tire due to environmental laws. So they'll probably be happy to give it to you for free!
Tire stores
Mechanics
Local recycling center
Junk yards
Community collection programs
Craigslist
Facebook group
Community college with an automotive repair program
Yield: 1 Ottoman
DIY Tire Ottoman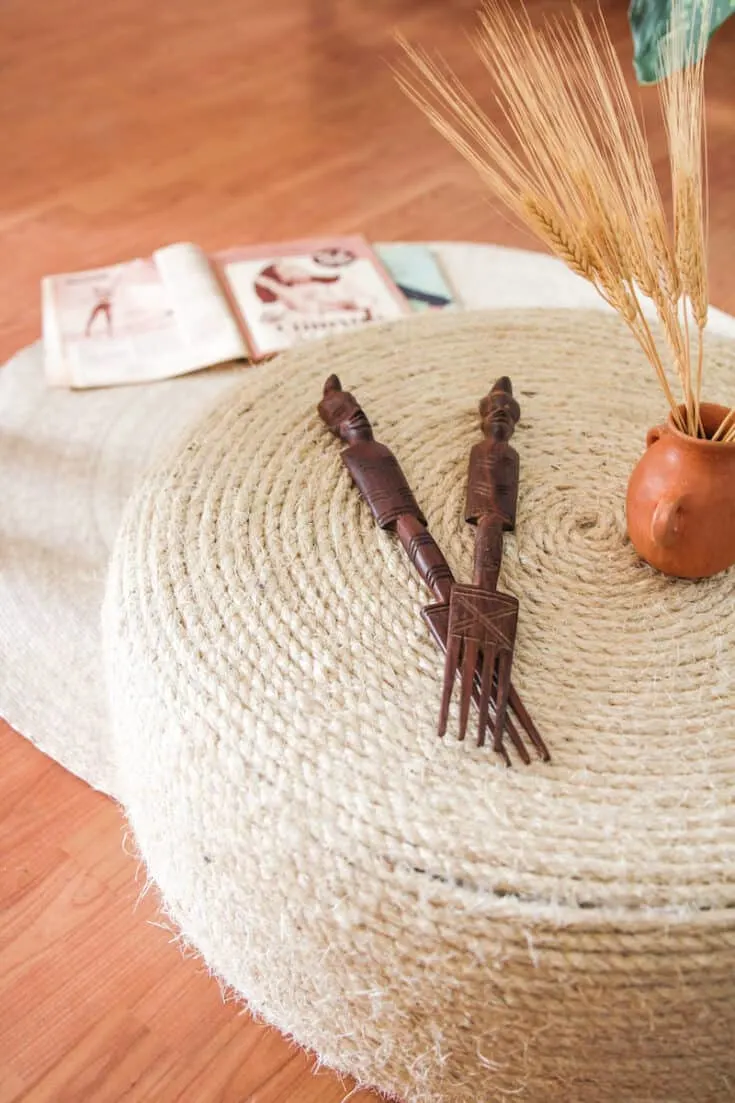 Upcycle a used tire into a boho-chic ottoman using decorative rope. Earth-friendly and beautiful to add to your home!
Materials
Old tire
About 180-200 feet of ⅜" rope
2 pieces of circular plywood (same diameter as your tire)
Hot glue gun and glue sticks
Sealer (optional)
Instructions
If you're using a used tired, scrub it with soap and water to clean it. Make sure it is thoroughly dry before continuing.
Glue one piece of the circular plywood to the top and bottom of the tire. Ideally, you can also screw the wood into the tire. It doesn't necessarily need to be 100% secure as the rope will make sure everything stays in place!
Begin to coil the rope around the center of the plywood, applying glue on each round and pressing down hard to make sure it's secure.
Continue wrapping the rope around the tire until it's fully covered.
For the rim, I recommend gluing the rope to the tire, but occasionally gluing the rope together to make sure it's secure. Make sure there are no gaps to see the tire.
Once you get to the bottom, cut the rope with scissors. Or flip it over to continue coiling to cover the bottom plywood. This step is optional as the wood will not be visible when it is facing down.
Optional: You can cover the rope on the ottoman with a coat of sealer if you'd like.
Notes
I used nylon rope, but you can also use sisal or yute or even marine rope.
The length of rope you need will vary depending on the size of the tire.
Also, the amount of rope you need will depend on the thickness of the rope. Thinner rope will require more wrapping.
For reference, my tire is 24-inch diameter and 9 inches tall.
Add hot glue to the end of the rope when you cut it to keep it from fraying.

Want more upcycling projects? Check these out: